Ischgl part 2
Architecture and landscape

10 / 10 points

Entertainment

10 / 10 points

Culture and customs

10 / 10 points

Transport

10 / 10 points

Gastronomy

10 / 10 points

Prices

6 / 10 points

Party

10 / 10 points

Weather

10 / 10 points
---
We woke up early the next morning. I was sharing a room with one of my mother's best friends. She was a nice lady, but she was used to getting up very early in the morning. I, on the other hand, am a young person who goes to bed at twelve, one or two in the morning and I wake up late. I know that a ski vacation implies waking up early, but why did I have to wake up at six thirty? Anyways, it was not her fault. That was the way she was used to act in the mornings. After I survived my arising anger towards her, we went downstairs for breakfast. Our hotel would offer us breakfast along with dinner. The breakfast was only from the buffet and we had to choose by ourselves. The only thing the waitress would serve us was coffee or tea or hot chocolate. We chose coffee and we went to the buffet.
There was a great variety of food: eggs, sausages, bread (black and white bread), sweets, pies, cakes, hams, cheese (many different types of both), peppers, cherry tomatoes, four or five types of fruit, also, four or five types of cereals. We could choose. There was even a huge variety of tea. The tea was superb. So was the food. Everything seems so nice when you have cool stuff to eat. After I tried salmon with cherry tomatoes and bread with several different types of nuts, I decided I wanted to finish my breakfast with tea. I chose tea that was not in tea bags. It was rather herbs that you put into the warm water. After I looked for something to put the tea herbs, and I did not find anything suitable for the case, I just put the herbs directly into my tea cup with some hot water. I quickly found out I could not drink my tea like that. The herbs were getting into my mouth. That is why I called the waitress and even though I was ashamed, I asked her what I was supposed to do with the tea herbs. She smiled and she showed me empty tea bags I was supposed to use. I just had to place the herbs into the bag.
After breakfast we had to go to the ski area. Since we were four plus a little child, it took us quite a long time to dress properly for the mountain, put our ski boots on, etc. We went to the gondola and we saw many, many people standing there and waiting. Our hotel sold us ski passes (the hotels have the right to do that), but my sister's pass was for free. Since it was for free, we could only take it from the ticket office near the gondola. There was a huge queue and we waited for an hour maybe. We waited, and we waited. Meanwhile, my mother figured out she had forgotten her backpack back at the hotel. Guess who had to go back to take it. That is right, me! I went back to her room and there was no backpack. I looked everywhere. Then I thought it must have been left at the ski room. I went downstairs and there it was. I went back to the gondola a little bit pissed off. When I went there my mother had not yet bought the ski pass. When she finally did, we had to wait to get onto the gondola.
The waiting was totally worth it. The ski slopes above Ischgl are beautiful. There are about two hundred and forty kilometers of ski slopes, and runs. The weather was very nice: sunny, warm… it was too warm actually. The Alps have the similar problem all of Europe's ski resorts have: not enough snow, too mild weather. It was about seven degrees in Ischgl most of the time. That is too much.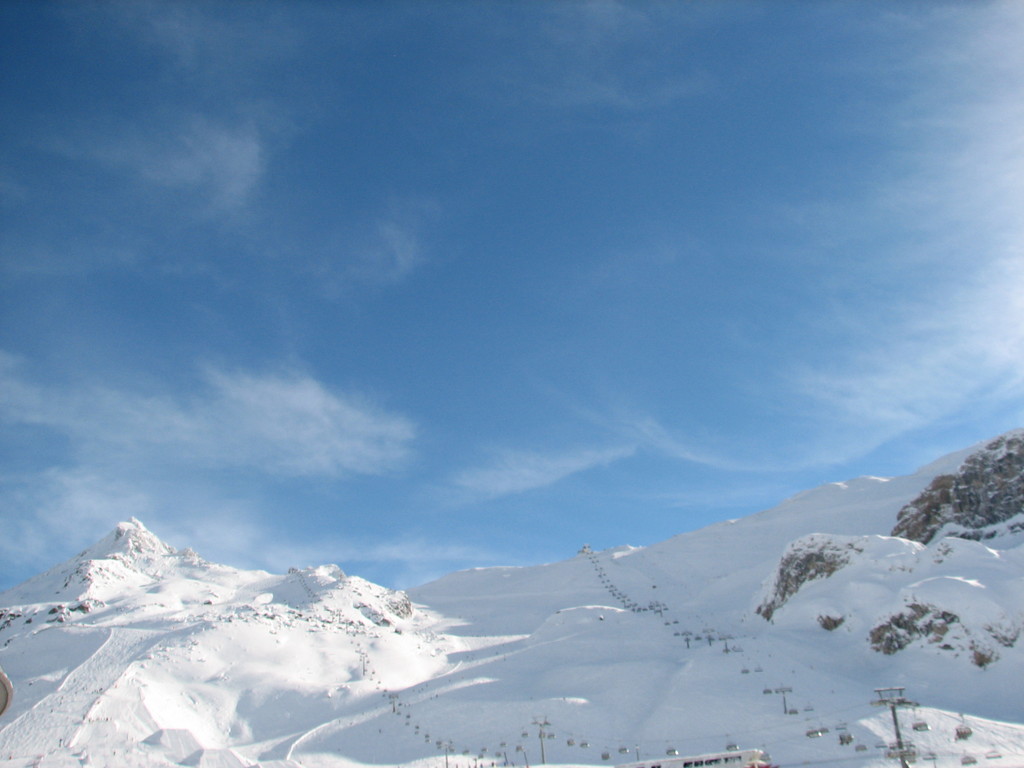 Our first day was calm. We tried several slopes, but we did not go too far away from the main gondola. The ski runs above Ischgl are also above Switzerland, and in particular above the Swiss village of Samnaun. So, when you ski up there you could easily go from Austria to Switzerland and back. It is very cool. No boarders, nothing.
We went back to the hotel tired, but happy. We had stayed up in the mountain for about five hours. This includes a lunch break, of course. There was one ski run that would lead us just right next to our hotel. We decided to try it and that was a huge mistake. The run was long and full of people. Also, since it was the end of the day, the snow was not smooth and nice. It was piled up because of the movements of the skiers. There was ice at some areas. It was awful. My little sister had the hardest time. She did fine, though.
That very evening there was gala dinner at our hotel. There were different types of dishes. We could not choose anything from the buffet. Everything was prepared in advance. We ate amazing things that evening. The only problem was that it was soo much.
We went to bed happy and ready for a new day.
---
Photo gallery

---
---
Content available in other languages
Share your Erasmus Experience in Innsbruck!
If you know Innsbruck as native, traveler or as exchange student... share your opinion on Innsbruck! Rate different characteristics and share your experience.
Add experience →