The Perfect Day - Part I
It was wonderful to wake up next to my boyfriend in my bed the next morning - unfortunately it would happen only one more time because he had to leave the next day already. But I ignored that thought and enjoyed the feeling in that special moment. We stayed in bed quite a long time, but at 10am we had to get up because we wanted to go to Munich and visit the Allianz Arena and the city centre a bit. We had a small breakfast with bread, fruits, cereals and some coffee, took a shower and got ready for the day. We only had that one day to do something special, so we really had to hurry up - the drive to Munich would be about one hour, but it took longer to get into the city centre with the metro etc.
Trip to Munich
We started our way to the Bavarian city and as always, we found a lot to talk about in the car. My boyfriend was fascinated by the landscape, especially by the many wind turbines and photovoltaic systems that were installed on the fields next to the highway. He was writing his thesis about something similar, so he was really interested in all that stuff - unfortunately I couldn't answer his questions about how much renewable energy was used in Germany and similar things. We also talked about cars, Germany in general, funny facts about Germans etc. - we always found something to talk or laugh about, that's why I call him my soulmate. I have never met a person like that and with every minute I was spending with him, I hoped even more that our ways would stay together forever. But for the moment I didn't know that, so I enjoyed the present and was looking forward to showing him Munich. The weather was great (a bit too hot actually) and there was almost nobody on the streets because it was Sunday morning. We arrived in Froettmaning at about 12:00 and went to the free Park and Ride Parking. Froettmaning is also the place of the Allianz Arena, so it was the perfect place to start our trip - we could leave the car there, visit the large stadium and take the metro to get into the city centre afterwards. Like that, we could save about 15 euros only for parking fees and didn't have the stress to drive in the crowded zones of Munich where even on Sundays you will find a lot of cars. 
Allianz Arena
We left the car and realized that it was quite a long way to walk to the stadium itself. My boyfriend had told me (when we were still in the car) that he was sure there was a parking right next to the stadium, but it looked quite weird - like for VIPs or something, so I had decided to get to the large parking directly. Now when we were walking towards the large building, I could also see that we could have left the car over there, and he was telling me that, too. But it was too late and it was only a way of about 15 or 20 minutes. The only problem was the temperature. It was lunchtime, 12pm, and incredibly hot. Furthermore, there was no shadow and we had to walk up a small hill. But as we are both young and do sports from time to time that wasn't a problem and after a while we arrived in front of the Allianz Arena. It's an impressing building with a strange shape and as my boyfriend is quite crazy about football he was excited to be there. We entered the building, but unfortunately one couldn't enter the stadium without paying a lot of money for a guided tour. So we just went to the fan shop where I was really shocked about the high prices and the variety of products. They even sell accessoires for your sink with the logo of FCB! Of course, we didn't buy anything, so we continued our tour and arrived to the FCB interactive museum. It looked quite interesting from the outside, but when we saw the long queue and the entrance fees we didn't want to see it anymore.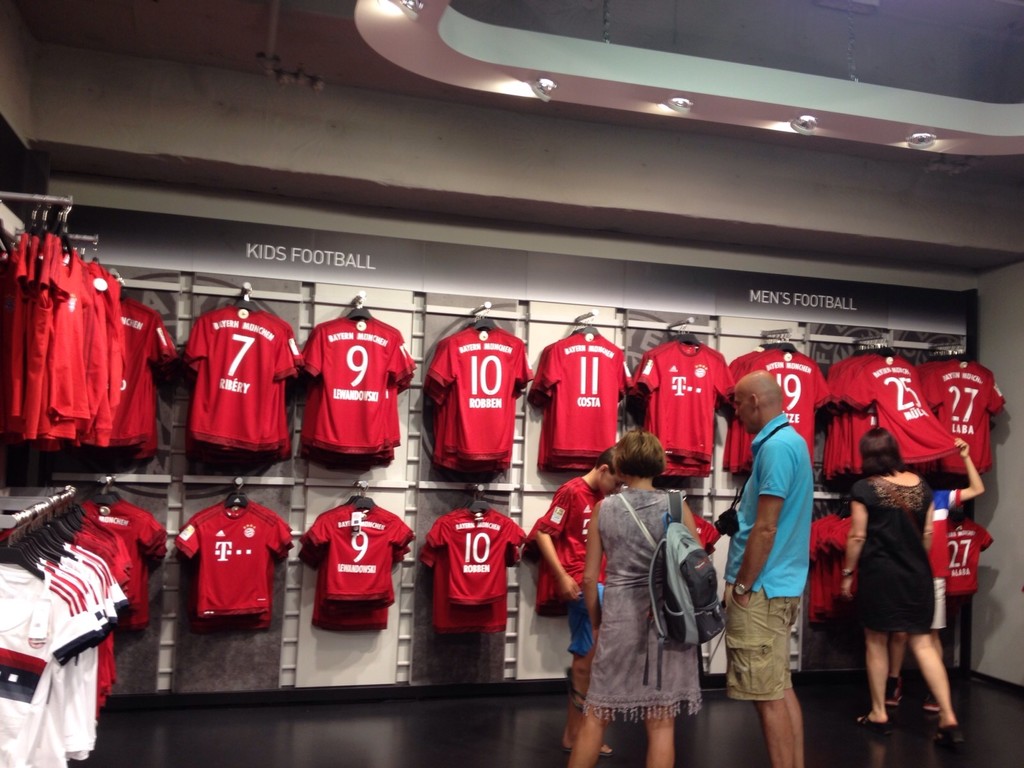 We left the museum and found a cafeteria that sold foods and drinks for surprisingly normal prices. As we were in Germany and my boyfriend was crazy about beer, I bought two beer and we sat down to relax a bit. There were a lot of families and other people having (a typical Bavarian) lunch in there, but also many people waiting for their guided tours or something. Through a window one could see a large part of the stadium, and via video they showed scenes from soccer games that had taken place in the Allianz Arena. When we had finished our beer we walked outside to the stairs again and decided to walk up one last floor. Actually, it was the last floor you could walk up, because above there were only the VIP lounges and other things blocked for the "normal" visitors. We found nothing special over there, just a small souvenir shop that sold everything related to the Allianz Arena and Allianz insurances (no insurances, of course, but things like caps or scarfs etc) - also incredibly expensive as everywhere. We had a look at the things but left the store without having bought anything. As we had seen everything we decided to walk back to the parking, because there was also the entrance to the metro station. Before we went there we took some pictures, together and of each other, in order to remember that visit later on. 
Closed Shops and Markets - but a lot of fun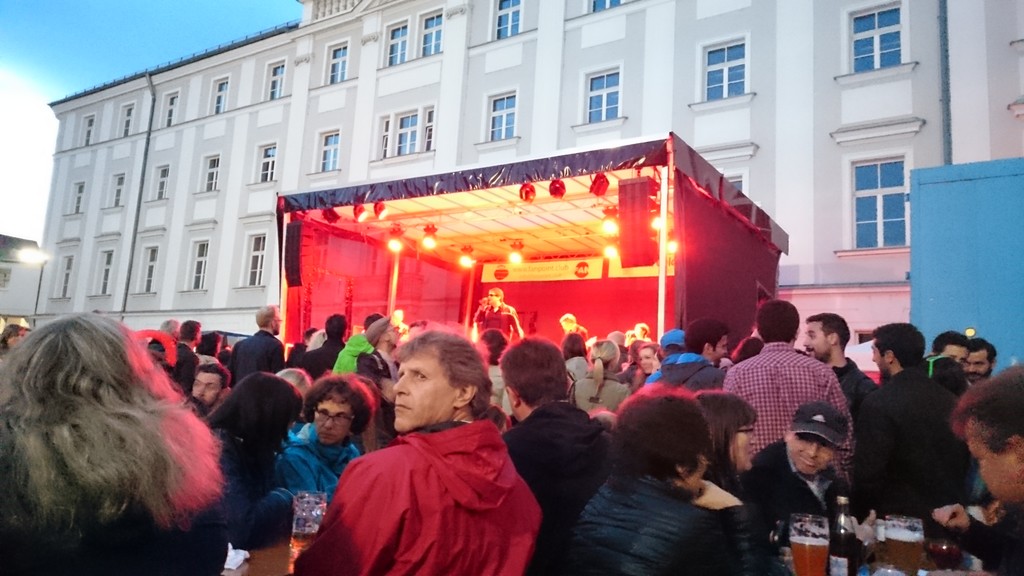 We took the metro to the city centre which took us about 25 minutes. My boyfriend was used to taking the metro in Paris, so it was nothing new for him. During the drive we watched the people around us and he laughed a lot about the things the driver said, like "Attention, closing doors" and similar things, because he was speaking with a strong Bavarian accent. I enjoyed everything about that day so far, even if we hadn't done a lot, for me it was already the perfect day. We arrived at Marienplatz and left the underground station. Outside we found a lot of people, some stages and music - something not normal for that square. After some minutes I found out that it was a Gay Pride Festival that weekend - my boyfriend wasn't amused about that at all, so we just took a pictures in front of the city hall and continued our trip. As the Viktualienmarkt is right next to Marienplatz I decided to go there, but what I didn't know is that it's closed on Sundays - actually, I had never been to Munich on a Sunday before. My boyfriend wasn't too disappointed, so I just explained to him what you usually could find there: fruits, spices, vegetables, fresh juices, cheese and meat, plants and decoration and many other things. The special thing about that market is that you find all the fruits from all over the world, during the whole year. Of course, when it's not the season of the fruit you pay a fortune there, but the quality is always good and the people selling them are making a large effort to make it look nice and everything. I usually don't buy anything when I'm there, it's just nice to look at all the beautiful exotic fruits. 
As there was nothing more to see we continued our trip, and I tried to find the shortest way to the famous square "Platzl". It's not far away from the Viktualienmarkt, but I didn't remember it for sure because I always had been there with my Mum and had never paid attention to the way itself. After two attempts I finally found the right street that led us directly to the touristic square number one. There you can find the Hard Rock Café of Munich, the Hofbräuhaus, fan shops of the two soccer clubs situated in Munich and the restaurants and shops of Alfons Schubeck (a famous Bavarian chef). Usually, I don't like to go there, because you only see tourists, it's expensive and crowded. But as we were quite hungry, and my boyfriend wanted to eat something traditional, the first thing that had come to my mind was the Hofbräuhaus. Even if it's touristic, you get amazing Bavarian food there, and the atmosphere for free as addition. 
Hofbräuhaus
We entered the Hofbräuhaus and I wasn't sure if we would find a place, because it was always crowded - even if it was 3:00 in the afternoon. I didn't want to sit inside as it was dark and loud in there, especially when the musicians started to play their Bavarian music. So we went outside to the beer garden to see if there was a free table. Of course, everyone wanted to sit outside because the weather was nice and in the shadow it was quite pleasant to sit and eat. But as we were only two people it wasn't that difficult to find a place at a table - I just asked a family if we could join their table. Usually, I don't like to do that, but in Munich you have to, otherwise you will wait for your free table for hours. The family seemed to be Italian, so I didn't care about them as they wouldn't understand what we were talking, and they were tourists. The waiter came, we ordered our drinks and I started to explain the menu to my boyfriend. It was quite complicating as I didn't really know a lot of food vocabularies and especially no Bavarian words in French. But as he doesn't eat pork it wasn't too difficult to chose a plate as there were only two or three. He told me to chose for him, so I chose the most traditional plate for him, and another quite traditional one for me (but with pork). We talked about our day so far, and he told me that he really liked Munich and that the atmosphere in the beergarden is great. I was happy to hear that, and started to explain some things about the city and the Bavarian lifestyle to him. I was fascinated how interested he was in all that, especially in the historical things, and liked to tell him the few things I knew.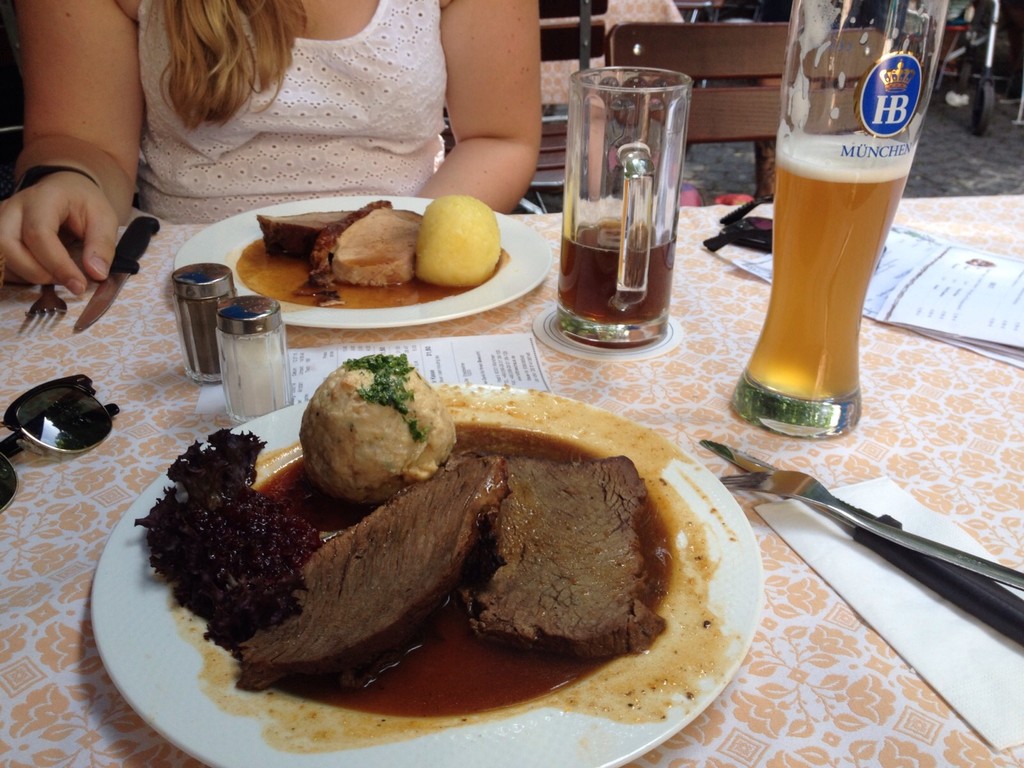 After a while our food arrived and I hoped that he would like what I had ordered for him: marinated beef with dumplings. For myself I had ordered roast pork, the most traditional dish in Bavaria. He liked the food, and I really enjoyed mine, too - after France I hadn't had the possiblity to eat Bavarian food so far, because it was too hot to do something similar at home (or rather my Mum) and I had been too busy to visit my Grandmother. We didn't talk while we were eating, but it was just a perfect lunch. When we had finished, my boyfriend ordered a second beer, and we continued enjoying the nice atmosphere in the beergarden for a while. He was fascinated by the food and by the people playing music. Furthermore, he really liked the traditional clothes the waiters and waitresses were wearing, so I explained him some facts about that, too. I was happy that he liked the trip to Munich and hoped that it would stay like that for the rest of the day, too, and that it would strengthen our relationship even more. After the second beer we decided to pay and left the Hofbräuhaus to look for some ice cream or something outside. It was late afternoon, but the sun was still shining and it was still hot, so we needed something refreshing before we could continue our trip.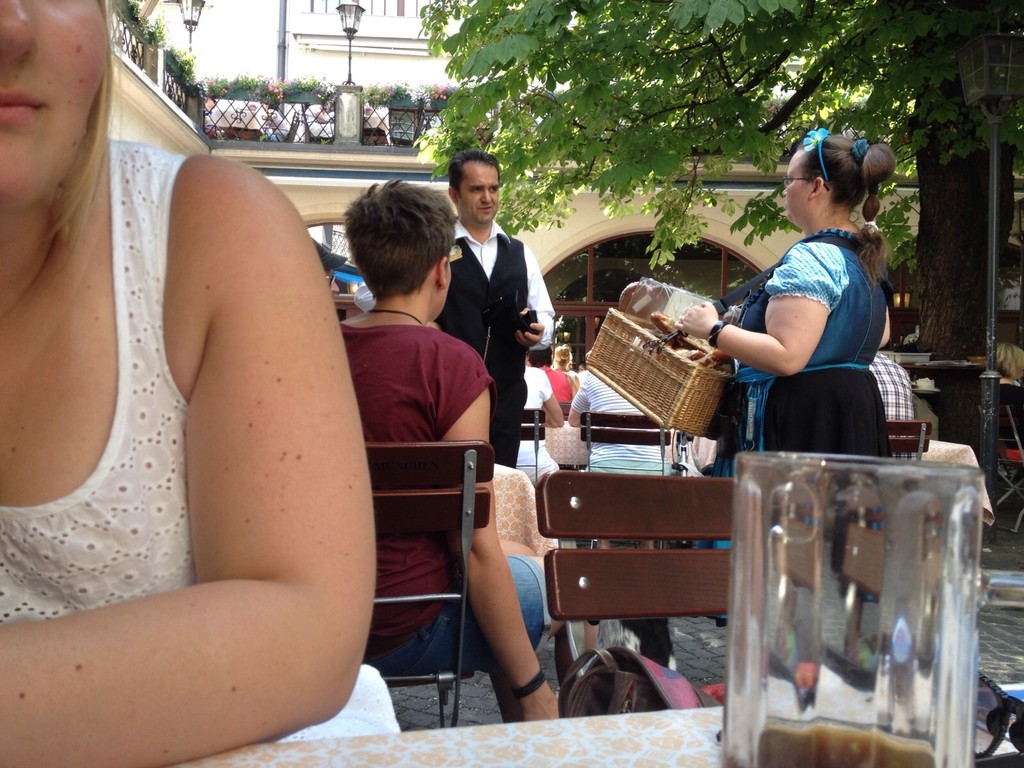 ---
Photo gallery
---
---
Content available in other languages
Want to have your own Erasmus blog?
If you are experiencing living abroad, you're an avid traveller or want to promote the city where you live... create your own blog and share your adventures!
I want to create my Erasmus blog! →