Festival in the Hometown
Routine comes back
The week after the large party in the city and my visitor from Amiens I started to get back my routine. I did some sports in the nice weather and went to the swimming pool quite often in order to cope with the high temperatures - it stayed at 30 degrees the whole time and I started to think about how to survive my internship in Tenerife with that kind of weather. I also visited my friends and family several times, but most of them had to work, so during the week I had a lot of time for myself. It was quite a relaxing time, I started to read books again, tried to cook healthier and thought about what to take to Tenerife already - I had more than 4 weeks left! I enjoyed to be back home and to have all the people I loved around me and - more important - a familiar environment. I didn't have to think too much about everything, I knew how to get to the city centre, which products were the best in the supermarket, how people would react and behave etc. The sentence "Home Sweet Home" is so incredibly true! But of course I was also looking forward to my second semestre abroad and all the adventures I would experience there. 
Back to the roots - festival in the hometown
The weekend after the large party in my student's town there was a large party in my hometown. It was kind of the same thing, but in my hometown it was a special year because it was its 1000th anniversary and there have already been many other events, such as concerts, theatre and markets. The party in the park of the city would be one of the highlights, all the associations of the small village would prepare something - food, drinks, games or handmade things, and there would be a large stage with different bands and acts from the region. As my Dad takes part in an association, too, I was happy that I was in Germany at this weekend. They had been taking part in these events as long as I can think about it, and I had always had the possibility to help or do something like selling drinks, collecting empty glasses or similar small works. I really liked most of the other members and it had always been a lot of fun to help and be part of all that - I always prefer to look behind the scenes and not to be a "simple visitor". So that year it would be an even bigger party, and as always the club from my Dad planned to sell beer and alcoholic drinks, because they had a large bar made from wood which was simply perfect for events like that. But they also had another great idea. The years before they had always sold pizza as food, because one member had a small pizza restaurant, and he had the oven and the ingredients for it. But as he had closed that the year before, they wanted to do something different, and had found an interesting recipe in the internet: Biker Bread.
Biker Bread - Student's recipe
It's also known as a student's recipe because it's easy and incredibly delicious. You just take a small bread (of course, you can also take a large one, but for selling we took a smaller one) and cut a chessboard pattern with a sharp knife. Not too deep - the bread should rest complete, but deep enough to make it possible to fill it. Then you melt butter (as much as you like) and mix it with garlic and spring onions. To complete your Biker bread you cut Gouda or another kind of cheese and put it into the gaps of the bread. Then you add the butter-garlic-onion mixture and put it into the oven until the cheese is completely melted. Try it - you will love it! 
So they wanted to to that Biker Bread and sell it during the festival. The day before the event everyone met at the clubhouse in order to prepare the food for the next day - there would be no time and no space to prepare them right at the event, but they had rent a refrigerator car, so it was possible to prepare it the day before. My Dad, his girlfriend and me wanted to go there to help, too, but as my Dad had worked too long, we arrived when they had already almost finished, and we could just help to wrap them in aluminium foil. After everything was packed in the car we had a barbecue outside the clubhouse and everyone talked about the last details about the weekend. It was a big event and everyone wanted that everything would be allright. I was really looking forward to the next day, I haven't been to my hometown for such a long time (except visits of my friends, but that's not the same thing) and I hoped to meet some people I haven't seen for a while. Everyone would come to that event, in a small village like that there was nothing else to do, and already half of the people belong to an association and had to help preparing food or selling things. Furthermore, the weather was supposed to be great as the weeks before already, so it seemed to become a perfect weekend. I spent the night at my Dad's house and could hardly sleep because of excitment. 
The first day - everyone wants Biker Bread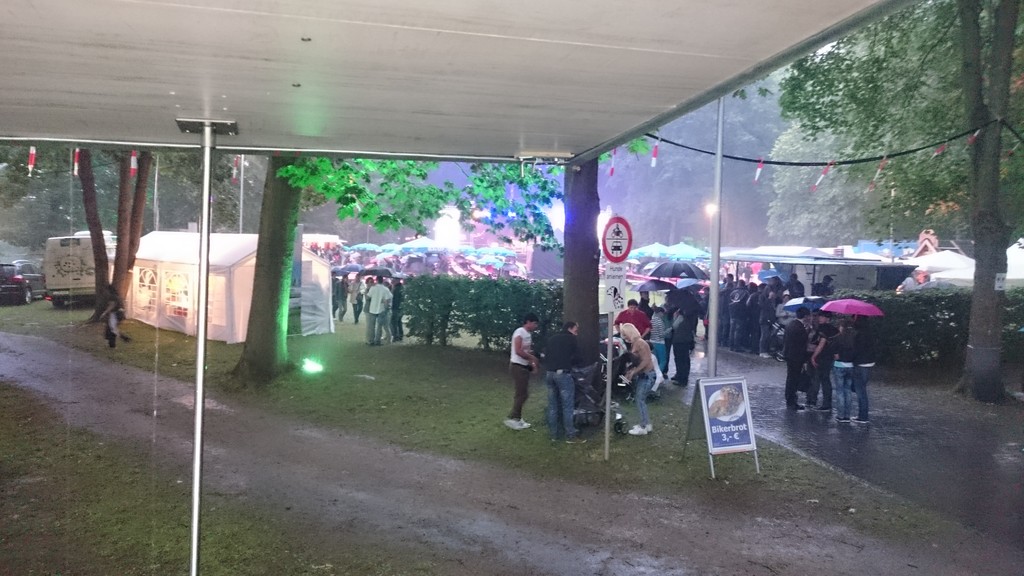 The next day it was finally the first day of the event. It would start around lunchtime, because there was a mass in the church and a welcome speech before, but we went there earlier, because the association had to prepare the bar and the booth for the food. Everyone helped, so we finished quite early. The "personnel" had been divided into shifts from four people for selling the food and four people for selling drinks. As our shift (I wasn't in any shift, but I would help when it was my Dad's and his girlfriend's turn) would be the second one, we still had some time to walk around the park and see what the other associations were doing and selling. It was quite interesting and funny to meet all the others - my Dad knows almost everybody in that village. When it was time for our shift we returned to the small booth and received a small introduction how to do what and where to find all the necessary things. As it was lunchtime everyone wanted to have something to eat and we were the only ones selling something hardly anybody knew - so they all came to buy our Biker Bread in order to try it, and when they liked it they came back to have another one. I loved to sell things, to talk to all the customers (most of them I knew) and to see their curious looks. After a while it started to rain heavily and we experienced the first thunderstorm since weeks. Fortunately, we were in our waterproof booth and could enjoy the warm rain from inside. Most of the others became quite wet and were also afraid of the lightnings and the thunder, but after only 20 minutes the sun came back and everything was forgotten. In our 3 hours we sold almost all the breads we had prepared for the first day, so the last shift wouldn't have so much to do.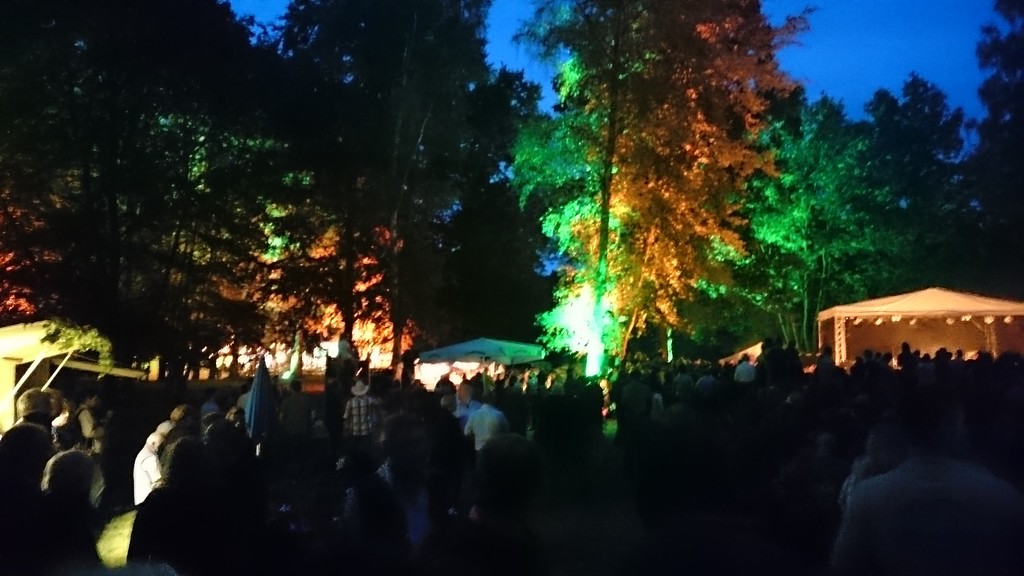 After our "work" we had time to enjoy the music acts and look for some different food - after having seen the Biker Breads for the whole day we all wanted to try something else. So we walked around the park a second time and everyone found something to eat. A bit later I met my best friend who was there with some others, and we had some cocktails at our bar (I didn't have to pay anything so it was better than going to somebody else) and enjoyed the music. The bands were quite good and from our place we could see everything perfectly. I also met half of my family, my aunt, my cousin and her friends etc. and I really had a great evening. I enjoyed being around my old friends and people I knew. At midnight the party ended because of the German law about events like that, so everyone helped to clean up our place and to close it, and we returned to my Dad's place. The next day we had to get up early, because it already started at around 10am and our shift was the first one (of two). 
The second day - wonderful laser show
The next day it was still wonderful weather and I was still motivated to help at the festival and to enjoy that evening together with my friends and my family. We had a short breakfast and went back to my hometown in order to start our shift. Some members had drunk too much the night before, they were incredibly tired and quiet, but we were highly awake and went to the snack booth. Of course, at 10am nobody came to buy a bread, but around 11am the first people came to try our delicious bread - many of them ordered with the sentence "somebody told me that it's good, so I wanted to try it, too". We were happy about the sucess of our bread, but also a bit concerned - there weren't so many breads left even if we had already ordered some more at the bakery. But when there was nothing left, there was nothing left, we were just doing that for fun and not for gaining as much money as possible. Our shift was supposed to be until 2pm, but during lunchtime more and more people came and bought our Biker Bread, so at 1pm we finally didn't have any breads left and had to close our booth. It wasn't difficult to tell the people that there was nothing left, because there were still many coming and asking for the delicious snack.
We closed the windows and started to clean up the booth. It took us about half an hour until everything looked perfect and we could finish our shift. We told the others that they wouldn't have to come to their shift because there was nothing left to sell and started our promenade around the park. As we had alredy eaten a bread for lunch (they were just too delicious!) we were now looking for nothing special, and just met some friends and chatted a bit. As my Dad and also his girlfriend knew a lot of people, and we also met my cousin at her association it took us more than one hour to surround the whole park once. We passed by a funny booth - an association selling funny hats, and my Dad and I bought one each. I enjoyed the time with my Dad a lot and I already knew that I would miss him a lot during my six months in Tenerife. We took some pictures with our new look and went to the booth nearby to have some cake and coffee and relax a bit.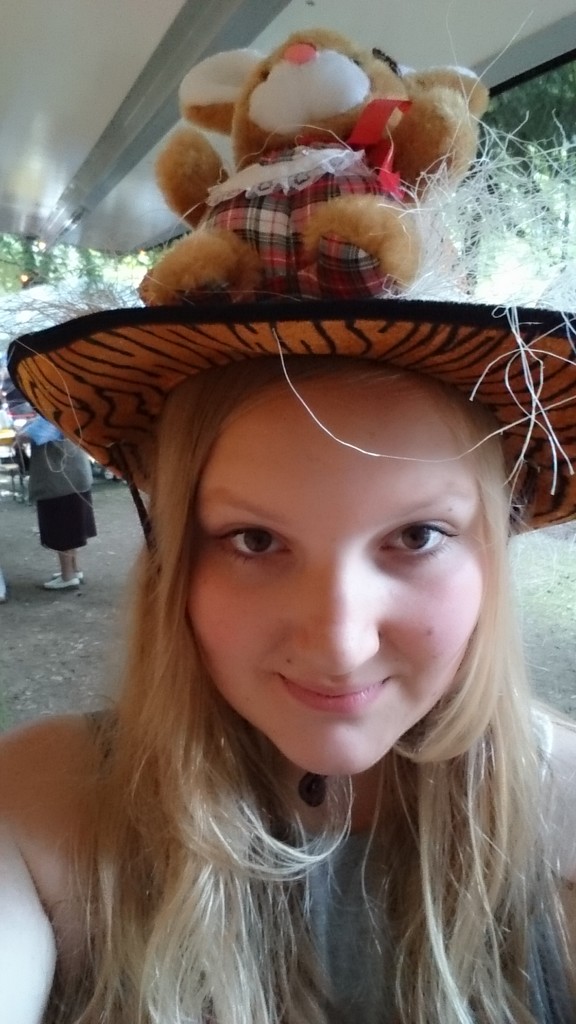 In the evening I met some of my friends and we sat down in order to enjoy the concert of the main act. It was a band from the region and they were covering current hits - perfect to sing along and have fun with your friends. It was a very nice evening that ended at the bar of my association next to my Dad later on. We had some cocktails and shots (almost everything for free) and I met some more friends. I also had fun with the other members of the association that I knew a long time already - we also found something to laugh about! When it was almost midnight we were all tired and I looked for my Dad and his girlfriend, because they had told me that they wanted to leave around midnight. I found them together with my aunt, and we decided to walk around the park one last time - there was supposed to be a fire show as final highlight in the other part of the park, so we went there to see it. But as we arrived there were so many people and we couldn't see anything, so we continued. They had installed some LED lamps in the river around the park and together with the fountains it looked beautiful at night. I took some pictures, and we had a Crêpe at a booth that was still opened. The Crêpe reminded me of France, and I started to miss my boyfriend immediately. I would have loved to spend that day with him and show him my hometown, but unfortunately it wasn't that easy. After a while we decided to return home and finished the wonderful weekend with a glass of wine at the balcony. I was happy that I had come home, even if I missed my boyfriend a lot - I still hoped that he would come to visit me soon..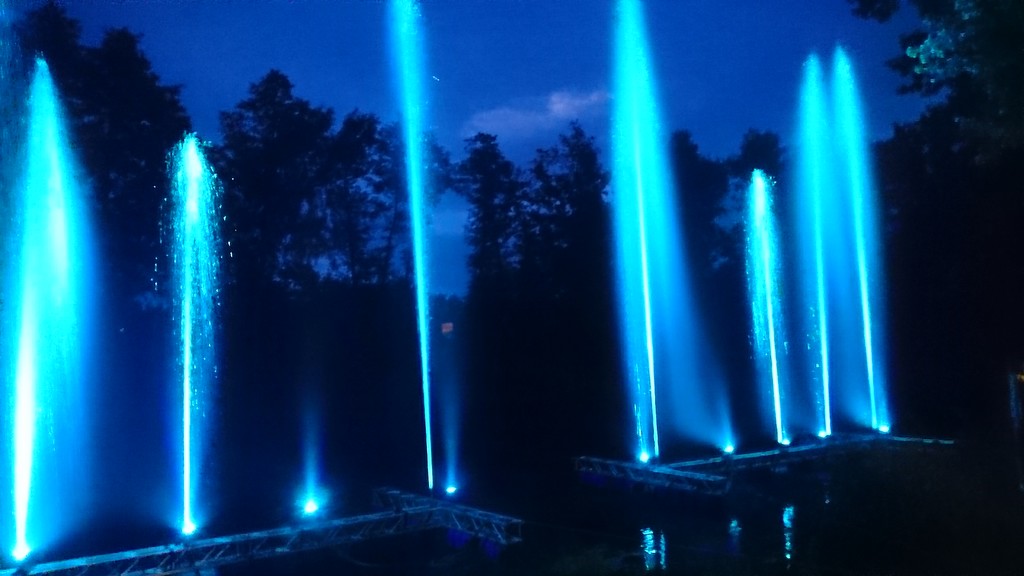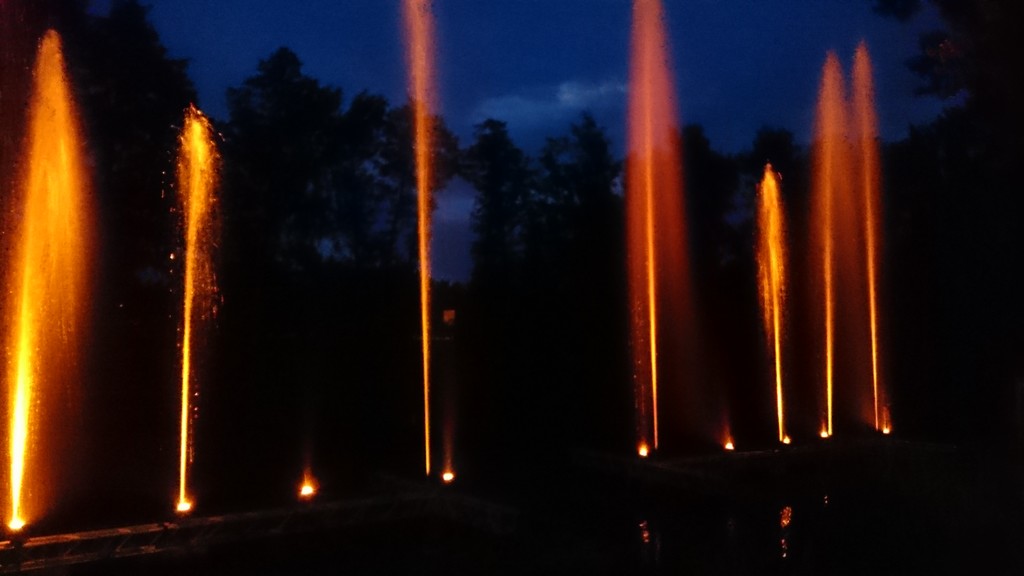 ---
Photo gallery
---
---
Content available in other languages
Want to have your own Erasmus blog?
If you are experiencing living abroad, you're an avid traveller or want to promote the city where you live... create your own blog and share your adventures!
I want to create my Erasmus blog! →