Home Cooking - Salmon with salsa de maracuyá and Brigadeiro
Hi there, today I'm going to be telling you about a perfect recipe for a surprise dinner, or as it was in my case, a romantic one. We are always thinking of ways we can surprise people but we can never think of anything original or that at least isn't too difficult if we aren't the best cooks.
Like I've said many times, my boyfriend is Brazilian, and he has shown me loads of Brazilian dishes, very different to the traditional Spanish recipes. I have to admit too, if there is one good thing the Brazilians have, it's their food and especially their desserts. They are amazing!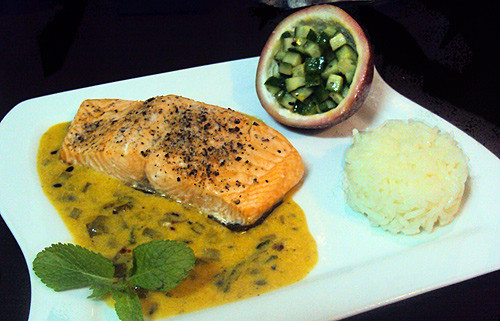 The idea came about because my boyfriend and I could not be together for Noche Vieja and as we were both pretty gutted about it we decided to have a romantic candlelight dinner date instead, with some wine and all the other things you'd usually associate with such an occasion. On the 7th of January I went back to Amiens and he came back on the 9th, so we decided to have our dinner that evening or on the 10th at the latest.
He was in charge of finding an exotic recipe, but at the same time a romantic one, and I was in charge of of buying everything we needed for the meal and the dessert before he got back on the 9th. However, at the last minute we decided to do the shopping together so that we could get more things and didn't have to go back and forth to the shops, which would have been a complete waste of time.
But now we move on to the recipe itself, which in reality, is not much more, or much less, than salmon with a maracuyá dressing, or in Spanish la fruit de la pasión (and in English, passion fruit). The second part is dessert, brigadeiro, another typical Brazilian recipe and something I'd already tried before, and loved.
I'll start with the salmon and move on, bit by bit, so no one gets lost.
Salmon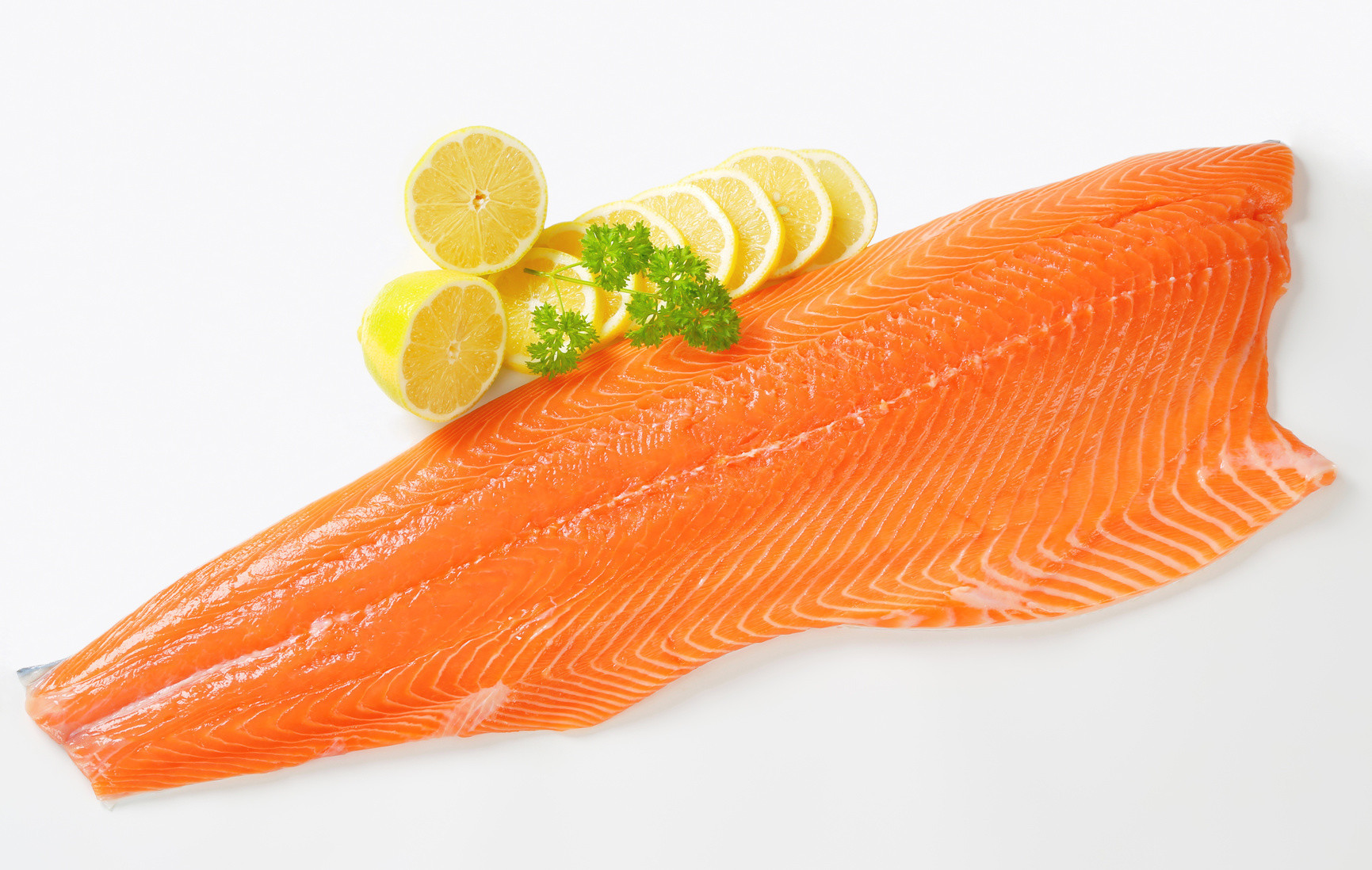 Ingredients
1 1/2 kg of salmon (various pieces/fillets)
4 tablespoons of salted butter
Juice of 1 lemon
Salt (add to taste)
Pepper (add to taste)
We bought 4 pretty big pieces of Salmon rather than fillets. In reality it doesn't actually matter, we just found it like this, it will just depend on where you go.
Method
Season the salmon on both sides with the salt, pepper and lemon juice. We usually leave the skin on at least one side, but it doesn't make a difference, take it off if you prefer.
In a frying pan, start to melt the butter on a low heat. You don't need oil to panfry salmon.
Once it has melted, add the salmon and turn up to a high heat until golden and it starts to smell good.
Take it out of the pan and leave it to rest while you prepare the passion fruit dressing.
Salsa Maracuyá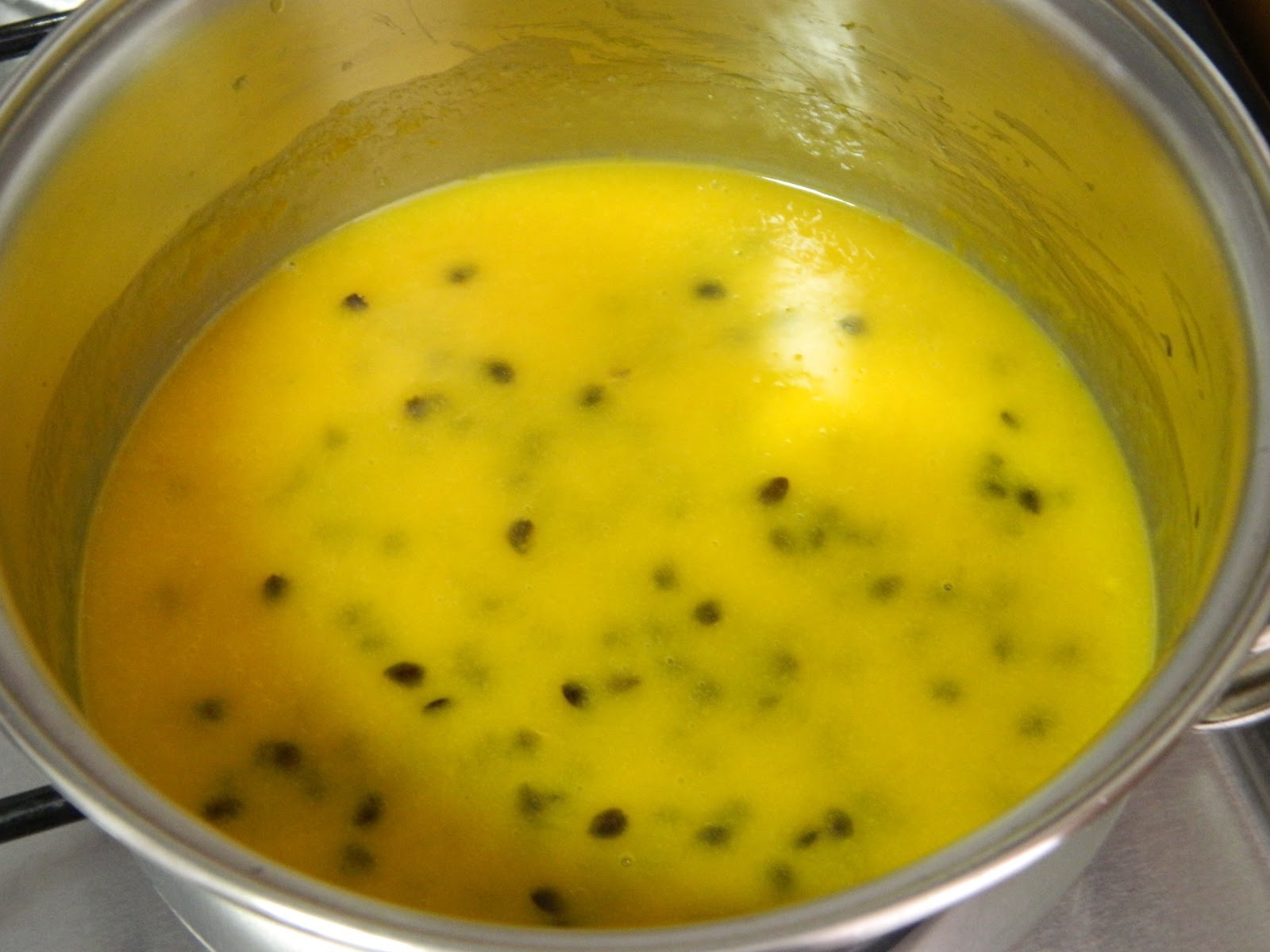 Ingredients
2 tablespoons of lemon juice
Juice of 4 passion fruits
One cup of orange juice
8 tablespoons of mayonnaise
A pinch of sugar
A pinch of salt
Method
Before we start, you may be wondering why you have to add both salt and sugar. You do so as the sugar will help reduce the acidity of the lemon juice, but at the same time we don't want a sweet sauce, so we then add a bit of salt. Follow these steps and I assure you that it will be delicious.
You'll need a blender to start, and in it add the passion fruit juice first, followed by the orange juice and then mix it up. You'll see that the juice has some small black flecks in it because of the passion fruit. If you've got a colander that would be perfect to use, however we didn't have one and got by just fine passing it between two containers, removing the black flecks that were left at the bottom each time. Even so, if you can't do either, leaving them in there won't make a difference.
Now add the mayonnaise whilst still stirring until everything has mixed together well.
After that, add the lemon juice along with a pinch of salt and sugar.
Now grab the salmon you set aside, cover it with the sauce, and it's done.
If you want to make it look a bit fancy you can decorate the plates with passion fruit seeds and slices of orange.
A red wine, or even some rosé, goes well with this recipe.
Brigadeiro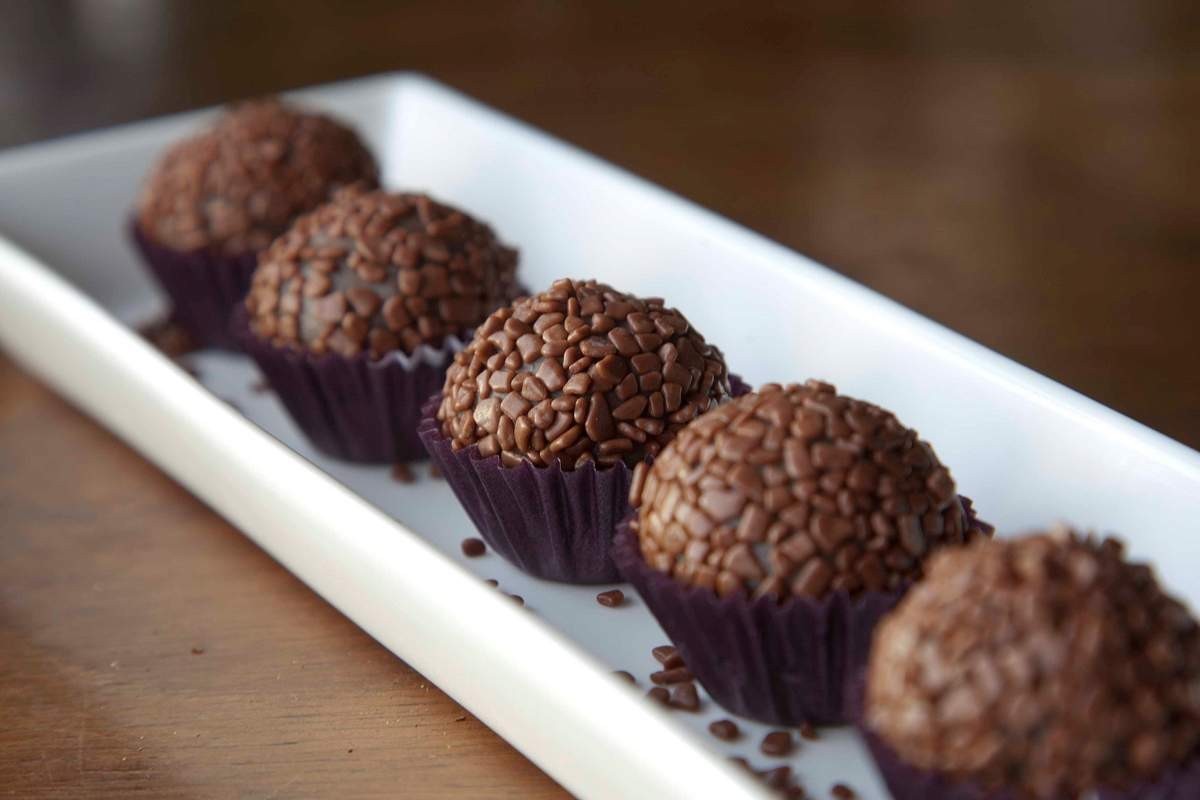 Now, if you're looking to end your meal with a delicious dessert, depending on whether you have an oven in your flat there are loads of different things you make, but for us this was not the case. My boyfriend is amazing at baking and making all sorts of desserts, but for practically all the recipes he knows you need an oven, and being an erasmus student, sometimes this is not the case. But, brigadeiro is not only a delicious dessert if you have a sweet tooth (it's quite sickly, haha), but it's also simple to make too.
Ingredients
A tin of condensed milk
A tablespoon of unsalted butter
7 tablespoons of Nesquik or 4 if it's a stronger brand
A dash of granulated chocolate
Method
Add the condensed milk, butter and Nesquik to a fairly large pan on a medium heat. Continue stirring until everything has bound together.
You'll see at first it seems like a sort of dough, and when it starts to unstick from the sides of the pans it's ready. To give you a rough idea, this normally takes about 15 minutes. Make sure you keep an eye on when it starts to unstick. As mentioned, when this happens it is ready to be left to cool.
Put it in some sort of container so that it cools as fast as possible. It's best to let it cool naturally, try not to put it in the fridge.
When it's cool, you're meant to roll it up in to small little balls and then cover them in the granulated chocolate. To make rolling them easier, cover your hands with a little bit of unsalted butter.
After making the balls, serve them on a plate, or even put them into individual little cases so they look like cupcakes.
If you don't want to make them into balls or you don't have any chocolate to roll them in, you can just eat the mix with a spoon once it's cooled. It doesn't make much difference to the taste, but they look much nicer rolled up, especially if you are making them for a romantic dinner or other special occasion.
Let's Eat!
Balls or no balls, everything is done for your romantic dinner. I hope that you liked the recipes and this post has been useful.
Good luck to anyone trying it!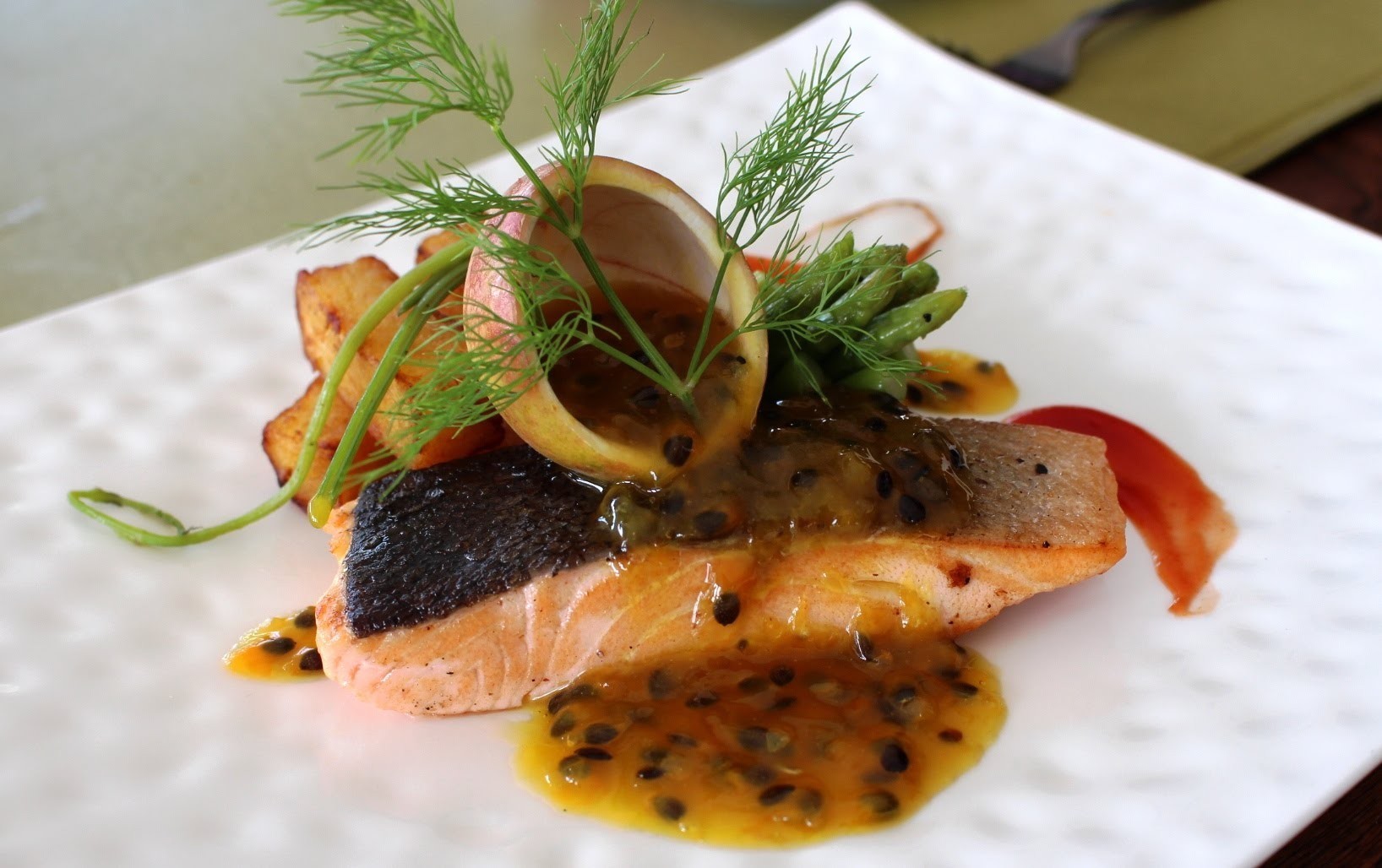 ---
Photo gallery
---
---
Content avaiable in other languages
Want to have your own Erasmus blog?
If you are experiencing living abroad, you're an avid traveller or want to promote the city where you live... create your own blog and share your adventures!
I want to create my Erasmus blog! →