Belgian: Brussels, Brugge and Beer
During your exchange you will have many opportunities to travel regionally. This is especially true if you are staying in Europe as there are many countries nearby each other. In my case, I had been doing a student exchange in France in a small city called Reims next to Paris. Due to its location being in the North Eastern part of France, it is quite easy to take transportation using trains to get to nearby countries. However, it is a bit of a hassle trying to get to an airport as you will have to go to Paris since Reims does not have an airport of itself.
The plan
Regardless, I did not allow this to discourage me. Recently, I had done a eurotrip on August. Although, my hunger to see different European countries had not been saited. For this reason, I decided to see as many European countries nearby as possible. Yeah, I will be speaking about one of my top experiences: Belgium. Now, it is worth noting that while a train ride only lasts a couple of hours, they can easily take quite a bit of your budget. If you find yourself on exchange in Europe, then I would recommend that you keep an eye out for train deals. Another option is to simply fly. It might be very surprising to those that are not used to travelling around Europe that finding very cheap flights is not too hard. For example it is very common for Ryanair to offer some amazing prices for you to travel around Europe. For example in one of the future trips I will be talking about in another article, I traveled from Paris to London and back for less than 74 euros. Sometimes, you will be able to find deals for less than fifteen euros one way.
From Reims
However, it is worth noting that getting to the airport in Paris is a little bit costly. For example, if you are staying in Reims you will have to first travel to Paris in the first place. The average train ride (the TGV) will cost around 30 to 40 euros. If you are able to plan your schedule properly then you should catch the TGV that will take you all the way to Charles du Gaulle airport. Needless to say, if you have to go to another airport then its back to square one. However, you could also grab a Flixbus. Although that takes up to an hour and fifty minutes which could be a risk to your flight plans if there are any traffic or crash problems. This may cost as low as 8 euros.
From Paris
Let us assume you made it to Paris (or you are doing an exchange in Paris) you will then have to get to one of the few surrounding airports. The main two I have been using due to its popularity with budget and regular airlines are Beauvais airport and Charles de Gaulle airport. The former is often used by Ryanair. Getting here takes about an hour by car. Although as exchange students we are likely not to have a car. Our alternative are the shuttle buses provided in Paris-Porte Maillot. You will have to arrive at least three hours before your plane ride atleast to catch your shuttle bus. Luckily, Beauvais airport is quite small so you won't have to worry about spending an excessive amount of time getting around the airport. The shuttle bus costs roughly 17 euros one way. Keep in mind that your return flight will probably drop you off at Beauvais airport unless you plan it otherwise. So consider adding thirty four euros to your travel costs if you take this route.
The second most popular alternative is getting to the Charles du Gaulle airport. You could grab the train that takes you to the Charles de Gaulle airport from a few different points within the city. However, I recommend catching it from the Gare du Nord. From here you will have to pay 10. 30 euros (adult fare). If you are travelling with family it has the potential of being cheaper. For example, the cost is downgraded to 7 euros per person if you have children aged between the years of four and nine. If you have children under the age of four then they are able to travel for free.
To buy one of these tickets you will have to buy it from one of the vending machines (fastest way) or ticket vendors. The instructions on the machine come in different languages which would make it easier for you to buy your ticket. However, if it's your first time and you are feeling nervous then I would recommend you go to a ticket vendor station or ask help from one of the different employees found around the large station. Once you buy your ticket you will then have to head to the train lines located on the bottom floor. Make sure to not throw away your ticket as tickets are often scanned by ticket spotters. Its common sense. Although the problem with common sense is that it's not always common.
The whole trip takes just over thirty minutes to get Gare du Nord to Charles de Gaulle. Make sure to check which terminal you have to get off of. There are two different stops you will have to choose from to reach different terminals. One of the stops will provide you with a free tram ride to get to your exact terminal. It is worth noting that Charles de Gaulle airport is one of the busiest airports in the world. It should be unsurprising as Paris is the most visited city in the world. The time it takes to get through security varies. The first time I had went through Charles de Gaulle I had to wait just over thirty minutes simply to get through the line that leads to the main line to the security gate.
Alternative transports
Besides travelling the airways, it is quite common to travel around by Blablacar. Blablacar, for those that aren't aware, is a ridesharing service where people would be travelling from one city/country to the other and offer rides to travellers. This is usually an inexpensive way to get around. Many of my mates would travel from Reims to Paris, Lille, Brussels and even Luxembourg city. Along with being quite cheap it is also flexible in the sense of pit stops. Whether you're killing for a lunch break or bathroom break.
However, there are a couple of downsides to this. For one, the timings are quite inflexible. Sometimes you will have to get to the meeting point in the early hours of the morning. Furthermore, the seats are quite limited compared to flying or taking a train or bus. So if you are doing a 4+ group travel then you may need to grab a second car. This is another issue as Blablacar is rarely very scheduled. That is to say, you can never rely on a second car travelling at the same time. Regardless, the Blablacar is quite detailed and provides the driver's contact details. This allows for better coordination with your driver and perhaps even flexibility in timings. Although often enough it isn't a thing.
Finally, the longest but cheapest way to get around, in my case Brussels, is through Flixbus. Flixbus Is a major bus company. It is one of my favorites ways of getting around Europe due to how cheap it is. There are other alternatives, especially in France, such as Ouibus which offer even cheaper rates. Although Flixbus is much more comfortable and has a larger range around Europe. The thing about Flixbus is that it mainly travels between Western and central European countries. This bus service provides a fleet of iconically green buses that can take you to most destinations you need. In my case I took the bus from Reims to Paris and then to Brussels. The ride took a total of seventeen hours. Although it was not much of an issue for me as I had friday off.
Flixbusing it
Now, as Erasmus students we do not always have the most amount of time to travel during the semester. This is especially an issue if you are staying for only a semester and need to leave right after the exam period. So often, such as in my case, you will have to travel over the weekend. My trip was not the most comfortable although it was very cheap. I took a bus close to midnight in Reims. From there I reached Paris after an hour and fifty minutes. You will be deposited in the area of Bercy Seine. You will be stopped in an underground area filled with many different Flixbuses. There are restaurants and small eateries roughly an eight minute walk away northwards. However, in my case everything was closed. Although, if you are especially hungry or thirsty then you could grab something from the two vending machines and the coffee dispenser in the underground compound. There are also bathrooms located on the two far corners of the station.
I had three hours to burn so I took a nap and listened to music. If you distract yourself enough then three hours will go by fast. Just make sure to always keep your stuff within reach and definitely within your range of vision. Unfortunately, my bus was about an hour late. Make sure to look up your rights as a passenger if this were to happen. After a certain amount of hours you are entitled to a full refund. I wasn't as not enough time had elapsed. Although, I travelled with Flixbus dozens of times. They were seriously late perhaps thrice. So I wouldn't worry too much about being late. However, keep in mind that it may happen.
Finally, I got on my tardy bus and made my way to Brussels. I'll give a short preview of what to expect on the bus. They tend to vary in many aspects. For example, some would sell snacks such as small bags of chips and chocolate bars. Other Flix buses will offer a small coffee station to keep you going through the long haul journeys. Some short rides the bathroom is locked. Although in longer rides the bathroom will be kept open. You can also have the chance of riding a double decker Flixbus in some routes. I have only been in one while travelling in Hungary. It was good fun.
Finally, the last and one of the most important features are the electric sockets. In the majority if not all of my Flixbus experiences I had access to a socket. Each seat of two people have one socket for use. So if you need to charge up your phone or laptop then you'll easily be able to do so. The only last thing to keep in mind is that the Flixbus company has a policy of stopping every three to seven hours (depending on the time of the day) by a eatery/supermarket station. This way you'll be able to restock on food, water etc. Don't worry about sleeping through any of the stops as it is mandatory for passengers to exit the Flixbus. The reason behind this is simple. They do not want passengers or random individuals to enter the bus and steal anything of value such as laptops or backpacks while you are away.
Brussels
Overall, my Flixbus experiences tend to be relatively relaxed and not too uncomfortable. I do recommend you check this option out. After the day travelling I woke up on a friday morning to my first destination of the trip: Brussels. The Flixbus stop is only about 15-20 minutes walk away from this city centre. Now, when you're walking to city centre, which was exactly where I was heading to straight after the bus stoped, you will be able to see the more commercial and business area of Brussels. The thing is, my mate's would explain to me how Brussels is not a very beautiful city. They argue that there are too many business buildings made of glass. Too many large commercial buildings. They argue that it seems as though Brussels lacks Belgium culture. Regardless I tend to not allow people's opinions of countries they visited, especially negative, to get in the way of my experience.
So, I continued with my trusty backpack and walked all the way to the centre. As it was breakfast time and I tend to get voraciously hungry in the morning, I had to try my best to resist eating at any of the cafes along the way. The reason for this is due to the fact that the chocolate waffles which I had been hunting for at the time were a bit of a walk away and I had to resist. I was beelining it to the Grand-Place. This place is where many of the great monuments and buildings can be found within the heart of the city. I unfortunately cannot recall the exact name of the waffle shop I had eaten at, although I do recall it is along the way and I also found many different highly rated waffle shops.
Waffles
So, I found two main ways of preparing a chocolate waffle. The most common one is getting a heavenly heated waffle and dousing it in chocolate. this one is guaranteed to have a chocolate explosion in your mouth. Often it would not come alone, they would add either strawberries or whipped cream. Although this is not limited to only these items you could also have blueberries and other different types of fruit. Second one is the version I had as my first waffle in Belgium. It was without a doubt the most delicious waffle I had ever tasted in my life. I am usually not easily impressed with different types of sweets due to the fact that I had eaten many different types of desserts from around the world. Some ranging from syrup based desserts such as the ones found in Turkey and Lebanon to the mall milder but still heavenly red bean sesame balls. Regardless, this dessert was divine. I had been walking past this eatery and realised that there was no actual entrance. It was simply a large pop-up stall within the building. Inside, a man stood with a white apron. He had a friendly smile and invited people to come taste his wares.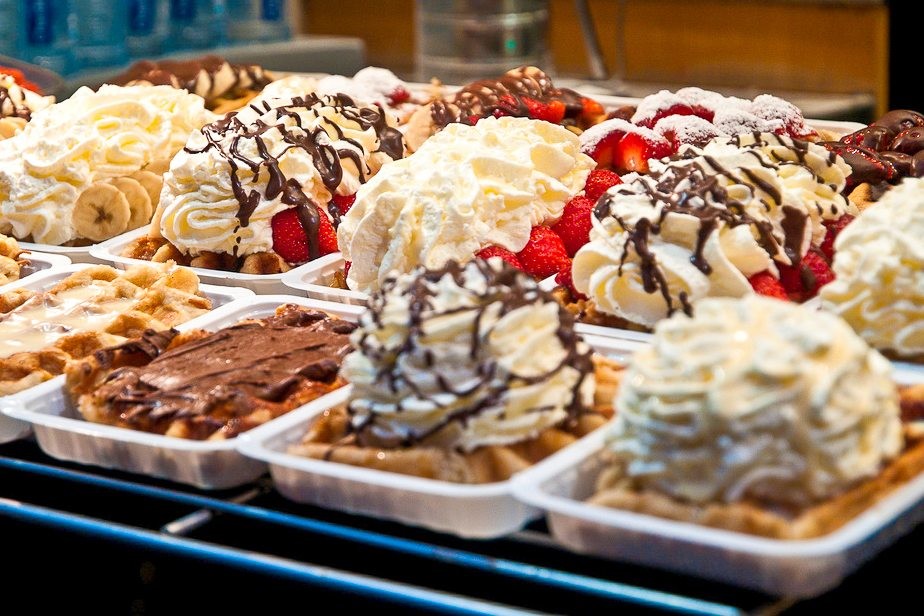 I walked up and inspected the many artistically designed waffles. As it was my first waffle in Belgium I decided to get a simple one to enjoy the authentic taste without having the whipped cream or other ingredients mask the original taste too much. He prepared it in front of me. He grabbed a relatively large soft waffle. It wasn't designed as a perfect rectangle but rather a haphazard quadrilateral with different corners sticking out further than the others. He then grabs several fingernail sized blocks of chocolate and inserts them into several different corners.
After inserting a satisfactory amount of chocolate blocks he then inserts it under a waffle machine and heats it up to its toasty gloriousness. A few minutes later I threw out a few euros and received my tasty treat. I took one bite and my tongue was sent to cloud nine. The quality of the chocolate wasn't some cheap store-brand chocolate but rather proper quality chocolate. I savoured my snack slowly. This would not be my last sugary waffle experience. It was also perfectly hot to battle the cold morning chills of Autumn.
Heart of Brussels
I kept on walking down towards the central. The walk towards the Grand-place from the train station leads from the business and commercial area to the touristic area. So expect to see roaming groups of families and tour following tourists. Tourist areas also mean many restaurants to visit from. I recall spotting many different signs outside tourist shops fighting for the appeal of the visiting foreigners. The most common sign you'll spot are mussels and fries deals. This dish is very popular in Belgium and many associate the country with this dish. I wasn't really sure why as it is also common back home in Spain. You would be able to find offers from ten to twenty five euros throughout this area.
Random piece of information for those travelling to Belgium. It hit me after spotting one of the steaks proudly displayed by one of the restaurants I had been passing by. Back in Australia, there is a ranch station we have in Australia called Anna Creek Station. This ranch is so massive that you could fit Belgium compactly within its borders. Just a random fact to cause me to chuckle and realise how small this country really was. Regardless, I kept making my way further into the ever thickening crowds heading towards the heart of the Grand-place.
I learned quite a bit of the Grand-place from the different guided tours that had been roaming the streets. I learnt that originally it used to be a popular market place and was known more as the Grand market back in the day. Going inside the square is a pleasure in itself. It is an absolutely gorgeous area with thick history surrounding you in every one of its four corners. It felt as a very rich and elegant area with the structures rising high above the tourists in awe. One of the tourist guides explained to a spanish speaking group that this square is considered one of the most beautiful ones in all of Europe. It is also a UNESCO protected Heritage area. If you could see this area for yourself then there should be absolutely no doubt in your mind. Here you can find many different grand buildings on display. Firstly you'll be able to find the unimaginably detailed guildhalls. I learnt that this used to be the heart and soul of the economy for Brussels centuries ago. The tourguide went into detail of the history although the point I vividly recall is the nine different contributors to the guild. She explained how they dubbed themselves 'nations'. They varied from foodstuff, crafts, textiles etc.
Nearby you will also have the city town hall. I had often passed town halls in Australia where they looked like regular buildings. This, rather, looked far more lavish. With its centre tower rising high above it is quite difficult to snap a photo of the whole structure in the tightly packed square. As I had mentioned during my Eurotrip articles, I have fallen in love with European architecture. I quickly learnt to distinguish the different types of architectural styles. This structure was built in my favourite style: Gothic architecture. The original building had been constructed in the fifteenth century. That's mind boggling to think. What I was standing before was first incepted more than six centuries ago.
I spent the most amount of time inspecting this area due to the fact that its one of the most beautiful buildings I had witnessed since my Eurotrip. However, the other structures in the Grand-place are also worthy of attention. A structure that is more dark in appearance is the King's house which showcases beautifully behind a blue clear sky. One last detail I learnt while looking up more about the Grand-place is the Floral carpet. I found out that while it occurs on August (which was the month I was visiting) it is only set up for a few days once every two years. The photos are spectacular. It truly looks like a massive natural carpet. It is also so finely detailed that it's hard to imagine that they used actual flowers to create this.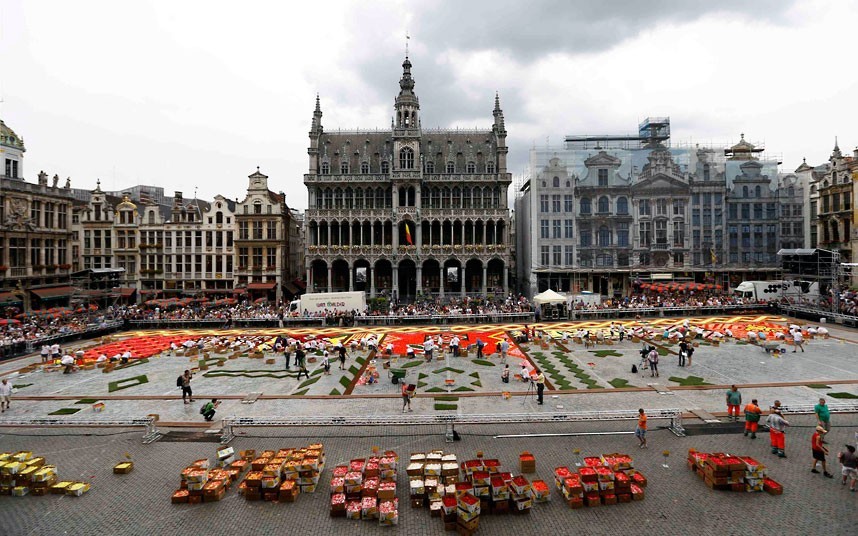 Around the square you could find many small chocolate shops to taste the famed range of different Belgium chocolates. I recall reading in one flier I had been given that chocolate tours were a thing here. I had been highly tempted, although I was only staying a night and didn't have the time to check it out. I highly recommend you check out the different tours available.
Walking about
I spent the rest of the day walking around the city. I checked out the St. Michael and St. Gudula Cathedral. It's a very pretty piece. Interestingly enough, it was the first Cathedral I had ever seen with two saints being proclaimed on behalf of the cathedral. The area around the cathedral is very beautiful. There were multiple baskers (performers ) around the area.
On the streets leading up to the Cathedral I spotted a couple playing a guitar duet. They were singing in Italian, strangely enough. It definitely wasn't the language of choice I was expecting by Belgian performers. There was also another performer nearby on a portable piano. I decided to buy a bar of hazelnut and cherry chocolate nearby and listen to his performance. He played many classics, which I was relieved to hear. I've quickly grown apathetic to modern day piano cover songs. Too oversaturated.
One last memorable performance was a violinist playing. She looked like she was barely old enough to be in high school, although she played with the grace of a professional. After finishing off my chocolate I decided to keep marching on. There are quite a few museums littered around the city. The most popular one I was advised to visit was the fine arts museum. Although, I am more interested in learning about European war history. I ended up checking out the 'Royal Museum of the Armed Forces and of Military History'. It's a spectacular place to visit. They offer different vehicules, arms and entries concerning battles ranging from centuries ago to the twentieth century.
Brussels Hello Hostel
As the day darkened I decided to head to my hostel 'Brussels Hello Hostel'. It was one of the cheapest options at the time. It's a decent hostel for the price. They have a bar and comfortable beds. Later that night I managed to meet people from many different parts of the world at the bar. There were people ranging from the US, Australia, Turkey, Iran and more. We shared a few laughs and spent the night chit chatting about many meaningless things. I've said this before but I will say it again. I highly recommend that you always have an open mind when meeting new people. You never know how well your experiences may improve. I also often hear stories of how hostel mates sometimes turn into travel buddies as they head to the same places you do.
Brussels was enjoyable. However, most of my mates highly recommended to check out the city of Brugge. I was told that the city felt 'older' and more cultural as it preserved many of its older buildings and cobblestone floors. This was pretty much exactly what I was looking for in a European city. I enjoyed another waffle (this one covered in chocolate rather than having chocolate inserted and melted to it, this is also the most commonly served type of waffle) for breakfast and soaked in the slightly chilling but sunny Autumn sun. I didn't linger too long as I wanted to make the most of my long weekend travel experience.
Brugge
I then made my way to the nearest train station to make my way to Brugge. The trip itself is moderately priced at 14. 8 euros (on average) per train ride. It is also not too long. It takes roughly less than an hour to get to one spot to the other. As I usually say in my travel blogs, it is always a good idea to bring reading material to pass travelling time. Usually we'll find ourselves with too little time to actually learn things outside of our studies. If you aren't much of a reading enthusiast then I would recommend you pick up (you should have this regardless in case of emergency) a powerbank.
Storytime
I cannot stress the importance of a powerbank. Allow me to tell you a Parisian story where I was in quite a bit of trouble which was almost disastrous if I had not gotten lucky. I had been travelling from Strasbourg to Paris. I was supposed to get a very late night Flixbus to a location I can not recall. I was both low on battery (roughly less than 5%) and no mobile internet as I had ran out at the time. I was in the Gare du Nord (Northern station) train station.
I wasn't too stressed at the time. I had my phone charger and adaptor. It had been just before midnight. I walked through the empty station with only a security guards and some shady looking individuals and fellow travellers waiting about. I head to the provided electric wall sockets next to the waiting areas. Here you can sit down and have access to multiple electric sockets. I was exhausted but overjoyed. I found the oasis in the dessert. I sat down in the slightly uncomfortable seat and put my backpack down. I grabbed my adaptor and phone charger and plugged them in. I then connected the wire to my phone. Nothing happened. Perplexed, I investigate the electric socket. Everything looked A-ok. I unplugged and replugged. Nothing. I remained calm, perhaps this was a faulty socket. I try two others in the area but no cigar.
I slowly start to begin to panic. I use what little phone battery I have to connect to the station wifi so as to be able to atleast head towards where I was looking for. I connect to the wifi and a big smile breaks out on my face. After fiddling for thirty seconds I realise that the wifi is not working. Back to square one. I manage to spot one of the security guards doing his rounds. I quickly beelined it to him before I lost him in the massive station. I break out in slightly broken french and asked about the electric sockets and the plug. He answered in french that they do not work at night so as to save electricity.
He noticed my distress and is empathetic although he couldn't do much. An idea poped into my mind. I recalled how while I was in Germany (can't recall whether I was in Hamburg, Munich or Berlin) I had to waste a few hours and decided to do so in a McDonalds. I simply had to order some food and I was allowed access to their wifi and internet. McDonalds also tend to stay open relatively late. I quickly burst the question to the security guard: Where is the nearest McDonalds. He paused in confusion, I then explained my plan and his eyes light up. He pointed towards the McDonalds, it was only a few minutes walk away. Pumping with excitement, I said my 'Mercis' and bolted with my trusty backpack to the fast food restaurant. It was hurriedly approaching midnight.
The cool autumn air hit me as I ran to the McDonalds. I got to the door and saw the sign that said the fast food joint was still open till midnight. I quickly rush in to find several patrons enjoying their meal with the smell of fries in the air. A guard stood patrolling the eatery in case any late night shenanigans were to occur. I knew I would probably be told to leave if I simply decide to charge my phone without purchasing anything. So I ordered a small fries (I already had dinner and was not keen for a massive midnight snack). While I waited, I plugged in my phone to a socket conveniently found on a pillar facing the counter.
I plugged in my phone and was thrilled when the comforting vibration of my (at that time turned off) phone went off. I had been using a Samsung phone at the time. One thing I truly loved about this brand was its super fast chargers. I manage to also connect to the McDonalds wifi while I waited for my fries. I was then able to use google maps and find exactly where I had to go. I quickly switched to 'ultra' power saving mode. This mode on the newer samsung phones allows you to save a momentous amount of battery. I grabbed my fries and made my way outside. The wifi soon turned off right before I left as it hit midnight.
However, that wasn't the end of my adventure. My phone froze less than a moment after I left McDonalds. I stopped walking and anxiously waited. My screen turned black for a second then immediately turned back on. It went back to the main homepage while closing all the apps. I froze in disbelief. However, my shock didn't last long. I quickly thought about what I could do now. I then spotted a Burger King joint several metres from where I was standing. I quickly made my way there.
I started fiddling with my phone to try and check if the wifi was working, then score! While Burger King was closed, the wifi was still working. It seemed they had been too busy closing down before turning off their wifi. I find out again exactly where to go and (here is also a highly recommended tip) screenshot the different routes to take so I would be able to get to my destination. To conclude, this was one of the most stressful periods of my French erasmus trip. I had almost been stranded in the middle of Paris and would probably have had to find a hospital or police station to get what I need. I would also have to ask strangers on the streets to get to said places. All this stress would have been avoided if I had a powerbank and calmly roamed around the streets of Paris while looking for wifi.
Back to reality
Regardless, back to our main story. I took the train from Brussels to Brugge which had afforded me with a beautiful view of the countryside. As the train trip went by I whipped out a book I brought along with me and patiently waited for my next destination. The train station I had been dropped off of is roughly a 30-40 minute walk to the heart of Brugge. I would highly recommend you walk the way rather than take the bus. The walking route is quite scenic and also popular with tourists as I walked alongside small groups in the early Belgian morning.
Along the way you'll be able to spot many beautiful European houses and cottages. These houses are surprisingly stunning and it took me almost double the time it should have to get to the edge of the city. Along the way you'll be able to spot many gorgeous canals filled with ducks and magnificent swans. There were many bleach white swans swimming down the surprisingly pristine waters. I had stayed some time in Utrecht and found that canals get extremely murky and dirty. I would never recommend swimming in one. However, they were surprisingly clean looking in Brugge.
However, it was Autumn in Belgian which is a time I would (probably) not recommend for anybody to have a dip. Along the way you may spot some elegant horse carriages making their way to the city. I continued making my way into the city until I finally reached the edge of the city. Brugge's air feels surprisingly fresh for a city. I continued on until I spotted large crowds of people walking down a street. I decided to take a left to avoid them and another right. I ended up in a less busy street cobblestone street with small european shops and houses flanking the street. I walked slowly by the beautiful architecture of the area until I spotted a peculiar shop to my left. I entered the shop and found all different sorts of Harry Potter souvenirs and memorabilia.
A muggle-free world
They ranged from many different things such as plush toys, small figurines and such. One of my two favourite pieces are the wands. They had many different types of wands from different characters. The detail in these pieces are elegant. I inspected wands belonging to Ron Weasley, Hermione, Dumbledore, Voldemort, Harry Potter and many more. I was more excited than I should've been. However, that excitement sunk when I found out how expensive they were. They ranged 20+ euros per wand. I decided to keep on looking for a different souvenir. I inspected the store and found different scarves and Quidditch brooms figurines. It truly felt like I was in another world.
I ended up walking towards a small wooden cart in the middle of the store. In this cart there are multiple bottles of the iconic butterbeer. I was overjoyed. They cost roughly 3. 5 euros each or 4. 5. I can't recall. I bought two of them and gladly tucked them into my bag after paying for them. I also appreciated that Belgium shares the same currency as France. The amount of money saved is pretty noticeable. Especially for Erasmus students. After leaving the store I then made my way to the street filled with many different restaurants just a few minutes walk away.
Eating out
I usually find it hard to resist eating whenever I am travelling. If I lacked complete self control I would be eating every two hours or every time I smelt a chocolate waffle or fries being prepared. The streets with all the restaurants is part of the main touristic route taken by many. So expect to see crowds of people. It also started to rain at the time. I luckily had my hoodie and simply threw it over my head. I finally made it to my restaurant.
I ended up at the Marco Polo noodles. You may ask yourself, why would you even consider going to an Asian fusion restaurant when you're visiting a new country. You should be eating the local foods more rather than a cuisine foreign to that country. It really isn't part of the Belgian experience. The thing is that while I was staying in the city of Reims I had been on Asian cuisine withdrawal. That includes Chinese, South Korea, Vietnamese, Indian and much more. I was not getting my fix from this little French city. They specialised more on local cuisine.
Now, this isn't wrong at all. However, while I was in Adelaide I had constantly eaten Asian food of all kinds as the combinations of spices and herbs made my experience feel otherworldly. Regardless, this restaurant was able to get me what I wanted. I recalled that it had started raining by the time I entered the eatery. It was not a very wide eatery although it extended well into the store. As you enter you'll have the chef cooking up the store's signature Phos in full view and you'll have tables to the right. I enjoyed the concept of the layout. This way you are able to interact with the chef and watch your meal be prepared. Although, I reckon they did not have much choice in doing so as the eatery was pretty small and did not have space for a kitchen divided from the rest of the eatery's main room.
I walked further into the eatery and up a short flight of stairs. I then sat down between two filled tables. Marco Polo noodles doesn't have the widest selection in its menu as it mainly specialises in a few Pho and noodles. I ended up getting a beef pho which had been recommended to me by one of the waitresses. The majority of mains were priced around 15 euros. I reckon that wasn't too bad for the portion size. Although I was used to paying less for more in Adelaide.
After only a short wait my meal came and I chowed it down. It tasted pretty good. It wasn't really the best although I was able to get my Asian cuisine fix for a short period of time. The venue also had their signature wooden chopsticks with 'Marco Polo' inscribed on the side. Since they had so many per table I decide to grab one as a souvenir. After that I made my way further into the city. One thing worth noting about Belgium is its love for beer. Only recently did they also have their signature beers placed on the UNESCO World Heritage list due to its history and quality. Germany had made a bid for the same spot although they had been rejected. This had come as a shock to many as I found out throughout the years that when people talk about beers they usually make reference to the German variety rather than the Belgian one.
Belgium beer
What is worth noting is that the most signature of Belgian beers are its Trappist beers. These beers tend to be very strong and rich in flavour. They usually hover at the 8% alcohol content spot. They, however, vary in range and can be a couple percentile higher ot lower. What is also worth noting is that there is much pride and variety in these beer craftsmanship. For example, there were beer selling stores all around Brugge that sold hundreds and hundreds of different types of beers.
I recalled having to walk into a store to buy one of my beer guzzling (Aussie) mates a couple of beers as we did not have the highest stock of Trappist beers in Australia. I recalled inspecting this one store that had two massive storage areas that flanked you as you walked inside. I was in awe. I had never seen so many beers in one place. Especially since all those beers were of different types, forms, tastes and more. Some flavours were flavoured with honey, strawberry and other fruity flavours.
If you truly enjoy beer and find yourself in Brugge then I would recommend you enjoy some of the many varieties of beer. Even if you aren't much of a beer enthusiast then I would recommend you check out the 2be in Brugge (also known as the Beer wall) to witness over a thousand beers being sold in one store alone. It truly felt like being in another world. I ended up buying a few flavoured beers that stood at the 6. 5% 'weak' spot for trappist beers for my mate.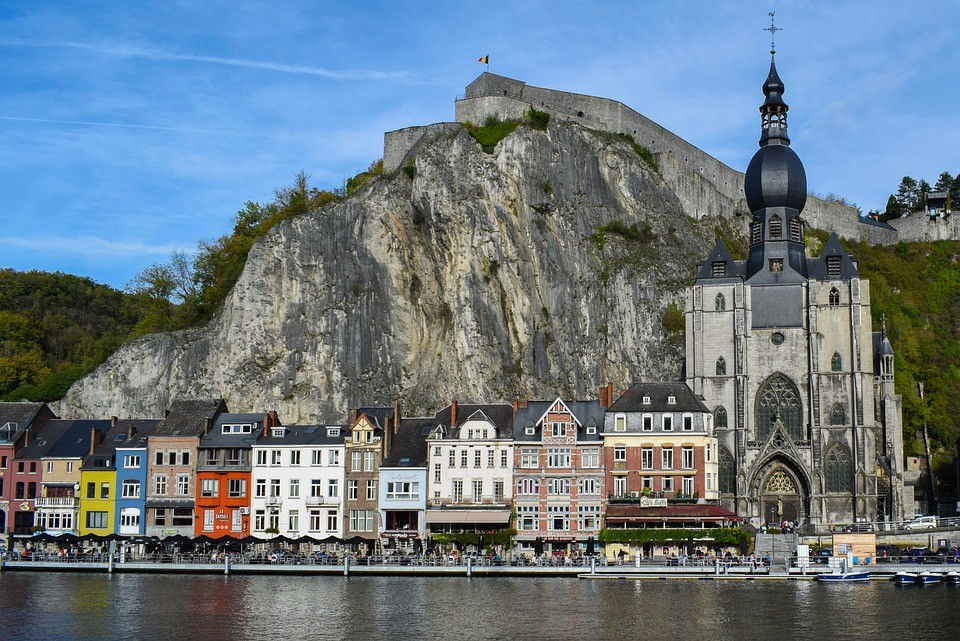 Charlie Rockets hostel
After that I made my way further into the city. The rain had luckily subsided by the time I had left the restaurant. I decided to first make my way to my hostel to drop off my heavy backpack before checking out what the city had to offer. I ended up staying at Charlie Rockets as it is another well priced budget hostel. Like many hostels around Europe, they offer many different forms of entertainment provided through the hostel. We'll get more into that later on.
The hostel itself is very clean. It is also deceptively large as there are many rooms of different types to sleep in. I stayed in a very cozy wooden room that had been filled with a few bunk beds. The hostel provides washing machines if you need to wash up after a long travel trip. The bathrooms and showers are also well maintained. I always find this an important factor when travelling around. Having a clean shower reflects on how good a hostel actually is in taking care of its temporary residents.
I highly recommend that if you stay at a hostel then check out the different things they have on. It's a great way to meet fellow travellers and make some unforgettable experiences. I was not able to do the upcoming pub crawl as I was too short on time. Although, I've had such experiences in the past and made some really good travel mates with whom I had travelled around the country with a few. They also tend to have free tours, river tours, food adventures, extreme sports and many many more.
The pubcrawl was supposed to start at the hostel itself. The Charlie Rockets have their own bar area which is pretty spacious and offers well-priced drinks. If you aren't keen for a wild night out then I would recommend having a casual one while kicking back on a cheap local beer. It's great to do over a book or with mates. Often there will be hostel goers that are keen as to make friends or simply share a casual conversation with. Don't miss out the opportunity.
Regardless, after dropping off my stuff I decided to make it back out into the world. For the sake of simplicity I will squeeze the next day and a half of travelling through Brugge into one. It had been getting closer to the evening at this point and I have an irresistible urge to eat every few hours when travelling. I find it very hard to resist eating when there's so much food to offer. At this point I decided I wanted to check out one of the signature foods of Belgium, its fries.
Many look towards France when talking about fries. It doesn't help that many call potato fries 'french fries'. However, it is actually more of a Belgian dish. If you're walking the streets of Brugge then you are more likely to spot fries shops rather than waffle shops. It is worth noting that there are plenty of waffle shops in the area,
Fries
I can't recall the exact name of it although it is located in the main restaurant and touristic area of the city. If you find yourself walking there it is hard to miss. You'll either see the large entrance of the welcoming shop with the fragrance of its ungodly fries flowing through the air or the long lines that lead into the shop. I was perplexed. There were many fries shops around although this was the most popular one of them all from what I had seen.
While the line was long they dished our fries quite efficiently. I only waited for ten minutes before about a dozen people before me had been served. I noticed the large amount of tourists in the area. Most seemed to be either French or German. However, there were plenty of locals in the area as well. There were also quite a few groups of local young teens lining up to enjoy these delectable fries
I entered the store and was immediately hit with the thicked scent of all the fries. They also offered fries and burgers with your meal. Although they mainly focused on fries. I ended up getting a large plate of fries doused in Andalouse sauce. This sauce is one I had quickly fallen in love while in Europe. I first encountered it in my Erasmus host country of France. I was staying in Reims at the time.
I first discovered this divine sauce while I was on a night out. Often enough you will be enjoying your Reims night out on the main bar street where you can find the bar where I had been visiting for one of the first times: The Ernest Hemingway. After my mates and I enjoyed a good night there on the warm early days of autumn, we then decided to grab a snack to eat. Just across the road I sat a Turkish eatery called 'Istanbul'. This restaurant quickly gained fame in the Erasmus community in Reims.
I wrote an article on Erasmusu about this specific place which I recommend you check out if you are staying in(or visiting) Reims. I would always shirk kebabs and burgers for their fries doused in Andalouse sauce. This sauce is basically just mayonnaise and ketchup with spices mixed into the combo. Its orange in colour and it always makes my mouth water thinking about it. You can find these all over Reims and probably in many different countries in the region.
They were very generous with the amount of the sauce on my plate (to my request). I moved outside and sat down on one of their tables. As this was where one of the main Brugge areas could be found I was afforded the luxury of watching the world pass by as I enjoyed my oil soaked fries. I stuck around for about thirty minutes after eating as I had been exhausted walking around all day on Brugge's cobblestone floors.
Around Brugge
I kept on walking after my large my large and unhealthy meal. There was still much sun left and a lot to do. I recalled in my trip the many different adventures I found myself experiencing throughout my Brugge experience. For example, I recalled while walking down one of Brugge's many cobblestone streets I found a tiny roaming car driving slowly through the streets as the crowds of people made way for it with smiles on their face. This car was a small one seater than barely reached chest height.
What made this car special was the interior. A man sat there with goggles and a breathing pipe which connected to the roof of the car. Within the car you would notice something strange. It looked slightly unclear and the air was 'moving'? The car was completely filled with water! It kept rolling on by to the joy of many around it. I snapped a couple of photos of the whole ordeal as it had been something relatively unique for me to witness. After it made its way past me I then decided to keep on walking.
I must have gotten lucky on the day I arrived. I wasn't sure if there was anything specifically special except for the fact that there had been a small parade of about thirty people dancing in colorful traditional clothing. There were drums, flutes, trumpets and much more. They played many modern songs as well as some I had never heard of before. The people performing ranged from teens to people who looked like they were in their sixties. They paraded through the different cobblestone streets of inner Brugge. I decided to follow them around as it was good fun.
Heart of Brugge
We marched on for about thirty minutes before I decided that I had missed too many interesting spots I wanted to revisit. The main area I highly recommend you check out is the immensely spacious Bruges' Markt, While there are many people inhabiting this area, it is very difficult to fill it up to the brim. Here you may find all different sorts of buildings that have been around for many years. The architecture of the area is spectacular. There are also plenty of cafes and restaurants to enjoy a scenic view of the surrounding area. There are also an array of hostels around or in the area that would afford you a spectacular location from where you can travel around and enjoy what Brugge has to offer.
As the name goes, this place used to be the most popular area for many within Brugge and merchants to sell their wares to the local populace. I can easily imagine how crowded this area would have been with hundreds of stalls set up while vying for the attention of passersby. While the Markets are mostly gone, the history of the area has not. Standing high within the plaza and absolutely impossible to miss is the Belfry of Brugge. This building soars high above other buildings with its distinctive (and iconic) bell tower. It's a spectacular building to look at and worthy to tell your friends about after. Its construction began in the thirteenth century. This makes this building extremely old. Imagine having a building older than the establishment of modern day Australia and America's years combined. This has always awed me about Europe. The history is so rich and some of the buildings have been left behind generations and generations before by our forefathers to this day.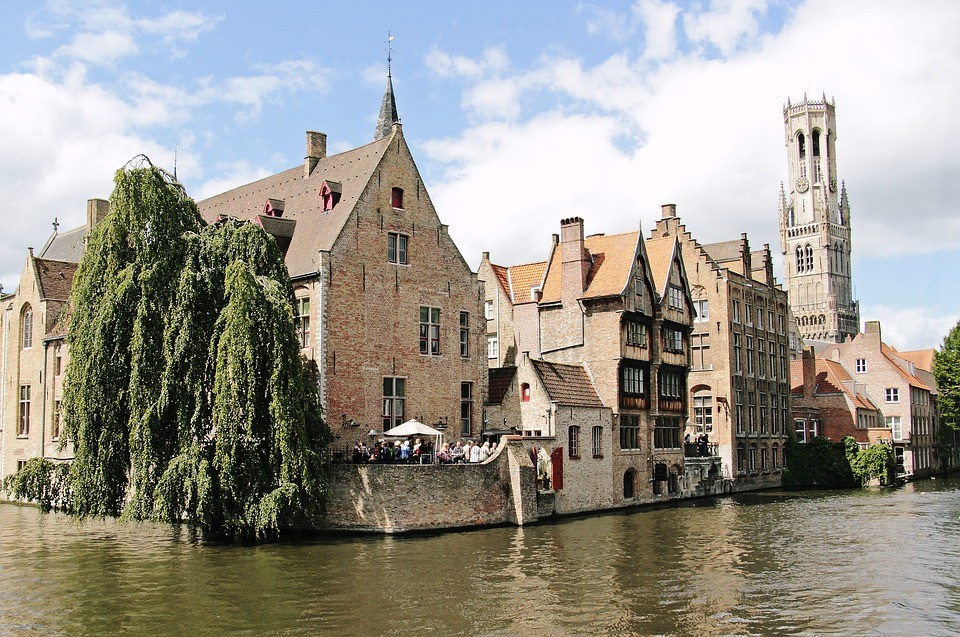 Basilica of the Holy Blood
Another striking building worth checking out is the Basilica of the Holy Blood. It is also located in the large plaza. The building itself is beautiful to look at. The interior itself is also very refined and a must see. You will quickly notice all the gilded statues and ornaments throughout the area. The interior design budget must have been a blank check.
What makes this place particularly special is a relic which is found in its name as well. This church claims to have a drop of blood from Jesus Christ which had been recovered during the Crusades. I read that once a year the church would showcase said relic in sort of a parade. They would walk around the city in a group while allowing the population to witness the relic.
Walking about
If you are feeling tired or are keen for a more adventurous way to get around the city then I recommend you look into one of the many different horse carriages located in the area. Make sure that wherever you go that you check out the areas around the canals. You will often find many spectacular and large buildings designed right on the canal's edge. Many of the houses near the canal will also be very colourful. This is a design similar to Denmark. The whole logic behind it is that excluding aesthetics it serves a meaningful purpose. Since the weather tends to get pretty cold with dark clouds and gloomy weather the sight of colorful houses would help alleviate said gloominess.
Expect to also find many different trinket stores while walking around Brugge. You'll be able to find all sorts of goods to take home with you that isn't necessarily beer related. So if you find yourself in Brugge then I highly recommend you take it slow and enjoy the sights around you. It is worth noting that the majority of what happened in this trip occured in and around the old city. If you were keen to check out the more modern side of Brugge then you would have to travel further out into the periphery of the city.
The second day was basically spent walking around the city aimlessly and stuffing myself with fries and waffles. I didn't try the mussels as I was paranoid of getting sick before my busy university week ahead. By the end of it I decided to partake in one of the events at the hostel. It was simply a dinner. You would pay five dollars and they would have different large pot dishes to share from, which included dessert. It was a great way to get to know fellow travelers and also the locals that were working at the hostel. I learnt quite a bit of the history around just talking about what goes on around the city. We also spoke about the importance of Brugge in the older ages and rule under different monarchs.
The whole experience felt like an immersive history lesson over decent food. Although, when I asked I had been told that these dinners are very rare as they were celebrating some event I can't recall the name of (as they said it in Belgian). After enjoying the meal and the banter I decided to hit the sack as I had to wake up relatively early to get back home. Luckily, if you are travelling from Brugge to Reims then you struck gold. They offer a connection to Reims. This allows for a trip that would not last relatively too long. The Flixbus stop is found in the same train station where you're dropped off from Brussels to Brugge. I was pretty happy about this as I was able to spot all the beautiful houses on the way back. The architecture was quaint. Although it was pretty chilly in the morning so I double timed it to where I had to go till I finally made it to my stop. Always remember to stock up on snacks and water for the long Flixbus trips. There is a convenience store at the train station which I used to buy said items.
Overall, my Belgium experience was great. I only managed to see two cities shortly although they paved the way for a second visit. I will probably visit Brugge again and a few different Belgian cities. Make sure to eat well while you're here. Belgium, in general, is a moderately priced country. Not as bad as France in some cases although it isn't cheap at all. Enjoy your travel trip and Happy adventuring!
---
Photo gallery
---
---
Content available in other languages
Want to have your own Erasmus blog?
If you are experiencing living abroad, you're an avid traveller or want to promote the city where you live... create your own blog and share your adventures!
I want to create my Erasmus blog! →