Vienna part 4
Architecture and landscape

10 / 10 points

Entertainment

10 / 10 points

Culture and customs

10 / 10 points

Transport

10 / 10 points

Gastronomy

10 / 10 points

Prices

4 / 10 points

Party

10 / 10 points

Weather

8 / 10 points
---
I should probably summarize what the first two parts of my Viennese trip. I went to the famous weihnachtsmarkt (a Christmas market with drinks, food, and Christmas decoration), I visited the Belvedere palace, I saw Vienna during the night with its beautiful night decoration and lighting, I spent some time with my friends, I went to the park near Praterstern, I saw the Hofburg palace, Schonbrunn, and so on.
The experience we had the very next day was the Sissi museum. Sissi, or Empress Elizabeth of Austria was one of the most celebrated and beloved empresses in the history. She was not so very popular during her life, but she became  an idol after her death, like so many other famous people.
Elisabeth of Austria (24 December 1837 – 10 September 1898) was the wife of Franz Joseph I, and therefore both Empress of Austria and Queen of Hungary. She also held the titles of Queen of Bohemia and Croatia. From an early age, she was called Sisi by family and friends.
Although Elisabeth had a limited (but significant) influence on Austro-Hungarian politics, she became an historical icon. Following the suicide of her son Rudolf, she withdrew from public life. She was murdered by an anarchist in Geneva, Switzerland in 1898. Elisabeth is the longest serving consort of Austria. She was a free-spirited woman, who withdrew from the public life in the royal court and became a traveler. Her first important experience was her stay in the Portuguese island of Madeira. She fell in love with the place. She became more open, extrovert and self-confident after her stay there. Elizabeth was Franz Joseph I's great love. Even though royalties in the past often married for interests and wealth, Franz Joseph I and Elizabeth married for love. He loved her deeply until the end of her life.
Elizabeth was extremely beautiful. She was about one hundred and fifty five centimeters tall and she was only about forty-five kilograms. She had  hundreds of beauty recipes for home-made creams, face masks, and so on. Her hair was so long that at a certain point it reached her ankles. She was a fan of exercising and sports in an era, in which this was far from popular. She loved her hair and washing it would take a whole day. Can you imagine?
Elizabeth was a bit isolated and introvert. She did not like the manners of the royal court. It seemed artificial and fake to her. She preferred to travel around beautiful and sunny places. As mentioned before, Elizabeth loved being in Greece and Portugal. She even had her own summer house in Corfu, one of the Greek islands. She was even killed during one of her trips. She was in Switzerland.
Elizabeth was a defender of the Hungarians. At that time, Hungary was part of the Austro-Hungarian Empire, but the Hungarian people were subjected to the Austrians. They were oppressed and had fewer rights. Elizabeth bore compassion and love for the Hungarians. She even learnt their language. She was very far from  politics. She never took part into her husband's business. She did, however, intervene ones in order to improve the Hungarian situation.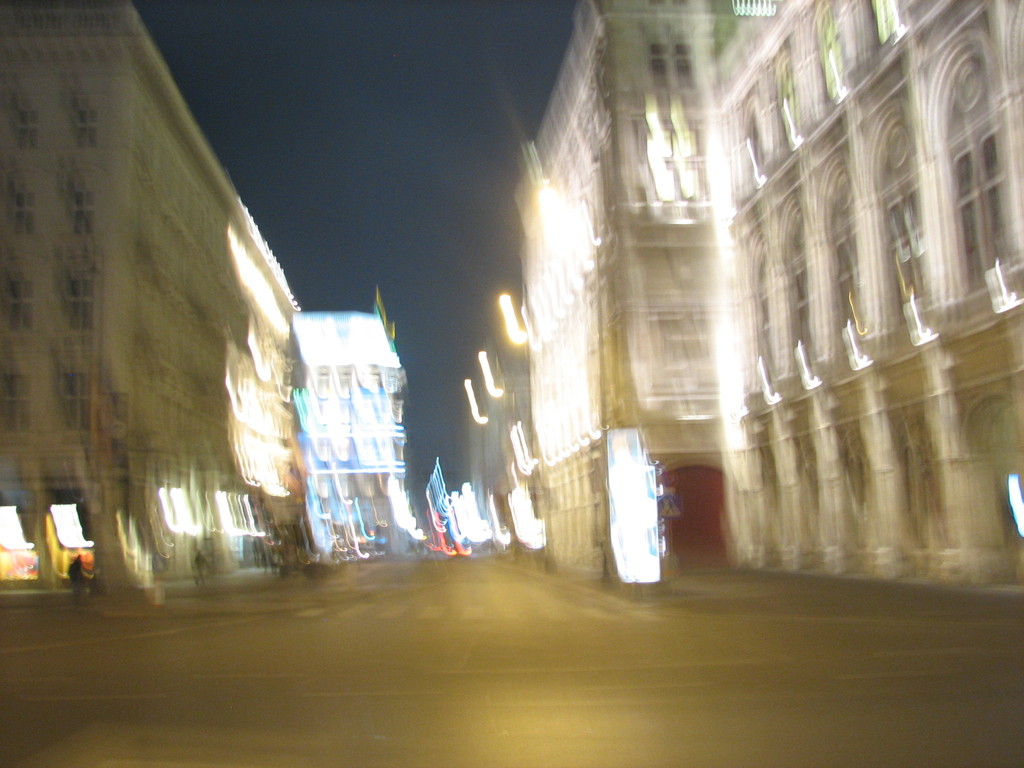 The Sissi museum presents many objects, such as plates, cooking dishes, etc. After seeing the how the royal banquets and dinners must have looked like, we saw Sissi's bedroom and personal space in the palace. She has had a bathroom with a bath tub, her own dressing space, her "fitness", etc. Her husband's room seemed so modest and ordinary to us. He would usually start his day as early as five in the morning and he would work until very late. When he heard about Elizabeth's death, his words were that he had loved this woman tremendously. Romanic, huh?
The very next day I decided to visit another museum: Albertina gallery. I had to go by myself. Just before that I saw Johann Strauss' golden statue in Vienna City Park. It was beautiful small, but shiny statue of the famous composer. I liked it a lot. After seeing it, I headed for Albertina. I wanted to either see this gallery or Leopold museum. I only had time for one and I chose Albertina. I am a huge fan of modern art (I mean the art created at the end of the nineteenth century and at the beginning of the twentieth century). There were some beautiful paintings form that period.  The rest was modern conceptual art, which I kind of dislike. At the first floor of the gallery there was an exhibition dedicated to the emperor Maximilian I. I was bored. I know I should not have been because it was part of the Austrian history, but I was. I walked around the exhibition and then I went home. I was not in a good mood. Luckily, we went out again in the evening. This time we chose another  weihnachtsmarkt. We walked around nighttime Vienna and it was beautiful. But first, we visited a famous coffee-house. They also offered beautiful and tasty cakes.  After the coffee-house we went to the weihnachtsmarkt. It was smaller and there were less people. We visited an Italian restaurant just right after the weihnachtsmarkt. It was a self-service and you could see your pasta being prepared in front of you. The deserts were also cool. The only negative aspect of the Italian restaurant was a moody unpleasant guy. We sat at his table because it was huge, there were no places, and he was alone. He disliked it and he started acting in a rude manner. Well, what can we do?
The next day I had to go back to Maribor. I had a ticket for Graz, which is only sixty kilometers from Maribor. I had talked to a guy in Graz (again prevoz.org) who would take me home in the afternoon. I took the train to Graz in a hurry. I was almost about to miss it, but I did not! When I arrived in Graz, I decided I wanted to see the city. I was not lucky though. The information office at the train station was closed. It was supposed to open in forty minutes. It did not. I thought that the Austrians were very punctual, but obviously not. Then it turned out that the guy who was working there was not much of an English speaker. But why?.... if you work in a touristic office. Then it turned out I had to buy a ticket for the metro/train. I needed a coin of two Euros, but I had twenty. I went back to the station and I bought one cup of coffee. Since it was a bar at the train station it cost me maybe around two fifty – three Euros. I bought my ticket and, of course, the train was full. I had a lot of luggage, so it was difficult for me. I found the place of my meeting later and I decided to go for a walk around the center. I walked a bit, but I was tired and my luggage weighted a lot, so I sat in McDonald's. I am not a big fan of McDonald's, but it was easier. I at a muffin and I waited for a while. Then I went back to the meeting point. The guy that picked me up was nice, young, and he was working  in Graz. We talked all along the way. He was nice.
I went back to Maribor and I could not  believe what was going on. There was something going on: police, noise… my street was closed. I took a walk around the city and I found out what was going on. There was a protest against the Maribor mayor. It was crazy, but eventually the citizens of Maribor achieved their goal: the mayor resigned. 
---
Photo gallery

---
Share your Erasmus Experience in Vienna!
If you know Vienna as native, traveler or as exchange student... share your opinion on Vienna! Rate different characteristics and share your experience.
Add experience →