Vienna part 3
Architecture and landscape

10 / 10 points

Entertainment

10 / 10 points

Culture and customs

10 / 10 points

Transport

10 / 10 points

Gastronomy

10 / 10 points

Prices

4 / 10 points

Party

10 / 10 points

Weather

8 / 10 points
---
I should probably summarize what the first two parts of my Viennese trip. I went to the famous weihnachtsmarkt (a Christmas market with drinks, food, and Christmas decoration), I visited the Belvedere palace, I saw Vienna during the night with its beautiful night decoration and lighting, I spent some time with my friends, I went to the park near Praterstern, I saw the Hofburg palace, and so on.
After seeing all of that it was time to visit the Schonbrunn palace. It was something like a summer palace or a "village house" for the Hofburg dynasty. The royalties had to travel there from the center. Schonbrunn is beautiful Baroque palace with enormous gardens. It offers large areas of green grass, statues, and a huge tea-house. We went there around noon. It was dark, cloudy, and cold. At the entrance of the palace there are two columns with golden eagles set on top of them. Then we saw the palace itself. It is in a specific shade of yellow, denominated "Schonbrunn yellow".  It sounds peculiar, but yes, there is such a color and it is used outside of Schonbrunn as well. We decided we would not enter the palace itself because everything in Vienna is kind of expensive. I have seen the royal place in Madrid. I know very well that Schonbrunn and the Austrian empire have their own style in furniture, clothing, decoration, and art, but European royalties were interconnected and there are some similar patterns. I would probably visit Vienna once again and I would enter Schonbrunn.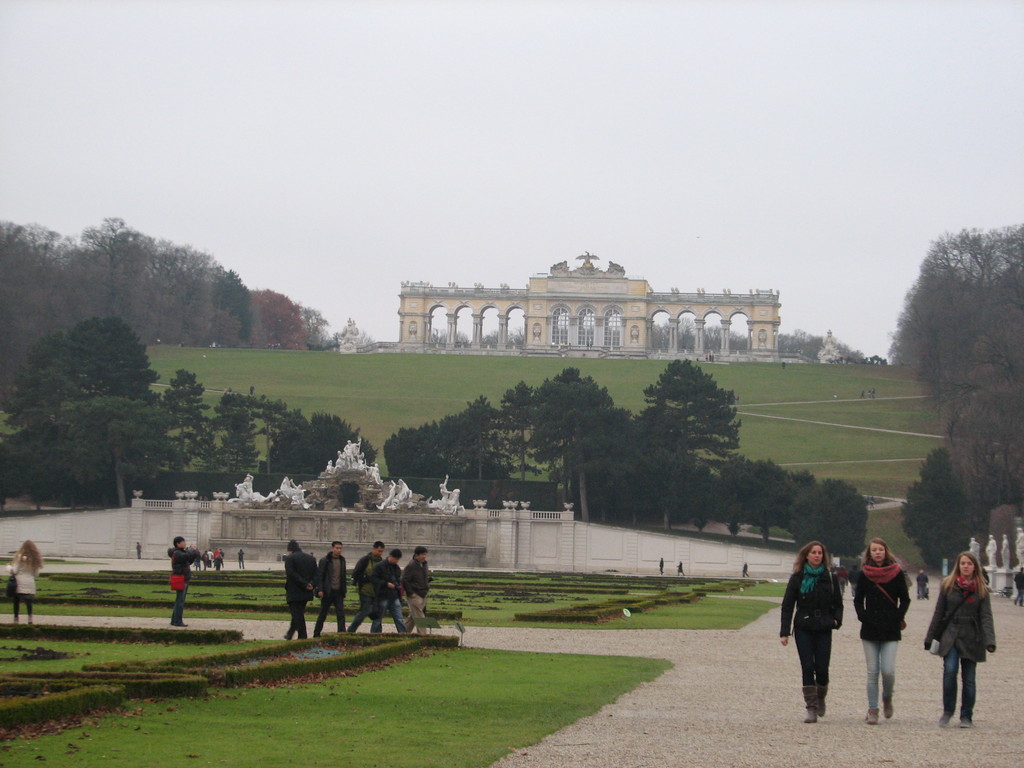 We walked around the gardens and we ended up at the tea house. It is an enormous building with  large crystal windows and beautiful sculptures. We took some pictures, but as usual I looked terrible. I hate the way I usually look on pictures. It was getting really dark real soon in Vienna at that time of the year. That is why right after our visit, which lasted for no more than two or two and a  half hours, it was plain dark. I wanted to buy a ticket for the bus for my way back and I had found an office at a neighborhood that was not too far from Schonbrunn. We took the bahn and we went there. Then, we had to find the actual building where the tickets were supposed to be sold. It turned out it was an immigrants' neighborhood and that there was the apartment of some guy who was a representative of the bus company and was selling the ticket. I decided I did not want to search for him/her because I had not called in advance.
My friends were a bit annoyed but their mood got better and more positive when our host took us to a Turkish market (I think that was the name… or maybe Eastern… I am not sure, sorry). It is a marked for different types of food: fish, salads, winter salads some of which are popular in my country as well. Along with that there were many Asian restaurants. We chose one and we entered.  It was a nice place. It was half-empty at the beginning, but got quite full in just half an hour. One of the girls I was with had never tried sushi. My host and I, we are sushi lovers, so we just had to make her try it. She did and she liked it, but she did not fall in love with it… pity. She did, however, try lots of wasabi. At the beginning she said she had tried it before and it was not too chilly or anything. To prove her point she put lots of it on her sushi and she would eat it with no problem. Then she decided to try more wasabi and all of a sudden, she closed her eyes and she started coughing. With the specific wasabi tears in her eyes, she admitted it was very chilly or at least that the specific aroma wasabi has causes you to feel it is very chilly.
We had a great time in the Asian restaurant and, of course, we ended up at the  weihnachtsmarkt. We were in love with it, so it was no wonder we wanted to visit it again. We went there before the rest of the friends we were supposed to meet. We sat at a bench and we started talking. I felt like a little girl, gossiping with her girlfriends. It was soo cool. 
---
Photo gallery

---
Share your Erasmus Experience in Vienna!
If you know Vienna as native, traveler or as exchange student... share your opinion on Vienna! Rate different characteristics and share your experience.
Add experience →