Vienna part 2
Architecture and landscape

10 / 10 points

Entertainment

10 / 10 points

Culture and customs

10 / 10 points

Transport

10 / 10 points

Gastronomy

10 / 10 points

Prices

4 / 10 points

Party

10 / 10 points

Weather

8 / 10 points
---
My first day in Vienna was  marked with a short visit to the local dog park and a visit to Pennymarket, a supermarket. I needed to see more. That is why my friend took me to the center of Vienna. We saw the two identical places, then the Hofburg palace, the two horsemen statues in front of it, the entrance to the Sisi museum, the walking area with all of the fancy and expensive boutiques, Stephen's cathedral, a sushi restaurant, and the famous central Viennese weihnachtsmarkt. The last one is  a Christmas market (I know, German words are so difficult to pronounce, it took me three days to learn weihnachtsmarkt). At the weihnachtsmarkt there are small open shops, at which you can buy Christmas decoration, sandwiches, sausages, gluhwein (warm wine with herbs and honey), and punches. The cool German and Austrian punches have amazing taste. They are warm and that is why you can drink them outside, having fun with friends, despite  the cold temperatures. I tried granataphel (pomegranate), apfel (appel), and some other that had the specific taste of pine tree honey. We also tried some typical sausages with bread. This particular  market is near the Rathous or the local municipality building. The Rathous building was extremely beautifully decorated. So was the whole city. In December in Vienna, there is very well managed and beautiful decoration.
We were at the weihnachtsmarkt with some friends of my friends. I was lucky, because all of the people who were there with me that night had travelled somewhere. Three of them had lived and studied in Germany and Austria. Also, three of them had travelled around Asia. The friends I was a guest to, had done a four month trip to four Asian countries: Indonesia, China, Vietnam, and… one more (sorry, I do not really remember). One of the girls had even worked there. I cannot imagine how interesting it would be to live in Asia for a while.
We went home and it seemed it was so late but it was around nine actually. Of course, we stayed until very late to talk. It is fun to be with friends no matter where around the world. I have friends and acquaintances in Germany, Spain, England, Austria, the United States, Italy, and maybe some other places that I cannot even recall right now.  
The very next day, my cousin and a friend also came. We had planned to do the trip to Vienna together. I was happy to see them. We decided to go out and visit some new places. My cousin and our friends were, however, quite tired after their early flight. I went out by myself and I visited the Belvedere palace. It has been turned into a museum of fine arts. I decided to visit the museum because of the permanent exhibition of Gustav Klimt.
Klimt is one of my favorite painters. Gustav Klimt was part of the Viennese Secession movement. It was a movement, derived from Art Nouveau, which quickly became innovative and independent. The Secession artists used decorative elements, along with geometrical figures. All of this happened at the beginning of the twentieth century, around 1910. Klimt was very talented and good at painting. His earlier works are portraits, which prove to be very realistic. Realism was, however, not so popular at the beginning of the century because photography had become popular and has taken the representative function of art. Klimt was one of the founders of the Viennese Secession movement, along with being one of the artists who worked on "Ver Sacruum", a magazine, dedicated to the Secession style. The magazine was popular among artists. It consisted in articles about arts and the artists, interesting designs, and lots of illustrations. It had a square format, and even the advertisements had to be designed by the painters who worked for the magazines. Otherwise, they would not fit well enough into the beautiful and well organized overall design of the magazine.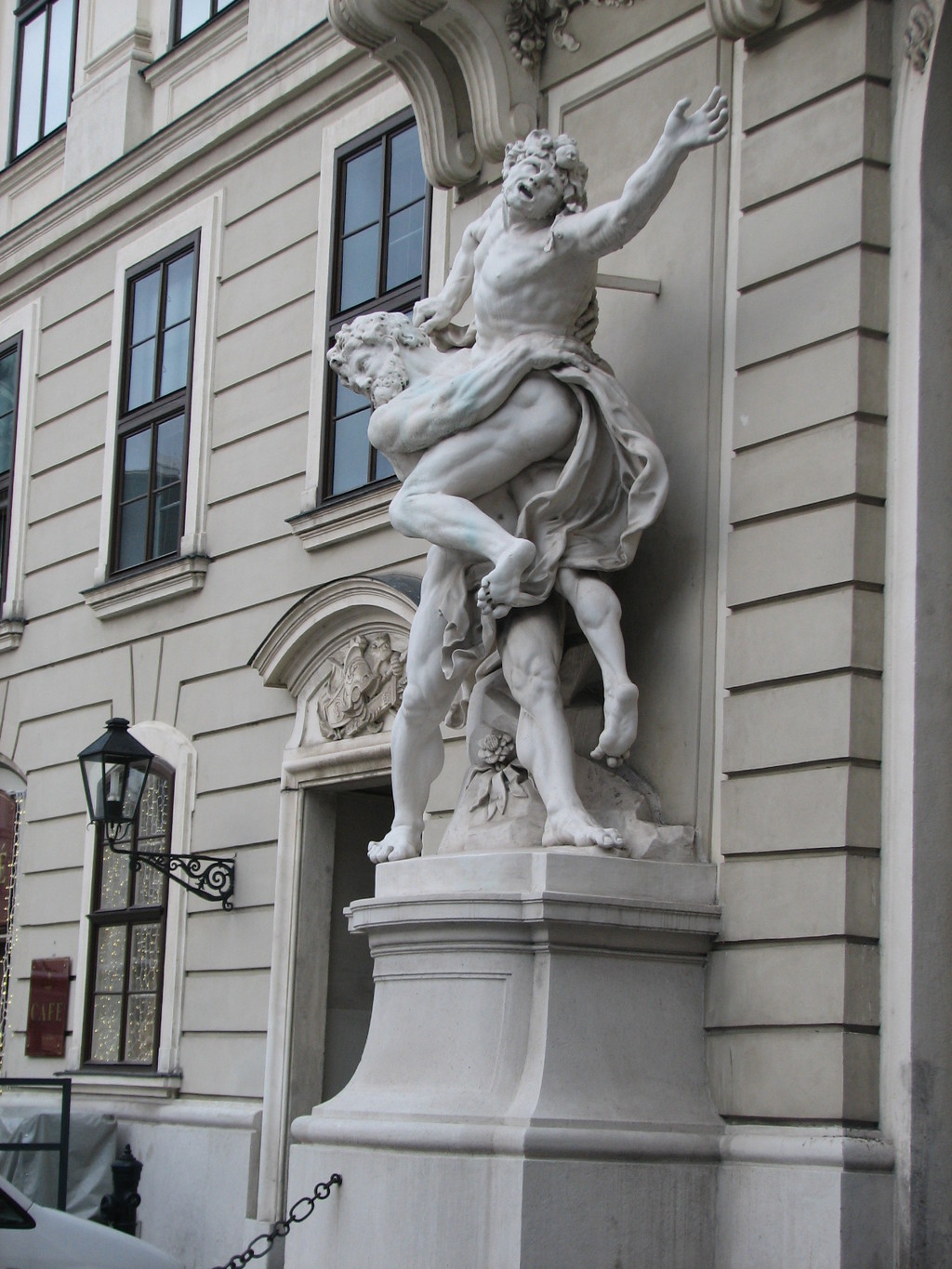 Klimt worked with his brothers, Georg Klimt and Ernst Klimt. Their father was an engraver in the Austro-Hungarian Empire. They were all very talented.  I am not so well aware of Klimt's works. That is why I love his most popular works:The Kiss, Adele Bloch-Bauer,Judith and the Head of Holofernes,and so on.
The Belvedere museum also offers works of other painters, along with authentically beautiful furniture, mirrors, and sculptures.  After I finished my  walk around the museum, I had to meet my friends at the weihnachtsmarkt. The weihnachtsmarkt was our favorite place to go out in the evenings. Along the way I saw the Russian monument. I was told that this was a monument built by the Viennese citizens in honor of the Russians, who fell for the city during World War II.
Just next to the monument there was some interesting installation or something like that. It was a construction of metal with light and some screens, projecting videos. I arrived at the weihnachtsmarkt after a walk around night Vienna. All of the old and beautiful buildings have amazing lightning decoration. They are lit in a way that gives the city a magical touch. I was so hungry that I stopped at one of the local supermarkets and a bought crackers and some cream-cheese. I was walking around eating the crackers and the cheese. I must have looked ridiculous.
At the weihnachtsmarkt that night my friends and I started doubting our intelligence and skills. There was a stand or a shop (I do not know how to call it exactly) for "smart" games. These were puzzle-like games to train your brain and skills. All of us tried to arrange the pieces of the easiest games and we could not! I hope the games were difficult and not that we are stupid. 
---
Photo gallery

---
Share your Erasmus Experience in Vienna!
If you know Vienna as native, traveler or as exchange student... share your opinion on Vienna! Rate different characteristics and share your experience.
Add experience →