Utrecht Part 3
Reintroduction
This piece picks up from Part 2 in the Utrecht series. Previously we talked about how to prepare for a trip to the Netherlands, how to get to Utrecht, how to find a place to live (including a possible town that's cheap and nearby) and much more. We also focused on the city itself. In this article we will talk about how to spend your free time and what to check out when exploring the city. The activities you could undertake and much more. Again, if you're looking for a city in the Netherlands to possibly stay in for a semesters exchange then I would recommend Utrecht. It's more relaxed than Amsterdam and Maastricht. Let us continue from where we left off.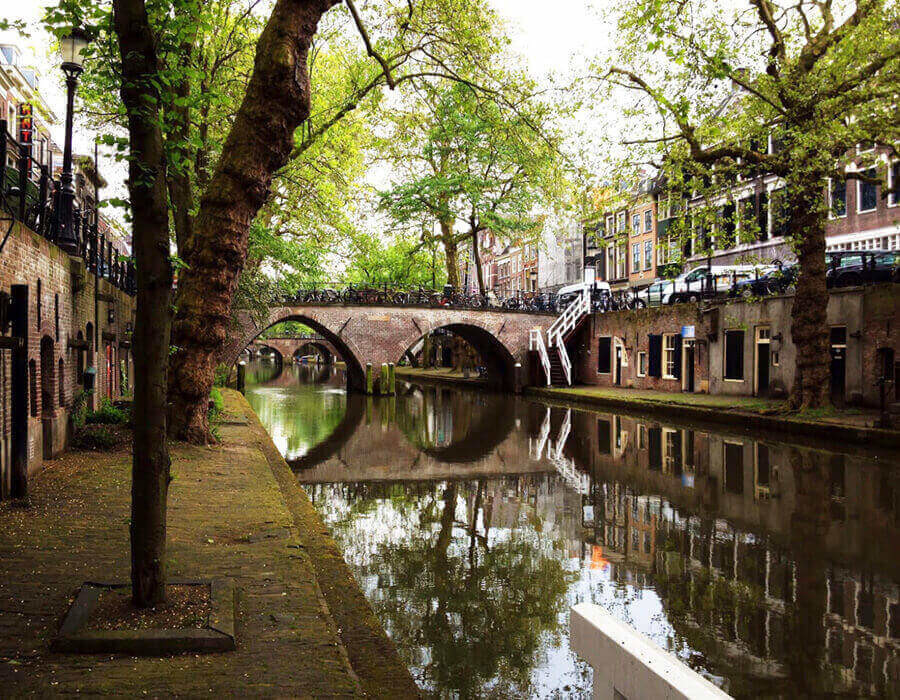 One of the most common activities in the Netherlands is having a proper drink with mates. An activity shared with much of the world. What makes the Netherlands relatively unique is its great variety of beers and its (imported) Belgian beers that are renowned around the world. Specifically, their trappist beer. The Netherlands is a great place to try some of the highest quality local and foreign beers. At the centre of the town there are many restaurants and bars. This area is hard to miss as you will be told by many locals to visit it as it is the heart of Utrecht's nightlife. Many people would go out here for casual drinks or a bite to eat (usually both). They serve many great tap beers that you should experiment with. The centre of the city is a large square with restaurants in the eastern and southern part and an iconic building to the western part. If you walk along the Southern part, then you would have to cross a narrow road to the south east. This road will lead you to a plethora of restaurants, coffee shops and more along the canal. It's a great place to walk past. If you're looking to get a smoke, there is an assortment of coffee shops in this area. I've passed by quite a few of them as some of the exchange students I used to hang out with were keen smokers.
Restaurants and bars hidden
My non-smoker mates and I would usually simply go to one of the bars nearby. It's worth noting an interesting fact. During my stay in the Netherlands I quickly realised that the Dutch people do not really smoke that much. Quite often, many of them do not smoke at all. I reckon this goes down to education from a young age. It would make sense as smoking this stuff on the regular would not be great for your mental health. Rather, they prefer spending their time drinking beers with mates at home or outdoors.
This brings us back to reality. Another area that you could go for great beers in a more hidden area from the central beer drinking area are the bars next to the Dom Tower. Just northeast of it there are several cozy bars you could enjoy a good beer with mates. I often come here with my friends to share a drink and a good laugh. Often these places get packed even though they aren't in the main area. The crowd is usually young and mostly consists of university students or young adults.
Their outdoor area is quite extensive and a great place to have a large group of friends hanging out together. It's an area we would usually sit to drink if some of us were feeling claustrophobic. The only issue is that it rains in the Netherlands quite often. Quite often might be an understatement. It's almost perpetually raining to the point that during our exchange semester group seminar they provided all of us with plastic outer clothing to protect from all the rain. I never ended up wearing one of those as I had prepared for the rain with my own waterproof jacket. There's a common recommendation given to us by our exchange student leaders back in the university. It's much better to simply buy the clothes of the country you're going to so as to prepare for their weather rather than buying your own bulky clothing and taking it all the way with you just to find that the quality is not as good.
The reasoning behind this is quite simple. Places like Canada for example have a decent selection of winter clothing due to how frigid cold it gets there. Quite often it isn't as expensive as the same type of clothing back home due to the fact that it's in more demand so there is a higher supply. Also, a point that is often emphasised by my exchange leaders is that the quality of clothing would better protect you there due to the fact that they are designed to deal with their exact wheather compared to back home where it would be warmer and it would be counterproductive to stack such heat-retaining clothing due to the fact that it would often be too hot to wear. I reckon I would leave this decision to you to decide whether it holds merit or not. Sometimes you're travelling from summer in the southern hemisphere to the northern hemisphere's winter. This would entail to sales and cheap winter clothing as that specific stock would not be popular for purchase and many stores simply want to get the clothing off the shelves.
I would recommend you do extensive research if you're planning to buy a good jacket that might range in the hundreds of dollars. If you want to deal specifically with the Netherlands then I would definitely invest in a good waterproof jacket (with or without a hoodie, depending if you want to carry an umbrella almost daily with you). It would also have to be quite warm. The other reasoning for this is the fact that much of the Netherlands gets quite humid. The canals make Utrecht especially humid, so you would often have to wear gloves and hats else you risk them going numb from cold (Don't worry, there is very low risk of frostbite, that would be a concern for countries further north).
To note
I will be honest though. If your mood is heavily influenced by the weather to a significant degree and even enjoying the company of friends and such will not fully block out the weather's influence, then I do not recommend going to the Netherlands for a semesters exchange. I went during the winter to summer semester (the second semester for those living in the northern hemisphere) which meant the weather was going from cold to warm. It was surprising as to how cold it got in Spring. There was often hail and the Spring showers were a very often occurrence. The lack of clear sky days would actually shock me. I did not expect it to be as bad as it were. During my fourth months there I am almost completely certain that I could count the fully clear days all using just both my hands. They were certainly a rarity. Plus, you will often cycle in the rain so make sure to have protection from the rain or else you'll be arriving to your destination as a wet dog. If these things are too much to deal with then I would definitely recommend you check out a more sun-friendly country such as Spain or Southern Italy.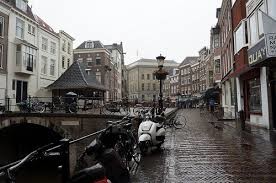 It's worthy to note that most of the Netherlands is pretty flat. So, cycling from place to place is quite easy compared to other countries where you would have to cycle with your backpack uphill. It was often an annoyance I had to deal with while living in Adelaide on a daily basis. Especially after long workdays, after physical exercises or absolutely long university days where you honestly want to simply relax for the rest of the day rather than cycling uphill back home. So, there is at least that brightside to look forward to. Also, if you're more of an individual used to snowy and cold countries that easily surpass the negative Celsius mark then Utrecht isn't that bad at all. Besides the constant rain it would be relatively warmer than back home.
Returning to our tour of the city. An activity I recommend you do when the sun is out in full force is taking a small boat and rowing through the many canals around the city. It's a fun experience especially in the main western canal due to the fact that you will be passing many picturesque restaurants and area where people would relax with mates, families or a book right next to the canal. This is especially true during sunny days. The only times it goes crazy excluding Kings day during my semester exchange had been during sunny days. Often you would have people hanging outside their homes or on their roofs shirtless and soaking up the precious sunlight. Many more people would be out on the streets trying to have as much of the sunlight in them as possible. Who could blame them really. The city shines particularly beautifully in the sun. The water gleams and the old noble-esque houses display their full majesty on a warm sunny day.
Dom tower
Definitely make sure to do it before you leave as it would be a regret to not do so. Anyway, another thing you should check out is the Dom Tower. This tower stands high in the sky and is the iconic symbol and church piece that is often seen in postcards and whenever showing off the city of Utrecht. It has quite an interesting history to it actually. So, basically in the past there had been an incredibly strong storm. Right before the storm occurred this bell tower was the entrance to Saint Martin's cathedral. The cathedral still stands today although the storm had caused extensive damage in the past and had severed the connection of the church to the Dom Tower.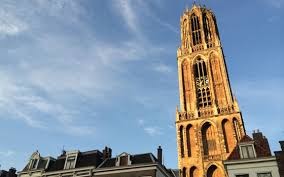 Today, they are two different structures separated from each other. If you were to visit the place and see the distance from the cathedral to the tower it would awe you how strong this storm had been (or how poorly designed the church was or both). There is also an extra piece of history that goes along with this. We were told (and this is why you should never miss out on the tours they provide through the University especially to exchange students) that in the ruins of the cathedral there would often be meetups by the homosexual community here. We're talking far back in the past. It was a secluded area and one where people would easily meet away from the eyes of the public. Interestingly enough. In other parts of the Netherlands (or Europe, I can't recall), if you said you were somebody from Utrecht there would be a chance that you would be considered homosexual. It's quite interesting history.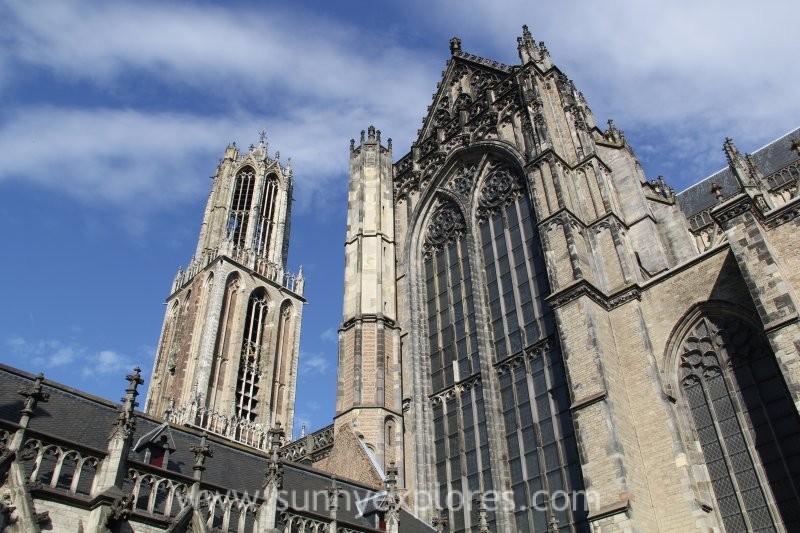 Anyway, this sums up this piece of the series. There is quite a lot more to discover and I would like to give you a better picture of Utrecht as a place to travel or to stay for a semesters exchange. Our next piece we will focus on the more secluded areas and the popular places in such areas which would include special bars, cinemas, relaxation areas and more. I will also make more semester exchange student specific points to help settle you into this beautiful country. It's all a special adventure. Happy travelling and safe adventures!
---
Photo gallery
---
---
Content available in other languages
Want to have your own Erasmus blog?
If you are experiencing living abroad, you're an avid traveller or want to promote the city where you live... create your own blog and share your adventures!
I want to create my Erasmus blog! →