Utrecht Part 3.25
Getting started
In this article we're going to take a slight pause from the Utrecht adventure and the sights to see and things to do. Rather, I will show you one of my favourite trips I had done during my stay there. It's worth noting that the Netherlands is found in a great position to visit many countries around it. To the North you have Belgium, to the East there's Germany. Southwards you can find France and westwards you could find the United Kingdom. Places like Luxembourg and Denmark are simply a stone throws away (by Australian travel standards). Now, I was budgeting at the time as I had to return to Australia and start paying for rent and all again. So, I did spend quite a bit, but I did budget whenever I had the opportunity. This opportunity, as well, was one where I took a budget trip to the places I wanted to go and saved hundreds of euros to which I either used in entertainment or back home. Let's first begin with transportation. It is worth noting that I did this trip during the holidays as it lasted roughly 7-8 days. I wanted to see as many cities as I could during this time without sacrificing their individual experience too badly.
Also, to note this is a solo experience guide. So, I will show you how to get around if you want to travel solo. Unfortunately, sometimes this is necessary to travel solo if your mates are doing plans that you're not keen on. For example, my mates were taking a train to Berlin and staying there for quite some time. I, on the other hand, wanted to see more cities and at least more than one country. This is exactly what I ended up doing. So, the first thing I did was planning my trip is to look towards my good old trusty Flixbus app. Flixbus offers a much cheaper way of getting around versus trains and planes. For example, to gauge the price difference of travelling let's turn towards my semester experience in France. To use the train from my exchange semester city of Reims to nearby Paris (a 40-minute train ride), it would cost almost a euro (sometimes less although often more) to take the TGV (high speed train, there were no others available) over to Paris. While, if I took the Flixbus it was a longer ride. It took roughly an hour and fifty minutes if there were no traffic crashes along the way. This would cost me as low as eight dollars and as high as twelve (I reckon some buses cost more although that's the amount I usually paid. It's worth noting that there is a cheaper but lesser quality option of the Ouibus which is cheaper but less comfortable to ride. You only end up saving a couple of euros anyway).
Flixbus would often offer me cheap travel deals throughout my experience in Utrecht and many more. Another thing worth noting is that you should look not only towards the Flixbus application but also the website as sometimes the prices vary from one or the other. Sometimes the website is cheaper for some reason. That's what I accidently found out, so I make sure to look towards it as often as I do the application. I booked with Flixbus for a trip that would take me from Utrecht to Düsseldorf (stopover), Hamburg (visiting) Berlin (Visiting) and Prague (visiting). Keep in mind that you won't have to worry about charging your phone or laptop. Every modern Flixbus has a charging port located either between the two side by side seats or the one next to the window. I would always recommend you grab a window seat although those tend to get full quite quickly. So, you may have to ask your seat buddy for turns to charge your phone or laptop. Although, since not everybody is going to your destination and some are getting off along the way then you could easily switch seats once that happens.
I do recommend you grab a lot of food if you're doing the long travels I was doing. It depends per person as some people only have one meal a day or can survive on snacks and feast once they get off. I bought like two full meals worth of food. I tend to make them healthy as I feel a bit queasy eating unhealthy food and end up sitting all day. It's definitely not the best feeling to have. Although, if you see yourself too pressed for time then fear not. Flixbus tends to have a break every 3-6 hour depending on the location. I usually would grab takeaways or simply more food from supermarkets/petrol stations depending on what's available. So, you will always have a chance to grab something to eat. As a side note, when you are taking one of these pauses then you will be asked to get off the bus. Everybody would be told to get off as a way to avoid theft and they will lock the bus.
Regardless, Flixbus does not take much responsibility of stolen items so I recommend you carry all your essentials and items of value with you just in case. You never know what could happen. Last two things worth mentioning is that Flixbus has Wi-Fi available. It may vary as to whether it works or not depending if you cross borders or such. The Wi-Fi is not exactly what you call top of the line. Don't expect to stream Netflix in Ultra HD. Although, the Wi-Fi is good enough to plan your trip further if you had planned everything briefly or in the last second. Secondly, the bus has a bathroom onboard which is often locked during short trips although it tends to stay open during long trips so you're good there. Sometimes, the bus drivers will offer chocolate bars and chips to sell if you're feeling particularly peckish and desperate. Very rarely they would also have a coffee machine that you could enjoy for free.
Alright, that sums it all up for Flixbus and why you should take it. The only thing left to mention is the cancellation policy. If you cancel your trip at least thirty minutes before your trip you could apply for an immediate refund in the form of credits. These credits could be used for future trips. I once cancelled a $90 trip which I refunded. I used the money on multiple trips and even bought tickets for my mate at a mate's rate to make up for the money. So, it works out quite safer than planes and sometimes trains. The only downside is the amount of time it takes to get from A to B. Although, you could save quite a bit of money which you could use on a more central and luxurious Airbnb or another place to stay. Or perhaps several extra beers, a feast or two or whatever your heart desires.
I promise, this is the last piece of relevant information that you should also keep in mind. Flix Buses could be booked almost to the very last thirty minutes. So, I would book them individually from city to city unless there's a crazy deal going on. This way, I would be flexible to choose when I would leave and when not to leave without having to worry about having excessive credits that you'll need to get rid of. The only issue would be the fact that the bus will sell out and you will have to book another one probably several hours later in the day or even the day after.
Anyway, back to it all. If you're staying in Utrecht and book your Flix bus, then you will have to make your way to the main central station in the heart of the city. From there you will have to head over to the back of the station where a large parking lot area can be found. From there you should be able to spot a large very green bus in the flat parking area. Sometimes you would have more than one bus in the area. It's pretty easy to confirm which is yours by simply asking the driver. He has a scanner on him which will either scan your ticket or your e-ticket. I usually go with the latter as it saves time and I get to be lazy. So, worry not if you forgot your ticket at home as you could simply download it onto your phone or through your flixbus app.
Düsseldorf
From there you should begin your adventure. I would recommend being at least thirty minutes earlier in case of traffic and the Flixbus tends to be late due to traffic issues. The trip from Utrecht to Düsseldorf was not too long. I recall how I took the bus very early in the morning and the trip took just over two and a half hours. It was my first experience in Germany and I was mighty excited. As I had been travelling during the early Spring of the northern Hemisphere it was quite chilly. So, make sure to pack accordingly and grab a warm jacket. The bus will drop you off at one of the bus stations which is also next to a train station. If you end up stopping at any German train station, then I would recommend you check out whatever bakery they have there.
One thing that may not be well known, especially to people outside of Europe, is the quality of German bread. I recall how my mates would almost salivate at the idea of returning from Australia back to Germany just for the sake of eating 'proper bread'. I will admit though, throughout the trip I've enjoyed great bread with different types of meat for a very cheap price. I reckon we should probably import the methods of making these types of bread back to Australia to diversify our bread intake. I ended up getting a pretzel. It's worth noting I had never eaten a proper pretzel before, this is excluding the salty snacks I used to get in bags back in middle school. I recall how they would have simple ones such as pretzels with butter and some herb. Perhaps chives. I can't really recall although they were absolutely delicious. I had a couple of them and they both cost only a few euros together. They also have some crazy baked goods that you should try out. Some breads completely doused in cheese and pieces of bacon for example. Regardless, everything I tried was very salty.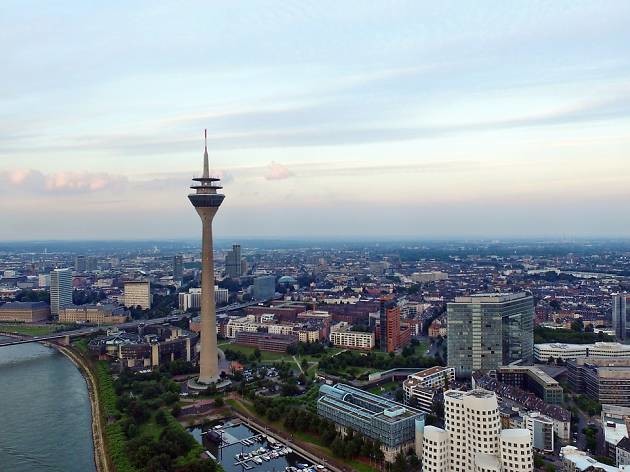 I hung about the slightly windy train station for a couple of hours before grabbing my next bus. It was all a very pleasant experience. Contrary to what many people I've met think I do enjoy listening to the German language. It might not sing as much as an Italians and it is also incomprehensible for non-speakers such as myself although it has a certain charm to it. The pronunciation of certain words and sounds makes it enjoyable to listen to. Then again, I have enjoyed my time with the majority of German exchange students so perhaps listening to them brings about a certain feeling of nostalgia. Regardless, I got on my next bus and continued on my way to my first proper destination, Hamburg. It was a shame I did not have much time to look through Düsseldorf although the city isn't going anywhere and there will also be more opportunities to visit them in the future. So, always keep a 'see you later' mentality rather than a 'goodbye' one.
Hamburg
Anyway, I can't recall the exact amount of time, but it took roughly over four hours, perhaps five hours total, to get from Düsseldorf to Hamburg. The trip was uneventful except for the scenic countryside we passed by during the trip. By the end of it I entered Hamburg during the late afternoon. I recall during the time I had entered as the refugee crisis was going on in full force. I met quite a few very foreign looking individuals. Their clothing did not match the background they were in. However, many of them I heard speaking in German and I was quite amazed as to how fast people can adapt when desperation and necessity kicks in. Regardless, the station I got off was pretty central and next to my hostel. I ended up staying in Generator Hostel Hamburg. This hostel is a large rectangular building that shot into the sky. I entered with my trusty backpack and was pleasantly surprised to see how modern it looked.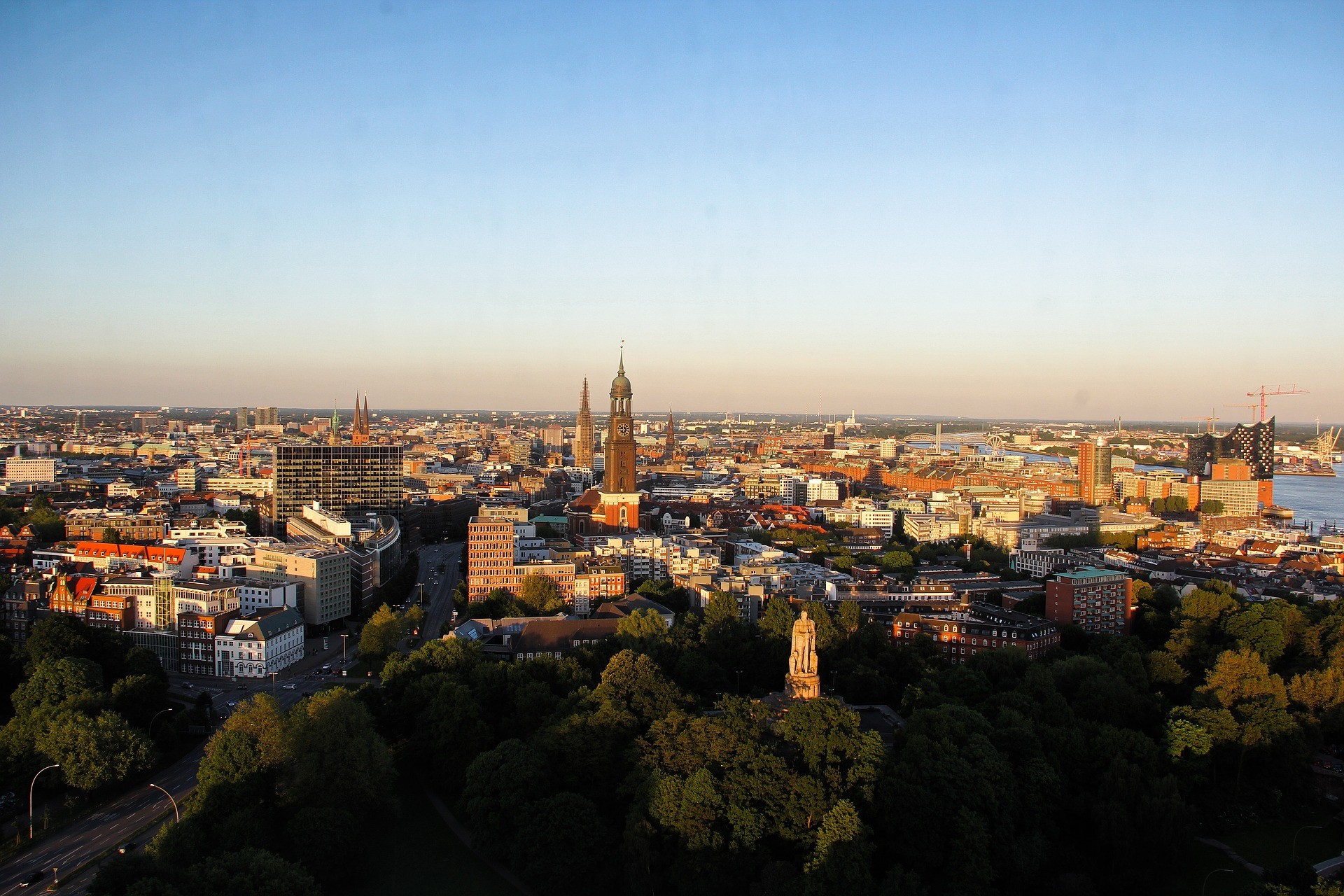 I usually tend to book cheap hostels when solo travelling (although if I travel with mates we usually upgrade) due to the fact that I barely stay in the hostel when I visit the city. The reception was staffed by very friendly employees. Like all hostels they had several guides and tours available for you to use if the desire arose. If you walk up the stairs there will be several computers available. I used these computers throughout my stay to plan places to travel to within Hamburg and outside of it. Once you sign up and get all your details and payments down you will be given a keycard. This card will not only get you into your room, but it will also allow you to enter your hostel later on in the night. It was quite busy at the time of my arrival. There were many people walking to and from wherever they were going or coming from. The hostel itself was also bustling with activity. Although, that should not be surprised as it was the Easter break when many people will be travelling back and forth their countries and Germany.
I unpacked and locked my goods inside one of their lockers and made my way outside. It was fast approaching dusk, so I decided to do some informal exploring of the area around me and grabbing some dinner while I was at it. Walking through the streets of Hamburg is a treat of itself. Many of the houses and buildings are quite beautiful and there is much life to the city. I recall passing some musicians who formed a small band. They attracted large crowds of people who would curiously listen to what they have to offer. Sometimes you would get guitarists playing alone and I even saw a young girl on the violin. I reckon the latter is a very common international phenomenon. Doesn't matter if I travel through Spain, Australia or Germany, there will always be a little girl playing the violin in a public area within these cities.
Supermarket
I ended up heading over to the supermarket for a bit before going for dinner. It's always interesting visiting a foreign country's supermarket because you never know what new things you could discover. Sometimes you will see a variety of local goods and produce that are of such high quality and flavour that it's exciting. Often, local produce ends up being quite cheap. For example, as I was in France and the Netherlands (both separate exchange experiences) I was able to experience such delicious baked goods and especially cheeses (the cheeses were truly out of this world) for very cheap. Many of the cheeses were only a few euros each. So, I would often by bread (in France I would buy some high-quality baguette bread for just a euro) and cheese and simply munch on them for a meal. Your stomach may not be too pleased with you by the end of it, but your soul definitely would be.
Germany is known for its sausages internationally. I saw a whole variety of different sausages which I was killing to try out.
I then decided I will go out for sausages tonight. I kept on exploring and saw many different types of chocolates and sweets. It's worth noting that the store I was in was not a particularly big supermarket although it was packed to the brim with all sorts of goodies. So, the next thing I did was check out the alcohol section. In Australia we can't buy alcohol from a supermarket. It's strictly regulated. Rather, you will have to buy it from a bottle shop. Luckily, many bottle shops are located very close to their supermarket counterparts, so it would be easy to access them. Bottle shops end up closing about 9ish in Adelaide so after that you can't buy any more alcohol. So, you can't be spontaneous. The reason behind it is due to safety and looking out for citizens who are looking to get smashed very late at night. Also, most people would not shop for alcohol at those times anyway.
Now, the alcohol section was pretty crazy. There was a massive variety of different beers on display. I had never seen such a high concentration of different types of alcohol in such a small area (until I went to Belgium). One of my mates who was aware of my adventures had recommended that I try out a certain type of alcohol. It took quite a bit of time to find what I wanted as there were some a crazy amount of different types of beers. An interesting fact. While many look up to Germany when it comes to Beer and many claims it to be the best beer maker in Europe (Can't confirm or deny if this is true or not), it was unable to have its beer in the UNESCO protected heritage list. The specific list was the one referring to foods and methods of doing things (such as the French way of dining).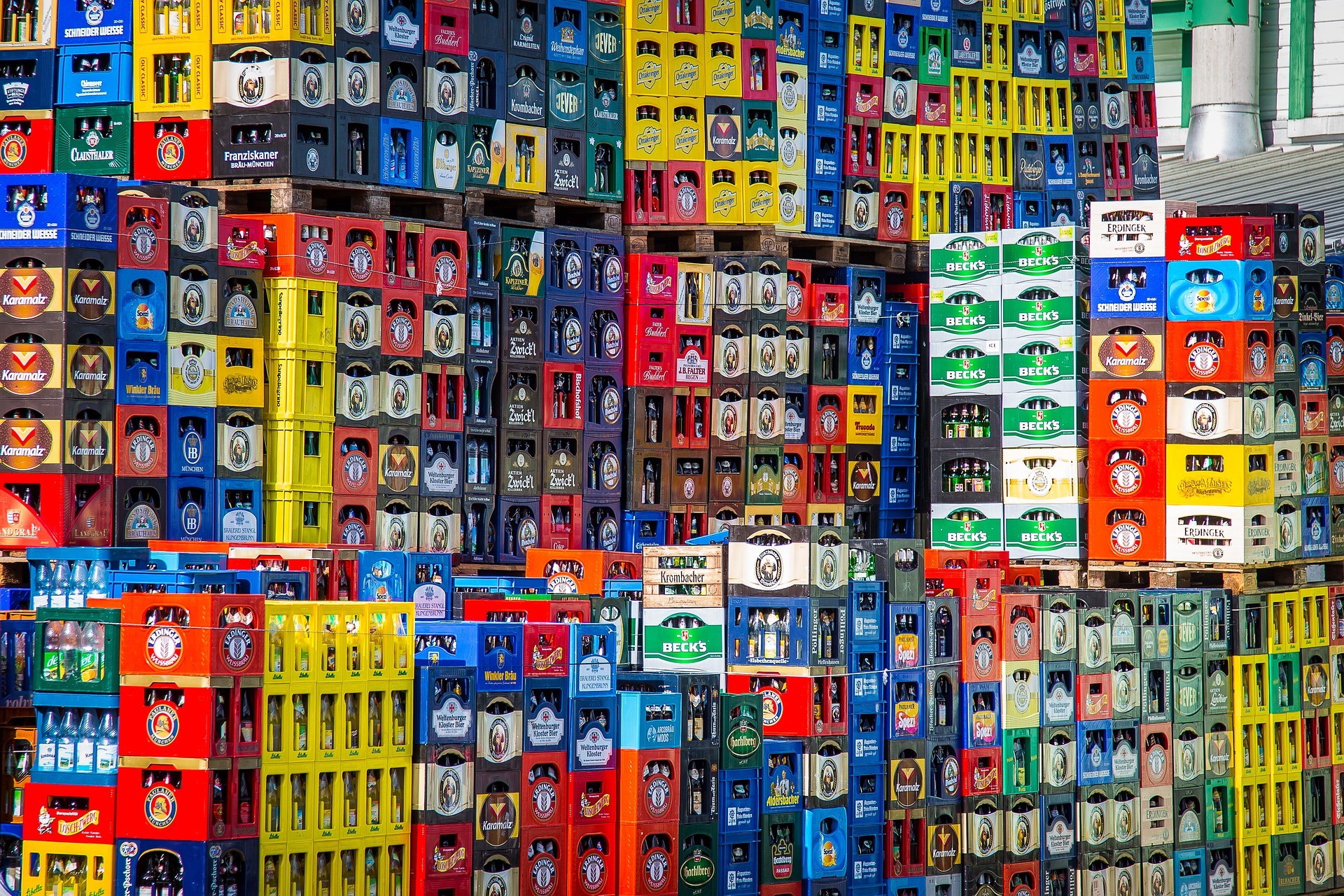 Rather, another country had the opportunity to have its bid taken when Germany's was rejected: Belgium. Now, this does not specifically entail Belgium having better beers than Germany. However, I reckon in the end of the day you can't really compare them as there are so many different types of beers and you can't throw them all in the same lot. Although, if you do find yourself in Germany, I would recommend that you go on a beer tasting tour. This same tour you could actually do on your own with a supermarket. You (and your mates, or simply by yourself) could spend roughly fifteen euros each (if you aren't sharing bottles or pool a sum of money together and buy beers to taste) and buy different types of beers in the supermarkets.
Another option which is pricier, but I reckon is a better experience is going pub crawling. You could try the different craft beers located in each bar. If you're a beer fanatic (one of my mates surely is) you could keep it all tracked down in a book and make sure you try everything from German Ales to blonde beers. The bar/pub experience would be much better as you will also find beers that you could not find in many supermarkets as well. It surely is an experience you should not miss. However, I do recommend you drink responsibly. You are in a foreign country and you should always be alert (same applies to your own country but especially in a foreign country). You will have less people you could rely on when you're drunk, and some would take advantage of that fact. So, enjoy your drinks within reason.
Wines
Another thing that is noteworthy for people travelling around Europe (and are foreigners to this continent) you could easily try the wines from some of the best wine-producing countries in the world. Specifically, those of Italy, Spain. France and many more. The reason for this is that these products are widely exported to their European neighbour countries. As the EU applies lower tariffs (if any) to many of the products then you will find some relatively cheaper wine in places like Germany from Italy rather than having imported Italian wine from places like America and Australia which would cost a lot more. So, if you're travelling through Germany then take advantage of the wines as well as the beers. Not only that but go for the different foods that are available. Later that day I ended up going to a restaurant that fully specialised in the different sausages they had on offer.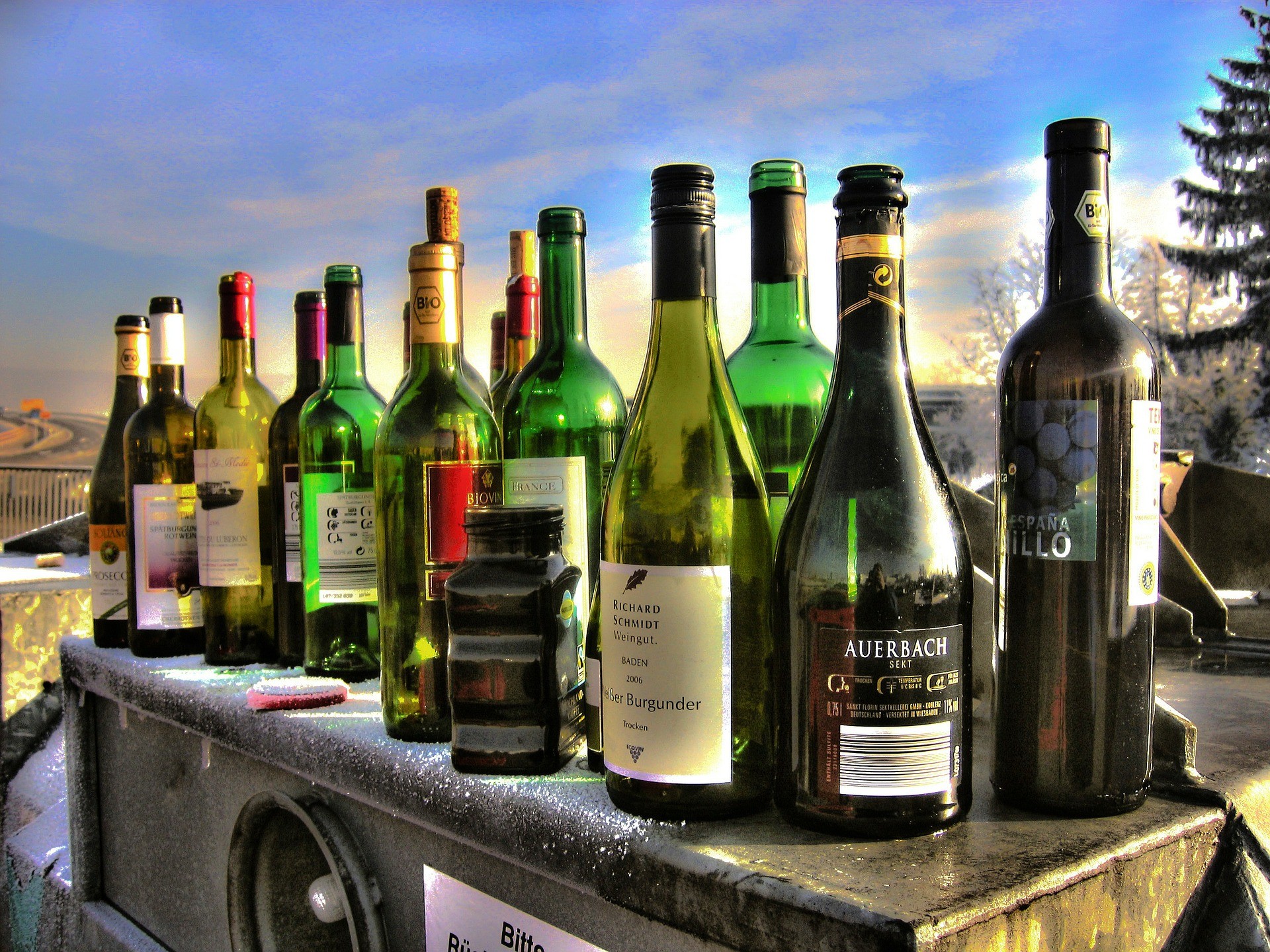 Dinner
I recall paying a hefty amount to get a large sausage platter. They provided a couple of sauces on the side although I was told by one of the waiters that the sauces were predominantly kept for tourists. You were supposed to eat the sausages straight, so you do not have any interferences with the flavour and spices. I took her advice and thoroughly enjoyed my meal and sculled a beer along with it. The beer was another recommendation by the waitress as she informed me of which beer to enjoy along with the sausage platter to improve the flavour. It was a truly enjoyable experience. It was also quite filling as it was a platter meant for two people. However, I was determined to get it all down as it tasted so good and I tend to eat with my eyes so as long as there is food on the plate, I will keep eating it. It's worth noting that platters for two are not usually big enough for two people in many establishments due to the fact that (tin-foil conspiracy) it's worth allowing the customer to have enough food for dessert, entrees and much more.
By the end of it I hobbled my way back to the hostel. It was late at night during this time, but the city was very much alive. It was refreshing to visit a lively city. There are about 1.8 million people living here. That's slightly larger than the miniscule 340,000 people that are currently living in Utrecht and much larger than when I was staying in Reims for my second semester exchange. That small city had a population of roughly 185,000 people. Bigger cities mean more people out which also entails to more bars and restaurants being lively and going out in full force. I headed over to my hostel where I ended up relaxing for a bit before passing out. Like many hostels it felt like being in an International piece of land as you would listen to people talk in a whole assortment of different languages ranging from Spanish, French, Italian, Mandarin, Arabic and much more.
Not a silent night
I ended up sleeping like a baby. The beds were decently comfortable. Can't really expect too much from a bunk bed. It was also not crazy loud in the hostel even though it was busy. Perhaps the walls were simply of higher quality than the regular cardboard ones in other hostels I've been to. Regardless, while I was sleeping like a baby for the initial part of the night that's when the fire alarm rang in full force. It was screeching throughout the calm night. Droves of people woke up. My roommates were quite calm waking up. One of them was cursing in Italian to his other mate. We were roughly six people in that room. I picked up my valuables from under the cover and made my way downstairs after putting my shoes on. There were droves of people walking down the stairs alongside me. It was interesting how many of them were much younger than myself. Many were probably still in high school.
This sort of made sense as many would travel during the Easter school break. It was surprising how many of these people were from farther south in Europe yet hanging out with mates so far away from home at that age. It's a normal thing to do, as I was told by my mates, when they were growing up in European countries. It also reinforced the idea of how rich many parts of Europe were. Even the ones that were struggling with debt and unemployment would have many citizens easily able to afford their child's holidays in another country.
Moving on, we were told to stand outside the hostel as some bulky looking firefighters in uniforms made their way through the crowds straight into the building. As quickly as it all began it was over. I assumed that somebody may have been smoking inside the hostel. It's honestly such a stupid thing to do. I was looking at the fine posted up on some of the hostel walls. If you were caught smoking or trigger a fire-alarm, then you would have to pay a five hundred euro fine. It's a harsh punishment although it's honestly common sense to follow a hostel rule. Although, that's the thing about common sense: it's not very common. Regardless, after standing about in the cold Hamburg night we entered back into our hostels and I deposited myself back onto my bed. I kept on sleeping as if nothing had happened.
Setting off
I woke up early in the morning. I got myself ready and made my way down to the computers. I quickly do a bit of research of where to go for today. I ended up heading to a bakery for breakfast. What I love about bakeries is that there are many different goodies you could have together for breakfast since they usually serve small foods along with large ones. I enjoyed a pretzel and some sausages and some sweets as well. It was a lovely experience and cost peanuts compared to what I would have to pay back in Australia for the same products.
The day was much warmer than the evening and I was walking about in a shirt for a short while.
After enjoying my salty and sweet breakfast I continued on my way to explore what Hamburg had to offer. As I visited many different things, I can't recall the chronology of it all. I ended up heading over to Saint Michael's church. I was told that this church has a spectacular view of the area around. Perfect to get a feel of Hamburg's appearance. Along the way I spotted many beautiful houses whose design dated back centuries along with many modern buildings next to it. Hamburg is a very beautiful city (it has it's good and bad). It is also the second largest city in Germany. So, there is quite a bit to see. I surely did not stay as long as I would have wanted to. Although, that's how the cookie crumbles. Sometimes, you could have short 'exploratory' experiences where you could check out the country and its cities and see if you enjoy it. If it's a particularly good country or specific cities are out of this world then you could travel and visit them again. Regardless, the walk to the church is very enjoyable. Often, I would recommend that if you visit a foreign country then I would spend some time simply walking about and seeing what the city has to offer. As a rule of thumb, I try not to travel with public transportation. This also applies for taxis and Ubers. Rather, I enjoy walking about even more as you get to see a lot more of the city. It also gives you a better feel for the city. The only time I would recommend taking the bus is if you have zero interest of seeing the 'in between' and would only want to check out the destinations. Another valid reason is if you were low on time.
There were a surprisingly large number of ice-cream shops throughout the city of Hamburg (the parts I had visited). I ended up having a couple of servings along the way there. Keep in mind that as you (or at least I do) walk around the city you tend to burn a lot more calories which would entail you to pretty much eating whatever you want. Of course, I would recommend eating whatever you want during the holidays anyway. You could take a break from the diet and enjoy all the experiences that are there to offer. I value food tourism as much as any other part of my experience. If a country does not have a variety of good foods, then it would be lowered in the rankings of my personal favourites. So, take it easy and have some fatty local specialities to enjoy your whole experience. Don't feel guilty and enjoy it all. Which is exactly what I would do throughout the trip. My breakfast was surely a great supporter of that idea.
Saint Michael's church
I ended up face to face with the church and marvelled as to how high it got. There was a small crowd waiting their turn to go upstairs. I can't recall but I reckon I am almost positive that I had to pay a fee to be able to go up the tower. I ended up taking a long time to go up the stairs. It was a harrowing experience as to how high it was. It didn't help that often I had to face families and older individuals who would sometimes clog up the narrow paths by the pace they were going. It's a bit cruel to say so but it did take a substantially longer time then it should have. Regardless, I finally made it (almost out of breath) to the very top. There were high protective bars to stop people from climbing outside the towers.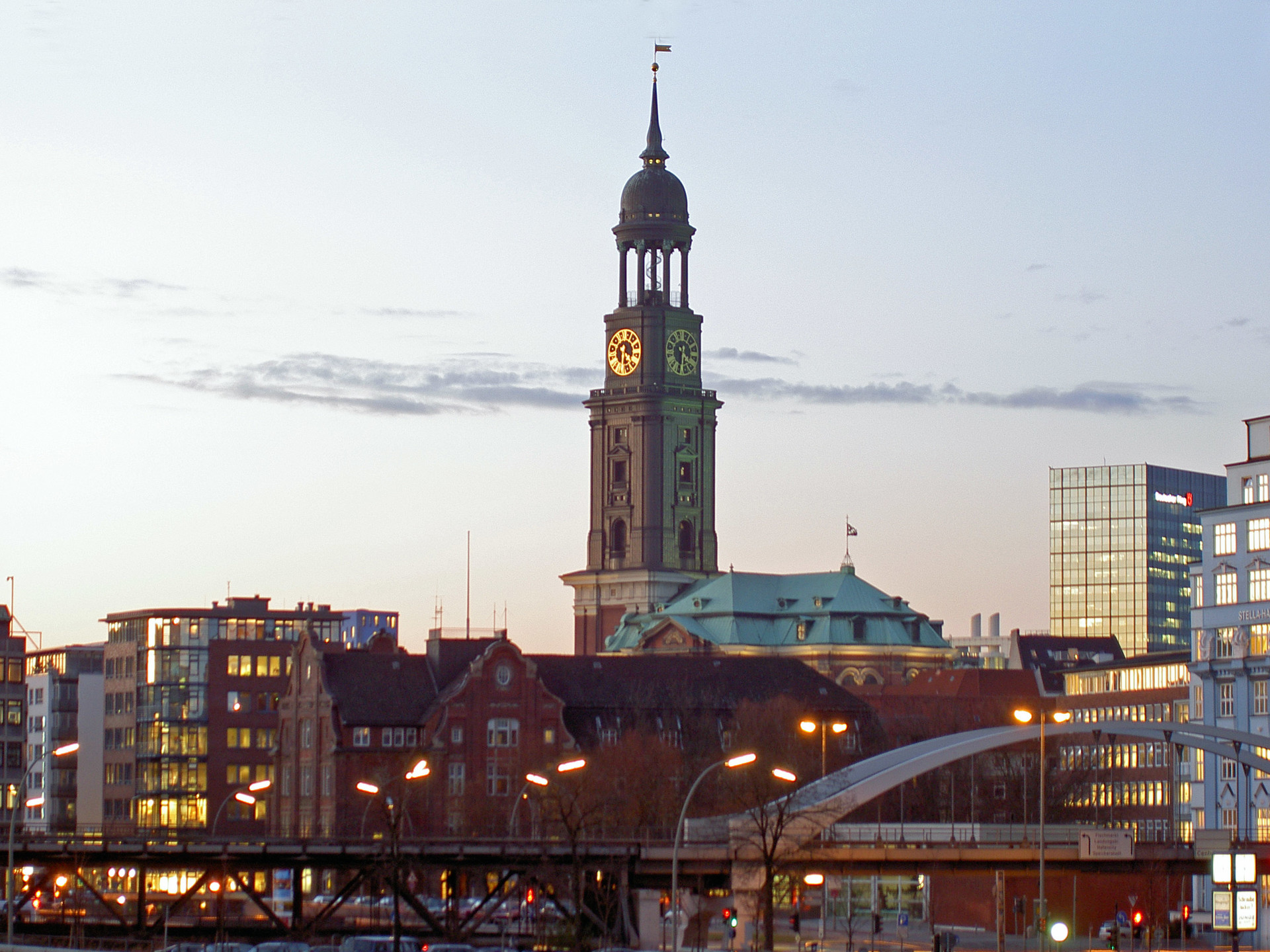 There were quite a few people and the view were utterly spectacular. You could see which neighbourhoods were incredibly wealthy, where the business and tourist districts where and more. You could also spot the whole port from up there. Hamburg has a massive port area where it would trade many of its goods to the UK, Scandinavian countries and many more. It was crazy how large the port was. I snapped an extensive number of photos of the surrounding area. It's worth noting even though it would be a bit obvious that it was very windy up there. Make sure to pack warm clothes if you're going there during the colder parts of the season. Also, make sure to not drop your expensive cameras or phones as the winds would shoot instant gusts without any warning.
I always felt viewing platforms were refreshingly freedom-inspiring. I always felt quite a live in these areas as you get to escape the craziness of life down below and get an amazing vantage point of the surrounding area. I mean, you could get such views from postcards although the feeling you get from being up there is something you must go there on your own. An experience I would compare to this in similarity would be the famous Galata tower which has survived the ages. This tower is located in Istanbul. I ended up visiting this beautiful city during my second exchange in France. I went during the mid-semester break which ends up being the hotspot for most students travelling during their exchange semesters. The tower was very high above the area and it offered a spectacular view of the area round. If you've seen Istanbul before then you will notice that there are many intertwining rivers throughout the area which leads to the division of the rest of Turkey and Istanbul. I managed to get there during the sunset. I had perfectly timed the experience and I was quite proud of myself as there had been a massive line simply to get in there.
I would not recommend comparing Saint Michael's church and the Galata tower as they have different types of views. Each provides their own type of view. The former gives off a more industrial and urban view while the latter is also urban but also brings in the beauty of nature as rivers carve paths through the earth.
Miniatur Wunderland
One of the big favourites for tourists is the Miniatur Wunderland. I hadn't thought much of it when I looked it up although the receptionist at my hostel would highly recommend it to me. I was in Hamburg exploring so I thought that I may as well check it out and see what there is to offer. It was a fun experience. It's absolutely stunning how detailed this model city was. I spent roughly three hours looking about and enjoying all the sights that were on offer. There is so much to see and it's also great to enjoy as an adult or as a child. It really boggles the mind as to how much work was put to make this all as detailed as possible. I walked about in circles looking at everything there is on offer. There were cars, trains, airports and more. Many different types of monuments were on display. The river sections were also very well detailed with the ports and all out. I came during a busy time so there were quite a few people around. However, I did not allow that to get in the way of my appreciation of the area I was in.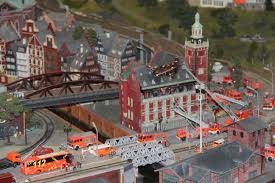 It was strange to imagine why would anybody put so much work and effort into something like this. However, I'm glad they did as it was absolutely beautiful. I highly recommend you check out this place when visiting Hamburg. I would put away any prejudices as to it being a children's activity or such. People of all ages can enjoy it sightseeing the area. I would definitely recommend putting in a few hours of free time to check out the area. It's truly something to not miss out and it's a very unique piece when it comes to world tourism due to how grandiose and massive it is.
This concludes this part of our experience. When we return, we will investigate some more things to do while in Hamburg. The museums, more bars, foods to try out and much more. This city has a lot on offer and I was truly enjoying myself. I recall at the time how glad I was that this was only the first stop of my destination and there is a lot more to see and experience. Happy adventuring and stay tuned!
---
Photo gallery
---
---
Content available in other languages
Want to have your own Erasmus blog?
If you are experiencing living abroad, you're an avid traveller or want to promote the city where you live... create your own blog and share your adventures!
I want to create my Erasmus blog! →