Amiens, the unknown city
Hello everybody!
I would like to share my Erasmus experience in Amiens with those that are able to read my small contribution to ErasmusU. I hope that this comes to help you and serves as a guide for your Erasmus experience in this magnificent city.
Why Amiens?
Well, before anything else, I have to admit that I didn't know anything about this city. When I saw Amiens in the list I was offered by my university, I thought "and what is this? " Then I set about looking up photos on Google to see what it was like, and I was quite surprised. It was prettier than what I had imagined.
My university, the Rey (or King) Juan Carlos University in Madrid, gave me a list with a bunch of universities to choose from in France. I think that were were more than twenty different universities in the list that they gave me.
I opted for Amiens because it was the furthest city from Madrid. Yes, I know, it sounds stupid, but I didn't want to choose Nice or Toulouse because then my parents would have come to visit me every weekend and my intention was to get as far away from them as possible so that I could experience living completely independently (I've never lived alone before, let alone gone to another country without my parents).
But regardless of this cheap excuse, I made a wise decision choosing to go to Amiens. And I do not regret it one bit!
Amiens is an incredible city in the north of France, the capital of the Somme department in Hauts-de-France. And it is also the favourite city of the French writer Jules Verne.
It is a city that the river Somme flows through, that has inherited a lot of history and culture and had a lot of beautiful nature.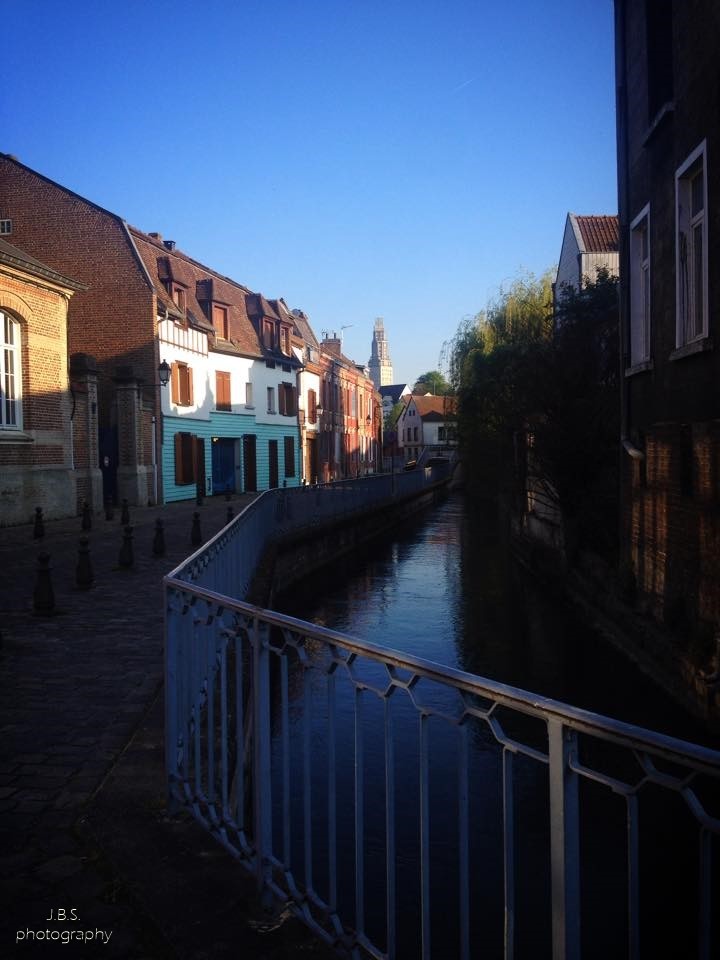 What makes Amiens special?
It is a tiny city compared to Madrid. But this does not mean to say that it is ugly or boring. Quite the opposite. It is 100% a student city. There are thousands of things to do and you never get bored.
As I mentioned before, Jules Verne was crazy about this city, so much so that he decided to live in Amiens, the city of his wife, to spend his last days here. One of the things that you can do, when you get to Amiens, is to visit his house la maison de Jules Verne.
Next to his house he built the Jules Verne Circus, the work of one of the Eiffel Tower students where the most creative and entertaining shows are currently held.
If you're going to study at the University of Picardie Jules Verne (UPJV), then you will definitely go on a tour of the city with all on Erasmus and you will pass by this house. Personally, I think it's fantastic.
Being a student, entry is free and you can ask for a guide in French, English or Spanish at the reception.
Another thing that I love about Amiens is the St. Pierre Park. It has a special charm, with an enormous lake that is surrounded by swans, and where you can sit or play rugby with friends. You will also see a neat skate park, a basketball court and a football pitch.
From the lake you can see the most beautiful cathedral in France, la Cathédrale Notre-Dame d'Amiens (Amiens Cathedral).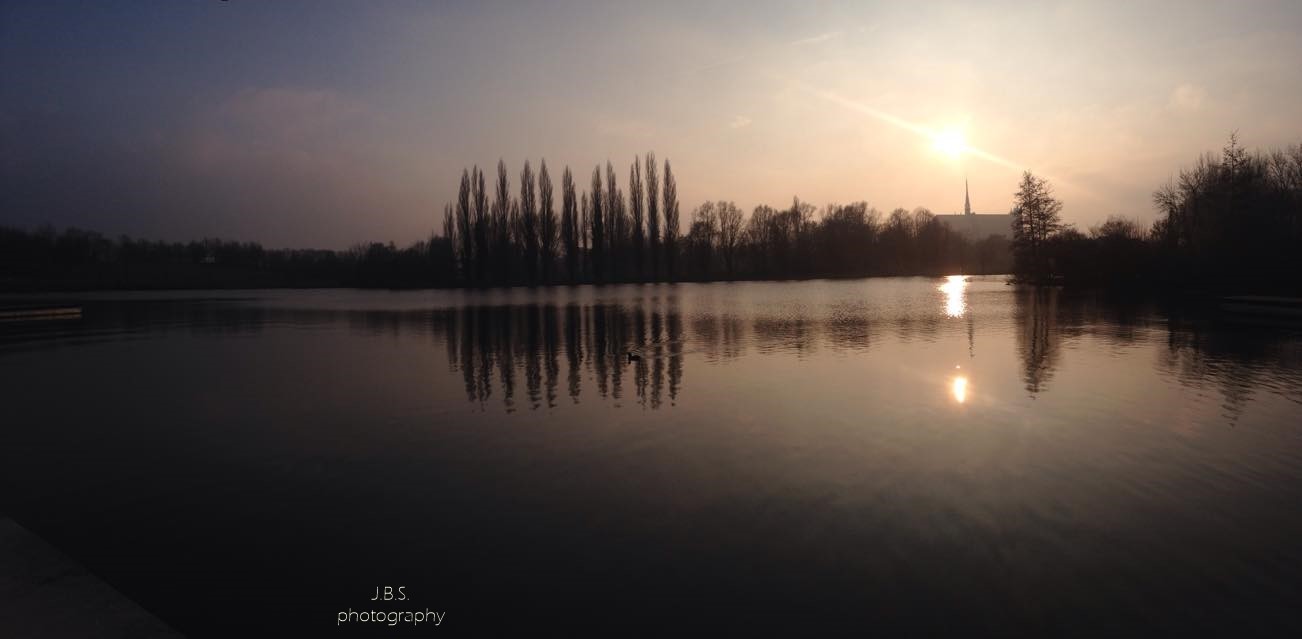 It's impressive. It is the biggest and tallest cathedral in all of France and it was declared a cultural heritage site by Unesco. It is from the classic gothic period. Originally, the architecture was from the Romantic era, but it was almost all destroyed due to a fire. Inside the cathedral, you can see photographs of the fire and you can read interesting things about it.
The cathedral is laid out in the shape of a Latin cross (a Crux immissa). When inside, you will also find the famous labyrinth that is longer than 200 metres. They say that if you walk along the black line on your knees, all your sins will be forgiven.
On the outside, the face of the cathedral, everywhere is covered with a collection of sculptures that represent a great part of the Old and New Testaments, making the cathedral a bible carved in stone.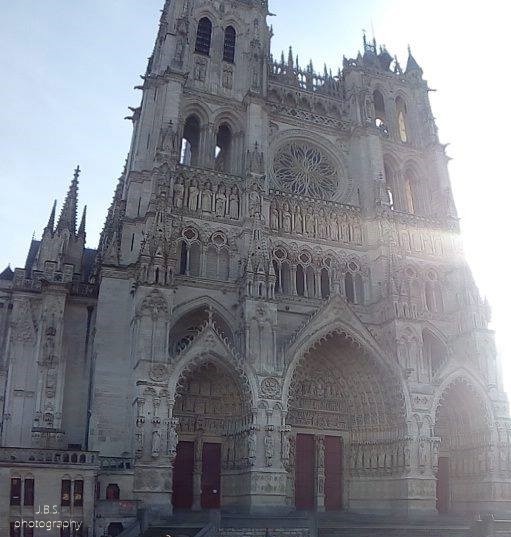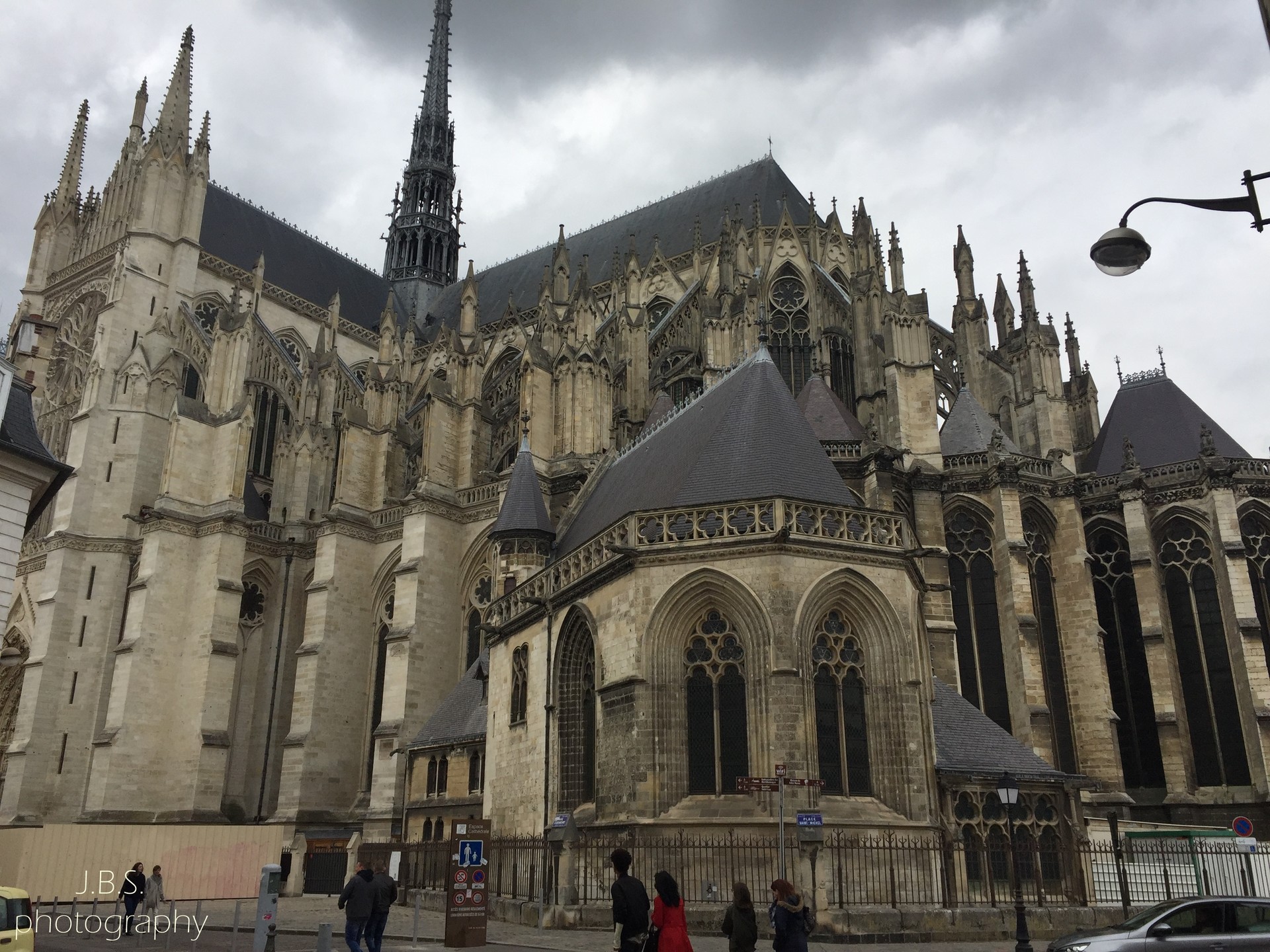 Honestly, the first time that I saw it I was left speechless, and I'm not even exaggerating! You will be impressed by its grandeur and attention to detail. I remember one time I spent about four hours just looking at the façade, every sculpture, every body and face, looking at every different angle and perspective possible.
The best thing of all is the lighting with colours around the cathedral door that are projected every night during the summer and also during December. With this lighting system they try to restore the original colours of the façade of the cathedral, that have faded with the passing of time. It even looks as though the cathedral was never painted.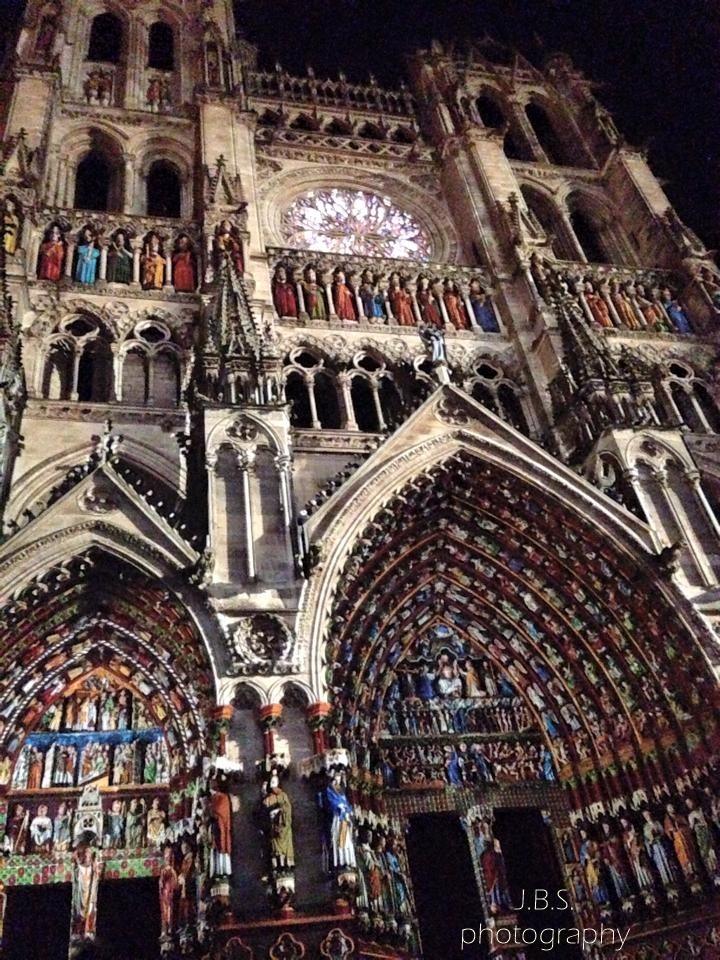 Another very interesting thing that not many people know, not even the Amiénois (French word for people from Amiens), is that you can climb the cathedral towers and see Amiens from above. Entrance is free for students, and I think it costs €3 euros if you're not a student.

Another of my favourite places in Amiens is the restaurant Tokyo. The best sushi that I have tried in my life, and with so much variety. The buffet menu is €13 between 10am and 1pm and is €18 between 5pm and 11pm. I really recommend it, I have been seven times and the only thing I regret is not having gone even more.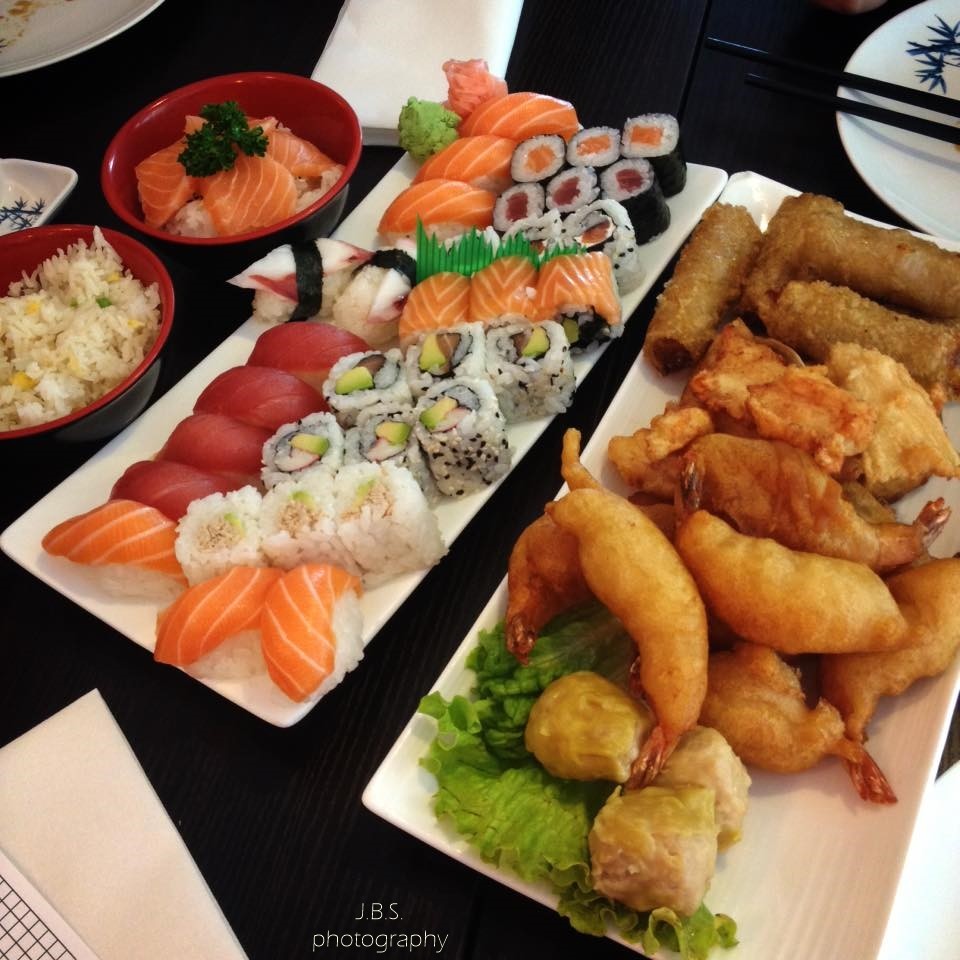 And a final tourist place to add would be the Hortillonnages. A group of floating gardens that are surrounded by canals that can be accessed by boat. You can take a 45 minute boat tour along the gorgeous canals for €15, which really is worth it.
Every floating garden flourishes in a different way, from the most basic to the most eccentric that are full of different coloured flowers and strangely-shaped houses.
When you cross the canals, you will feel as though you are in an oasis of green magic, and you will be filled with a warm inner peace. Everything is spellbinding.

Source: Les Hortillonages d'Amiens
How did you get there and where did you live?
To get to Amiens there are two airports: Paris Beauvais and Paris Charles de Gaulle. I would advise you to go to Beauvais (normally with Ryanair) because there is then a direct bus to Gare d'Amiens that costs €5 if you are young (under 25 years of age) and in about an hour or less you will arrive. Meanwhile, if you go to Paris Charles de Gaulle, you would have to take a direct train that costs €20 and takes nearly two hours.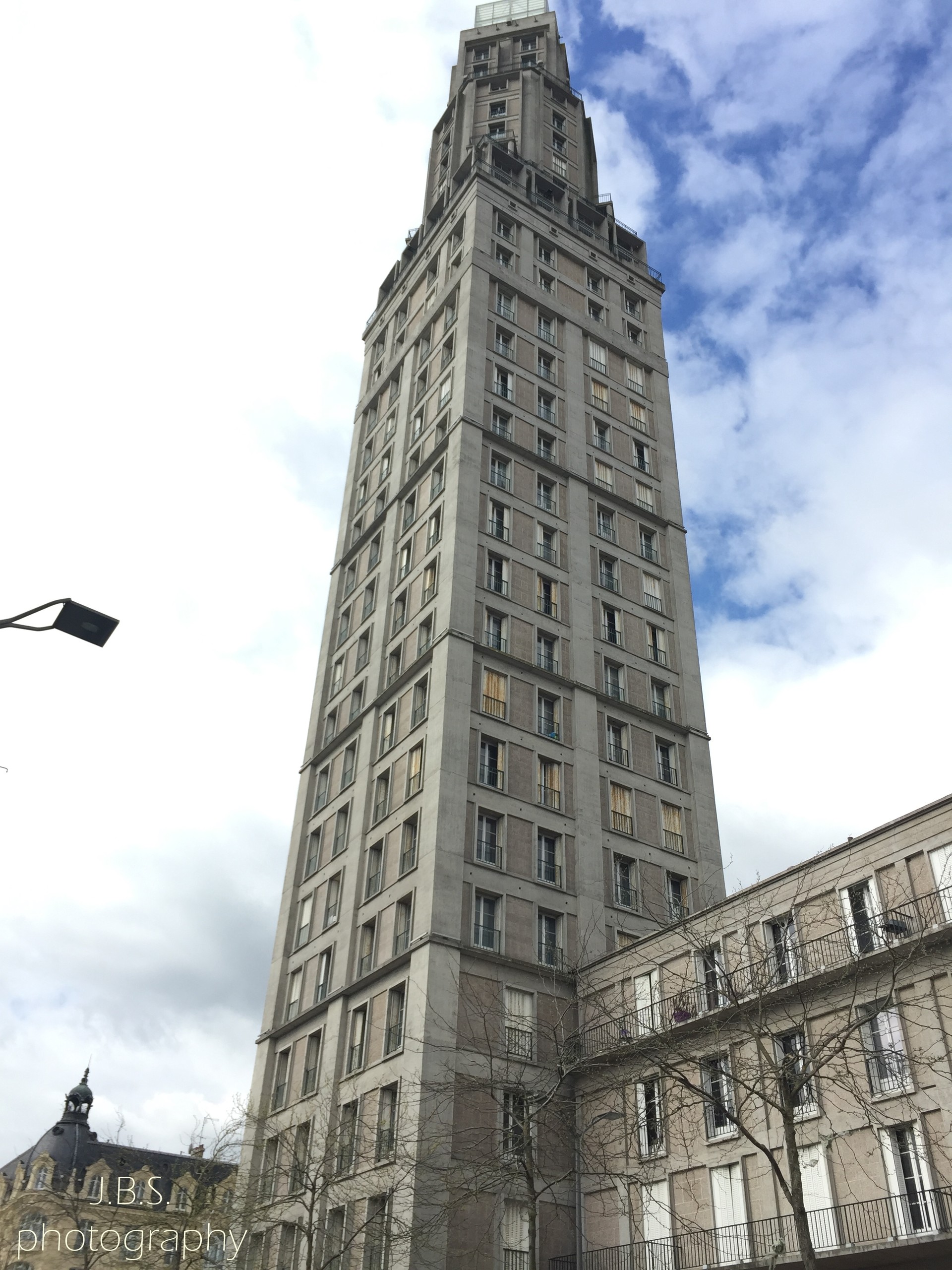 Once there, the logical thing to do is to go to your residence or to the flat you have rented. My advice: choose a room in a student residence. As far as I know, there are five:
A residence exclusively for girls. Sorry boys, but it is practically forbidden for you to enter. They will allow you into the TV or study room, but never into the rooms or hallways. Mostly because there are a lot of Muslim girls that reside here and normally they would wear a veil or hijab, but in the residence they walk around without them and with their hair out.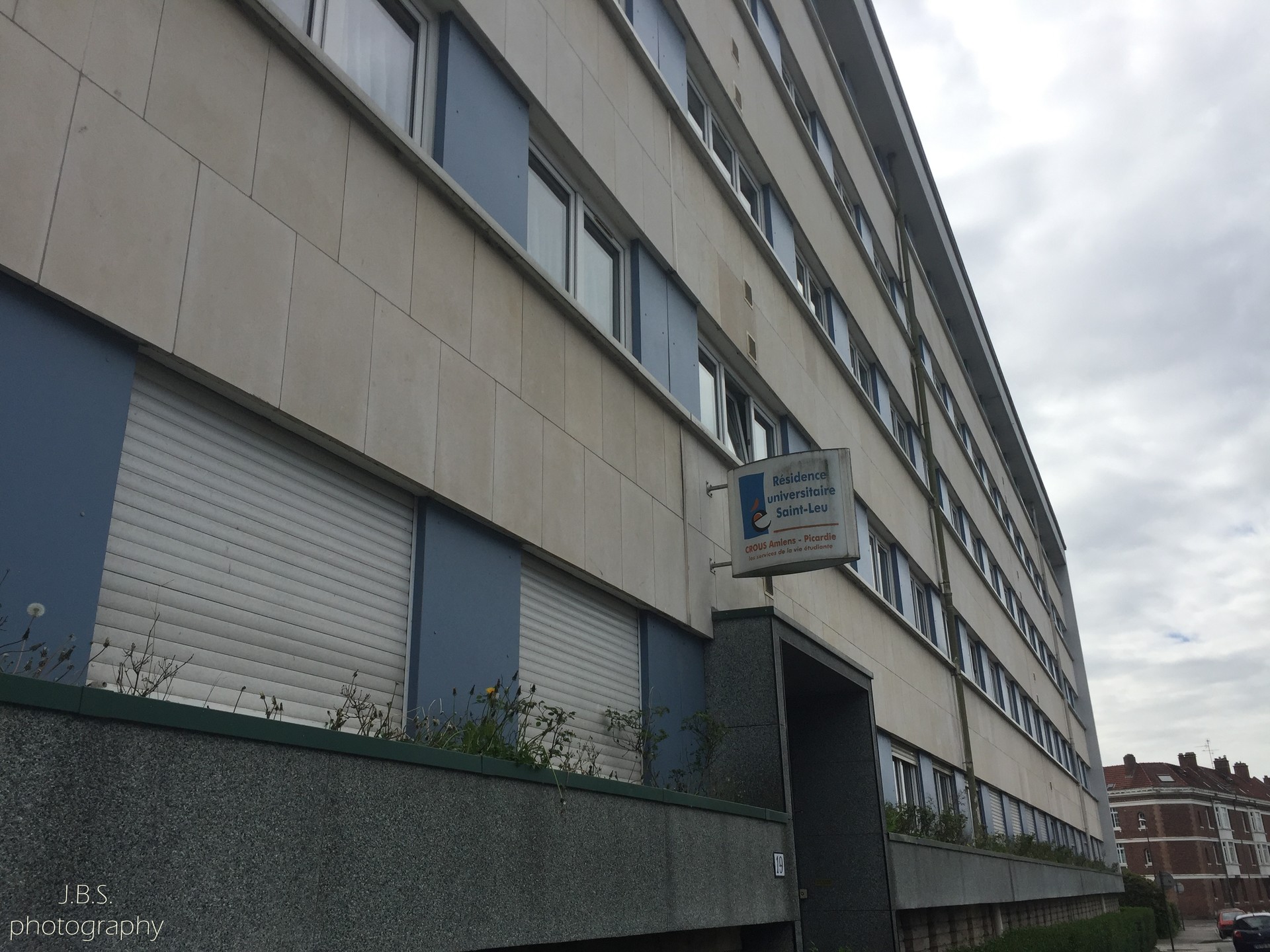 I was in that residence. The best of all of them if you are a girl, of course. It's a bit outdated, but it has everything you need and I think it's very comfortable and cozy.
It is in the centre of the city, in Saint-Leu. To get to the cathedral from here takes only a three minute walk, and you have the Faculties of Law and Economic only a two minute walk away.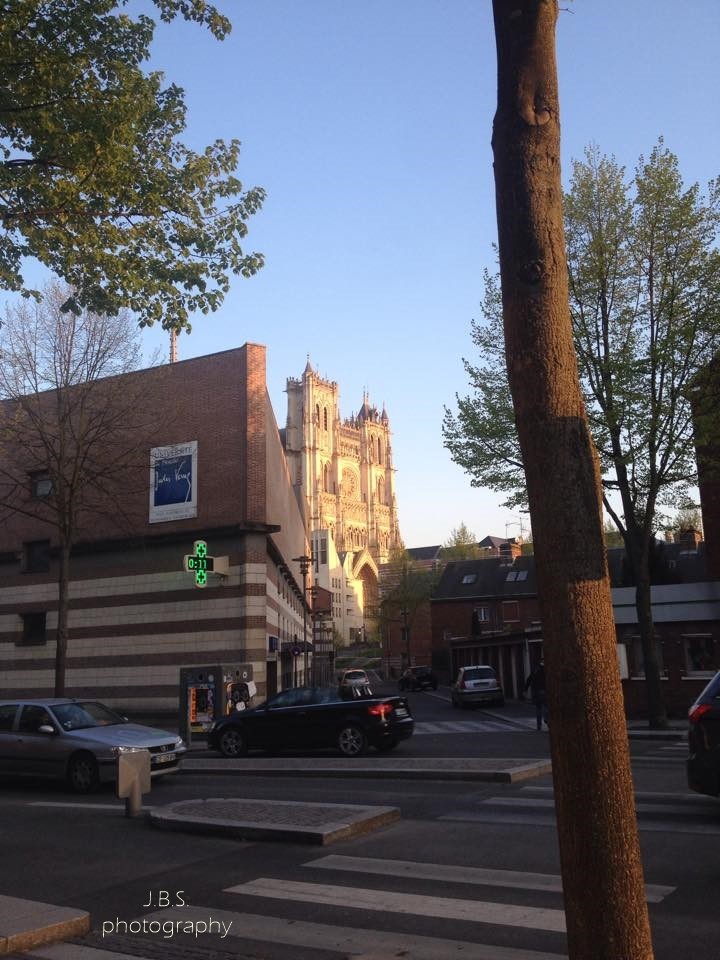 Just in front of the residence, you barely have to cross the road and you can see it from the window, is the Faculty of Computer Science and to the right is the Faculty of Natural Sciences .
In every hall in the residence there is a kitchen with the basics: a ceramic hob, an electric stove, a sink next to a small countertop, and a large table with four or five chairs. Additionally, halfway down the corridors are the shared WC toilets and showers.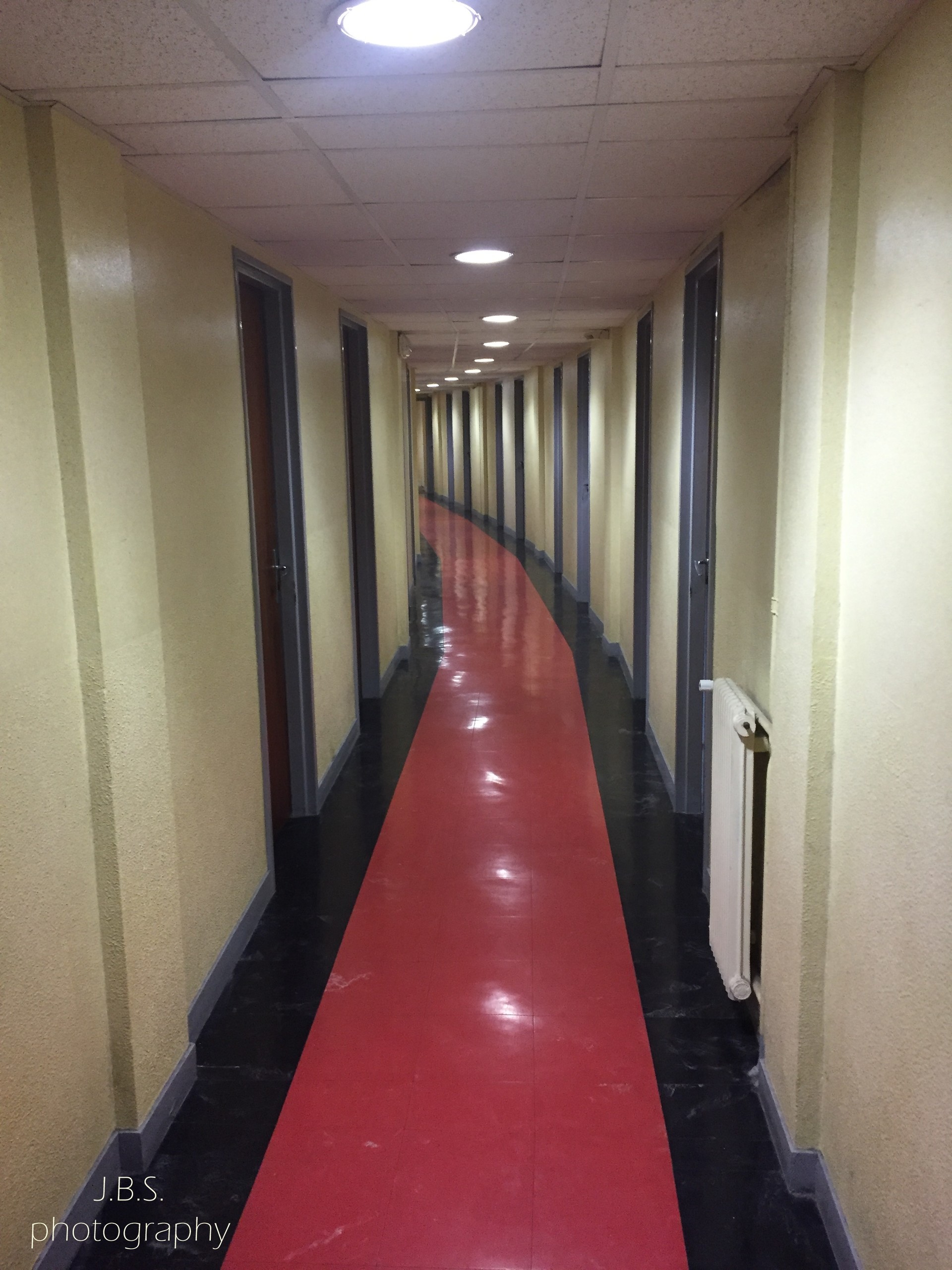 Yes, unfortunately the showers are shared... there had to be some disadvantage to this place!
The rooms are usually 9 metres squared, but mine was somewhat larger (room 325), and the room of one of my friends was huge, I think about 12 metres squared (room 147). And then there were other rooms that were tiny. So, if you end up with a small room, you could ask to change room if one is unoccupied.
You have to bring the cutlery and the utensils for the kitchen yourself. Or you could buy them in Carrefour or Leclerc or you could even ask the UJVP (University of Picardie Jules Verne), if you study there, to leave you some. Erasmus students from other years, as they cannot take them home with them, donate everything to the university so that the next Erasmus students can benefit from them, and the truth is that it is something that is greatly appreciated, because if they didn't do this then you might not have any pans or cutlery. I asked the International Relations in the UPJV if I could take a couple of things and they didn't object at all.
Regarding cleaning utensils, you can borrow them from the residence. They will provide you with a vacuum cleaner, mop, broom, kitchen soap to clean the dishes, etc. The truth is that I preferred to buy the mop and broom with one of the girls who lived in the residence and to split the expenses, because what they gave us there didn't quite seem clean...
In the rooms there is a bed, a mini fridge, a study with a chair, a table lamp, a bin, another table with a kind of chair-sofa for one person, a wardrobe, some relatively large shelves and a sink with mirror. The price for these rooms was €186 per month.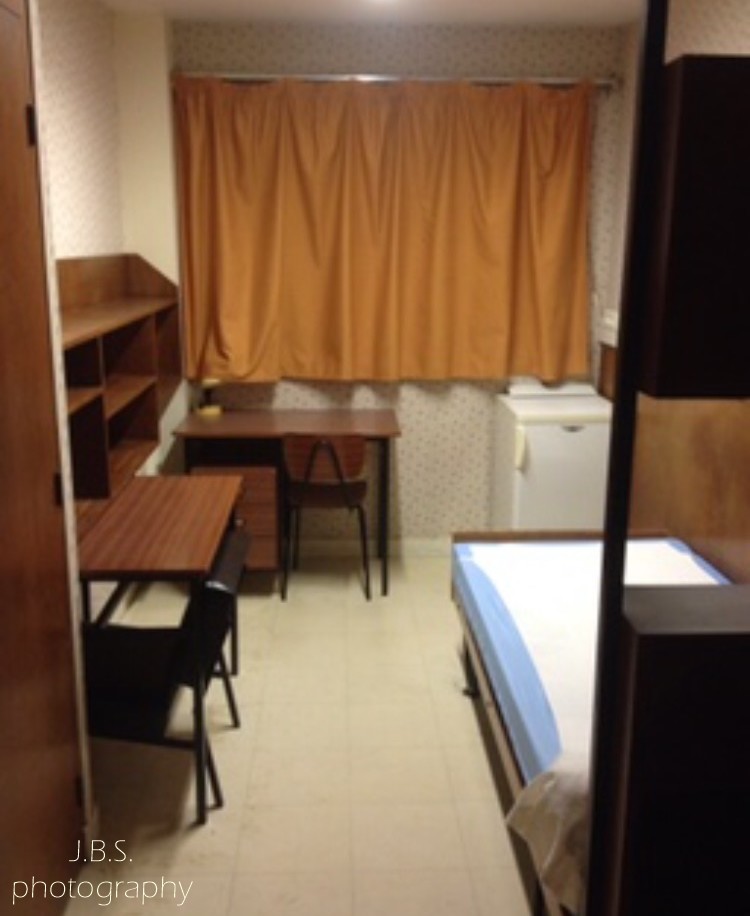 And the views from my room? Those were priceless.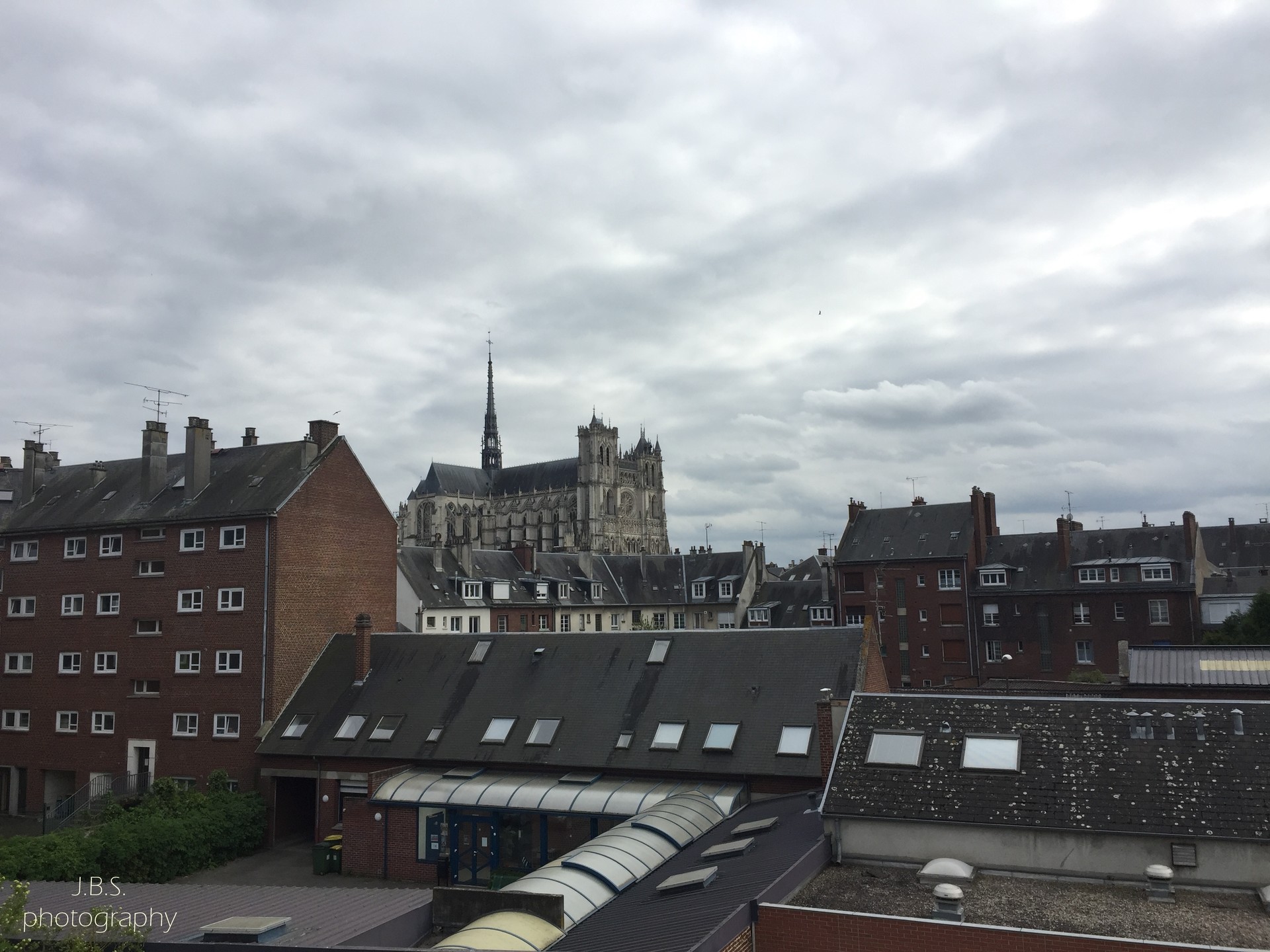 The residence for the Spaniards. No, truthfully there is a lot of diversity there, but the year that I went to study the majority of the Spanish Erasmus students were staying in this residence.
In my residence (Saint-Leu), I was luckily the only person from Spain, so I had the opportunity to practice French a lot.
In this residence, the rooms have a shower, sink and toilet included as en suite, but that eats away at a lot of the available space, so you can barely walk around the room. Not only that, but they were much more expensive; €325 per month. They included, as well as the en suite, the same as in Saint-Leu: a desk, bed, bedside lamp, chair, wardrobe and shelves.
Castillon is also in the centre, but a little further away than Saint-Leu, around ten or fifteen minutes walking.
The good thing about this residence is that it is quite near to St. Pierre Park (a place that you will surely go to, and often if the weather is nice).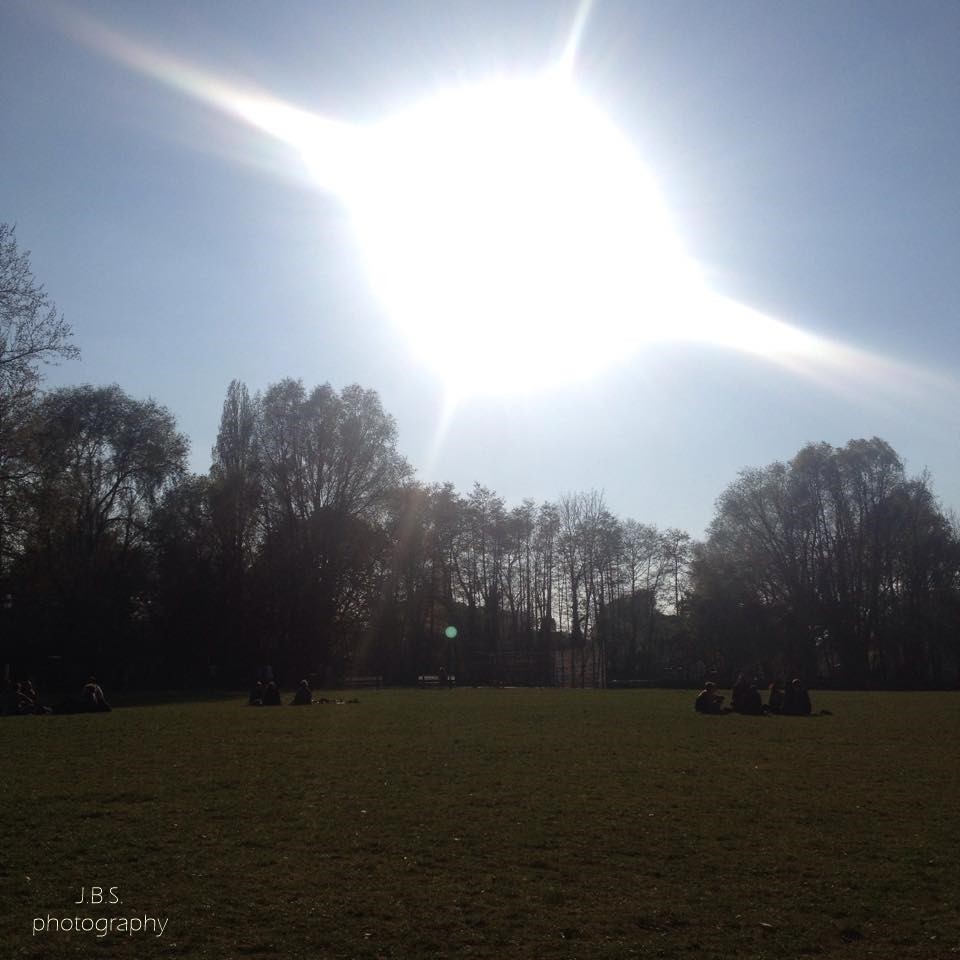 In regards to the kitchen, it is the same situation as in my residence, with a kitchen on each floor. The best thing about this residence is that the kitchen on the ground floor is very large and we used to host international dinners there with the other Erasmus and we also even hosted birthdays. Once more than fifty people came. This residence is next to the Faculty of Arts.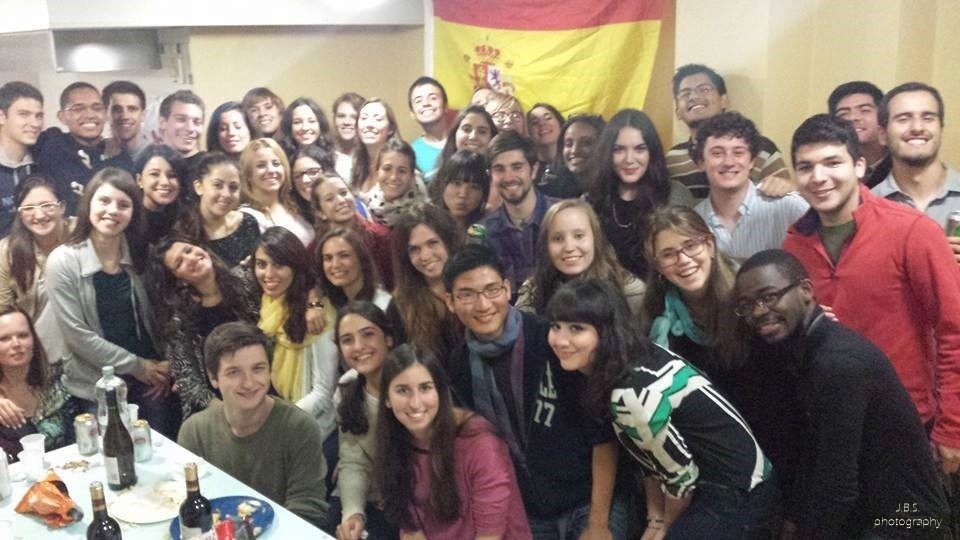 I cannot say much about this residence since I never went to here, but it is between Castillon and Saint-Leu, and the price of the rooms is similar to that of Castillon, about €350 or so per month.
These two residences are the furthest from Saint-Leu. To get there you have to take a 25-minute bus journey, and that's without traffic (there is always traffic in the morning, unfortunately).
UPJV's main campus is next to it. If I remember correctly, here is where you'll find the Faculties of Literature and Humanities. The rooms are the same as in the Castillon residence, with en suite bathrooms in the rooms and a kitchen on each floor.
In the Thil residence they also have family dinners (after some time the people on Erasmus will become your family).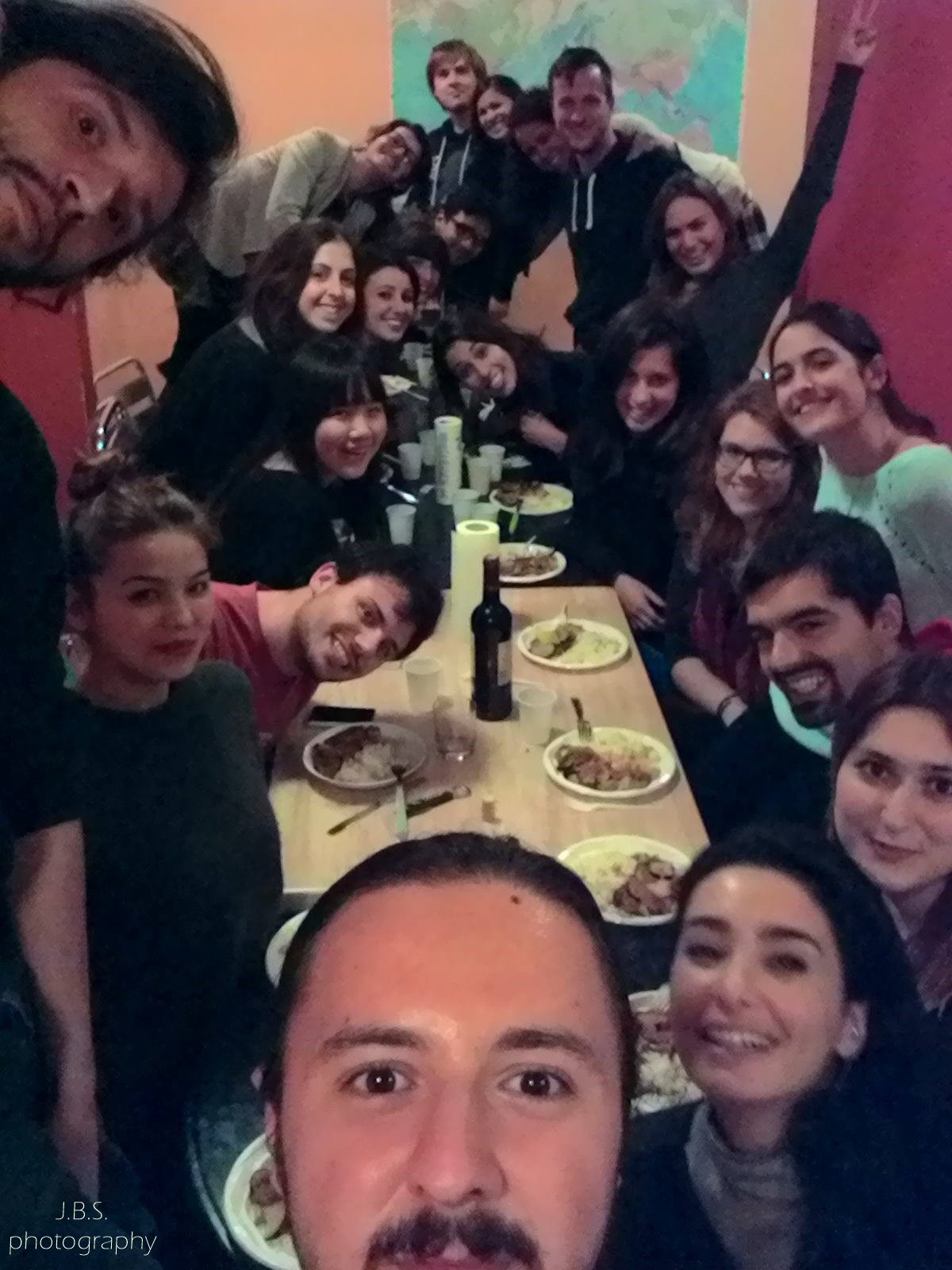 How much money did you need per month?
Well, I honestly went with quite a limited budget. The grant that I was given was €200 per month for five months (and I went for nine months). Depending on your residence, you will pay more or less for accommodation. I'm speaking from my experience, so it was €186 for accommodation.
If you're going to go to the main campus often, I recommend you get the monthly transport ticket which costs €20 each month. But as I only went once a week, I would buy a €3. 50 ticket that was valid for the whoooole day, so after classes I took advantage of it and went to Alcampo or Leclerc to shop. There are also bus tickets that cost €1. 60 and are valid for an hour.
In regards to food, the truth is that it was a little bit pricey compared to Madrid, something that surprised me a fair amount because I had thought that, being far from Paris in the north of the country, everything would be cheaper, but no. I spent about €80 per month on food alone. And that is not a lot because I limited myself to mainly buying only pasta, rice, ramen noodles or frozen pizzas. If you want to eat will, you will spend about €150 as a minimum.
Afterwards, what might concern your budget is going out to party, depending on if you do or not. In all honestly, when I went to a club I would never buy anything to drink inside. I only went to dance and to have a good time with friends. But we would sometimes go to drink some beer in the Saint-Leu square during happy hour and a half-litre jug cost €4.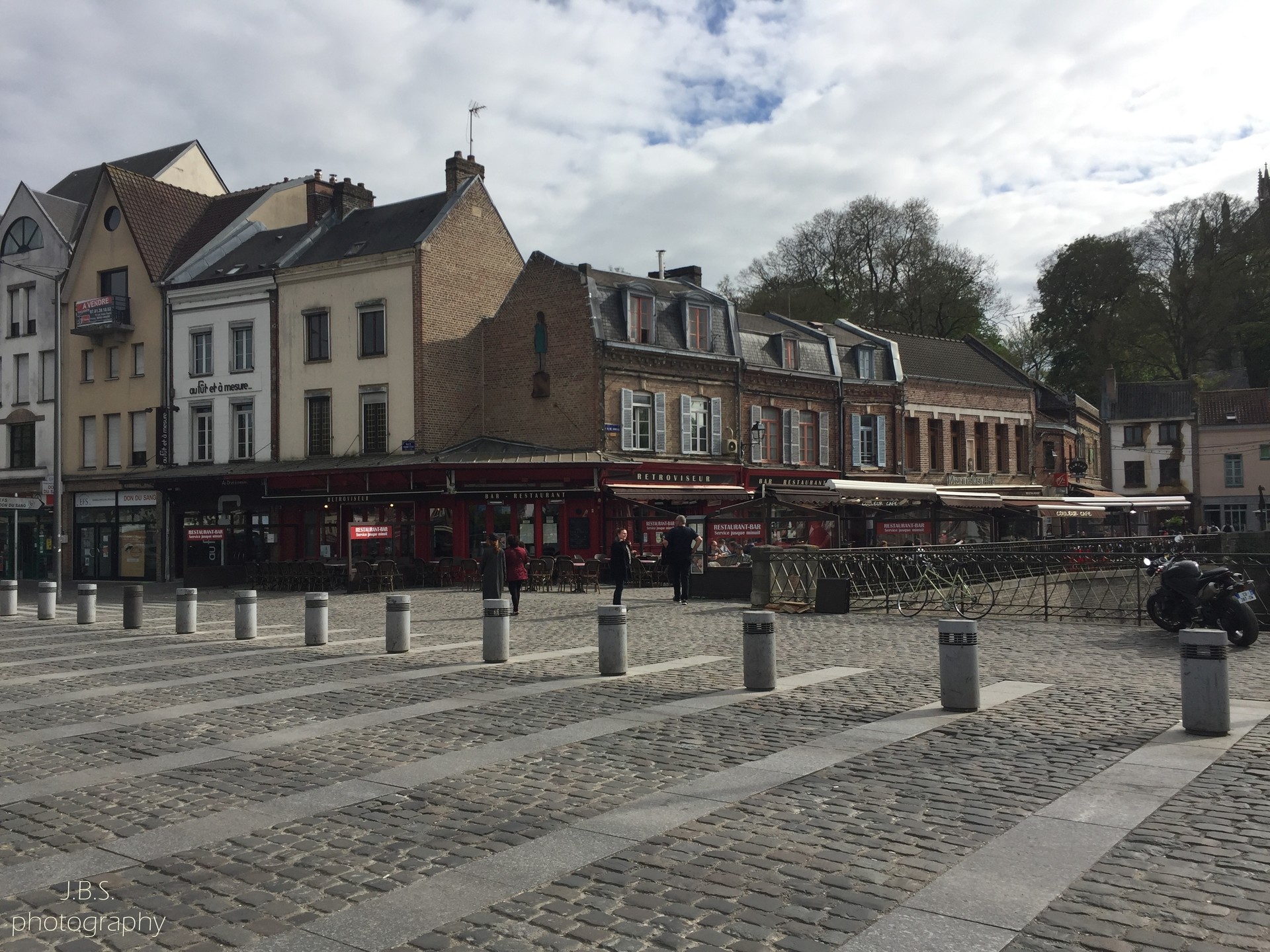 If what you want is simply to get drunk, at Carrefour Express, in front of the Faculty of Law, right next to Saint-Leu Square, you will find some cheap wines. The cheapest one was €1. 30. It was disgusting, but it was sure to get you drunk.
So, for me, I would say that I spent about €30 a month or less on going out, because sometimes we had parties in Castillon's kitchen before going to the club and people brought drinks there by the bucketload.
Anyway, continuing on, I spent about €350 per month, something like that, but I didn't live very comfortably in regards to food. So I would say that you would be spending around €500 if you want to live well.
Furthermore, if you want to travel to Paris or Lille (both cities are a two-hour train journey away), the train journey costs €20.
For all people on Erasmus, it is an obligatory city to visit. Who doesn't go to Paris, the city of love, when it is only two hours away by train?
You could also order a BlaBlaCar for €7, normally, or for €10, as the maximum. I actually prefer the train, so that is what I travelled by. In total, I went to Paris four times and to Lille three times.
The best thing about Amiens is that is is quite well located for travelling around the rest of Europe. There are direct trains and buses to London, Brussels and Amsterdam, and they can be very cheap. I found an offer for going to London via Megabus for €15, but you have to look in advance.
What is the university and the level of teaching like?
Very, very poor. I don't know why, but I got the feeling that the French don't know much at all, if anything... I was studying, at that time, in my third year of my degree in Audiovisual Communication and Business Administration and Management. They are two different degrees, and for my Erasmus I could only follow one, so I went with Business Administration and Management and the Faculty of Law. I selected subjects from the third-year courses for Economics and Law and Accounting (in France the degrees last for three year, like in England but unlike in Spain, where degrees last for four years), and they all seemed extremely easy.
I must also admit that the simple fact of being an Erasmus student made things much easier for me. In one of my subjects, all I had to do was to speak with the professor, in rather poor French, and tell them that I was an Erasmus student (in fact my level in French is C1) and I didn't even have to sit the exams. Simply attending classes every day was enough.
One thing that the French educational system has that I like quite a bit in comparison to the Spanish system is that it has what is known as TD and CM. TD is travaux dirigés, which consists of a smaller group of students with a professor, directed at individual or group work (just like seminars in England). And CM, cours magistral, which are lectures, have all the students packed in to an amphitheatre. For CMs, attendance is not compulsory (the opposite to TDs, where your grade could be drastically reduced by missing a class).
Now, when I say it seemed extremely easy, I am referring only to the Economics, Law and Accounting degrees. In respect to the other degrees, such as nursing, for example, I understand that they can be quite complicated.
Another thing, the French are incredibly cold and distant, or at least the French who studied in the faculty that I was studying at were. I didn't manage to make a single friend in my classes. I have to admit that I am quite shy, but during my stay in Amiens I tried to be sociable and to establish friendships with people, but even so they refused to maintain a conversation with me. It was something that irritated me quite a bit because I wanted to practice French as much as possible with native speaker, but it was impossible.
In addition, coming from a country like Spain, where the Spaniards are quite open and friendly people, willing to help whoever, meeting such apathetic people disappointed me.
Another very important thing. If you don't know French and you go with the hope that they will understand English, you are very wrong.
Apparently, we Spaniards are reputed to have no idea of languages, much less of English; the only thing we do when we meet a foreigner is to speak very slowly and very loudly, but always in Spanish.
Personally, I don't think it's true. Since in Spain the first foreign language is English and then French, you will always find someone who speaks a little English to make yourself understood, even if it is Spanglish.
But I can assure you that the French are much, much worse. Finding a shop where they can speak a little English to you so that you can understand them is an almost impossible mission. They might say that they can understand you but they won't know how to respond.
In France, the first foreign language is Spanish. You would surely think that the French could stumble through even just a little Spanish. But no. They don't even know how to say hello. They might often tell you that they speak Spanish, but the only thing they do it try to roll their 'r's and continue speaking in French. You'll be left wondering if that is what they think Spanish is. Surprisingly, it is.
What is the nightlife like in Amiens?
As I said before, Amiens is 100% a university city. They have parties everywhere. But especially in the Saint-Leu square and around there.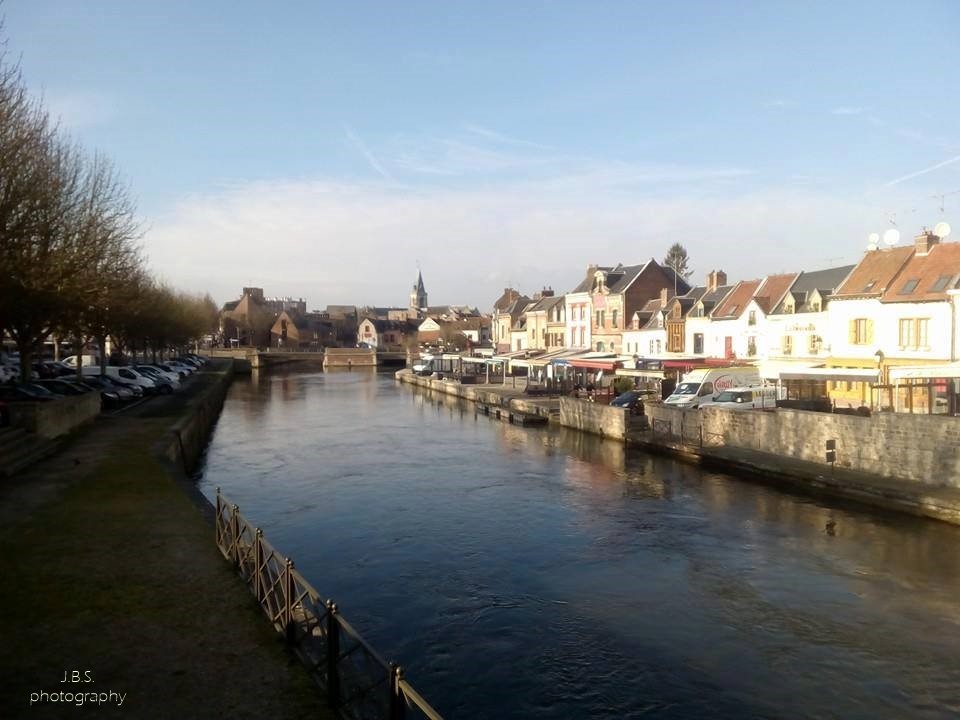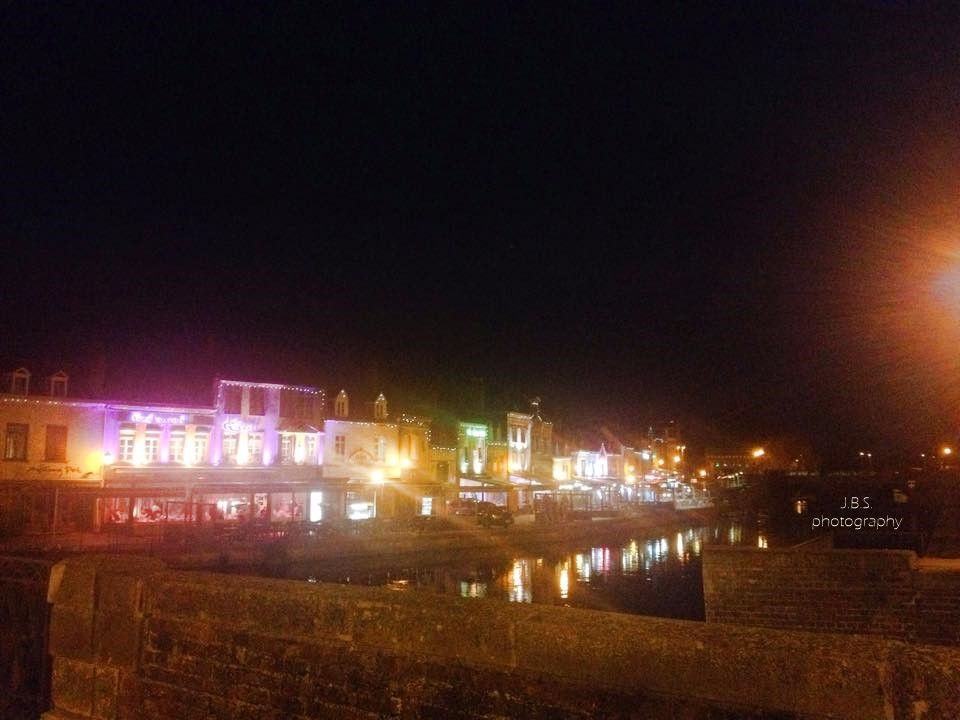 Along the river there is a street/ square full of restaurants, pubs and bars, all with a happy hour for half a litre of beer for €4. The square always has a very lively atmosphere every Thursday, Friday and Saturday at night.
The party life in Amiens, unfortunately, starts very early. At 8 PM there will already be people in the streets drinking and half drunk already, meanwhile I was still in my room having a siesta. But you will get used to it.
Our favourite bars were Baobark during happy hour, and then we'd go to the English pub that becomes a sort of club at night, but it closes at 3 AM. The same goes for My Goodness, an Irish pub with live music that was next to my residence.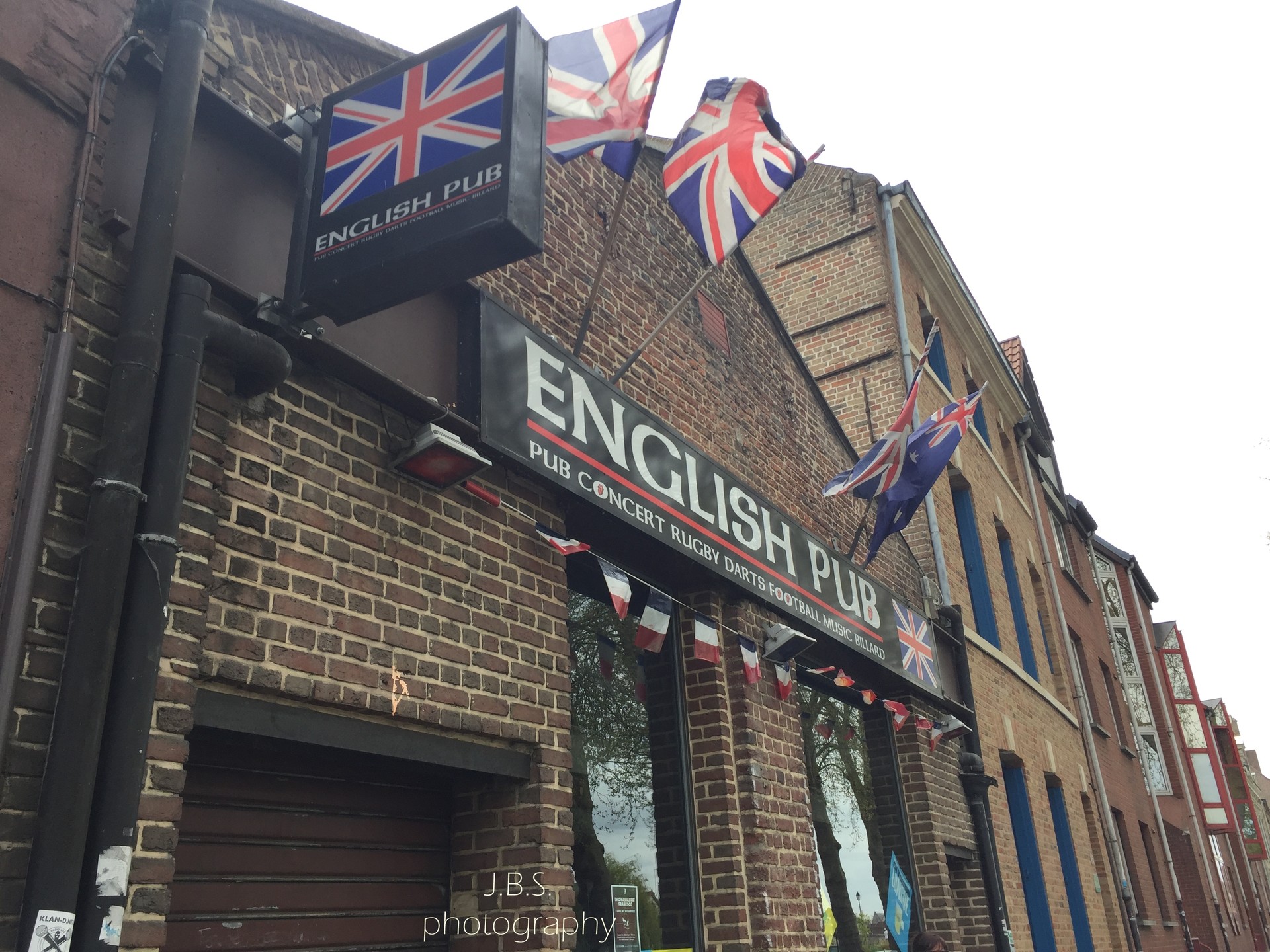 After the English pub or after My Goodness, we would often go to Carré Rouge. A place that was quite hot with people on Erasmus. I remember the first times that I went there it would only be us (about 25 people), and then a month or so afterwards this place was full to the point where you couldn't even dance. But, even so, we had some great times there and my friends and I would stay until it closed at about 5 AM, more or less.
Then we would go back to Saint-Leu (about a ten-minute walk) to buy a kebab from Mimosa (the best kebab in Amiens) and we would eat it whilst sat along the river, watching the sunrise. A great plan.
Sum up your experience in one word:
Magnificent.
Thanks to this Erasmus experience, I have learned to do away with my shy side and I have learned to socialise with people, as before it was almost impossible for me to maintain a conversation that lasted for longer than ten minutes.
I have met a huge number of people that will forever be my friends, and that are from so many different countries: Italy, Greece, Turkey, Cuba, Lithuania, China, Algeria, Lebanon, Syria, Germany, Portugal, the United States and, of course, France.
The best thing of all is that if you want to travel to their countries then you know that you have free accommodation and food.
I have a million things to add, but I think that I have said enough and I am sure that I would bore you.
In any case, if you have any doubts then you can write to me via email ([email protected])with your questions or enquiries and I will try to respond the them as soon as I can.
Thank you very much for reading, and I hope that you enjoy your Erasmus experience in Amiens!
---
Photo gallery
---
---
Content available in other languages
Want to have your own Erasmus blog?
If you are experiencing living abroad, you're an avid traveller or want to promote the city where you live... create your own blog and share your adventures!
I want to create my Erasmus blog! →