Touring Turkey (Part 2): Pamukkale and Hierapolis
Hello from Denizli Çardak Airport, where I am sitting, waiting to board a plane to Istanbul! I've been based in Pamukkale for the past couple of days, and am so excited to tell you now about all my adventures there. (Let's see if I can get this post all written before I land!) If you haven't yet read my most recent article – where I talk about what I got up to in Izmir, Ephesus, and Selçuk – be sure to do so now by clicking this link. Otherwise, sit back, relax, and enjoy this second installation in my 'Touring Turkey' series!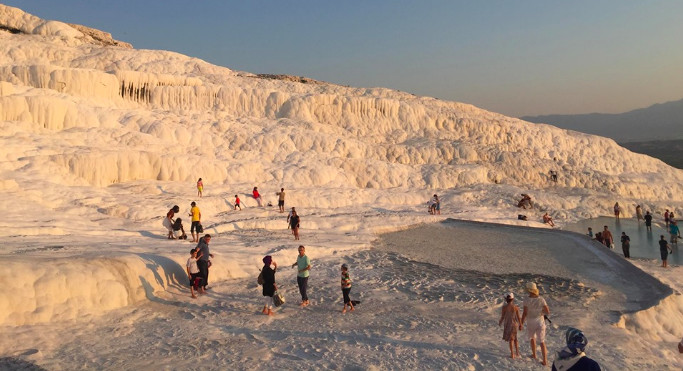 Day 3 (30th August)
Travelling to Pamukkale
Picking up where we left off in my last post: after a much better night's sleep (I was able to turn the air conditioning on this time!), I woke up at around ten o' clock, and caught a taxi to Izmir's Basmane railway station. I had originally been planning to travel to Denizli by coach, but since the train was both cheaper and less likely to give me motion sickness, I decided to cancel my original journey, and head to my destination by rail instead. The transfer took five hours, instead of four, but I had plenty to do during that time, so this was not a huge problem.
Just before boarding, I stopped off at a nearby bakery (Karamel) to buy some breakfast and lunch. There was quite a selection of goods to choose from, but I ended up going for a simit (a kind of Turkish bagel sprinkled with sesame seeds), and four small squares of baklava. If you ever decide you'd like to indulge in the latter delicacy (which I'd highly recommend!), I strongly encourage you to get your hands on a napkin first: those pastries are sticky!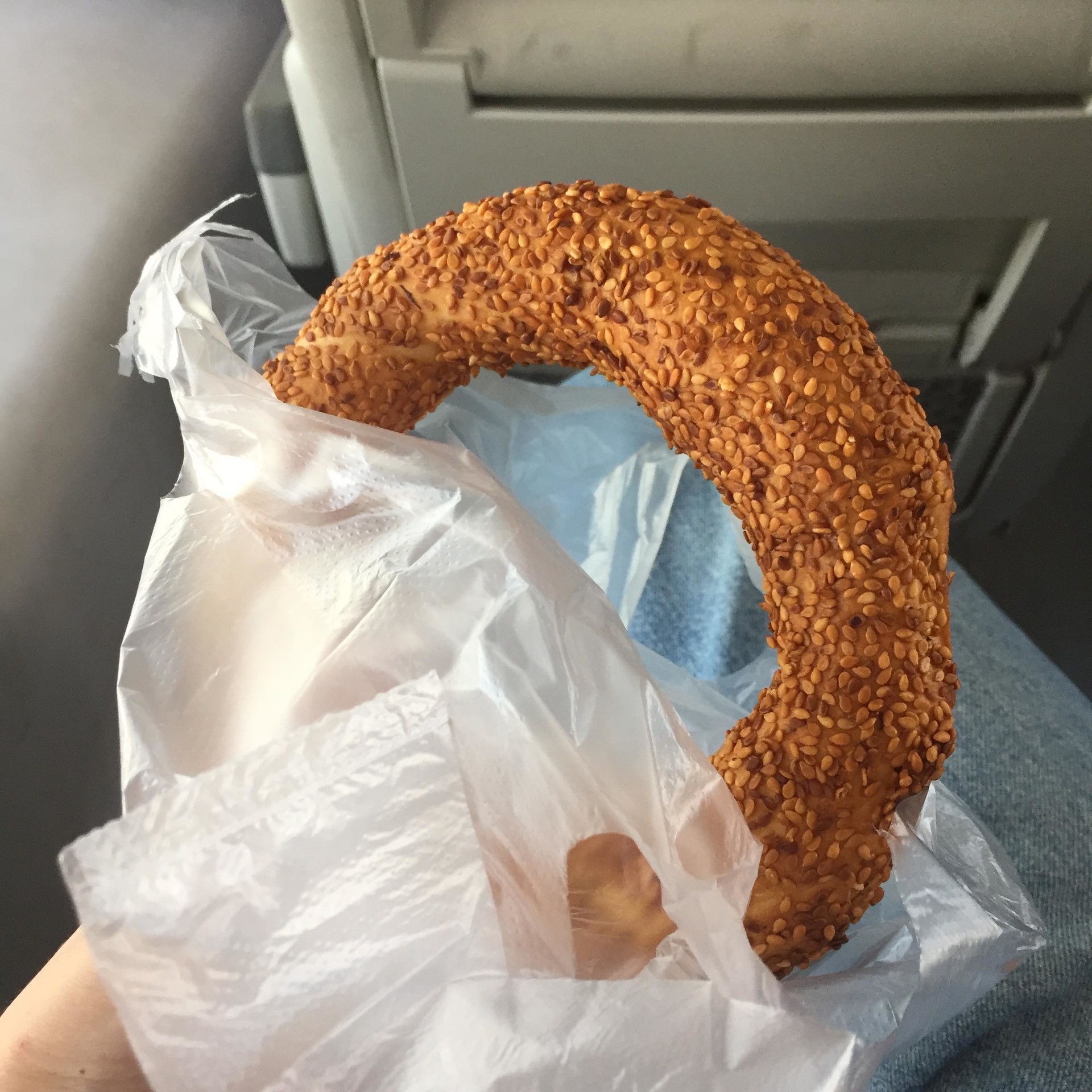 Five hours later – at about 16:15 – I disembarked at Denizli's railway station. It would have been nice to spend an hour or two exploring this place, but unfortunately I was carrying a bit too much luggage. Instead, therefore, I headed across the road to the city coach station, took an elevator down to the underground level, and hopped on a minibus to Pamukkale at Gate 76.
A first glimpse of Pamukkale
After checking into the Ozen Turku Pension Hotel – where I was upgraded from a nine-bed female dormitory to my own double bedroom! – I decided to head to the famous travertines to watch the sunset. These white, millennia-old slopes – formed from deposits of calcium carbonate – attract tourists from all across the globe, not only because of their 'winter wonderland'-esque beauty, but also thanks to the thermal pools which can be found at each level.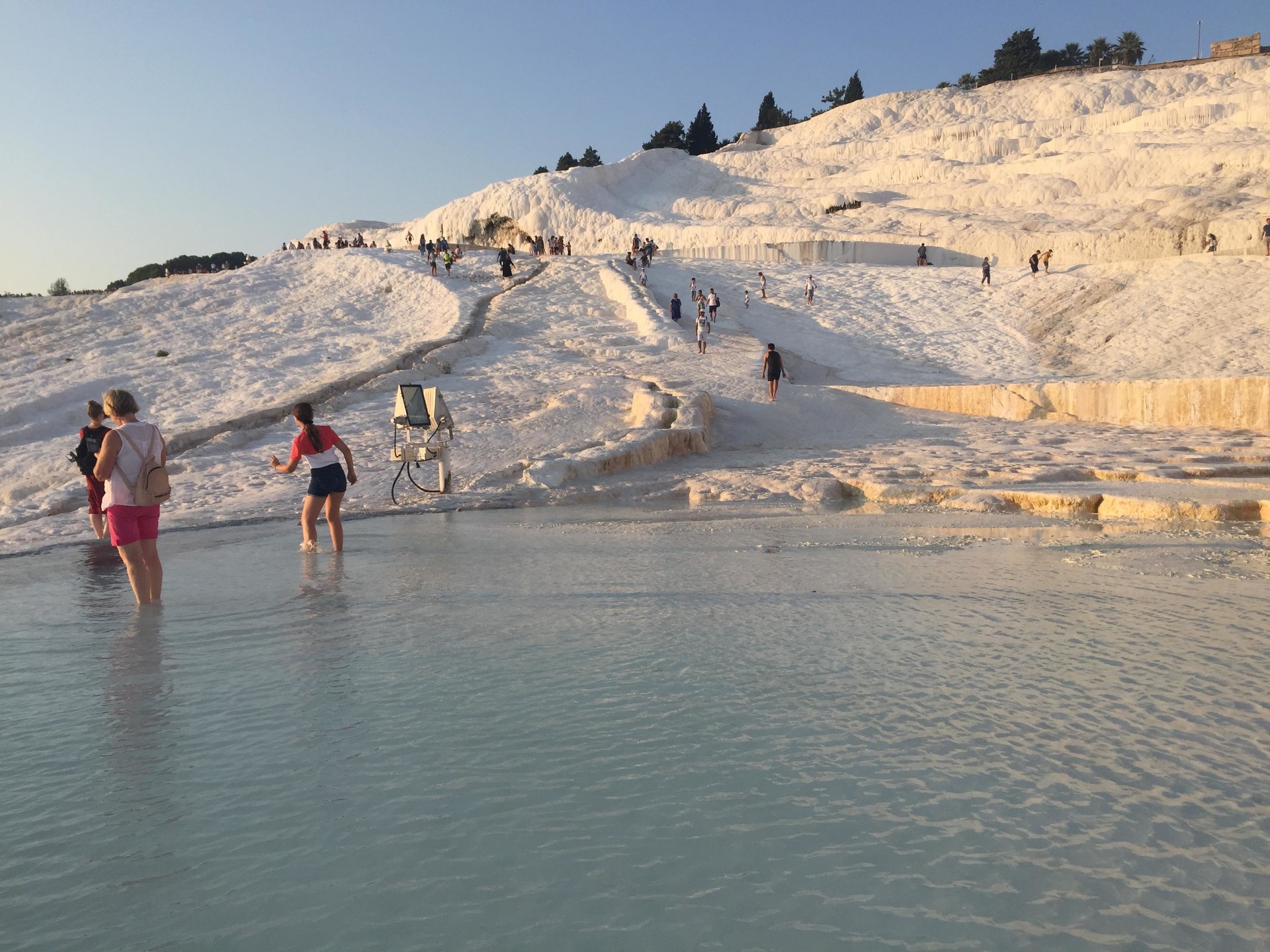 Entry to this UNESCO World Heritage Site costs 60TL (about £8.50), and gives visitors access both to this extraordinary 'cotton castle' (this is what 'Pamukkale' means), and to the Roman city of Hierapolis, which lies above it. Since it was getting on for six o' clock when I began my ascent, I decided to save the latter attraction for another day.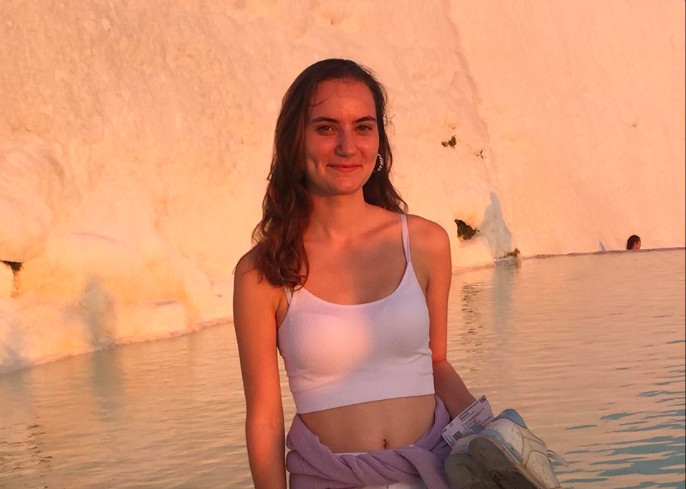 I'd read in a number of guidebooks that – owing to decades of mass tourism – the travertines were rather less spectacular in real life than they appeared in photos (most of which were taken long ago). This was, in a way, true, and the situation wasn't helped by the fact that many of the thermal pools had dried up over the summer. However, I still had a blissful time walking up the surprisingly non-slippery white rock, occasionally stopping to dip my feet in the warm, bluish water. No shoes are allowed here, so I really felt in touch with nature as I rose higher and higher.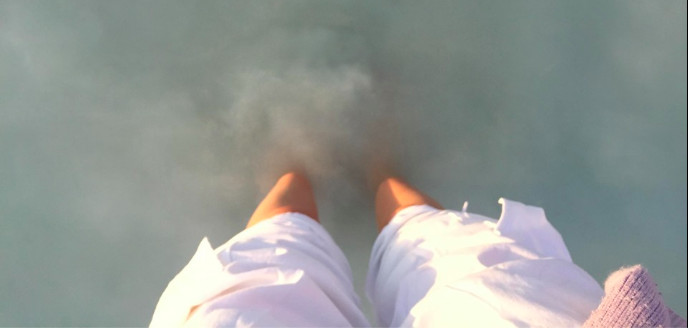 I reached the top of the hill just as the sun was setting, and my goodness was it a beautiful sight! All the calcium carbonate was tinged with a golden glow, as the sky gradually changed from pink, to purple, to black. I was afraid of making my return journey in the dark – it turns out, however, that lights are illuminated to make this completely safe – so I hurried back down into the valley just as night was falling.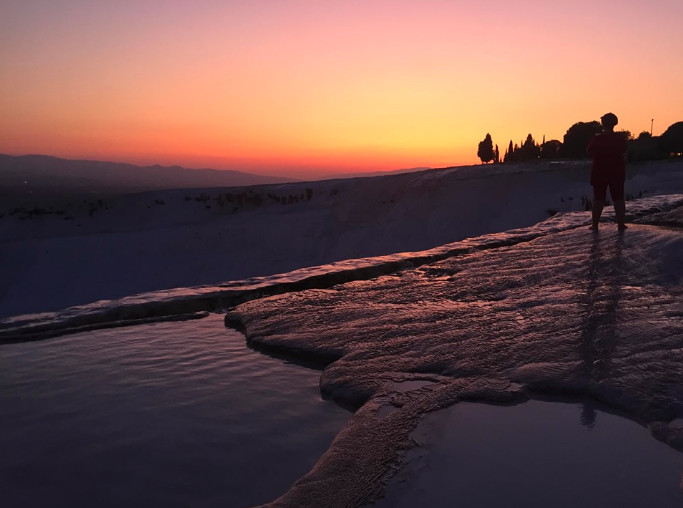 Dinner for one
By this time, my stomach had begun to rumble rather a lot, so off I went down the first street I came across, to find a bite to eat. I was quickly lured into a restaurant by a sign outside promising what looked like a delicious melted cheese dish. What I thought was a savoury dish turned out to be a dessert – künefe – made, indeed, with cheese, but also topped with syrupy noodles, the juices of which infiltrated the whole dish. The sweet taste was such a shock to me that I had trouble getting even halfway through it!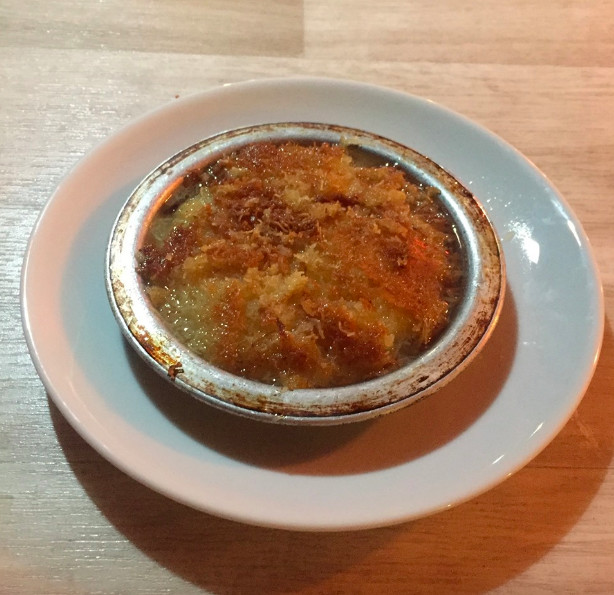 I did, however, enjoy the marvellous views that the restaurant terrace offered, as well as the complimentary apple tea that I was given. Since the food was nothing to write home about (entirely my fault; not theirs!), I'm afraid I didn't take note of this eatery's name. Nor can I find it on Google Maps, but it was the one with the colourful, cushioned porch near the top of Atatürk Caddesi.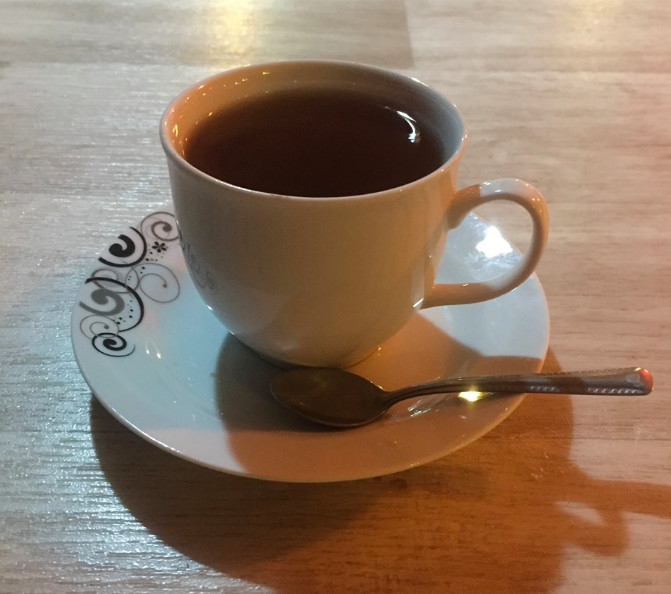 I was just about the head to my hostel, having paid the bill, when one of the waiters came up to me, and requested that I meet him after he'd finished work to go on a date. We'd go on his bike, he said, to see a famous spring in the nearby town of Karahayit. Unfortunately, I was not in the least bit interested in this man – nor was I particularly keen, at that point, to do anything other than sleep – so I left him with a 'maybe'. 'I'll see you later, ' he said in a rather insistent voice. I smiled politely, and waved goodbye.
Back at the hostel, I double locked my door – my relatives back home had convinced me (despite the silliness of the claim) that there was some ulterior motive behind my upgrade – showered, set some alarms, and climbed into bed.
Day 4 (31st August)
Pamukkale at dawn
I'd read that dawn was the best time to visit the travertines – not only was the light supposed to be extraordinary, but also you would essentially have the whole place to yourself – so you'd best believe that I was up and ready at 6:20 the following morning. I arrived at the town entrance, only to discover that it was shut until eight o' clock, but, determined to make my early start worth it, walked on three kilometres to the Güney Kapisi (South Gate), which was already open.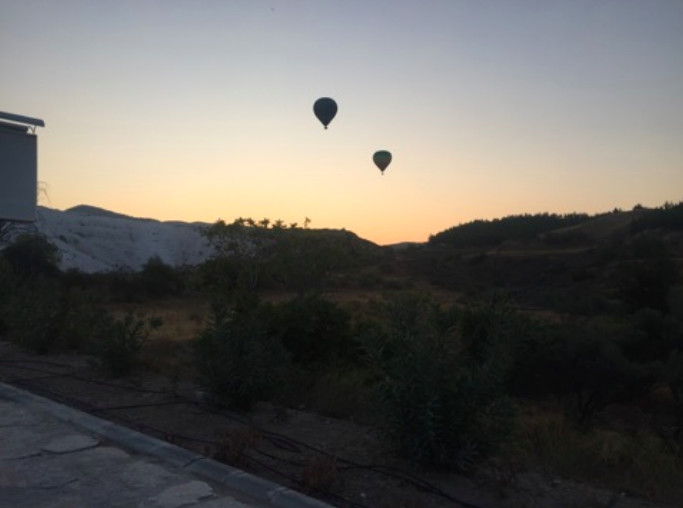 I hadn't yet eaten – my hostel didn't start serving breakfast until 7:30, and I hadn't thought to stock up on supplies the evening before – but the stroll was perfectly manageable. Google Maps kept telling me to turn back, but I was certain that I was going the right way – despite the rather deserted feel of the road I was walking along – and sure enough, I eventually reached my destination.
After buying my ticket, I headed on site, and was immediately struck by the calmness of the place. I was not totally alone, but I might as well have been. Indeed, for a good half an hour or so, I was able to swim and take photos completely undisturbed, and even when the two other entrances were opened at eight o' clock, it still took a while for the place to properly fill up.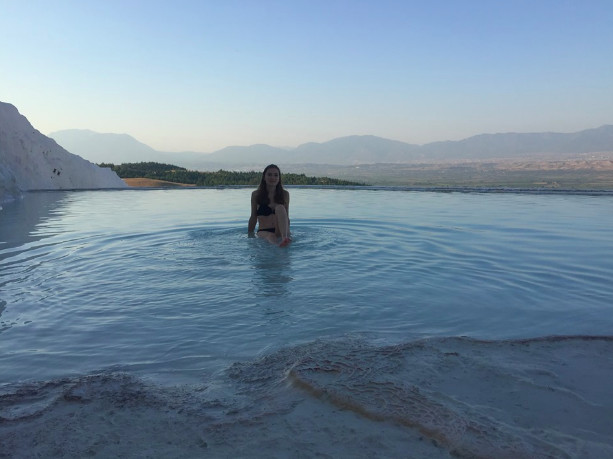 The water was delightfully warm – as, surprisingly, was the outside air – and I felt wonderfully serene floating around in it, occasionally pulling white clay up from the bottom. I discovered quite a lot of hair in some of the pools, but I suppose that sort of thing can't really be avoided, especially at a sight that welcomes millions of visitors annually.
The Antique Pool
Once the crowds had begun to descend on the place, I decided to make my way to the onsite Antique Pool, where Cleopatra, herself, is said to have bathed back in the day. This swimming spot – which cost 50TL (£7.20) to enter, plus 10TL (£1.50) for lockers – also boasted thermal waters, and was a delightful place to bathe for an hour or so. Rather strikingly, the swimming pool was full of ancient columns, many of which you could sit and rest on in between lengths. A number of people could be seen posing on them as photographers captured them from just about every angle.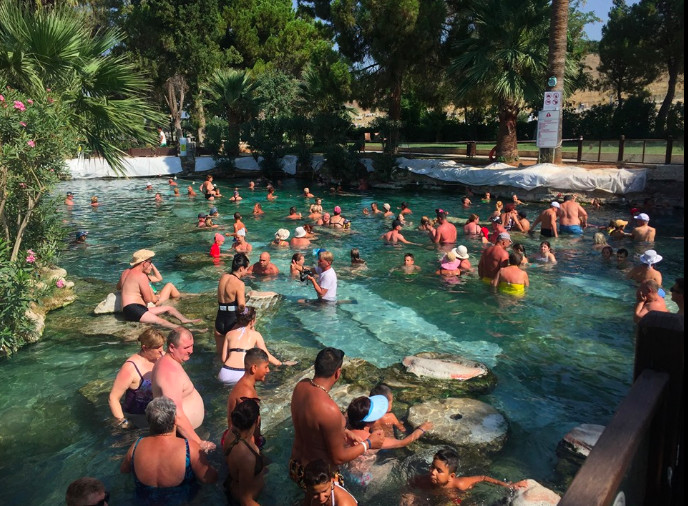 After quickly browsing the shops surrounding the complex – and warding off an ice cream seller, who kept beckoning me to kiss him on the cheek – I made my way towards my final stop of the morning: the ancient city of Hierapolis. I still hadn't eaten anything since the day before – food on the hilltop was pretty overpriced and I was too stubborn to give in to tourist traps – so, hungry and dehydrated, I only really did a whistle stop tour of this place.
The highlight of Hierapolis was, without a doubt, the magnificent amphitheatre. Climbing up a hill in the blazing sun to get to it was not the most pleasant experience of my life, but the views that greeted me when I arrived made my struggle totally worthwhile. In the distance, I could see the travertines glistening white, and directly below me was the ornate theatre stage, much of which remained intact.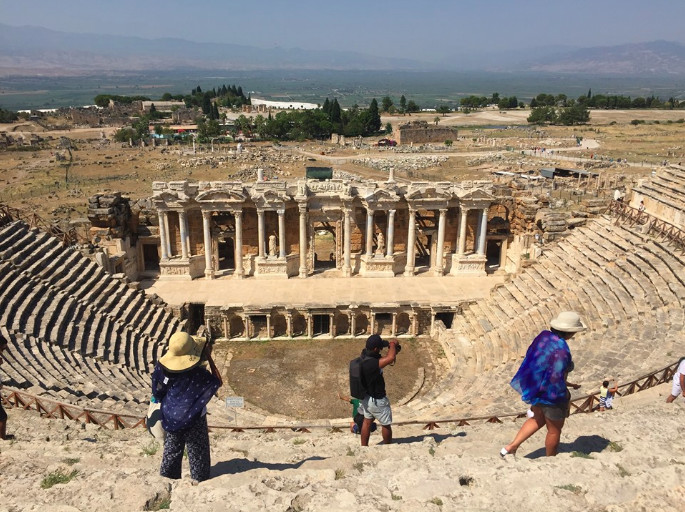 Other treasures dotted around the archaeological park included: the Arch of Domitian, a former entranceway into the city; the cathedral, or rather what remained of it; and the ancient latrines, which stood to one side of the colonnaded Frontinus Street. The Romans certainly liked to do their business in style: imagine if public bathrooms had columns in them now!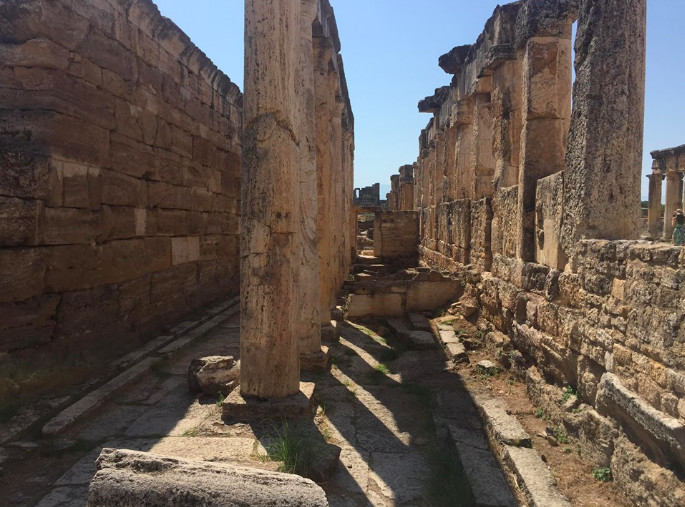 Admitting defeat
By noon, I was thoroughly exhausted. 6am starts never agree with me, especially if – as in this case – I haven't gone to bed particularly early the night before. The rest of the afternoon was, therefore, a bit of a write-off. Too tired even to get lunch – luckily a street vendor gave me some free sweet dough balls, so my stomach didn't remain completely empty – I walked sluggishly back to the hostel, and got into bed for a long nap.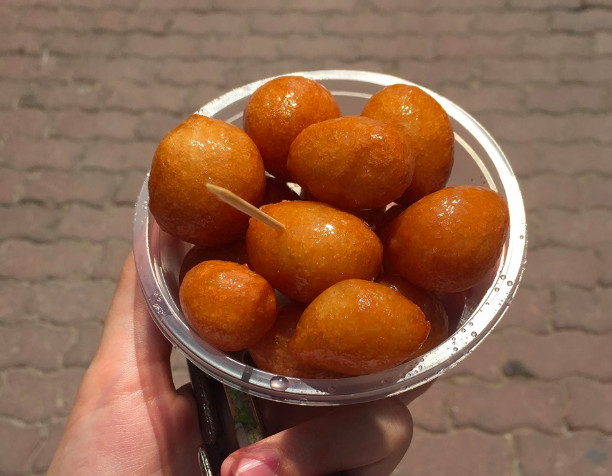 Food, glorious food
I awoke again at about seven o' clock, confused, disorientated, but ultimately refreshed. By now, I knew that I couldn't go any longer without a proper meal, so after a quick Google search, I decided to check out the White House Restaurant.
I ended up having not only a table to myself, but the whole eatery, so the owner of the place spent most of the evening chatting to me. He recommended a number of nearby attractions as I munched on stuffed grape leaves and cacik (a yoghurt and cucumber dip), followed by lamb koftas and chips.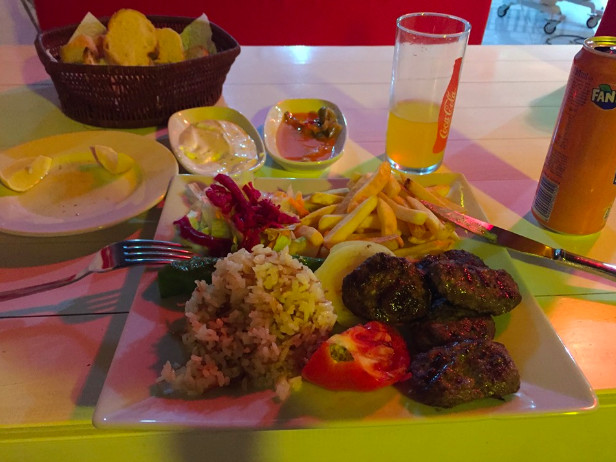 The conversation seemed perfectly harmless until this man began offering me free wine, and suggesting – just like the waiter the night before! – that he take me on his motorbike to Karahayit. I politely declined, saying that I was too tired. He didn't give up there, though. Next, I was told that I absolutely must visit Salda Golu, a saltwater lake about an hour from Pamukkale: that his taxi driver friend would take me there for a discounted price the next day. I must admit that this water source did look rather extraordinary, but I decided that it wasn't worth risking my safety in this case. If wild swimming is your cup of tea, though, it does look as if this is the best place to do it!
After a series of rejections, the man started shutting up his restaurant, so – slightly afraid that he'd lock me in – I paid the bill and escaped. He sneakily kept a bit of my change, telling me he'd 'give it back tomorrow'. I didn't protest.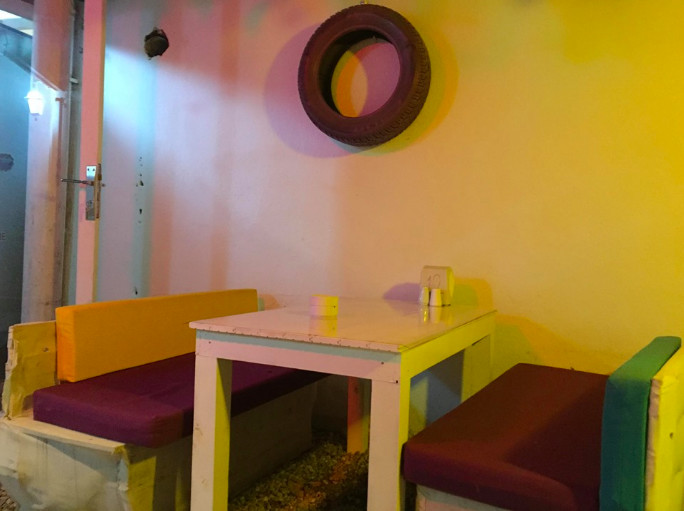 (The food at this place was excellent, so I would highly recommend it, despite my slightly dodgy experience. Solo ladies, however: maybe consider bringing someone along with you if you eat here!)
Day 5 (1st September)
I was so tired after my 6am start the previous day – I know: very dramatic – that I decided to spend most of my second day in Pamukkale in bed. There was nothing left in the town that I was dying to see (or couldn't just visit the following morning), and I thought it would be a good idea to recharge my batteries before I headed to Istanbul.
I did, however, venture out in the evening to enjoy a final dinner. Pamukkale Restaurant had rave reviews on TripAdvisor, so off I set in search of it. After walking to the address, however, I found only a couple of abandoned hotels, and concluded that the place must have shut down. Later, I realised that most recent review had been written two years ago.
This turned out to be a blessing in disguise, however, because, while walking back into the centre, I came across the delightful Harbiye Restaurant. Here, I enjoyed a starter of bread and hummus – the latter was drizzled with olive oil, and tasted divine – followed by a plate of cheese and ham pastries. All in all, I had a great experience here (and didn't come across any creepy waiters!). My only one complaint would be that a lot of the things advertised on the menu were not available, even though I was basically the only customer that evening.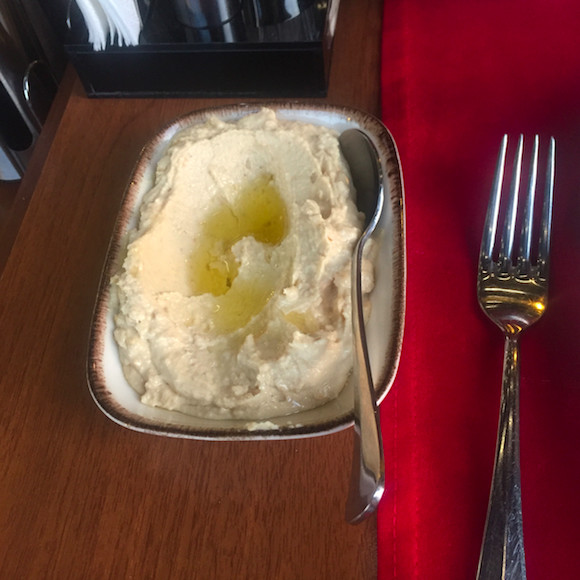 After paying the bill, and getting the remains of my hummus boxed up (it was too good to leave behind!), I went back to the hostel to continue my hermit-like existence. On my way, I bumped into the slimy restaurant owner from my first night in Pamukkale, who expressed his disappointment at my not having shown up for the date that I'd already said no to. Surprised that he even remembered me, I apologised and walked on. The rest of this evening was spent packing and blogging, and by midnight, I was sound asleep.
Day 6 (2nd September)
Don't worry, folks: we're almost there now! This morning, after checking out and enjoying a full Turkish breakfast (bread, white cheese, cucumber, tomato, and fresh fruit), I decided to have a final explore of Pamukkale. First on my checklist was the town mosque. There, I removed my shoes, placed a shawl on my head, and walked over to open the door…only to discover that it was locked. Never mind: I just about managed to snap a photo of the inside through one of the windows!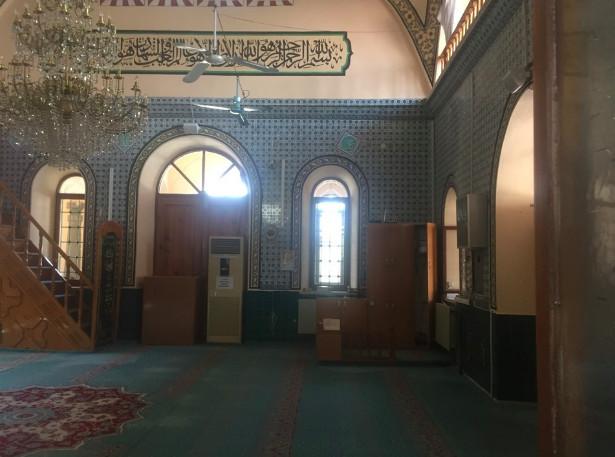 Next up was the Pamukkale Natural Park, a public garden with a small lake in the centre. A dozen pedal boats were lined up along one side of the water, so I decided to rent one for 7TL (£1). The minimum number of people per vessel, however, was two, so I had to sit for a while with the ticket officer, and wait to join another group. A German family came to the rescue! We chatted away – they, too, were travelling all across Turkey, so we compared notes on this – occasionally breaking the conversation to gasp in wonder at the stunning travertines which rose up before us.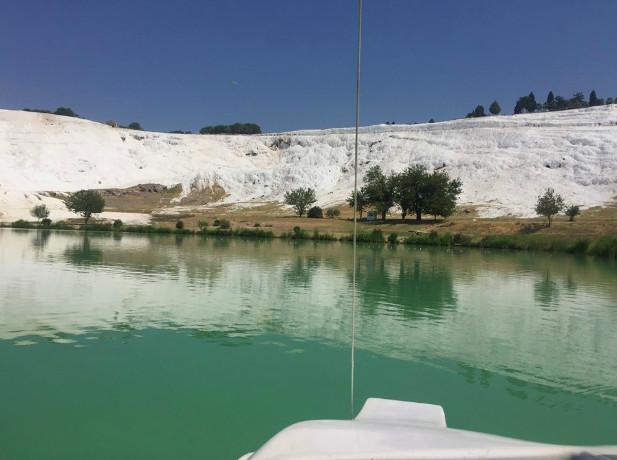 Back on land, I had a quick lunch in White Dragon Chinese & Turkish Cuisine (prawn crackers, and chicken noodle soup), picked up my luggage from the hostel, and caught a shuttle bus to the airport, away from which I am flying now.
Final thoughts
I had a wonderful time exploring Pamukkale, and would highly recommend the place, whether you're a nature lover, or an ancient history enthusiast. A few tips for anyone thinking of going there:
One day is enough (I was in Pamukkale for about seventy-two hours, but I could easily have seen all the attractions the town had to offer in just ten. Only stay here longer if you're planning to explore the surrounding area, too. )
Get to the sights early (you'll beat the crowds, and won't be disturbed by the sun)
Eat in the valley (food on the hilltop is overpriced)
Book airport shuttles in advance (I did this the evening before my journey, but it's best to get your tickets as quickly as possible. One transit should cost you around 45TL (£6.50). )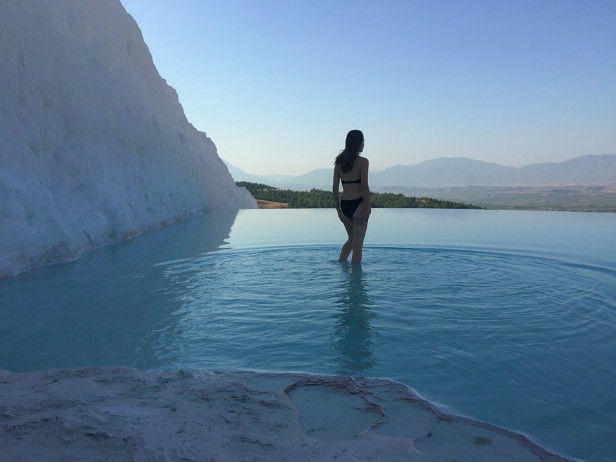 End of part two
So there we have it: the second installation in my 'Touring Turkey' series. Congratulations if you've managed to get to the end of this article – it's my longest one yet! – and stayed tuned for my next posts, which will be about my first day in Istanbul!
---
Photo gallery
---
---
Content available in other languages
Want to have your own Erasmus blog?
If you are experiencing living abroad, you're an avid traveller or want to promote the city where you live... create your own blog and share your adventures!
I want to create my Erasmus blog! →