Tbilisi , capital of Georgia.
Architecture and landscape

8 / 10 points

Entertainment

10 / 10 points

Culture and customs

8 / 10 points

Transport

8 / 10 points

Gastronomy

6 / 10 points

Prices

10 / 10 points

Party

6 / 10 points

Weather

8 / 10 points
---
Adventure time.. once again
After visiting an year ago Batumi, the most amazing city in Georgia in my opinion, i decided to go also in the capital, Tbilisi. From Trabzon the city i am living in Turkey until capital of Georgia i think is around 8 hours with bus. There is one company is traveling daily to Batumi, Tbilisi and back to Turkey, is called Metro which i totally recommend it. They have wifi, complementary drinks, and plugs for laptops and mobiles.
Price of the ticket from Trabzon until Tbilisi it was 40 TL (turkish lira). We left Trabzon 21:30 PM and arrived in Tbilisi around 6 in the morning, but there local time is 2 hours more than Turkey so it was like 8 AM.
We had hotel reservation for 3 nights, but check in usually is after 12 so we decided to go take a stroll around the city, have breakfast. I confess the first look of the city didn't convince me.
I saw a river separating the city in two sides. Not so many places open in that time so i coudn't make a clear opionion. But the building i saw were looking nice, and the street names really gave me a laugh. For example George Bush street and of sort of types lol.
Somehow after we walk a bit we arrived in what seemed to be the center in our opinion. We enter first restaurant we saw, not so many open in that hour. I was surprise the waitress she could speak english, i guess after spending so much time in Turkey i tought nobody can speak english anymore :)).
We got breakfast, and had a conversation with the nice waitress about the city and how to get too. She gave us a city map and then we started from there.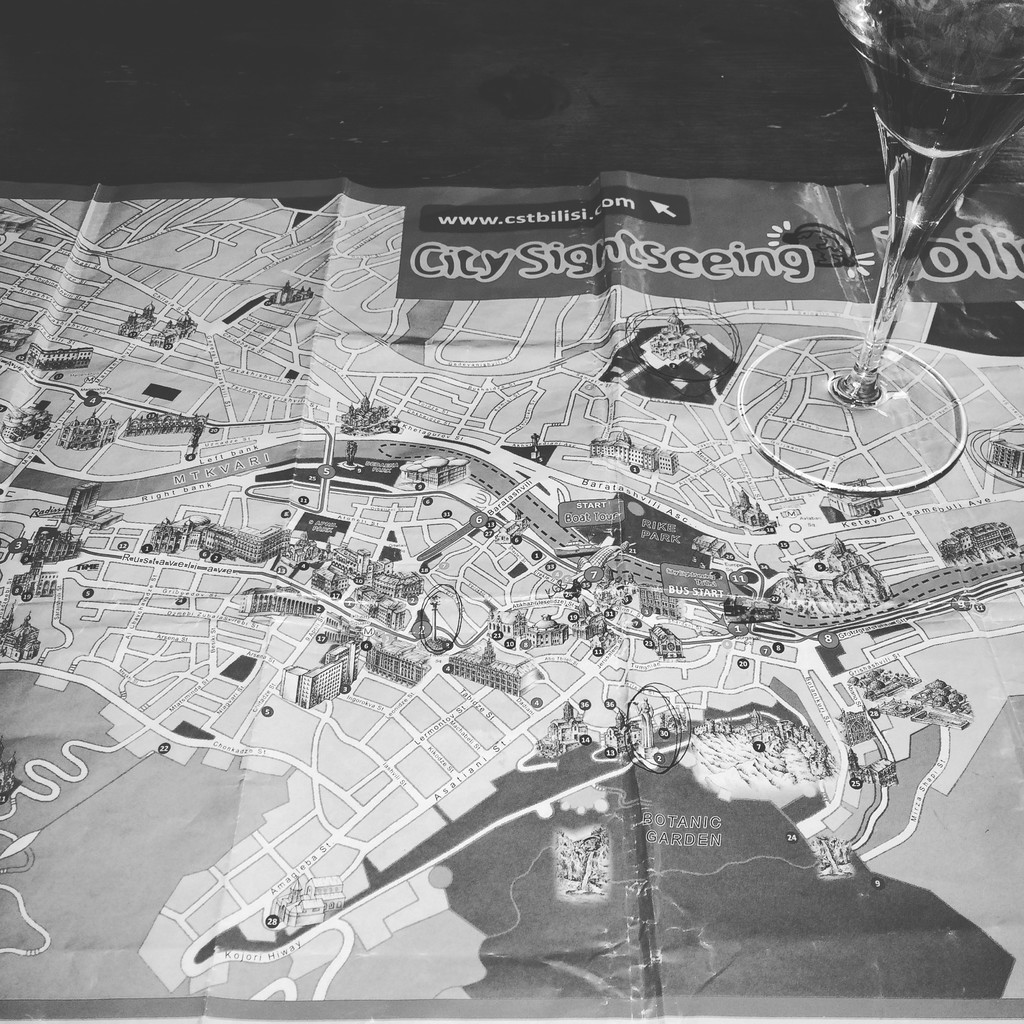 I may say one of the things i love about Georgia is that everything is so cheap there and let's say with 100 euros you can do many things.
So we got directions how to get to the metro station because i heard is the easiest way to get around the city faster. We did that got a metro card, i think it was 5 Lari and we could go 4 times or something like this. Extremely cheap anyways.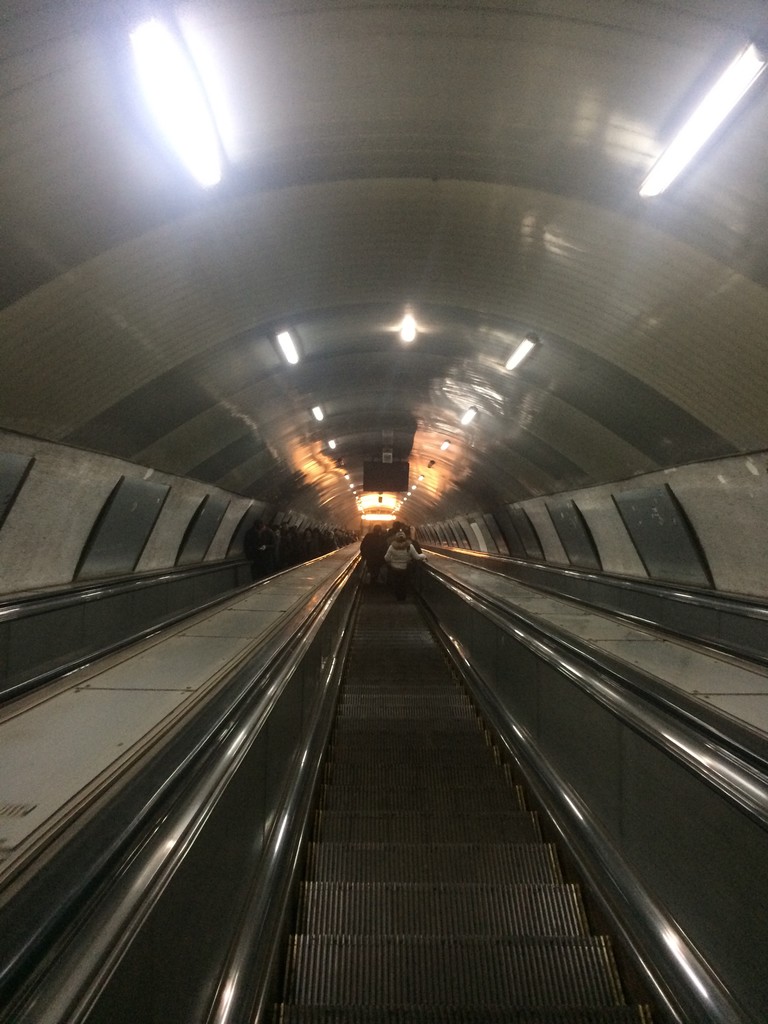 long road until you exit the metro, 2 minutes and 40 seconds on the watch :))
After changing the metro two times we arrived in the place where supposelly was our hotel. Searching for the hotel got me crazy. We were basically moving around in circles until we found it. The area was not so close to the city center or other touristic points, it was a poor choice from this point of view.
The name of the hotel is Elite Lux Hotel, we enter there, nice receptionist but with terrible english. Thank God she was speaking amazing italian, and after 3 years of italian courses i managed to speak with her.
She took us to our room, and showed us around, they had also sauna, indoor pool, let's say ncie hotel for the price range. We payed 45 euros for 3 nights. The room was large, but we had commom bathroom.
It was a bit chilly in the room but there was an hot air conditioning, so we open that all day.
After a bit of rest we decided to get going and start exploring the sights. I got my map, circle around what there is to visit and off we went.
First stop, KGB Bar
Before i go to a new place i always make my research and write on a piece of paper what i want to visit. So i heard about this nice bar, restaurant named Kgb, made in a communist russian way, so i said to my boyfriend this feels just like home we gotta go there.
From the hotel we took again metro, after changing again 2 metros we arrived in city center and walked around after the map pointed me to the bar i was so anxious to see.
Here it was Kgb bar, funny thing under the name was writting '' still watching you'' which i was taught was hilarious. Inside very chill atmoshfere, old posters and money from the communist period and russian domination over Georgia.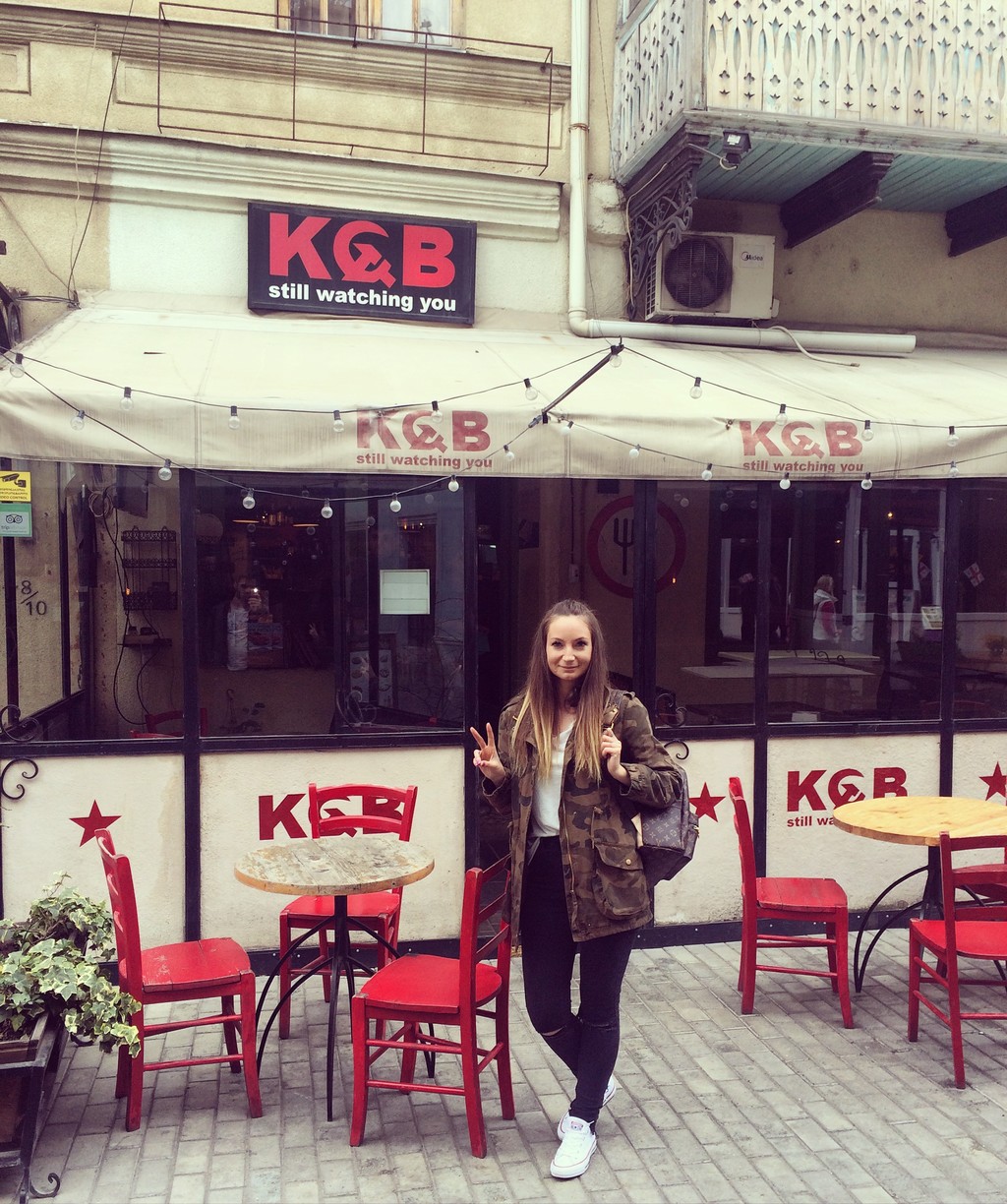 We sit outside on terace, and ordered of course a glass of Martini Rosso, my fave. My boyfriend Muhammet he tryed a georgian beer. We were the only customers, i guess also because of the weather, it was raining and a bit cold.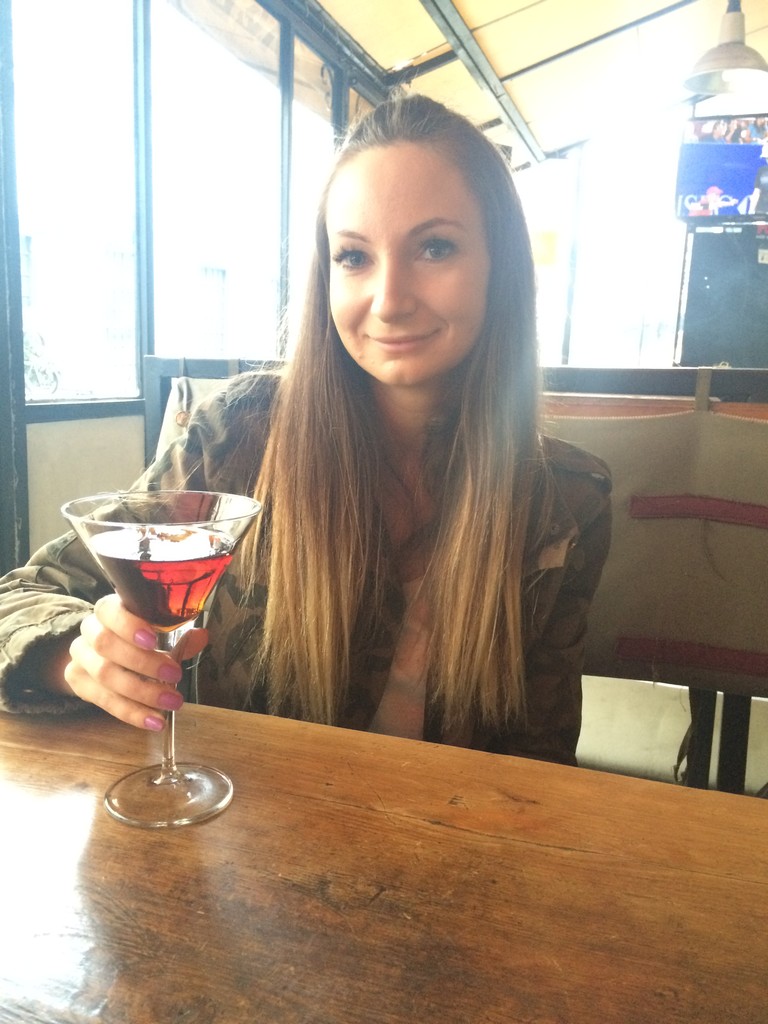 It was end of february this year when we went.
After we sit a while at the Kgb bar we realised we were extremely tired and we decided just to go make some shopping for food and get into our hotel call it a night. We were lucky near our hotel was a supermarket open 24/7 with nice things inside. So we got of course bunch of red bulls, sweets and off we went to hotel.
The peace bridge
One of the things i was anxious to see was this new modern construction called the Peace Bridge which is across the river.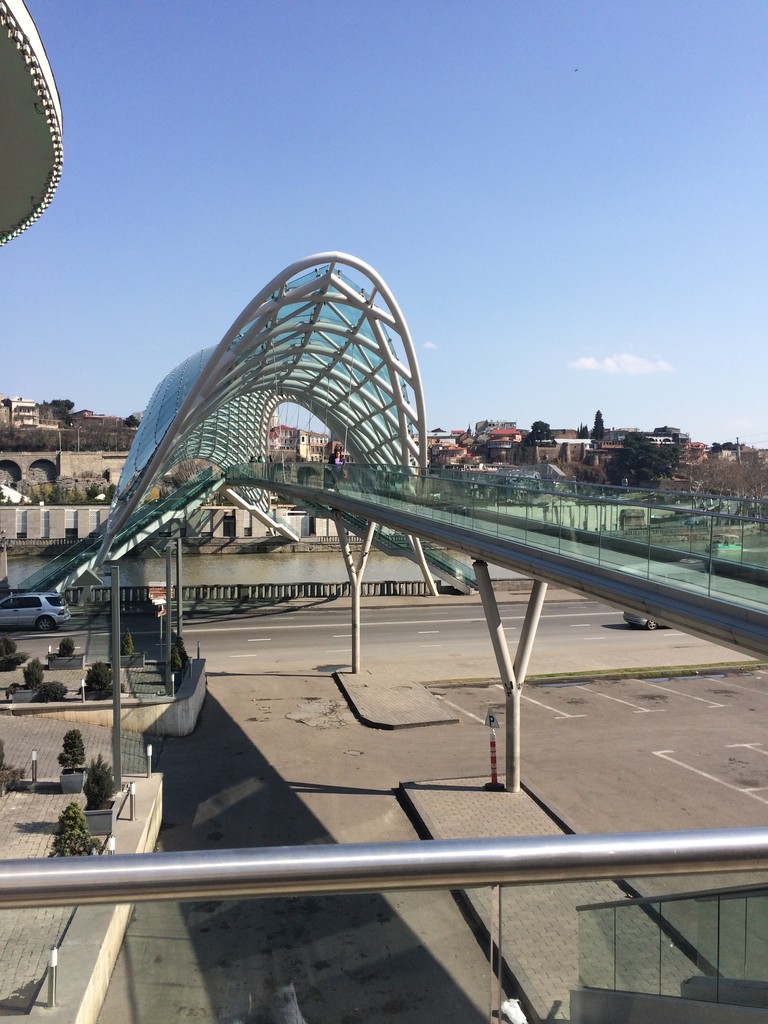 Super nice construction, it pops up while walking around the city. I think it blends amazing with the old feeling of the city.
We walk across the bridge took some photos and decided to go to this amazing church i always see on google when i search Tbilisi. Took the metro and after 2 stops we were there.
Tsiminda Sameba Cathedral
Big big church, you can see it from the city overlooking the hills. Is an orthodox cathedral with breathtaking arhitecture.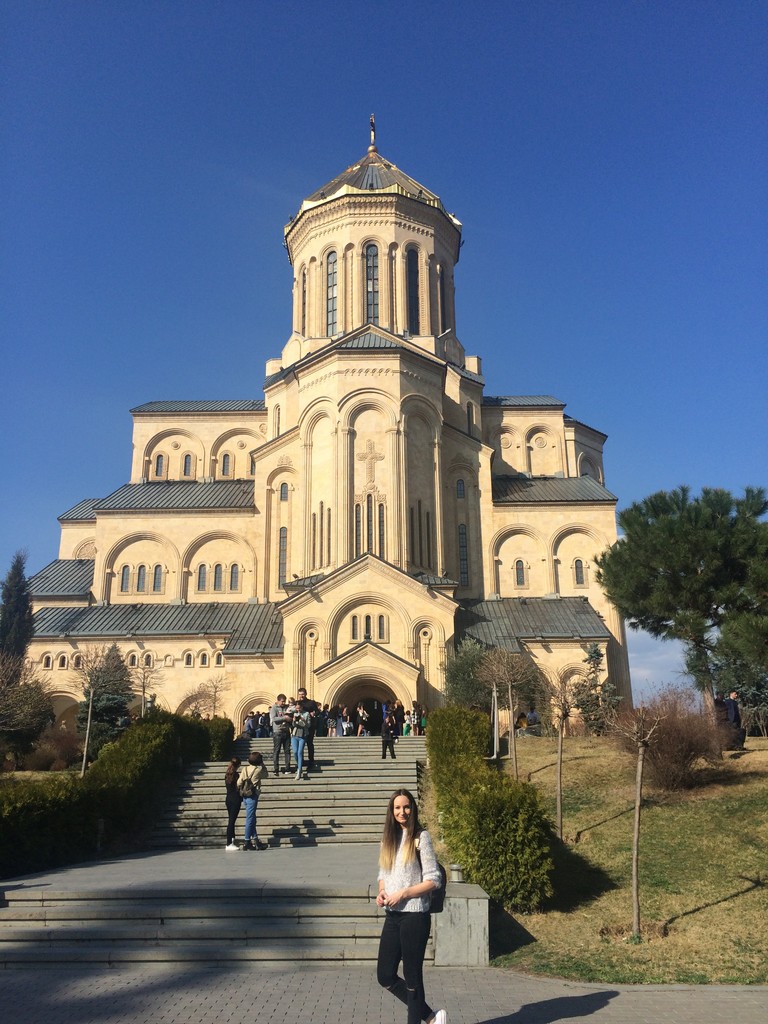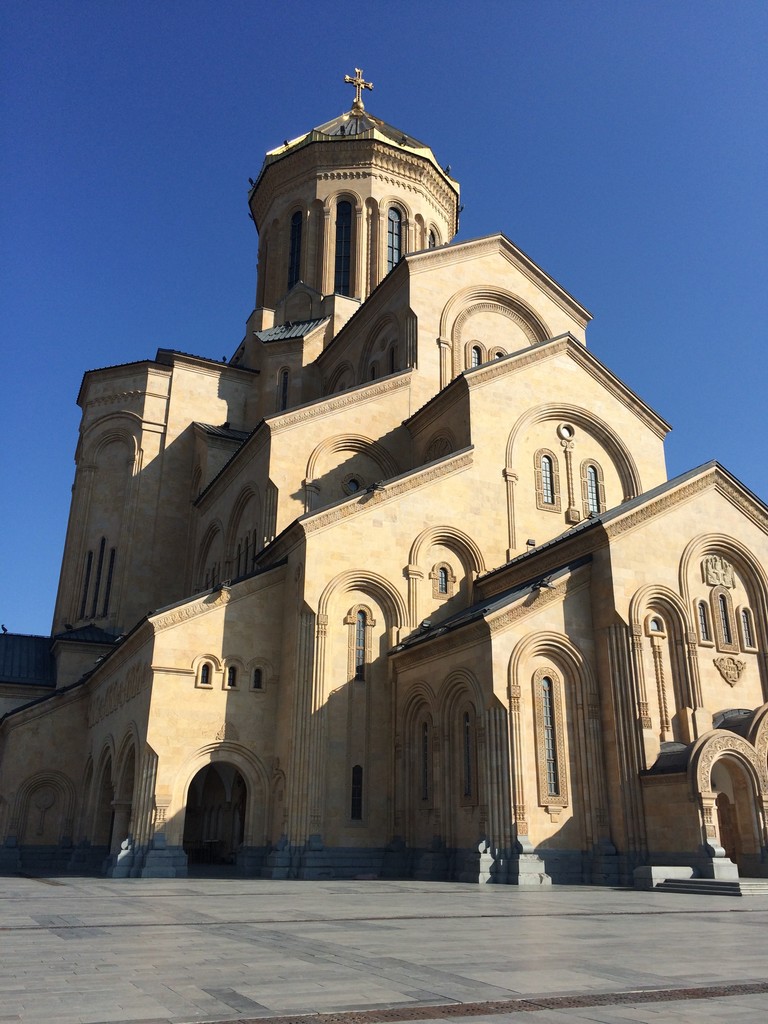 Of course we went inside and Muhammet was exited to see the inside of a orthodox church, because he is muslim so yeah. Inside remind me very much of my hometown Targu Mures and the cathedrals we also have. Took some pictures, enjoyed the view from the top of the hill. In that time there was actually 2 weedings taking place there so we also got a chance to admire the beautiful brides and grooms.
Taking the metro back down to the center, of course having lunch in the fast food restaurant is a must. The nicest place to have lunch or just sit in a nice bar, terace or restaurant is Rustaveli Avenue. There is also amazing shops and i think is the place to be.
You now you are in Rustaveli Avenue when you see this big bike, it starts from there a very long street full with nice entartainment.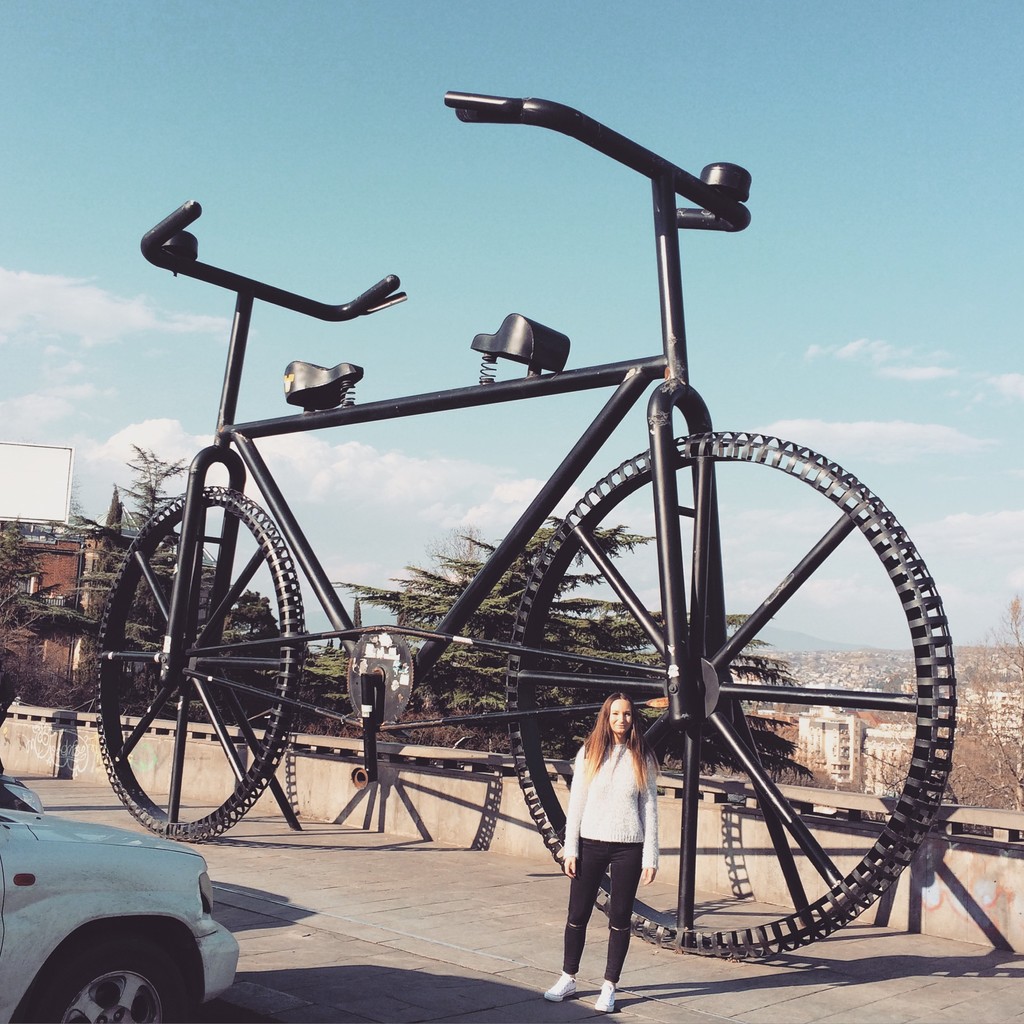 My favourite fast food in Tbilisi is Wendy's just because you cannot find it in Turkey or Romania so it was nice, i ate fish everytime and it was amazing.
We also passed buy the Parliament House, an impressive building.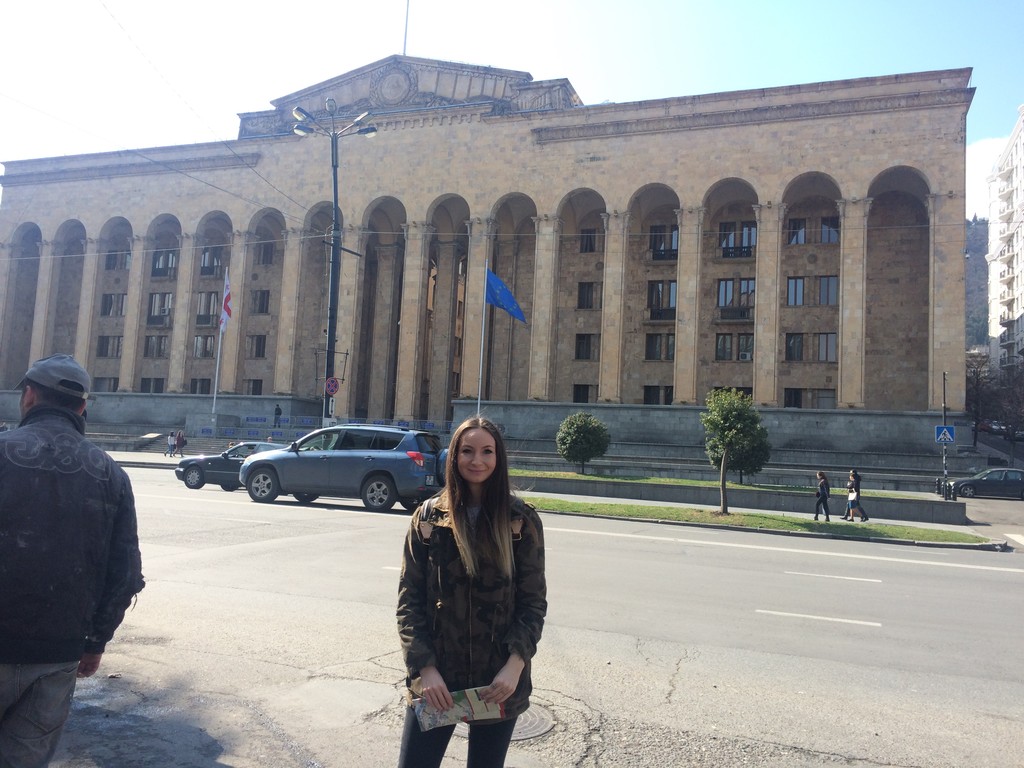 After a full day walking and visiting we decided to have dinner in a japanesse restaurant. Just because i'm so addicted to asian food. Muhammet not so much.
I cannot recall name of the restaurant but i think is the only one in Tbilisi and it has a big Gheisha Girl in front so you cannot miss it.
For this meal we paid total 40 Lari, for 2 persons. I think it was good price bcecause the food was indeed amazing.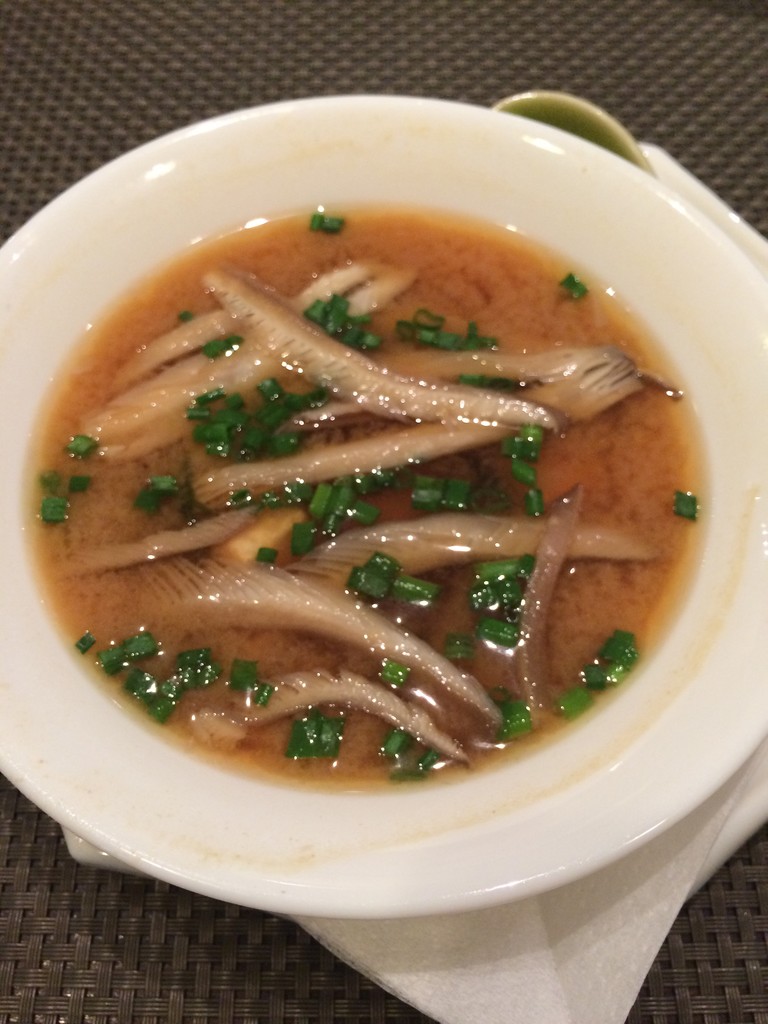 Second day was over. We slept so early after all that walking and sightseeing.
The next day we started early our adventure, we had big plans today. The fun park on the top of the hill, the Wax Museum, The Narikala Fortress and the Freedom Square plus if we got time some fish therapy. This was on my list.
Narikala Fortress
To get on top of the fortress which is on the top of the mountain, funny thing almost all important touristic points are situated on the top of something, you must get the telecable. Price is just 2 lari go and come back down.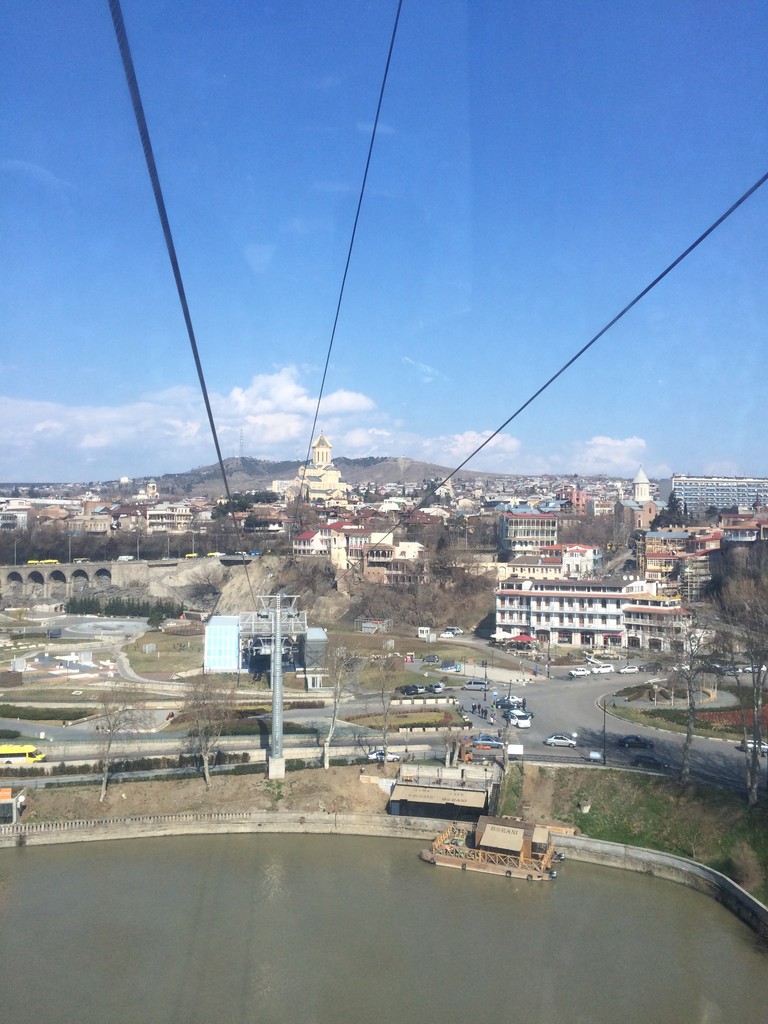 The view from the telecable going up to the fortress.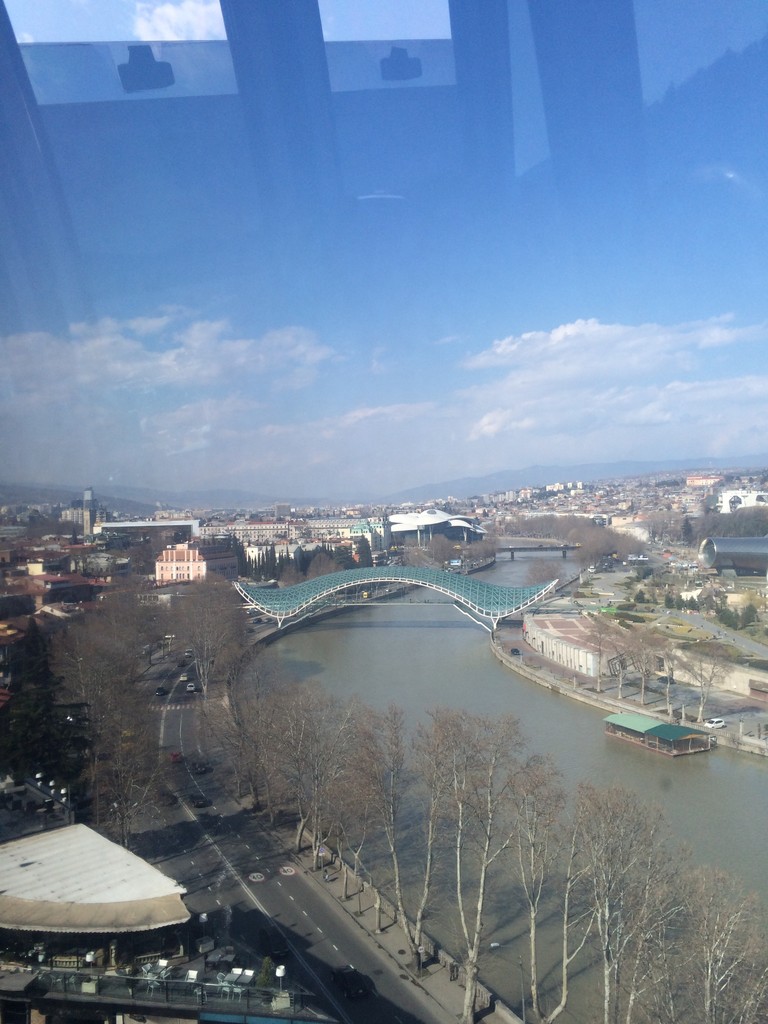 the Peace Bridge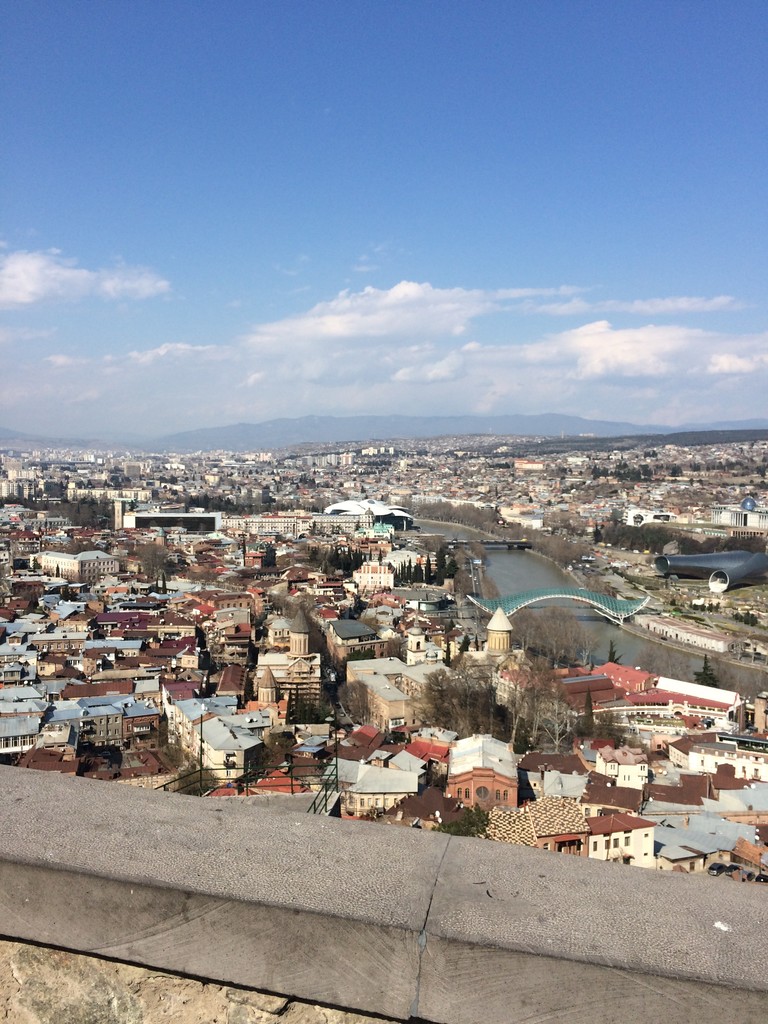 City view from Upstairs of the Fortress.
Up there is a small church and of course it was a weeding also there :)), and a big statue of a warrior women. The view from there is just crazy good. You can see the whole city line, the peace bridge, the Cathedral. Amazing!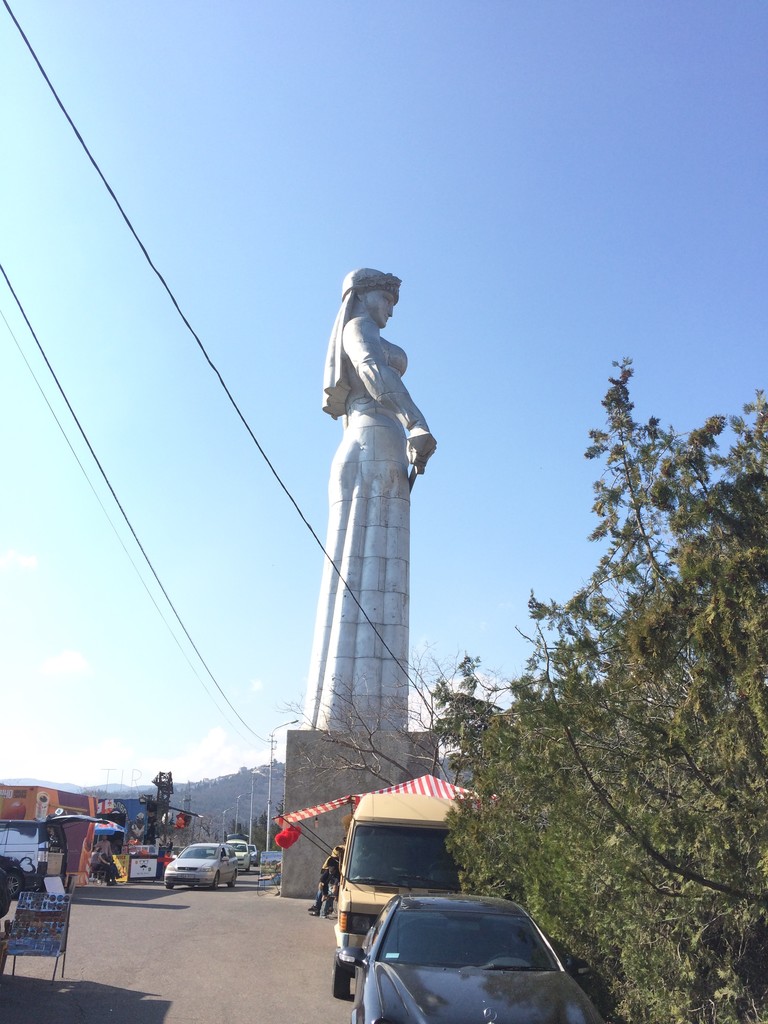 Mother of Kartli, name of the statue.
The wax museum
Actually the museum is inside the Mtatsminda Amusement Park, of course situated of the top of the hill. You can take a local bus until up, the ride is long, maybe half an hour. You have to enter this amazing fun park. There is no entry fee but if you want to go with the rollercoaster or visit the dinosaurs side or i dont know what other activity you want to do, you have to buy a card and put money inside.
For every place you wanna go if 5 lari per ride.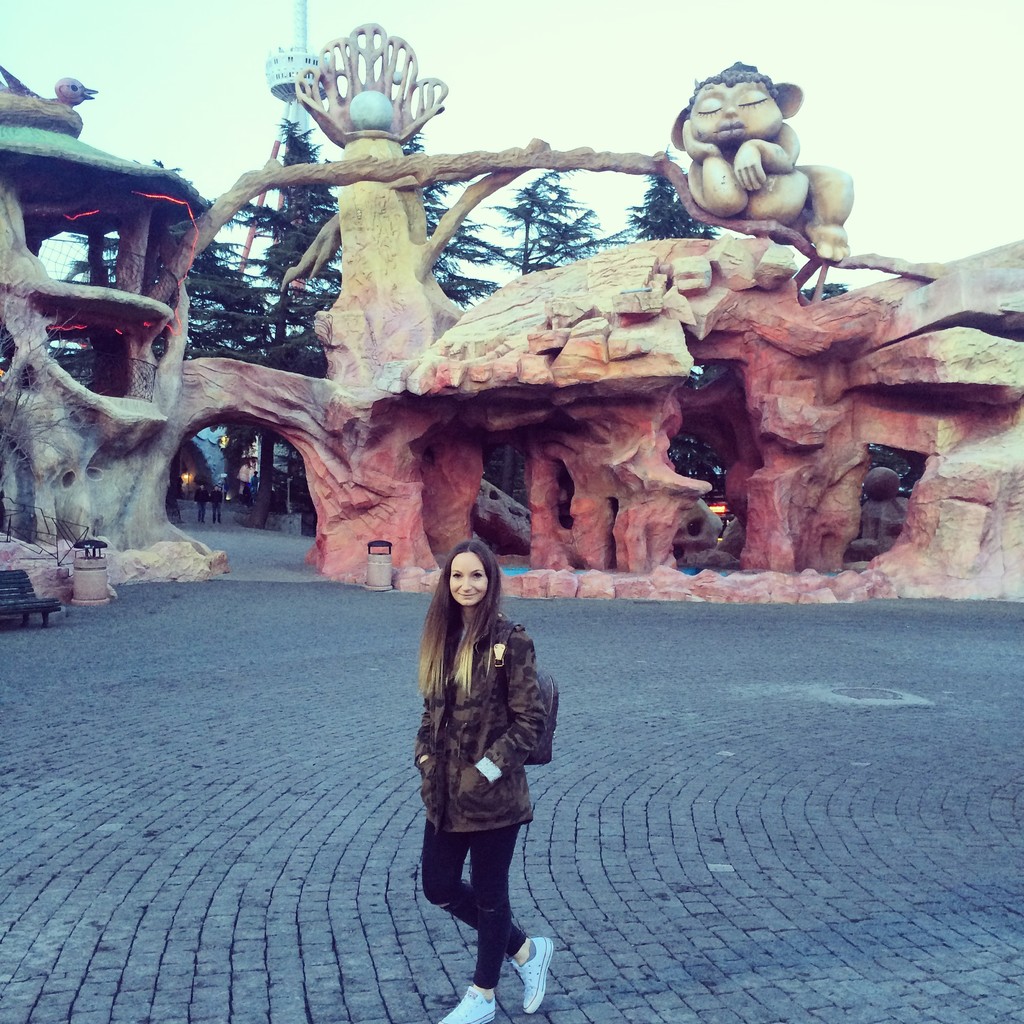 The entrance of The Park
First thing when we enter was the photobooth, of course we went inside took some snaps, laugh a bit and Voila we got our pictures. You can eighter get them in colour or black and white. Price is 4 lari.
The wax museum, we payd i think 6 lari for both of us, student discount. Inside not so many amazing figurines. And those who were inside they were not looking like the actual person.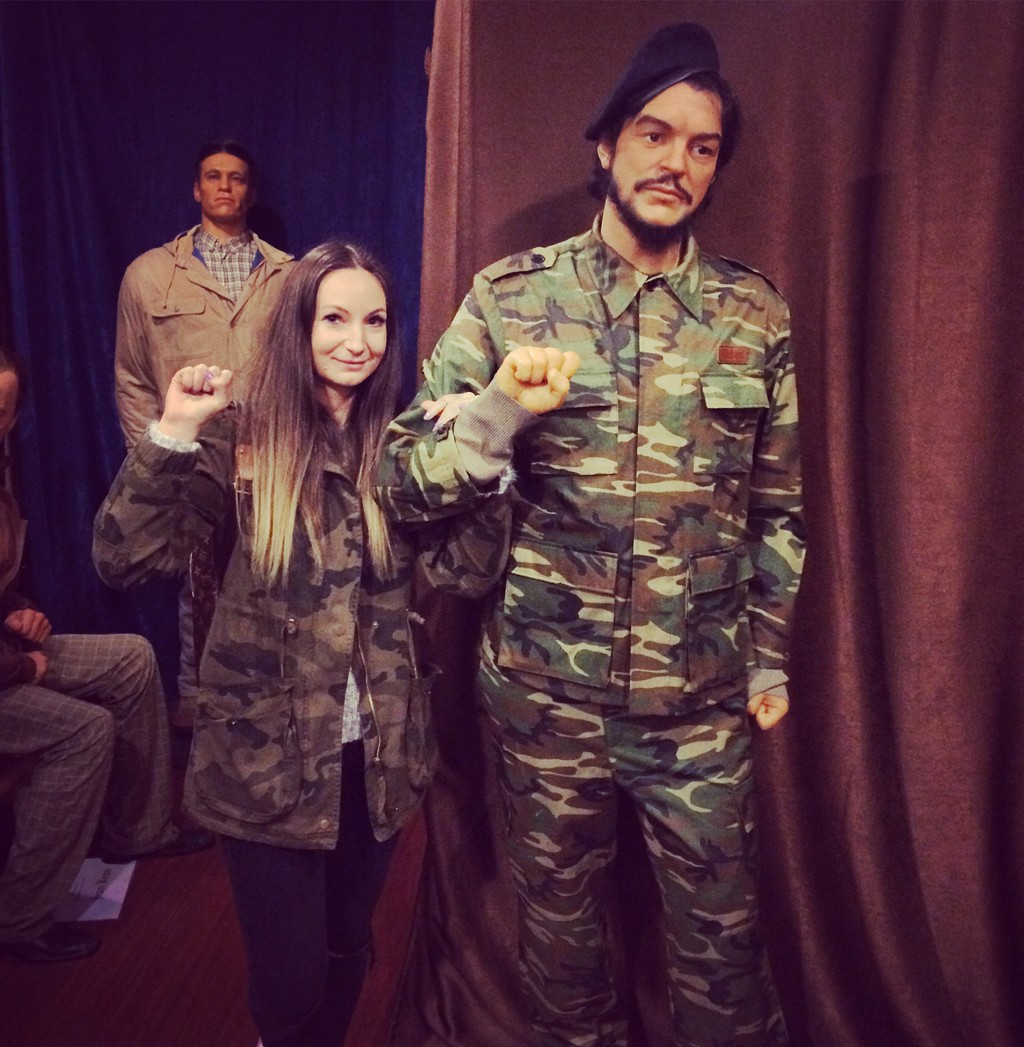 Che Guevara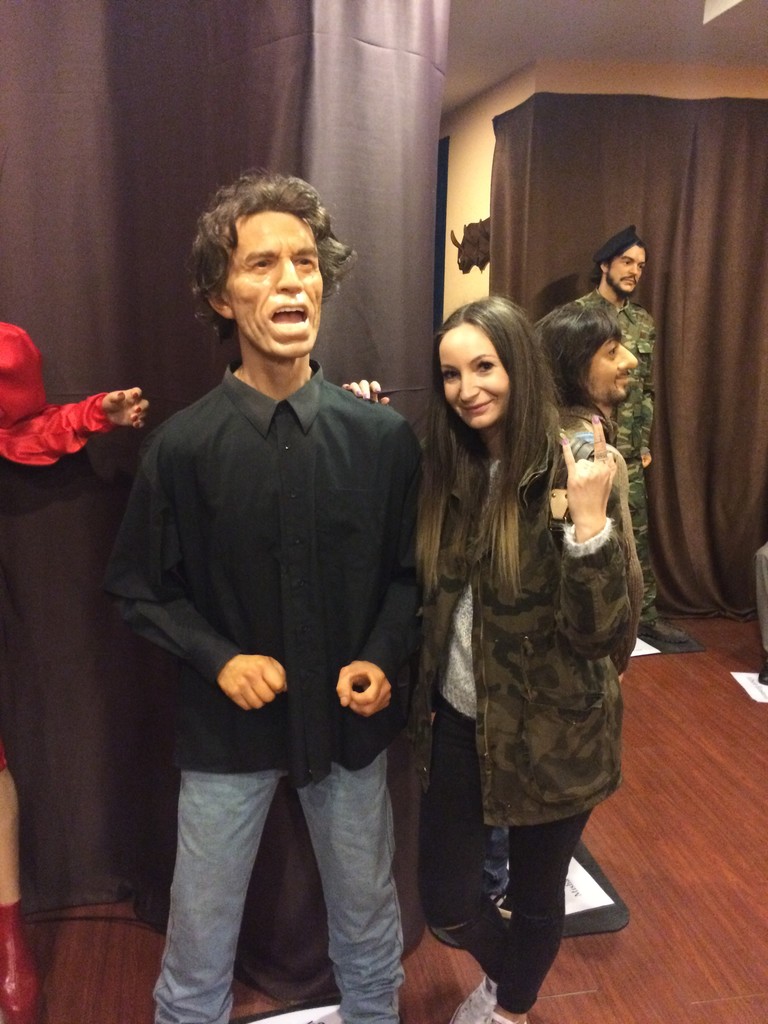 Me and Mick Jagger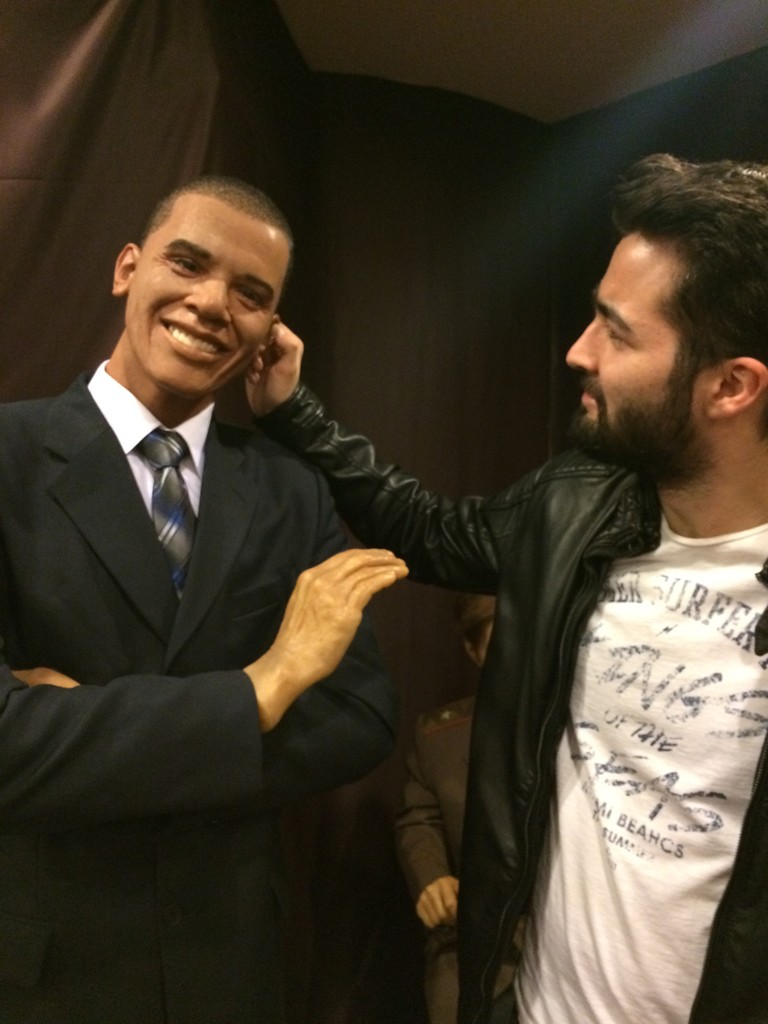 Obama lol, so not looking like him.
The rollercoaster, price was 10 lari for both of us.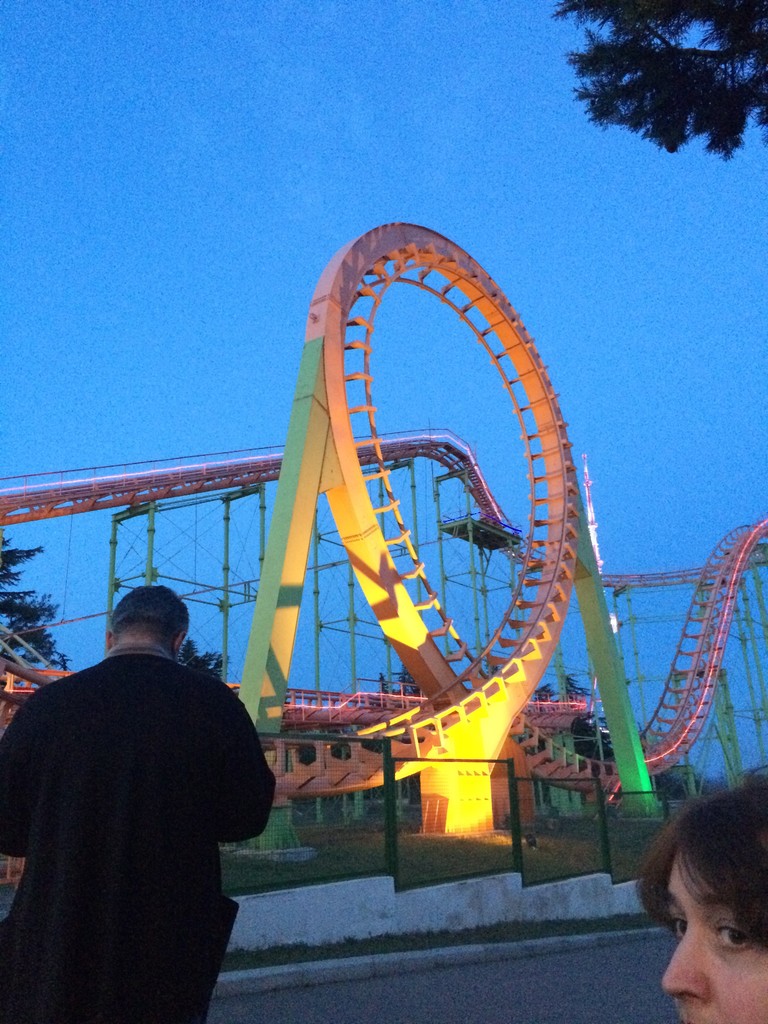 We didnt went was not looking too safe. And good choice because you pay this money and the ride is around 1 minute or less so is just a waste of time.
After our 3 days adventure in the capital of Georgia i chaged my mind about the city, i do think is worth visiting but as i said in the beginning i preffer Batumi. Maybe because i have a thing with the Sea.
If i managed to check all my points on the map, yes i did like always. Three days is more than enough to visit all the sights and still enjoy some time off just walking around. They have amazing restaurants but i did not try the georgian cuisine, just because i'm so picky with food and i like what i like.
But if you get a change go to Tbilisi, you don't need too much money for a great time.
Other things i visited and didn't mention them up was the Georgian Museum which is actully like a 3 in 1 museums. The arhaeological museum, the soviet ocupation museum and art museum. They are one next to another. Entry fee 1 lari for each, student discount. And yes you can show them you student card from your country, they accept it.
Here's what i learnt in Georgian language.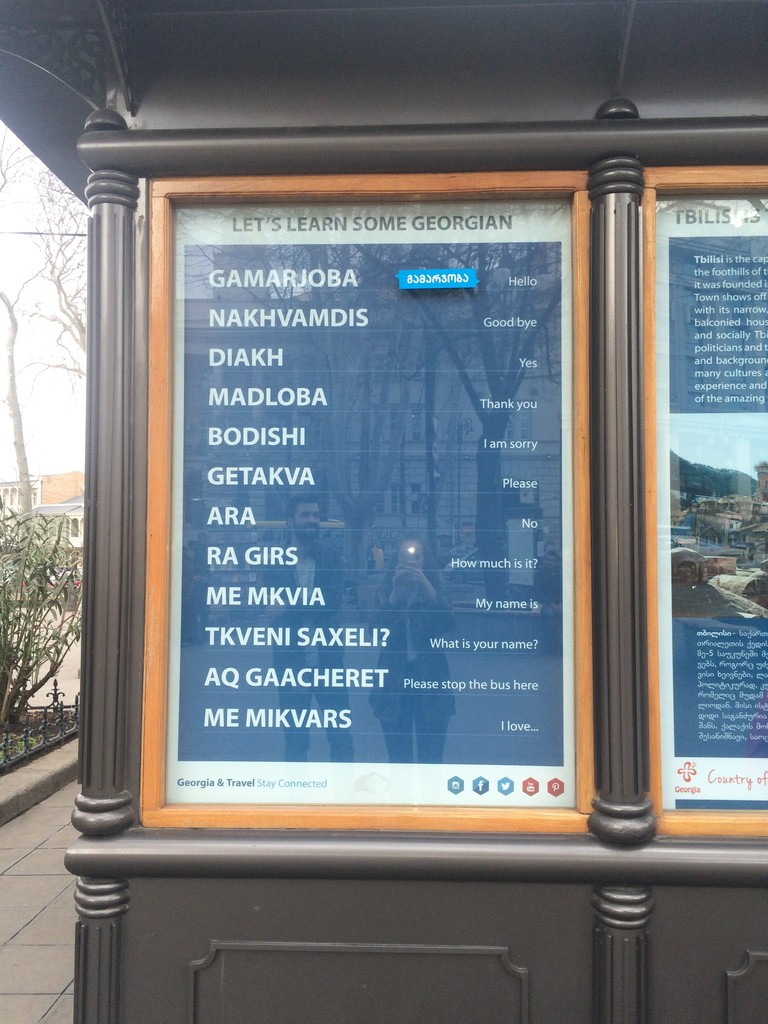 ---
Photo gallery
---
---
Content available in other languages
Share your Erasmus Experience in Tbilisi!
If you know Tbilisi as native, traveler or as exchange student... share your opinion on Tbilisi! Rate different characteristics and share your experience.
Add experience →