Freezing Experience At Gudauri
Architecture and landscape

10 / 10 points

Entertainment

10 / 10 points

Culture and customs

10 / 10 points

Transport

8 / 10 points

Gastronomy

6 / 10 points

Prices

10 / 10 points

Party

6 / 10 points

Weather

10 / 10 points
---
Gudauri located north of Tbilisi the capital of Georgia is a world famous ski resort and my experience being a traveller with my colleagues was really adventurous. Hence I decided to write about the place as well as all the memorable experiences I had during the travel. The perfect season for skiing is during the months of December to March and this is the time period when this tourist spot remains active. There are huge number of visitors from Georgia and around the world to have fun at this lovely scenic spot to have some adventurous fun.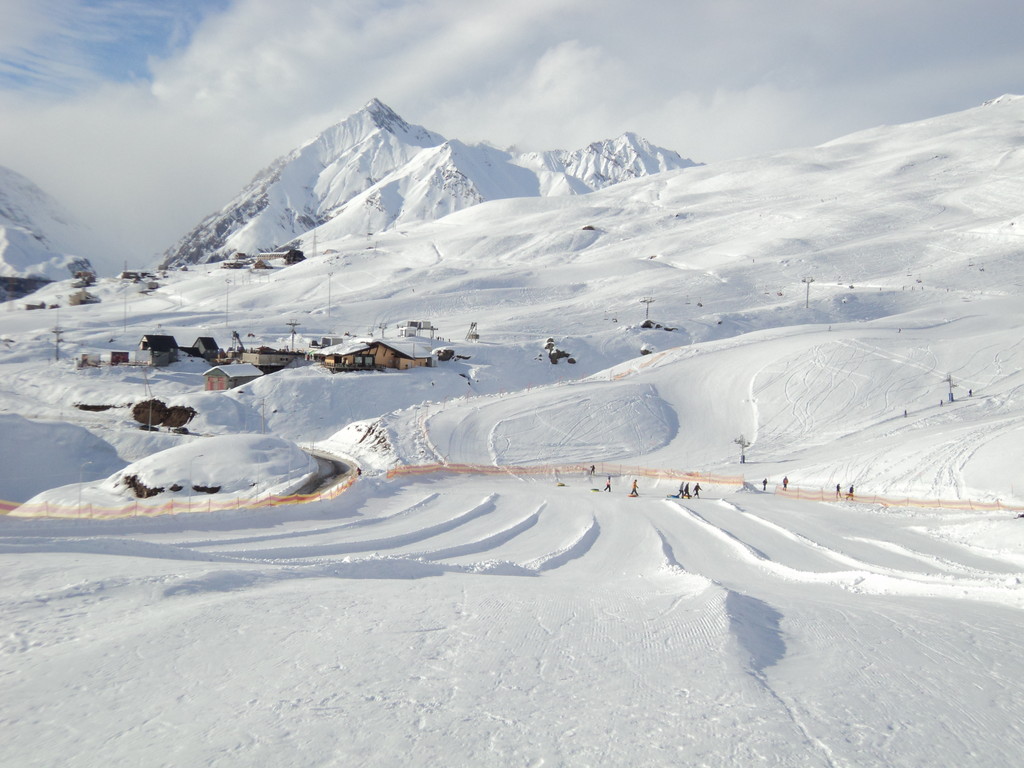 Gudauri is located on the slopes of the great Caucasus mountain range high above the level of trees giving all the people a view of the milky white snow covered mountain ranges. It is approximately 3000 metres above the sea level and the path that leads you to this lovely place is rich of scenic beauty.
I started off to Gudauri with my colleagues in a hired bus from Tbilisi and it took us quite a long time to reach to the district of Stepantsminda where Gudauri is located. The heavy snow fall in winter has almost covered every inch on the roadside with snow and it looked like we were in a white carpet. After a few hours of journey in a bus we stopped for a break near a river bank flowing down hill the picture of which I have attached below. The river with its snow covered banks and its crystal clear water was such a lovely sight to see and admire the beauty of nature. Getting near the banks was not actually a easy thing to do as the roadsides were covered with snow, had to walk through knee high snow to get to the banks to get a sight which is still unforgettable. After a small stop there we continued our journey and suddenly the bus came to a stop. We didn't expect such a problem to line our way, the road was under repair and there was no place for a huge bus to pass that way. Now it was all left to our hands either to sit in the bus or travel another 8 kilometres by ourselves to have a look at this world famous ski site.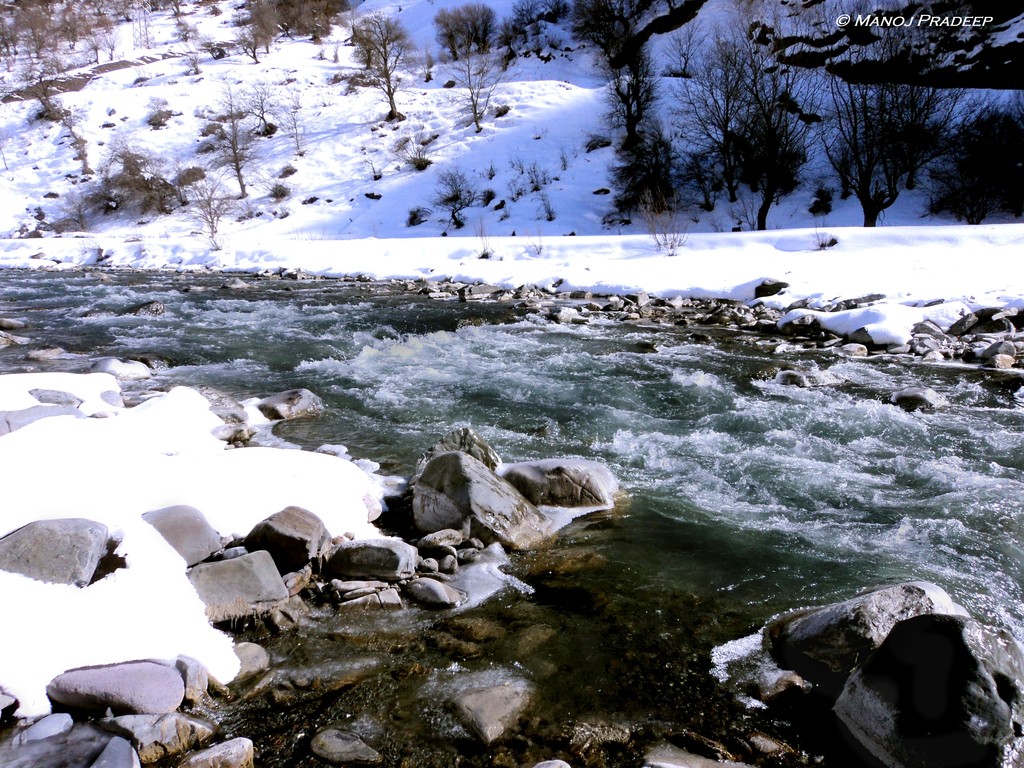 After hours of confusions and discussions we decided to walk uphill and reach our destination. After few minutes of tiring walk we were able to see a local mini van coming our way going upto Gudauri. It was such a great relief to know that we were not going to walk anymore. The mini van so tightly packed that we were made to sit still without moving for another eight kilometers. During our journey in van we could see some deep valleys and snow covere huge mountains of the Caucasus which made us feel that we were going to be in a place that we had never been. Our long journey came to an end after hours, now it's time for us to make this trip even more adventurous.
Getting down from the mini van we were able to see some hotels and shops which was a sigh of relief as we hardly saw a shop on our way. Getting some help from the locals we were able to reach the place were cable cars were available to reach the peak of the mountain at a level of 3000 metres above sea level. The enitre journey through the cable cars were divided into three phases. The cable cars operate from 10 in the morning to evening 4. We hopped on to a first cable car to reach the first lift, the journey through the cable car was really thrilling and the sceneries that passed by were mind blowing. All way along we were able to see the mighty slopes of the great Caucasus range and people skiing all the way down, looking below our feet almost made us faint. Getting down at the first lift we were able to see some hotels and places from skiing equipments can be hired though most of the visitors bring their own skiing equipments. We stopped for a small refreshment at a hotel in the first lift to make ourselves warm after spending hours at the freezing cold outside. Standing in the hotel's corridor we were able to see people having fun sliding in snow tubes.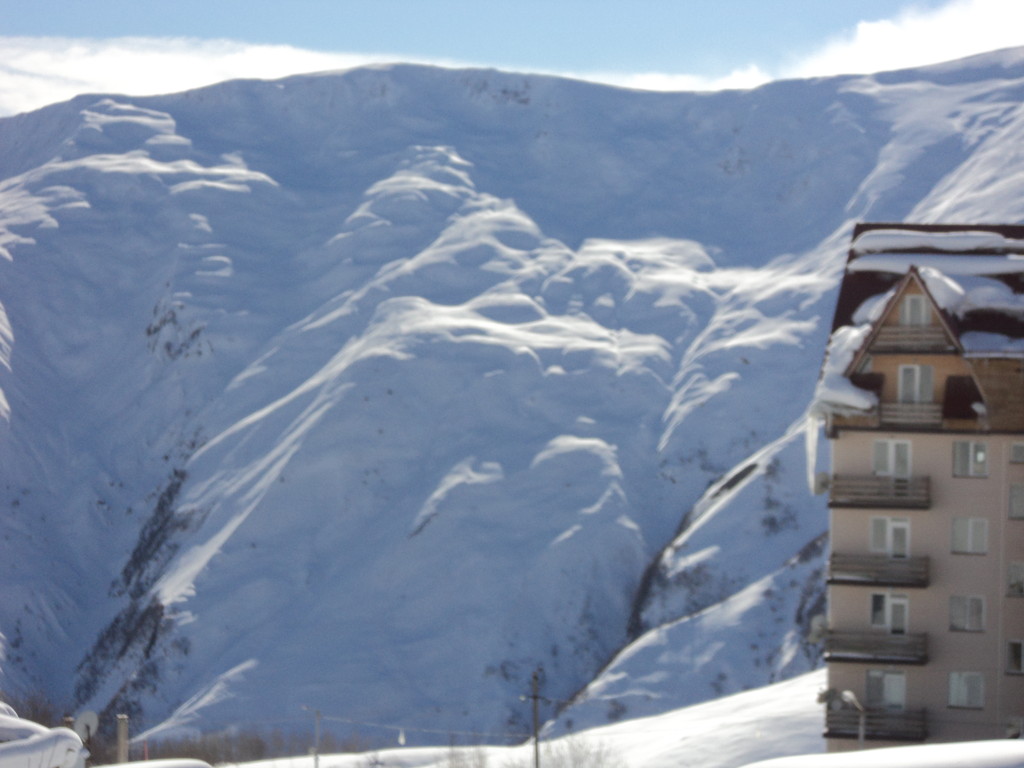 Getting down the hotel and moving to the other side of the hill we were able to reach this super cool snow tube track which was entirely free of cost to use. Getting a tube from the counter we stepped into the escalator which took us to the top of the track. From there sliding down the snow track was an awesome fun to have. Spending some awesome time over there we made our way into another cable car that took us to the second lift. Even there is another cable car that goes to the peak of the mountain. As we ran out of time we had to return back to the ground.
Apart from all these skiing fun there is even Heliskiing for those who want real fun. Helicopters takes you to the peak of the hill and from there you may ski all your way to the bottom where 2500 metres is a vertical slope. This is really a dangerous but very adventurous fun to have to ski all the way through the great Caucasus. So after all our energy had drained we reached the bottom of the hill went inside a restauraunt to refresh ourselves and took a cab to reach the point where our bus was waiting for us. We got on to the bus and returned back home cherishing those lovely moments of fun we had in Gudauri.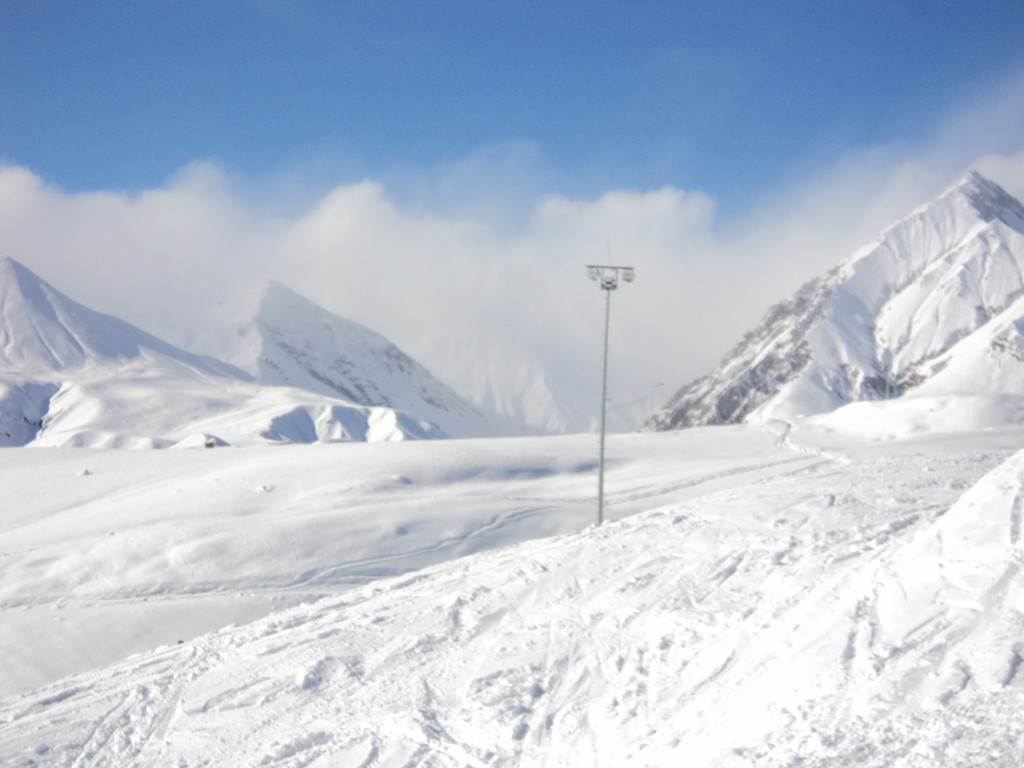 ---
Photo gallery
---
---
Content available in other languages
Share your Erasmus Experience in Tbilisi!
If you know Tbilisi as native, traveler or as exchange student... share your opinion on Tbilisi! Rate different characteristics and share your experience.
Add experience →