My house for a while
I arrived in Strasbourg on 26th March, on a cold evening, and I didn't know what to expect. Everything was organised through a website, which seemed safe and all, but you never know, and if it wasn't for the agency I would ask myself if I had made a mistake with this trip, if the family didn't exist, if they regretted it... Who knows! I was expecting the worst...
My host family came to meet me at the station, and they turned out to be a completely normal family, lovely with their children, open towards me and they welcomed me into their home.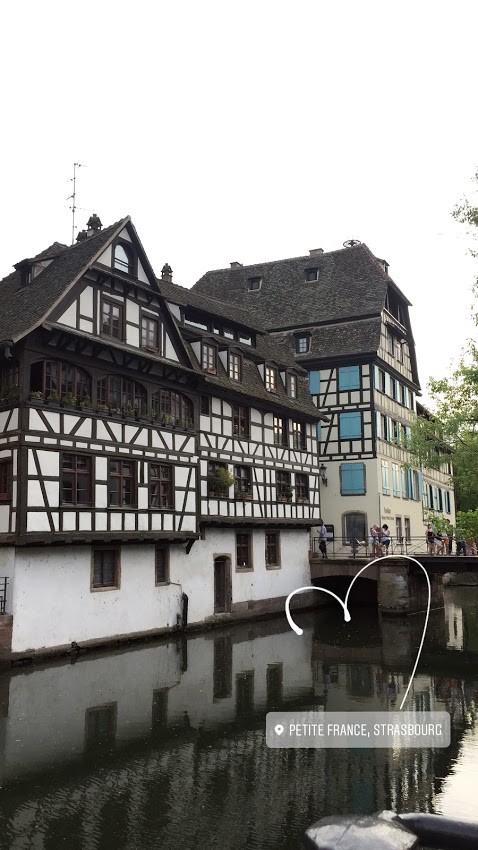 My first week was all about learning. The au pair that they had until now had stayed for a week longer to help me and show me everything I needed to know. She was a Dutch girl, only a few days older than me and as it was her first experience doing this job, I think that made her open up more to me and not hide anything. The strange thing is that we had a good vibe, we became good friends, but I don't know if Latin Americans are more open to making friends with anyone whereas, she was obviously European, and in a week it our friendship didn't seem to progress, therefore I never heard from her again...
My task was to look after three children, one 6-year-old, a 3-year-old and a baby who was almost one. The week with the old au pair flew by and I was trying to get round the fact that I was going to be with 3 children, even though I was only going to be with the baby for 30-45 minutes a day. Children in France don't have school on Wednesdays, so that would mean all day with the two older children. Later I learnt that although the morning went by in a blink of an eye, the afternoon is long. But as I said to my au pair friend, "although I hate Wednesdays, they have to come around so that it's closer to the weekend". Something to note, the au pair before me was the typical perfect young woman and every day which went by I found it more and more difficult to fill her shoes...
On the first Friday, I suddenly felt homesick. Basically, I missed my home, my parents, my siblings, everyone; I rang my Mum and I started crying in the middle of our conversation. I was already counting the days to leave, and it had only been five days since I arrived.
Anyway, the weekend arrived, the au pair from before left and since it was Easter for us, we went to their parents' house in Champagne. I was really happy, full of life, my first week had finished and I was already travelling and seeing new places. The plus side was that I was getting away from feeling down in that house, and getting away from the place where I knew nobody. We got to the pretty house surrounded by vineyards. It had many bedrooms and chimneys, it reminded me of the country house my grandparents had, I have lots of great memories from there. We ate as a family. We had typical French food with baguettes and cheese just before dessert.
We shared family times together, where although French people are cold and distant, they gave me an opportunity. I helped their grandmother out in the kitchen, I laid the table with the aunt, I spoke about football with the uncle. I forgot all about being sad and I enjoyed every second in that family reunion that, although it wasn't mine, I felt at ease.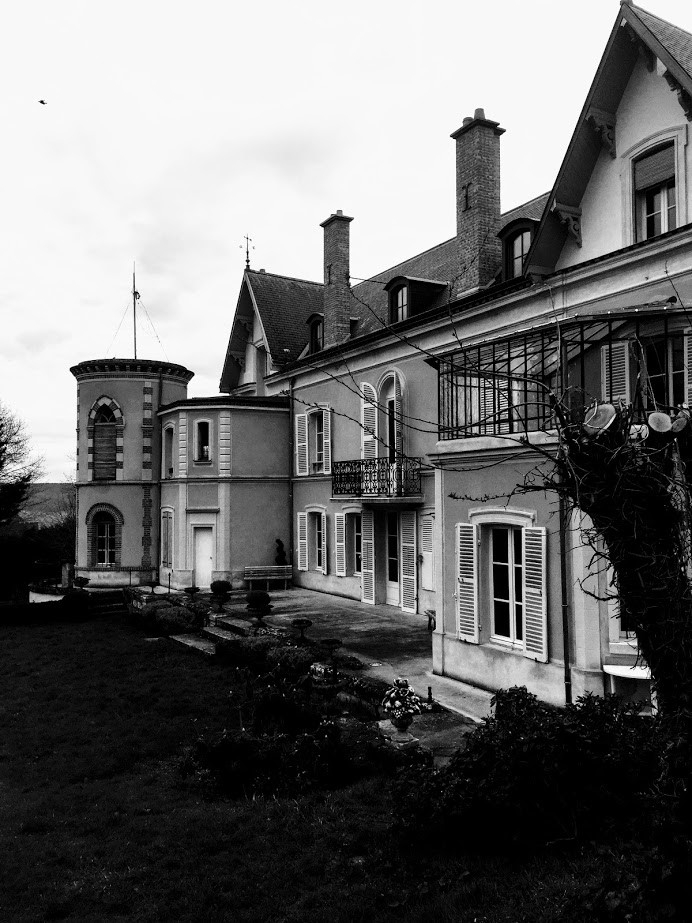 But not everything was rosy, the second night I had difficulty breathing, my lungs started closing up... I've been an asthmatic all my life, but after long treatment, I can't remember the last time I had an attack. As I'm always wary, I had brought my good friend the inhaler with me but, the point was that I had left it in Strasbourg, so that's 3 hours away by car. I didn't know what to do, the only homemade alternative method was to breathe in steam and it was a bit difficult, since it was 12 o'clock at night, to do that without making a noise and without letting anyway know what was going on. And me being me, I was in a pessimistic mood and I thought I was going to die. I sat up, as lying down made me cough more, and as I could no longer sleep, I started looking up what to do on Google; luckily Google said I didn't have a terminal illness and I found something so simple as some breathing exercises. To be honest, they were really effective... I don't know if I fell asleep because I was able to control my coughing or because of how boring the exercises were, counting your breath. The point is I didn't sleep very well for two nights and I didn't want to go back to Strasbourg, I was so comfortable in this typical French cottage. All the family being together made me feel at ease, and there I had to go back to work and think about how much I miss my house and family every day.
In order not to think about that, I had to get out of the house, and to do that I had to find some sort of incentive. That in fact was the gym. I literally went twice a day for an hour and a half each time. It's not that I wanted to start competing in the Arnold Classic sports festival, I just wanted to get away and stop thinking about everything else.
Now it's a completely different story, three months later, this thing keeps getting to me from time to time, even more when I'm alone in the house which is quite often as Monday, Tuesday, Thursday and Friday I have almost the whole day free. But I can't shift this feeling of anxiety, I can say that I've come to learn to live with it and thank god that at least I know when I'm going back home.
Another thing which is very different to my country are the holidays French people have. Back home, they're more spread out and there aren't that many in three months. So, if you're thinking of being an au pair in France, bear in mind that the children have two weeks of holidays for no reason. I've been here for three months and I've already had three weeks of holiday. This means every day of the week with the children and, if it weren't for the mother organising different activities for us to do, I would have gone crazy.
I must also admit that it wasn't as I had expected. My biggest fear had always been the family, that they could have been bad people, that they could have lied, etc. But I had never thought about the children... Having my siblings around I never once stopped to think that all children are different. Yes, it's true that they're similar in the sense that the older one is more active and the younger one is more sensitive, just like mine. But the little boy goes beyond being sensitive and doesn't stop crying over the little things. And in the last few weeks the older boy was becoming impossible, he was insulting me, he wasn't listening to me, he only listened when it was convenient for him. One day I even cried in front of him to see if he would stop, and instead he laughed in my face. If I was quite a sensitive person, this child would have caused so many problems. However, instead of wanting to cry, I just wanted to kill him. But anyway, I would count to ten and tell myself I had less than a month to go.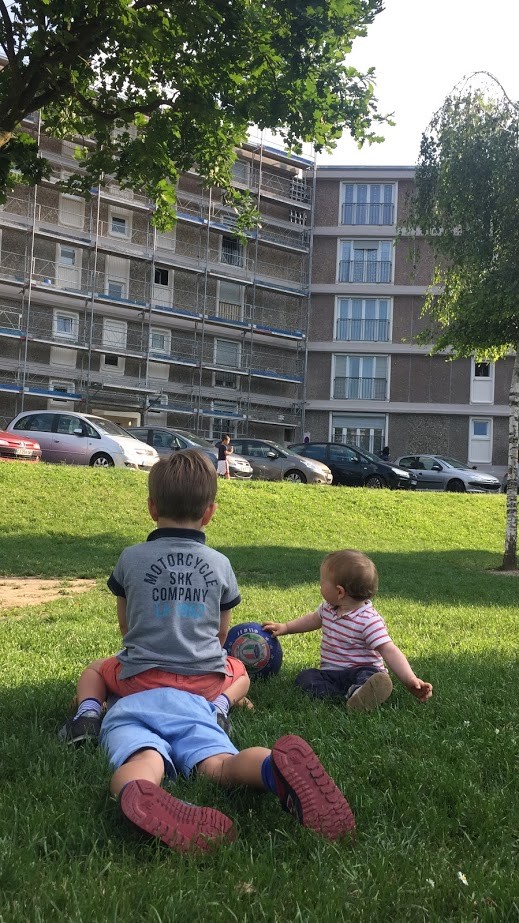 My only "friend" in Strasbourg was a Brazilian girl who was a few years older than me. Although we had nothing in common, literally nothing, she was also an au pair, so we used to go to the park together with the boys, we spent weekends together in the canals and we met up to try traditional French food. Until one day in May, around mid-May, she had to go because her host family got rid of her and as she didn't have any luck with other families in Strasbourg, she moved. I wasn't going to miss her as such, but I was going to miss the company, and miss saying, "shall we go to this place?" and that in five minutes she would be waiting at my door.
As I had her as a friend, I wasn't fussed on finding any more. After all, the other au pairs used to meet every Wednesday, but they stopped doing that just after I arrived. And as I was only there for another month or so, I didn't really feel like befriending anyone else. Besides, I didn't even know where to look, I had already looked online; Facebook groups, my French mates, events, Instagram...
But the problem is that now I'm almost in the European summer with nobody to go to the pool or the lakes with, to try food, to find new cafes or to continue exploring the city with. I never would have thought that I would miss that crazy girl so much...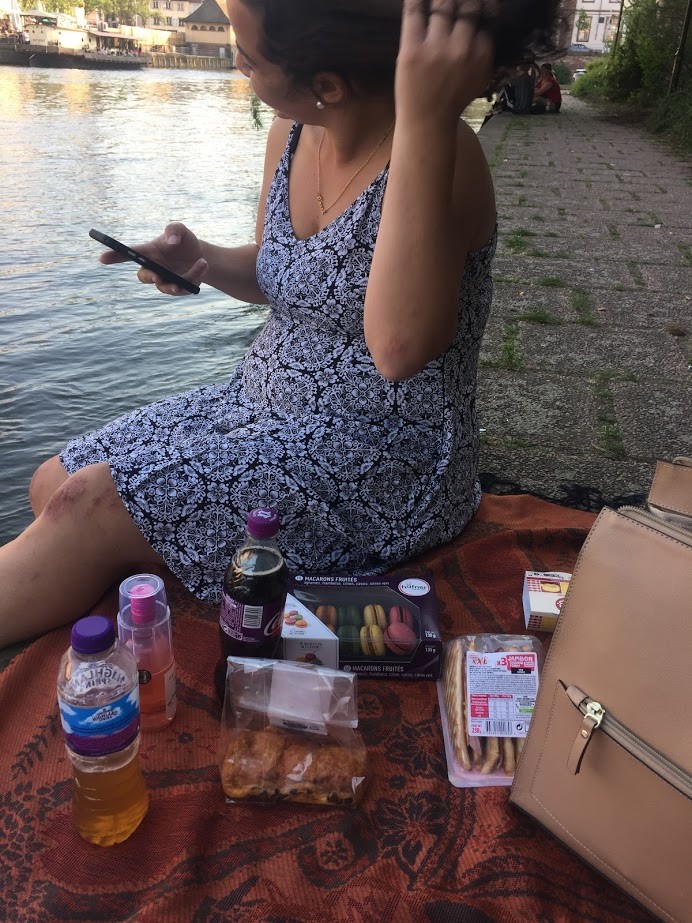 Despite it being really tough, and even harder at the beginning, I think I had a lot of fun in this beautiful city. Although I still have a few weeks to continue exploring, it's a bit uncomfortable when it's 30° every day. But in a nutshell, it's lovely and I think that if I didn't have this opportunity, I never would have seen Alsace.
As my host family had promised, every weekend we did something different: we explored new Alsatian villages, we had croissants or pan au chocolate for breakfast, we even travelled to Germany to go to a swimming pool, we visited many places in a row.
Today, I know that I want to keep in contact with them, in fact I would love them to visit me in Buenos Aires, to stay at mine and to show them Argentinian traditions just like they showed me French ones. I know that I want to go back to Strasbourg in a few years, I know that I will be thankful for that way they always treated me as their own and for giving me the chance so that thankfully I could improve my French. I know that I'm going to miss the challenge of having to speak this lovely language every day. I must also admit that I know I'm not going to miss this job. But above all, I know that I'm going to miss the parents very much and I want them to see me in a few years speaking fluently and be proud of the seed they planted in me.
---
Photo gallery
---
---
Content available in other languages
Want to have your own Erasmus blog?
If you are experiencing living abroad, you're an avid traveller or want to promote the city where you live... create your own blog and share your adventures!
I want to create my Erasmus blog! →