What to See in Slovenia: Predjamski grad and Logarska dolina
I talked about the beautiful country of Slovenia in my some of my previous posts. It is a very small country (about three hundred kilometers from one end to another) and yet extremely diverse in nature. It has both a sea side and high mountains; caves and valleys… The two places I would like to mention today are Logarska dolina (or Logarska valley) and Predjamski grad. Logarska is a small valley, about seven kilometers long and not more than two kilometers wide, situated in the Kamnik-Savinja Alps (Kamniško-Savinjske Alpe in Slovenian). It is a region in the Alps. In Slovenia there are the Kamnik-Savinja Alps and the Julian Alps (Where the famous ski resort of Kraijnska gora is). Logarska itself is a nice little valley, extremely beautiful and green. In order to get to it, you have to turn right (I love how I explain directions, it really sucks, but all well…) and pass thorough several big and small mountain villages. The views you will see are totally worth it. You reach narrower and narrower roads, as well as smaller and smaller villages until you get to the road that leads to Logarska. The beauty of it is that this road is tiny and the thing you see in front of you is a huge piece of rock. The mountain in its entire splendor is in front of you, cold and strong. Logarska is easy to recognize in pictures because it is so typical. It is a narrow green valley next to a treeless mountain. The view is truly something and I am sure that if you go you will lose your mind. Logarska dolina is the perfect place for peaceful and quite vacation. You will not be very happy if you want to party though. There are two small guest houses, a bigger hotel and another hotel at the end of the valley. So, if I haven't left anything out, a total of five hotels/guest houses. You can imagine how quite it is in the evenings. There are no restaurants, nor bars, nor shops. Three of the hotels have restaurants in which you can have a nice meal and that's it. Do not expect night life and wild partying. If you like nature though, you will be more than happy with Logarska. It is beautiful and peaceful: the perfect place to forget about stress and the big city. The air is fresh and there are a few horses, dogs and donkeys which would complete the idyllic village picture. Yes, there are animals which means that you get to eat fresh, locally produced cheese, milk, meat, etc. I stayed in a guest house, named Plesnik. It is held by a nice family. The woman of the family takes care of the house. She is very nice and friendly. She speaks a bit of English, offers you blueberry liquor when you arrive and prepares delicious breakfast in the morning. The breakfast includes locally produced jam, cheese, some bread, milk, coffee, tea, some cereal… it is so tasty, I promise. The house itself is very nice. The only thing I did not quite like was the number of animal skins that cover the floor but that are just my opinion, of course. It is sort of typical for the region.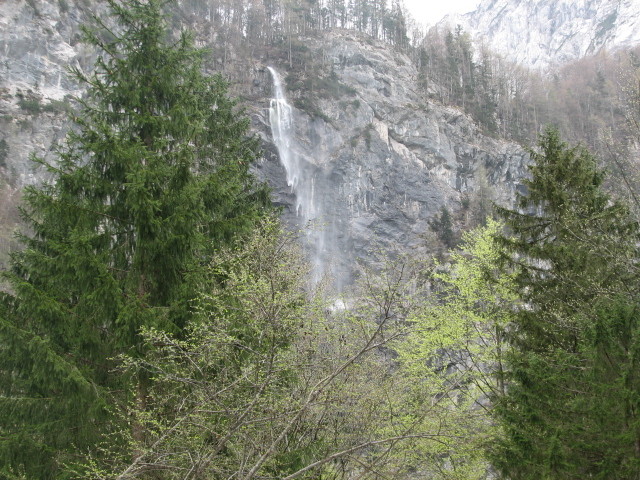 Since I love the mountain I decided to spend my two days in Logarska walking around and discovering stuff. It is a great place for some nice walks and the terrain is not difficult to climb. You can do it with normal shoes and a warm jacked (if you are going there in the spring or in the autumn). I visited Rinka, a beautiful waterfall not far from Logarska. There is a peculiar wooden bar right next to the waterfall, so you might have a drink or even something to eat and enjoy the amazing views around. You should also walk around Logarska at sunset when it is so quiet and calm. Do not forget to tryborovnicawhich is a very typical for the region blueberry schnapps. It has a rich sweet taste and a dark purple color. Logarska is full of blueberries so this drink is very popular there.
By the way, you can get to Logarska by bus if you do not have a car. The buses if I am not mistaken leave from the third largest city, Celje. It is the nearest big town around. If you need a shop you will have a hard time because the nearest one is in Solcava, So, come prepared, bring whatever you need and enjoy the little paradise, named Logarska dolina.
The second amazing place I would like to talk about is Predjamski grad. It literally means "a castle in front of a cave"… and that is just what it is: a beautiful castle in front of a cave and "glued" to a large rock.  There is a cave at its foundations and you can enter it. I have never been inside of the cave because I have visited three or four of the famous Slovenian caves and I just did not want to go to just another one. I am sure it is quite nice. It was used as a sort of a protection for the castle and I believe they used to have wines inside too. The castle itself is what is really great to see. It is very beautiful and it has this specific medieval look. There is a small flat area just in front of the castle where the locals would sometimes organize tournaments like the ones in the past. There are a few small restaurants and gift shops next to the castle, as well as… tulips. Yes, the tulips are all ready and beautiful. The whole area is green and the tulips give it additional touch of red. If you want to sleep near the castle there are enough guest houses. If you want to find something cheaper, look for Postojna in booking.com or some other similar web site. Postojna is just a few kilometers away and it is a great place to stay: green, quiet… There are some hotels in Postojna, but I stayed in a private guest house. The owners lived on the first and the second floor and the guests would sleep on the third. The lady who took care of the house would even prepare breakfast in the morning and I am talking about a nice breakfast with several types of tea, jams, bread, sweets, fruit, and coffee. Hmmm… yummy! I forgot to mention that you can enter the Predjamski castle itself. It is all paid: the entrance in the castle, the entrance in the cave, both. You can choose the type of ticket you want and enter one or more tourist attractions. I have never been inside the castle so I cannot say whether it is interesting or not. I am just a poor student after all J
---
Photo gallery

---
Want to have your own Erasmus blog?
If you are experiencing living abroad, you're an avid traveller or want to promote the city where you live... create your own blog and share your adventures!
I want to create my Erasmus blog! →