What to See in Slovenia Part 1
There is a lot to see in the small but beautiful country of Slovenia. In part 1 of "What to See in Slovenia" I told you about great places you might like. Here is the second part in which I will talk about my most favorite sights in the country.
Bled Lake
Bled is an amazing lake not far from Ljubljana. Since Slovenia is pretty small, everything is more or less near. I believe Bled is at about sixty kilometers from the capital. It is situated in the Alpine region and it is definitely one of Slovenia's most popular tourist destinations, and I promise, there is a reason why. Bled is a glacial lake, surrounded by the houses of the village that bears the same name. The lake has two major attractions: a castle and a small island in the middle. You should enter the castle. I believe it costs about six Euros (for students) and maybe about nine or ten for non-students. In the castle there is a museum showing the history of the region and the lake itself from the most ancient times. It is interesting to see the objects made by some ancient inhabitants. The museum might be interesting, but the most impressive asset of the Bled castle is the view it provides it its visitors. You can see the entire lake, the village of Bled, and even the amazingly beautiful peaks of the Alps. Totally worth it. There is a coffee/restaurant and a gift shop, of course… as well as a talking parrot.
If you want to visit the small island in the middle you the lake, you have to catch one of the many tourist boats. They are big boats which offer lake tours. I have never been to the island but it looks very beautiful. There is a small church on it.
Bohinj
Bohinj is another lake not far from Bled (I think about twenty kilometers). It is even prettier because it is situated in the Julian Alps and I believe it is inside of a natural park, so there are not many  buildings around it. It has crystal clear  water and the surrounding area is very green. The whole place is peaceful and quiet, so it is not quite suitable for parties, but you would definitely love it if you are looking for a  break in the nature. I saw some people  from either Germany or Austria who were practicing canoeing in Bohinj. The lake is surrounded by amazing snow peaks. Truly amazing. The area is great for long walks in the nature. The only problem with the Bohinj lake area is that there are not many restaurants and the few there are, are a bit expensive. Still, if you are doing one of those fast trips most students do and are visiting both Bled and Bohinj in one day, you might just eat at a pizza place in Bled. I cannot remember the name right now but there is one pizza place which works with student coupons. This information could be easily obtained on the student coupons website (http://www.studentska-prehrana.si/Pages/News.aspx).
For its small area, Slovenia is very very beautiful and diverse in nature. The most amazing part of the country (in my very personal opinion) is the Alpine region. Slovenia has part of the Alps and I assure you, they are worth seeing. There is also a seaside, but the coastal line is quite short. If I am not mistaken, it is about forty kilometers, nothing more. The South-Western region has green regions, filled with the famous Slovenian caves, while to the East there are valleys. Where to start then?
Ljubljana
Ljubljana is Slovenia's capital city. It is a rather small city with about 280.000 inhabitants. I, personally, love Ljubljana because of its classic central part, its amazing castle, and its vicinity to rural areas. Similarly to several European capitals, Ljubljana has a river. It is narrow one but it gives this nice sensation only old city built on river banks have. The name of the river is almost the same as the one of the city itself: Ljubljanica River. It might be narrow, but you could still do a boat trip. Boats filled with curious tourists holding cameras, are often seen. The most central part of Ljubljana is famous for its Troini most (or triple bridge). It consists of three bridges which come together at a certain point. The main square has a beautiful red church… or it is maybe more of a pink church. It is quite nice to see, I promise. The river banks are full of small restaurants and coffee shops. I have never had coffee there but I have always looked at these shops with a bit of envy. They are so nice, especially during the spring and summer evenings. Five minutes walking and you are at of Ljubljana's main university building. Quite essential to see as well, since it is very beautiful. Besides, it is the oldest university in Slovenia. The square in front of the university is popular among the students. If you go there when the weather is warm, you will see many young people sitting on the grass or at the benches. If you decide to go the right from the main building you will reach Tivoli Park. It is Ljubljana's mestni (or local, biggest, central) park. What I really love about Tivoli is that there often are photo exhibitions, showing impressive sights from both Slovenia and the world. The park itself is very green and nice for a pick nick.  If I have to name my favorite park in Ljubljana though, I would say the hill of Ljubljanski grad (the Ljubljana castle). It is a living area with lots of nice houses but there are also places where you could sit and enjoy an amazing view towards the city and the mountains. The Alpine region is near Ljubljana so you actually get to see the peaks of the Alps. The castle itself is nice, but nothing really special. You could enter and see it from the outside but I, personally prefer the castle walls, from which I could also observe the city from above. There is a restaurant and a gift shop, so do not worry, it is well suited for the tourists.
If you would like to see something a bit more alternative, you could go to Metelkova. It is sort of a squator an autonomous social center, situated in ex-military buildings and a prison. The place is very artistic, full of graffiti and weird sculptures. There are bars inside some of the buildings, as well as a hostel. The hostel, Celica, was named "world's hippiest hostel" and it is. The rooms are ex-prison cells but nicely reformed. I believe most or all of the rooms are shared between three to four people. The whole place is very, very artistic and favorite to many local young people (and some foreigners as well). Metelkova is very near Ljubljana's main train station which you will probably have to see, unless you are travelling by car. The train station is a pretty building, surrounded by 24-hour fast food bars and coffee shops. Even if you have to wait for a late train (or a very early one), you will not remain hungry. The problem with Ljubljana's train station is that it is closed from about 22.00 h p.m. (I think it was) until 6.00 h a.m. and that really sucks if you want to catch some of the first trains in the morning. The main bus station is right next to the train station, so if you have decided on a bus rather than a train, look no more, it is right there. Still, this is not such great news because the bus station is also closed during the night. 
The famous caves
Have you ever heard of Postojnska jama? No? Well, it is quite famous. The South-Eastern region of Slovenia is full of beautiful caves, some of which are open for tourist visits. The biggest and most worldly known is Postojnska jama, situated in the village of Postojna. It is a huge cave with amazing galleries and natural formations. The problem is that you have to pay 21 Euros and that is a lot for a cave. Still, I can say it is quite worth it because Postojnska is very impressive. After you enter, you hop on a train and you are ready for an adventure. I am not a big fan of the train because it has ruined parts of the cave. I mean parts of the cave and its natural formations had to be changed and destroyed in order for the train to be built. Anyhow, once you arrive inside Postojnska, you can choose a guided tour according to your language of preference. There are English, Slovene, Spanish, Italian, German, and French I think (but I am not absolutely sure). Then you follow your guide while he or she tells you the story of the cave, how it was formed, how it was discovered and so on… You will see amazing stuff, such as long thin stalactites (these are the ones hanging from the ceiling), that resemble spaghetti… or, big thick stalagmites, all white and shiny. At the end of the tour you could also see the famous cheloveska ribica which is an animal that lives in the cave. It has the color of human skin and could survive months without food. Oh, and at the exit there is a gift shop… inside the cave itself. Now, this I did not like, but it is my personal opinion.
Another cave you should see is Skocianska jama. It is not as famous as Postojnska but according to some, it is even more beautiful. I like it a lot because there is a huge underground canyon and that is something you do not get to see every single day. This time the tour is not by train. You have to walk right from the start. There is a short and a long tour. The longer tour shows you more stuff, that's it. The cave itself is really beautiful; again there are many natural formations and the big canyon I already mentioned. It is deep and a bit scary but definitely worth seeing. When you exit the cave you could either catch an elevator that would get you to your starting point, or you could decide to go to back walking, which is the better option. You see beautiful waterfalls and views. At the end of the walking trail there are several small museums, dedicated to caving.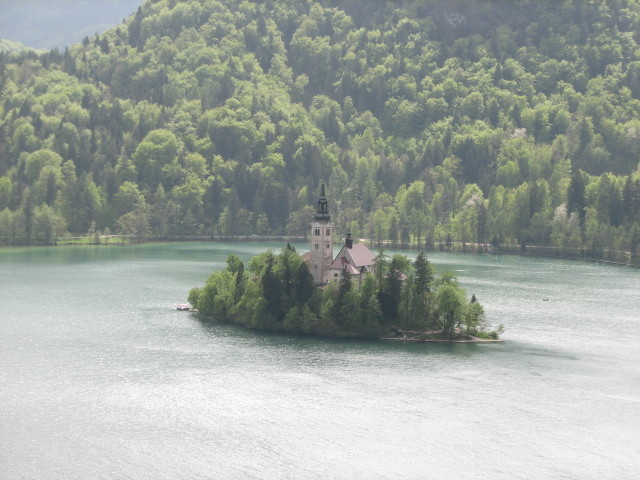 ---
Photo gallery

---
Want to have your own Erasmus blog?
If you are experiencing living abroad, you're an avid traveller or want to promote the city where you live... create your own blog and share your adventures!
I want to create my Erasmus blog! →