The amazing colours of Portugal
You surely have heard that in Portugal there are some amazing sunsets, maybe the most beautiful in Western Europe. Thanks to its geographic location, one could also say a strategic location, Portugal indeed enjoys some fascinating, romantic and unforgettable sunsets. Today I'll show you some of my pictures to let you see by yourself some of the best sunsets I had the possibility to watch in the country; furthermore, in case you find yourselves in the district of Coimbra, I'll suggest you some of the panoramic points from where better admiring sunrise or sunset. No matter if you are alone or in a sweet company, you'll enjoy it no matter what.
O pôr do sol no Porto
One of my favourites is the one in Porto.
In many say that from Porto you can admire the most amazing sunset in whole Portugal. In my opinion, it's been one of the best I have seen in whole of my life.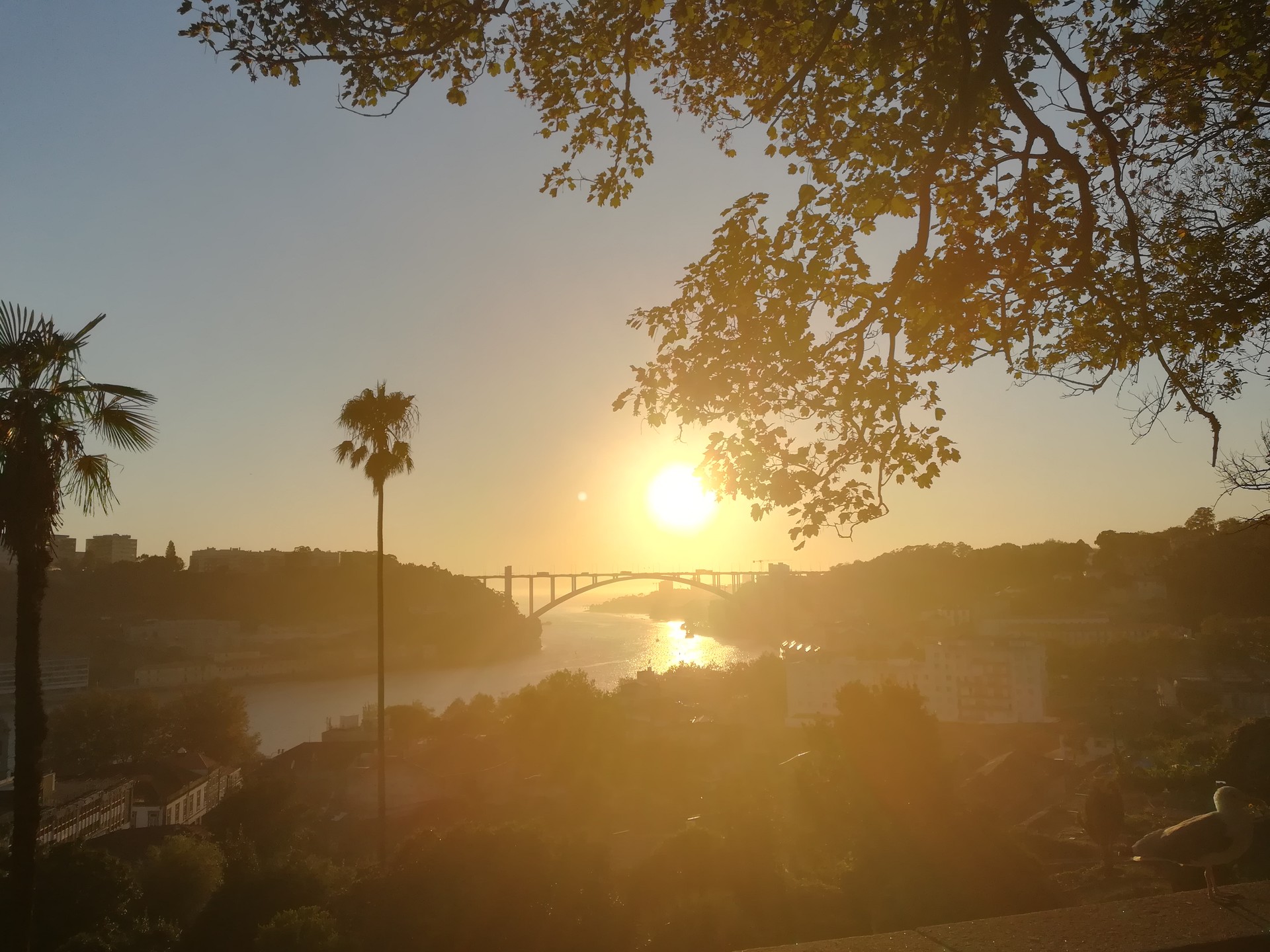 I took this picture in Porto, in the Jardins do Palácio de Cristal (Gardens of the Crystal Palace). It was a warm day at the end of August. I was there for work reasons and I had 4/5 hours before returning to Coimbra. I was near the Casa da Música. Being myself in a pretty new and well-kept area, I decided to have a nice, long walk to enjoy that calm and neat district. I walked so much that eventually I found myself at the entrance of the Gardens. I had been several times in Porto, but never had I visited those gardens. I entered and walked for some minutes, making my way through taking-selfies tourists that were occupying all the gardens. Finally, I arrived in a place where the sight that I found was astonishing. I sat under a tree to enjoy that sunset whose colours I will not easily forget. Listening to my favorite music, I spend there almost one hour. The panoramic point where I was wasn't so busy, I guess that's because it's not so easy to reach, you in fact have to walk through the deepest parts of the gardens. Now I couldn't know how to reach it, I only remember that the place is close to a secondary entrance, nearby a bar-restaurant and the Museu Romântico da Quinta da Macieirinha.
Next picture is taken nearby the Museu do Carro Elétrico.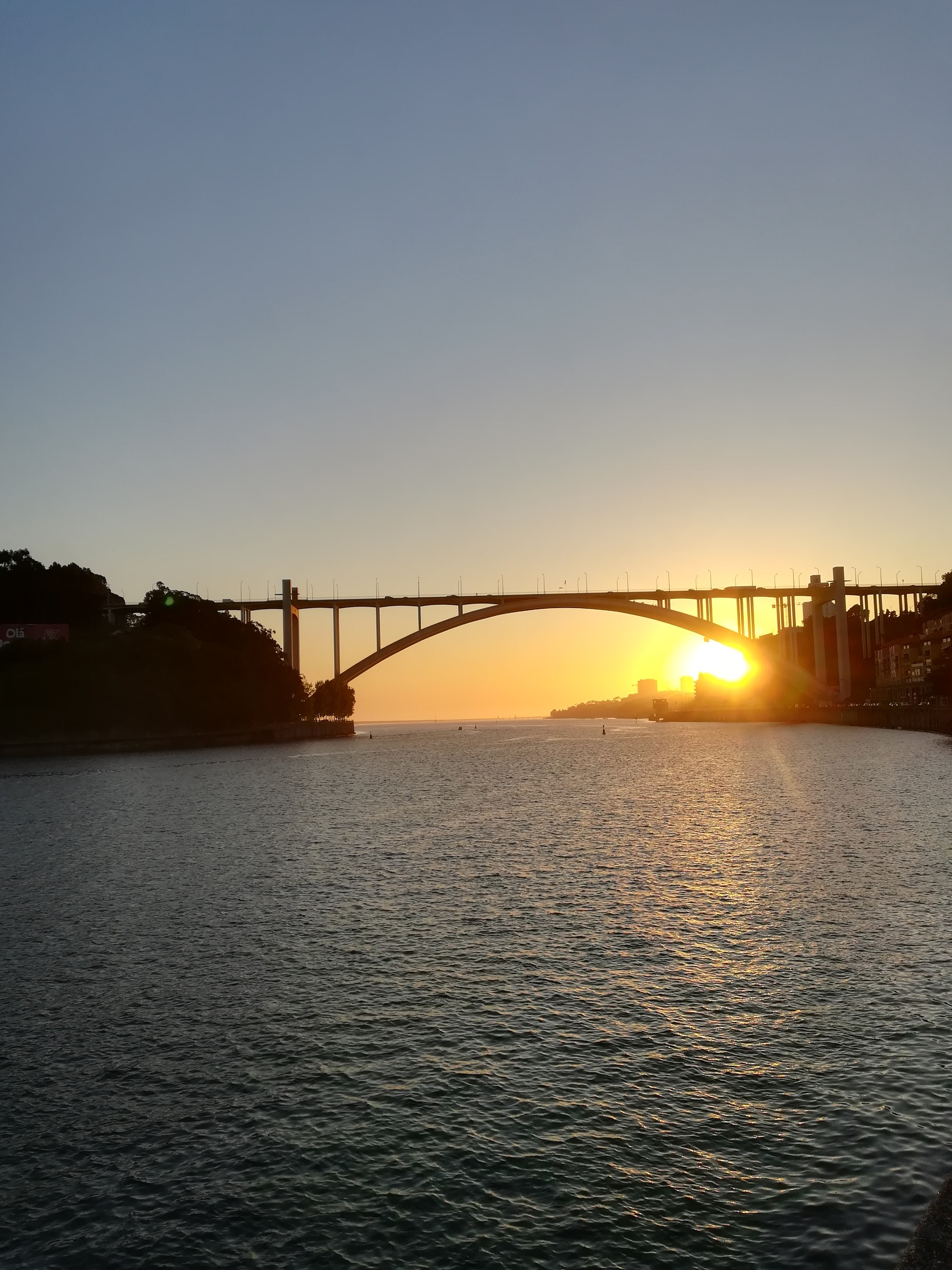 I admit that I was lost. After having visited the Gardens I talked you about before, I was naively heading West, toward the ocean, while I was convinced of going toward the city centre and the famous Dom Luis bridge. When I figured out that I was lost, and let me say that I didn't have any map or internet connection, it was already too late and I was really too far from the city centre. Anyway, I was astonished but this amazing view of the Ponte Arrábida, behind which laid the open ocean.
Then, I walked until I reached the famous Ponte Dom Luís I. In one day, the same sunset offered me different gradients of colours, it was an amazing experience; I will never forget that day, that certainly repaid me of all the km I walked, that didn't even bother me. Close to the bridge there is a small road, on the riverside, plenty of small restaurants. I looked for a place clear of tourists and tables and I took some pictures.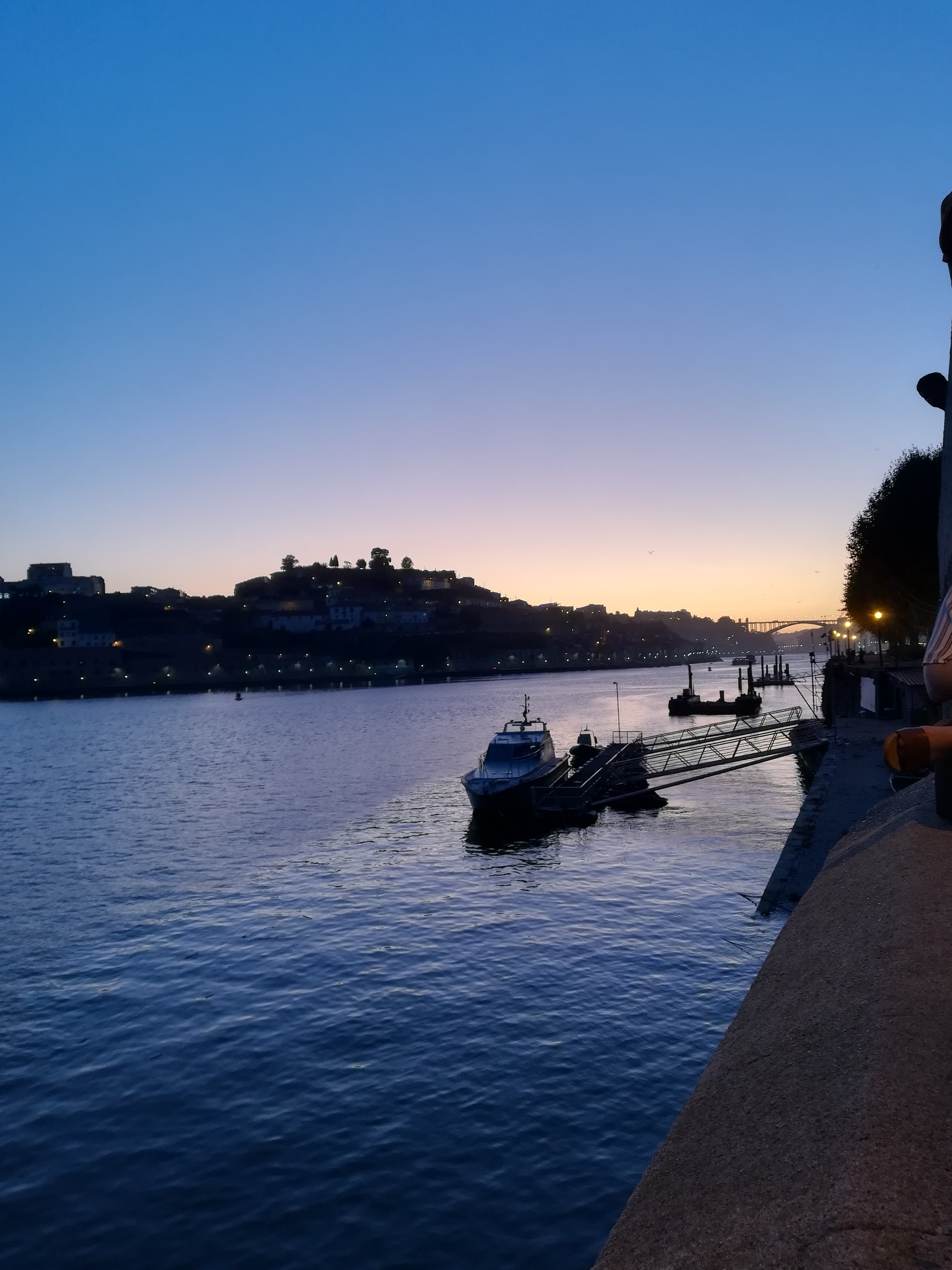 The amazing colours of Coimbra
I took this picture from my home.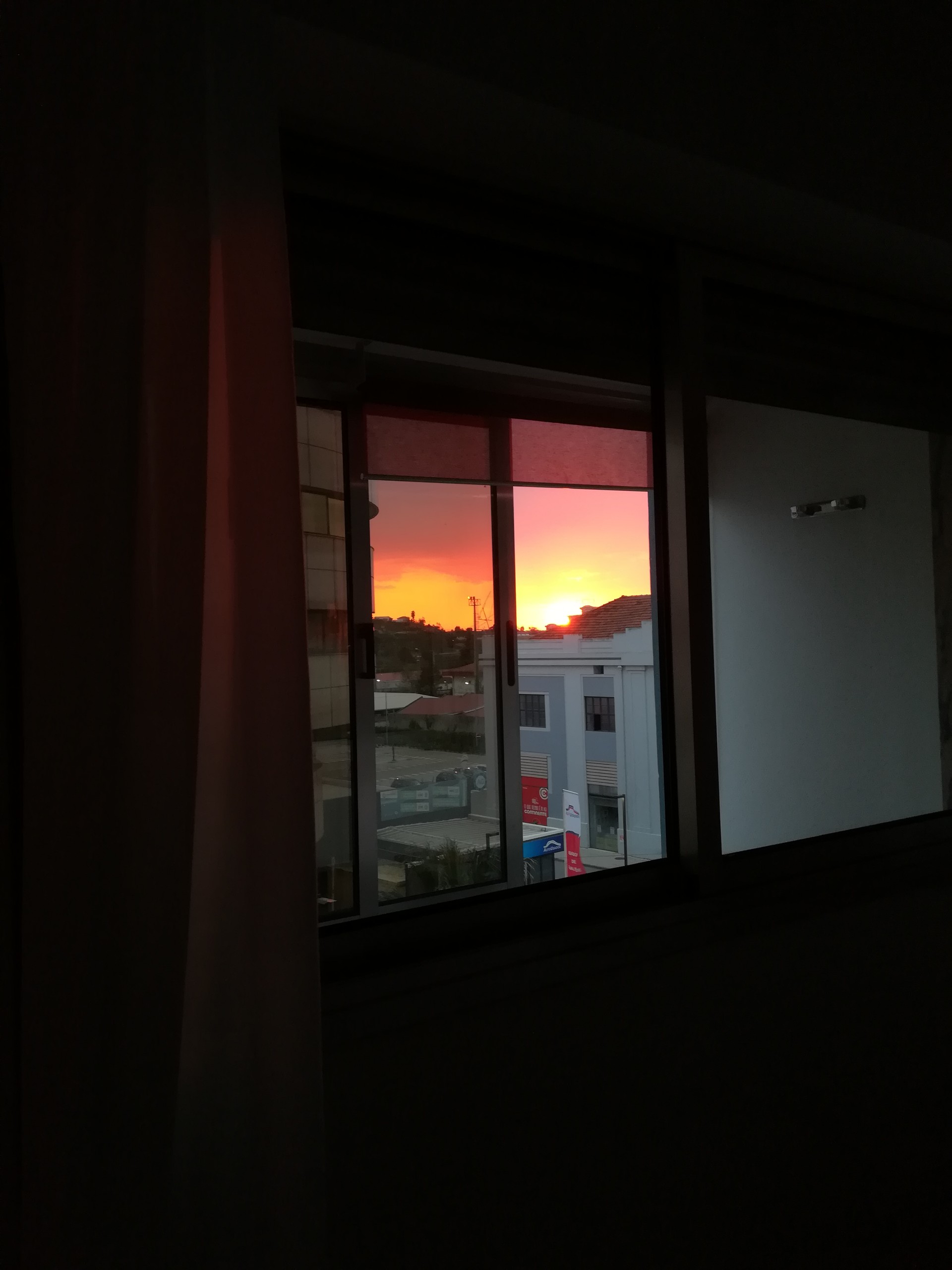 I had a nice balcony from which I use to watch the sunset, whit my friends. This house is located in the Baixa of Coimbra, from where you usually don't have a nice view of the river. However, from my 4th-floor apartment, I could see a small corner of the river and the hill where is located the Forum Coimbra but I could especially enjoy an amazing sunset, with some colours that I have seen only there in Coimbra.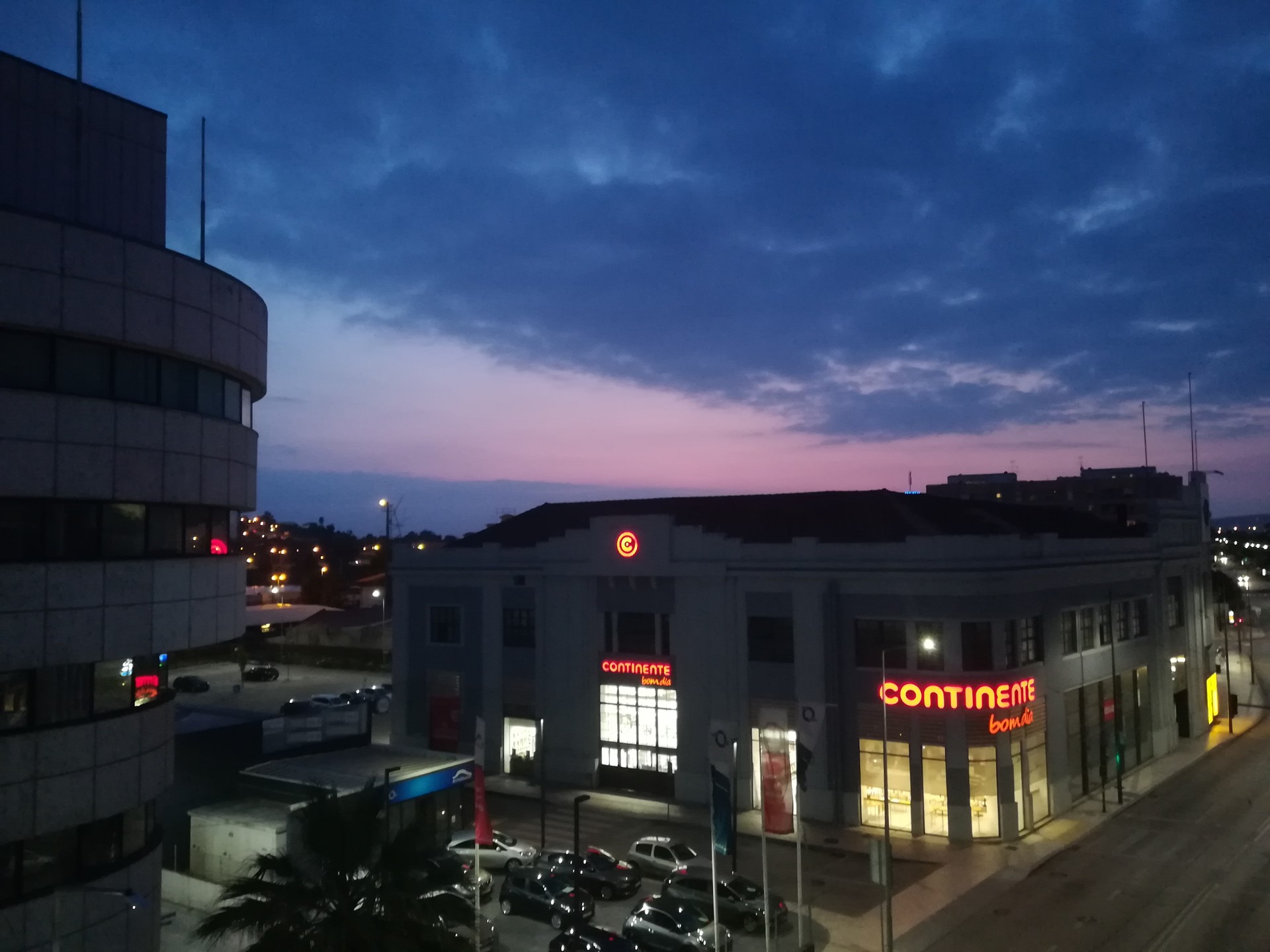 I know, the next picture seems fake, but it's not.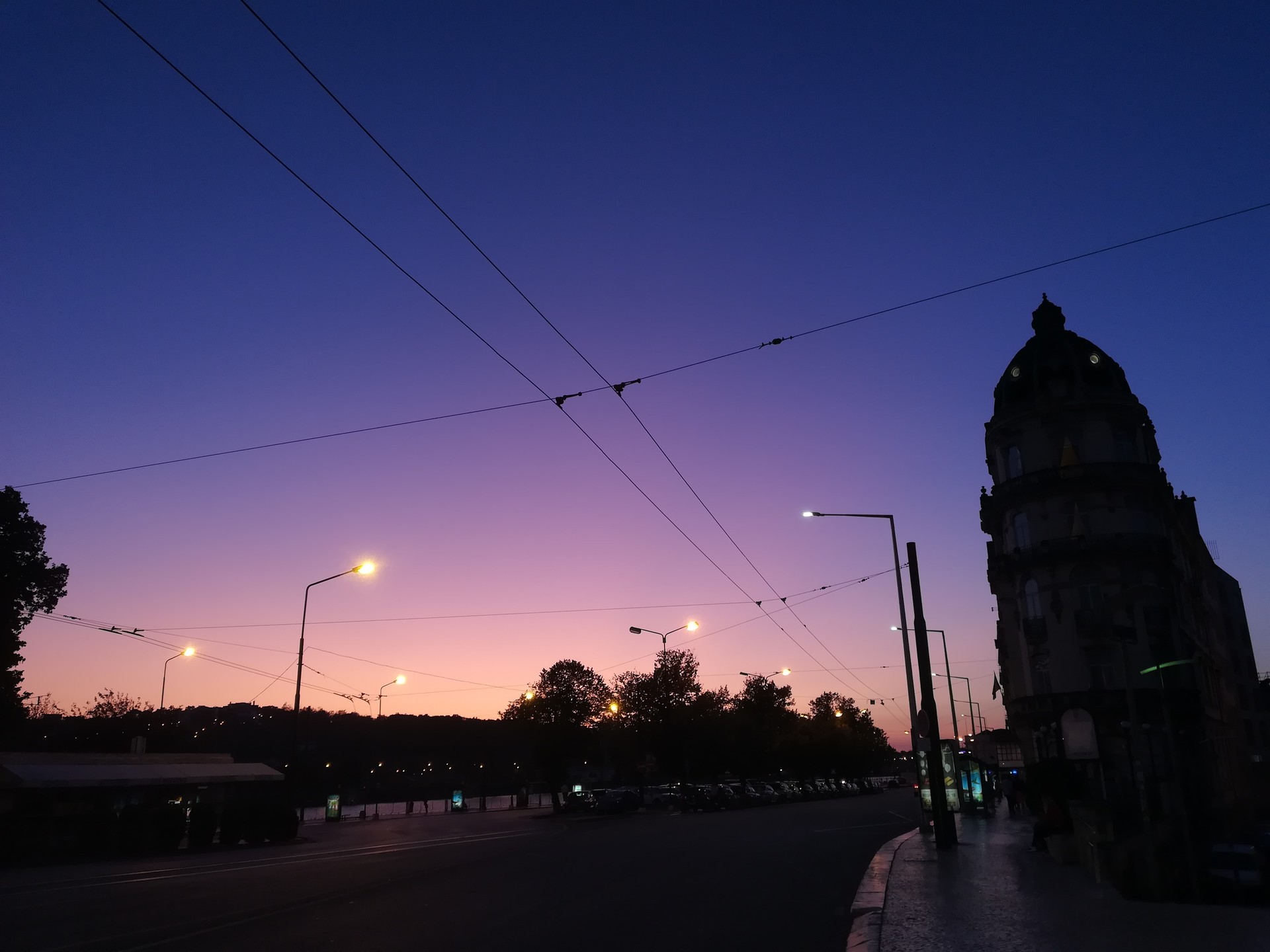 These are the true colours of Coimbra, my lovely city. If you go there, you surely will have a walk along the Rio Mondego. In summer, between 8 and 9 pm, if you do it, you will enjoy these wonderful colours.
Another astonishing panoramic point is in Rua Dr. Dias Ferreira, a street close to the second apartment in which I moved in. Going up to this street you will arrive, in its highest point, at a crossing with some stairs that go down directly in Baixa. From the top of those stairs you can admire this: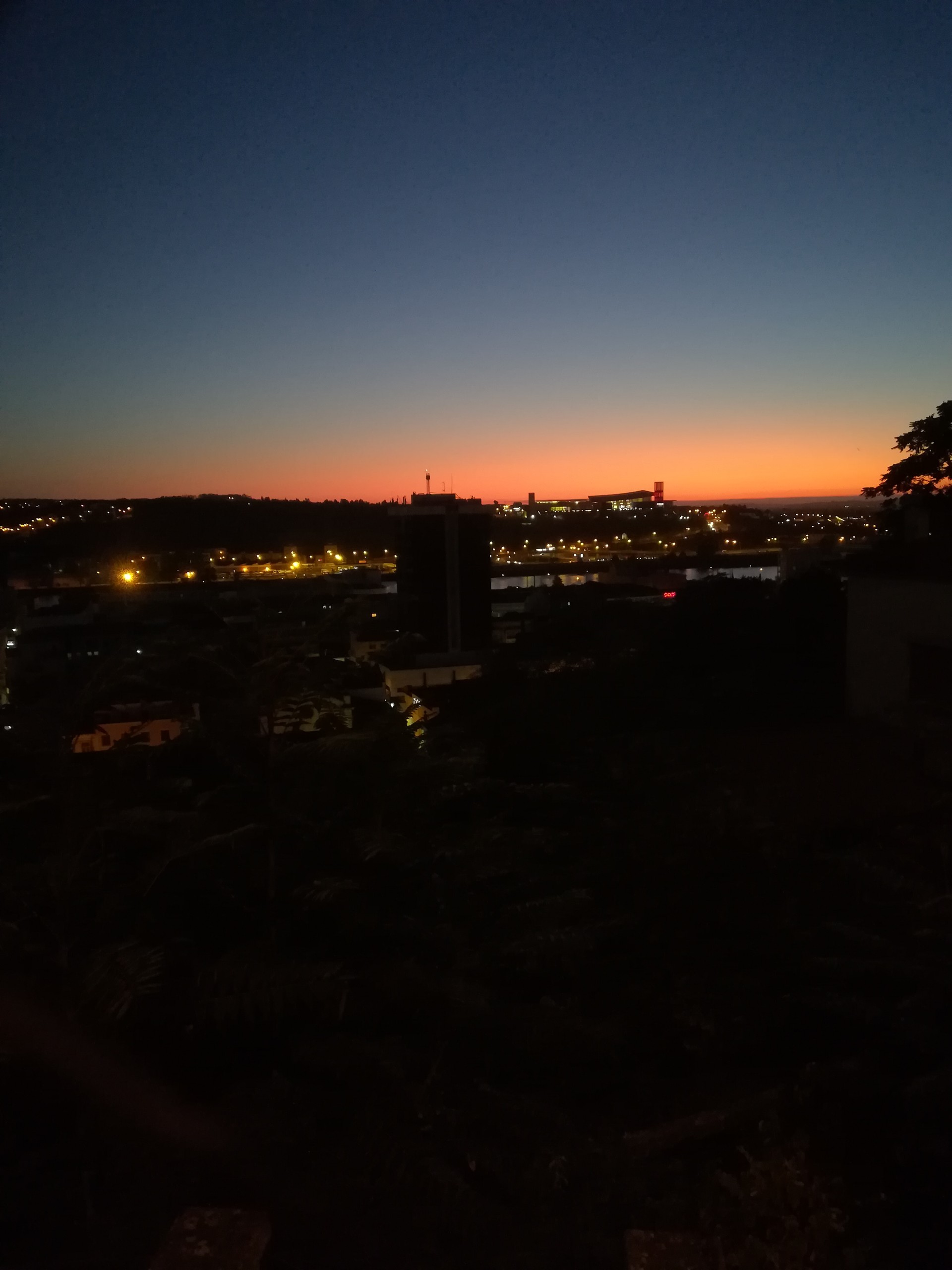 You'll have in front of you the whole Baixa, the river and the hills, behind those you'll see the fading sun.
In the University area exist many other panoramic points: the tower of the Universidade de Coimbra, the famous balcony of the Museu Nacional Machado de Castro... But my favourite is located in a corner of Largo Porta Férrea, next to the Facultad de Letras, from where it's possible to admire a big area behind the river that includes Gorgulhão, Bencanta and the Fórum Coimbra.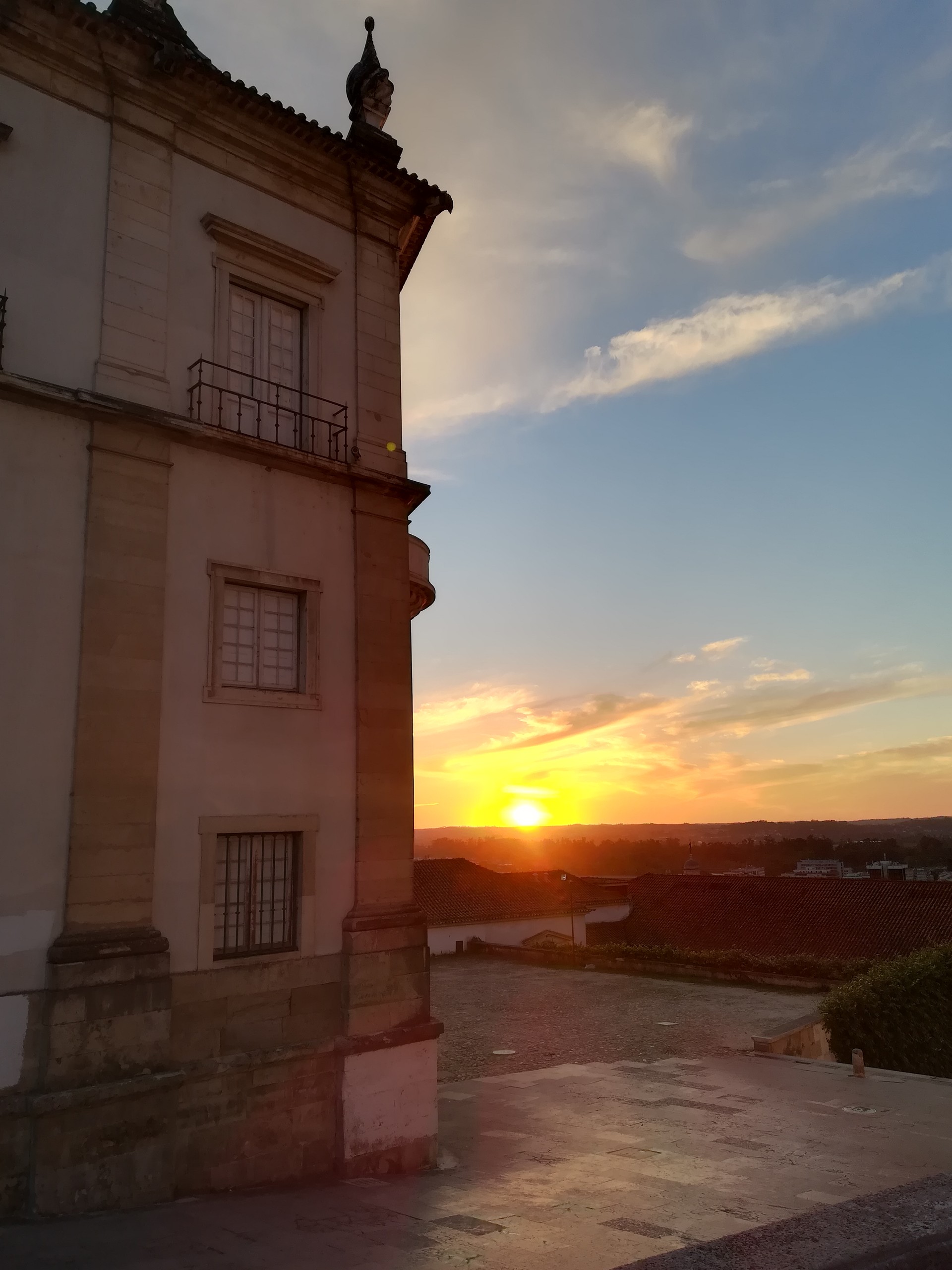 I spent here, both in the mornings and afternoons, my coffee breaks between the lectures. Sometimes I remained at the University just to enjoy this.
Also going up toward the University area it's possible to admire the sunset between the houses of the city centre. The more you go up, the better you will see it, like in this picture: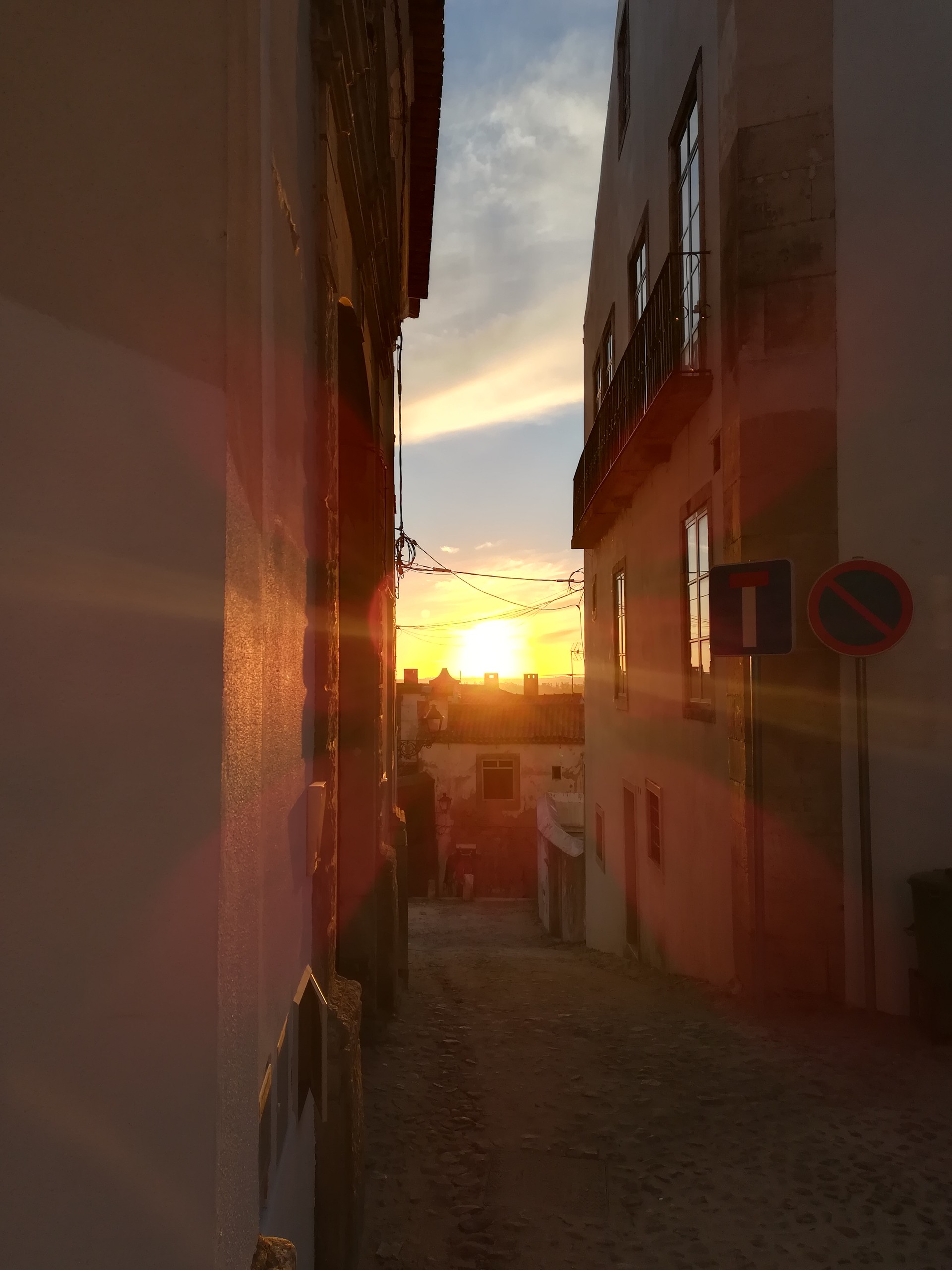 Close to Praça da República, going down along Avenida Sá da Bandeira, you find, on your righy, a shopping mall, the Centro Comercial Avenida, that has a bar with terrace at the sixth floor.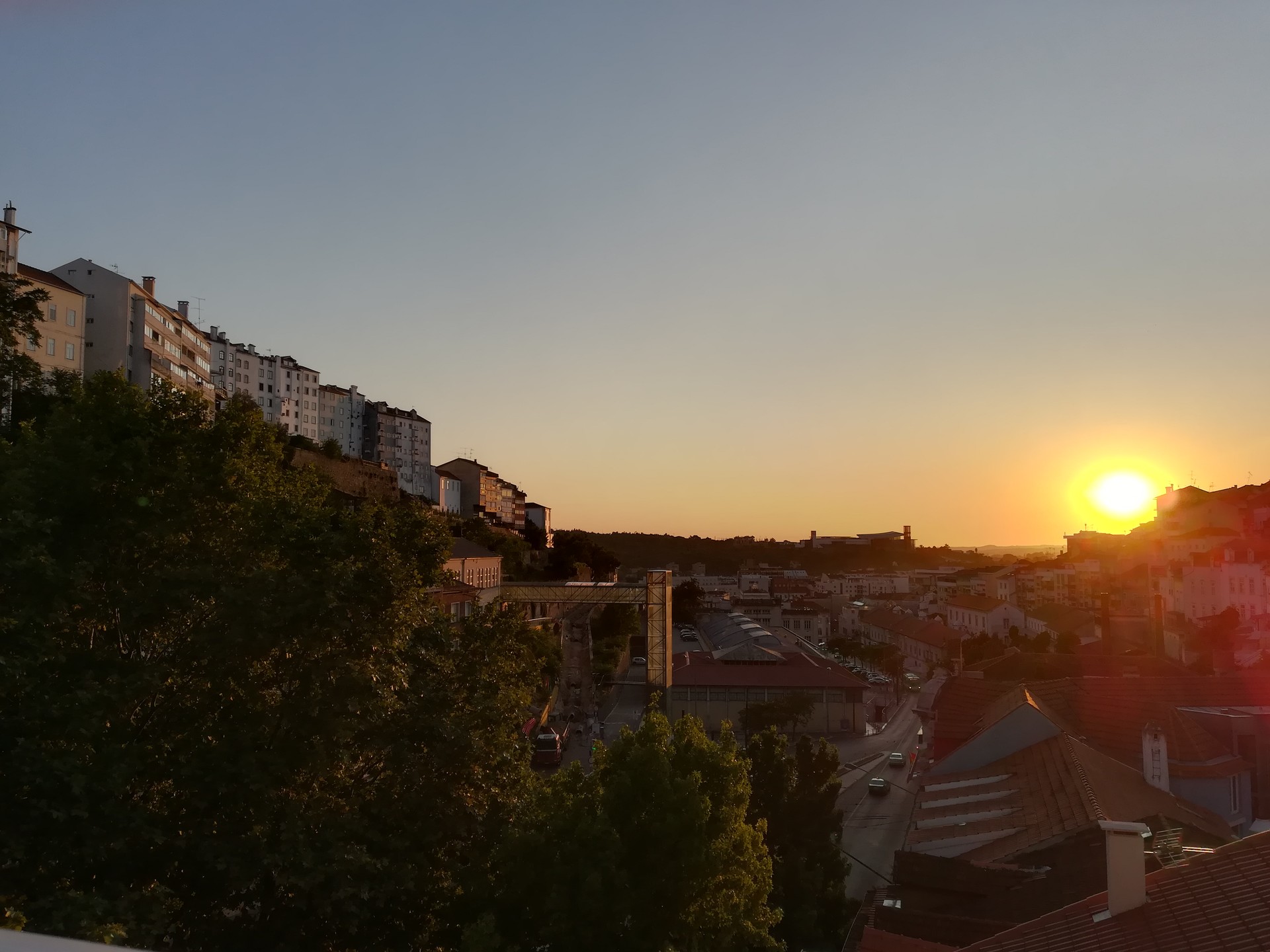 This is the view you can enjoy from the terrace; you'll have a pretty bug view on the Baixa, the Universidade de Coimbra on your right and the tree-lined avenue Sá da Bandeira below.
h2>Sunset on the beach at Figueira da Foz
This sunset is the one that among all will remain the most in my heart: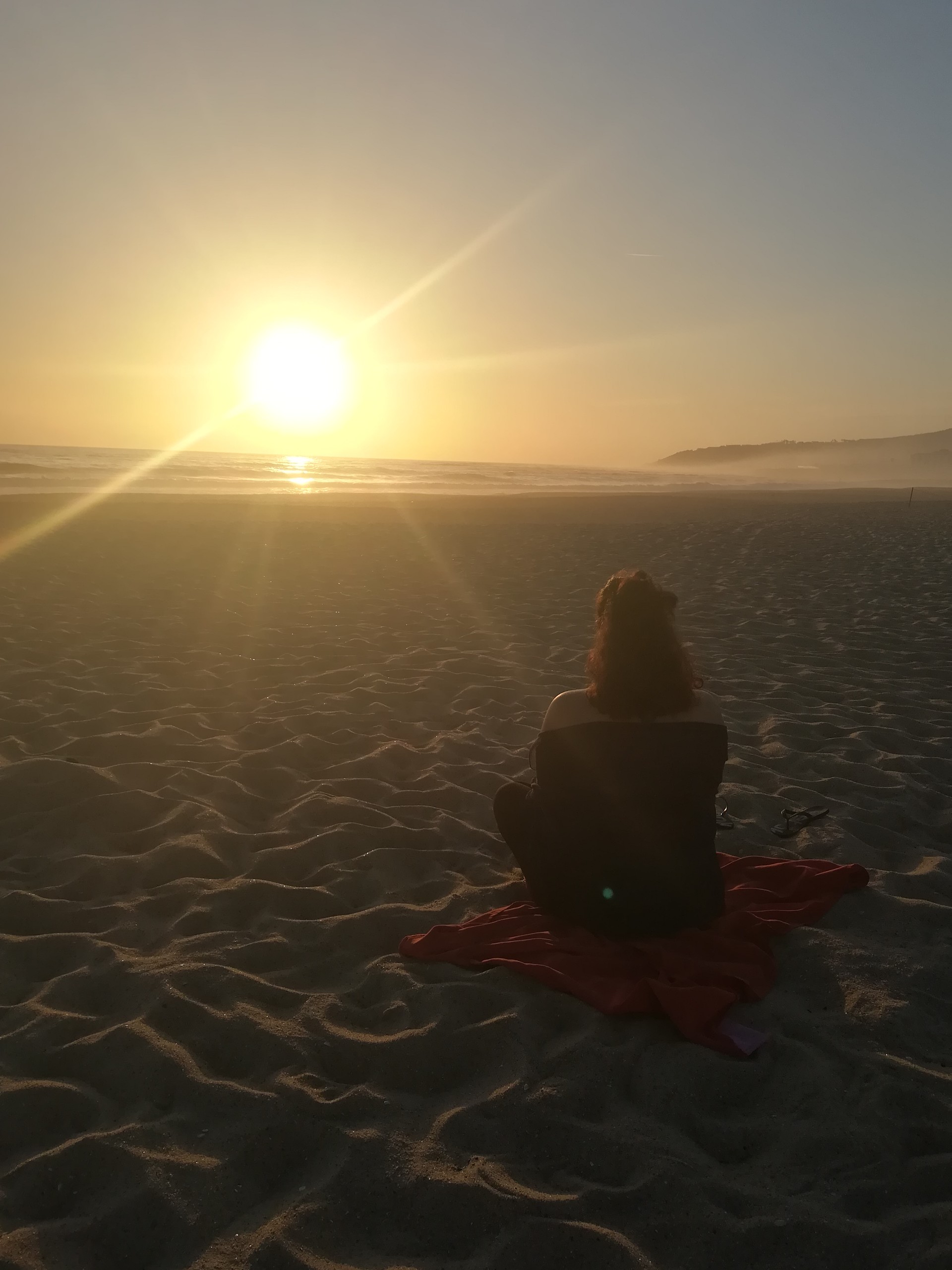 I took this picture from Figueira da Foz. I was there with some friends to spend a day at the beach. in the middle of the summer, along the beach, if you want to admire the sunset from its start to its end, you have to wait until 9 9.30 pm. This led us to take the train back to Coimbra at midnight!
I have hundreds of pictures of different sunsets seen in Portugal. I know, photographing sunsets is the most obvious thing of this world, but these really are the best I ever saw in my life and I really wanted to share these pictures with you.
---
Photo gallery
---
---
Content available in other languages
Want to have your own Erasmus blog?
If you are experiencing living abroad, you're an avid traveller or want to promote the city where you live... create your own blog and share your adventures!
I want to create my Erasmus blog! →