La Merced, the door to my jungle adventure!
Hello everyone, I hope that you are very well! Today I want to tell you about the first city that I travelled around on my visit to the Central Jungle of Peru. This city is called La Merced and it is in the Junín district, 6 hours from Lima by bus. This photo is one of the most beautiful places that I have visited in my country.
At the minute La Merced and its surrounding area is visited by Peruvians as much as foreigners, internal tourism is what dominates here. If you are a traveller that loves nature to its maximum expression, then La Merced is a compulsory stop during your stay in Peru. Not only for its nature but also because it is a very economic destination with a lot of things just round the corner. I want to tell you, with a lot of enthusiasm that La Merced is the gate at the entrance to the central jungle of Peru
Without further introduction, dear friends, lets start with my experience in this amazing part of Peru. Grab a planner and make a note of the places!
The bus broke down in Tarma:
My desire to get to know this part of Peru, also known as Chanchamayo, arose thanks to my Tourism marketing course and since I had never passed through here before, it was the perfect opportunity to head off on an adventure. My journey started on the night of the 3rd of March and it really was quite an adventure since my car, which had to go straight to Chanchamayo, broke down on the way. I had to stay in the city of Tarma, where I had already stayed with my friends before. When I arrived in Tarma, it was already almost 7 in the morning. So we waited for about 20 minutes for the bus to be repaired. However, since this didn't happen, the bus company were left with no other choice, than to give us a refund for part of the price of the journey so we could look for another form of transport. It was this that made my journey, which was supposed to be six hours, end up being practically nine hours since the buses engine was so slow. So between making the stop in Tarma and arriving in La Merced, it was now almost 10 in the morning.
The name of the transport company was Junín and I remember this because just before taking the bus from Lima, I took a photo of the bus and two main characters of this week long trip. Here is my friends suitcase and my rucksack. Look at the big difference! I survived this trip with putting all of my things in this rucksack. I have always tried to be practical on my travels and only take what is essential.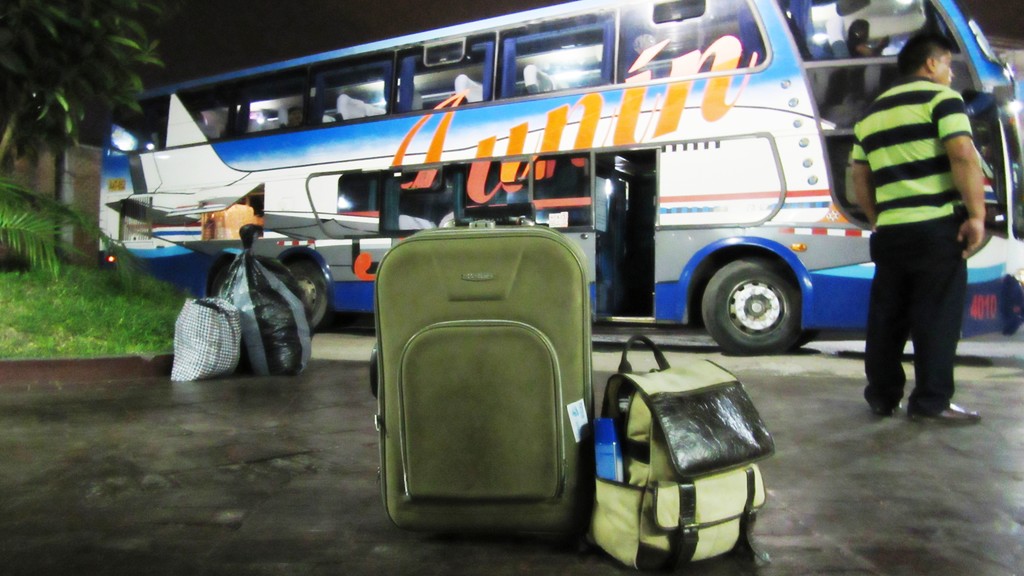 I recommend that you always do the same, every time you travel around Peru, as well as in other trips that you make. There is nothing better than carrying your small rucksack on your shoulder with the basics, since no one knows what is going to happened on the way. I can honestly tell you that many things have happened to me on the roads of the central jungle, due to the fact that we went in the rain season. There were a lot of landslides, where we had to put our stamina to the test, crossing the road in the middle of the mud and stones while carrying a rucksack. I really can't complain because it is a part of the journey that, now I remember fondly. As they say, no one can take away your experience!
The trip was simply majestic!
Going in the rainy season meant that the nature around us was able to collect the water which allowed it to continue growing in a natural way. In this case, the Tarma mountain range had this Andean green colour, thanks to a pasture known as "Ichu". Also one of the trees that stood out the most, in the Andean landscape of Peru was the eucalyptus. Allow me to share with you the following image where you can see part of the view of the road. Ad you can see, it is not all bad when you go in the rainy season, despite there being some sunny days: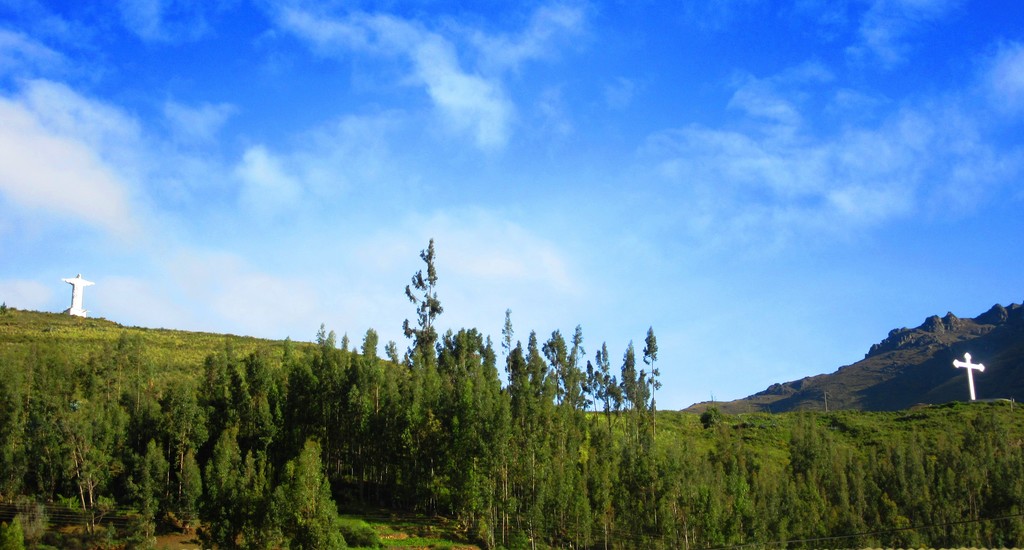 The interesting thing about travelling on the road is that you can go seeing how the nature changes little by little and that was what we seen in the morning traveling from Tarma to La Merced. The rivers that go across the road, the small towns which are a delight to see for any traveller who loves to look at nature. Here is one of the views from the journey, where the Andean territory and what is known as the brow of the Peruvian jungle, starts to mix: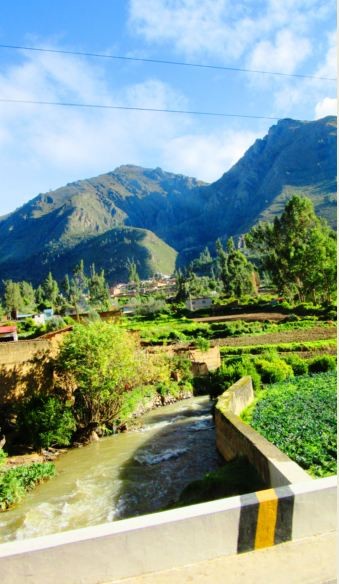 Without a doubt, Peru is such a rich country that walking along its roads, is an invitation to explore its biodiversity. We were so lucky to find a waterfall at the side of the road, welcoming us to what would be the area of Chanchamayo. One of the greenest areas in Peru, which was so close to Lima that in less than one day, we went from being at the coast, passed through the mountains and we were now in the jungle where our journey was about to start: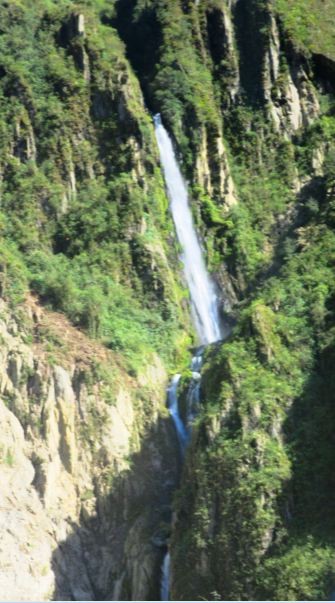 As the new car that we had taken from Tarma moved forward, we realised that the mountains were starting to combine with the trees is an incredible combination that reminded me a lot of the mountains in the same Sanctuary of Machu Picchu. Which is also found in the jungle brow. Look for yourself, at the beauty of this area of Peru: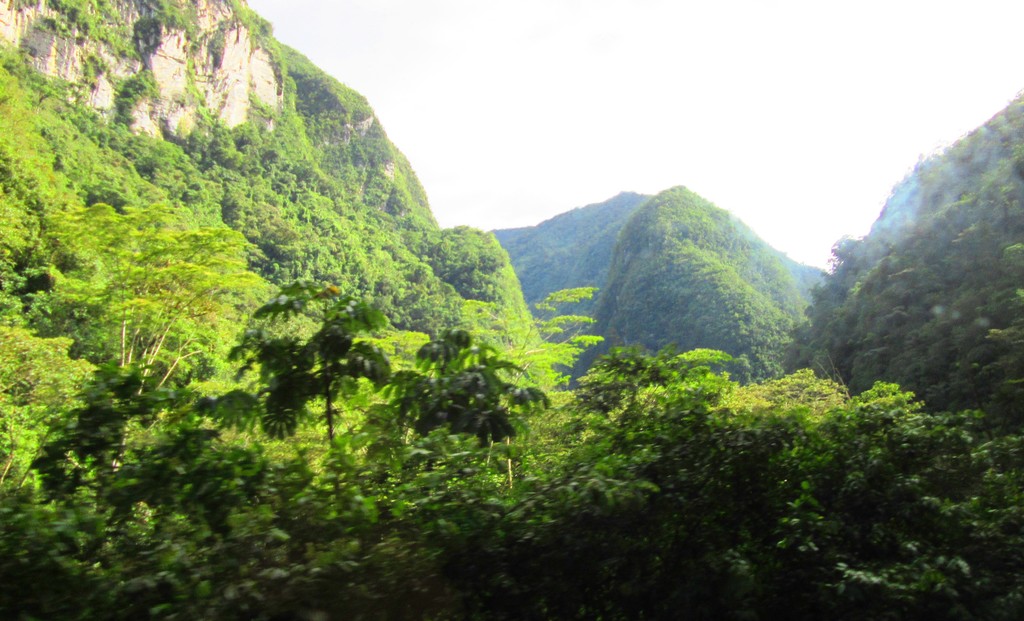 Something that you know, dear friends, is that in the central jungle area of Peru, you will find a lot of mototaxis and the city of La Merced is no exception. When we arrived at the bus station which is very close to the center, my friend had already found accommodation for us to stay at. So we finally stayed in accommodation that had a pool and it cost around 30 soles per person, per night. The rooms were basic: 2 beds, a TV, a private bathroom and an impressive view of the mountain, as if we were amazing faithful guardians of this jungle city.
As you can see from the photo, the hotel still had an area that was under construction. Also there was only one other family staying there, so we basically had the pool to ourselves. Then the following day we decided to spend the day in the pool since the sun merited it. When I travel I really try to find the cheapest way possible, and I am sure that when you go to La Merced, you will find much cheaper accommodation but the price was reasonable and not too expensive, taking into account that breakfast was included. However, this is not a problem since in La Merced, going around the markets is the perfect way to find delicious food at a good price and then you can start to taste the delicious stews of the Peruvian jungle.
To get to the centre we always had to take a mototaxi from where we were staying and in less than 10 minutes, we found ourselves in the heart of the city. You don't have to worry about looking out for what tours of the city they offer since, someone will come to you, knowing that you are a tourist. Being a medium sized town, the people who offer the tourist packages are always waiting for any new visitor that arrives to provide them with all of the options that there are in La Merced. My advice is that it is better to go in a group, you can ask for a favourable discount. In Peru, price can always be changed and the tours for example, the tour we made of the surrounding area of La Merced, cost us around 35 soles per person. This tour included very interesting destinations were you could basically see nature, waterfalls, animals and the native communities that lived in the area.
Kimiri bridge and its spectacular view: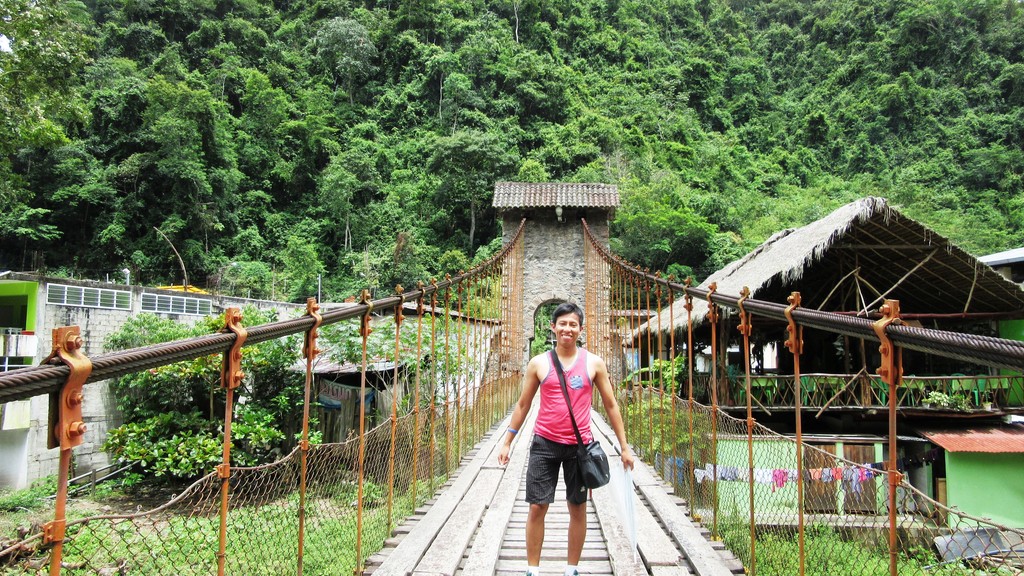 One of the first places that we visited was a stone bridge known as Kimiri suspension bridge which is located just 3 kilometres from the city of La Merced. Below the bridge you can see the fast-flowing river of the Chanchamayo jungle. On the other hand, I can tell you that the bridge is approximately 75 metres long and as you can see it is uncompromisingly built. We stayed on this bridge for roughly 30 minutes, and when we crossed we found some tree roots that were perfectly embedded on the rocks, where you could take a photo. I did take a photo but it was with my friends camera so at the minute I don't have it to show you. Anyway, to go up onto the roots is all part of the adventure of crossing this bridge and you have to do it. Also enjoy breathing in the pure and clear air as much as you can! On the other hand, I also have to point out that you need to wear light clothes here, with the heat of the jungle.
Visiting Pepe Lucho:
I was a real experience to meet Pepelucho, who I have already dedicated a special post, just for him. So you can meet Pepelucho on your journey through La Merced. This little jungle animal is known as a machetero, and lives in one of the most beautiful areas of La Merced where for 1 sol, you can take a photo to remember him.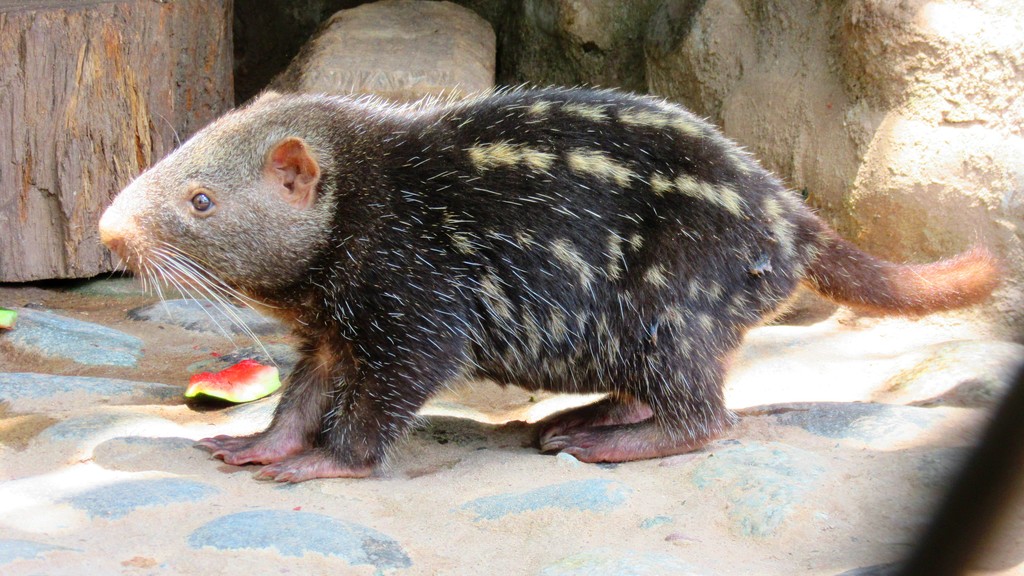 "Velo de la Novia" waterfall: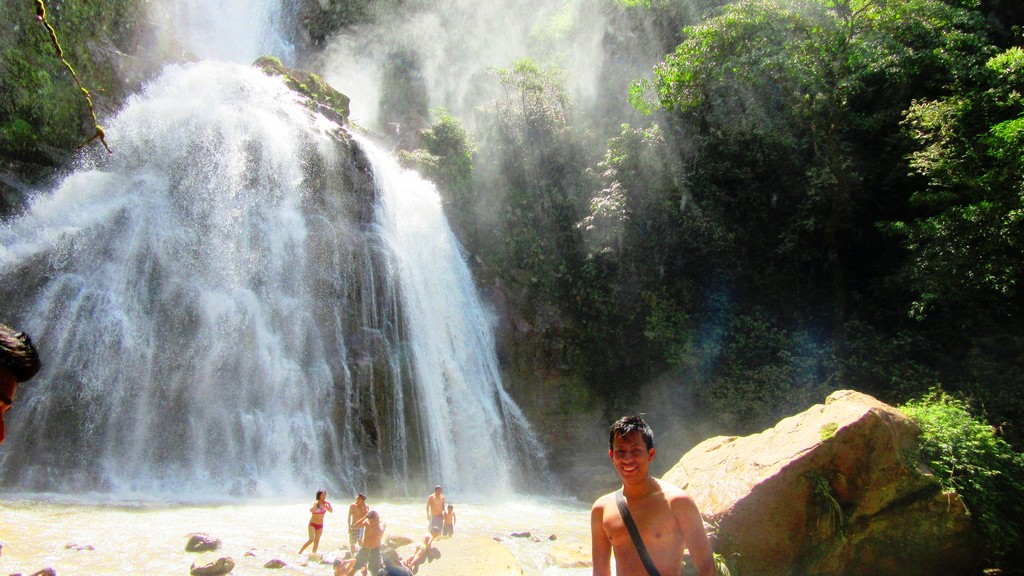 Another point that we could visit in La Merced was the impressive Bayoz waterfall with a unique landscape. To get there it was only a 30-40 minute walk and from there we took incredible photos and you could stay up inside the waterfall for 40 minutes. The best thing was that you can do when you come here, is to move close to the waterfall and feel the full force of mother nature hitting your back. I assure you that you will feel a unique natural hydrotherapy that will keep you feeling relaxed for the following months.
After going past the waterfall of Bayoz, we also went on to see another waterfall called Velo de la Novia, in this case you couldn't go into it, you could only look at it from a viewpoint: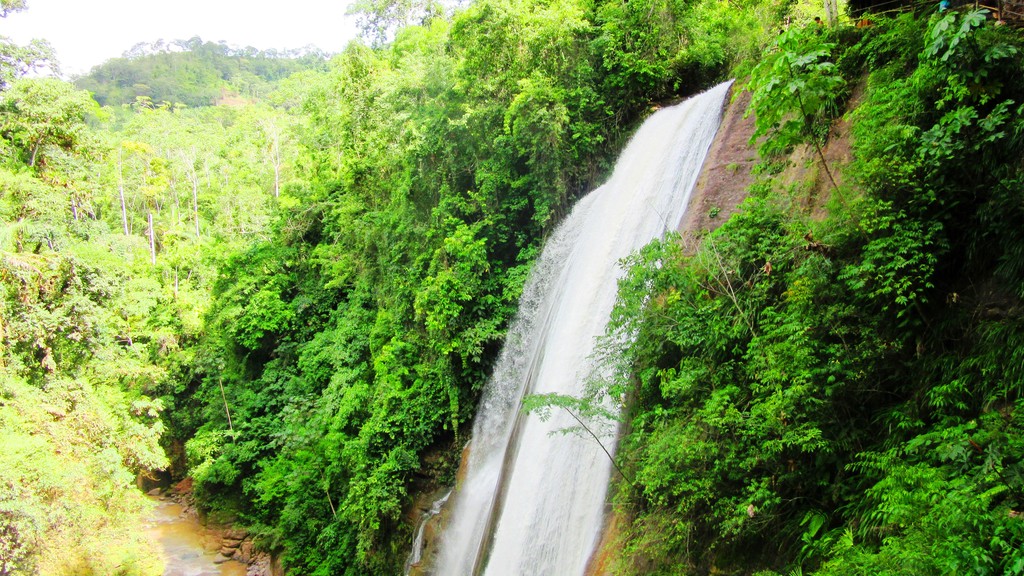 At the entrance to both places, you will find people selling bathing costumes, in case you forgot to take them for this trip. Also it is recommended that come in shoes and bring your sandals in a bag or in your backpack so you can make the most of the scenery. Remember that you will find little monkey and you can shake his hand and he will hold onto you with his tail.
Food of the jungle, its charm: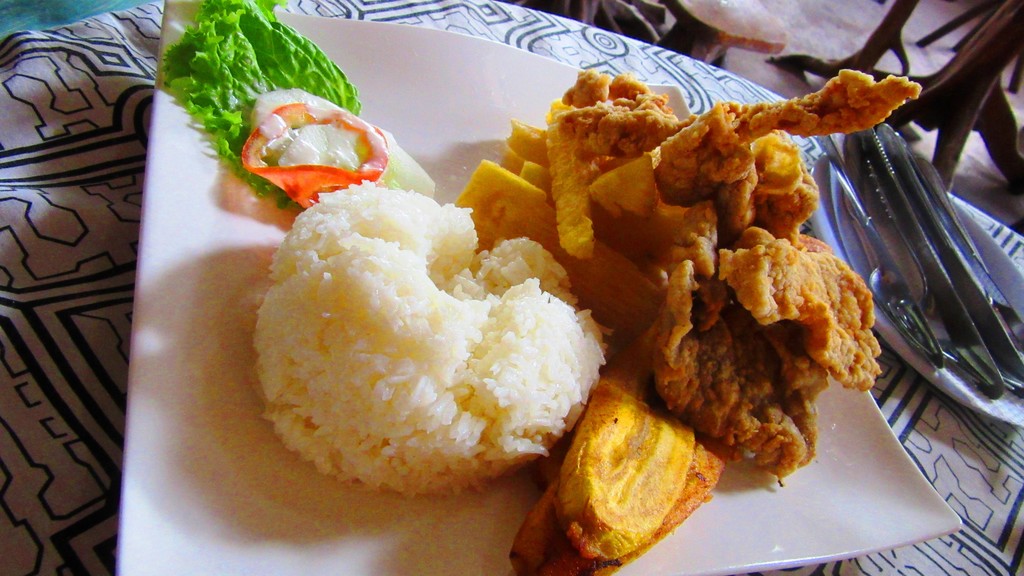 After being out on the waterfall tour, it was time to go for lunch since it was so relaxing to be one with nature and I made us feel at peace and hungry! So we went to a rural restaurant with the group, where the average price was 20 soles for a dish and there were different options to suit everyone, with a clear jungle influence. Here are some photos of the dishes that we ordered that day. As well as another dish that was made up of meats, rice and fried banana from the jungle, which went perfectly with our food. The food we had on our journey almost always contained banana and I advice you to try it in every way possible because its flavours are spectacular.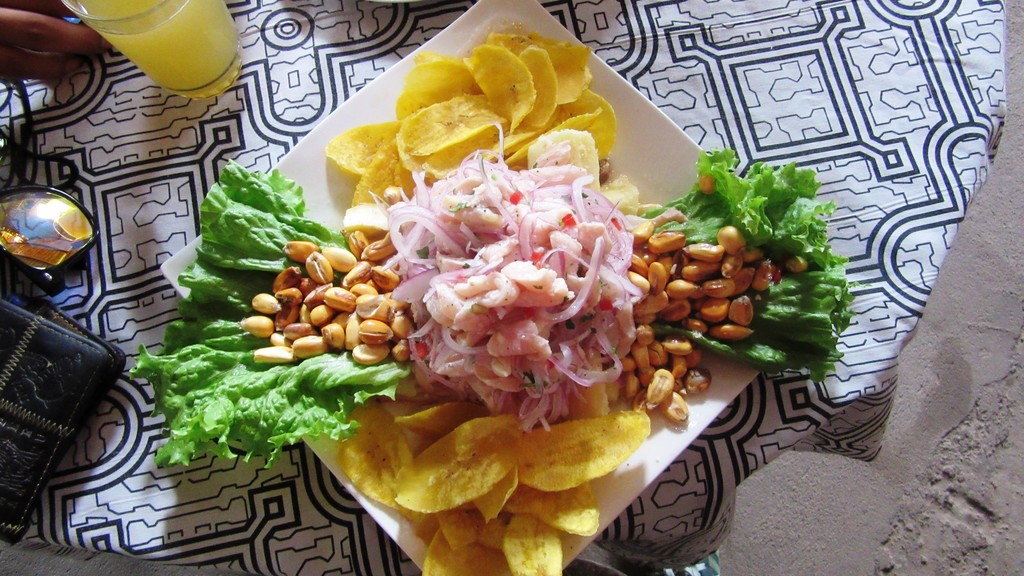 Crossing the jungle river on a boat tour:
Once we finished lunch, it was time to continue on the journey and this time we got some boats so that we could sail on its waters for a few minutes and see the green mountains.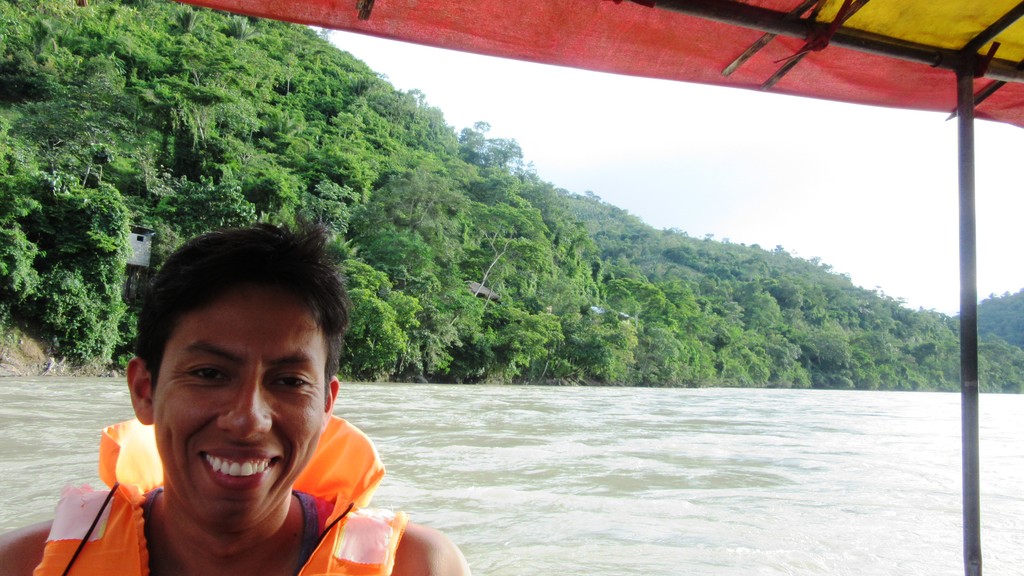 Meeting the jungle community, Maranquiri: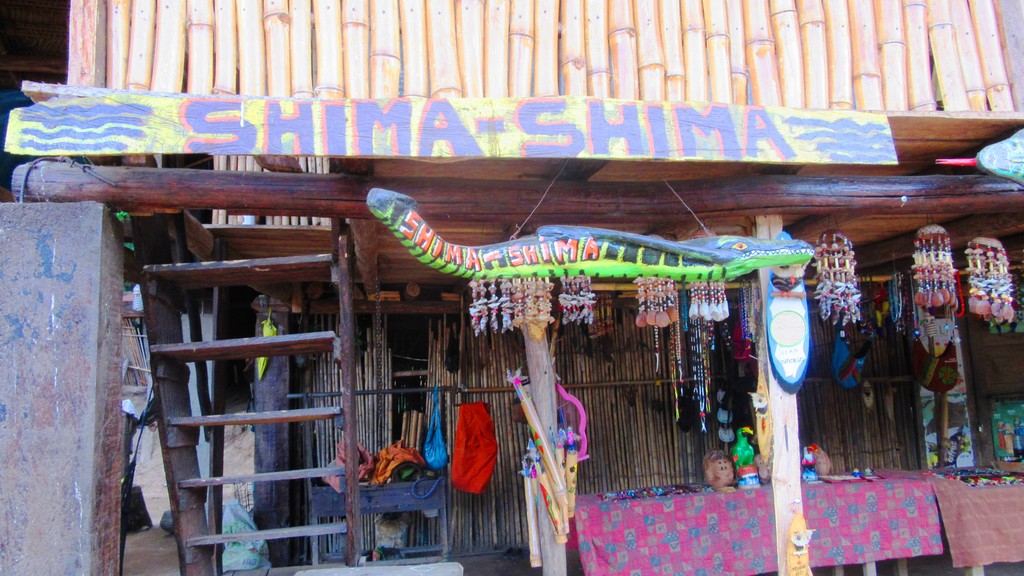 La Merced is fortunate because it is very close to it and almost one hour from the city you can find one of the native Ashaninkas communities called Maranquiri. Here we were able to find this community in all its fun and be part of it. When we arrived there was already another group of visitors, who were circling around a campfire with those of the community, while singing songs in their ancient language that has resisted being erased through time and modernity.
When we arrived, they dressed us like them, they gave us clay coloured clothing, we painted our cheeks with lines and we put on hats made from cane so we were all the same. Then chief of the community, welcomed us and started to speak in their own language. At this point, we obviously didn't understand anything but listening to the native language of Peru was part of the experience. After he started to say in Spanish so we could all understand what he wanted to say. He was basically welcoming us for having visited them and invited us to be part of his ceremony, taking us round the fire so we were intermingling with the community.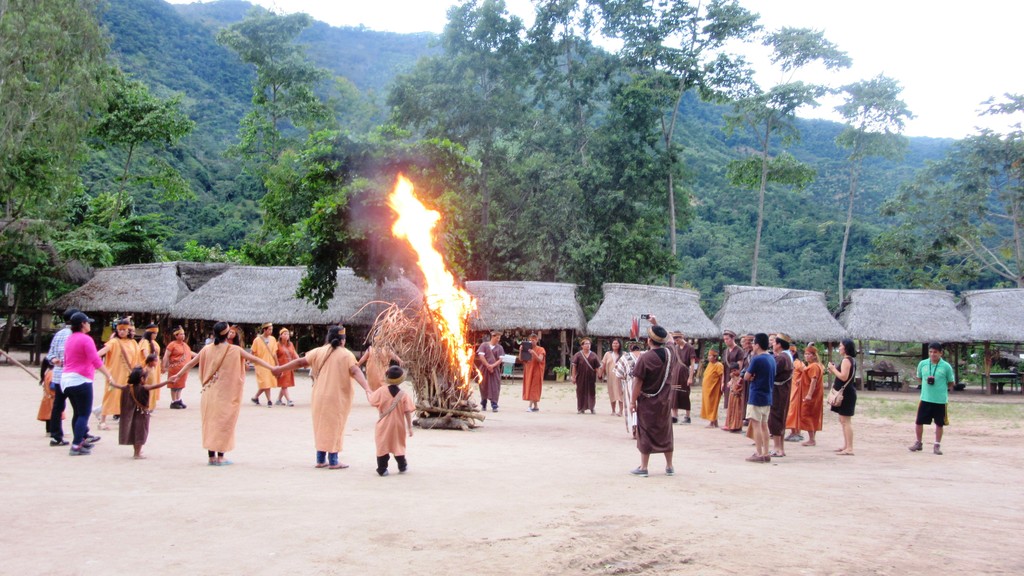 After having lived this experience and feeling integrated into the community we went to see all the products that they make themselves to sell to the visitors. As you can see, dear friends, this is a clear example of the development of tourism in the jungle and a tourism experience that you would only find in this mystic and religious part of the jungle.
Visiting the coffee factory: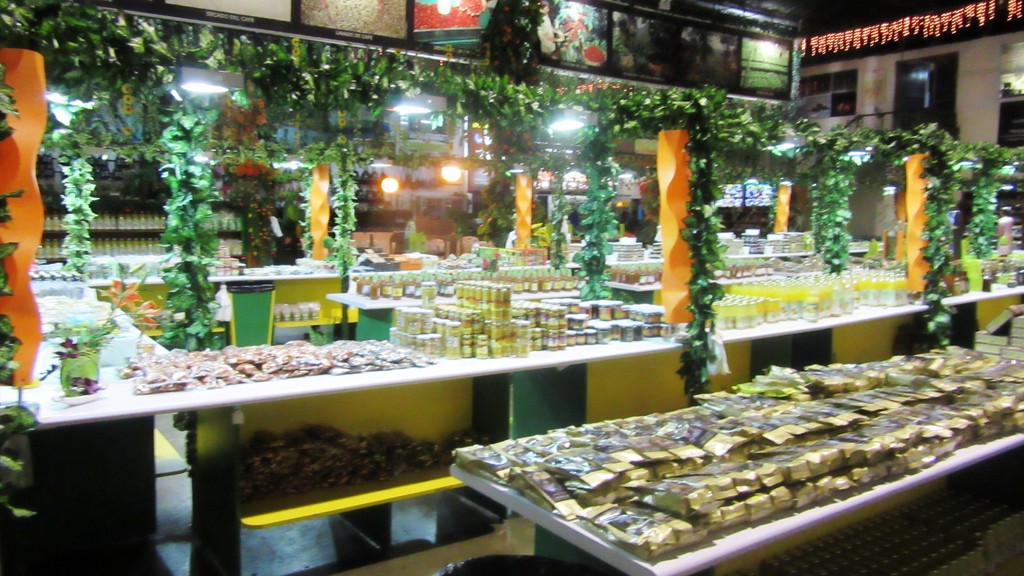 When someone mentions Chanchamayo and the central jungle, the mind automatically goes to, trying one of the coffees that are most recognised by experts, both nationally and internationally. Even the most expensive coffee in the world is produced here, thanks to, even if you don't believe it, the excrement produced by one of the little animals that live here. Which selects the best coffee beans that can be bought here.
In this area, you can not only find coffee but also, other products such as manjar blanco (milk based dish), chocolate, jams and many other things. As you can see, dear friends, this is only small but it is a great example of all of the diversity that you can find in the Peruvian jungle.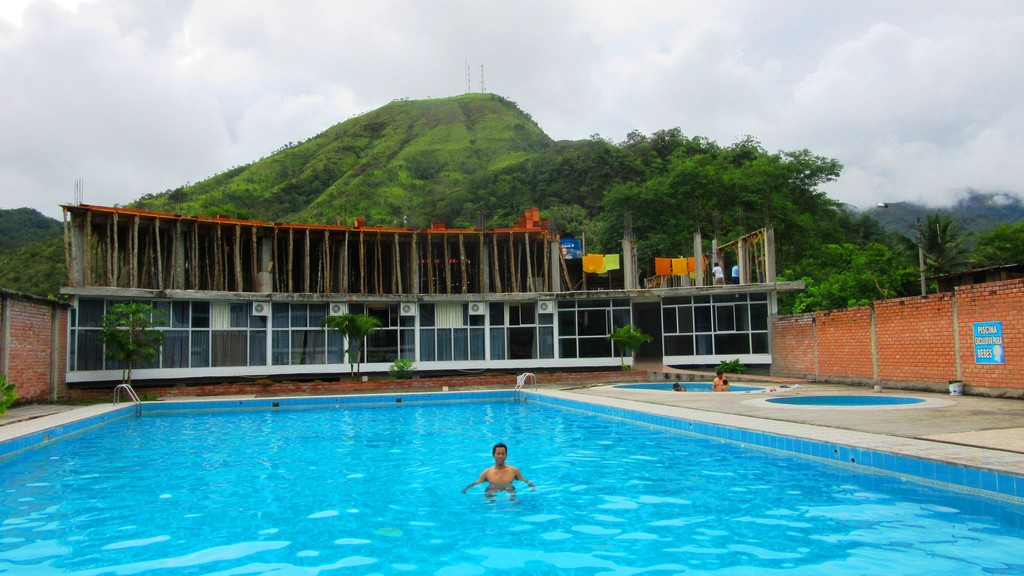 And this was what the jungle tour of this part of La Merced offered us and it really left us amazed by so many experiences in such a short time. After going around the coffee factory the tour was finishing so from here, we went on to visit the city by ourselves, getting to know every corner of its main square, which at the time was having a celebration. We also took advantage of the opportunity to go on a night out to one of its bars with of our friends from our group on the tour, who was travelling alone. We ordered sangria in the bar and were able to relax and then go back back to the accommodation to sleep.
The following day we stayed at the pool and swam, and in my case, learnt to swim. I never took classes in my life! But here, in this experience of visiting the central jungle, I can assure you that I spent most of my time in the water. Also, later in the trip, we went to a lagoon in Tingo María, called el Milagro, which was a natural and fantastic place that I remember fondly.
And so dear friends, it is time to continue our trip to Oxapampa. Before taking the bus we approached a cart that was selling a soup knowns as "patasca", which seemed very welcoming, but I couldn't try it so they gave me the other option which was a concentrated chicken broth. It was perfect in that it kept giving me energy for the rest of the trip, where we were in contact with nature daily and breathing the fresh air that cannot be so easily found in Lima.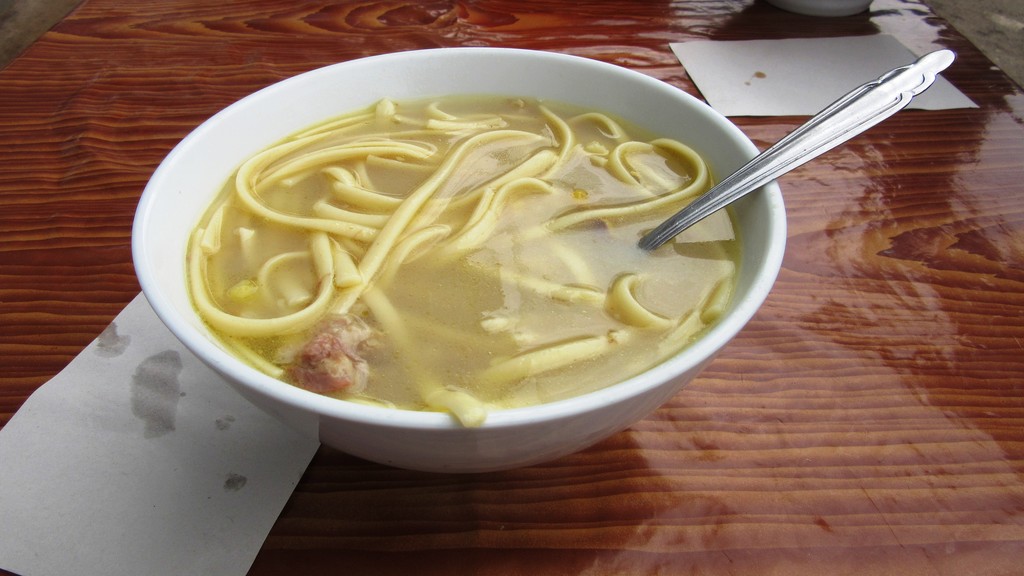 Conclusion of the trip:
Visiting the Bayoz waterfalls was the best thing that I could have done in La Merced. After seeing nature in every one of its landscapes and being in contact with the native community, La Merced is without a doubt an honourable host to welcome us to the Peruvian jungle.
Dear friends, I hope that you have enjoyed this trip review and that you enjoy every one of the places that you visit in La Merced. If you only was to go here and not travel to other places, then I recommend that you stay for at least 3 days to be able to enjoy all that it has to offer and that it will leave you as amazed as it left me.
Thank you very much for reading, I hope that you put La Merced into your plans on your trip to the jungle. See you soon!
---
Photo gallery
---
---
Content available in other languages
Want to have your own Erasmus blog?
If you are experiencing living abroad, you're an avid traveller or want to promote the city where you live... create your own blog and share your adventures!
I want to create my Erasmus blog! →