Weekend trip to Bavaria: Day 3 – Munich (Pt3)
After having been walking in Munich since 8:30am overall, it was time to relax a bit again so we went to the super famous Englisher Garten, actually one of the largest urban parks in the world. The name comes from the fact that it was projected and laid out in the style of an English country park.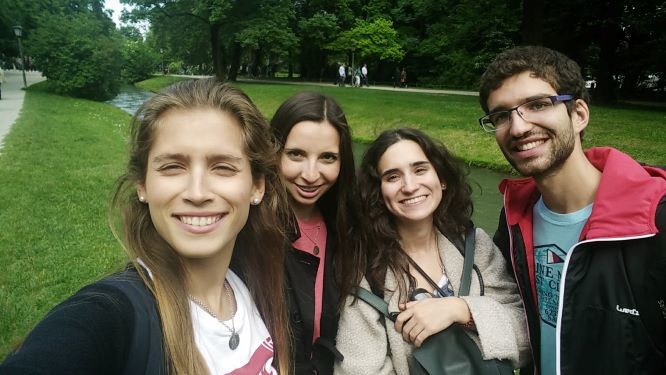 Selfie time at Englisher Garten
In this beautiful and enormous breath of fresh air and nature, there are activities for many tastes. Cyclists and joggers have a 78-kilometer-long path; for soccer, there are numerous fields and you can have a beautiful view of the city at the Monopteros, which was added to the park landscape (along with the hill) some time after. As of beer gardens, we can find the second largest in Munich (with 7000 spots) right next to the Chinese Tower.
You may also have heard about the artificial waves on the Eisbach river at the entrance of the garden that attract surfers from around the world for being the largest, best and most consistent city centre location for river surfing. The waves of about a meter tall are generated by a stone step at the outlet.
We got to see the surfers in action, taking turns to catch the waves. It was pretty cool! And thie is something that goes on both on winter and summer time. Of course for us the recommended is just to watch and appreciate, as only professional surfers are able to handle the waves in that spot.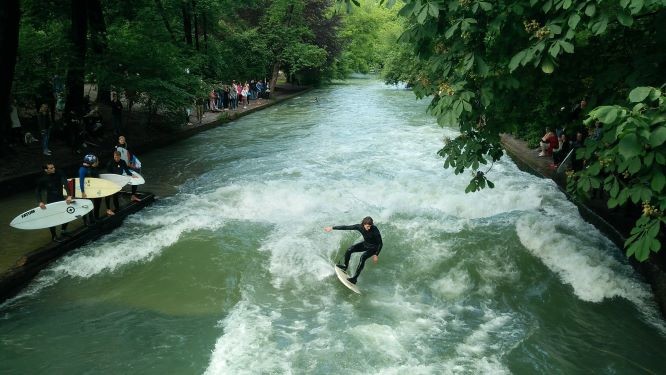 Surfers on the Eisbach river
Seems an amazing feature to be able to surf these waves, because they are pretty steady, and the place is quite constricted by space. It is definitely not suitable for beginners!
We walked a bit across the park (still carrying our annoying luggage, let us not forget that) and then entered another beautiful green area in the city, the Hofgarten, originally designed during the Renaissance period in Italian style.
Since it had to be rebuilt after getting destroyed during WWII, it then incorporated elements of the English landscape garden, that we can actually associate to several parks in Munich, thus being a reference of the architectural style of the the city.
The "Garden of the Court" is south-sided by another museum complex, which includes the "Deutsches Theatermuseum", and presents way on the east side to the State government office - "Bayerische Staatskanzlei", a quite notorious building because of its grand entrance in neo-classic style and its glass walls side wings.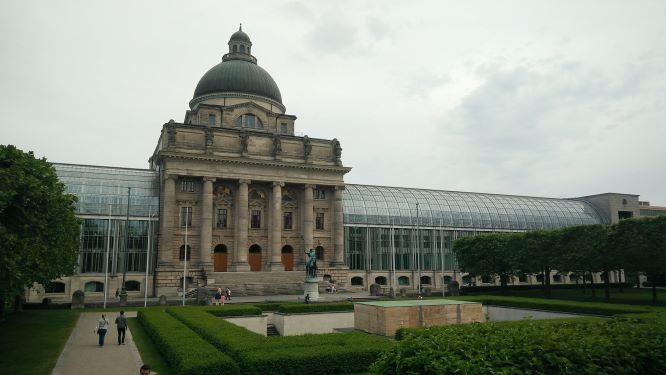 "Bayerische Staatskanzlei", seen from Hofgarten
At the center of the garden we find a small temple-like pavilion in honor of goddess Diana, with each of its eight arches leading to a path, hence creating a striking geometric pattern. In front of the State Chancellery there is a war memorial – "Kriegerdenkmal" to remember Munich people who got killed.
Exiting the garden trough Hofgartentor ("Court Garden Gate") we face Odeonsplatz. This is one of Munich's most important squares, right by the historic center, having been ordered by Luis I of Bavaria to star-architect von Klenze, as it happened with many other of Munich's landmark squares and buildings.
It was named after the former concert hall - Odeon, located on its northwestern side, but it also features the impressive Theatine Church of St. Cajetan, built in the 17th century in baroque style, and particularly known by its yellow façade; the Residenz, a garden palace that houses several museums (which is really nice to walk around and see the art exhibitions; and the Feldherrnhalle, an original three-arched construction built in honor of the Bavarian army.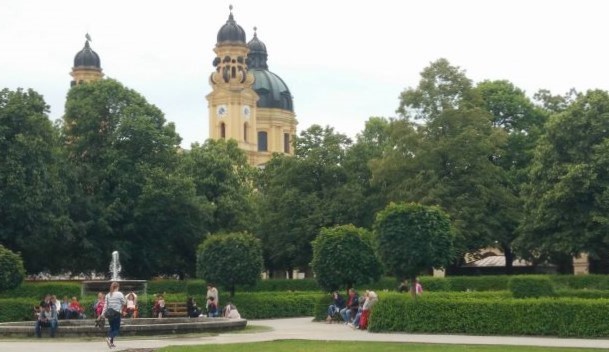 Theatinerkirshe, seen from Hofgarten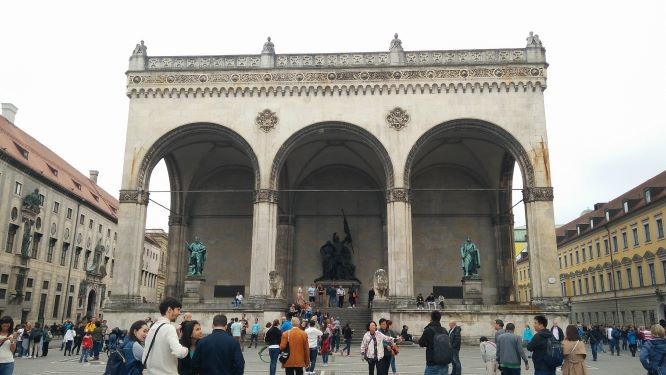 Feldherrnhalle, at Odeonplatz
Odeonsplatz is historically recognized for many events of WWII, with Feldhermhalle being one of Adolf Hitler's famous places to speak to the crowd. But even before that, he is seen in picture amongst the people that had met there in 1914 to acknowledge the beggining of WWI, which leaves us to think that, for some reason, he was a true affectionate to this spot. Despite being quite associated with this horrendous figure for world history, the beauty of Odeonplatz should not be ignored.
With this, the day was coming to an end. Two of my friends were heading back to Vienna and later that night it was my time to go back to Milan. Except it was really later that night... After going to the bust station to say goodbye to the girls at around 6pm, João and I still had some time to see a bit more of the city center.
So we headed again to Karlplatz and followed the modern commercial avenue Neuhauserstrasse – Kaufingerstrasse (that leads to Marienplatz), where you can find multiple places to eat and shop in stores of international brands. One of the most attractive restaurants is the acclaimed beer hall "Zum Augustiner", where you can try tasty Bavarian dishes.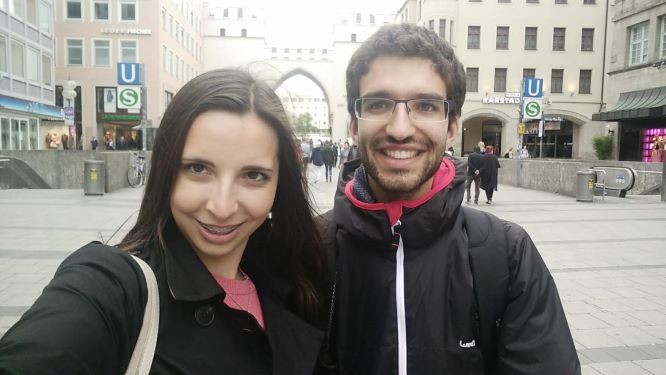 "Bye bye Munich", with "Karlstor" in the back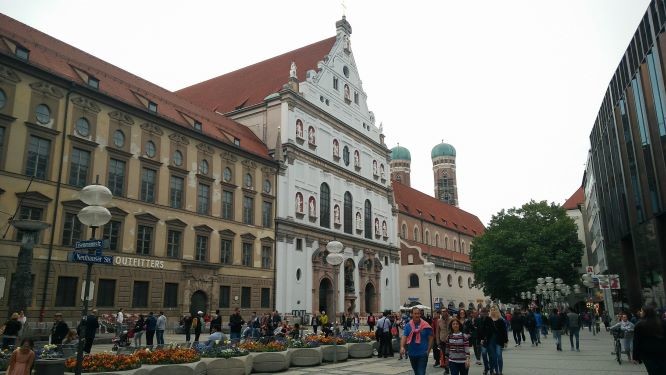 Neuhauserstrasse, highlighting the white Renaissance-style façade of church St. Michael and showing in the back the majestic towers of Frauenkirshe.
At this point, we were exhausted so we just went to McDonald's in order for me to charge my phone freely. We were there for two hours actually, just talking and relaxing. My bus was only at 11pm…
Travelling overnight always ends up being tiring and this time was no exception. I arrived at Milano Lampugnano absolutely dead, just wanting to go home… I still had to wait around 20 minutes for the metro to open, face a 30 minute ride back to my appartment, and surprise, surprise, go to work after just one hour and half of proper sleep in my bed. I managed to endure the day at the lab but truly speaking, there was a point in the afternoon when I literally fell asleep in front of the computer…
And that's a wrap on my Bavarian trip! I really enjoyed all cities I visited and I recommend three days as enough time to fairly get to know these amazing places, but the whole weekend turned out to be very intense considering we were not sleeping in central Munich, so I would suggest to find a hostel there instead.
Nevertheless, we sure had a marvelous time!
---
Photo gallery
---
---
Content available in other languages
Want to have your own Erasmus blog?
If you are experiencing living abroad, you're an avid traveller or want to promote the city where you live... create your own blog and share your adventures!
I want to create my Erasmus blog! →