5 places to grab Street food in Milano
I spent six months in Milano and going out to eat could not just be about pizza, pasta or doing an Aperitivo... So I have selected a few of my favourite Street Food places to share with all of you readers of this blog. Let's start!
Luini – zona Duomo
The very well known "panzerotto" sold at Luini is a fan favorite Street food specialty in Milan, but it is actually a typical product from the region of Puglia in Southern Italy. It was brought to the city by the Luini family in the early 50's, and soon enough became a success amongst the Milanese, who would get it frequently for a light, but very tasty lunch.
The classic "panzerotto" is served fried - luini fritto, being the most popular request, but it can also be cooked in the oven - luini al forno. They have so many combinations available that is hard to choose which one to get! To name just a few: Mozzarella/Tomato, Ham/Mozzarella, Spinach/Ricotta, Eggplant/Tomato/Mozzarella, roasted Vegetables…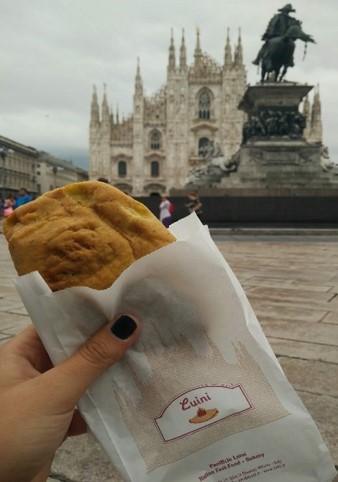 Having a "panzerotto" at Piazza Duomo
The recipe for the "panzerotto" mixture is a family secret but one thing is guaranteed: amazing flavor, combining the crispiness of the dough with the richness of the filling. And the price is more than affordable; one "panzerotto" only costs 2.5€!
If you do not feel like having a salty dish, you can ask as well for the sweet version - luini dolce, which includes multiple choices with chocolate and different fruits, and also some interesting mixes, for instances Peaches/Almonds/Amaretti or Figs/Walnuts/Cocoa.
Luini is located near Duomo; just take Via Santa Radegonda next to the shopping mall Rinascente and you will almost immediately see a lot of people gathered around…You might have to wait a bit in line but is definitely worth it!
It's the ultimate snack!
Giannasi – zona Porta Romana
This is another historical Street Food place in Milano, opening right in the middle of Piazza Buozzi in 1967. Even though it started out as a fruit stand, then becoming sort of a butcher's shop, Giannasi soon became extremely famous for its roasted chicken on the spit, being baptized "the best chicken in town"!
Porta Romana is one of liveliest areas in Milano and Giannasi has had a hand on it for several decades, attracting a lot of people with its affordable, tasty offers for a quick lunch on the go.
In the menu we can find not only the roasted chicken, but also croquettes and rice balls ("arancini" - typical from the region of Sicily) – with many fillings such as chicken, speck, olives and different kinds of cheese, not to forget various salads, pan-roasted vegetables and fried polenta, all of each will satisfyingly stuff us. And obviously, they sell several types of Italian cold cuts/deli meats ("salumi").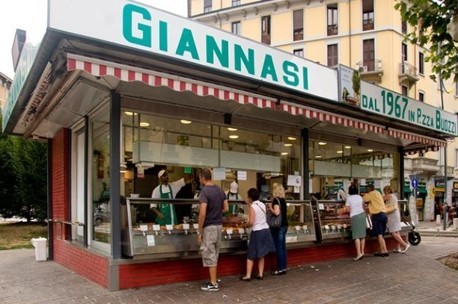 Giannasi 1967 - "a roasted chicken reference in Milano" (Source)
There is actually a big list of traditional Italian dishes to choose from as well - for instances "lasagna alla Bolognese" or "al pesto", and "cannelloni" with ricotta and spinach - proudly made with the best products, which elevates Giannasi as multifaceted stand.
Want to feel Milanese? Then it is imperative that you come to Giannasi!
Ravioleria Sarpi – zona Chinatown
The "ravioli" here made were named a few years ago 'the best in the whole region of Lombardia', being the number one choice for Street Food in Milano according to the prestigious Gambero Rosso guide. I guess you just have to go there and taste for yourself…
What makes this place special is the blending of the Chinese cuisine with an Italian classic dish, in a way that not only seeks to enhance the flavors of the pasta and the filling by using top quality ingredients made in Italy, but also promotes a different view on Chinese food. And the result is delicious!
The star of the filing is the meat from the historical butcher's shop next door - Macelleria Sirtori (which has been around since the 30's), and the "ravioli" are gently prepared in the moment, following the Chinese dumpling style, giving it a truly homemade feel.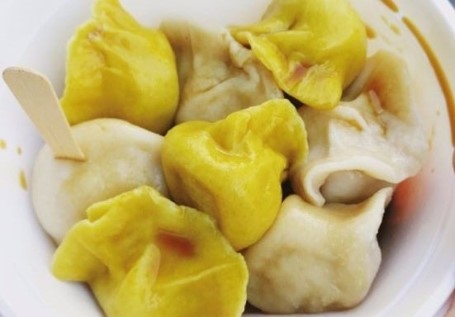 Sarpi's famous Chinese ravioli (Source)
For the "ravioli", you can choose from several fillings: pork & cabbage, beef & leaks or vegetarian, topped with olive oil or soy sauce. No matter what choice you get, it tastes amazing! Plus, it really is a bargain - 4 pieces for just 2.5€, 8 pieces for 4.5€!
In addition, you can ask for the classic Chinese crepe, filled with vegetables, or the owner's (Mr. Agie) version using the same filling as for the "ravioli".
The entire preparation of the food is out in the open, which makes it a really attractive place for tourists walking around the Milanese Chinatown - Via Paolo Sarpi is a very busy street in Milano, super cool to explore - to stop, have a look and buy something to eat. Just be patient, because there is always a queue…
Hands down, a must-try!
Tutti Fritti – zona Colonne di San Lorenzo
If you like fried food and are looking for a place to have a taste of some delicacies, Tutti Fritti is just the right thing.
This is a rather unique business in Milano. Even though it is completely dedicated to fried cuisine, the idea behind is to bring quality into the table, presenting selected ingredients (some seasonal) that also run close with Italian family traditions.
Adding to this, several types of batter for deep frying are used, for instances tempura with flour and beer, or panko, as well as different kinds of oil, but one thing is certain, everything is fried here!
Amongst the specials you will find prawns, chicken, fish, meatballs, pan-roasted peppers ("friggitelli"), pumpkin, zucchini, eggplant filled with mascarpone, mushrooms, and of course potatoes sided with a million sauces, from garlic to herbs to super spicy. The price is 5€ per portion.
Tutti Fritti is also known for its vast list of artisan beers, which go perfectly with finger food of this kind.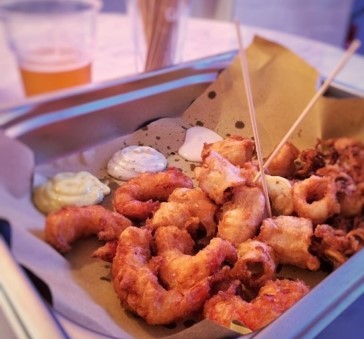 "100% Fried" (Source)
The place itself has a really nice, inviting atmosphere – I would say a bit inspired from American diners with strong neon designs - and it is actually just as cool to stay inside and eat at the counter as to ask for take-away. And they say for you not to crave your friend's fried food – something we all tend to do, especially potatoes - because there is something for everyone!
Besides, Colonne San Lorenzo is a quite popular neighborhood in Milano for hangouts, highly in demand by the younger crowd.
Kebabberia Mariù – zona Porta Romana
Drooling to have a kebab for lunch and do not know where to go? Search no more! Viale Sabotino is a very commercial street and here you will find Mariù, hands down, your prime option!
It is the first gastronomic kebab place in Italy, and it attempts to make a twist in terms of the normal kebab quality by using only Italian certified products and Mediterranean spices to create an exquisite taste.
I can vouch for it! Street Food at its best, colorful to our eyes, super flavorful and easy to eat on the go. What more could you want?!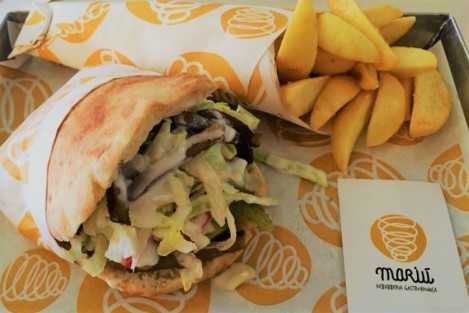 "The Italian made kebab" (Source) 
Choosing from the chicken, beef or veggie (seitan) base, and from the bread used, either "piadina" or "puccia salentina", you can ask for one of their own amazing recipes - for instances the one called "Intenso", that takes dried tomato, burrata cheese and rucola, or "exotico", with avocado, tomato, zucchini purée and sriracha - or compose your own kebab, adding as many ingredients as you want.
To accompany the dish, French fries, a salad or veggies are all available options; as well as multiple sauce choices, such as yogurt, mayo, tabasco and spicy harissa.
The prices go from 6.9€ for the classic kebab, so it might get a bit expensive, depending on what you decide to get… But it will be for sure a pleasant meal! And the place is super cosy and clean, perfect to chill with friends.
And that is it! 
Check out the places in this list and you will have guaranteed a glimpse of what confort food tastes like!
---
This content has been entered in the Erasmus Travellers Competition and have earned 907 points.
8038 chars (803 points)
18 views (54 points)
5 photos (50 points)
This competition was made possible by: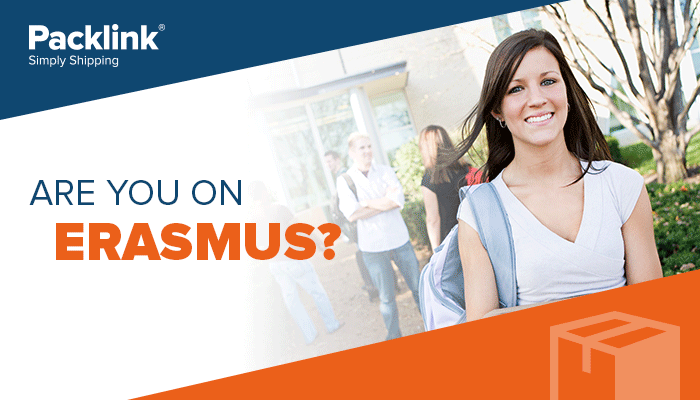 ---
Photo gallery
---
Want to have your own Erasmus blog?
If you are experiencing living abroad, you're an avid traveller or want to promote the city where you live... create your own blog and share your adventures!
I want to create my Erasmus blog! →