Let the show begin! The best musicals in Madrid
Hello! For me, as I'm a great lover of the theatre, going to a musical is one of my favourite things to do. Today I'm writing about my experience at four of the most famous musicals which have been put on in Madrid and ones I recommend seeing without a doubt.
The Lion King
Who hasn't seen the extraordinary Disney film? Who hasn't cried when Mufasa dies? Or yet still, who hasn't said "hakuna matata" once in their life? The brilliant film "The Lion King" came out in 1994 and since then children and adults have loved it. This story, which is based on the Shakespeare's play "Hamlet", came out on stage in the year 1997, although the musical didn't come to Madrid until the year 2011.
After many years of success, it's the musical which has been running in Madrid the longest, and it continues to be performed in the Lope de Vega Theatre. I was lucky enough to enjoy watching this show three years ago now, and I still remember all the songs, the magnificent portrayal of the characters and the splendid staging. The production of it had a budget of ten million euros (in fact, it's the most expensive musical produced in Spain).
The duration of the show is around two and a half hours, and there's an interval in the middle. Regarding the tickets to see this musical, they are quite expensive (depending on where you sit, they range from 35 euros to 135 euros), so I can't say it's for everyone but it's totally worth going. Even still, there are cheaper seats, even though you won't get the best view. A good option is to buy the tickets for the back row in the second stand, since you can normally buy tickets for 24 or 27 euros from the ticket office. Of course, the stage is quite far away but I assure you that you can still see perfectly well, and the sound is superb. The only drawback is that these tickets sell out quickly, and you have to be organised and book them far in advance. In fact, I have friends who don't live in Madrid and they organise their trips around the dates of the musicals in order to get tickets.
By the way, did you know that "The Lion King" is show which made the biggest profit on a worldwide scale in the history of all musicals, including plays put on at the West End and on Broadway?
You can't miss out on seeing it! Here's the link to the musical's official website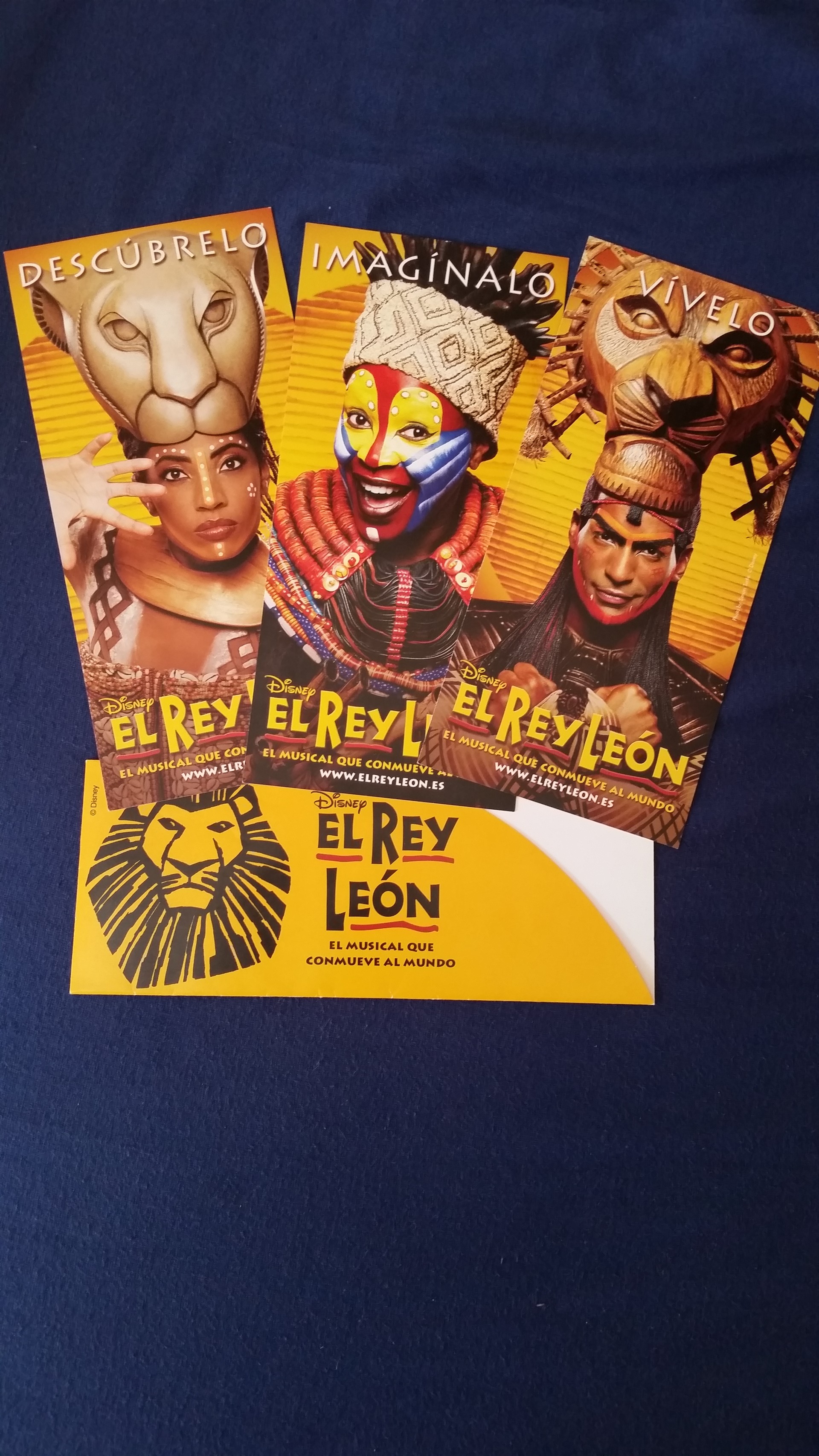 Leaflets from "The Lion King" musical
Don Juan Tenorio
"¡Ah! ¿No es cierto, ángel de amor,
Oh, my angel of love, do you see
que en esta apartada orilla
that on this secluded shore
más pura la luna brilla
the moon shines clear and pure
y se respira mejor?
and one breathes more easily?"
We all know this famous part from "Don Juan Tenorio: religious-fantasy drama in two parts" (1884) by José Zorrilla, and a lot of us even had to study it and memorise it at school. For all the parts you've forgotten about, it's a play in which Don Juan, a known womaniser with low morals, turned out to be smitten with Doña Inés, a pure woman and noble at heart. Well anyway, this great piece enjoyed its world premiere in Madrid under the title "Don Juan, un musical a sangre y fuego" (Don Juan, a musical of blood and flames).
As soon as I found out about this musical, I wanted to buy my tickets. At the beginning, I only found a few which were quite expensive, around 50 euros and more, but later I found some for 20 euros too where I could still enjoy the musical. That was due to the fact that at the Luz Phillips Theatre, on Gran Vía, there are spectator's days! On Wednesdays you can find tickets to see the musical for 18 or 25 euros, depending on where you sit.
Although it's a very long musical, it lasts around two hours and a half, it goes by quickly and there's an interval.
The experience was truly amazing. As well as the superb acting, from actors I admire for being able to memorise and recite Zorrilla's verses, I was amazed by the unbelievable staging. I especially remember Tony Bernetti and Estíbaliz Martyn, who played Don Juan and Doña Inés respectively and whose voices were a pure delight, in my opinion.
It's quite a complicated play to perform on stage, given that not only are there different scenes where it takes place, but also due to the plot itself, which includes the appearance of ghosts. However, this difficulty was overcome by the use of revolving stages, stairs, windows and other elements. I would give it a ten out of out. With lovely songs and choreography based on the original play, we get to watch a womaniser who is Don Juan fall in love with the pure and noble Doña Inés. Without a doubt, it's a spectacular musical.
This musical was in theatres on 6th October 2016 and unfortunately, I watched the last performance of it on 23rd December 2016. If this musical comes back on stage, reserve me a ticket!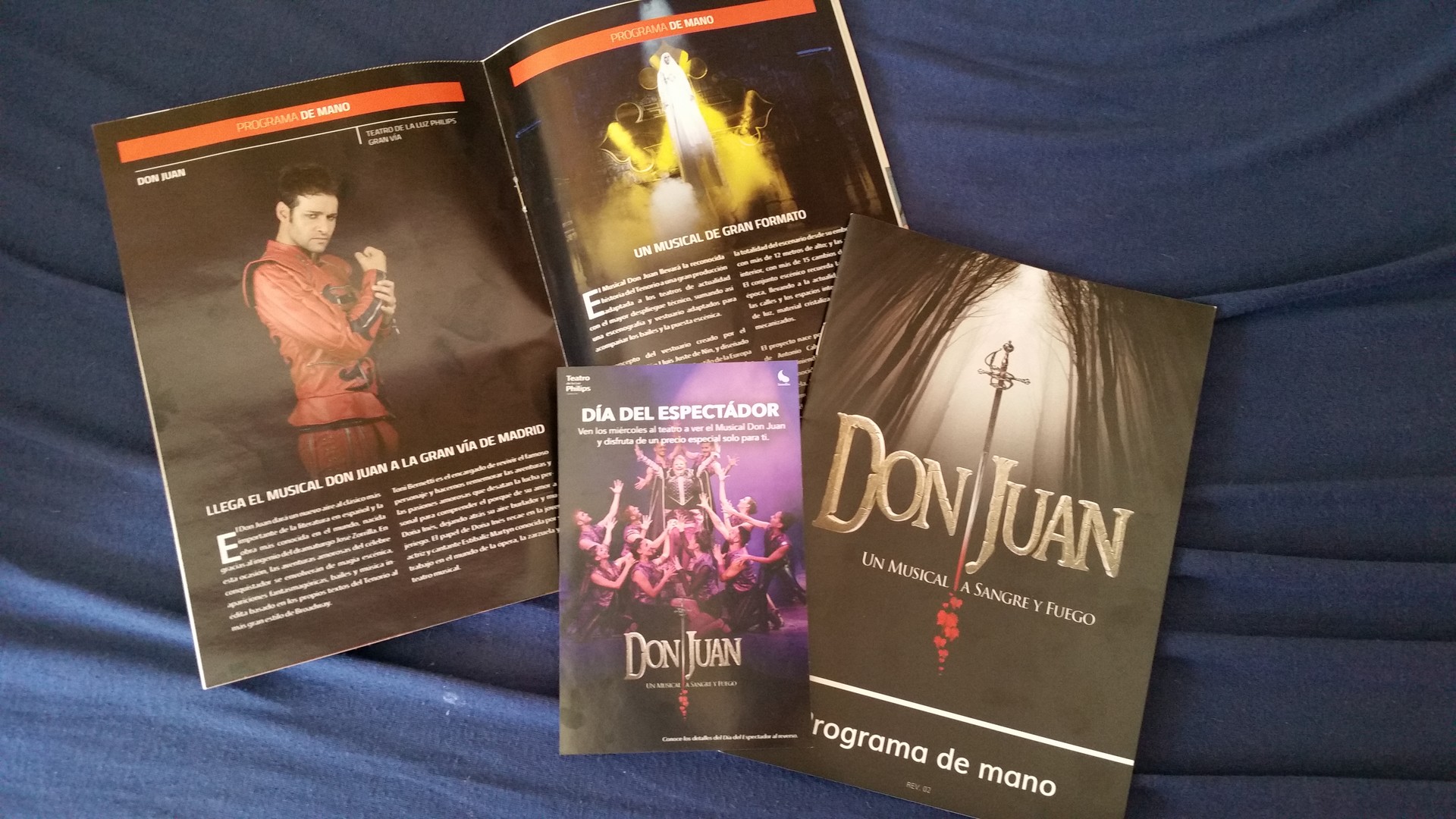 Leaflets from the musical "Don Juan, un musical a sangre y fuego"
Dirty Dancing
Another musical worth mentioning is from the fantastic film "Dirty Dancing" (1987), starring Patrick Swayze and Jennifer Grey. The theatre version came to Madrid from 1st December 2016 to 4th July 2017. Surely, we all remember how Johnny Castle taught the innocent Baby to dance in the summer of 1963. Whether you're a fan of the film or if you love dancing or simply because you want to surprise yourself and have a good time, this is the musical for you!
Just like with the two previous musicals, this representation is very hard to carry out, and even more so if it tries to stick closely to the film. From my point of view, they could have got rid of a few of the scenes or they could have tried to develop them in another way, like the lake scene or one of the car scenes. Although it wasn't bad, I don't think they were all that successful. Even so, it's admirable the see the settings change on stage and during a few seconds it takes for them to set up, there's always music and a beautiful ballerina in the meanwhile. Of course, as you might have expected, the big lift at the end takes place, performed by actors Christian Sánchez and Amanda Digón, the protagonists.
In terms of the price, it depends on where you're sitting but they range from 21 to 60 euros. It's also possible to find offers for 18 euros along the back row of the second stand. Right now, the company is touring around different cities in Spain, and you can check out the dates and prices on the following link.
I can assure you those who remember the film from when they were little, will have "the time of their lives".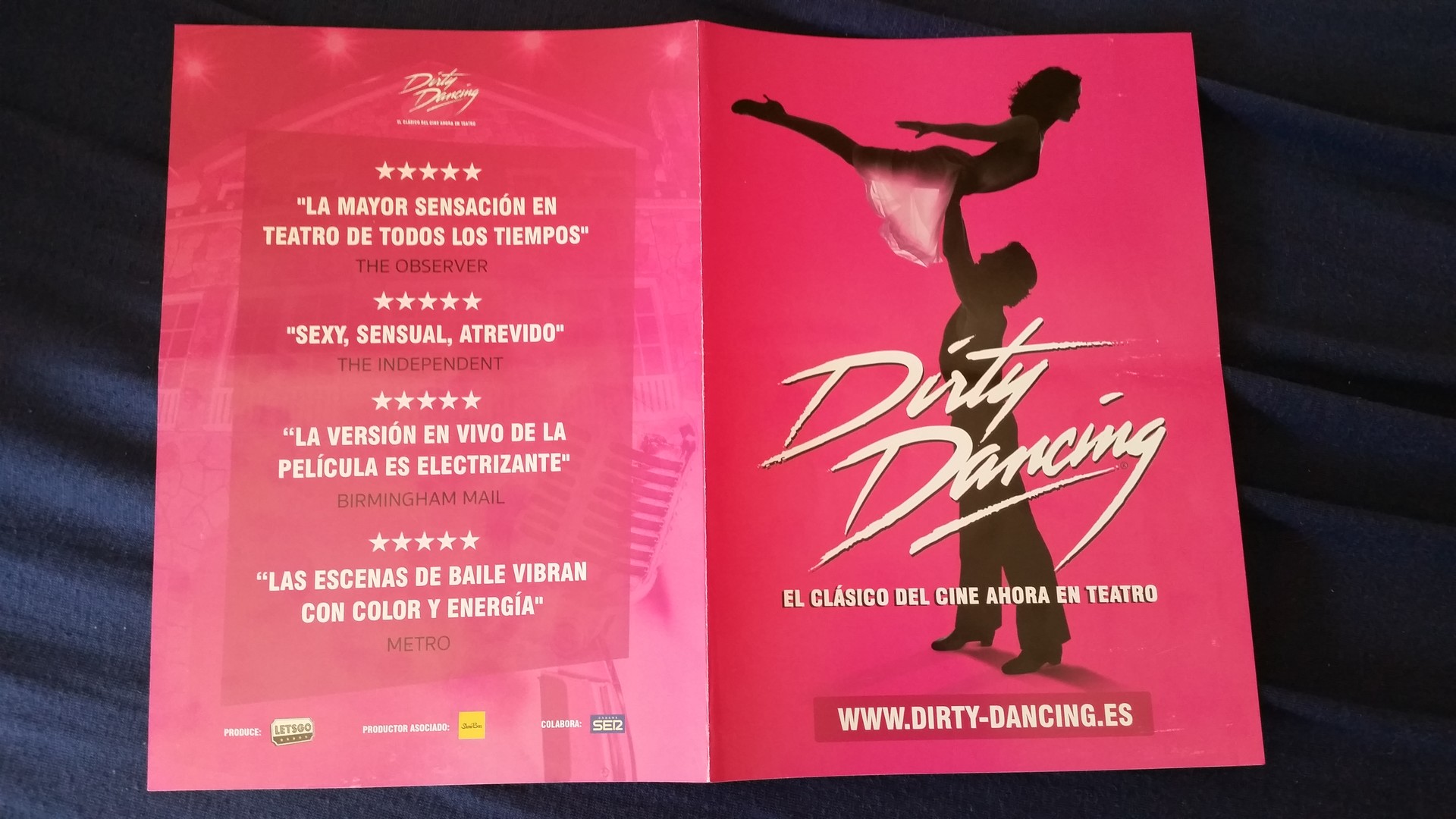 Leaflets from the "Dirty Dancing" musical
La Llamada
In a review of the best musicals in Madrid, I couldn't leave out the musical "La Llamada", a fresh and fun musical written by Javier Ambrossí and Javier Calvo. I won't say much about this play: you have to come and see it for yourselves. This was the second time seeing it for me, and I'm sure there'll be a third.
With a mix of reggaeton, religion, Whitney Houston songs and a good amount of humour, we find ourselves in a the "Campamento la Brújula (camp). There, the plot thickens, and it's performed by four fantastic actresses and God, all that accompanied by a band which is also on stage. Perhaps at first, the plot may seem a little strange, but it's true that it's been going for four years in the Lara Theatre.
What's the secret to the success of "La Llamada"? Undoubtedly, as well as the quality of the show in itself, I think that the price plays a big part of it being so popular: you can buy some tickets for only 7 euros. After, there's word of mouth which helps, because it's a really great show worth seeing. On their website you can find all the information you need.
By the way, on 29th September 2017 there's a film coming out at the cinemas of this musical. You can watch the trailer here.
I'm not going to miss it!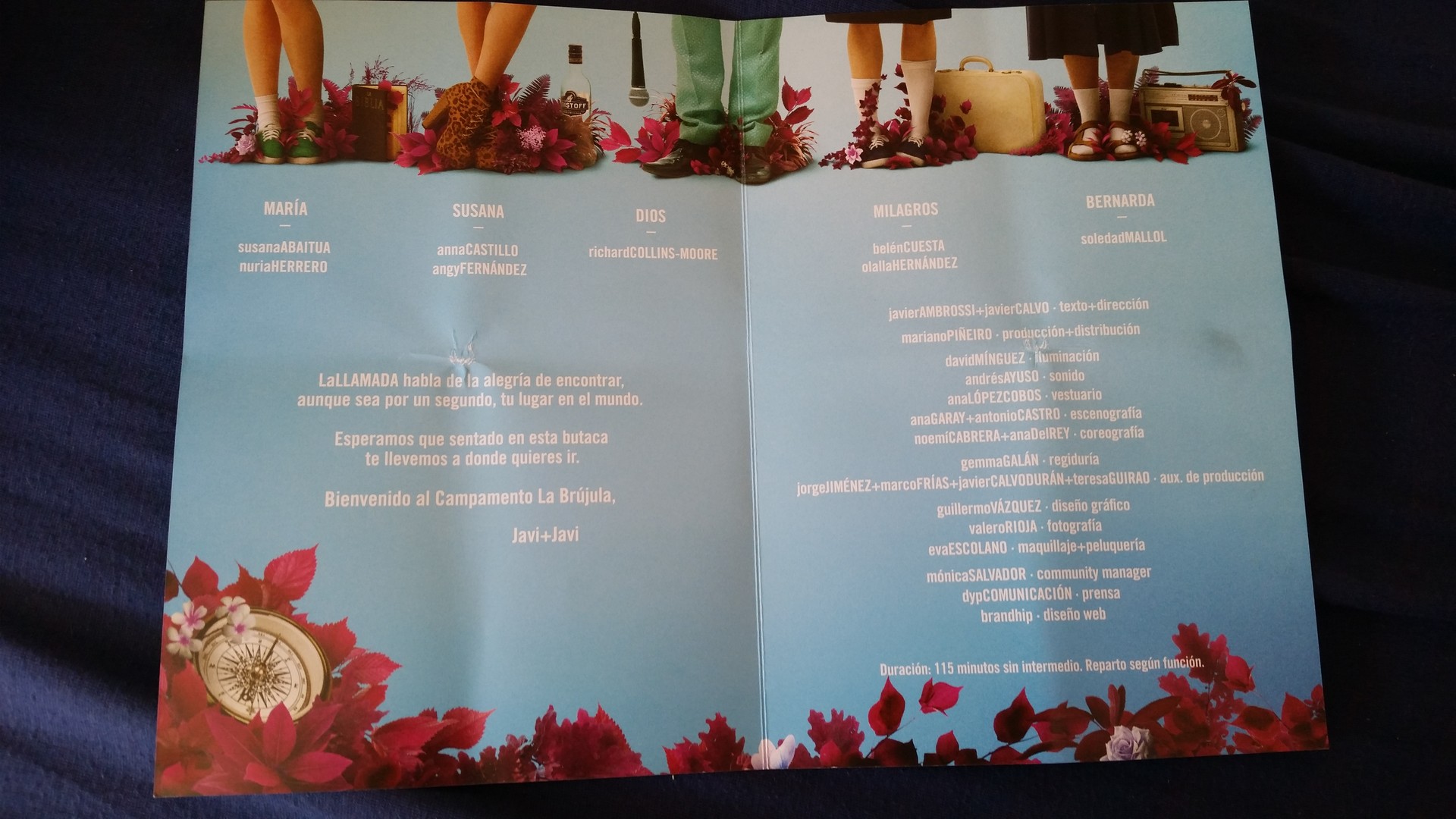 Leaflet from the "La Llamada" musical
---
Photo gallery
---
---
Content available in other languages
Want to have your own Erasmus blog?
If you are experiencing living abroad, you're an avid traveller or want to promote the city where you live... create your own blog and share your adventures!
I want to create my Erasmus blog! →