05/01/2013: The Return to France: London to Paris, Paris to Lyon : (2)
The Return to France: London to Paris, Paris to Lyon (2)
Saturday 5th January 2013
My phone told me that the weather would be nice but it was clear that this was not the case. Quite the opposite in fact, it was foggy and the sky was really grey. I had hoped that the conditions would improve later on but this was unlikely. I was reunited with my suitcase and I was reminded about how heavy it was. It was really difficult taking the suitcase around Paris, but I wanted to see a bit of the city and the Eiffel Tower, so that I could take a photo for this post, however I was aware that this would be a difficult task. Nonetheless, I had decided that it would be better to see the city as I had a lot of free time and I didn't want to spend the time waiting in the bus station for several hours.
I was not sure about the way to the centre from the airport. I wasn't really sure about where to go to catch a train or bus. Eventually, I found a stop for the Air France cars, and another for the general bus service. There was an Air France service and a bus going towards Opera, but the price for the cars was 14 euros. It was a bit expensive for me although the cars did appear to be more luxurious. I opted for the second option of the bus service, and it was arriving in a few minutes. Unfortunately I didn't have a lot of money, only sterling money and for some reason, the machine didn't accept bank cards. I didn't have time to find an ATM machine. I was in a hurry but with my suitcase I was not able to walk very fast. Eventually, I found a bureau de change where I exchanges my English notes for Euros. I returned to the bus stop but I was too late and I had missed the bus. I had to wait more than 30 minutes for the next one.
My bag was really heavy so as I waited for the next bus, I put some of my books and magazines in the suitcase to make the journey a bit easier. I had used up the 15 minutes of free airport WiFi and I had placed two games of Sudoku. In the end th bus arrived and I continued my journey towards the centre of Paris. I saw the Stade de France and I thought of my boyfriend, who loves football. Like the sky, the suburbs of Paris were grey and I noticed how there were a lot of shanty towns and mountains of rubbish. It was like a developing country and the slums were like the ones I was in India. Later on, I learnt that these are the gypsy slums. This part of Paris was really different to the Paris which I had seen in the film 'Midnight in Paris', which painted a romantic and luxurious image of the French capital. On the bus I was a bit disappointed and I regretted going to Paris. I started to think about the Olympics and that if Paris had the opportunity to host it instead of London, would the city be a little bit different now?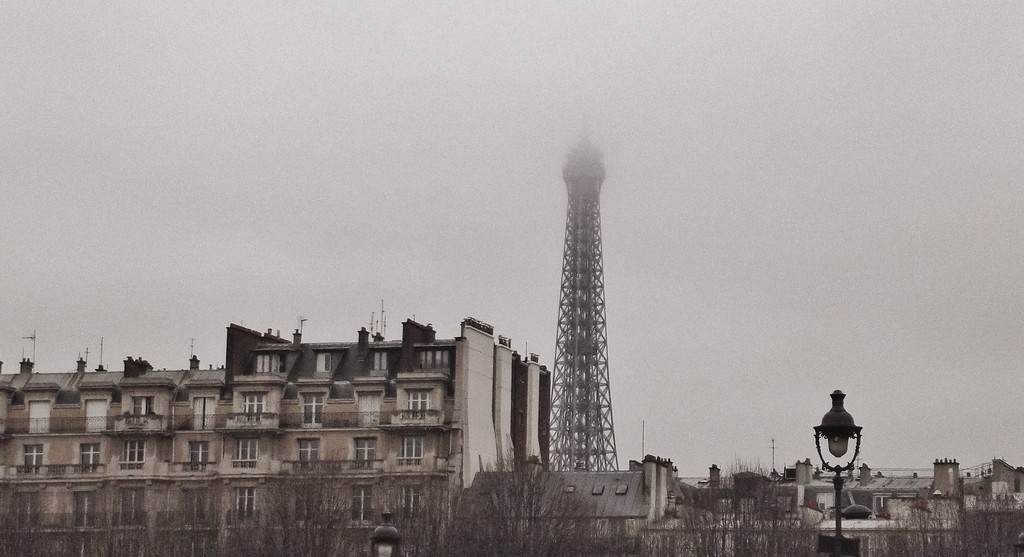 As the bus got closer to the city centre, I found myself feeling more at ease with Paris, as essentially, I was able to see the Paris that I knew. The buildings were old and the streets were cobbled. There were loads of luxurious shops and restaurants. I fell in love with this image and for a moment on the bus, I did think that Paris would be the perfect city for me. Several minutes later, the bus arrived at Opéra. Here I got off, with my suitcase. I had been impatiently waiting to see the city of Paris but the moment that I got off the bus, two gypsy girls approached me asking me to sign a petition. Some in Lyon had warned me about these people and said that they use these petitions as a distraction so that they can take pickpocket you, or they ask for money for charities. I was cautious but I was a bit lost too, so I knew that it would be easy to steal something of mine. However, I was left with a bad impression of Paris.
I was unsure of where I had to go, but eventually I chose to follow the street to the right and hoping that I would find a metro. Fifteen minutes had passed since my arrival and I was fed up, so I decided to go to the train and wait for the bus to Lyon. However, it was difficult to find the entrance for people without tickets. I had to walk around for several minutes until eventually, I found an entrance where I was able to buy tickets. The system was a bit like that of Lyon, so it was not difficult to use, yet it was a bit more expensive. In the metros, there were not a lot of facilities such as lifts, so I had to climb the stairs with my very heavy suitcase. I had to be careful but it was really difficult. Sometimes I tried to carry the suitcase and sometimes I wheeled it.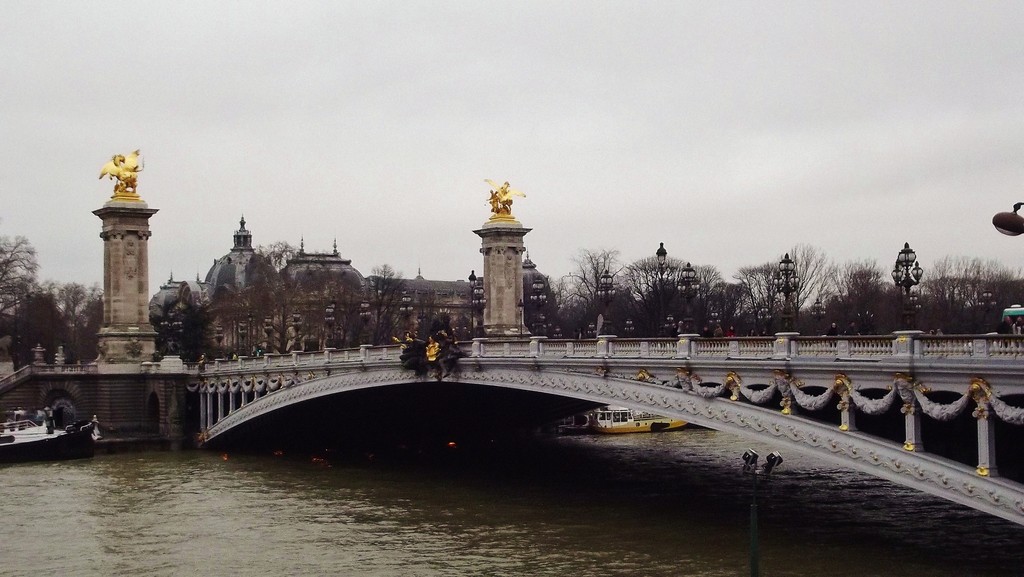 For this reason, I made the decision to not go to the bus station and I took the metro in the opposite direction as opposed to towards the Eiffel Tower. I believe that I had to change lines once, and by looking at the map, I did think that it would be easy to walk and that the Eiffel Tower was not very far from the metro. I thought I had a lot of time so I wasn't really in a hurry as I walked around Paris with my suitcase.
The metros here were very old and it was certain that they needed to be modernised. The barriers were larger than those in London but they were quite strong and you had to use a lot of force to get through to the other side. Initially, it was quite difficult for me. The calmness of the platform was interrupted by the noise of my suitcase as I wheeled it, and I attracted a lot of attention. It was clear that I was having difficulties with my suitcase. However, no one helped me. The metro arrived and it was ancient, like the world's very first metro. Some of the doors did not automatically open. I started to appreciate Lyon a bit more.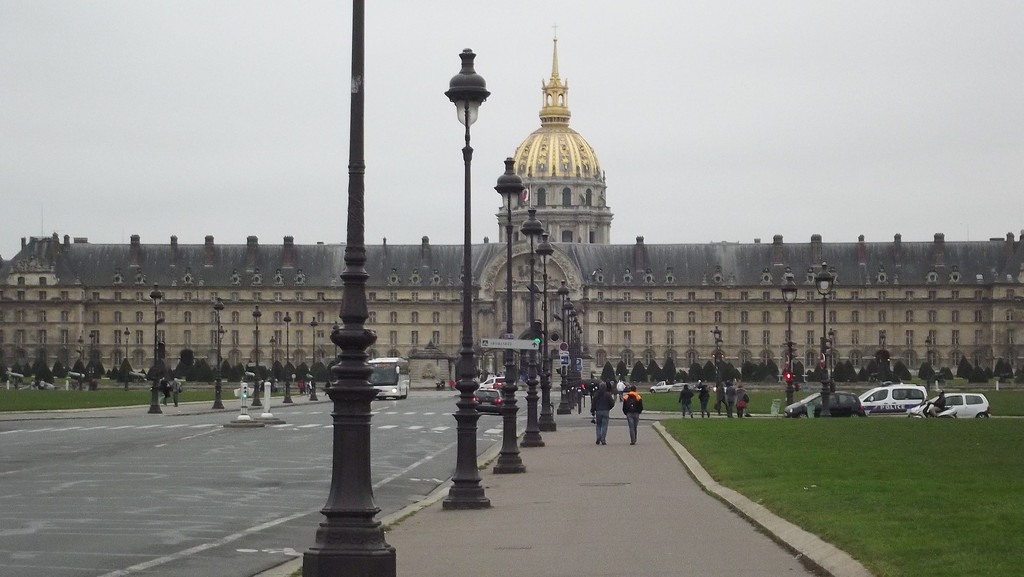 Eventually, I got off at a place which I thought was quite close to the Eiffel Tower. However, when I exited the metro, I could only see the tip of the tower, I decided that the tower was not very farm and I started to walk towards it, but after some minutes I could no longer see it. Instead of continuing, I went towards the river and returned in the direction of the metro after having taken some photos of the tower's tip in the fog. I was not sure where I was, but there was a large building next to the river and an Air France building too.
Despite the fact that I was a bit lost, I had loads of time. I decided to continue searching for the Eiffel Tower so that I could take a photo of the metal tower. When I went up the metro stairs, I had some difficulties. At one point, a German man helped me, for which I was very grateful as my back was a bit painful and an injury in my back was the last thing I wanted.
I arrived at the stop for the Eiffel Tower and again, I had problems with my suitcase. What's more, I was a bit lost and overwhelmed by the city of Paris, however I did know what general direction to take in order to find the Eiffel Tower. Eventually, however, I found a café which was somewhat familiar. I was certain that I had eaten here the last time that I was in Paris, nine years ago. Although I liked the holiday as a child, the end was marked by the loss of two of my favourite teddy bears. I was sure that it was the woman who cleaned our things but nonetheless I was really angry as a child. I was too young to remember a lot about Paris except for Disney Land, because I was too immature to appreciate the cultural side of the city, I was keen to return to see the 'city of love'.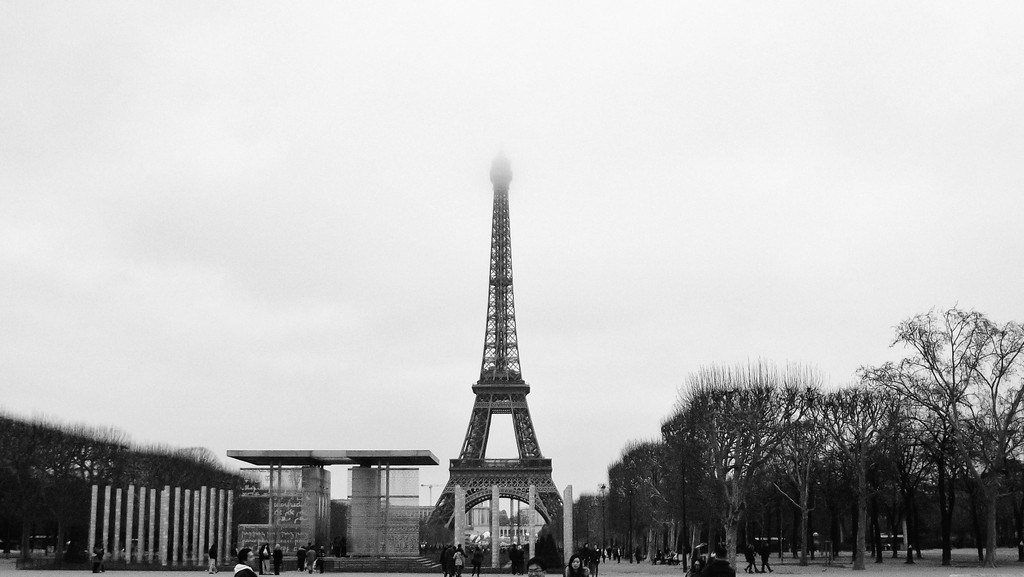 With a lot of effort, I went on with my suitcase until I reached the perfect place to take a photo of the Eiffel Tower. The top of it was more hidden as there was a lot of fog, however, I was finally happy as I had seen the things I wanted to see in Paris since my arrival that morning. I chose to take a photo in black and white as there wasn't a lot of colour in the original photo as the city was quite grey, the sky too. Now, it was definitely time to go to the bus station which was quite far from where I was. I was so fed up of getting lost and of the grey city of Paris that I was keen to be back in Lyon, a more familiar place to me.
Some other tourists helped me with my suitcase when I went down the metro staircase. I was really appreciative because this had saved me some time and it was more difficult to go down alone with my suitcase. I changed metro lines at Opéra for République. The station was quite big and somewhat like a labyrinth. Eventually, after having gone in every direction, I found my platform. There was not a lot of light and it was really dirty. The homeless people there slept on the benches and there was a strong odour of urine. It was really unpleasant. At this point I really wanted to get out of Paris as it was not the city that I imagined in my head. But it would be a long time before my ordeal in Paris would be over.
As I left the city centre, the people seemed more and more strange. I was a bit worried and I felt slightly vulnerable with only my suitcase. In the end, I arrived at the bus station. In my head, I imagined that there would be shops and loads of places where I could sit down to pass the time before my bus departed, as I had over and hour to wait for the indicated time on the registration document. This was why I did not arrive earlier at the station.

I went into the Eurolines bus area, and immediately, I was really shocked with the scene I saw before me. The room was completely full of people waiting for their bus or in line waiting to be registered. There was not even a tiny bit of space for me and my suitcase and there was no information about a journey to Lyon and which queue was for this journey.
Eventually, I decided it would be a good idea to join the line for the customer service. It would be better to not have to wait in a queue because of other people there who were happy to ignore others and go straight to the cubicles without thinking of those (me) who were waiting patiently for a free cabin. I was not happy. It seemed that the other travellers had absolutely no respect for others and that they rejected conventional social norms. I asked a woman for the number of the line which I needed. It was line N, the longest in the waiting room.
It was more than an hour wait for the bus to depart. Most people here are immigrants from all over the world. However, it was clear here that most of the people in the bus station were quite poor, but I did see some African men with their large bags for their portable shops selling well-known brands such as Louis Vuitton and Gucci! Some people tried to join in the middle of the line instead of at the end. In the queue they used their phones and spoke loudly and some were quite impolite. There was a lot of chaos. It was terrible.
I patiently waited in the room and took in my surroundings. The waiting room was dirty! The wall was tiled and it was clear that the building should be modernised. It was very dilapidated and I didn't want to know what condition the toilets were in. It would be better to go to the loo before the six-hour trip from Paris to Lyon, but I was unable to because of having a suitcase with me in a station like this! The man behind me was not happy with the system and was becoming more and more angry. The queue didn't move and the atmosphere was becoming more frustrating and stressed as the line grew. It was clear that there would be a lot of people here, yet there was only one person to deal with the huge line of people. They should have opened another cabin to save time. It only took an hour for them to open another cabin, for which I was at the start of the line!
It was less than ten minutes until the bus was due to leave. I had no idea of the problems or why I had to wait for so long because I was only at the booth for a few seconds! I gave my ticket to the woman, she nodded her head and that was all! In the end, I was happy that I had arrived at the bus station with a lot of time to spare, as I had to wait in line!
I didn't have time to hang about. I had to go to the bus to give my suitcase to the man and find my seat on the bus. It was here that I found out that the bus was not only going to Lyon, but Spain too, Barcelona and beyond. So I imagined that there would have been some problems with the documents and things like that at the till. At the bus, there was a lot of faffing around as a group of African guys had gone over their baggage limit. There was a maximum of two suitcases per person. Because Lyon was the first stop, the bus driver let me put my suitcase on first, and then I boarded the bus.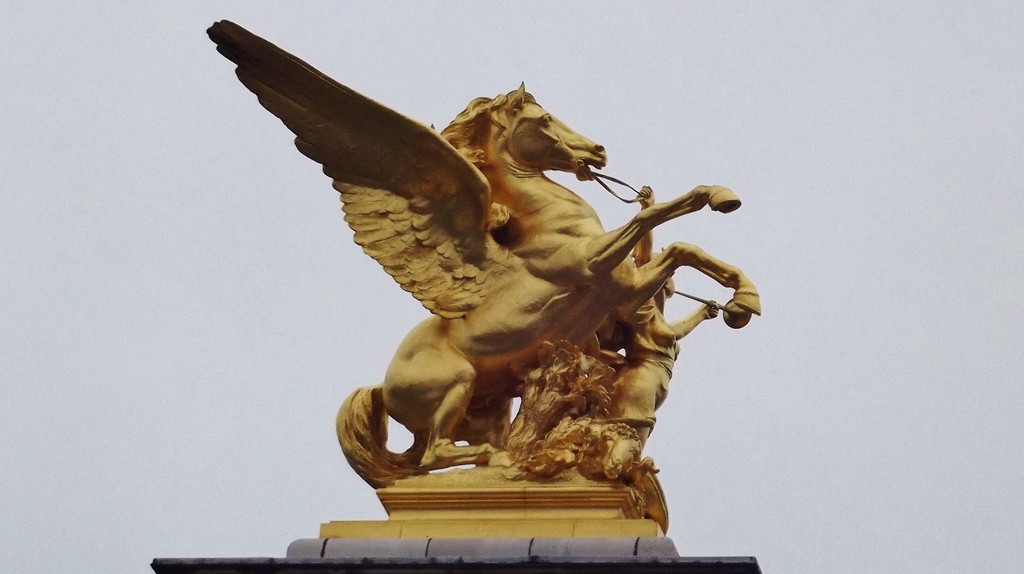 As I was waiting to give my suitcase to the driver, I noticed that there was a man who was constantly looking at me like he was desperate for my attention. I would not have given him my attention even if we were the last two people on this planet. I got on the bus and found two free spaces. So I sat by the window. However, some moments later, a group of men arrived and one looked a little too closely at me. I knew that I would not be comfortable on the bus for six hours if they were near to me. So I went a bit further away next to a Muslim woman - I thought that it would be better to be sat next to a woman. A moment later, I realised that she was speaking in a loud voice to the man behind us constantly. I was already tired and I thought that the journey would be better if I was not in the middle of a conversation. So, I changed seats once more.
There was a young French man who was in the middle of reading a book. He had a laptop bag with him and he seemed to busy to annoy me. So I stayed there after asking him if he was waiting for anyone. He continued to read and I decided that it would be a good idea to read too, so I took my book from my bad and started the next chapter of 'The Hobbit'. I had almost reached the point where the film ends and I was curious to find out what happens after. The journey started and several minutes later we passed the grey suburbs and run down part of Paris and I noticed that the man who was reading had the same book as me, however mine was in English and his was in French, titled 'Bilbo L'Hobbit'. Plus we were more of less at the same point in the books! It was really strange!
We continued to read as the bus went onto the motorway. It was now night and it was not long before I felt too tired to continue with my book. So I slept for 45 minutes. I woke up, and after 20 minutes, I slept some more, for another 45 minutes - the journey continued like this for several hours. It was really long and time passed very slowly and now I was very bored. Some people had started to use the toilet on my right. After a dozen people had used the tiny toilet, every time the door opened, I was hit with the pleasant scent of urine! Plus, I myself needed the toilet too, but I would rather have wet myself than use the bus loo!
My saviour came five hours later when the bus stopped at a service station for 40 minutes. I ran for the toilets. Fortunately they were quite clean and I didn't have to pay to use them and didn't have to wet myself! After, I was free to see the things in the shop and could buy things to eat. I could not remember the last time I had eaten, but I was not hungry. So in the end I bought a mug of mushroom soup. It wasn't too bad and was sufficient for me.
There was nothing for me in the shop and I started to browse the books. There was one about the calories in different foods. I was not sure if it would be a good idea to buy a book like that as certain people might think that I have problems with my weight. It was only five euros and I thought that this book could be useful for me. I was about to buy it when all of a sudden, the man who had been sitting next to me reading the Hobbit, came up to me and asked me if I had eaten something. Like a parent would. I said 'yes' but there was not a lot of soup. We started speaking about other things. I learn that he was on his way to Barcelona to visit his girlfriend. He was from Paris, but lived in China with his brother who lived in Japan. This man was very interesting. I thought about an article I had read on the plane about explorers and I thought that it was almost certain that this man and his family have the exploration gene!
We also spoke about our books. I always wondered how certain parts of Tolkien's books would be translated as the language can be difficult and most of all certain aspects of the world he imagined. The man answered my questions and told me that certain translations were missing and sometimes the reader is presented with a choice of translations. He told me that he prefers to read the book in English. I suppose that there are many advantages to reading a book in its original language, as you can understand better the writing style and something certain meanings are lost in translation. All in all, I didn't have time to buy the book I wanted in the shop.
When we returned to the bus, it was only an hour until the scheduled arrival time in Lyon. I had loads of energy during this last hour thanks to my enthusiasm about returning to Lyon. We went under the Fouvriere hill towards Perrache. I was happy to see a familiar place. When the coach stopped, I retrieved my suitcase and left to find a bus.
As it was quite late, it was a bit hard to get a bus to Perrache. The 49 bus was due to arrive in an hour, and I didn't want to walk a lot to take the C21, so I took the metro to Bellecour in order to get the C20. It was here that I bumped into my Chinese friends and started having a chat with them. They told me stories about their Christmas Holidays and they had gone to Paris too, but had taken the train instead like a normal person!
Lastly, I arrived back at the residence and it was very hard to climb the stairs with my suitcase. After 15 minutes I was in my bedroom. I was extremely tired. I had been travelling for 17 hours. I needed to sleep for a long time.
I didn't like Paris because it was not the city I imagined in my head. The Chinese people on the bus thought the same as me too. But I was unsure about what particular things made me feel like this. I remembered an article about Paris Syndrome, which is apparently a psychological syndrome found in Japanese populations who were not happy with the things they found in the city of love!
However, it is difficult for me to come to a conclusion because I was only in Paris for a few hours and I believe that the fact I had to take my 20kg suitcase around with me also played a role when forming my opinion about Paris. I would be happy to not return to Paris. However, a week later I book my tickets to return to London for the winter break in February for a few days to celebrate my birthday. To save money, I have to change trains at Paris, but this time I will not be taking a detour out of the station with my suitcase, although I have 3 hours between the two trains!
---
Photo gallery
---
---
Want to have your own Erasmus blog?
If you are experiencing living abroad, you're an avid traveller or want to promote the city where you live... create your own blog and share your adventures!
I want to create my Erasmus blog! →