Flight day. part 3. From Turkey to Germany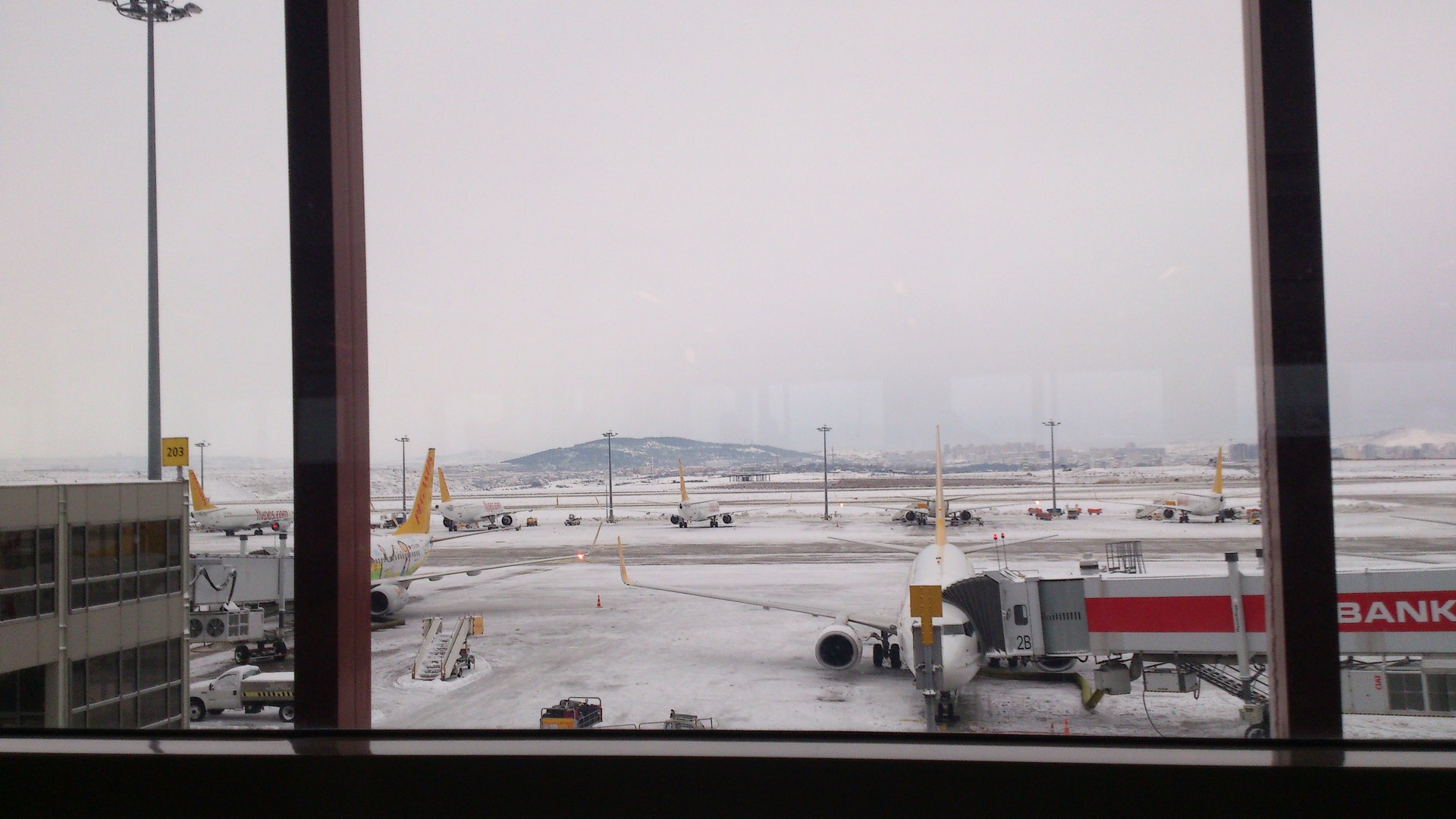 The introduction
Hello everyone, I hope, that you are all doing just fine! This is another article about me flying back to Germany and how I got from Turkey to Germany, you know. It's a continuation of those two articles about my flight back there. 
Well, as I've told you, there's this stop in Istanbul airport and then we get on the plane again and fly back to Germany. That airport is Gokcen airport, where many flighs have stops and then people continue their way to their destinations.
Gokcen airport
To tell you the truth, I don't like this airport. I don't like it, because I have been there a couple of times and I had to wait for my flight for some hours alone and there was no one with me to talk to or have fun or something like that and that's why I don't really love going there, however, the flight is via this Gokcen airport and I have to go there and sit there for some time, until my flight time comes. And I just hate that process, I mean, the waiting for the flight all alone and stuff. It would be good, if someone was travelling with me. That was last year, when I met one of my schoolmates there and we flew to Germany together, however, that was one time and the other ones I was all alone in that huge airport, and didn't know what to do and where to be until the flight announcement. To be honest, it's not that big of a deal, I mean, one can always find some ways to enjoy the travelling and even if the airport is full of people and things that you can look at and see or have some things to eat or whatever, it's still boring wandering there without anyone to talk to. 
It's like, that you are just walking around and not knowing  what to do, you just wander and without any destination just wait for your flight to be announced. I don't really like that, if you want to know the truth, however, my sister really loves walking all alone and she even prefers walking alone, than with anyone else and she just uses to do that all the time, I guess. She likes that walking so much, that she can just walk without any real purpose and walk into some markets and just look at the prices and the ingredients of some products and well, she really loves that process, if you want to know the truth and she can do that all day long and she won't get tired of that. When she had to fly from Amsterdam to Istanbul  and then to Tbilisi all alone, she was very glad about that and she didn't really feel alone, I guess. It was really surprising for me, because when I had to wait for my flight at Gokcen airport in Turkey, I was really bored and tired of all that waiting and I just wanted there to be someone to whom I could talk to. That's really sad, if you want to know the truth.
So, Gokcen airport is not that huge, but it's not that small, either. Some say, that they got lost there, because there are no signs actually telling you where to go and where are some important things, and maybe they are right, because some of the signs are really necessary to be there, however, they are not very well decided, if you want to know the truth. I mean, some of them are pretty hard to reach when you are searching for some information about flights and gates and stuff like that and there are so many people getting to Gokcen airport not knowing Turkish, that they can easily get lost, because some of the staff members don't know Englishor don't know it well, so that you have to put all your effort to explain them something that you need so that they can help you with your problem. However, those things didn't really happen to me and I was glad about that, of course.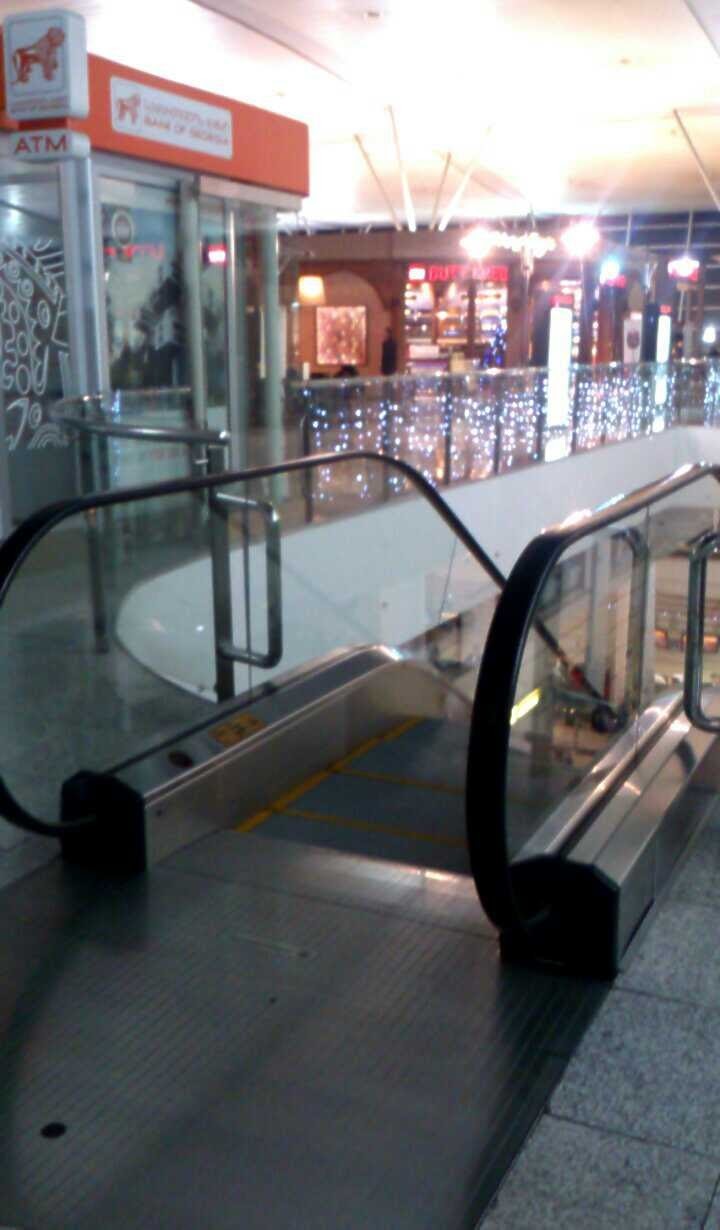 Well, once I was in that airport for the check-in or something and there were these Turkish people, who just couldn't get passed or I don't really know what the exact reason was for them not to be allowed to pass the gate and, I guess, they were a family and the older one, a man, just got so angry that he started screaming at the staff member, who didn't let them through and he was just really mad, but he couldn't really do anything and just shouted for some time and then they went away and left, of course, however, this scene was something, that I can't forget and I still wonder, what was the reason that they couldn't pass through. Well, who knows, at least, I don't.
So, I've been to Gokcen airport for a couple of times now, and I have been there on winter seasons for two times, I guess, and I must say, that the Christmas decorations are very beautiful there and I just really like some of those stuff, that they have there for the holiday spirit. I mean, they have these large Christmas trees decorated and the staircases and the halls and things like that and it's really amazing to look at them while you are waiting for your flight. And everything's like shining around you and, well, then there are these shops and cafes and some lovely things around, that you can't really not look at them and be fascinated. The interior there is really nice, in general, if you ask me.
Well, this time when I was at the Gokcen airport was a winter season, too, and I was going back to Germany for my studies after the winter holidays spent in Georgia with my family and friends and everyone else. I kind of didn't want to go, because I got used to being in Georgia and with all my people and family and it's always sad leaving for somewhere else, which is that far away, of course, however, I had to go, so that I had all those things packed and I was ready for my flight, you know.
Well, there was some snow in Georgia and it was snowing in Turkey, too and people got stuck there and some flights were being delayed and some of them were cancelled because of a heavy snow, as they said. You know, when I flew to Georgia, I had this ticket from Munich to Kutaisi, which is kind of far away from Tbilisi _ the place where I had to be in Georgia. However, those flights were cheaper, than to Tbilisi and, besides, they were the direct flights without any more waiting for my flight, so that I preferred that one and it was my first time flying from Germany to Georgia _ to Kutaisi airport without staying for some hours in Istanbul airport and I was very excited about that, however, we didn't land in Kutaisi, rather, we landed in Tbilisi that day. The thing was, that it was snowing in Kutaisi pretty hard that evening and there's this environment around, that there's always windy and stuff like that and it was worsening the heavy snow, I guess, so that when we went close to Kutaisi airport, the plane just went on circles and couldn't really land. I guess, we were like that for half an hour or I don't really know, however, it was kind of scary, but not scary at all, at the same time, because I knew, that I was home and that was a strange feeling, if you want to know the truth. It was like, because I was home, I couldn't have anything happened to me, you know. So that I was pretty calm and I was very glad, when the pilot announced, that we couldn't land in Kutaisi and we had to go to Tbilisi airport and land there. You know, I was supposed to get to Kutaisi airport, where I would then go to this bus station and I had already bought a ticket for 7 Euros and I would sit there and it would take me to Tbilisi exactly on the Freedom Square, where it's stop was, and I would have to be in the bus for 3 hours or even more, I guess, because of the snow and everything. However, I got that lucky and our plane went to Tbilisi airport and landed there and I didn't have to travel all those kilometres to Tbilisi. Well, there were many people in the plane, who, just like me, had to go to Tbilisi from that Kutaisi airport, so that they were all happy like me not to have to be on their way even more hours. And that was when my sister and father were waiting for me to call them that I landed or something like that, you know, and my brother and mother were working that day and that's why they were waiting for me to call them, too, and they knew the time, when my airplane was to be landed and they didn't know anything about the delay of landing, of course, and well, they were kind of nervous and stuff, however, I couldn't do anything and I couldn't tell them, that we were coming to Tbilisi right away,so that they would be prepared and they would come and meet me at the airport. Well, I called them as soon as we landed in Tbilisi, though they weren't really waiting for me to be in Tbilisi that soon, of course, and they rushed to the airport as soon as I called them. Well, I must say, that they got there pretty fast and while we were waiting for our bags and stuff like that, they got there and were waiting for me to come out to the arrivals hall.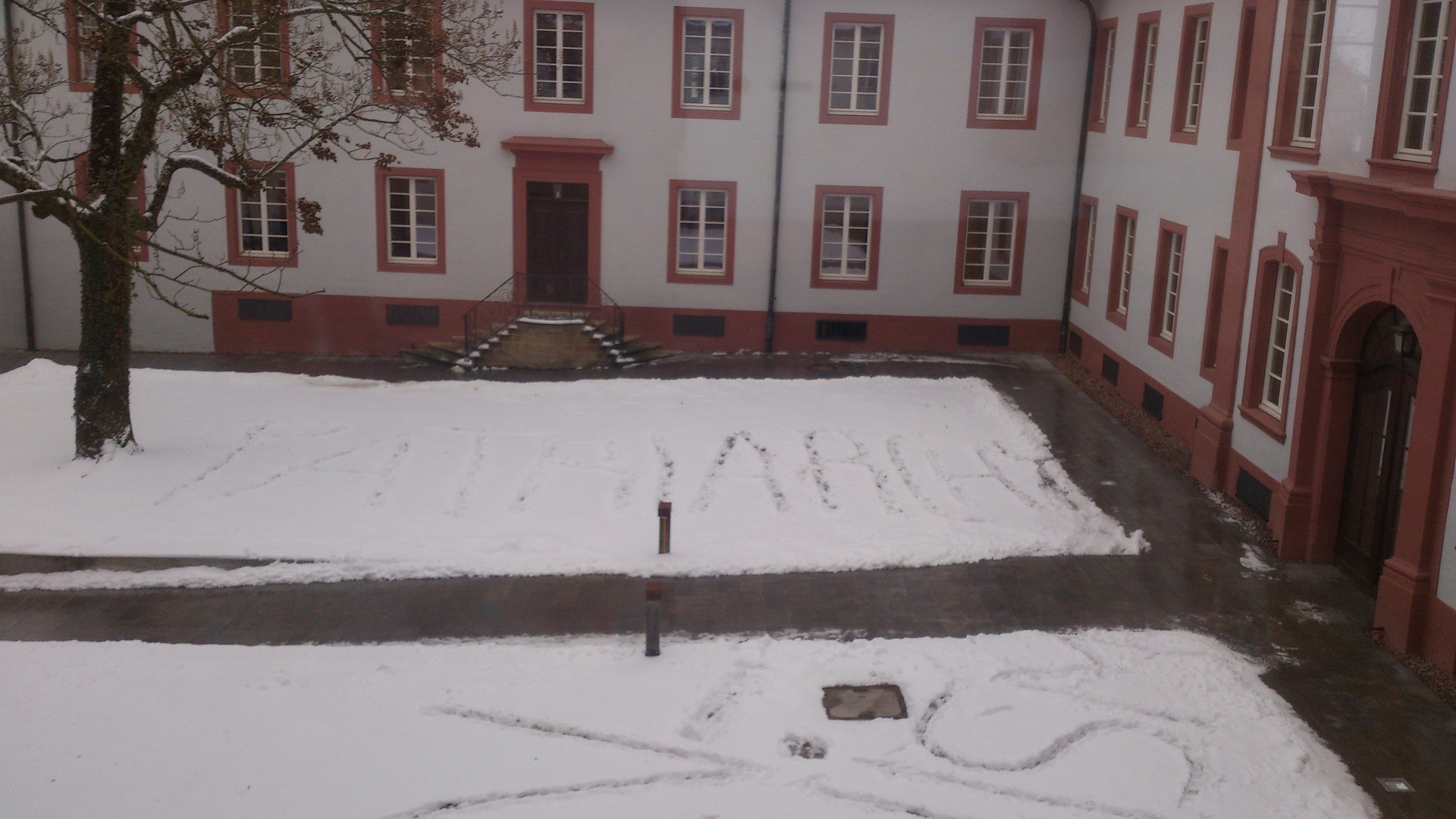 Anyways, now that there were the two of us _ me and one guy, who was going to study with me in Germany _ it was merrier, of course, because I was not alone anymore and I could talk to someone, you know, so that when they announced, that our flight got delayed, I wasn't that angry as I would have been if I was alone there. Well, it was good, that our flight got delayed and not canceled, because we had to be at our college that day, you know. We got lucky that it didn't get canceled, because there were so many flights canceled just before our eyes, that  I was really afraid, that our flight would get canceled, too, however, it didn't and it just got delayed for 40 minutes, or so. Well, to be honest, it was not that pleasant, that our flight got delayed, however, it was better than cancelling, of course.
So, now that there were two of us, we could just hang around and look at some stuff or just sit somewhere and eat and, well, when you are waiting for your flight for quite some time, you get pretty hungry after some time, so that there were some great places, like Burger King and McDonald's and some pizzerias and other cafes, however, we wanted to eat some burgers, of course, they are just great almost anywhere, I guess, so that we went upstairs, where there are lots of them and they have some pretty good pizzas, too, and, well, I just love pizza and me and my brother, both, and we can eat pizzas all alone and we can eat them plenty, however, I wasn't really up to those pizzas at that time and we ordered some burgers and French fries with Coca Cola, of course. That's the usual thing that people order at those places, it's like a combination or those things and it's just one order, you know. There are some great discounts sometimes in those places, for example, they had some great Big Taste menu discounts in Tbilisi when I was there _ if you bought one menu, they gave you the other one free of charge, I mean, as a gift, and that was a pretty good offer, if you loved Big Taste, and, well, who doesn't love Big Taste?! To tell you the truth, my sister doesn't have it tasted, and she doesn't know what the Big Taste tastes like and I'm pretty surprised, because she and her friends used to go to McDonald's all the time some years ago and I thought, that she would have tasted that Big Taste for sure, however, she told me, that she hadn't tasted it, and she even has not tasted the Big Mac, either. That's really surprising, if you ask me.
Anyways, we had our meal while waiting for our flight to be announced and there it was, finally! At last, they announced our flight and we just rushed to the gate to get on the plane and start off. We had been waiting for it for so long, that we wanted it to be off to Germany soon. Well, we were going to the Munich airport and it would be a  great feeling getting there. And, well, there was supposed to be a good weather there as I knew, but who knows, some people were telling me, that it was all freezing and stuff there, however, I didn't really believe that and I was right. It was a good weather in Germany and it was not that snowy or windy weather there as it was in Turkey, you know.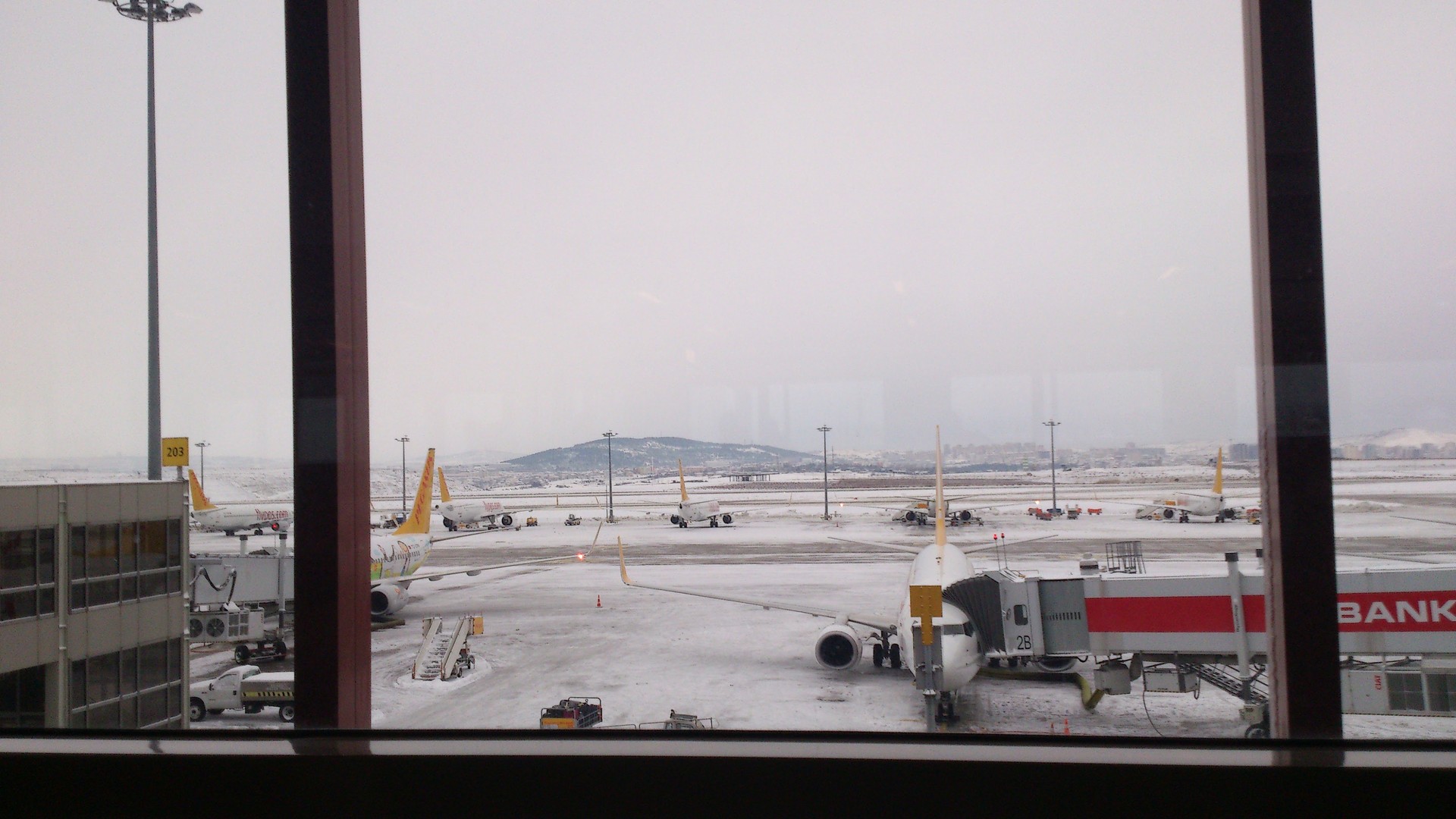 Back to Germany
Well, to tell you the truth, I thought, that Memmingen airport would be kind of amazing, however, it was not that amazing at all, I mean, it was a normal , usual airport. Well, what else it could have been, right? But, I expected something more, if you want to know the truth. However, it was still Germany and it was better, than the Turkish airport, because here I didn't have to wait for any flight, I just had to go to that bus station and get into my bus and get back to Freiburg. Well, now I had the new student with me and I was like guiding to him, too, so that he wouldn't get lost or anything. You know, first time, that I had to go to Freiburg, I didn't have anyone to guide me or something like that and I met one of the students in Gokcen airport and that way we went there together in Freiburg, or else, I would have to travel alone and, well, I was just sixteen years old or something like that and being alone in airports and that large Europe is not that pleasant at that time, if you want to know the truth. What's more, I had to be at a college and I didn't really know where it was and how to get there and good thing, that they met us there and took us to the college, otherwise, I could get lost, of course, all alone and not knowing anything about the surroundings there or something like that. Of course, I knew some things theoretically, but most of the times, the theories doesn't really meet the practical stuff, I mean, they do meet each other, however, not that exactly, as one would anticipate them to.
Well, finally we got into the bus and went to Freiburg. You know, the road was not that short, I mean, we had to travel for 2 hours or so to get to Freiburg from Munich, however, it wouldn't be so bad, because we could sleep there or do something or look from the window or whatever. The main thing was, that we were in Germany and though  our flight got delayed, it didn't get canceled and we landed in Germany okay and we could just sit back and relax in the bus while it would drive us to Freiburg. You know, the ticket cost about 20 Euros, and I had it bought via the android application of Flixbus and that's a pretty good way of controlling everything and your travelings and stuff like that, you know, because you just click on it and you pay for it and they send you everything necessary for your trip and stuff like that and that's really efficient and easy to handle. It's pretty amazing, how life gets simpler every day and we can't even feel those things being simplified, I guess, because we just do those things or use those things and then, after some time, when we look back and think about it, we just realize after that time, that we have been using those simplified things for quite some time now and that our lives have become better and easier, than they used to be some time ago. And if you don't realize that, then you must be blind or something like that, because those things are so obvious when you think about them, that it's really hard not to notice those changes.
Anyways, some time later we were in Freiburg and we went to our college, where there were some of my friends already waiting for me and, besides, I had to introduce our new student to them and to other people, too, however, he could manage it himself, I guess. Though I still had to tell him some things about the college life and the things about it and where some things were and where to go and all those directions and stuff like that. However, it was not his first time going there, I mean, it was after the winter vacations, you know, so that we had already been there for the fall semester and he had already had his first semester there, so that he was kind of familiar to some things there, you know. And for me, it was the start of the fourth semester, I mean, I've studied there for already for a year and a half, if you count it like that, so that I'm pretty familiar about all those things, that happen there and everything else, you know. It's like another home, where you know where everything is and where you just feel like home and everything, because I've been here for so long and I've visited many places here and there and I must say, that I'm pretty sociable and active in many things and I participate in many things, so that it's pretty awesome and I get to know many people here and I just really enjoy studying here, if you want to know the truth, however, I won't lie to you about the studying, I mean, we have got a lot of homework and deadlines and exams here and it's pretty hard, too, if you don't work hard and do your best, you won't get good scores and if you don't get good scores, then you won't get into a good university, of course, and I'm going to university and I've already been enrolled in the very university in the USA, where I wanted to be enrolled, however, if I don't pass all my exams very well, it will be a shame, of course, and I'm not going to do that and I'm going to study hard and be the best, you know, that's my ambition and I have many ambitions, I must say.
Well, that was my trip from Gokcen airport to Germany and to Freiburg, in particular. It was a pretty long trip, I won't lie to you and a pretty tiring one with all that excitement and worries and everything about the flight changes and delays and cancels and things like that, however, it all went well and we were back to our college and we could get prepared for the next day to start our new semester and continue our studies there. It was pretty good to be there again, however, it was sad that we had to leave our families and the place, where we grew up and where our home is, of course. So, we had to focus on our college life there and get used to doing all that homework and readings and everything, that we are supposed to do there to get good grades and pass the exams and as I am the senior, I mean, I'm graduating this year and this semester, I have lots of exams coming up and they are for my final grades, so that I have to work pretty hard to ace all of them and be the best and, as I've already told you, that's not easy at all, moreover, it's pretty difficult and tiring. I'm not whining, or anything, don't think it like that, however, I am telling the truth and I want you to understand, that it's not a piece of cake studying here and it's not like we are just having fun and hanging around and doing nothing, as some of the people think we are.
Anyways, I wanted to tell you about this experience of mine of flying from Turkey to Germany and those feelings that I had during it and about that heavy snow in Turkey and how we got lucky our flight not to get canceled and everything. I hope, that you enjoyed my article and perhaps found some useful stuff in it, too. So that, if you get stuck in some airport, don't be all nervous or worried or something like that. You can hang around there and wander and look at some things and everything, you know, because with worrying and stuff like that you won't get anywhere and you will just stress yourself with that, of course. Rather, you can enjoy the atmosphere in the airport, besides, if it's the Christmas season and winter and New Year, it's always beautiful in those airports and you will always find something good there to see and enjoy and everything, you know. Being stuck at the airport doesn't have to be a bad thing, because you can't really do anything about it, I mean, you can't change the weather, of course, so that you can just sit and wait and while doing that, you can just enjoy your surroundings.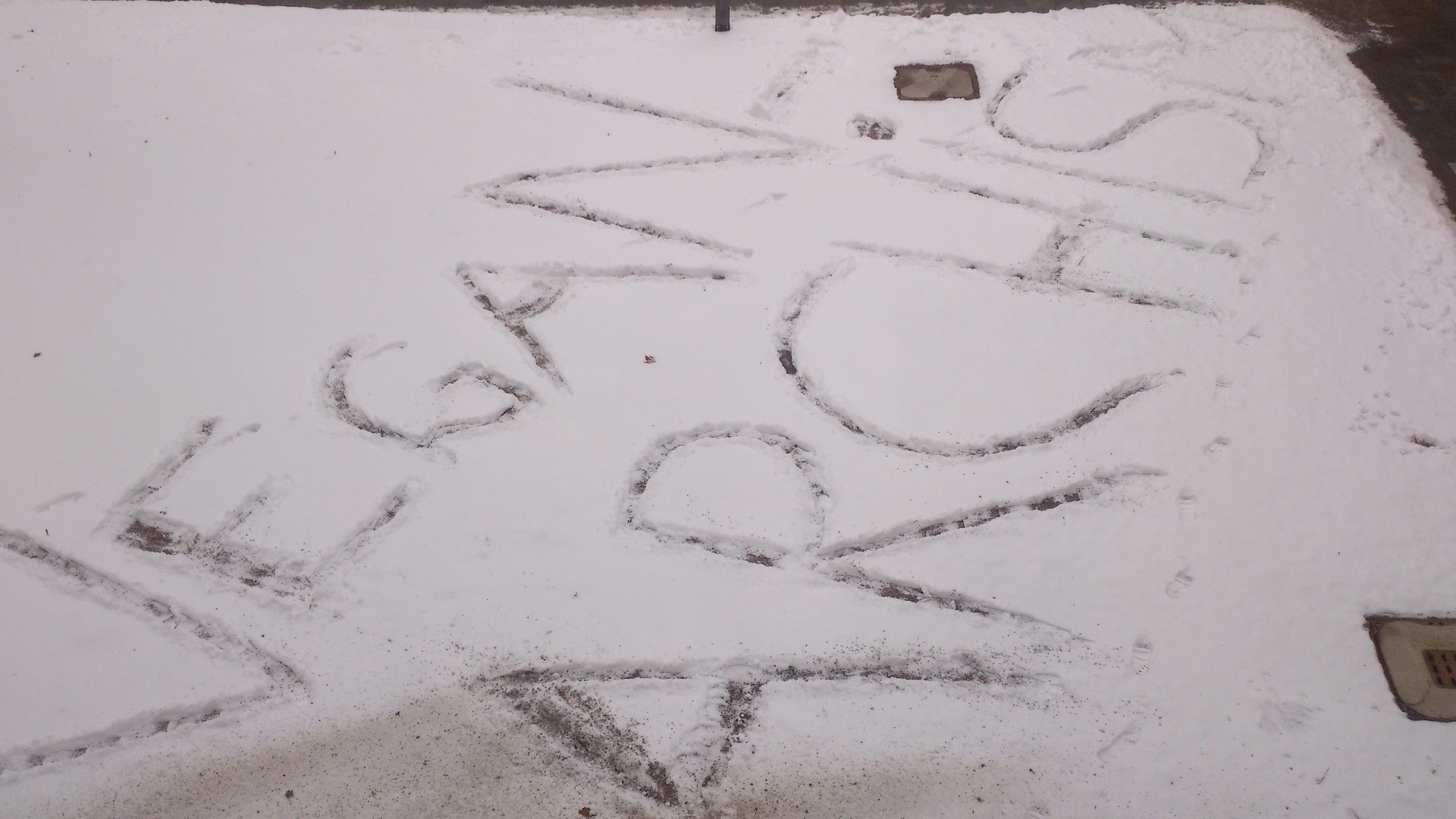 ---
Photo gallery
---
Want to have your own Erasmus blog?
If you are experiencing living abroad, you're an avid traveller or want to promote the city where you live... create your own blog and share your adventures!
I want to create my Erasmus blog! →