Back to Cold Germany
Computer Chaos
So after the Goodbye Dinner and a very short night my alarm started to ring at 5:00 a.m. I didn't want to get up yet, but the excitment helped me a lot to get up. It was the day of my departure and in the evening, in only 12 or 13 hours I would be in Munich again and see my Dad and his girlfriend that would come to the airport and pick me up. My flight was at 12:30 p.m. and of course, I could have taken another bus two hours later, but my Mum had told me that they had arrived at the airport shortly before the Check-in counters had closed, because their bus had been stuck in the traffic. That had scared me and for that reason I had decided to take the earlier bus at 6:25 a.m. I got up, put on the clothes I had already picked the day before and put the rest of my things into the large suitcase. After I had closed everything I checked the weight for the different bags one last time in order to avoid surprises at the airport. Then I looked into all the wardrobes to avoid that I wouldn't forget anything. When I hadn't found something left, I put on my shoes, took one last look from my balcony and left the hotel room. I was much too early but I couldn't stay in the room any longer and I preferred to be at the bus station on time.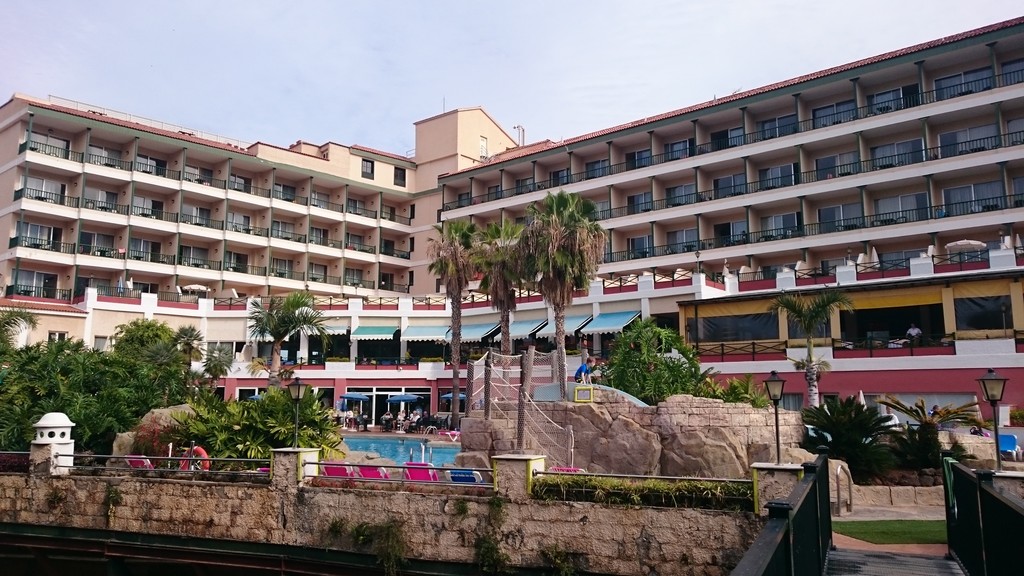 I went to the reception with my two suitcases, my handbag and my laptop bag and felt like a turtle. The man at the rececption started to smile at me - it was a mixture between friendly "I am working at a hotel reception and have to be friendly" smile and laughing about me, but when I started to speak in Spanish with him he became that impressed Spanish guy that really loved to speak some Spanish at work - most of the Germans in that hotel weren't able to say anything but "Hola" and maybe thank you. I gave him my room key and asked him if there was anything left to sign, do or pay, but he told me that everything was fine and I could leave. When I asked him how long a taxi would take to arrive and to get to the bus station, he told me that it would be possible in about 10 or 15 minutes. I told him to call a taxi for me but he just smiled at me, and said that it was a bit too early to get down to the bus station already and asked me if I wouldn't like to have some breakfast before. I had thought that it was mandatory to reserve that breakfast the day before, but as he told me it wasn't. So I left my things at the reception and went to the restaurant in order to have a short breakfast. It would save me some money at the airport and actually I was really hungry even if I had eaten some cookies after I had gotten up 30 minutes ago. 
The breakfast was quite poor, but I had expected that. All the things that were almost ready without doing anything in the morning had been put there, like coffee, juices, butter, jam, bread. But for a short breakfast it was okay and after a coffee, some juice and one or two croissants I was happy and didn't want to wait any longer even if I knew that I would have to wait at the bus station anyway. I went back to the reception and told the guy to call a taxi now. He still smiled as he thought that it was too early, but he knew that I was German, so maybe he could understand that after some years working in a hotel with mainly German and British guests. He called my taxi and told me that it would arrive in 5-10 minutes. We talked a bit about my time here in Tenerife, my experiences and everything, and what I would do back to Germany. In that moment I realized that I would really miss that feeling - talking Spanish in a touristic city and being surrounded by impressed people that were incredibly happy when you talk their language where most of the tourists don't understand anything. I liked the guy, but after a while I had to leave and took my things in order to walk down the stairs and get outside.
The taxi arrived and the driver helped me to put all my things into the car. But when I had almost entered the car, I realized that something was missing - but what? MY LAPTOP! I had forgotten the laptop bag at the reception, because I had put it behind the large suitcase before I had went to the breakfast restaurant. I told the taxi driver that I had forgotten something and ran back to the hotel lobby (I had to pay every minute even if he was just waiting). The guy at the reception looked at me and asked why I had come back. I took my laptop bag and told him quickly that I had almost forgotten the most important thing. He just laughed and said goodbye another time. I ran back to the taxi and entered - when I had closed the door and the taxi started the way down to the bus station I realized that I had began to breathe heavily and that I was shivering. I didn't even want to think about what would have happened when I would have forgotten my laptop bag. There was not even my laptop inside, but also my passport, the flight tickets and all the important Erasmus and University documents. The taxi driver had also recognized that I was quite excited and shocked, so he told me to calm down a bit and relax, as everything had gone allright. I tried to do that and relax, but I was simply too excited about everything.
After a while the driver started to become annoying as he tried to convince me to let him drive me directly to the airport in the South - for I don't know how much. It was 1,5 hours to get there and by bus it was 9,55 euros. By taxi you would probably pay 120 euros or something like that - nothing for my student budget, and I guess not even as working person with a high income I would have paid him that much. There was no large difference between taking the bus and the taxi and I preferred the anonymous atmosphere in the bus, as in a taxi you always have that strange atmosphere, not knowing whether you should talk to the driver or not. I would not want to sit in a taxi for 1,5 or 2 hours. When we arrived at the bus station I gave him some tip, as he had helped me a lot with my heavy suitcases and had even looked in the whole car if I hadn't forgotten anything another time. I went to the bus stop of the airport bus and waited - I was 20 minutes too early, and as buses in Tenerife didn't open more than 5 minutes before departure, I would have to wait at least 15 minutes. But it was okay - I had already survived part 1/3 of my journey home: getting to the bus station on time. Now there were only two things that could go wrong: missing the plane because of the bus or a plane crash. But I tried to be optimistic and focus on my arrival in Germany. The bus arrived on time and after I had found a comfortable seat I started to listen to music and relaxed - it would take at least 1,5 hours until we would arrive, and before I didn't have to think about anything. 
Airport Action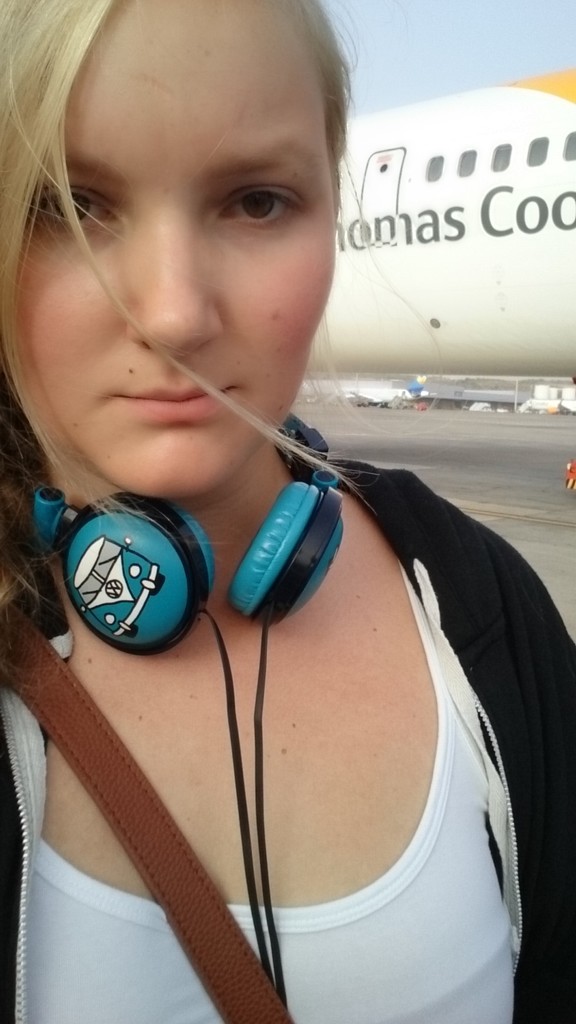 The problem with my need to arrive more than on time was that I really arrived much too early. It was 8:00 a.m. when I left the bus and I was sure that there wouldn't be anything opened, especially no Check-in counter. Anyway, I went to the part of the Terminal where my Check-in would take place later on and sat down at one of the numerous seats in that hall. As there was free Wifi I did some things on my laptop (that I hadn't forgotten in the bus, of course) and watched a movie in order to let the time pass quicker but it didn't work that much. I would have to wait 2,5 hours for the check-in and afterwards 2 more hours for my flight - I could have slept so much longer if I wouldn't be that scared to miss the plane all the time. But now it was too late, so I watched the movie, listened to music, wrote with friends via messenger and called my Dad in order to talk a bit. But he didn't have a lot of time as he was working, so the call ended soon and I was "alone" again.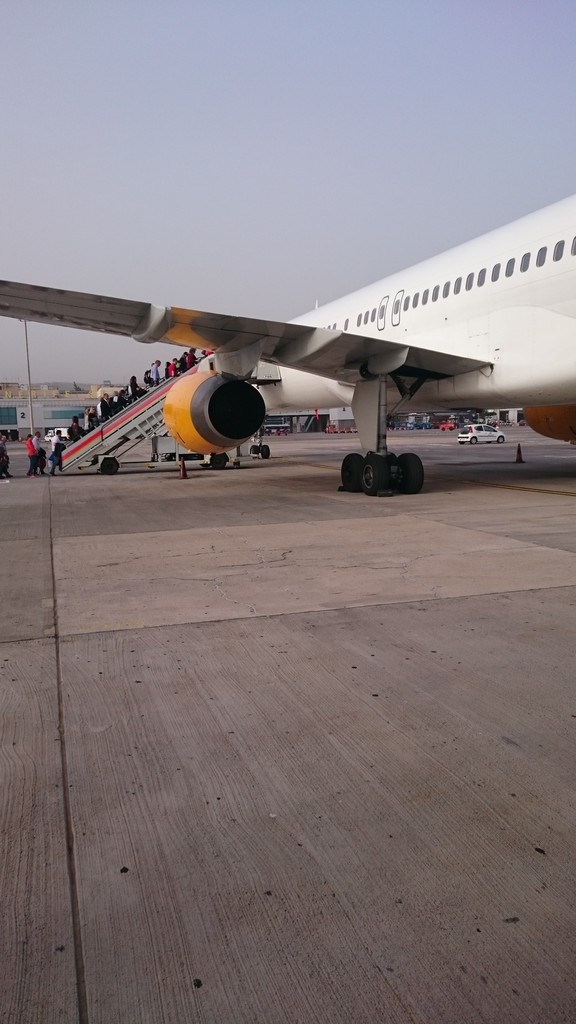 Finally, the check-in opened and I was almost the first one in the queue. Now it was time to pray because you never know if the balances at the airport show the same weight as your balance at home. But everything went good, it wasn't too heavy and my hand luggage was okay, too. So finally I could go through the door and walk the long floor until the Security Check. That was problem number two: as I had already written several times, it you are travelling with a lot of hand luggage the security check is something difficult. You have to put all the liquids extra, your laptop, tablets and even eBooks have to be put out of the bag. Furthermore, sometimes you have to put off your shoes if they are too thick and you have to do everything in high-speed, as all the others behind you are waiting. But as always I passed the Security Check successfully and had to sit down again - for 2 hours. I didn't want to wait anymore, I just wanted to enter that plane and fly the 4,5 hours home to Munich and see my Dad and his girlfriend. I really couldn't wait for that moment any longer, as I had been waiting for it since we had said goodbye at Christmas.
After I had finally survived those two hours, there was the Gate displayed at the large screen in front of me and I had to cross the whole Terminal once, as the Gate was number 1. There, the activity was waiting again, as it would take some more time until the staff would be ready to open the doors and we could enter the plane. As the passengers were mainly older, they didn't understand the principle of that Gate - as it was the first one, there was a glass door in front of it that would be opened by the staff later, but they all thought that the Gate was behind that door and tried to open it. Some of them had a expression full of panic in their face when they couldn't open it and looked around in order to ask some of the other people sitting there what to do. After a while, everyone had understood that it's not possible to pass through that door now and they all sat down.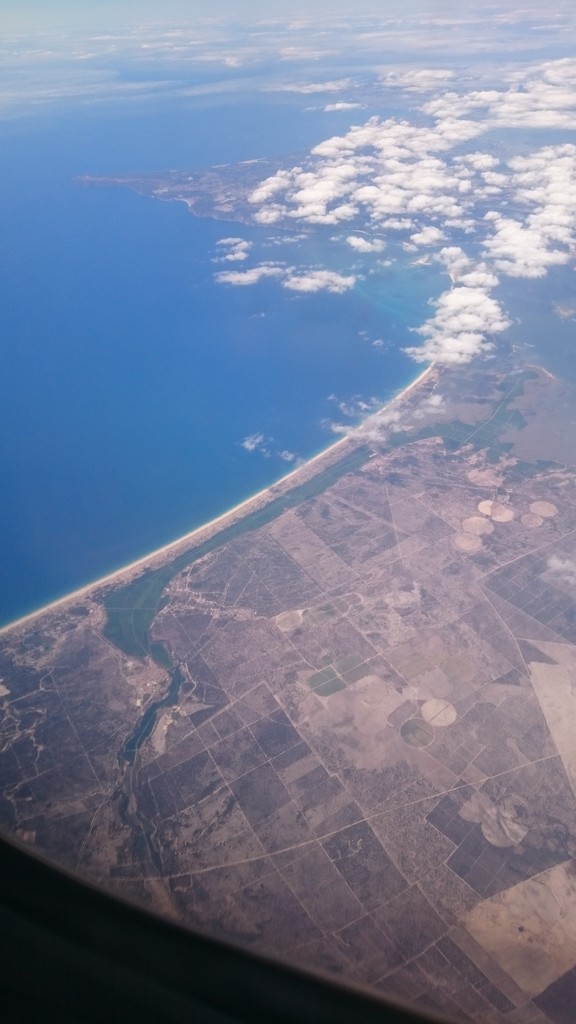 It took 20 more minutes before they finally opened that glass door and we could enter the plane. Fortunately, we didn't have to take the bus and could enter into the plane directly. My place was in the very last row and actually I had thought that it's cool to sit there. But when I arrived at the end of the plane I realized that the space for hand luggage above the seats was reserved for the cabin crew and I had to use the place from the row before. Fortunately, they hadn't arrived yet and I could put my suitcase and my laptop bag there. I just hoped that they didn't have a lot to put there - but first come, first serve was my motto. I sat down and waited until we would finally start the way to Germany.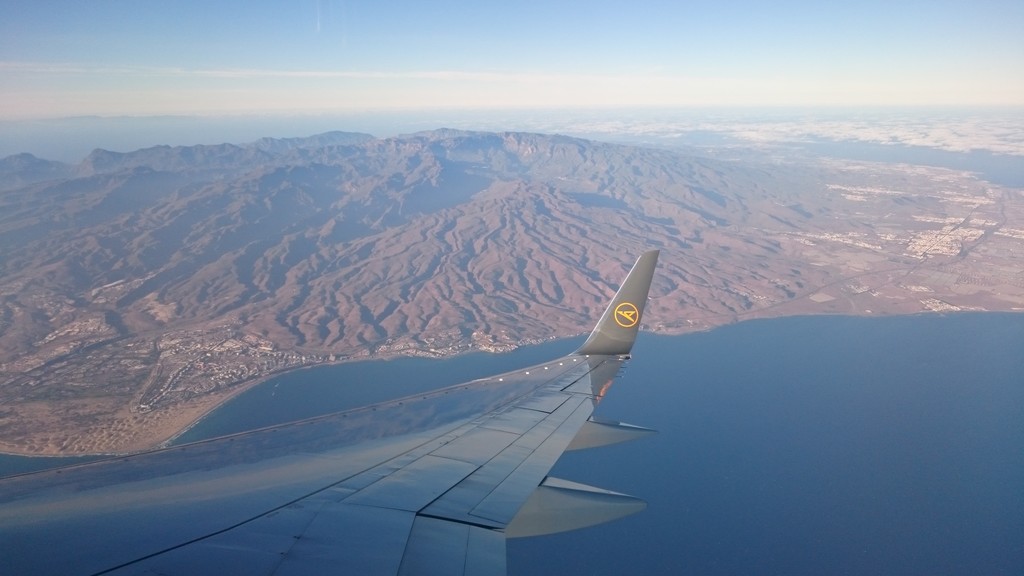 It took quite a long while until we could finally depart, as the people had problems to put their hand luggage in the spaces above the seats and one passenger had come too late and we all had to wait for him. I was annoyed by that and just wanted to be in the air, flying closer and closer to Germany. As I was incredibly tired I fell asleep in the plane and was just woken up by the stewardesses when they brought snacks and drinks. I was happy that I had ordered something (for airplane food) good to eat via internet before and could now enjoy my Serrano Ham Avocado Sandwhich while all the others had to eat weird looking pasta. It was delicious and the second thing I was eating that day, after the very simple breakfast at six in the morning. Even if I was able to sleep in the plane for the first or second time in my whole life, due to my excitment the flight took much too long and I started to be a bit inpatient - I didn't have a book to read, just a magazine that was boring and furthermore I was too tired to concentrate on something, so I just sat there and watched the other people in the plane. Every one or two minutes somebody got up and went to the toilets (just behind me), some of them were sleeping, and there were two smaller children sitting next to me, some rows in front of my seat, and they were incredibly annoying. They were discussing all the time and shouting around and additionally to that another boy didn't stop walking around, giving them chocolate and letting them play with his Nintendo DS. 
---
Photo gallery
---
---
Content available in other languages
Want to have your own Erasmus blog?
If you are experiencing living abroad, you're an avid traveller or want to promote the city where you live... create your own blog and share your adventures!
I want to create my Erasmus blog! →