A day trip to Cinque Terre!
A few summers ago, I went on holiday with one of my close friends to the Italian port city of Genoa (read all about it here!). While researching the place prior to our trip, we discovered that it was pretty close to Cinque Terre, a group of five picture-perfect fishing villages that attract millions of tourists each year. It took just one Google Images search to convince us that this place was worth visiting, and, having now been there, I can confirm that it is one of the most unmissable places in the region, if not in the whole of Italy!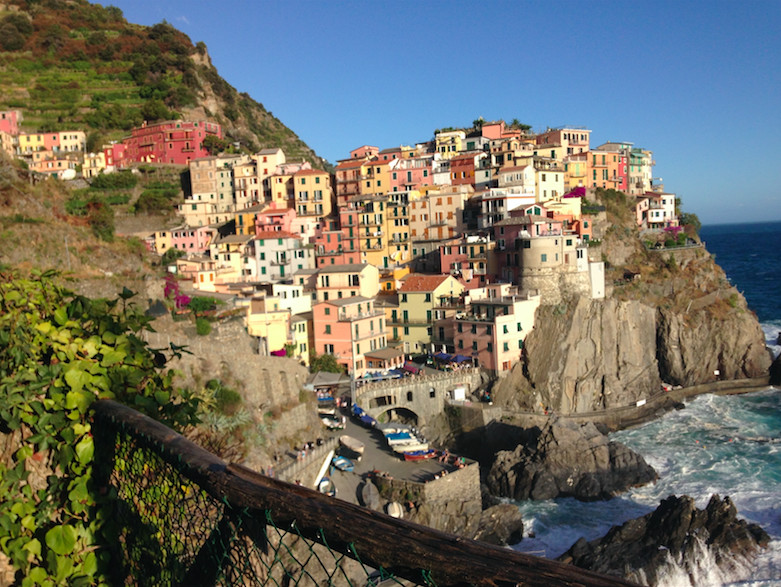 An account of our day
Bright and early on a Thursday morning, we caught a train from Genova Brignole railway station, and within a couple of hours, we'd reached the first of the five towns: Monterosso al Mare. Before I begin describing what exactly we did in each place, I'll just mention that when you're visiting Cinque Terre, you can either hike between the villages or take a train. We chose to do the latter – partly because we didn't have much time on our hands, and partly because we hadn't packed appropriate shoes to walk in – and each got a 1 Day Cinque Terre Train Card for €16.
Monterosso al Mare
It was getting on for noon by the time we arrived in Monterosso al Mare, so the very first thing we did was have lunch. We picked a place pretty close to the beach, and each enjoyed a nice but unremarkable plate of pasta. I went for trofie with pesto, but it didn't quite live up to the same version of the dish that I'd had in Genoa, so I was a little disappointed. Worse still, my meal cost almost 20€ – see my reaction to this in the photo below! There are tourist traps all over this area, and we'd clearly got caught up in one. My advice for avoiding them is (a) not to go anywhere where the menu is written is English, and (b) to choose places with reasonable menu prices.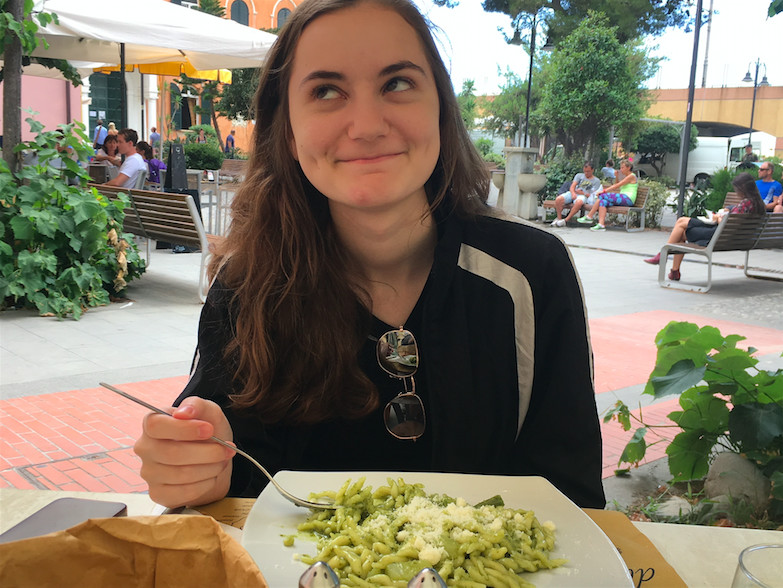 It wasn't the best lunch we'd ever had, but at least it had satisfied our hunger! After paying the bill, we headed back down to the beach, and were pleased to find a little spot to lay our towels down and sunbathe. I'm one of those people who will always swim in the sea if there's a chance, and that day was no exception – look at the photo below for proof! The water was pretty rough – bear this in mind, especially if you're planning to go in with young children – but I had a fantastic time being carried by the waves while gazing up at the nearby cliffs.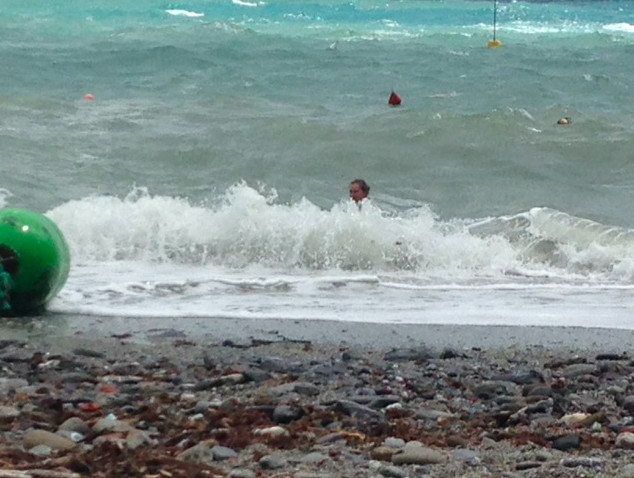 Vernazza
Once I'd dried off, we decided to head back to the station, and get on a train to the next village: Vernazza. The highlight of our stop here was a trip to the fantastic ice cream shop, Gelateria Stalìn. My friend, who is a little more adventurous with food than me, went for the basil flavour, which turned out to be wonderfully fresh and surprisingly delicious!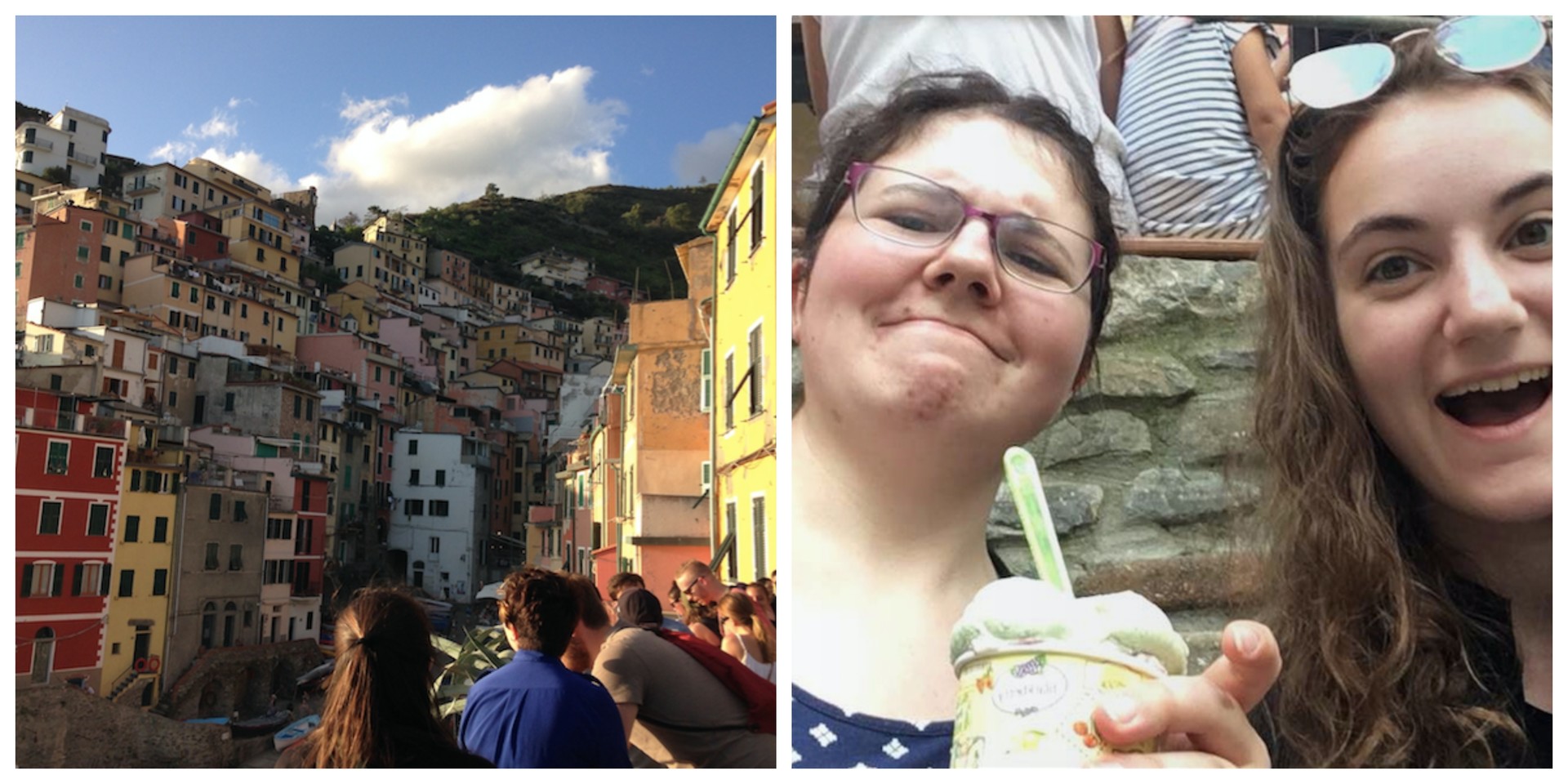 If you've read some of my other blog posts, you'll know that I love seeing places from above, so I was thrilled when, a little later, we stumbled across Castello Doria, a stone tower. After paying a small fee, we made our way up to the top, and were rewarded with a fantastic view over the surrounding area. I think this is the highest point in the main part of the village, so definitely head there if you're looking to take some panoramic shots!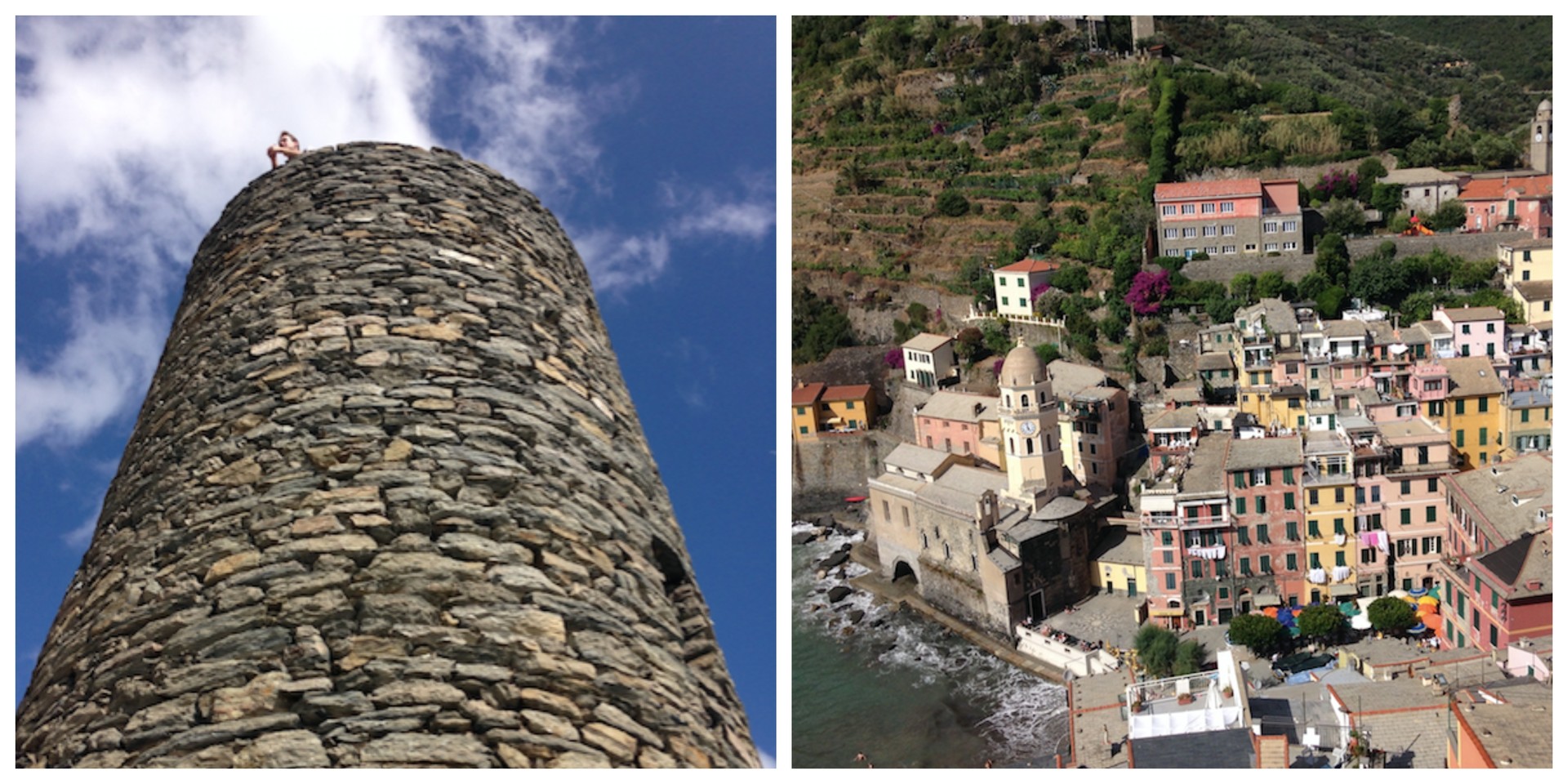 Afterwards, we had a stroll through the town, past quaint parks and striking murals. We'd have loved to stay all day, but time was ticking, so we slowly made our way back to the station.
Corniglia
A short train ride later and we'd reached our next stop: Corniglia. We made our way up a huge staircase – I think there was a shuttle bus, but we decided to get a bit of exercise in! – and within ten minutes, we'd reached the inhabited part of the village. This was probably the place with the least to do, but we enjoyed wandering through its little streets and alleyways, and were most impressed by an observation point we found, which looked onto coloured houses, lush vineyards, and glistening blue waves.

Manarola
Manarola was our next destination, and probably my favourite of the places we visited. This was largely thanks to a bar we found, which had one of the most beautiful views I've ever seen. Nessun Dorma had an discouragingly long queue outside it, but we decided to wait it out, and ended up only having to stand in line for about twenty minutes. We were lucky enough to bag a table right on the cliff edge, and enjoyed some coffee and focaccia. Then, of course, we had to get some photos – thanks to the waiter who took this one for us! (They probably get at least a hundred requests a day to do this, so don't be afraid to ask!)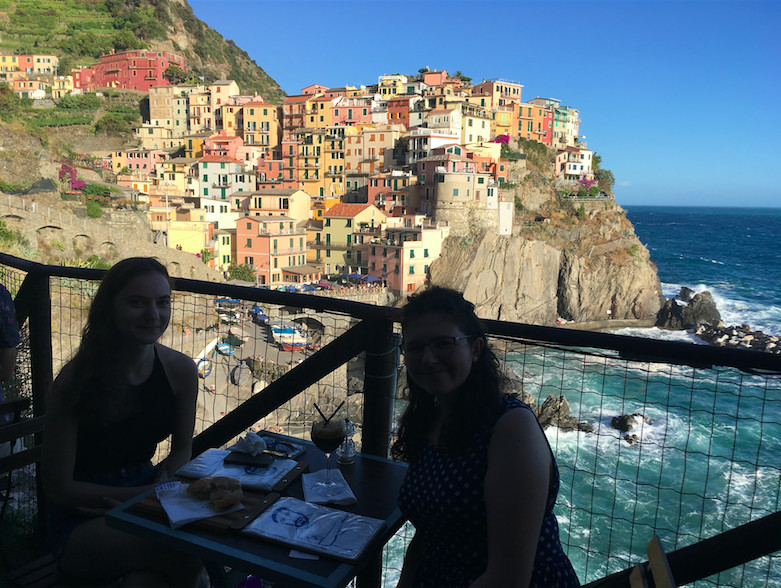 Riomaggiore
By this point, sunset was fast approaching, so we raced on to our final stop of the day: Riomaggiore. This village was full of little secret passageways, and we had a lovely time wandering through them, before making our way along the cliff edge to a little stone terrace. We must have sat there for about an hour, watching the sky gradually change from blue to pink to purple to black. Below, we could see fishing boats bobbing up and down in the harbour, and the lights of the houses turning on one by one. We were fortunate enough to have this little spot all to ourselves, and had a lovely time resting our legs there.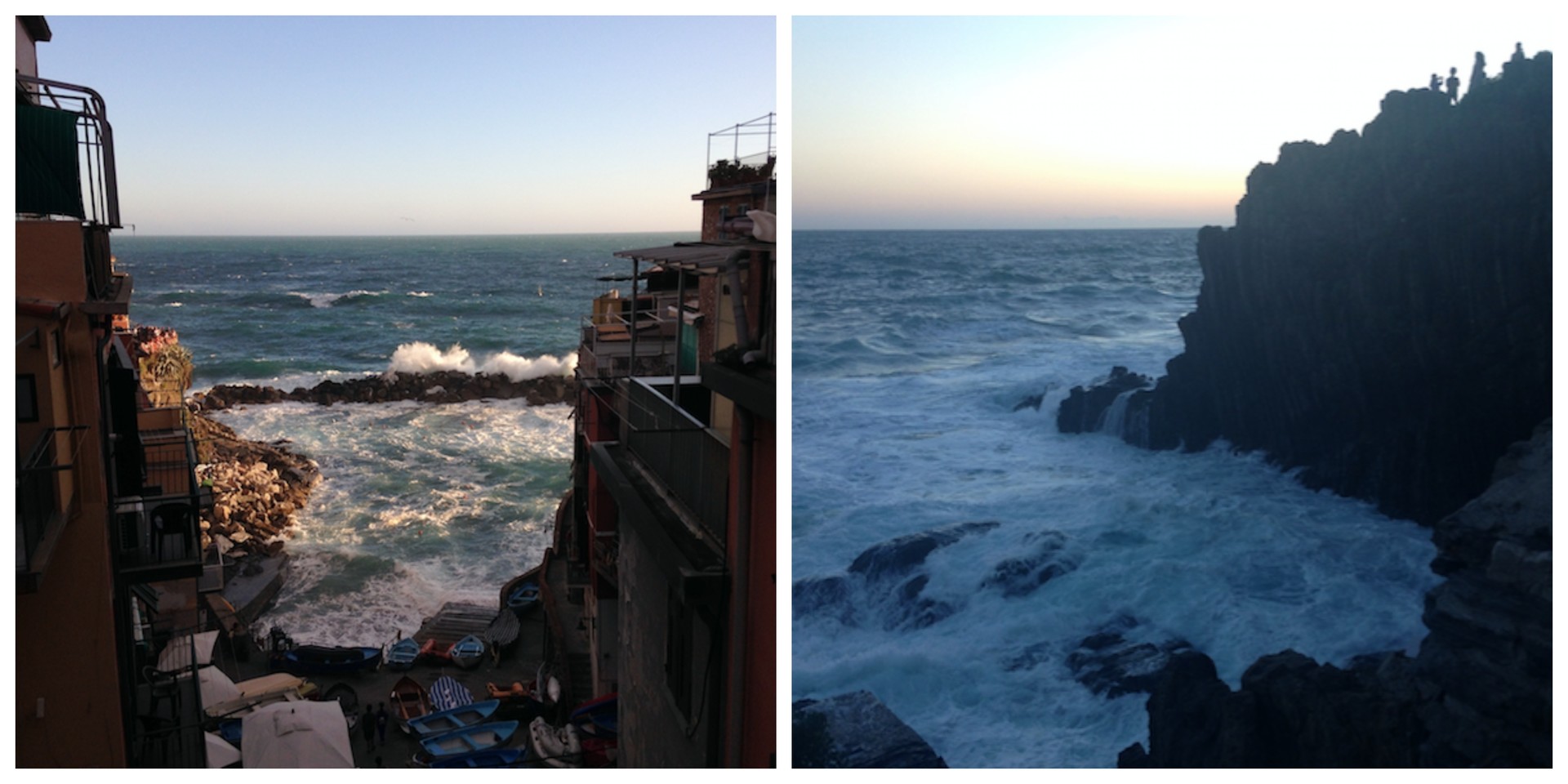 Once darkness had descended, we decided it was about time to start our return journey to Genoa. After a quick dinner in one of the little village cafés, we made our way back to the train station (luckily there was a direct train home, so we didn't have to change at Monterosso al Mare), excited to get some rest after a long day of sightseeing.
Overall review
My friend and I both absolutely loved our trip to Cinque Terre! The beauty of all five villages was simply astounding, and the sight of the coloured houses and the nature surrounding them never got old! It was pretty overridden with tourists, but this was only to be expected, and I'm sure it would have been much worse if we'd gone later in the summer. I can't wait to go back again soon – next time, I'll make sure to bring some hiking boots!
---
This content has been entered in the Erasmus Travellers Competition and have earned 673 points.
6084 chars (608 points)
5 views (15 points)
9 photos (50 points)
This competition was made possible by: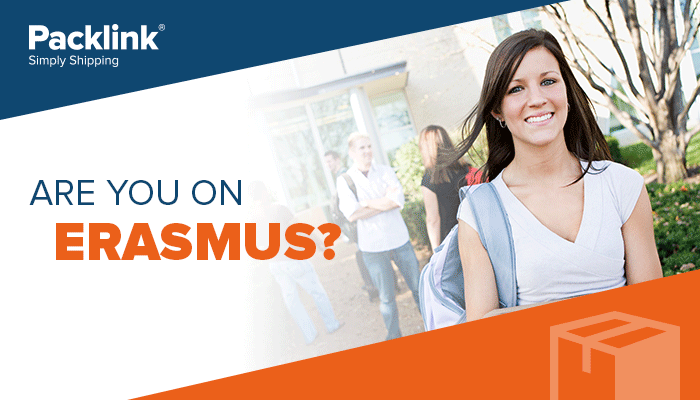 ---
Photo gallery
---
Want to have your own Erasmus blog?
If you are experiencing living abroad, you're an avid traveller or want to promote the city where you live... create your own blog and share your adventures!
I want to create my Erasmus blog! →