One whole day as a tourist in Budapest!!
So today I woke up and decided to live this whole one day in Budapest like an actual tourist. Well technically it wasn't an impulsive decision; I had this idea in mind for quite some time and I was like I have to see it through today.
I don't get a lot of time to make a lot of impulsive decisions like this anymore. During the school year, I'm drowning in my university studies and I barely get the time to eat, let alone do fun things like this. I guess this is another thing to love about summer.
Anyhow I woke up quite early! At around 8 am! That's too early for summer but I was determined to be a tourist for a day and that meant making use of my time to the maximum. I had a quick breakfast of my usual tea and cheese and headed out. I even took all the maps of Budapest that I had at home; not that I needed them but just to complete my transition into a tourist.
This was my itinerary for the day:
Visiting the famous bridges
Visit the Buda Bastle
Visit Fisherman's Bastion and Matthias Church
Stroll in buda side of the city and grab lunch
Go to Citadella for the Sunset
Go to Szimpla kert or any other ruin bar at night
To be honest, this was a tad bit too much even for me. I mean I live here and I have never ever been able to do visit all of these places at once, I have visited them separately at different times. Different seasons even. So this was quite a bit of challenge, plus I had visited these places multiple times already so I thought the magic would be gone (boyyy I was wronggg).
First stop: the "Chain Bridge":
I live near the city center so I walked to Deak Ferenc Ter and then decided to walk some more so I would reach the Danube River. My first stop was the Chain Bridge, it was around 9:30 am now and the city wasn't as crowded as one might expect. I don't really come out much during this time and so I was surprised.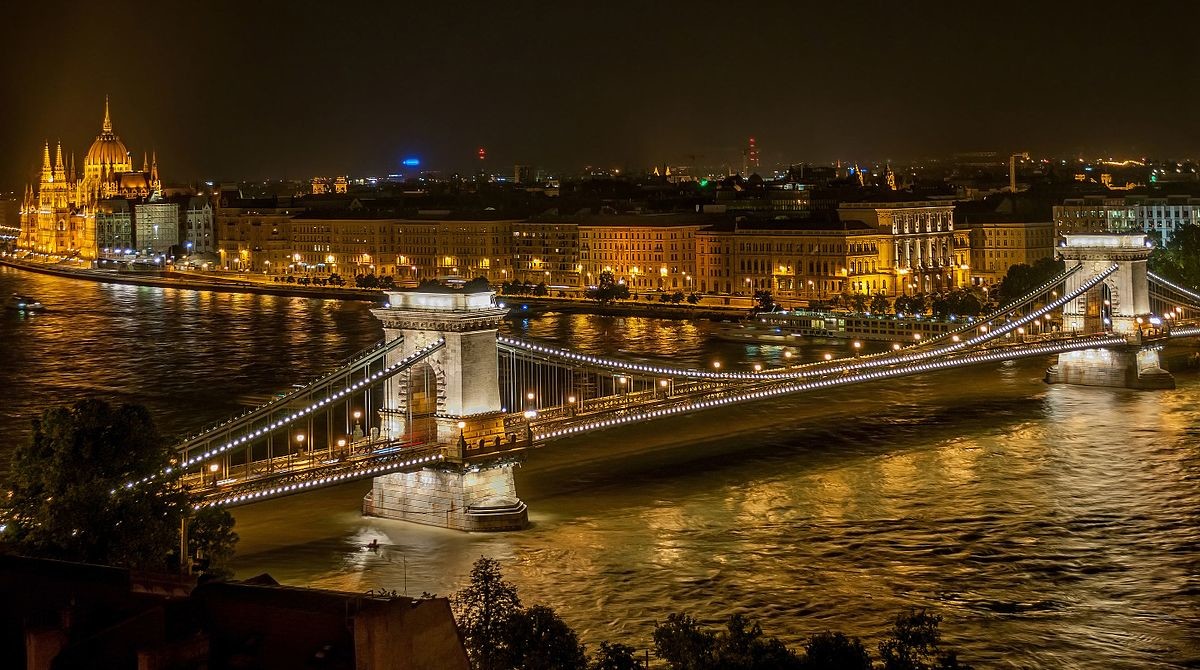 I walked to the Chain Bridge, took a few pictures since the sun was out and I was like the hell with it, let me take a selfies as well. The lighting was on point, so you ladies get me. The story behind the Chain Bridge still fascinates me. Before actually researching the story, I had heard so many conspiracy theories about the architect of the Chain bridge; some said that he jumped off the bridge and took his own life. Some said that the reason behind his suicide was the fact that he found a dent in one of the lions of the bridge etc etc.
These information went on and on until my Hungarian teacher told me that he ended up in a mental hospital and his life ended there. So I researched it and this was the actual story apparently but no one really talks about it so I don't know. Apart from that here's a little background details about the Chain Bridge.
Anyhow the story of this bridge goes back to 1839, the construction started in this year and it only finished about 10 years later. 10 years? Can you believe it? There are countless name of people involved in the construction and financing of the bridge but I'm not going to go into details with that, if you have some genuine interest in the history of the bridge you can check the website called Bridges of Budapest.
Anyhow the name "Chain Bridge" actually comes from the two long iron chains which are suspended on the sides of the bridge. You can see two stone lions on the sides of the bridge which were sculpted by a famous sculptor but were only allocated here in 1852, which is about a couple of years after the construction of the bridge had terminated.
The bridge that you see today isn't actually the one that was built in 1839, during the Second World War, german troops blew up almost all of the bridges of Budapest. I mean all! How cruel (Don't mind me guys, I'm just way too sensitive on historical sites and their significance). Anyways, the Chain Bridge was among the ones that was blown up. Almost of all parts the bridge were destroyed completely and only the pillars were left intact. In 1947 the decision to rebuild the bridge was taken and with some minor modifications the bridge was almost as good as new in 1949. The interesting thing is that the bridge was once opened again at the exact day that it was built 100 years ago. How cool right?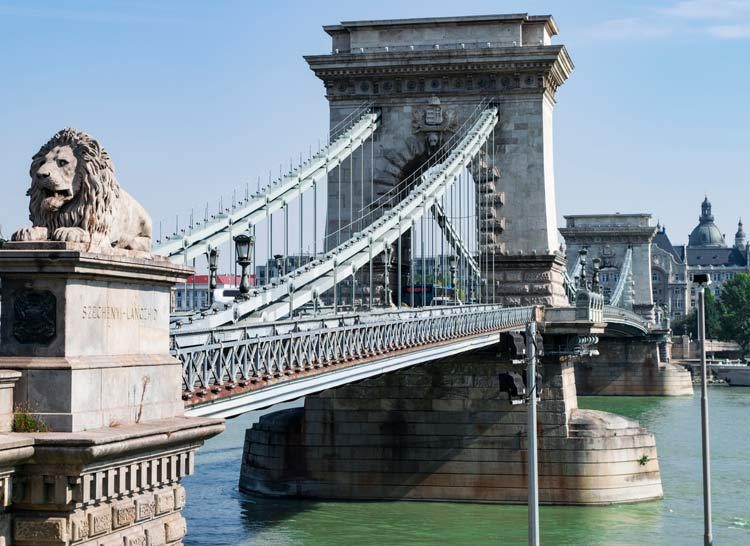 After that I decided not to check out the rest of the bridges and save that for my evening stroll. I crossed the Chain bridge and entered the Buda side. There I contemplated on whether I should become a full on tourist and take the funicular/cable car up to the castle or just walk for quite some time.
I could even take the bus number 5 from Deak Square on the Pest side and go straight to the Fisheman's Bastion and the castle. But since I was already on the bridge, I was too lazy to go back that way.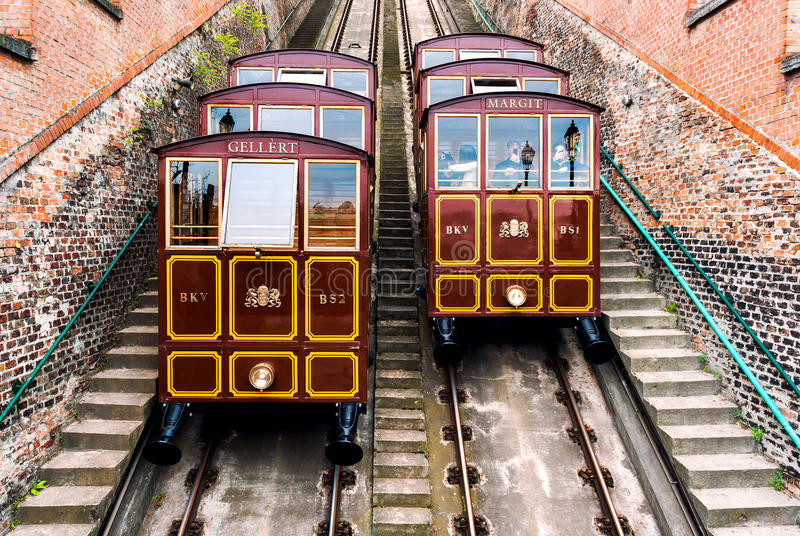 Anyways back to the cable car. It's super cute and funky to take it up the hill; I went to the cubicle to check out the prices, it was 1200 Forints for a one way ticket up and 1800 Forints for a two way ticket. There was no student discount. The queue wasn't so bad and they told me that it comes every 10 minutes so I could have waited, but I didn't. I preferred to walk up the hill and save up the money; plus it was pretty early in my day and I wasn't tired yet.
Later on when I searched the cable car, I read that when it was built it was the second cable car in all of Europe; that makes it the second oldest now. This was of course renovated and rebuilt later on as it was completely destructed during the Second World War.
Second stop: the Buda Castle
I walked up to the castle, using my GPS since I didn't actually know the way. It took me 15 minutes or less to get to the gate of the castle. I went inside and let the view take my breath way. Okay it also could have been the long walk up that took my breath away but let's pretend it was the view. Let's check out a few text book details on Buda Castle and then I'll get back to speaking about how athletic I am.
Buda castle is surely one of the most important sights of Budapest, it is for sure one of the main landmarks and definitely one of the best touristic sights; no proper tourist would miss out on visiting this place. In fact my mom is going to visit me soon and the first place I'm going to take her is here. Anyhow in contrary to popular belief the buda castle is in fact a castle! Yes I know so shocking (Please laugh at my jokes). This castle which was home to most of Hungary's kings was first built in the 12th century but was then further expanded in the 17th century. The buda castle also sits on top of the castle hill and it's basically in the castle district, which also contains the Matthias church and the fisherman's bastion. Of course the castle was home to various kings and governors for a long time. Anyways the castle itself is really big and has many different things that you can see. I literally discover a new corner every time I go and so it's quite exciting. The court and courtyards are open all the time but I suggest visiting it during the daylight even though it's well lit and it has certain majesty to it in the night as well. The royal palace is home to the national gallery and the Budapest history museum, I have never been to the museums so I don't know much about it but you can find further information here: Buda castle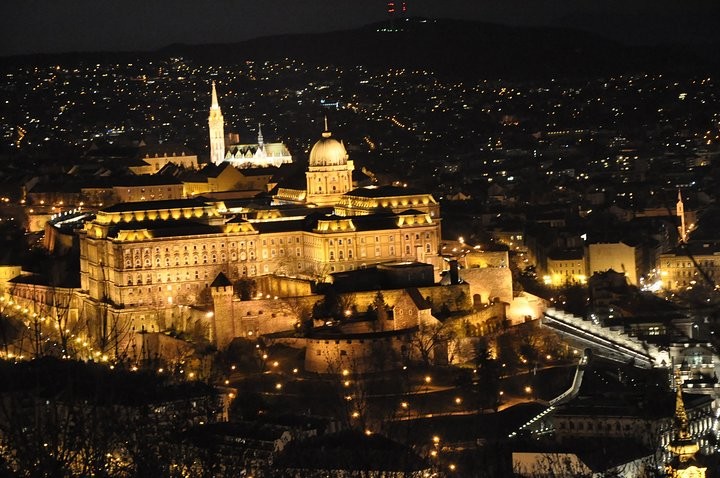 I stayed there about half an hour, sitting and enjoying the view. I took a few wonderful pictures for my page and decided to move on. As I mentioned above I was glad to have visited it during broad daylight, even though the view is more spectacular with all the city lights, the castle area itself is nicer during the day.
Third stop: Fisherman's Bastion and Matthias Church
The next stop was the Fisherman's bastion and Matthias Church. The fisherman's bastion is undoubtedly my favorite spot in Budapest and even though Citadella offers a better view, I still prefer to go here for a perfect evening.
It was about noon when I got there and I don't think that was a pretty good planning on my part. First of all the sun was shining straight to my scalp and I felt like I was on fire. Slight exaggeration but I think it would have been better if I went inside the church.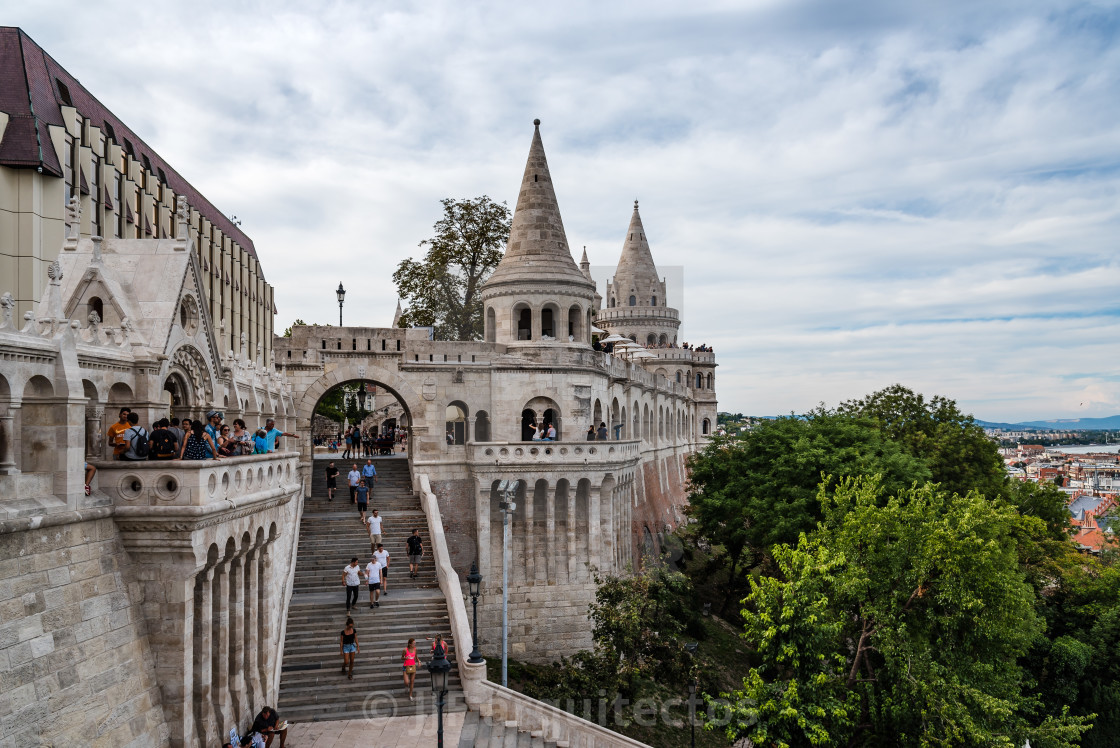 It was relatively crowded here even though it was at noon; I guess that's how it is in a touristy town like ours. If I were you, I'd go to the fisherman's bastion early morning then check out Buda Castle on my way down and then check out the bridges and the rest. This way you can avoid the heat.
So what is the fisherman's bastion anyway? That was my question the first time I heard the name.
Halaszbastya as it is called in Hungarian is rather decorative for a bastion and let's see why is that. Oh before we go on, this place is rather one of my personal favorites as well so do expect my review to be a little biased. The bastion again has 7 towers as the symbol of the 7 tribes or the 7 chieftainsthat we mentioned before. Brace yourselves as there are quite a few stairs leading up to this place, but I promise you it's worth the climb. Anyways the stairs are quite wide and ceremonial and I read that they meant it to be like this so it provides a dramatic entrance and enhances the views (they were smart I know). Just like everything else the bastion was also damaged during the Second World War but was quickly renovated. I'm not going to include more details about the bastion just to leave some mystery in this whole piece. But don't miss out on this sight please.
I didn't go inside the Matthias Church since there was such a long line and I really didn't feel intrigued enough to check it out. Afterwards I got a drink and waited for the bus to go back to deak Ferenc ter.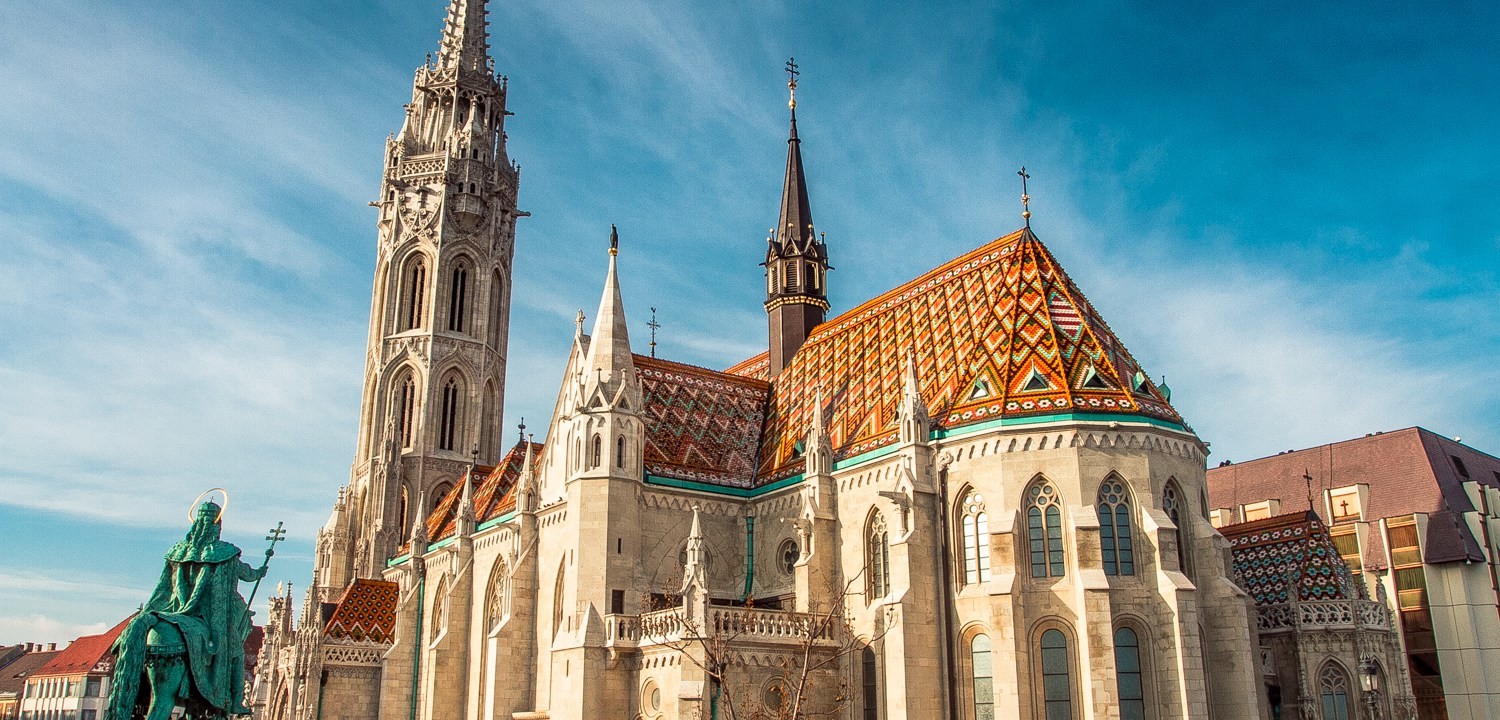 The bus top is right in front of the Matthias Church, you'll see the buses coming and going. I came back all the way to Deak and I kinda felt like going back home right then since it was really hot outside and I felt like taking a nap. But I told myself a true tourist wouldn't have enough time to go back home and rest. Time is precious my friend and so I decided to grab a light lunch. Of course the cheapest lunch I could have was Gyros. I chose one of the many Gyros places in Deak and got a Gyros with extra sauce.
There was no place to sit in the restaurant so I went and sat on the grass next to the Swimming pool in Deak. I spent about half an hour chilling there and then when it was about 4 pm I decided to move on.
I went back towards the river side after having a long discussion with myself on whether I should go home or just keep sightseeing. I wanted to go home and take a nap so I would be fresh at night to go out again. But I didn't do that and instead went to check out more bridges and strolled along side the Danube.
Fourth stop: Central Market Hall
The moment I was walking by the side of the Danube I realized that I didn't include the Central Market Hall in my itinerary and so I rushed there because I knew that it was only open until 5 pm. I really love to visit the central market, it's filled with colors and the general vibe is good. They've also got a pretty nice food court which serves excellent Hungarian food at a slightly more expensive price than outside. I have written an entire article on the Central Market Hall and you should check it out if you need more information.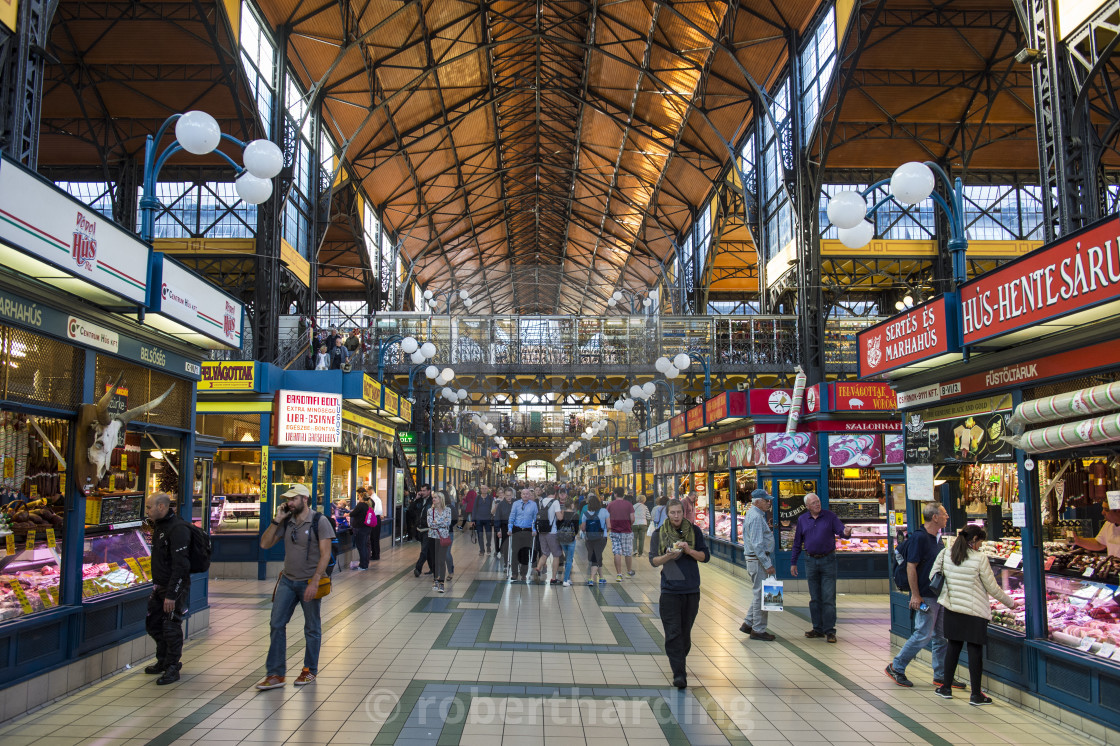 It was right before their closing down that I came out and continued my stroll along side the Danube. Now apart from the Chain bridge we've got two other important bridges which I went to one by one and read up about them to learn more about their history.
Fifth stop: Elizabeth and Liberty Bridge
I first went to the Elizabeth Bridge which is also close to Vaci Utca. After the Chain Bridge this is my favorite bridge in Budapest.
Elizabeth Bridge is considered one of the important landmarks of Budapest. The original bridge was actually considered the largest suspension bridge in the whole world but now the Akashi Bridge in japan is the longest and largest suspension bridge of the whole world. Anyhow this bridge also held a design competition in which Hungarians, Americans, Austrians and some other nationalities competed to win the rights to the design of the bridge. A German engineer won the competition and built the bridge. Oh I bet you are all wondering why is it called Elizabeth Bridge and if you aren't wondering about that, I'm still going to tell you anyway. Well it's actually named after Queen Elizabeth the wife of Francis Joseph which was assassinated in Geneva. Anyhow Hungarians have a lot of respect for Queen Elizabeth and hence why they named a whole bridge after her.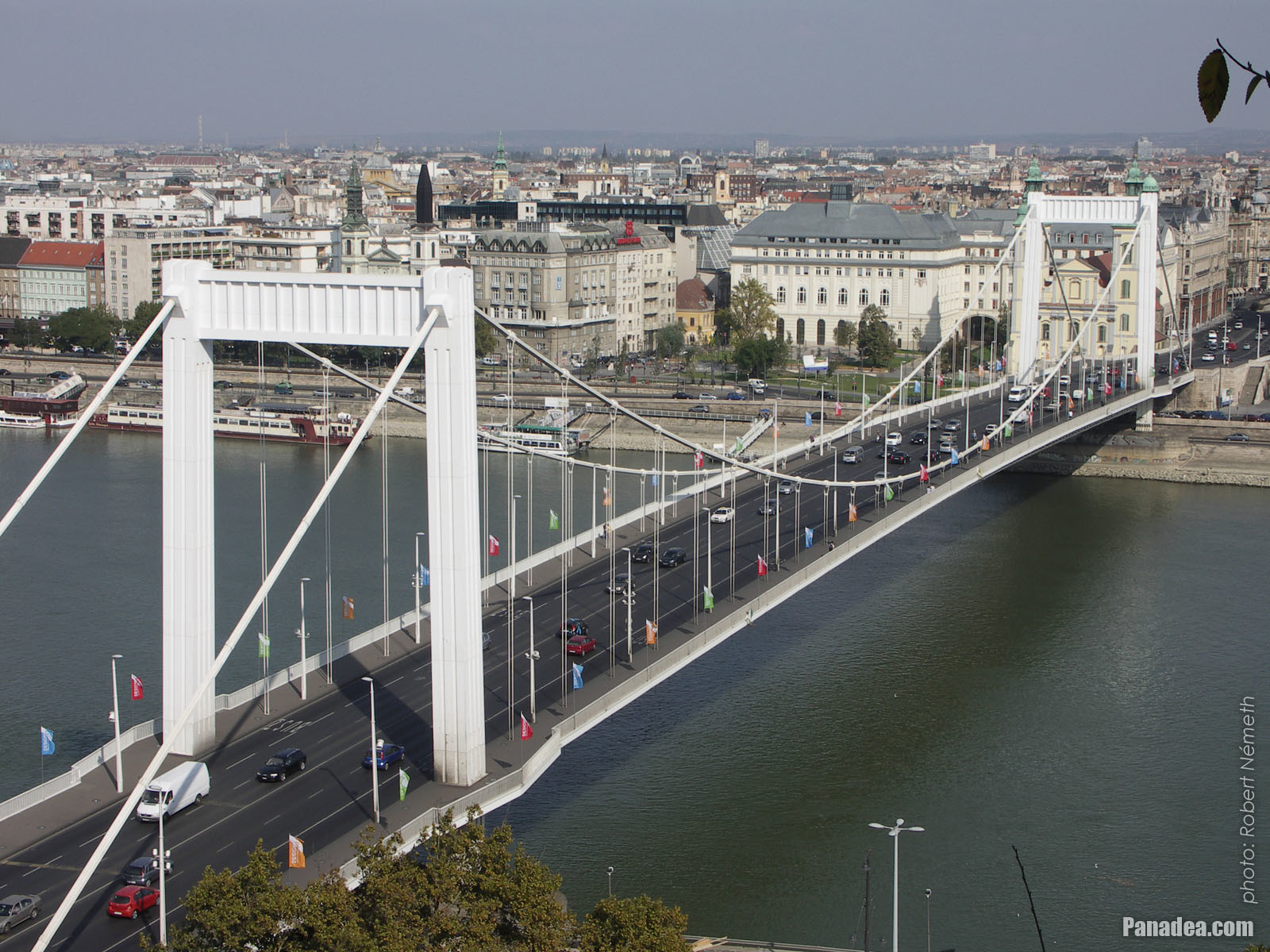 I spent some time around the bridge, exploring the different sights of it and even took a picture or two. Then I walked to the green bridge which is actually not named the green bridge but Liberty bridge. The cool thing about the Liberty bridge is that during the summer months, sometimes they close off the bridge for the weekend and people can come and sit on the bridge and enjoy all sorts of activities. I mean it's the coolest thing ever for real. They've got programs all day long, including a yoga class at early AM and at nights people just come to marvel at the bridge and have a good time. My friends and I have been here once during these periods. It was so fun to just sit around, have the enormous lights hit our face and enjoy a sip of our beers as we enjoyed the Danube view.
But here's a little background story on the Liberty bridge. The liberty bridge was also destroyed during the Second World War by the German troops but was in fact the first bridge to be rebuilt and reconstructed after the war!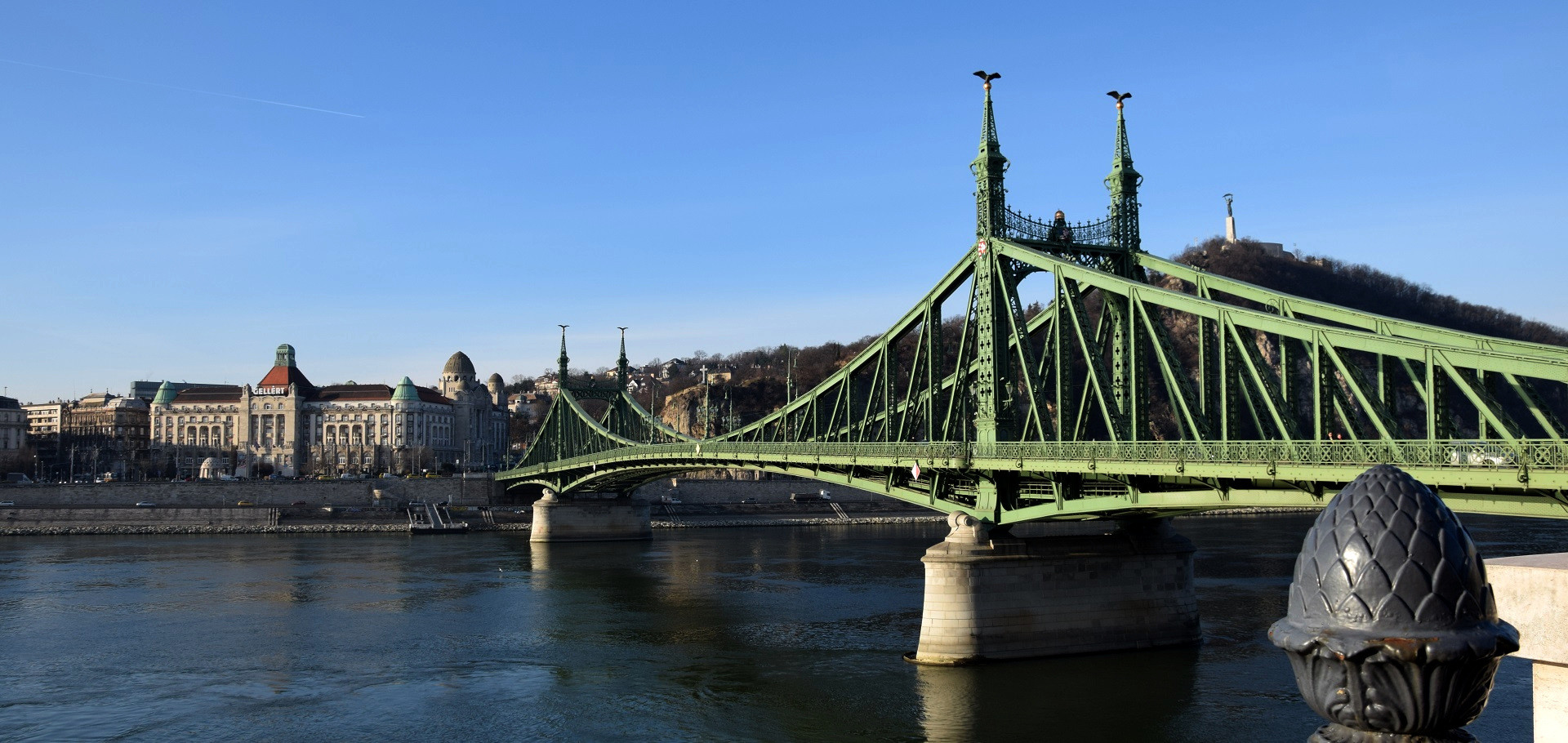 There is another bridge known as the Margaret bridge which is nearby the Hungarian Parliament and it connects the city and Magaret island. This bridge isn't much of a touristy sight to visit but it's an important bridge, specially for transportation.
Last stop: Citadella
After the Liberty bridge I felt pretty done for the day but I was like I can't give up now; I need to end this day with the perfect ending. So I grabbed a cold drink and got ready for my final destination (not the movie). As I mentioned in my itinerary, my final plan was to climb on top of the Citadella and watch the sunset.
I had done this already once before and I thought it's worth it. It's really worth it. I climbed the Citadella hill, taking my time since I had plenty of time before sunset. I took some pictures of the views, envied the people who were so effortlessly jogging, as if it was an evening stroll. On the side note, I really do envy people that can run well. It's something on my bucket list and I still haven't achieved it so I envy those who have.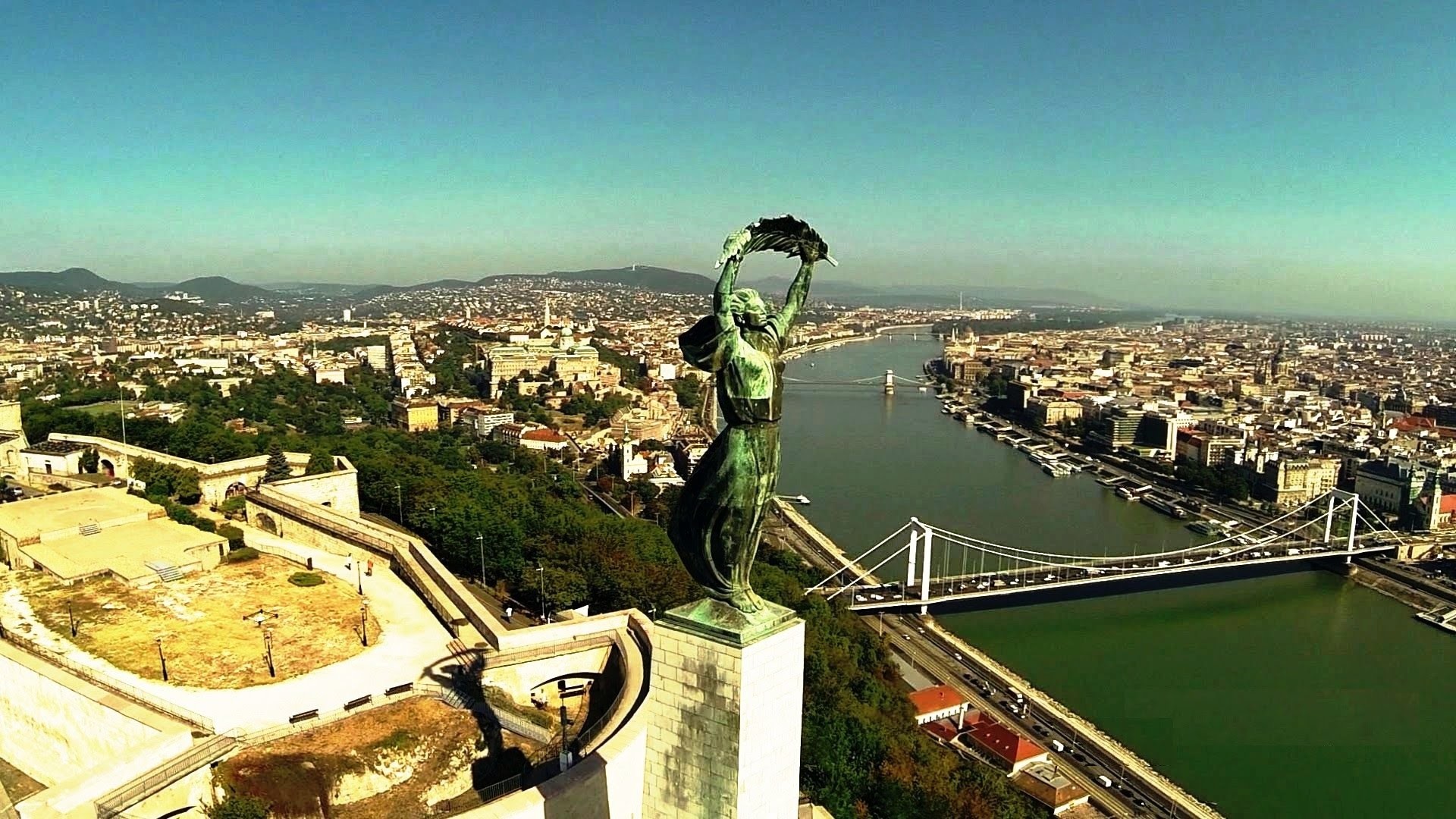 Anyways I got up to the Citadella in about half an hour and took my time to settle somewhere so I could catch the full sunset. Right after the sunset there's this moment where all the city lights turn on and the city is immersed in thousands of lights all of a sudden; that's the reason I climbed all the way up, not the sunset to be honest. That moment that total darkness is about to take over but then the lights are turned on. It's truly metaphorical and since I like being profound in every moment of life, that was my favorite moment of the entire day.
Well I did mention Citadella and how beautiful it is but I didn't mention what's the story behind it. I have written an entire article on Citadella, which you can check out here: Citadella in Budapest.
So citadella is a fortress which is located on top of Gellert Hill. It's interesting to know that a place that is now only offers you beauty, a spectacular view and nice work out up the hill was once a military base. I'm not going to get into details about the history of the Citadella but that it was made by a Austrian Emperor after the Hungarian revolution in 1851 and it contained 6 cannons! I know, the cannons were basically there as a weapon of mass destruction upon this beautiful and sacred city.
All that aside, the first thing anyone notices when looking up towards Citadella is the tall statue of a woman holding something that appears to be a leaf. The statue can be seen from anywhere, even when you're strolling next to the Danube.
So what's the story behind it?
This statue is actually the "Freedom" statue of Budapest, it kinda reminds me and I'm sure thousands of others of the statue of liberty in the US. Anyhow like I mentioned above, the Citadella was constructed by Austrians in 1851; Austria and Hungary had a lot of conflicts which in the resulted in the formation of Austro-Hungary. It was then that the Hungarians demanded the demolition of Citadella, I mean after all it was a sign of their oppression but the Austrians didn't accept it. In 1897 the troops of Citadella apparently got tired or left (I'm guessing that's what happened; it wasn't mentioned why they left). When they left, in 1899 the Hungarians finally demolished the walls of the Citadella.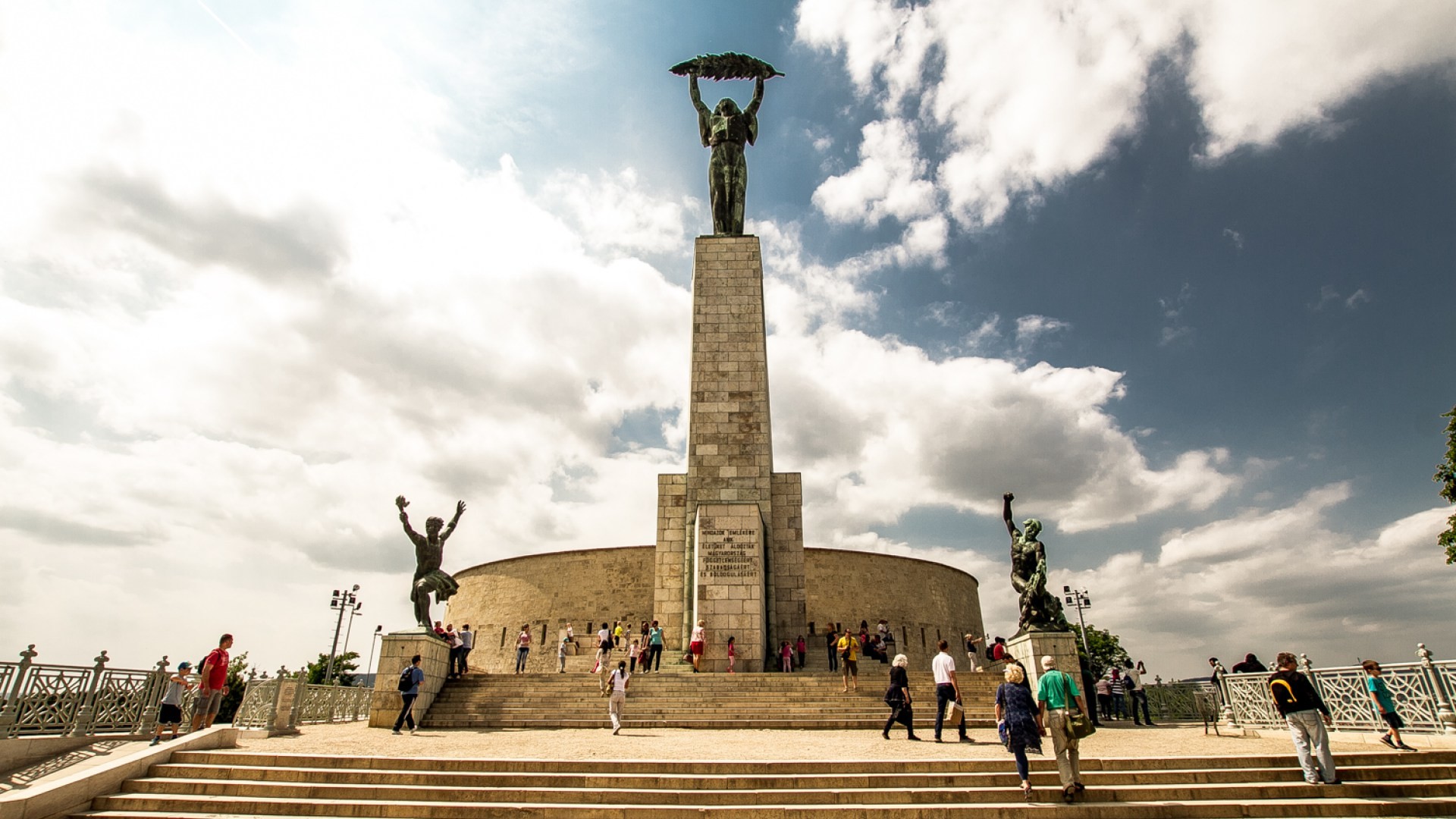 After the soviets took over Hungary, or in their words liberated Hungary from Germany in World War II; a sculptor named Marshal Klimient discovered an unfinished sculpture, the sculpture was made by a Hungarian sculptor for a son of the Hungarian governor who had gone missing in 1943. Klimient was a true soviet and he thought that the statue would be better off if it became dedicated to the Soviets who freed Hungary. And that's how it happened. Today there stands a 14 meter tall woman holding a palm leaf in her hand, there are also two figures next to it which symbolize "progress" and the win against the evil; the evil being the german Nazis that occupied Hungary.
Yeaps so that's the entire story behind Citadella and I hope that you guys get to visit it since it's just the most marvellous place. Right after the sunset I started to come down, this time i used the stairs which were slightly crooked and slippery but it was more fun as you would gradually come down.
I took the tram to Deak square and then took the metro home; I decided to rest for a little bit and take a shower so I can go to a ruin bar at night, little did I know that my "resting for a while" phase would turn into this sound and peaceful sleep that I would only wake up the next day from.
If this touristy experiment proves anything is that you definitely need more than a day to rejoice this Budapest experience but that it's not impossible to visit everything in one day. Make sure you use your time wisely and goodluck to you.
Hope you enjoy this article, it took a while to write.
Cheers!
Follow us @diariesofwanderers
Okay guys this is my Airbnb code, as many of you know Airbnb is a site where by world travellers can use to book homes in thousands and thousands of destinations. It is much cheaper than booking a hotel and it is thoroughly safe and budget friendly. I genuinely like Airbnb, I think they've done a great job so far and they've definitely made my traveling easier. This is why I'm sharing this with you guys, if you don't have an Airbnb profile, you can use this link and create your profile via this link, you will get a 25 Euros off on your first trip (Terms and conditions apply) and whenever you take the trip I will get 13 Euros of credit. I'm not doing this as an advertisement or I'm not sponsored, I just think it's a cool thing to do, I mean who doesn't like to save a few bucks when they're travelling? Hope you make use of this.
Code: AirBnB
---
Photo gallery
---
---
Content available in other languages
Want to have your own Erasmus blog?
If you are experiencing living abroad, you're an avid traveller or want to promote the city where you live... create your own blog and share your adventures!
I want to create my Erasmus blog! →