Day-trip to Bologna
Another week, another trip! This time we went to explore the city of Bologna, which was on my list of Italian cities to visit this semester, and now it's done! From Milan, getting to Bologna takes only about 2 hours and a half, and the price is around €20 (by bus). I left at 7. 30 in the morning and arrived in Bologna at 10. 00 and started exploring right away! One thing that was a little annoying was the rain (and it actually rained all day long), but well, you can't control the weather and you definitely shouldn't let it impact your trip in a negative way! We still did everything we had planned to do, we just did all of these things carrying an umbrella in our hands.
The bus station was not so far from the town center: it took me about 15 minutes to get there by walking, and it's very easy to find your way since it's just one straight street (the main one). I had already heard a little bit about Bologna before going there, and more precisely about the fact that it's sometimes called "the pink city" ("la città rosa"). As soon as I walked into the first street, I realised that most of the buildings were indeed painted in different shades of pink. It looked very lovely! They also had beautiful architecture, a little different from that of Milan, with big, square and quite high buildings. As I was walking down this first street, I already told myself that I liked it here!
Another thing that I liked right at the beginning were the arches that cover pretty much all of the sidewalks of the city. You can see a little bit of those in the picture below. First of all they were really convenient with the rain, and they probably also are when it's really warm in the summer, plus they add a lot of charm to the streets (as they are literally everywhere, there must be a historical reason for that, I guess)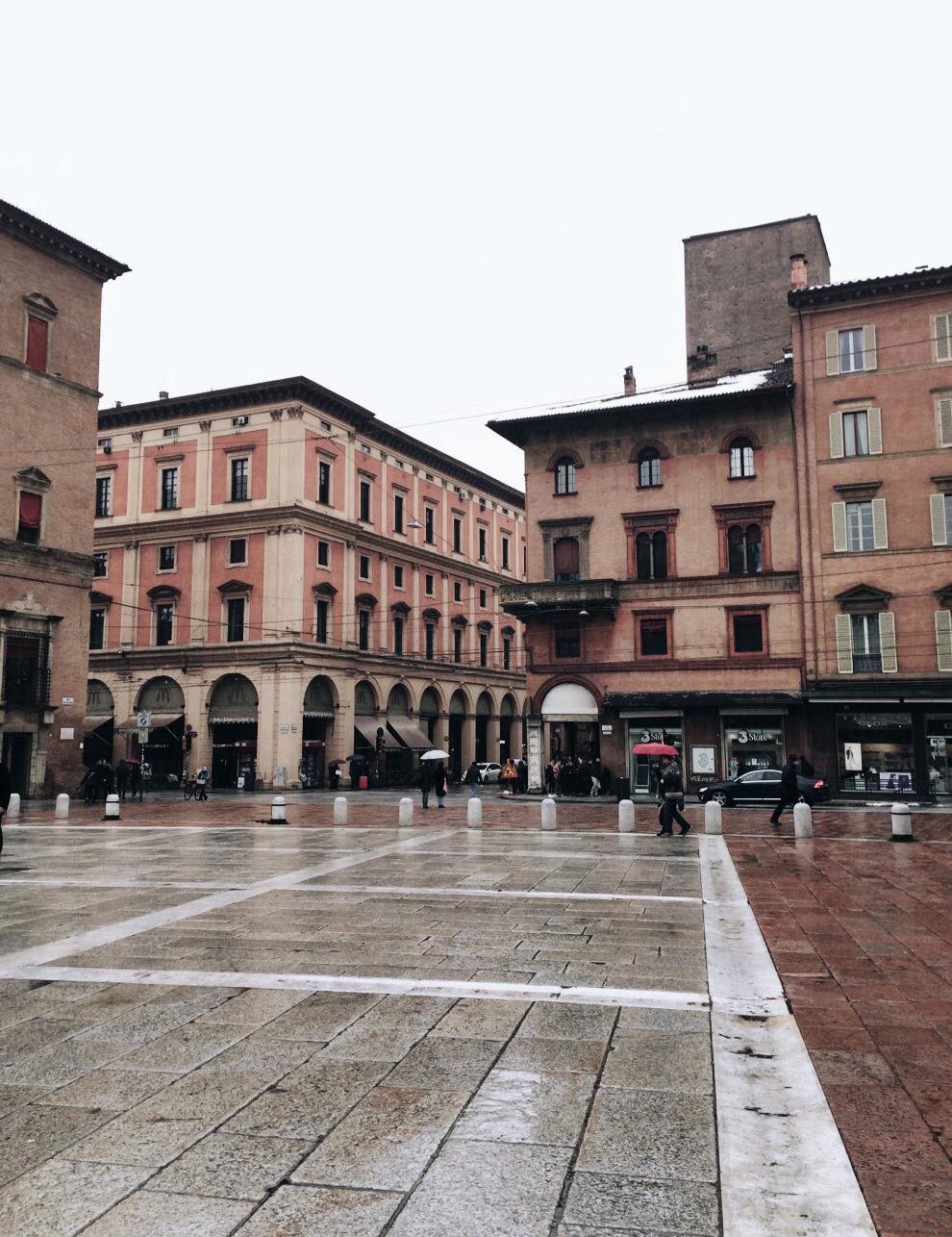 This main street ends up on the Piazza Maggiore (which was where I was intending to go first), on which there is also the main Basilica that you have probably already seen in pictures before. The lower part of the façade is in white and pink because they run out of money during the construction. Later when they got some more money, they just decided to leave it like it is. And I quite like it like that! You can enter this basilica for free if you want to visit, but you will have to pay a ticket if you want to take photos inside (which I did not do).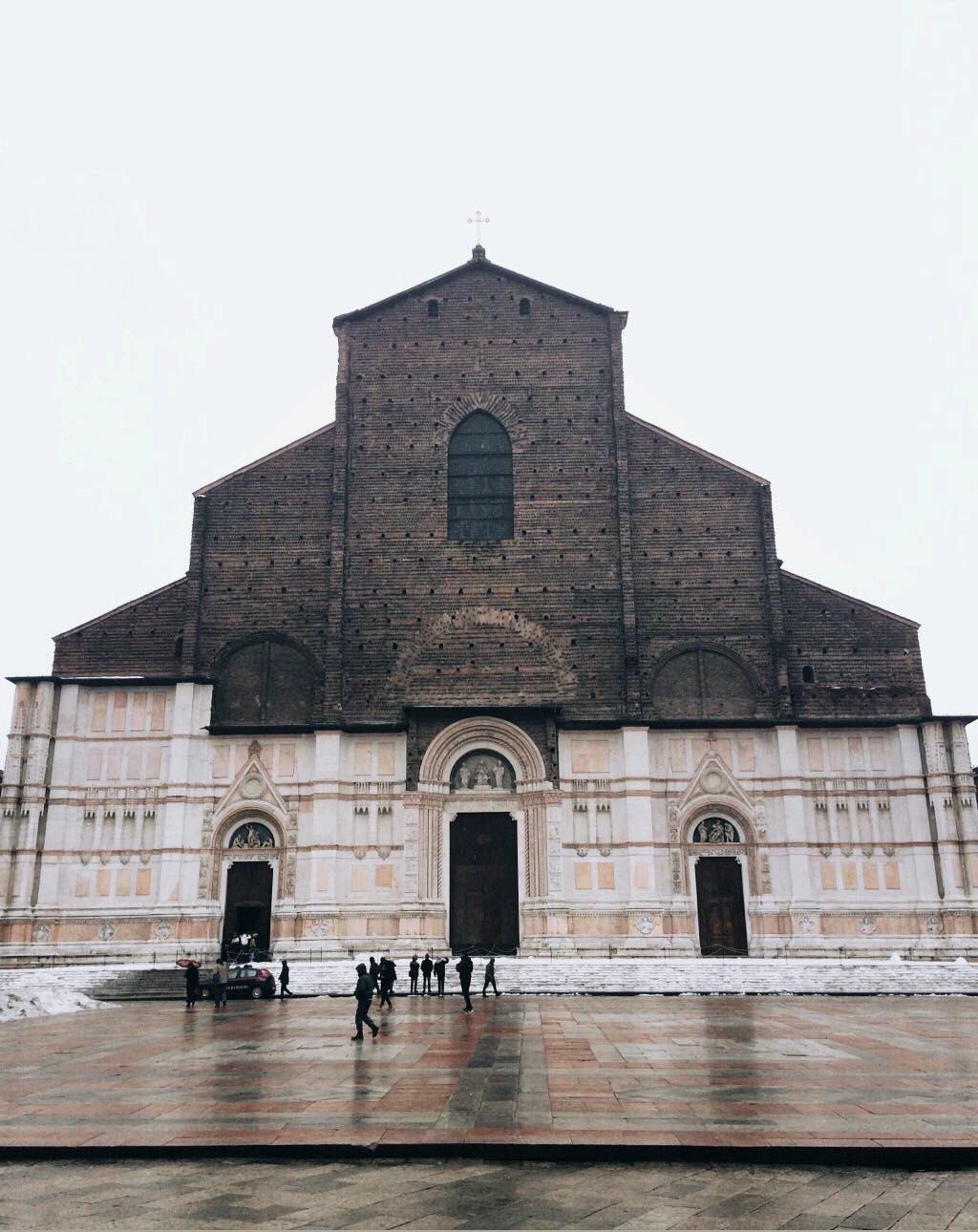 As you can see, probably because it was Monday morning and raining, the main square was quite empty (which was the best for me anyway). I met a group of friends there and they told me some very interesting things about Bologna. One of its curiosities is that there are "7 secrets" hidden throughout the city. One of them is inside this church and it is related to a line on the floor on which something shows up when there is a bright sunlight, but I didn't understand well what it was. Another one is with the statue that is located on the main square and if you see it from a certain angle you will understand why. There is also another one in the building right in front of the Basilica, which was made at the time when a lot of people suffered from the plague: in the central square, you can talk to your friends "through the wall" and they will hear you from the other side of the square. This was made so that doctors and sick people could communicate without having any contact since this disease was very contagious. There are also 4 more across the city including one that I will mention later.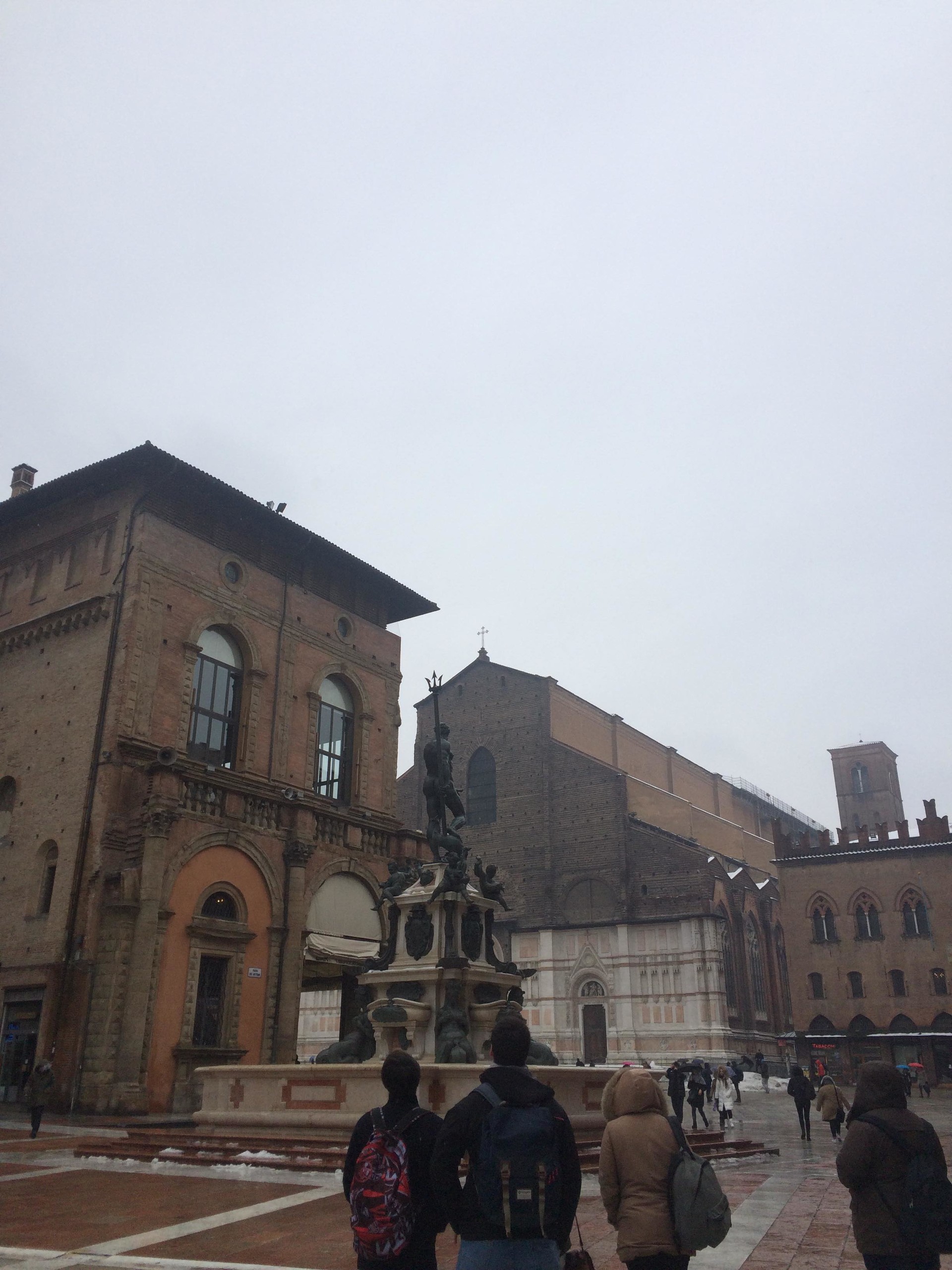 We continued walking around the city and at some point, we passed by these two towers (called Le Due Torri in Italian). At first, they seem pretty normal, but then when you take a closer look, you realize that one of them is actually leaning and not just a little bit. The first time I looked at it I didn't notice, but then I saw a woman taking a picture of them, so I looked again and then I saw it and was definitely surprised! I have no idea how it is still up like this and not on the floor to be honest.
For lunch, we went to this restaurant, called "Osteria dell'Orsa" which is apparently very popular and "trendy" in Bologna. The place was quite packed so it was very noisy and in my opinion, the service could be improved, but the food was very good and I think it was pretty cheap (no charge for service and we ate for about €10 each). They had just about everything that could contain Bolognese sauce (because that's what you eat when you are in Bologna of course). What I ordered turned out to be toasted bread with Bolognese souse and melted cheese on top. If that doesn't make you hungry I don't know what will.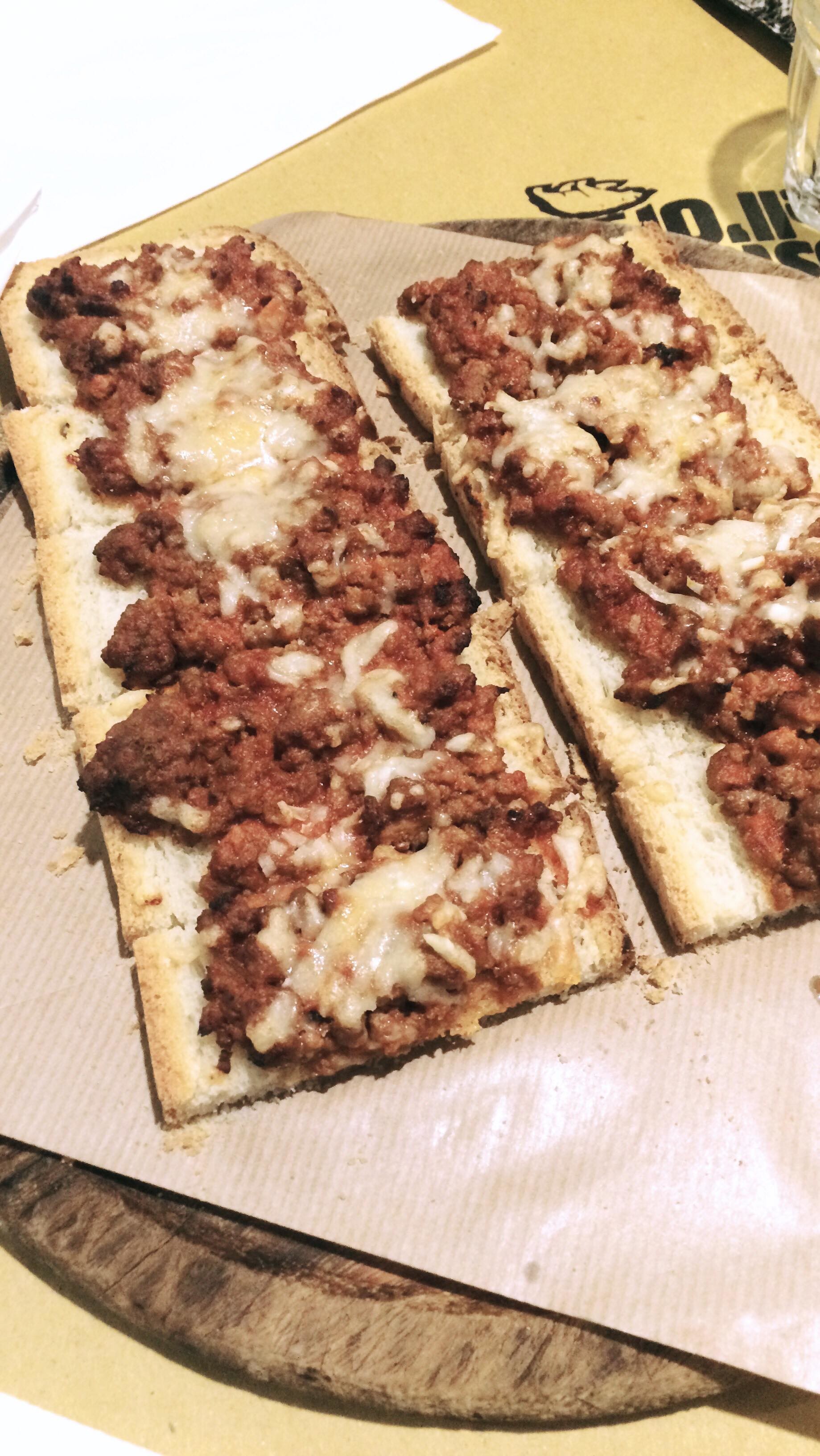 After lunch we walked some more with no real goal. We ended up going to see another one of the "secrets" of the city, la Finestrella. This one is a little window, on a random wall in the street and when you open it you can see a small canal. There is no river whatsoever in Bologna so I don't really know how the water got there and is still moving, but the view is pretty. It really reminded me of Venice with the water and the colors of the buildings.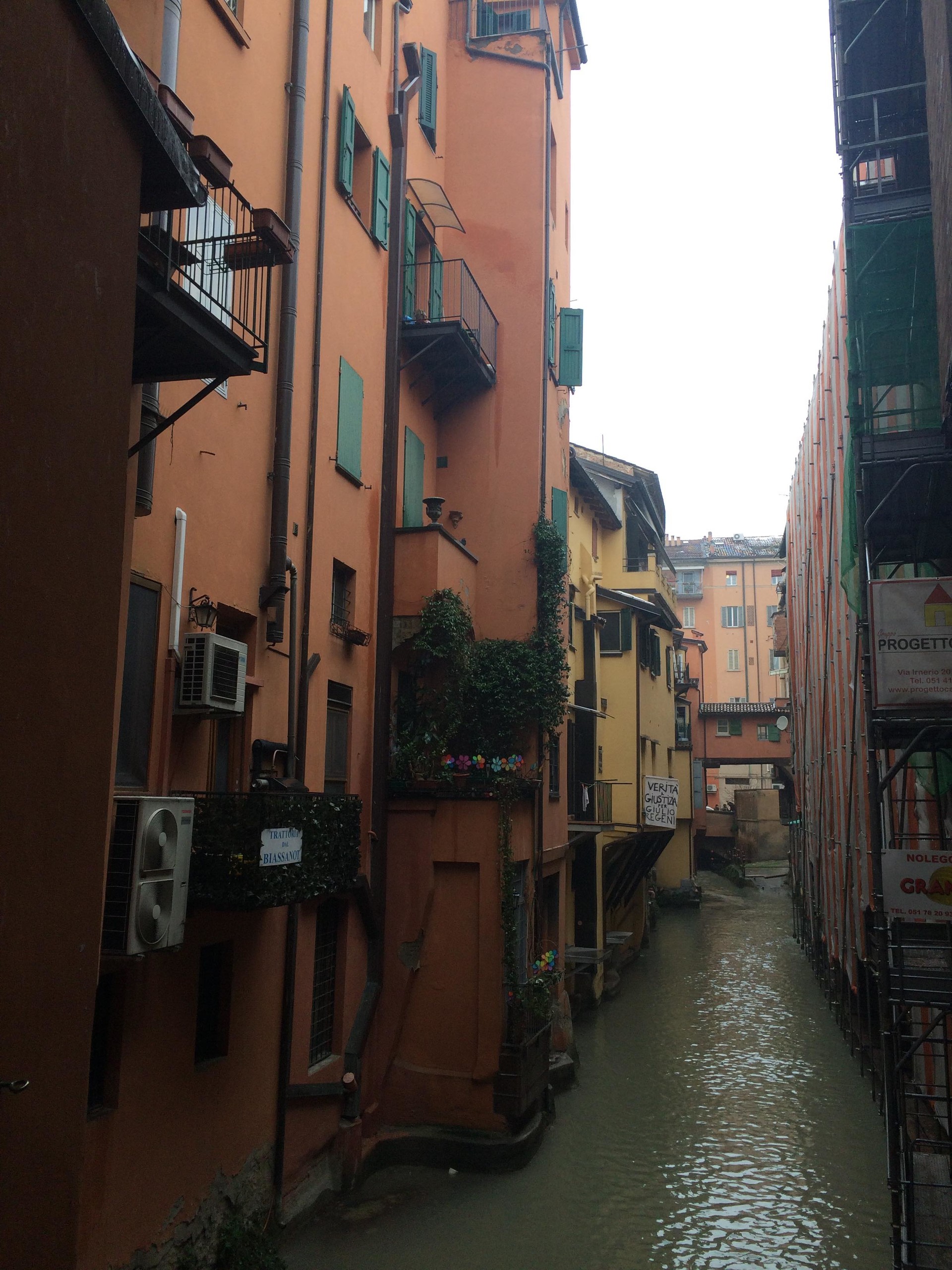 After that, we walked around some more just to enjoy the streets and beautiful buildings before heading back to the bus. We left at 18. 30 and arrived in Milan at about 21. 30.
I'm happy that I got to go to Bologna this semester, although it would have been better to do it on a sunny day, but whatever. Before going there, I had also heard about the San Luca Arco del Meloncello, which is basically a the longest building with the arcades (3. 8 kilometers of them) and it looked really pretty on the pictures that I saw, but I realized it was quite far from the center. Maybe I would have visited it if I had stayed in Bologna for two days. Anyway, this city is a nice one and you should visit it if you do Erasmus in Italy!
(P. S. : you can also click on this link if you would like to see more of the pictures that I took in Bologna!)
---
Photo gallery
---
---
Content available in other languages
Want to have your own Erasmus blog?
If you are experiencing living abroad, you're an avid traveller or want to promote the city where you live... create your own blog and share your adventures!
I want to create my Erasmus blog! →