Coliving: Everything you need to know about the new trend in accommodation
In this past decade, we have seen important changes in our way of interacting thanks to the advance in technology. It is a fact: we are more connected than ever but, paradoxically, increasingly isolated. In response to this, many initiatives have emerged in which community takes precedence such as coliving or co-living, besides some other modalities we will analyse in this article.
In housing models, this phenomenon of isolation results in blocks of buildings where neighbors neither know each other nor live together. In large cities specially, this is linked to long working hours or split hours that take place away from home, to which people return home later or at night.
These years of pandemic have not made it too easy for us to have a social life, which has affected our mood and mental health. What we do know for sure is that in a post-covid society we should be committed to models in which community is the most important thing in order to avoid situations of isolation and loneliness.
If you are going through a bad time, whether it is due to post Erasmus depression or not, remember that you are not alone; do not hesitate to ask for help if you need it.
What is coliving?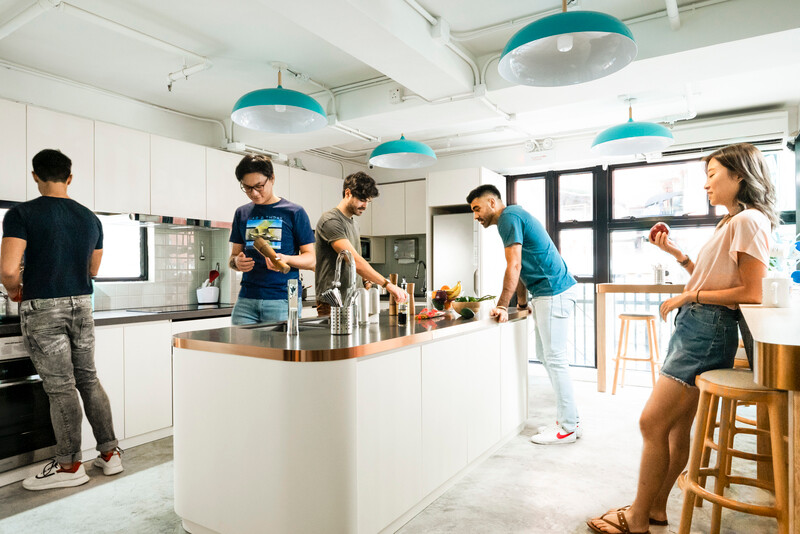 You may already know the word coworking and coliving may sound a bit of the same. Or maybe you think coliving means sharing a flat with some flatmates but with a more current name, right? We are sorry to tell you it is not the same! So what is coliving?
Coliving is a model of accommodation in which community living becomes the focus, as it is a community-type model. It was born a few years ago in Silicon Valley with the goal that people with similar interests in the workplace could share experiences and even projects, besides living together.
Compared to the coworking that we already knew, in which people share space with internet connection and work tables during the working day, coliving goes further allowing workers and entrepreneurs to have the chance of living in a space where besides working, they can exchange ideas and curiosities in their spare time.
This new accommodation model combines private living space with numerous common areas such as workspaces, leisure areas, and relaxation, gyms, swimming pools, etc. Therefore, in coliving, there is room for both privacy and independence and also community life. On the other hand, in many of these spaces, although not in all of them, students are not allowed since this concept is focused more on a professional environment.
Coliving is becoming increasingly popular globally and especially after the pandemic, as we have changed the way we work. As a result, coliving is very popular among digital nomads, as they often choose these types of accommodation to spend a few weeks or months working in a city and meet people with whom they can share their experience.
The difference between cohousing and coliving
The idea of community that we have mentioned before is growing for decades as a response to an increasingly individualistic society, therefore, they try to rescue values such as solidarity, sharing experiences, and in short, living together with the new housing models. As a result, co-housing was born, the predecessor of coliving. But are they the same?
What is cohousing?
Cohousing is a model that emerged in Denmark in the 1960s and it consists of a community formed by private houses and a great variety of services and common areas. Generally, they are usually international communities or related groups that define a series of objectives and values to live together. These spaces can be self-managed or not.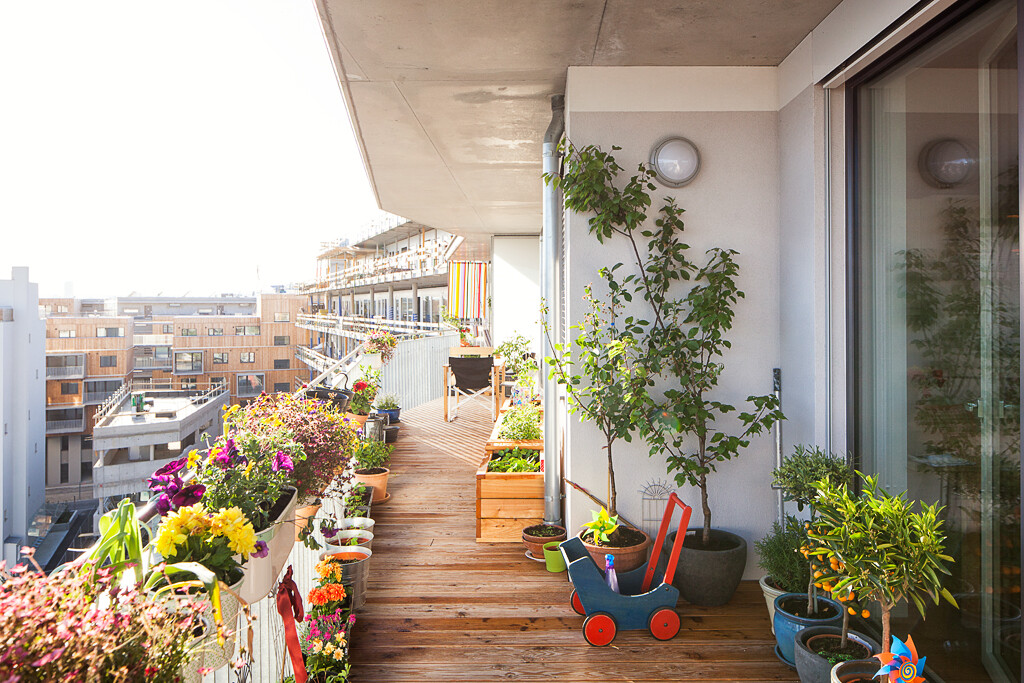 The design is orientated to people to favour the encounter and the life together, and also the neighbours work on the planning and the development of the community. Therefore, although this concept shares some values with coliving and its members may have similar interests, this model does not have as the main objective sharing experiences and forming projects as is the case with coliving.
Coliving in Spain: Coliving in Madrid and Coliving in Barcelona
Although coliving is quite popular in the U. S. A. and among other European countries with Germany in the lead, in Spain several accommodations of this type can be found.
One of the most popular is the Urban Campus, which has three spaces for coliving in Madrid: one in Malasaña, one in Chamberí, and another one in Atocha, from €700 per month for a studio room. The group is now developing a fourth coliving space in Ayora.
Several companies that already have these kinds of accommodations in Europe have their spotlight on Spain to expand the coliving offer for students, such as the Dutch one The Student Hotel, which already has open new spaces in Madrid and Barcelona.
Some other companies such as Homii and DoveVivo also have expressed their intention to expand the number of beds in the capital. The latter has already announced that it will transform the former residence of the Marquis of Villa Magna in Madrid into a coliving space.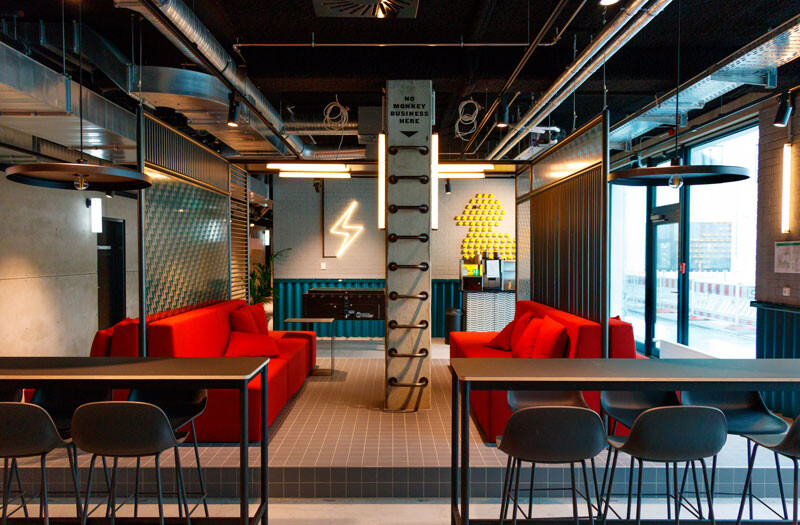 On the other hand, the lack of regulation and the tourist accommodation regulations mean that there is a certain limitation when it comes to launching a project of this type and that most of them are registered as hotels or other tourist accommodations. This is one of the reasons why coliving in Spain is not at the level of other European countries.
In any case, the advantages of coliving are becoming clear since there are more and more young professionals and digital nomads who are choosing this way of living and relating. We will be watching out how this tendency evolves with regard to the next post-covid era, but everything indicates that we will hear much more about coliving this year.
Do you need accommodation? We can show you the ideal flat
In Erasmusu you can choose among thousands of options. Whether you're looking to rent student rooms, studio flats, apartments or university dorms that make you feel at home if you're leaving to pursue your speciality or do your internship abroad. On Erasmusu.com you will find student housing to make your university life feel amazing.
---
Photo gallery
---
---
Content available in other languages
Want to have your own Erasmus blog?
If you are experiencing living abroad, you're an avid traveller or want to promote the city where you live... create your own blog and share your adventures!
I want to create my Erasmus blog! →