Incredible Indonesia (Nusa Penida Part 2)
Architecture and landscape

10 / 10 points

Entertainment

10 / 10 points

Culture and customs

8 / 10 points

Transport

4 / 10 points

Gastronomy

6 / 10 points

Prices

10 / 10 points

Party

4 / 10 points

Weather

8 / 10 points
---
To the port
This piece picks off from the last article called 'Indonesian Experience Part 1'. I had had a stunning day travelling with one of my mates. I had enjoyed my first full day with my mate travelling around Kuta. I won't be going into too much detail of subsequent days within Kuta as the majority of events were already posted in the last piece. Here, I will be talking about our unforgettable experience in Nusa Penida. This small island is located east of Kuta just across a body of water. I will also teach those how to get from Kuta to Nusa Penida.
Nusa Penida is an island very much worth visiting if you're looking to get to the wilder and less blemished by technology and industrialisation side of Indonesia. It's a great place to great proper fresh air, peace and definitely excitement through mountain climbing to spectacular views, snorkeling, swimming and much more. My mate and I had been travelling through Indonesia during the wet season. It was not the most popular season for tourists although it actually made many activities cheaper than the usually affordable prices. It also made it less crowded in many areas we were visiting.
Uber
So, after a couple of days in Kuta we decided to make our way to Nusa Penida before heading off to other nearby islands. To get from Kuta to Nusa Penida we needed to get to Serangan Harbour to take a boat all the way there. We heard the reputation of the roads and traffic in the area. We had to see how we were able to get from one side to the other and decided to grab an Uber. Now, it is worth noting that tensions with Uber are very high among taxi companies. It can get quite dangerous and aggressive. Many people ostracise or take worse actions against Uber drivers due to Uber threatening the financial livelihood of many of the taxi drivers. Unfortunately, we did not trust many of the taxi companies as they were quite dodgy in Kuta. You will find many tourist traps and tourist hunting moneymakers.
So if you decide to take a regular taxi then make sure you get pricing and all the sort set. We did not want to get into the trouble of that as we were fresh into Bali and still needed time to adjust to the haggling and rip-off possible side of our holiday. It didn't help that we expected quite a bit of traffic so we were unsure how the price will be multiplied.
Foodstop
The Uber itself was extremely cheap. Especially if you split it between two people. The traffic, however, was horrendous. The infrastructure is a bit wild with a lot of zigzagging streets and roads too small for the amount of cars that need to get to their destinations. We decided to stop by a small shopping area with a supermarket and KFC located right outside the port. We were getting a brunch before our long adventure.
I can not stress how good the food is in Indonesia. It is true that a lot of it is simply fried, although in this case I am referring to the fruit. We went shopping at the supermarket and were shocked to find all these different types of products available which we had never seen before. We grabbed quite a few fruit which included mangos, papayas and kingfruit. We didn't grab too many perishables as it is quite humid in Bali and we would have had to devour all our food immediately.
We sat down at the KFC food court and enjoyed our fruit. The flavours tasted very genuine and full of intensity. It's a shame we do not get the same taste from our own food in many parts of the Western world. We also grabbed a packet of local chocolate and some roasted broad beans (my favourite). Many of these new flavours tasted dissimilar from back home. If I could recommend one fruit out of all of them then grab some papayas. They're juicy and delicious. They also keep you cool due to the amount of water in these fruits. Also, look at all the strange chocolates, peanuts and snacks they have. They're very affordable and you can feast off of them. Perhaps you may enjoy foods you have never before tried in your life. I would not recommend Arnott's chocolate wafers. They're not particularly delicious in my very biased opinion.
Sanur beach
Anyway, we were not travelling on that day exactly. Rather, we chose to spend a day at Sanur beach. We had booked a very cheap hostel in this more exclusive area of Southern Bali. In the area there is a large shopping mall with food and clothes. Its pretty affordable and this is the place where we bought snacks for the ferry trip very early in the morning in the next day. In this area there is also four to five different atms for you to draw money from. Keep in mind that they use the Indonesian Rupee here. I had not wanted to carry all my Australian money on me so I decided to simply draw money from different ATMs as it would counteract any money getting stolen. It was definitely the better option. Be mindful of which bank you're using. Certain banks provide very low or almost no commission with other banks. I had to use an array of banks to draw money. Although, I had to be strategic. Some Atms charge a flat rate to draw money. Others charge a percentage. For this reason you must be more careful of how much you draw with which bank.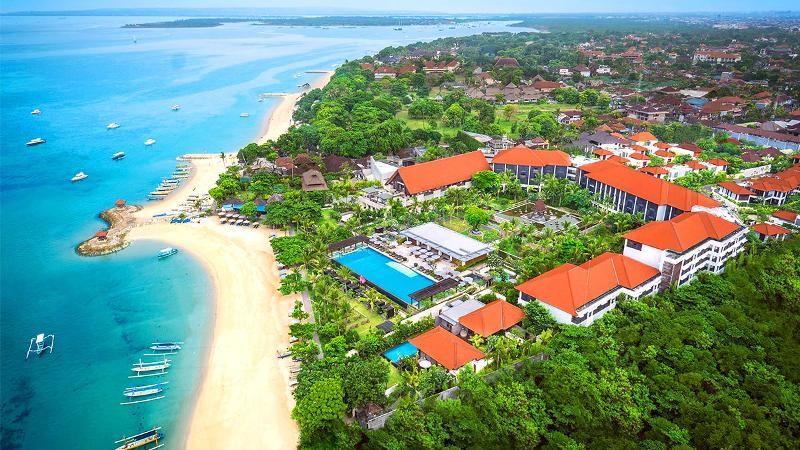 This area is great to walk around. You get to see how the locals live their day to day life. There will also be many places to eat from. The prices will also not be touristic ones so you won't be ripped off and will be able to eat as as much as you want for a low price. We also relaxed at the nearby beach as the sun had been shining during the time. We stuck around until grey clouds dominated the area. It often rained from noon till the rest of the afternoon. The consistency of this schedule was surprising. Perhaps it was simply a fluke. Regardless, during our trip in the Sanur Beach area we probably saw one small group of tourists and that's it. It was a great feeling to simply enjoy what was around us rather than what was shaped to be around us like many tourist areas are designed to be. After a long day of relaxing and walking around we decided to tread through the slightly flooded floors back to our hostel.
We had been staying at Cafe Locca Homestay. Walking through this place felt like a rainforest. Then again, much of Bali was as such. We stayed in an airconditioned room with four beds. We paid roughly 10 AUD each. The place was quite comfortable with a swimming pool located right outside our wooden shack. There were a few other backpackers relaxing by the pool at the time. Although not too many as it was beginning to rain more intensely. Even sitting down right outside your shack with pillows and sofas laid out and the palm trees around you is a great way to spend the night. Perhaps with a beer or two.
I should have mentioned this earlier. There is an issue with mosquitos carrying disease of different forms. My mate and I had to pay a pretty penny to buy some proper mosquito repellent to keep them at bay. It really wouldn't have been worth spending half my holiday in hospital thanks to some exotic disease. So I highly recommend you look into this. I may have actually put the risk lightly. A mate of a mate had been travelling through south east Asia and contracted a disease of some sort which forced her to return home almost immediately due to how horrible she felt. It is worth noting that the tropical and humid environment of Indonesia makes it a safe haven for bacteria and disease of many types. While the common local's immune system had adjusted to some extent to them, many of ours haven't. Especially if we're from the colder parts of Europe where disease does not grow as fast. We had not taken any shots before our trip and we turned out fine. I highly recommend you put some research into this.
The port
We woke up very early in the morning to catch the morning speed boat and made our way to the port where we are offered different types of transportation possibilities. They mainly narrow down to regular ferry boats and speed boats. The regular boat takes three trips throughout the day at 11AM, 2PM and 4:30PM. It costs roughly 19 dollars.
We instead went for the second main option which is the speedboat. This had cost us roughly 23 AUD each. It is very worth it. I recalled paying for our ticket and immediately heading towards the shoreline only several meters away. It was quite busy at the time. Many locals were out and about. One thing it took quite some time for me to get used to is the amount of employees used to accomplish a single job. This included the amount of people drawing the rope in to the amount helping you get into said boat.
We had to take off our flip flops and carry our luggage into the boat. The boat itself was a decent sized speedboat with a roof. We had roughly a dozen and a half people inside the boat. One thing that was pretty extreme was the humidity of the area. The speedboats will provide solace away from the humidity as the racing boat pushes cool sprays of wind and water to your heating body. The trip overall did not take quite long. Although, if you are prone to seasickness then I would buckle in. The ride was not the most comfortable one either. Although it wasn't bad enough to put you into a bad mood.
Nusa Penida
After the long ride we were deposited on a dock. The area itself looked quite amazing. While there were distance grey clouds looming. Our area was luckily very sunny and shone off the turquoise waters that shone in the sun. Our part was in an area with many small but colorful buildings. This area, however, was quite busy. We got off our boat and made our way through the crowds. Here, we struggled to get wifi. Do not expect any open wifi spots. The only area that had wifi was a buffet area to the left of the pier. The food looked absolutely good but we didn't have a residence card (as its part of a hotel) to eat there. You would need to pay for access to said buffet to also be given the wifi password.
I had to connect to my 4g (and incur slight roaming charges) and found out exactly how to get to my hostel. Apparently we had to grab a car ride (from a group of taxi drivers) that took us both deep into the island. We saw quite a bit of the local landscape and forests. Some grazing boars were marching about. We finally made it to our destination. We entered an area that looked like something out of a rainforest themed monastery with some amazing temples and wood crafted huts with modern interiors. We met the owner of the place, a Russian named Artemis who apparently owned this hostel complex along with another one and even runs a snorkeling business in the area.
Our Airbnb
All the houses were pretty full in the area. Apparently he had made a mistake with our booking. However, it was not a complete disaster. He had two of his employees take us with mopeds through the village to our next destination. It seems he had another complex being built. This one was much more luxurious. The interior of the place looked a bit pompous and somewhere you go for your honeymoon. We didn't complain as this was more of an upgrade and much closer to the sea. We were paying 9 AUD per day for two nights each. So we ended up with a spectacular deal. The value for money that we were experiencing was embarrassingly in our favour.
If you find yourself at Nusa Penida then I would recommend that you look out for a man named Artemis on the Airbnb website as you will find some striking deals. At this point it was only the afternoon so we had plenty of time to check around the area. The area we were in was a proper village. It was not very developed at all and many of the surrounding structures were small houses. However, the most visible structures are the temples. It is worth noting that while Indonesia has the largest muslim population in the world, in Bali they have a massive hindu population. This reflects on their temple architect.
Beach
We walked the dirt roads until we reached the beach. The closest route to the beach is quite a busy area. There are many locals lounging about this area next to an eatery. Apparently surfing is a pretty big thing here. With advice from one of the local men we walked more westwards until we reached a large beach area free from rocks and green forage. There were many different resorts in this area. Quite a few lounge chairs and umbrellas strewn around. I recall how when I looked across to the sea I spotted a structure on stilts with a couple of lounge chairs.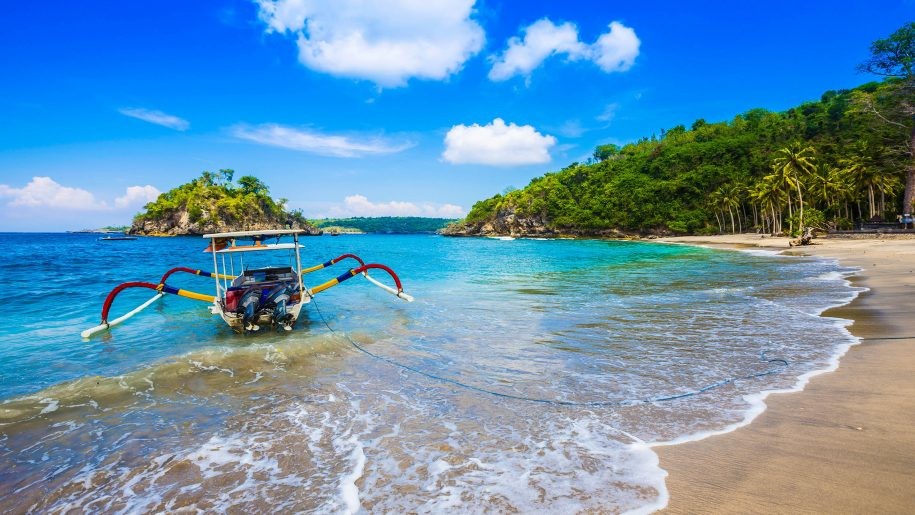 We decided to head over to the structure surrounded by water. There were several groups of people swimming around us. In the distance there was a fisherman. I quickly realised why. As we walked through the shin deep clear waters I managed to spot many fish of different types. There were even a couple of schools of fish roaming about these warm waters. We jumped onto the empty platform and sprawled out onto the lounge chairs. The shore actually extended quite far into the ocean. The water remained shallow for quite a distance walking in. So the stilted area is pretty far out.
We decided to return to the beach and head out to one of the busier beaches. One thing that is worth noting is that there are quite a few families of stray dogs in the area. Apparently they were relatively harmless as nobody was worried as they walked around. I wasn't too at ease though. The beach was filled with groups of tourists. There were many coconut vendors in the area. My mate and I paid a couple of dollars worth of Indonesian rupiah each and enjoyed a refreshing drink. The best part about these massive green coconuts is that you are able to eat the insides pretty easily. You just need to ask your coconut vendors to chop it open after you finish drinking it and munch on the insides. I must've eaten one of these every second day.
Eating out
It's interesting to see tourists from all around the world. Many of those around were very pale. I imagined that they would soon turn a bright shade of red. Thats a color my pale German mate would soon turn. As dusk approached we decided to make our way back. Right before heading to our Airbnb we decided to stop by one of the local eateries. The place was literally an empty room with one lady and a fryer. I'm still surprised to this day that we even decided to eat here. Who knows what sort of food poisoning or worse we could have suffered. The place was a health hazard to eat at. Regardless, it was quite delicious. I had a regular Nasi Goreng with meat while my mate had hers with vegetables. It only cost us a couple of dollars each. A justification to go for seconds.
After enjoying our meal we headed off to our hostel and relaxed for the rest of the night. We had told Artemis that we are interested in checking out the snorkeling trips he had on offer. He explained that the payment for the trip came with a personal chauffeur who would not only take us to the snorkeling areas but also to certain parts of the island. We woke up early in the morning to prepare for Artemis arrival. I recall that we did not have a supermarket nearby although we had bought quite a few things while still on mainland Bali to keep us going for breakfast. Artemis came in with the driver. We packed our stuff and paid the fee. It cost about 125 AUD to Snorkel.
Snorkeling
One might think that this seems as a steep price, then actually isn't. As mentioned before, we were provided with a personal driver. We were also given all the snorkeling gear and our very own private small speedboat. I can't even imagine how expensive that would have been in Australia. Artemis stuck around the residence area to check on construction. We, on the other hand, were driven around in a comfortable jeep. After thirty minutes of driving through the forests we ended up by a large bay flanked by high stones. Here we passed by flooded areas as it had been raining last night. It almost boggles the mind that we were so close to the sand but the area was still flooded. Once we reached the sand we felt a relief from wet floor to drier land.
There were a few speedboats in the area. The bay itself is quite breathtaking. The water was looking very pristine and the sand was golden. The man who was to be our snorkeling instructor(he was also our guide and boat driver) greeted us with a warm smile. He spoke in broken english but understood us quite well. After our greetings we both started putting our gear on except for our flippers. Our guide in the meantime swam off to the boat which was parked a hundred or so meters in the shallow seas just off the shore.
He drove it in and we jumped into the water to get to the boat. He explained to us that the reason why Artemis wanted to wake up early in the morning had been to avoid other tourists and manage to spot the manta rays feeding in the area. It also helped that the waters would be much clearer in the morning. So we set off. We sailed around the northern part of the island. We spotted some striking stone cliffs just several meters away from us. As we turned corners we would spot secluded and beautiful beaches. Some of these were only accessible by boat. We got to our first snorkeling area. The waters were almost crystal clear. We put on our face masks and dived in. The water was surprisingly cold although my body quickly got accustomed to it.
A spectacular place we stopped at for a snorkeling dive was the Buddha temple. This area hosted an amazing array of underwater statues and a Buddha statue at the centre of it all. This was an experience that was out of this world. Here you will also see fishes of many different types floating about. Look out for jellyfish here. I recall how we had to dodge out of the way of jellyfish like a game of space invaders. The current is also relatively strong in this area. Although this isn't too much of an issue as you will have a few tour boats around you. This was also the area with the most tourists. Although, luckily due to our timing we only had several people around us. I highly recommend that you snorkel in this area. It does not matter which tour you decide to take but make sure it includes this beauty of an area.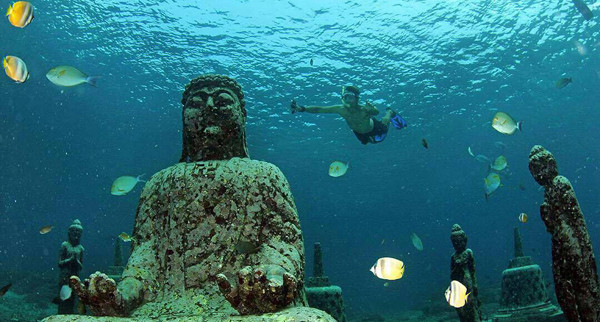 We swam around within the bay area. I managed to see fishes of many sizes ranging from one's only a couple of centimeters long long to ones that were a footlong. There were many different schools of fish and tiny reefs all around the area. It was truly magical. I managed to see fish of many different colours. I was in awe of how beautiful it all looked. Additionally, the waters were very clear. This helped the full intensity of the fishes colours to be showcased in front of me.
The best part about the whole experience was that the area was completely devoid of any other humans or signs of humanity excluding ourselves. This allowed the full serenity of the place to sink in. I felt as though I would love to pick up snorkeling. After swimming around for thirty minutes and soaking in the sights, we were then called in by our guide. He told us that we had to keep moving to see if we can spot some Manta rays.
We ended up heading to two other bays. The first of the two was equally, if not more beautiful than the last. There was a small sunken boat at the seabed. It felt like being in a documentary. The last one was the most spectacular one. The area was much larger and it housed larger fish than the ones before.
We stayed here the longest amount of time while having a look around. I recall how I was casually half floating and half swimming around when I spotted a dark approaching shape. I froze for a second. Were there sharks in Indonesia? There had to be, it'd be incredible if they weren't. The shape approached slowly until it slowly became clearer. I was face to face with a meter wide manta ray. It was not keen to swim around me and kept on its path. I quickly jerk out of its path as it gracefully swims by.
As I was staring at it, it passed by me, I had not noticed, the second shape. It swam nearby a couple of metres from where I floated. I quickly called over my mate and we both inspected the gentle creatures. My mate had a GoPro on her and was recording their every move. I heard rumbling. I swam to the surface and spotted another fast approaching boat. Five tourists from China descended into the water. Luckily, the manta rays were not phased from the vibrations of the boat. They swam around us for at least twenty minutes before we were called in. Our tour was over for now.
We jumped into the boat and took off our gear. I couldn't stop grinning. My mate and I were both excited to spot these amazing creatures. We were both thoroughly satisfied with our sightseeing. We were then taken back to the shore where we found our awaiting driver. We dried ourselves off and had a quick change of clothes. After that we jumped into the jeep and made our way to the next destination. We were taken on a bit of a ride. We ended up just on top of a massive clifftop. The drop was steep and long but the view was out of this world. Here, we met the driver's wife and a few of his mates. We paid for some coconuts and some Nasi Goreng they had prepared. There was another clifftop that had been connected by a piece of narrow but securely fenced land. We walked through this area till we reached the other lower clifftop. Here, we spotted some fellow tourists who were actually from other parts of Indonesia and we shared a smile and a greetings wave.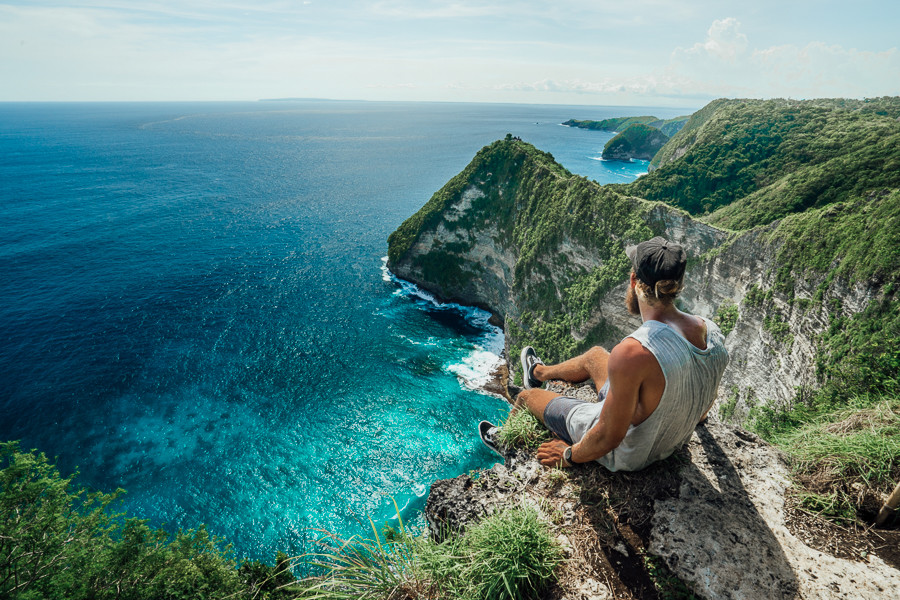 The view was incredible. Below we could spot one of the secluded beaches and the turquoise waters below in the nearly cloudless sky. We stuck around for a while before we decided to call it a day. We returned to our chauffeur who drove us back to our hostel. On the way he stopped at a supermarket where we stocked up on some needed supplies. It was more like a medium sized rectangular convenience store that stocked many different types of exotic ingredients and snacks. Our adventure had taken quite some time and we were exhausted by the time we got home. We showered and headed off to the beach to soak in more of the beautiful seas while it was not raining.
The next day we woke up relatively early. We asked Artemis to drive us back to the port. We paid for the jeep ride and made our way back to the port. As we were doing a semi-budget trip where we save where we can and squander in some other cases, we ended up getting a relatively cheap boat that took us back to Bali and from there we took another boat that would take us straight to Gili Trawangan: the popular party island.
---
Photo gallery
---
---
Content available in other languages
Share your Erasmus Experience in Bali!
If you know Bali as native, traveler or as exchange student... share your opinion on Bali! Rate different characteristics and share your experience.
Add experience →