Indonesian Experience (Gili Trawangan Part 3)
Architecture and landscape

10 / 10 points

Entertainment

8 / 10 points

Culture and customs

10 / 10 points

Transport

4 / 10 points

Gastronomy

8 / 10 points

Prices

8 / 10 points

Party

8 / 10 points

Weather

6 / 10 points
---
Getting there
We'll be picking off from our Nusa Penida experience. An amazing experience of raw Indonesian nature and snorkeling. Aquatic sealife of all types and an exotic experience overall. I highly recommend that you read into 'Indonesian Experience: Nusa Penida Part 2' if you're keen to experience any of the above. We last left off with my travel buddy and I leaving a port of Nusa Penida and heading off back to Bali to get to another boat that will take us to Gili Trawangan. We dropped off at one of the ports in eastern Bali due to the fact that it was much cheaper to take two boats rather than the Nusa Penida to Gili Trawangan boat. Once we got back to Bali we had to grab an Uber to get to another port which offers a cheaper ride to Gili Trawangan.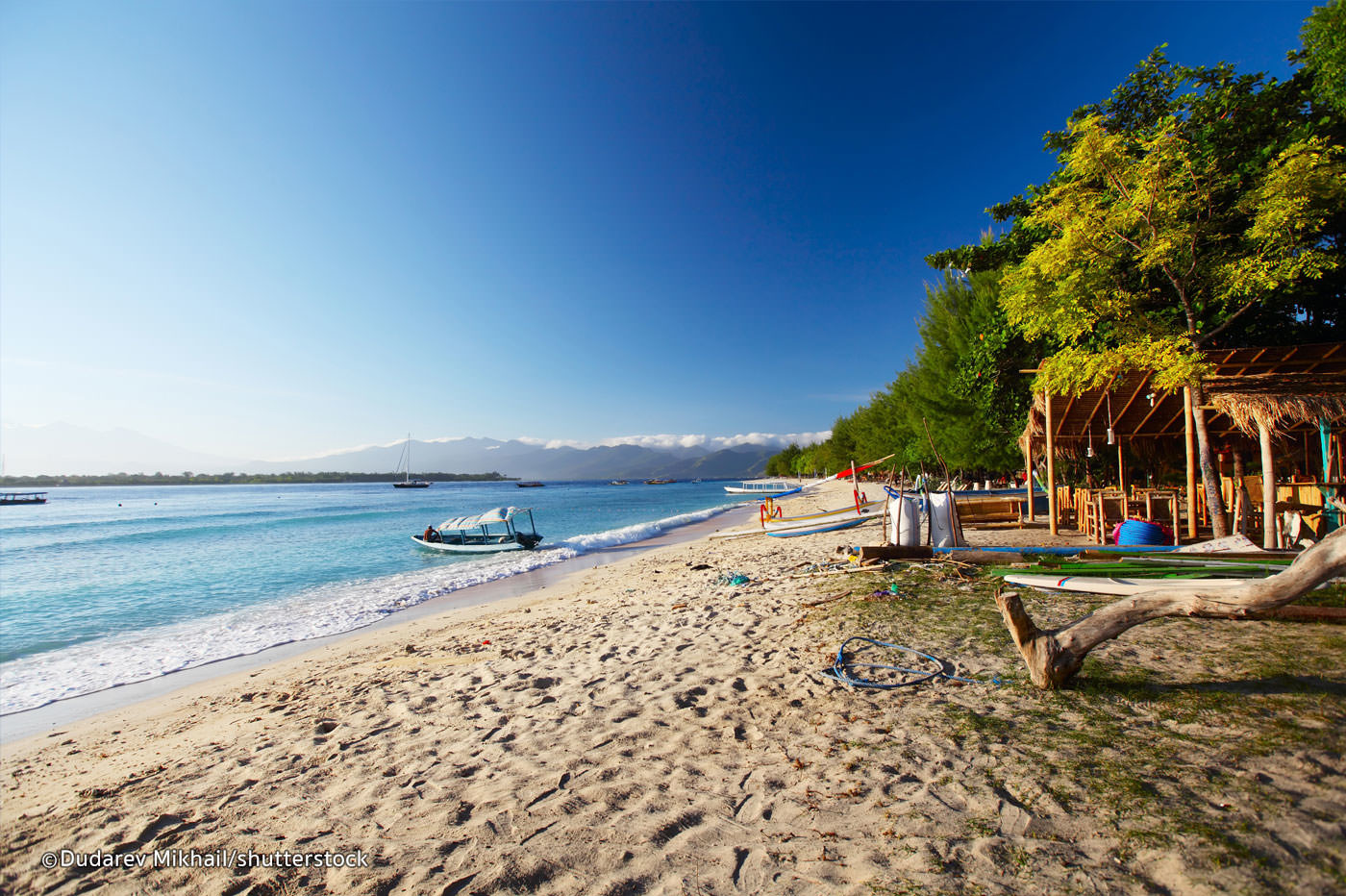 (Source: https://wahanagiliocean.com/tours/gili-trawangan/)
As I had mentioned in my previous article I would like to call attention to the status of Uber in Bali. There is quite a bit of animosity from taxi companies to Uber as they feel that their livelihood is being threatened by Uber. Usually these drivers become ostracised by these companies and in very rare cases worse things might happen. Regardless, we heard many stories of how many taxis were actually pretty dodgy in Bali. They would charge you extra if you were not a local or would take routes that exacerbates the length of your trip. Ubers were more reliable.
We took the Uber and ended up in the port we had to be. Unfortunately I do not recall which port it was although if you look up 'cheap Bali to Gili Trawangan' on the internet then you will be shown this port. We finally arrived and stocked up on water and some bananas at a local convenience store. Keep in mind that there is very little clean running water in Bali. What's worse is that there had been an incident where people dining at a restaurant were poisoned due to the fact that the ice used in their drinks were made by unfiltered water. It was said that they fixed this issue. However, my mate and I wouldn't risk it and avoid having any drinks with ice. We bought our cheap goods and our ship ticket (there are a couple of ship ticket vendors in the area) and made our way to the docks.
We were mostly surrounded by locals at the time. Although we had a few tourists lounging about. We were sitting by a shaded corner to avoid the blistering sun while waiting for our boat to come in. We had about thirty minutes to burn so we kicked our legs up and relaxed. Usually in these areas you would not have to worry about getting enough snacks or refreshments as there are vendors walking around with big baskets of different goodies. One thing that is worth mentioning is that the vendors and hawkers here are very forward (to put it mildly). So often times you would even have to tell the same person that you are not interested in their goods. If you make eye-contact then you will be approached. This might seem extreme but this is what I could confidently draw from after three and a half weeks in Indonesia.
After our waiting period we made our way to our boat. It was basically a yacht-like ship that had been gutted from the inside and filled with seats. It was very luxurious looking and would have probably cost at least three times the price back in Australia simply to take a ride on. Regardless, it was a double decker ship. The bottom level was beautifully air-conditioned in the hot and humid weather. This level was full and filled with families and party enthusiasts. The groups were very different.
After about twenty minutes of boredom we decided to head to the upper deck that is exposed to the sun. We doused ourselves in suncream. Make sure you do so while travelling through this region as you will mostly be exposed to the sun often, this is excluding the periods of rain. If you get burnt it won't be fun going day by day out in the sun with the same burns. Still, make sure to pack afterburn as well to treat any minor burns to help heal and alleviate such pain as soon as possible. The view from up there was spectacular.We were able to see miles and miles of pristine seas passing by us as our fast boat rushed through them. We also managed to see distant islands over the horizon. It was a soothing experience.
The first stop you will be heading to will be Lombok island which is located just off of  the Gili islands. This island's western port is quite beautiful. In the distance you will witness large sea walls that protect the port from wild waves. We stopped here for about twenty minutes and picked up party enthusiasts while dropping off many of the families and elderly folk. We had time to burn so we decided to get off the boat and grab a nice drink. We almost regretted it as its crazy crowded in this area. We were dying to cool off and ended up buying a coconut for a few dollars each. We grabbed our new round luggage and made our way back to the boat. Luckily the top had maintained a few free spots for us.
We then set off. We had to take a roundabout trip through the islands as there were some intense currents in some areas. We passed by Gili Meno (which we will visit later on, it is located between Gili T. and Gili Air.) before making it to Gili Trawangan. As mentioned briefly before, when you are trying to decide on one or two islands out of threedue to time constriction then allow me to describe the islands. The largest of them all is Gili Trawangan. This one is the most popular of the three. It is known as the party island filled with alcohol and decadence. It is also quite beautiful with pristine beaches and many fireshows and small festivals.
Gili Meno is a smaller island with a smaller tourist population. It's known for its raw nature and also its beaches. Finally, we have Gili Air. I can't tell you too much about this island as I had not travelled this island, rather I travelled to the former two. All I had been told about this island is that its known for being a bit more pricier than the other two and is more designed for the richer and older generation due to its calm and relaxed characteristics. It also shares the traits of having beautiful beaches and clear waters.
Landing
We were excited as we finally approached Gili Trawangan. We had been itching to finally get off the boat into the whitish golden beach. The whole port was bustling with people. Many men were pulling at ropes that were wrapped around parts of the boat to help get the ship ready for us to dismount. After a bit of a queue we finally made it off the boat. We decided to head off to our hostel first to drop off our heavy bags. I unfortunately cannot recall the name of the resident we were staying at due to how long ago it had been and also due to the fact that my mate booked it under her name and email. However, we found it while we were checking it out on Hostelworld. Feel free to splurge a bit with hostels as you will get luxurious options for very cheap prices. I recalled how this hostel had two different areas to stay at.
Hostel
We ended up going to the second one which had been under construction. However, our room was completed. The hostel is located a seven minute walk from the beach. Keep in mind that there are little or no cars during the time of our visit. The roads are not built well for them and people got around with horse or human carriages. After dropping off our stuff we headed to the beach. The area was basically a small town with relatively primitive houses. The restaurants were modern but matched the style of the surrounding houses so it did not look too out of place in the village. The place was predominantly filled with locals except for a couple of touristic streets that stretched on the eastern side of the island parallel to the sea. There you are able to find many bars, restaurants, shops and many agencies that provide seafaring and diving tours. You could also find some shops where you can buy snorkeling equipment. This was exactly what we ended up doing. We first explored this long stretch of road and ended up stopping by a beach area right next to an ice-cream shop. This road tended to have the priciest products out of all the places we traveled in Indonesia. That didn't stop us from enjoying a bit of spending. I ended up buying a small lava cake that exploded with chocolate as I drove my fork through it. My mate grabbed some ice-cream which basically melted by the time we stood outside the door. The heat itself wasn't the issue but the humidity was.
Roundabout
As I had mentioned previously, we had traveled to Indonesia during the wet season (also a period where there were not too many tourists) so we did not have to deal with massive migrating crowds. After that experience my mate had an adventurous idea. Lets walk along the whole circumference of the relatively small island. It was an interesting suggestion as I had never done such a thing before. Plus, it would allow us to explore parts of the island that was hidden away from the majority of tourists. I quickly found out that horse carriage tours around the island were a common thing. Although, I prefer casually walking about.
We went clockwise from eastwards down south. We found some amazing sights along the way. We would have the beautiful serenity of the sea crashing against the sand to our left with the wild Gili Trawangan forests to our right. As we kept on marching we did not see much life most of the time. On the way you will pass by a convenience store where you can stock up on all manner of goodies to snack on. As you go further along you will find some spectacular looking resorts where the wealthier individuals or those that want peace from all the eastern Gili T. shenanigans.
One of the resorts was right next to the beach and had many lounge chairs and even a couple of hammocks under a few trees. We decided to lie down and enjoy some of our snacks while watching the lazy waves crashing into the sea. The weather was ideal with sun reflecting the golden sand. We stayed there for about an hour before we kept on walking. We spotted some grey clouds in the distance and wanted to make sure we were not caught with our pants down. While walking on the other side of the island. The rain here gets quite intense.
The wedding
We ended up walking past a wedding. It was in a resort on a stretch of golden beach. The area was unfenced so we were able to take a curious closer look. It was surprising to see suits and dresses in this heat. The people there must have been frying in the heat. It kind of made sense in a way that people would want to be married on a paradise island. Although, it's definitely something I haven't seen much of during my travels. The wedding wasn't too big as it was only two dozen or so people. I heard them speaking in english. Although the accent was oddly familiar. It took me a second to catch the subtle Aussie accents in their voice. They may have been South Australian as their accents are more low-keyed than their neighbourly states.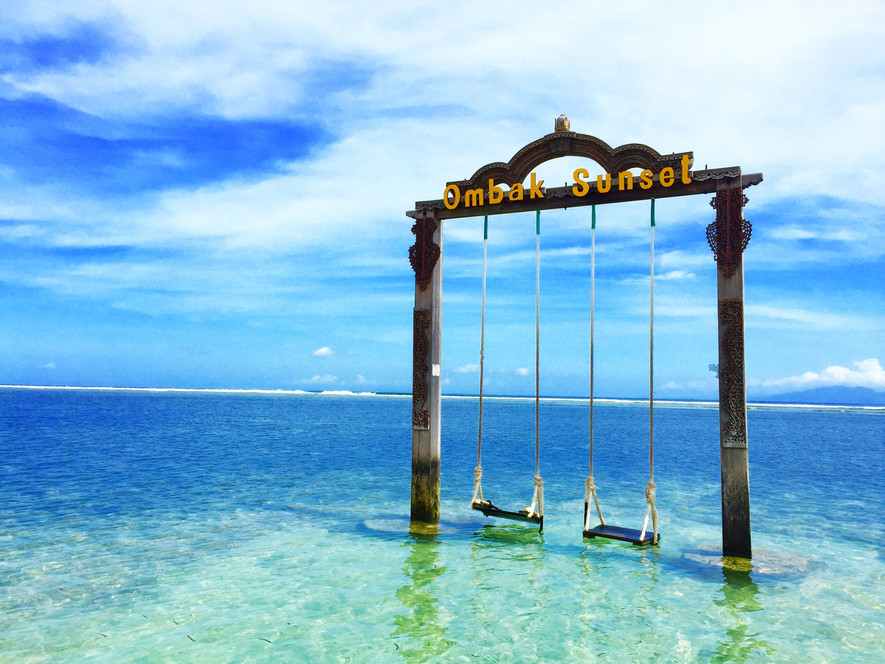 (Source: https://wahanagiliocean.com/tours/gili-trawangan/)
Apparently we caught them after the kiss. We decided to take a break nearby in the beach. The dirt roads around the island were not very comfortable on the feet. One thing that boggles the mind is the number of coconut vendors. You can't really walk more than fifty metres up or down the shoreline without meeting one of these loud vendors selling their refreshing wares. After our break standing knee deep in water in attempt to cool down we decided to set off. We had almost made it all the way around. Right before the wedding we had passed by a wooden shack. This structure had an old lady that was renting (and selling) snorkeling equipment. We had to write down our names and details before being able to rent these incredibly priced products. We ended simply grabbing large goggles and a breathing tube.
Snorkeling
Armed with our new equipment we then decided to continue on to the northwestern part of the island. We had been recommended by locals and our hostel to check out this area of the island to spot sea turtles. We reached a couple of shaded restaurants with several lounge chairs and even wifi. There were a couple of spanish tourists enjoying the sun when we got there. As previously mentioned, it's interesting to see how there are so many people employed to do the same job. As there was not much to do at the time since there were not too many people many of the crewmembers of one of the restaurants were relaxing outside.
We spoke with one of them who recommended snorkeling in this exact area we were at since sea turtles have often been spotted here. We made our way to the lounge chairs and dropped off our stuff before donning our gear. The water was warm and felt refreshing to dive into. It felt almost healthy diving in the waters in this area as there was not as much pollution as you would see in other areas. We swam further and further into the sea until there the seafloor extended 3-4 metres under us. The water was pristine and clear. We were able to watch the full luminosity of the fish colors. We managed to spot many schools of fish.
One that was quite spectacular to witness was a school of dozens of hand-sized black fish that stuck out against the colorful background. There were also many coral reefs to look at. If you swim close to these areas then you will spot smaller fish hiding between the corals. I recall how there had been a fish that was just about the size of a middle finger. It might as well have been flicking me off as it kept charging at me whenever I got close to its home. So, keep a lookout for aggressive and territorial fish while snorkeling. Although, most will not bother you and will get out of your way as soon as you approach. Luckily, you will also not spot too many jellyfish roaming around the area. We stuck around for about thirty minutes before calling it off. We were not able to spot any sea turtles.
Also worth noting, I had not mentioned this before but I highly recommend you do not snorkel in area between the western and northwestern part of Gili Trawangan. The rocks on the seafloor are jagged and quite difficult to get from the shore to water deep enjoy to swim in. We wasted about thirty minutes in this failed endeavour to get to the waters deep enough to swim in. The beach area here just had too many rocks. Further north to the place I had been previously talking about is sufficient.
Back to the bustle of tourist life
After we finished drying off I then made my way further north till we started turning the curve of the egg shaped island. At this point you'll spot more and more tourists and locals going about their days. You'll also see more activity in the sea as snorkeling tours start taking over the area. There is a clear distinction of activity between the western and eastern parts of the city. If you enjoy swimming amongst people, swim in the eastern half of the island. If you prefer a more secluded area then travel to the western half. We stopped by the northeastern part of the city. Here you can find many beach bars and snorkeling equipment renting shacks. Some of the bars stocked shishas and even shroom cocktails (these are hallucinogenic edibles grown in the area, I wasn't too sure if it was technically legal to consume those although I was not keen to find out.). We decided to snorkel in this area.
It was a bit unfortunate that it was quite busy in this area. There two different snorkeling tours with a dozen or so people in each boat in our diving area. It was actually a good sign. If snorkeling tours were diving in the area then it must mean the area is spectacular enough to look at. We dove straight in. The current in this area (and the north western area we had been at as well) is quite strong so make sure to be aware of your surroundings. This area was probably the most spectacular place to dive in Gili Trawangan. We spent about an hour simply floating around in the area.
After that hour we decided to pack it all up and head back to our hostel which was only a fifteen minute walk from our position. The sun was setting and ominous grey clouds began to hover. We quickly dropped off our stuff and showered before heading off for a well deserved massive dinner. There's this place that had been recommended by a mate of my travel buddy. Its called Pituq Café.
Pituq café
This place turned out to be incredibly good. The prices are very reasonable and the richness of flavour is out of this world. The ingredients are all local and fresh. Its a vegan restaurant. I don't usually eat vegan food although this will truly blow your mind. The options you will have will taste much better than the variants you've had back home. I guarantee it. It's also not too expensive so you can feast or simply come for brunch, lunch, supper and dinner.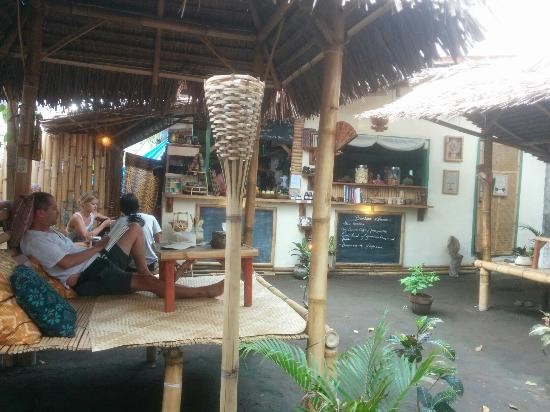 (Source:https://www.tripadvisor.com/LocationPhotoDirectLink-g664666-d8626127-i158388816-Pituq_Cafe-Gili_Trawangan_Gili_Islands_Lombok_West_Nusa_Tenggara.html)
The interior is mostly wooden with an outside area that is covered by large umbrellas and nearby trees. If I could describe the whole appearance of the place in one word then I would say 'organic'. The inside area has many sofas to lounge on while you eat with the tables extended in so you can feast while having your backs against the wall. They provide many exotic fruit juices to try out from as well. The waiters and waitresses are especially polite. If the meal here makes your day then keep an open mind to tipping as wages are not particularly high here and your tip would make their day.
Night out
After enjoying our meal we decided to head back to our place before going out and checking what the nightlife here had to offer. While we were relaxing inside it had been raining heavily outside. It lightened up by the time we left. The infrastructure is not designed well to take in this rain. With that in mind, do not be surprised to see roads flooded. The road to our hostel was flooded although by some good fortune bestowed upon us by mother nature perhaps for eating vegan we had many steps that crisscrossed around which allowed us to hop and jump to our hostel almost completely dry. Which was a good thing as we were only wearing flip flops. On other nights, however, we were forced to walk through the muck using our flip flops. If you truly loathe doing so then feel free to rent one of the many horse carriages around. They are relatively affordable for all due to this region of Indonesia being relatively cheap for Australians.
After relaxing for a bit as the night got later we then decided to head into the main strip of land that held many of Gili Trawangan's restaurants, bars and other lively venues. I recalled how we first decided to head back up northwards to the group of bars we had seen while snorkeling. This part of Gili Trawangan was pretty quiet compared  to the south eastern group of restaurants and other venues. We decided to grab a shisha and sit down next to the sea with some beanbags. The shoreline was literally within spitting distance of where we were sitting. It was refreshing simply sitting down and relaxing to the sound of the crashing waves. The area was dimly lit which added to the serenity of the whole scene. There were a couple of locals along with the employees relaxing with some tourists having a couple of cocktails by the bar.
Lively bars
It's interesting to think how many people here who visit for tourism had saved money for months or maybe years and spent the whole season simply relaxing in this island. Definitely not something you could do as an Erasmus student unless you're taking a break from your studies at the end of the semester. That should give you enough time to do so unless you are spending the whole summer in this area. Also to note, feel free to splurge on things you have never tried before. Cocktails are relatively cheap compared to most places back home. Just make sure to drink responsibly and have enough water. Enjoy the night but don't black out. You are still in a foreign country probably far away from home. Safety is the number one priority.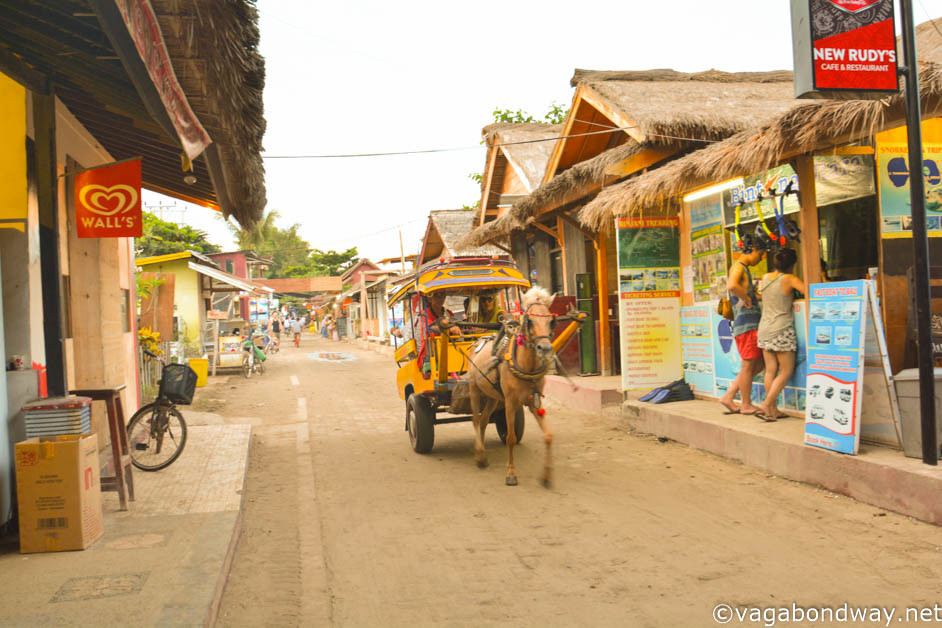 (Source: https://wahanagiliocean.com/tours/gili-trawangan/)
Regardless, we finished off our shisha before making it southwards towards the main bar area. As you walk down this road you will probably spot some food vendors in tiny shacks or wagons. The ones I saw mostly sold roasted corn cobs. I love eating these and often grab one. If you're feeling peckish then this is a good option to choose from. They usually cost a couple of dollars. It's hard not to stuff yourself while on holidays, this is especially true if its pretty cheap and of such decent ingredient quality. We ended up getting to a two floor bar and sat on the top floor. The alcohol there was pretty cheap and I tried out my first Long Island Iced Tea. It definitely packed a punch. They were not stingy with the amount of alcohol tossed into the mix.
The place was pretty lively and filled to the brim with tourists. The most common accent I heard was the English one. People were sharing rounds of shots at the colourfully lit bar and going off about what they did all day and talking about back home. My mate and I casually drank and chit chatted while watching the waves crash into the beach. It began raining quite heavily during this time and it painted a serene picture (we were sitting in the shaded balcony of the second floor which allowed us some peace from the bar and its shot guzzling patrons). After a few more drinks it was nearing midnight and we decided to call it a night so we can start the next day early. Walking back was a bit of an adventure. The roads were flooded although the rain had subsided. We were almost swimming back with the amount of water there was (it wasn't that bad.). We finally made it home and I showered to clean off all the muck from my flip flops before enjoying an air conditioned room and comfortable bed.
The next day we mostly spent relaxing at the beach. We went to the same cafe for breakfast before heading back to the beach. We went for some more snorkeling and I got to see many different types of fish swimming about colourfully in the sun. A cool part about the eastern beach is that Gili Meno is within view. It seems like a moderate swim getting from Gili Trawangan to Gili Meno. I would not recommend it as the current is pretty strong in the area. You don't want to show up on the news as a foolish tourist lost at sea because they decided to ignore common sense. This brings back the concept that the biggest issue with common sense is that it is not very common. There is also a group of stalls that is known as 'The market' on the eastern side of the island. Here they sell foods of all types. It was more of an outdoor foodcourt and it was spectacularly delicious. Lots of great deals for good foods, desserts and all sorts of mouthwatering treats.
Closing it out
It felt as though we were actually on a paradise island. It was a great feeling to experience. Throughout the day we grabbed a couple of coconuts to go along with our relaxing experience. It's nice to escape from it all once in awhile. We ended up enjoying our night eating at one of the restaurants by the shoreline (most of them had an open plan which allowed you to casually walk from the entrance to the beach unabated from walls. We then went to a nearby shisha lounge mainly due to the fact that there was an inexistent wall between us and the side facing the beach and there were comfortable Middle East-esque sofas and cushions you could sit on while enjoying the view of the dimly lit sea. A cool soothing breeze hit us which helped us cool down after the long humid day. It was nice also to not pay as much as back in Australia. I reckon it cost us around 10 AUD or so for the shisha which would cost exactly triple the price back in Adelaide. We enjoyed some cheap drinks. I was keen for some exotic juice while my mate hit the beers.
In total we spent about three days in Gili Trawangan. The reputation for it is pretty good. While we experienced it during the calm season we did not have to worry about large crowds and probably aggressive patrons. I would recommend checking out this island due to its pricing (even though it's considered expensive by local standards). You could also go further into the island if you're looking to have a better experience of Gili Trawangan's nature. Getting here is also relatively cheap from Bali. Overall it felt like being in another world. Hopefully you will have the chance to experience the same thing. After about three days we decided to head towards the beach and grab a ferry ticket to Gili Meno. The best place to do this is at one of the many shacks that provide ferry services. If you're on a budget then I would recommend checking out the different prices although you will probably save only a few dollars max unless you grab a speedboat. Anyway, make sure to enjoy all the good foods and affordable drinks. Just make sure to stay safe, drink responsibly and have a good time!
---
Photo gallery
---
Share your Erasmus Experience in Bali!
If you know Bali as native, traveler or as exchange student... share your opinion on Bali! Rate different characteristics and share your experience.
Add experience →