Indonesian Experience (Gili Meno Part 4)
Architecture and landscape

10 / 10 points

Entertainment

6 / 10 points

Culture and customs

8 / 10 points

Transport

2 / 10 points

Gastronomy

8 / 10 points

Prices

10 / 10 points

Party

4 / 10 points

Weather

6 / 10 points
---
Getting there
We had a blast relaxing and adventure seeking back in Gili Trawangan. We snorkeled, ate, drank and enjoyed our time among the busy streets of Gili Trawangan with tourists and locals alike. After a few days of doing so we decided to call it an end as we wanted to get on with our Indonesian travels. If you're keen to learn more about my Gili Trawangan experience then make sure to look up my written piece 'Indonesian Experience (Gili Trawangan Part 3)'. There you will get to learn more about the ins and outs of the party island. This piece, however, will be looking at the calmer sibling: Gili Meno.
We last left off when we grabbed a ferry to get us from Gili Trawangan to Gili Meno. As I had previously mentioned, I find it quite striking that from the eastern side of Gili Trawangan you would be able to see Gili Meno clearly in the distance. It is even within swimming distance. Although, I wouldn't recommend swimming as the currents in the area are quite strong. Getting from Gili Trawangan to Gili Meno is quite easy. There are many booths that sell tickets for the ferries to get from one island to the other. We bought our tickets and set off in the morning. We were in a small speedboat that fit in around a dozen or so people. The sun and overall weather was spectacularly beautiful. The water was pristine and shone beautifully against an almost cloudless sky.
Sailing away
As you will quickly realise it is quite humid in Indonesia. The Gili islands were no exception. We walked to our boats and slowly began to drip with sweat. The eventual rushing through the waves on the speedboat helped alleviate our heat suffocation. Make sure to pack a lot of water while you're travelling in this area, you will definitely need it. Regardless, we shot through the water until we finally reached Gili Meno island. We were taken to the eastern side of the island's port where we were deposited on a dock with a very steep wall of wood and earth in the background. It wasn't like Gili Trawangan where we were plopped onto the sand and went about or own business. The small wooden walkway set up seemed a bit rickety but easily supported us all as we walked into the ticket booth for ferries and then out onto the dirt path of the island.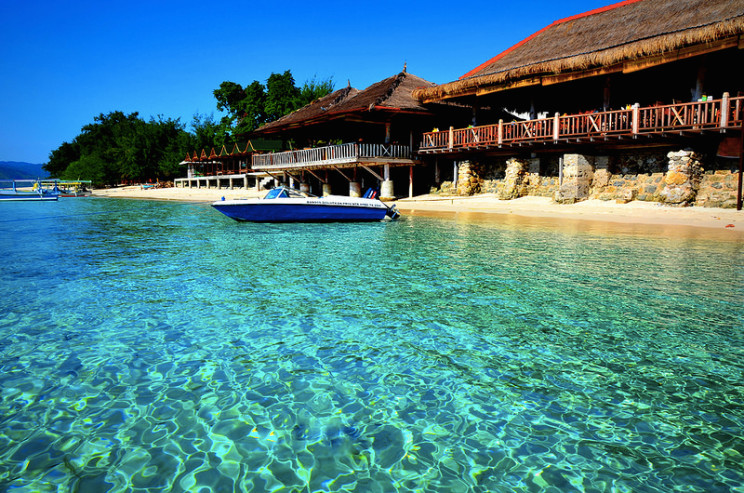 (Source: https://giliislandfastboats.com/port-info/gili-meno-port/)
Pondok Anjani
The island itself looked greener with more forest and trees. It's quite different from Gili Trawangan also in the sense that it was much less developed and had a much smaller population. So less roads, less houses and definitely less party venues. We soaked in the slightly empty street then made our way southwards. We picked up a hostel that was a bit closer to the centre of the island. A one room wooden cabin which had cost us very little. As we walked southwards there was a a restaurant right next to a small supermarket. Here you can buy shampoos, suncream, food and snacks of all types. There is also an individual selling fruits and other wares just in front of the store. These fruits had tasted very rich and were fully packed with flavour
We bought a bag of purple chips. I can not recall what vegetable they were made from exactly but they definitely were not potatoes. They were quite tasty and fueled us up to keep on walking. In truth, it only takes about twenty minutes to walk towards our hostel from the port. We had to take a right opposite of the sea side and make our way through another dirt path. As we walked through this area we could find many small stores that sold many different products. Basically convenience stores in tin and wood structures. After about five minutes of walking we made it to the entrance of our hostel: Pondok Anjani. This hostel is filled with multiple wooden huts at great prices for you to stay at. They also offer clothes washing, drying and breakfast services. I would definitely go for the breakfast. They're cheap and quite tasty.
Inside the room we had a large double bed that was covered in a mosquito flyscreen. As you can imagine, mosquitos thrive in the humid weather of this region. We were already using bug repellent as there were warnings of disease-carrying mosquitoes in this area of the world. We had a table on each side of the bed to leave our small items and sockets with lamps nearby. The wooden structure's second room is a decently large bathroom area with a shower. The water is normally cold here although that could potentially be refreshing with the amount of heat you will be experiencing throughout the day. We dropped off our stuff and then set off back to the beachside.
Turtle sanctuary
The feel of the area is much more serene than Gili Trawangan. Once we reached the beach we then decided to head southwards towards an attraction we had found online, the turtle sanctuary. The sea, like its other Gili counterparts was spectacular to look at. The beaches were not clustered with tourists and hawkers and shone beautifully in the day. We made our way southwards as we spotted public hammocks and a few sunbathers here and there. After a bit of walking we finally made it to the turtle sanctuary. The whole thing was a humble sanctuary although it packed a punch. It's been featured in the news countless times which it shows on paper clippings on a billboard set up.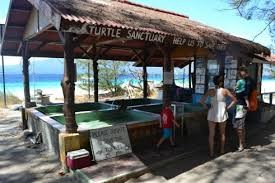 (Source:http://chinese.fansshare.com/gallery/photos/18262984/turtle-sanctuary-gili-meno-gili-air/?displaying)
During our initial visit there had not been anybody watching over the turtles. It was primitive but the areas where a few dozen baby turtles are placed in seemed very suitable and capable to take care of them. We watched the adorable little turtles swim around in their enclosure. I began reading the posters and paper clippings that were placed around. They talked about the pollution problems and waste tossed into the sea. This created complications for many fish and especially turtles. For example, floating plastic bags look very similar to floating jellyfish which sea turtles consume. After some time inspecting the area a man who helped take care of the turtles in this sanctuary arrived. We talked about the sanctuary and all the work he did. He explained at one point that when the turtles reached a certain maturity then they would be let out to survive in the sea. He told us how this was not a solution to the pollution problem but it did help increase the chance that turtles survive to maturity as many do not make it long past birth due to predators and pollution.
There is a donation box set up for those that would like to help this sanctuary maintain itself. After that we made our way back up the beach and found a couple of swings attached to a thick tree branch above. We decided to swing around and get some breeze onto us. Right behind us there were a few resorts with beautiful front gardens and exotic plants in front of them. It felt a little bit out of place if you compare it to how the village looked further up north. Although, if you don't think about it then it would look as if you were simply in a very western view of what a paradise island should look like.
Chilling with some pseudo-locals
There were a few families roaming around but most of the young hotheads and party animals were in Gili Trawangan or in the mainland. This island truly is a sanctuary of peace and relaxation. After awhile we decided to head up north back to the village we had passed earlier in the day. We found an almost empty outdoor restaurant on the way. There were wooden lounge chairs set up on top of a platform under a tiki style umbrella We decided to order some refreshing coconut based drinks and relax for some time. There were a couple from Germany about our age that had been sitting right next to us. As my mate is German and a quite social she decided to get into a conversation with them. They quickly switched into english and we all got to know a bit about each other.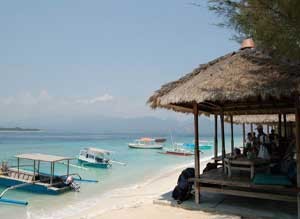 (Source: http://www.gili-paradise.com/gilis-information/about-gili-islands/gili-meno/)
The experience was quite fun. You get to meet many interesting travelers along the way. These two apparently run a hostel together in mainland Bali. They told us how they had met in Germany and after some time decided to go on holidays in Bali. They spent about two months on holiday before they decided they loved it here so much that they decided to stay where they used their funds to start a business and have been running it for a couple of years now.
They explained how while Bali was not as developed as back home in Germany it was quite comfortable. They say the food tasted better, the air was cleaner (outside the densely populated areas) and the people were more social with a more outgoing personality. I found their perspective interesting. My mate agreed on some points but not others. I couldn't really add much input into this conversation as I have not properly lived in Germany before.
Regardless, they were a pleasant duo to hang out with and we chit chatted for about an hour before deciding to head off for food. They recommended we check out a restaurant far up north which they had been to the other day. As we were both dying to grab some grub we soon said our goodbyes and kept heading off northwards. After about fifteen or twenty minutes of walking we finally made it to the restaurant. The area was basically filled with dirt and low grass. We walked towards the restaurant area. It was basically one large hut where a family cooked together. Outside there were several elevated platforms similar to the ones in the beach where we could sit down and enjoy our meal. It all felt so natural and so in touch with nature.
Eating out
The food was relatively cheap and definitely of high quality. I recall ordering a curry while my mate grabbed a tofu based meal. We had a bit of each's and I could say with confidence that the food here is quite delicious. It took some time to get to us as there were quite a few people also eating here. The food is mainly local cuisine. I would highly recommend heading to this restaurant for a bite. Many of their dishes is noodle and rice based. They also have some local desserts if you're keen to satisfy your sweet tooth. One meal you should atleast try out during your Indonesian experience is the Nasi Goreng. It isn't out of this world unique in its taste but it is quite tasty and good to have casually. Quite a bit of the local curries and other foods are coconut milk based. Its very delicious although I am a bit of a coconut nut so I may be biased.
On a different not, while you are travelling through Indonesia and this includes the Gili islands, make sure to not get overcharged for being a tourist. There is an issue with tourists being ripped off because they are not aware of how things should be priced. Make sure to not act as touristic as possible. They are aware that there are many expatriates living in Indonesia. So they are never 100% sure if there a person who doesn't look like a local knows or does not know what they are doing. This gives you a slight edge. Although, you will have to research how much things should and shouldn't cost.
Worth noting
Often enough, you will have to haggle to get a decent price. It really isn't malovelent but rather a way of life. You will be surprised as to how cheap things are and how much you are actually being charged. I recall how I was in Kuta when I needed to buy two adapters, one for my mate and one for myself. The initial price for a single adaptor was roughly 15AUD each. I managed to get it down to two adaptors for that same price. I was feeling the high of my first 'successful' haggling scenario. I later on went to carrefour to discover that said adaptors actually only cost roughly three dollars each there. This information is incredibly important as you will see these types of scenarios in almost every corner of your adventure here.
Luckily, since the islands are relatively better regulated it is not really much of an issue The prices pretty much do not change. This is especially true in small convenient stores restaurants, bars and more. So feel free to loosen up a little bit on the paradise islands. However, always keep on the lookout. Also, if you choose to take shrooms (which is grown locally) make sure to do it at a well established venue. Some even do shroom shakes as alone they do not taste well, I'm told. I would recommend not taking the risk with any form or type of narcotics in the first place. This request is especially potent when solo travelling. You can't really trust anybody in a foriegn land as you will be surrounded by strangers that might rob you or worse if you are incapacitated. It goes back to the whole idea of common sense. If you truly want to take a shroom shake or any other narcotics then I would recommend doing it from the safety of your hostel. That is unless your hostel is filled with a large amount of people and looks kind of seedy. 'The only problem with common sense is that its not too common'.
Lets get back to reality. I unfortunately do not recall the name of the restaurant although it is located in the north eastern part of the island once you pass a gate. Its very hard to miss and you could also ask the locals for a restaurant up north since from what I have seen on google maps there weren't any other restaurants located in this area.
We decided to return to our cabin in the evening and simply relax for the rest of the night. Tomorrow we were keen to explore the inner part of the island. One thing I forgot to mention was that this room also had an air-conditioning unit. I was crazy grateful to have one of these in the room. The humidity of the area was unbearable. It rained into the evening and throughout the night. The thing that's worth keeping in mind while you travel around Indonesia is that it rains a lot. When I read this was the rainy season they were not joking. Although, the pattern of rain was quite interesting.
The lake
For example, the majority of the time it rained had been from around noon till the mid afternoon. Then it usually clears off until the end of the evening. I was grateful that it was not simply raining all day nonstop. That would definitely put a damp on our holiday. Needless to say, we woke up early in the morning to see as much as we can in case the pattern continues. We decided to check out the island at the heart of Gili Meno. Firstly though, we decided to have brekkie. The reception area was set up with a kitchen which allowed for orders to be carried out. I ordered a chocolate filled pancake with bananas. They didn't skimp on the chocolate. I highly recommend you order this meal if you are staying at this hostel.
After our meal we stepped out of the hostel entrance and turned left (westwards). Along the way we had a taste of how the locals lived. The meek existence of many locals in this area was humbling. We past a couple of farms and houses along the way. While this area was heavily forested there were also open areas for farms. We passed one luxurious looking accommodation which looked very out of place in the area. It really brought the issue of inequality of wealth in the world to my mind quite often. We kept on walking until the area became thickly forested. As we kept moving in I began to see the waters of the lake. After a minute we were right in front of the lakeside. There was a walkway that went a few meters into the lake. At the very edge of this walkway there is a large floating plastic platform without any railing. We walked over to that area and sat down. We soaked in the sight around is. The lake was almost completely enclosed by trees
The lake itself was not the most pristine looking lake I ever had the pleasure of setting eyes on. However, the whole area, along with the lake had a charm to it. I was keen to touch the water at one point but I was wary of leeches, You never know what type of small creatures roam in these areas. It's always a good idea to research more about the area you are staying at for any diseases or dangerous animals you should keep an eye out for. Although, I reckon common sense should be enough to get you out of any trouble. In my case, common sense dictates that I should not stick my bare hand into a slightly murky lake on an exotic island in a humid environment where poisonous creatures and diseased of all types thrive.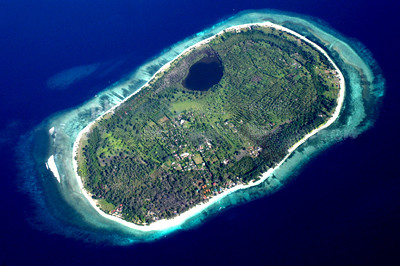 (Source: http://www.gili-paradise.com/gilis-information/about-gili-islands/gili-meno/)
At one point right before we left we had three Indonesians (who were not local) make their way over towards us two. They were keen to take photos with us. I reckon we would have been an odd sight. A blond blue eyed and pale German and a white, bearded individual in a country where the combination of those traits were not common would be interesting. Still, I reckon in Europe we grew so accustomed and numb to diversity that we don't really go out of our way to take a photo with. In this case the three women almost begged us to take photos with them. This would be the beginning of many such scenarios in Indonesia.
To the next adventure
After we said our goodbyes we left and headed straight back to our hostel before heading to the beach. We spent the rest of the day swimming and lounging about. It was a pretty enjoyable experience overall. It was much calmer and definitely less crowded than my experience in Gili Trawangan. We then went back to the port we got off from and grabbed a ticket back to mainland Bali.
As per usual, we left as early as we could in the first boat as we wanted to see as much as possible. However, things like these never tend out the way you want them to. In our case, we had to face some very intense currents that our speedboats were unable to battle properly without risk of being capsized. We had to go to Lombok first before we were informed that we will have to take a ferry on the southern part of the island because the currents made it too dangerous to sail. We had to wait in the crowded and scorching heat for an hour before being put on one of several buses. Through the traffic and chaos we managed to finally leave the area of the port and made our way to a three hour drive towards the port. On the way we stopped by a small amalgamation of stalls that sold hot food, beverages and ice cream. I grabbed a snack and two hot noodle cups.
We finally got into our buses again (we had been on a break) and made our way further into the port. We ended up in a very industrial looking port with large ships around. We were loaded by a few military personnel into the ferry. There must have been a couple of hundred people with us boarding the ship. We managed to get to an area that was half exposed to the sea. There was no way we were going to sit inside with all the heat. We simply relaxed for the next several hours as the large triple deck ferry took its time to make it across the sea. We pretty much lost the day on this whole trip. Although, one good thing to come off of this was that we were provided direct transport to our next destination and one of my highlights of the trip: Ubud.
If you're thinking of taking this form of transport to get around then I would not recommend it for long distances. The amount of hours you lose is simply not worth it unless you are staying in the area for quite some time and do not mind losing so much time travelling. They have a small cafeteria inside where you can buy all sorts of snacks. Although, there aren't really any prepared foods or hot foods besides noodles. At the very beginning of our sailing, right before we actually got off the port we were bombared by multiple hawkers selling water and baskets full of goods.So you could probably grab something to snack on from them instead. They might be cheaper depending on what you are buying. Regardless, I hope this article has been of great use to those keen on travelling to Gili Meno or trying to decide whether to head there or not. Safe travels and happy adventuring!
---
Photo gallery
---
Share your Erasmus Experience in Bali!
If you know Bali as native, traveler or as exchange student... share your opinion on Bali! Rate different characteristics and share your experience.
Add experience →