Exploring the canals in Amsterdam (3 of 3)
Excursions from Amsterdam
It seemed like a good option to take the bus to Zaanse Schans, only 30km from Amsterdam, where you'll see traditional windmills, although there are only ten which are in use nowadays. The farms and the wooden clogs factory complement the visit. For me, it's a simply picturesque place, but too touristic. I wasn't convinced, I won't be going back there no matter how beautiful the windmills are, how they're all arranged and the view you get. The family we rented the house from had told us that the windmills which were really worth visiting were in Kinderjijk, but we had to go to Rotterdam and then get a bus or a ferry from there, and it all seemed a little complicated so we got rid of that idea.
The following day, we tried our luck in the city Haarlem which fascinated us. By the way, did you know that train station in Haarlem was the first station to be built in the Netherlands? A fifteen-minute walk takes you to the centre; from the Grote Markt square (the market square), where you can see the protestant church St. Bavokerk, it's almost obligatory to go along the fairy tale streets which make up the city to visit different places such as the De Adriaan windmill and the Hoofdwacht buildings, Paviljoen Welgelegen and Vleeshal as well as the museum dedicated to the Dutch artist Frans Hals.
By the way, in Grote there's a statue of Laurens Janszoon Coster, the man who was given credit by scholars for making the first printer (and not in Gutemberg).
About a half-an-hour's walk from Grote Markt you'll arrive at Corrie ten Boom's house where they hid various Jewish families during the Second World War. It's free to go inside, you can just give a donation, and I must say that they dig deep into the religious side of the family; its Christianity and its evangelisation state of mine. Talking so much about faith, you get to a point where you don't know if you're in a church or in a house, where people could escape from Nazism. In any case, although we had been warned about it, maybe that's why it all felt a bit over the top. Having said that, Corrie and her family deserve great respect and recognition for their bravery.
Very near the square, you can also visit St. Bavon's Catholic Cathedral, which is a must-see in all senses; you can see the tower from wherever you are in the city, but the most impressive thing is its organ. The entrance fee is five euros.
Although we didn't get to go inside, the Teylers Museum is the oldest in the region and I'm sure it's worth visiting. I have the perfect excuse to go back one day.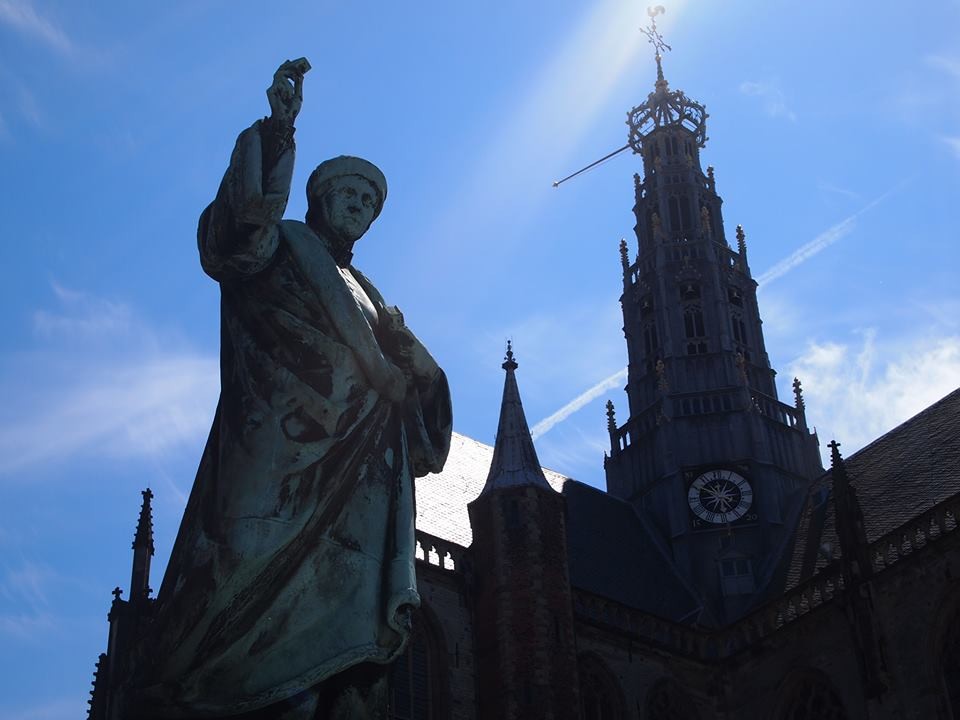 Haarlem
Our next trip was to Utrecht, another destination we chose to spend the day in. We got to this city by train, which is 45km from Amsterdam. The journey took an hour and a half, and the return ticket didn't cost any more than 14 euros each. There, we visited the Dom tower, which is the highest in the Netherlands; just to warn you, you have to go up almost 500 steps.
After wandering around its fairy tale streets, it was clear it was a beautiful city. In terms of lively places to go and get a drink, we decided to go to the Oudergracht canal, and it was such a delight to make the most of the sun in a terrace.
They told us that at night there are fantastic light shows with music over the canals, but we weren't able to stay for that. You see? I have to go back!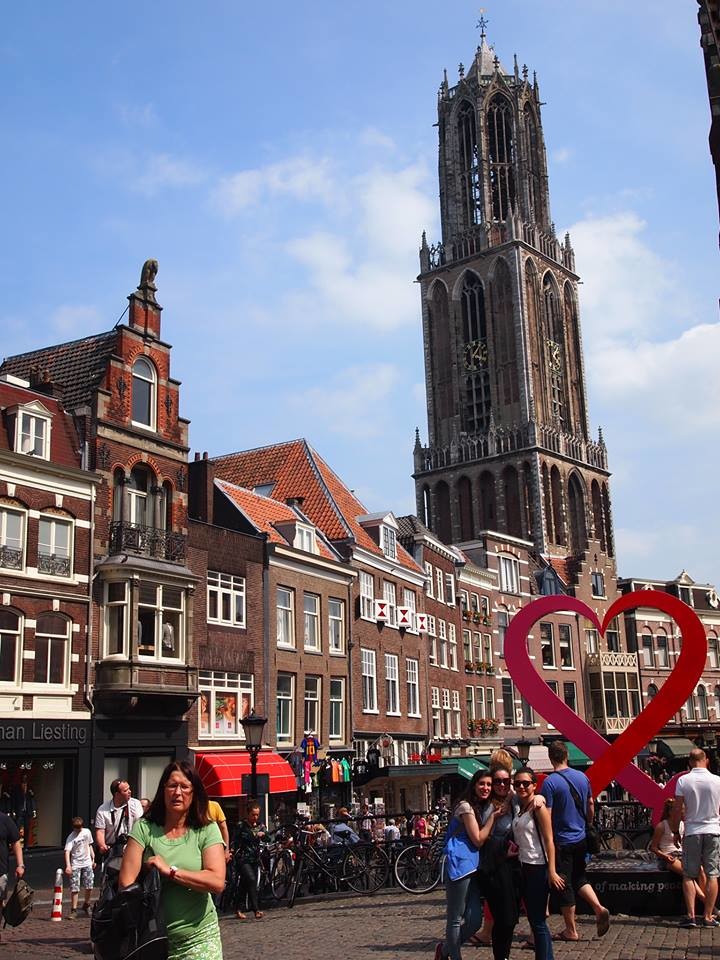 Utrecht
Our next adventure was to the Hague, the furthest place we travelled to, and Leiden, on the same day and then we returned to Amsterdam. In the Hague, you can't miss out on seeing places like the Binnehof (the Dutch Parliament) and then from there, getting the tram to the Peace Palace. In Leiden, I would say you need to visit the Town Hall and the longest street called Haarlemmerstraat... with so many shops and a good atmosphere! In reality, these two cities deserved a longer visit but we were starting to feel exhausted.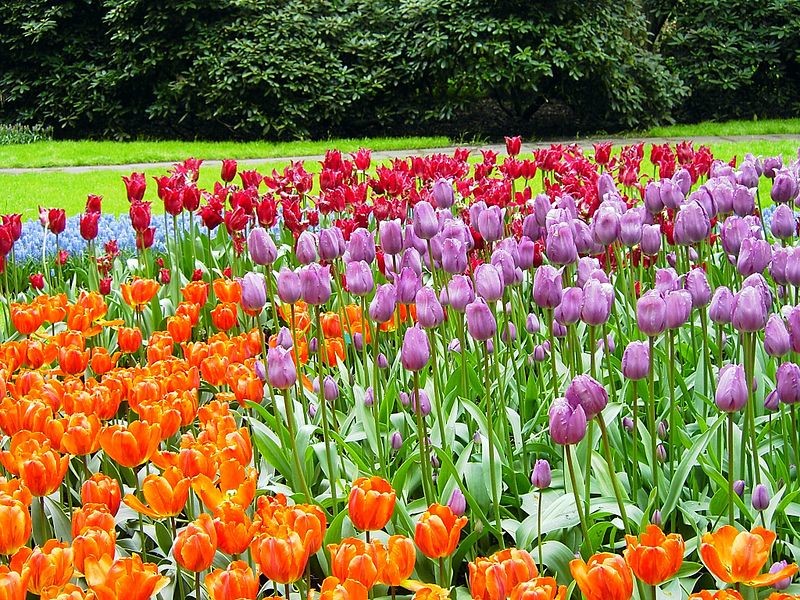 Tulips in Keunkenhof, Lisse
We went to the Keukenhof Park, in Lisse which is basically an enormous tulip museum, because we read that it only opens from March to May. We left wanting to visit Delft, a few kilometres from the Hague, which is a city famous for its canals, blue ceramic tiles and the Winkeltje van Kouwenhoven shop, where they sell a wide range of sweets, but there wasn't any time. Soon it will all be over; the beer tasting, the early mornings and the walks and adventures with so many stories to tell to be left in the Dutch streets. Everything left to see was already on our wish list for another time.
I hope my posts have made you think of a possible trip to explore different cities in the Netherlands, and especially the spectacular Amsterdam. Flights aren't very expensive and it's easy to find accommodation, like a studio, at a good price.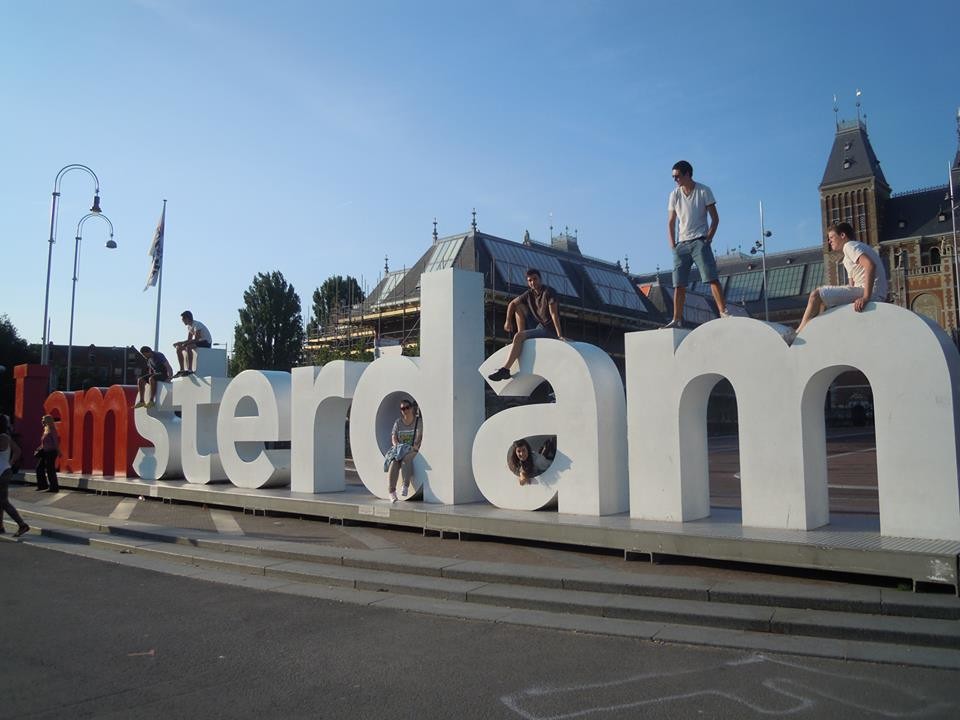 "I am sterdam" in front of Rijksmuseum
---
Photo gallery
---
---
Content available in other languages
Want to have your own Erasmus blog?
If you are experiencing living abroad, you're an avid traveller or want to promote the city where you live... create your own blog and share your adventures!
I want to create my Erasmus blog! →