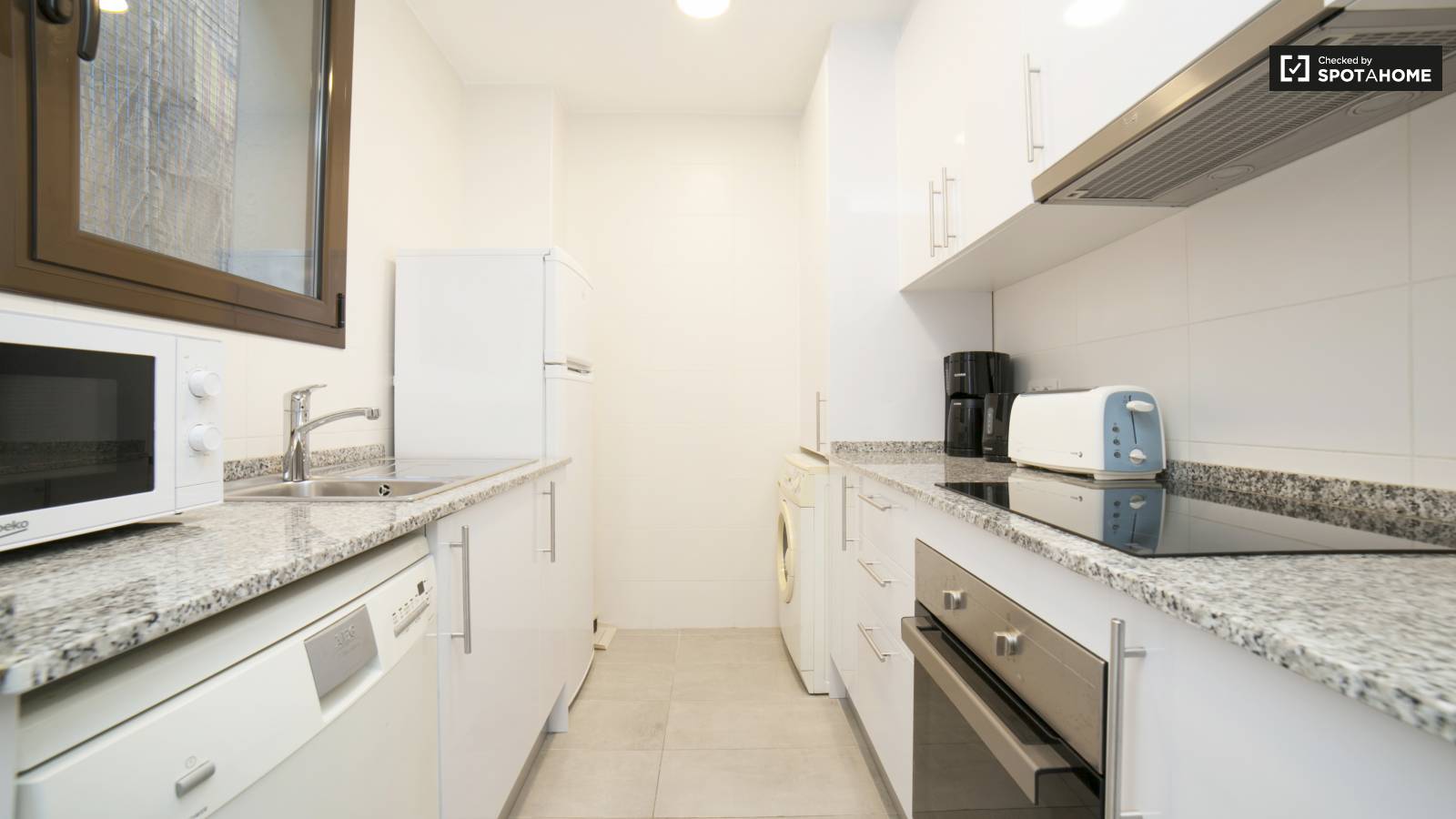 1/17
Chic 2-bedroom apartment for rent in Barri Gòtic (Barcelona, Spain)
Apartment · 1 flatmates · 1 bathroom · 75m2
See overview
Property verified by Guadaira
Verification date 11 Jan 2019
Our homechecker has reviewed the house and made a video tour to make sure you get exactly what you see in the listing.
About the property
Details
Property type: apartment
Floor area: 75 m²
Floor: 1st
Elevator: no
Number of bathrooms: 1
Maximum occupancy: 4
Wi-Fi installed: yes
Parking: no
The gorgeous in the Gothic
Because I want iconic Barcelona and a stylish pad.
Will I like it here?
It would be hard not to.
If you're looking to soak up Barcelona's historic and cultural heart, well... this is the stylish spot for you.
Really? Tell me more...
You will love the chic decor. Lovely polished floors, fashionable furnishings, exposed brick walls. Top it off with standing balconies and a shared rooftop terrace. This one is too cool.
We think it's ideal for a cool couple. Bars and restaurants galore, ionic spots, and La Barceloneta beach is within easy walking distance.
Your top 3 reasons to live here:
The gorgeous living room.
The lovely shared terrace.
The location. The city or the sand?
But you need to know this...
This apartment is located on the 1st floor and there is no elevator. This one is well worth the climb.
Our Homechecker, Alana, said:
"I loved this property. It is a refurbished apartment with lots of charm. It's also in my favourite part of Barcelona."
Give it to me straight…
This is a chic 1st floor, 2-bedroom apartment on Carrer De La Mercè, Barcelona. This one's got the charm, with a beautiful living room and cute balconies to boot.
We think this apartment is ideal if you're looking for a lively central spot. Walk to La Rambla or the beach; it's all happening around here. Smokers, you can do your thing here.
Why rent this accommodation?
Soaking up some sun on the shared terrace –grab a drink.
Relaxing in the stylish living – melt into that L-shaped sofa.
Exploring Barcelona's vibrant central city – walk to the Picasso museum for some art appreciation.
Check availability
Property available fromJanuary 28, 2024
What is the minimum stay?6 Months (180 days)
What is the maximum stay?No maximum stay
Monthly fee
How much to pay per month?
Which bills are included?
Not included
Estimation requested to Landlord
Not included
Estimation requested to Landlord
Not included
Estimation requested to Landlord
Payments at check in
Is there a deposit to pay?
Other expenses and services
Is there a cleaning service?
Housing rules
Perfect for postgraduate students
Perfect for professionals
Landlord policies
Smoking: only on the balcony
Pets: not allowed
Payment method:bank transfer -Check-in/out:

Check-in/out hours: Monday - Friday from 9:00 to 18:30
Check-out cleaning fee: €105 (payable at check-out) -Additional documentation:
ID / Passport
Work Contract
University Acceptance letter (if applicable)
Recent Paychecks / Bank Statement

Your landlord speaks: English, Spanish, Catalan
Your landlord does not live on the property."
Information about the landlord
All our landlords are verified by our team.
Properties published in Erasmusu
Getting Around
Transportation
The following Metro stations are within a 10-minute walk of the apartment:

Barceloneta (Line L4)
Jaume I (Line L4)
Do you want to make a reservation?
Rent your house 100% online
Forget about the traditional face-to-face visits, take advantage of online visits! Thanks to the material compiled by our team, including video tours, floor plans and photographs of the property, you can view the property online and have at your fingertips all the information you need to make the best decision.
Send your booking request
Don't let them book first! All you have to do is provide us with some basic details and the property will be held for you until you receive a response from the landlord. Note that you won't be charged until the landlord accepts your request. Only then, you will be charged for the first payment.
24-hour response
Landlords have a maximum of 24 hours to accept or reject your booking request. If the landlord accepts, you will be charged the first payment and we will put you in contact with your new landlord. If he/she refuses or does not reply, our team will provide you with new alternatives.
The safety of our tenants and owners is our priority.
Once your reservation at this property is accepted, we will ask you for some additional information. It will only take you a few minutes and you will only need the following documents:
ID or Passport

Identification document (ID card or passport)

Proof of solvency

Documents proving your financial solvency for rent payments (e.g., recent pay slips, bank statements...)
Move in
Confirm with the landlord your move-in date and the key collection date. For security reasons, Erasmusu will not send your payment to the landlord until 48 hours after your arrival, so you will have time to contact us if there is any problem.
Remember: you have 24h to check your new home
If the property is significantly different to what our listing promised, let us know within 24h since you move in so that we can work to resolve it.
>

>

Carrer de la Mercè, 28, 08002 Barcelona, Spain (Ref: 283006)