Indonesian Experience (Central Java part 7)
Architecture and landscape

10 / 10 points

Entertainment

6 / 10 points

Culture and customs

10 / 10 points

Transport

6 / 10 points

Gastronomy

8 / 10 points

Prices

10 / 10 points

Party

2 / 10 points

Weather

8 / 10 points
---
Getting there
This experience will pick off from where we left off in our Mount Batur adventure. We had been staying in Ubud for a few days prior to the Mount Batur adventure. We ended up booking a tour with a very knowledgeable guide and we had set off to our very early adventure. After then we headed off to our next destination: the island of Java. To do this, we were first deposited back to Ubud from where we got an Uber to a bus station. From there we paid the equivalent of a few dollars and got on a slow public bus that made its way towards the western part of Java throughout the day.
The trip itself was, as mentioned quite slow. We started off in a dingy looking bus that seemed a couple of decades old. The bus was not something out of a luxury driving magazine. The seats were barely comfortable enough to sleep. From the research we had done is that this is one of the cheapest way to get to the ferry that will take us to the island of Java. While we started out with only us two and a couple of other people the bus filled up as we found people along the way that waved the bus in. Besides a couple who were backpacking from Germany the majority where simply locals trying to get through their day to day life. As the trip itself lasts hours we then decided to take turns catching up on some sleep. We weren't particularly awake due to the Mount Batur experience. If you want to see it during its spectacular sunrise then you need to wake up roughly around 2am-3am.
So, we did not exactly get enough sleep and had to do the hike up the mountain plus getting to the bus station. There is actually a bit of a story getting back. As you may have read (or not) taking an Uber in Bali is a very tricky situation. While the service is available and, in some respects, allowed by the country it is vehemently opposed by many local companies.
According to a couple of the Uber drivers we had taken we were told that some of the different taxi drivers started a cartel that set prices. Some charge more than the set prices but not less. So, we did not want to get ripped off as we had no exact clue as to how much it would cost to take a cab from our spot to the bus station. So, we decided to call an Uber to take us there instead as they were more predictable.
Uber
This was where the tricky bit comes in. Many of the Uber drivers are harassed by the local taxi drivers and their friends. So many live-in fear of carrying out their job. I would recall in the past how many would ask us not to talk about Uber out loud as the other locals would find out that this driver was involved with the potentially cartel breaking company. We ended up in front of a supermarket in Ubud as we did a bit of shopping for snacks as our next several hours of travelling would take a toll on our stomachs. After we bought our fruit and snacks we called in an Uber. The driver took about ten minutes to get to us through the daytime traffic and was just about to enter the parking-lot located at the very front of the supermarket before cancelling without saying anything. We found it strange and noticed a group of 5-6 people who were apparently taxi drivers. They may have scared off the driver.
We called another Uber and stood about waiting for it. One of them came up to us and asked us if we were ordering an Uber. We denied it and walked away from the area. I was not keen to deal with illegal intimidation tactics. After walking several metres southwards our Uber came but was also scared off as the man followed us in a moped.
The Uber driver cancelled, and we decided to try a third time. We were too stubborn to allow these specific taxi drivers to force us to use their service. The third Uber took quite some time to get here as we waited in the sunny and humid day. One thing you will have to get used to is the constant humidity of the area. Once the driver came in we quickly rushed our luggage into the car and I sat in the front passenger seat. Just before I closed my door a youth who couldn't be older than 19 walked up with an angry expression on his face and started to question our driver in Balinese. I quickly chimed in and said that he was our private driver and not an Uber. I was not sure if the man was convinced and he snapped a photo of our driver. He then left, and I closed the door. Our Uber driver was fuming for a bit, but we managed to calm him down and got on our way. So, keep this as a lesson for any future excursions to Bali. If you ever decide to take an Uber, then make sure to not get yourself or your driver in trouble.
Bus station
Regardless, we kept on travelling to our destination. At the very end of our long trip it started to approach evening. Although, the sun tends to stay up for quite some time in Bali. So, we were graced with some more sunny weather as we travelled about. We were dropped off at a bus station where military personnel stood in wait. We passed them and started walking towards the port that was only a few minutes march away. Inside, we bought our tickets for a ferry which would take us from Western Bali to Eastern Java. The ferry was in a decently large ship. We boarded almost immediately after buying our ticket. We were lucky as we had made it just in time to catch this ferry as we did not exactly know when exactly we would get to Java.
We ended up on the top inner deck with only a few other people sitting around us. It was surprisingly empty, and I was a bit shocked. If it wasn't for the cargo fees they charged to get goods and cars back and forth there would be no way that they could turn a profit during the calmer seasons. The route around was pretty scenic. We saw beautiful blue waters around us and a couple of distant islands around. I had never really gone on a ferry as large as this one before coming to Bali. In Bali this was my second time as the first had been during my travel trip getting from Gili Meno back to mainland Bali. Except at that time the ferry was filled to the brim with people and especially families.
Shuttle bus
After a short trip between the two islands we finally made it to the relatively busy port of Surabaya. The second we got off we were surrounded by many different tour and bus companies trying to fill up their transport vehicles to the very brim. We were not convinced. We had done our research and were keen to take shuttle buses which were often used by locals and were very cheap compared to all other options. We had to look for the office that would allow us to book this. It is pretty frustrating to say that it took some time getting somebody to help us. The people here were in no rush to do anything and were overall quite efficient. I wouldn't say all employees were but the ones we had to work with were. One thing that is also worth noting is that Java itself is not as touristy as Bali. That is to say, if you look like a foreigner, especially as we did then you will probably be approached by curious locals.
My mate and I definitely stood out. We were both white, I was bearded and my mate and blond hair and blue eyes which made us definitely not look like locals.
So, after negotiating with one of the employees we finally got the deal we wanted. We were sitting in a tourist office in a complex which was mostly filled with empty rooms. There was a money changer in the complex in case you need to get money changed. There is also a small market where you can buy snacks and different foods. We sat down in this office for about an hour. After impatiently waiting for our bus I decided to have a walk about and look for food. My mate was fine and decided to stick around in the humid office. There were a German couple sitting on the sofas opposite of us who were also forced to wait for quite some time.
I left my stuff with my mate and set off into the evening. I walked up the streets and spotted a couple of soldiers guarding the surrounding area. Java certainly had a more serious vibe to it than Bali. After walking about for a bit, I decided to ask for some food. I was looking for a proper supermarket to get food from and even though the locals were enthusiastic our communication was not very fruitful. I decided to walk back in the direction of where the office was. Just before turning a left to leave the road and head inside I spotted a stall ran by a man and a woman who seemed to be his wife. Unlike the locals I met earlier he did not seem to be as enthusiastic to see me. He seemed more bemused than anything. Perhaps he was impatiently waiting to end the night.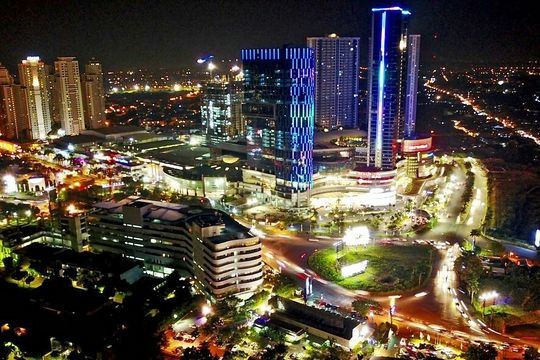 (Source: https://www.travelmob.com/vacation-rentals/indonesia/east-java/surabaya)
I ordered some noodles and spicy meatballs. I can't recall why I ended up picking that option as nothing was in English. I did not exactly complain as I was starving. Interesting enough, my food was placed into a plastic bag and I was given a fork to eat it out of. I felt it as a very novel. It had also only cost me about a dollar and a half, so I did not complain. It is worth noting that you should be careful when eating out in places such as these. There is a reputation for low health standards when it comes to serving foods such as these. The meats might not be good due to improper refrigerating or cleanliness may be completely ignored when handling food. I was a bit of a fool to take the risk as it was not worth getting a stomach bug or worse which would have impacted my experience very negatively all for the cost of a dollar fifty. However, these thoughts were not going through my mind at the time.
I made my way back to the office and sat down close to my mate. You'll notice that your personal space may grow while in Indonesia simply due to the fact that the humidity is overbearing.
She was very interested to try out what I had gotten. She was a vegetarian though, so she was unable to eat what I was eating. She then made her way to the same place to grab some food for herself. It was a bit frustrating as the bus was already quite late. It was more than thirty minutes late. This is of course not the biggest time issue. After my mate came back we were told to grab our bags and pack it into a bus. We were excited. We put our bags into the back of the bus that was parked just outside the office. However, the same man who tried helping us had to make a phone call and realised that for some reason we couldn't take this bus. This was truly the most inefficient experience I've had to endure. We were told to wait in an area about a five minutes' walk away. We made our way over there and waited by the road with a couple of others. We waited for at least three hours for our bus to come. It was disgusting how long we had to wait with absolutely nothing to do. My mate took a twenty-minute nap but besides that we were completely awake for the whole experience.
After waiting for said time the bus finally arrived. It was a small and cramped shuttle bus, With the help of the driver we stuffed our bags to the back and then made our way inside. We sat in the back. The bus was air conditioned to which I thanked my lucky stars for. It was not the most luxurious shuttle bus, but it certainly had the basics. Although, it was still very cramped and not the most enjoyable place to doze off. Although, as it was late at night and we were both exhausted from the last couple of days it did not take much motivation to get us to pass out. A random fact, on the island of Java there are about 140 million people living here. I was shocked when I found out that fact. It's hard to fathom how so many people could live in such a relatively small area compared to small amounts of people living in relatively large countries. Regardless, from that moment we finally continued our way through Java to our next destination: Yogyakarta.
Yogyakarta
Unfortunately, I cannot recall the exact name of our hostel as I do not have the details of which one we took nor, do I recall as we were staying in six hostels during our stay in Java and it has been quite some time since then. Although, I do very well recall all the different places we went to. I also recall what type of hostel it is just not the name details nor address as I was not the person who booked it. It was a rooftop hostel. We were dropped off quite early in the day as the whole trip took just over seven hours to get from the port to Yogyakarta. The hostel's entrance is by a busy intersection, there is a laundry store nearby which we ended up using to clean our worn clothes. We paid a few dollars and they kept our clothes till the next day. There are many places to get your clothes cleaned.
Yogyakarta seemed much more developed than many of the places we had visited earlier. When we entered the building to get to our hostel we passed by the lobby of a very luxurious looking hotel. We ended up grabbing the elevator which took us to the roof of the building which is where our hostel was located.
The hostel was predominantly made of wood. The wooden doors, walls and such did a good job to keep most of the heat out. As you walk to the front there is a platform on stilts where you could relax and enjoy a meal. You could order different meals for pretty cheap. I quickly realised that the food they made was quite delicious. We were led to one of the larger wooden structures that was three levels. My mate and I shared one of the closed off beds on the bottom area, so we did not have to struggle with climbing to our bed.
The view was also pretty spectacular from our vantage point. We got to see quite a bit of the city around us. We dropped off our stuff and decided to spend the rest of the day exploring the city. We firstly booked our tickets to book tours. We booked ourselves a bus to take us to different temples and also one of the nearby temples. We ended up doing the temples and the volcano trip the next couple of days. Today we simply headed deeper into the heart of the city.
Exploring
We managed to see a couple of monuments here and there. The streets were very busy and very hot. The military presence was subtle but almost omnipresent. We ended up walking by some very busy areas. There were very few tourists in sight. We ended up in one of the large shopping centres in the heart of the city. We ended up shopping for some amazing food and fruits. Make sure to taste the fresh fruit here as the flavour these pack often exceed expectation. Go for papayas especially as they are relatively cheap and very tasty. We also went to the food court and I grabbed a dessert dish that was mixed with ice and sweets. It was more like a sort of soup. I had made a list of different types of foods I wanted to try in every country I travel to. This was exactly what I did here. I highly recommend you do the same. I reckon food culture is almost as important as actual culture as good food will especially improve your mood and experience. It also helps that the food here tastes more authentic and is very affordable by Australian standards.
Around one of the shopping malls we went to there were some flea market style stalls. We decided to explore them which led us to the bottom floor of the mall. The bottom floor of the mall had several dozen different stalls and areas dedicated to selling clothing goods of all kinds. You could find some really cheap shoes and clothing here. I didn't want to buy anything as of yet since my travel pack was crazy full and I was not keen to make it a heavier than it was. We explored for a bit more before deciding to wrap it up and spent the rest of the day relaxing and recovering while exploring the surrounding area. We ate locally for dinner which was easy as there were many different options to choose from. The next day we had to wake up early for the day ahead exploring the iconic temples in the surrounding area.
Borobudur
We decided to take a bus tour that would take us to a couple of different places as it was quite cheap. Many hostels should be able to do the bookings for you so if you ever need a hand then ask for information from the reception. We ended up getting into a comfortable minibus with several other people. It was quite early in the morning and we were pretty exhausted, so we did not get to introduce ourselves properly to our fellow travelers. They were all in their late 30s-40s. We did not find too many young travelers during our trip to Yogyakarta. It didn't matter anyway as we were spending most of our time adventuring rather than partying and getting to meet more of those around us.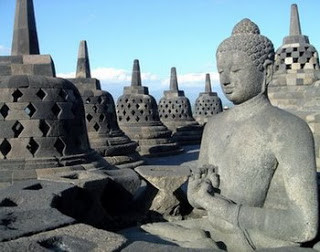 (Source: http://www.manythingstodoin.com/2013/06/top-10-tourist-attractions-in.html)
Regardless, the first place we headed off to was the majestic Borobudur temple. This temple is not necessarily located within Yogyakarta. It's actually right outside. It takes roughly about forty minutes to get there by bus. We did not bother going their especially early to see the sunrise as we've already had our fill of sunrise tours for the rest of our trip since Ubud. We went to see Mount Batur which was quite an enjoyable experience. Although, we had to wake up around 2-3am and make our way with a long road trip in a cramped jeep.
Luckily, our vehicle this time was not too cramped. We were relatively comfortable in our bus. It is worth noting that we did not go during the busiest time of the year which would be around summer. Rather, we went around December time when our (Australian summer) break began. After the forty minutes we finally made it to our destination. We immediately left our group and went on marching towards the temple. The area was chilly as it was very cool within the forest range with morning dew on the grass and surrounding trees. One of the main entrances to the temple opened up to a large courtyard that is almost filled to the brim with different market stalls. We completely ignored these and went around to get straight to the temple. It was not too busy during the time we first got there. The temple rose majestically into the sky. It was even prettier as you got closer. The intricate designs of the walls and the history behind it made it quite a treat.
This is the part of the trip where we seem to be mini-celebrities. During our time going up and down the temple we were photographed, sometimes with consent and others without, by locals. At one point my mate was pretty distressed so I had to firmly tell them to beat it. Regardless, we did not allow that to get in the way of our enjoyment. So, we made it to the very top which is the iconic part of the temple. Here, you could check out the different giant bell-shaped structures with each one having a meditating monk within. There are many of these monks located all around the area. The view from up here is also spectacular. It is unbelievable how far out you could see over the forest canopy.
I learnt from a tour guide walking by with some other tourists that this temple is from the 9th century. It's incredible how this temple had been preserved so well with many of the things it has to offer is still visible. We spent about an hour simply walking in circles, as there were many different levels. Each level had large swathes of stone art carved into the wall. Each one has different stories and recordings of history of the time. As we walked around we met with a tour group who has their tour guide explaining every part of the wall and stories. It's kind of funny thinking that they could theoretically make up stories and many of the tourists would still be left mouth agape in awe of the intricate history that these walls provide. There were also a few things the area had to offer, and we had our look around. Although, after we simply made our way back to the exit. We wanted to check the many different stalls there were on offer. There was a large group of stalls lined up that sold local foods of many kinds that was located right before the larger market area.
My mate was not feeling too hungry, so I took the liberty of making my way to the stall of my choice. We ended up inside a large stall run by a family. They served many different types of local foods. I was in the mood for some Nasi goreng even though that was the most common dish of choice by many around. After waiting a few minutes, I chowed down on my hot meal. During out stay in the restaurant many could not take their eyes off of us. We were pretty much surrounded by locals and I reckon they found us quite interesting. The interest would spike even higher in our next destination. Although, we will get to that in a bit,
After my delicious meal we headed over to another nearby stall. One great thing about walking about exploring is that you get to eat a lot more than you usually can to maintain your weight and with even more calories. Just be careful not to go to overboard on the calories. Or do, it's the holidays. If you can't splurge on good food on a day to day basis you may as well enjoy it during your short holiday before going back to the grind of work, diet, train and repeat. We ended up getting a couple of coconuts for a few dollars each. If you are not already aware, the coconuts in Indonesia are mainly the massive green ones. What's also great about these is that once you finish drinking them you could ask the vendor to crack it open in the middle and let you eat it out. It's a very refreshing snack to try out.
My mate and I would ate coconuts almost every second day while we were here. It was a very cheap snack and pretty irresistible. Well, at least for myself. I would constantly buy food every couple of hours whenever I am close to any eatery as it is quite cheap and delicious with large portions to boot. After our meal we split up as we fanned different parts of the market. They were selling everything from bags, to shirts to trinkets. As is the case with many places we would visit to shop there will be many calling for you. Every vendor would try to grab your attention. A simple eye-contact is all it needs unless some waving about or broken English calling comes in. Also, haggling is another great option so make sure to take advantage of this.as you could get some strikingly good deals. Although, you could also end up with some really crappy deals. So, make sure to be ready to bring your A-game.
Many of the tourists around the time where actually from Indonesia. They were from different parts of the multitude of islands that came to explore the areas of central Java. I recall how I managed to haggle my way into getting a beautiful Borobudur figure encased in a pyramid shaped glass. It was on a wooden foundation and just large enough to be unable to cup it with both hands. I managed to get it down for a third of a price and decided to take it at that point. Originally, I did not want to buy it particularly badly. I was actually short on time and looking for my mate as the bus was soon leaving to the next destination. Apparently leaving is a great strategy to get people to haggle down to your favour.
Regardless, I bought my new trinket and kept making my way to the bus. As most days it was pretty sunny and definitely humid. I was wearing a sleeveless to battle the heat. It was not particularly helpful that I had to walk through large swathes of people getting to the entrance and through the markets. If you walked through the markets it would feel as if you were in another world. The area above you was covered by a roof made of clothes. It felt very informal and many of the stalls looked very relaxed with many not even having a desk or register but simply a vendor with a money pocket. I would highly recommend that you take your time looking through this area when you go to Borobudur as it really adds towards the experiences of what the locals would do.
Pramaban
After this I finally found my mate and we made our way to our minibus. From there we tucked ourselves in and passed out from all the walking we had to do. We were then sent over to our next destination: Prambanan. It was interesting seeing the Buddhist temple. Our next destination will be a group of Hindu temples instead. The ride there was not too bad as many of this tourist minibuses are designed for comfort. They are also pretty cheap compared to many of the places around the world where you need one of these.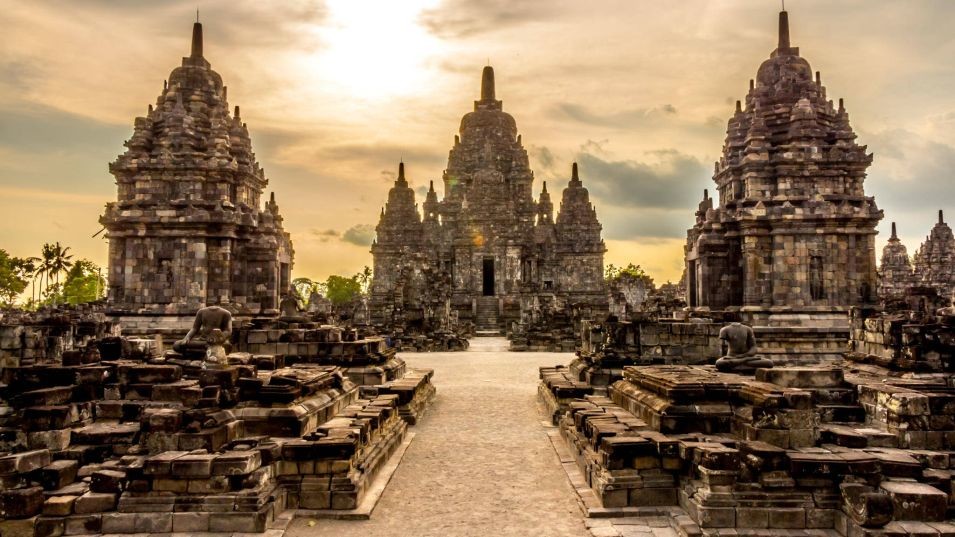 (Source: http://1mplaces.com/pramaban-temple-jogjkarta-indonesia/)
Pramaban is a temple complex that is also a UNESCO World Heritage Site. It is known as the biggest Hindu temple complex in Java. I recall how this was the first place that was properly busy during our Java stay. There were quite a few people around. We made our way through the entrance and straight to the temples themselves. They are truly a majestic sight to be in awe of. I cannot recall all the other things located in the area, but I do recall how beautiful these temples were. As they were made of stone and had a strong foundation. For that reason, the inside of these temples were pretty tiny. However, we did not really explore many of them as they had massive lines of people waiting to get in. We enjoyed simply feeling overwhelmed by how beautifully detailed these were. We walked about taking photos of all the different angles we wanted to remember back home. I know my memory will quickly fade over the years so it's important I take many photos. Less selfies and more proper photos. The next thing I ended up doing was heading towards the end of the area where the temples were located on. From there you could sit down and relax for a bit. The area offers a pretty beautiful view of the surrounding area.
Entertainment
There was quite a bit going on in this complex. There was a mini train on wheels taking people around in circles in a large childrens playground. There were also fields of green where people were having picnics and eating with their loved ones. One bit that was pretty exciting was the festival area. In the centre of this all there was a group of bare-chested men dressed up in native clothing with warpaint on. They were howling and moving around in dance while also riding fake horses wrapped around their hips. They were depicting battle scenes. A man fighting against many of these horsemen. A hero fighting against the odds. The clanging of swords and a live band performing battle music in the background. It really felt as though you were in the middle of a battle. The crowds here were quite large as ,many watched on. 
Another area has several girls that could not have been past middle-school. They were performing traditional dances while wearing native attire. Then after them a group of female adults were dancing about. They were very elegant and their movements flowed like water. My mate and I thoroughly enjoyed the show. So, I reckon that it goes without saying that you should make sure to watch all the different traditional dances and performances as they may awe you and have a deeper understanding of your host country's history. We decided to walk back to the main temples so as to sit down for a bit.
This was the point where we were approached by many different individuals. There were groups of people as well who came up to us asking to take selfies or photos with them. I recall how even a group of schoolchildren from what seemed to be an all-girls school came up to me for a photo. My mate was not as enthusiastic as I was and tried to avoid taking photos. I personally had the novelty of the photo taking wear off after the first couple. Although, I didn't want to destroy their enthusiasm as they were genuinely excited to see foreigners. So, I played along and kept up with the photos. Some people were too shy and also not too subtle as they took photos of both of us. For those that tried to be sneaky we simply turned our backs to them. I reckon this would be a bit of an issue for those that are self-conscience or feel that taking a photo of them is going against their privacy. Regardless, enthusiasm overruled concern for those they are taking photos of.
It is worth noting that there aren't only those temples located there but also smaller temples and shrines with their own unique meaning. Against a rainforest background it was truly something out of this world.
Train station
We decided to explore around the area for a bit more. There are small museums and sights to see as part of this massive complex. It was all a great experience. If you find yourself in Java, then you should definitely not miss out any of the things I had spoken about. By the end of that trip we decided to head back to the hostel with the bus tour as that pretty much concluded our package. From there we decided to go out eating as it was truly very delicious and cheap to eat out. The next early morning we headed off to the train station with all our bags. We were keen to head out to our next destination before Jakarta. When we went to the train station in the morning we immediately noticed it was swamped with people and extremely hot. A few soldiers stood in the area on the lookout for any trouble. On our way in there was a couple of portable stalls that were selling delicious buns filled with different cream favours. I grabbed a couple for the trip for the price of peanuts and we continued on our way inside. This was directly after a hearty breakfast. Travelling is definitely hungry work. We noticed how busy it was at the ticket selling areas, so we made our way to the machines.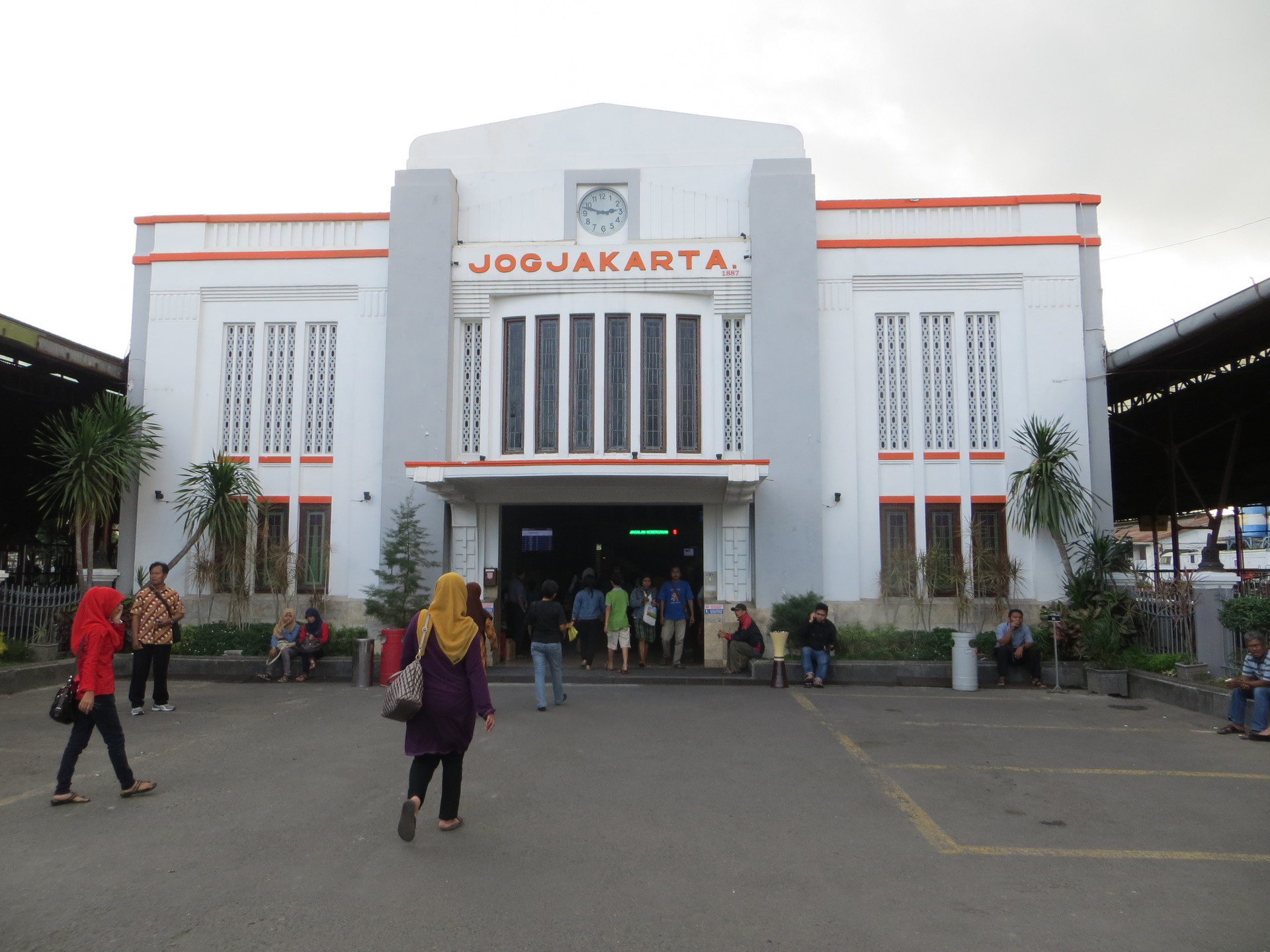 (Source:https://ikimasho.net/2014/09/20/diy-travelling-from-yogyakarta-to-mount-bromo-independently/)
The ticket vending machines had five different languages to choose from which included english. So, we decided to buy our train tickets from here. It really was not as easy as it seemed. Twenty minutes later and two attendees helping us we finally bought our tickets. It took us such a long time because we had to give our details in which even included our passport details. It was kind of crazy but it's a good way for the government to keep track of who was entering the country or who was where in case of an investigation. However, my mate was not too pleased as she did not enjoy giving out her information. I was not too thrilled either. Giving away such information due to something simple as buying a train ticket.
Although, I accepted it mentally as a situation where you have to say: it is what it is. You enter a new country you have to abide by their laws and customs. If there are things about them, you do not like to the point that it gets in the way of your whole experience then you are better off going somewhere else. Regardless, we got our tickets and made our way to the train. It was about to leave soon, and we were looking to waste time. We unfortunately ended up booking seats that were not close to each other. This was a bit of a stupid mistake although on the obsolete ticket machine it was not exactly obvious how we were going to go about picking our seats. It only mentioned, from memory, the different carriage choice. The first-class carriage was better air conditioned. It was not substantially different except for the fact that the seats were also slightly larger. As we were doing a budget trip we ended up going for the cheapest prices.
I decided to make a quick jog to the nearby convenience store within the station. I grabbed some snacks to go as trips like these make some of us pretty hungry. As per usual, everything was quite cheap for somebody used to Australian prices. So, I bought some water (since most running water is unfiltered), nuts and some chips. I can't recall what they were made of, but they were almost exactly like regular potato chips except for the fact that they were purple. They also tasted a bit different. It was a slight bit sweeter. I thoroughly enjoyed these chips. I had bought them thrice throughout my Indonesian experience as they were a great snack to have and they packed suitable energy for the long exploratory walks. Hopefully the above will serve as a suitable guide for those looking to travel through Java. This is only the first bit of the experience. The remaining half will be shown in a different piece. Happy Adventuring!
---
Photo gallery
---
Share your Erasmus Experience in Yogyakarta!
If you know Yogyakarta as native, traveler or as exchange student... share your opinion on Yogyakarta! Rate different characteristics and share your experience.
Add experience →