Cost of living in Sweden: daily life and student accommodation
"Living in Sweden - it must be expensive right?" "Did you have much trouble finding decent accommodation?" This is my chance to respond to certain questions that I have been asked many times.
The cost of living
Have you ever wondered if leaving to study in Sweden would cost you an arm and a leg..... Yes, actually, life in Sweden, like in all the other Scandinavian countries for that matter, is pretty costly!
Method of paying: Certainly the most important thing before beginning this article: how and in what currency does one pay? The common currency in Sweden is the Swedish Krona (SEK or Kr). 10 krona is the equivalent of around 95 cents in euros. That varies depending on the exchange rate. In Sweden, the Carte Bleue is the way to go. Forget cash: everything is done by bank card. You will find lots of Cash Free shops and stores (none of the cafeterias on campus accept cash for example). Certain companies, like the bus company for example, add an "extra cost" to your ticket if you buy it in cash.... I'd advise you to use a bank account for young people abroad or an N26 card and/or a Revolut.
Food: certain foods are pretty expensive! In particular: meat, fresh vegetables, and cheese. This is because Swedish supermarkets offer very few "low cost" or "discount" products. They prefer to invest in quality rather than quanity, and it works! There are several supermarkets on my campus: ICA (very Swedish and very expensive products) and Willy's (where you can find a bit of everything at a reasonable price for the quality). A Lidl opened on campus at the beginning of October! A revolution for the poorer students..... That said, the Swedish Lidls are much less well supplied than those in France or Germany.... but, miraculously, you can find a very rare commodity there: ROQUEFORT! My French friends and I appreciate this gesture!
Transport: In Växjö, most people own their own bike. It remains the most ecological (and economical!) means to move around the town and the forest. I'd recommend buying a second hand bike from Tempus, which is a second-hand bicycle shop that has both a store in town, near to the Hockey Stadium, and on campus. My VTT cost me around 1000 krona (95 euros) with the addition of a basket on the front. If a bike doesn't work for you, you can exchange it within a certain period. Furthermore, you will be reimbursed 30% of the price paid if you return your bike (in good condition) within a year. Very practical for Erasmus students! For the lazier, (or those with no bike) there is always the option of getting around by bus but that can be a quite expensive. Advantage: once you have bought a combined ticket, you can go everywhere for three hours non stop!
Travel: I had the opportunity to travel to Stockholm and Copenhagen during my first semester studying in Sweden. Getting to Copenhagen (two and a half hours from Växjö) will cost about 350 krona (30 euros) for a one way train ticket. That can vary depending on the time of day. I'd suggest checking out the price on the Omio app, which also receives a commission for each ticket sold (about 2 euros). Its about the same price, or just a bit more to go to Stockholm (4 hours by train from Växjö)

Lunch break at the University Restaurant (RU)? There is a perfectly good RU at Linnaeus University except that.....don't expect to find a menu on the cheap (like the average 3.5 euros in France). Here you won't eat for less than 100 krona, with an entrée and desert! A luxury cantene, really. Most students prefer to bring their own sandwich or also create salads directly on campus. In fact, you can find several salad bars almost everywhere on campus, as that is very popular among the students!

Eating out: I have to tell you that opportunities to eat in restaurants are pretty rare in Sweden. The meat is extremely expensive, around thirty euros for a good piece of meat that you could find for no more than 20 euros in France. However, this products are very high quality so yes, a little restaurant can be a treat from time to time! My favourite restaurant is located on campus and you can eat there for a few kronas! The Lingon meatballs are their speciality. Its name: Tufvan!

Going out with friends: The international students often meet up together, particularly in the corridors, to spend a nice evening together. Lots go out on Friday night to bars and student nightclubs. If you don't have a student association membership card, entrance will cost between 20 and 60 krona. Incidentally, a little tip on this topic: The nightclub evenings begin at 10pm and end at...... 2am! So yes, forget the long nights until 5am. Afterwards, nothing is stopping you from going to an after party..... Some prefer to spend an evening bowling!! Good to know: on Tuesdays a bowling alley is offered per group of students. One condition: drink!
Accommodation
To put it simply, the cost of accommodation in the countryside is equivalent to accommodation in the centre of town. At least, that's the case if you have your own studio with a kitchen and bathroom, all to yourself. Yes, that's the case for me! I live on the top floor of a brand new building! I'm not going to lye, I'm a fan of my view.....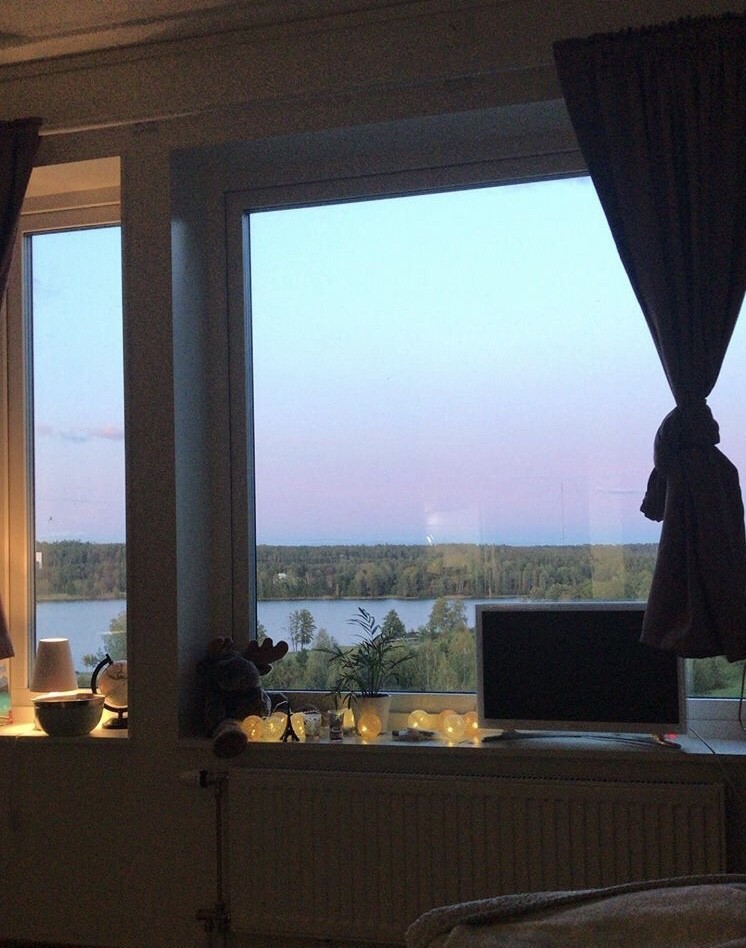 Most international students (especially those from outside Europe) preferred (or rather, they didn't really have a choice) to live in what is called a "corridor". From what my friends have told me, life in a corridor seems really nice! Meet ups, shared moments, parties, group work.... A perfect place of cohabitation. Each occupant (of the 6-10 on each corridor) has their own bedroom with a private bathroom. The communal room as well as the big kitchen is shared with the other residents. A system has been created for designating chores!
Another option is.... a house share! Växjö is quite a small town and you will find lots more houses than apartments.... With this in mind, a house share is not normally for 2 nor 3, but rather 8 or 10 people! And yes, things are bigger. The real advantage with this style of accommodation? The price! And yes, the lower prices are really nice, as is the chance to meet new people, generally including a few Swedish! I'd recommend this style of house share if you are someone sociable, as well as respectful of others personal space. And of course, it is preferable that you are someone organised and quite meticulous..... Tensions can be quick to build!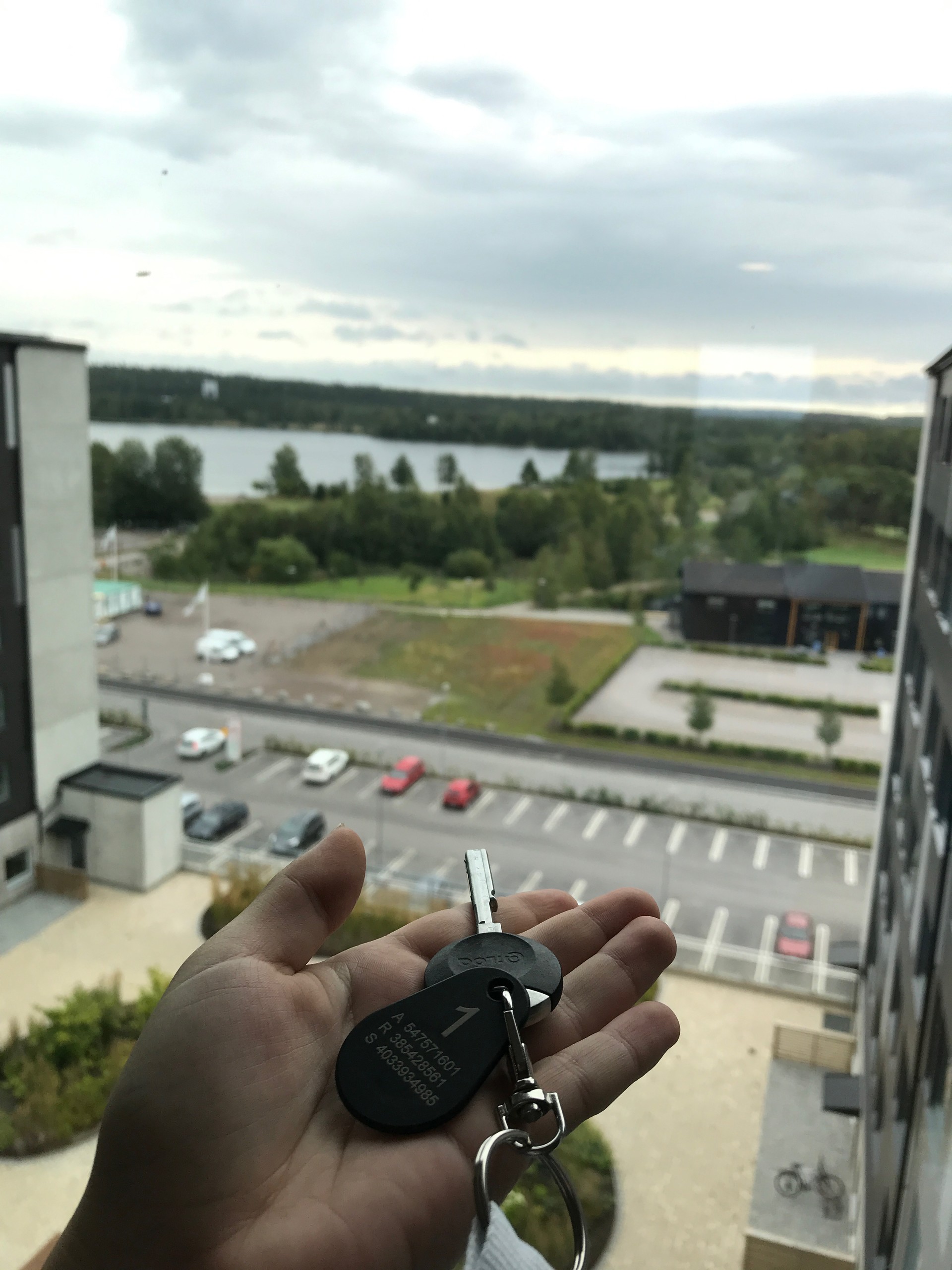 ---
Photo gallery
---
---
Content available in other languages
Want to have your own Erasmus blog?
If you are experiencing living abroad, you're an avid traveller or want to promote the city where you live... create your own blog and share your adventures!
I want to create my Erasmus blog! →