Gardaland !
Architecture and landscape

10 / 10 points

Entertainment

10 / 10 points

Culture and customs

10 / 10 points

Transport

10 / 10 points

Gastronomy

10 / 10 points

Prices

10 / 10 points

Party

10 / 10 points

Weather

10 / 10 points
---
Wednesday came and I was so happy to get up early to go to the theme park Gardaland! Gardaland is one of the most famous theme parks in whole Italy. I heard about it for the first time from my friend Lucy (another Lucy) and later when I was reading the guide they mentioned it many times. In general, I am totally in love with these types of parks! My first experience with them was in England when we decided to visit one with my friend from Greece. I experienced crazy roller coaster where you are upside down and I loved the feeling of adrenalin. I remember that except for the attractions, restaurants and houses there was performance with sea lions as well. I will always remember that day because I enjoyed whole day and whole experience there a lot.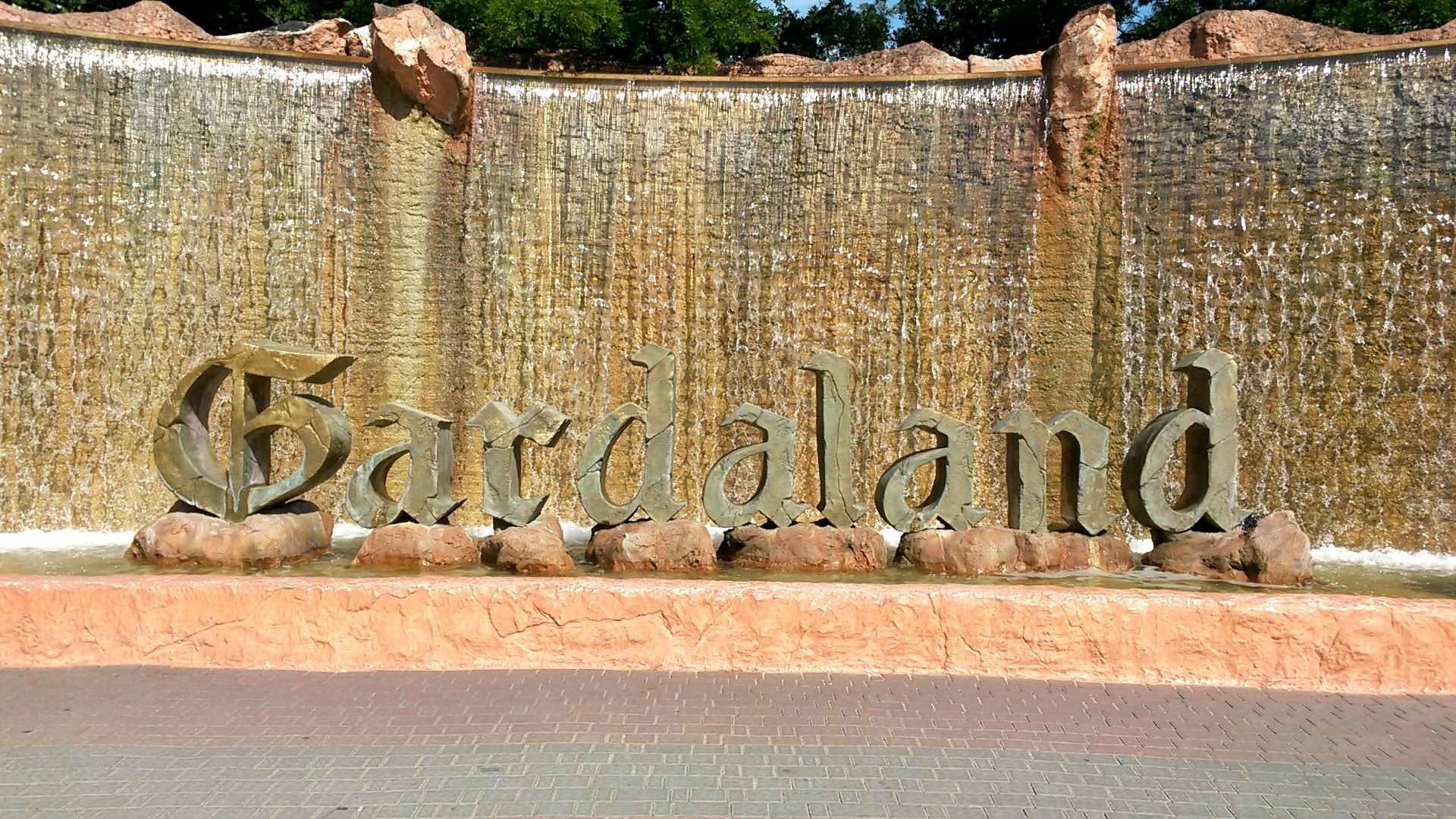 Next experience in theme park was Disneyland. It was unforgettable. Therefore, I wrote already about it long article. The park was intended for people no matter age and I went there with people from Erasmus which made it even better. The only bad thing about Disneyland was the weather because it was too cold. This time we had different problem. It was more than thirty degrees so I was worried to spend whole day in the park instead of being close to the weather. Nevertheless, we already bought the tickets in advance so there was no way back. Actually it was not easy to convince my friends to go there and pay for the ticket. Matej claimed he did not like roller coasters at all and others were not so excited about it. As for me, I wanted to go so bad. The idea of trying another theme park with water attraction was attractive to me. I even wanted to go to Germany only because of these parks (we don't have any in the Czech Republic). Normal price of the park is 39 euro but we booked it in advance so we paid only 31 euro.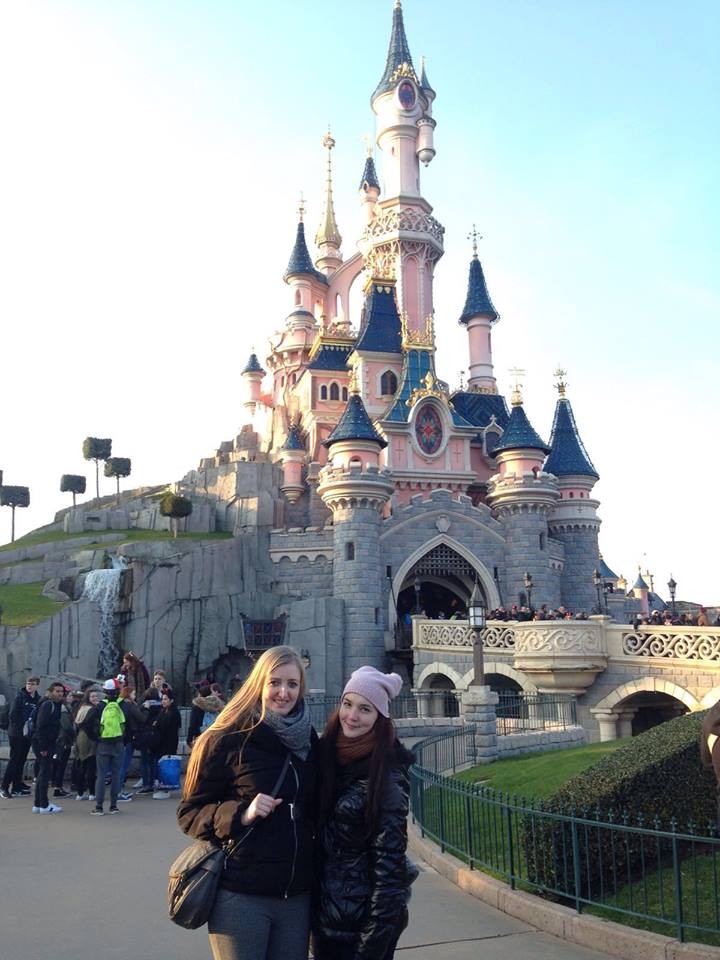 I was also worried about the waiting lines because it was the main season with awesome weather which was a perfect combination for going to the park. Although we were advantaged that we did not go there during the weekend. I felt responsible for this experience because I was the one who wanted to go there. At the same time I was excited about it even though I did not know what to expect. Firstly we wanted to go there after the lunch but my friend warned me that it could be even more crowded so we decided to go there at 10 am when they opened the park.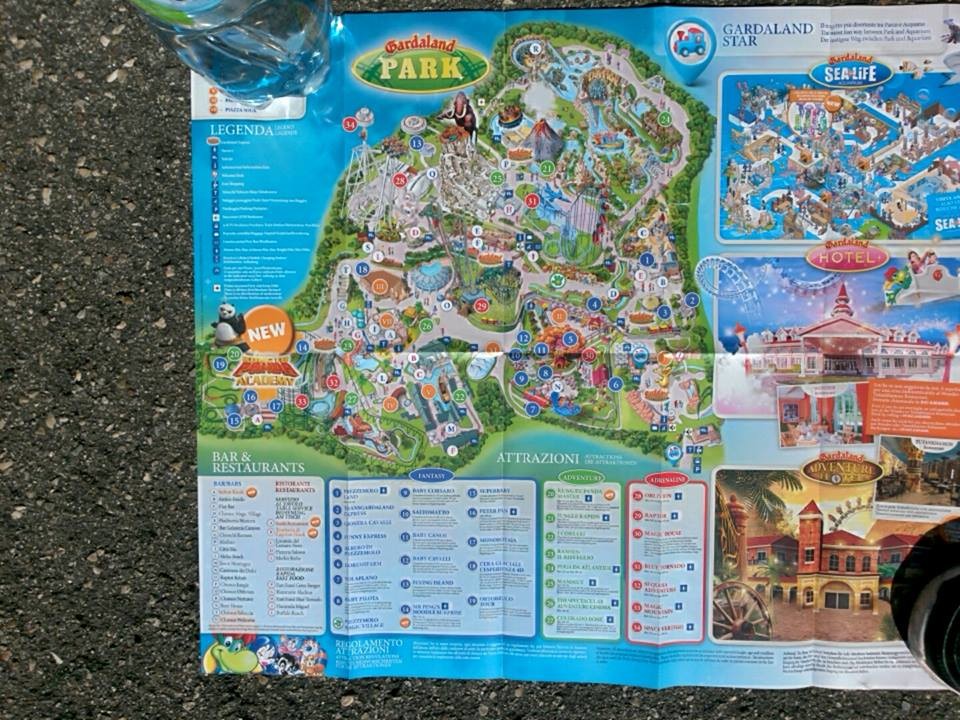 When we arrived it was really sultry weather. Immediately when we arrived, we had to wait a long line because we were not the only ones who decided to go there at 10 am. We got the map of the park and we all started to plan what everything we wanted to try, which meant the most adrenalin and the craziest roller coasters. Therefore, our first experience was the Blue Tornado. When I looked at it I was not sure to go there as my first attraction. I would prefer starting with something easier but there was no big line so it was reasonable to go there immediately. When I saw it I could not believe I already experienced similar one in England. I was scared actually. We knew approximate time of waiting because there were signs at each attraction. It was great because we had a choice if it was worth waiting or not. There was written 15 minutes so we went there. Whole time when we were waiting the line I still did not feel confident about the roller coaster. Mara looked all right and carefree. That´s why I decided to take a seat next to him.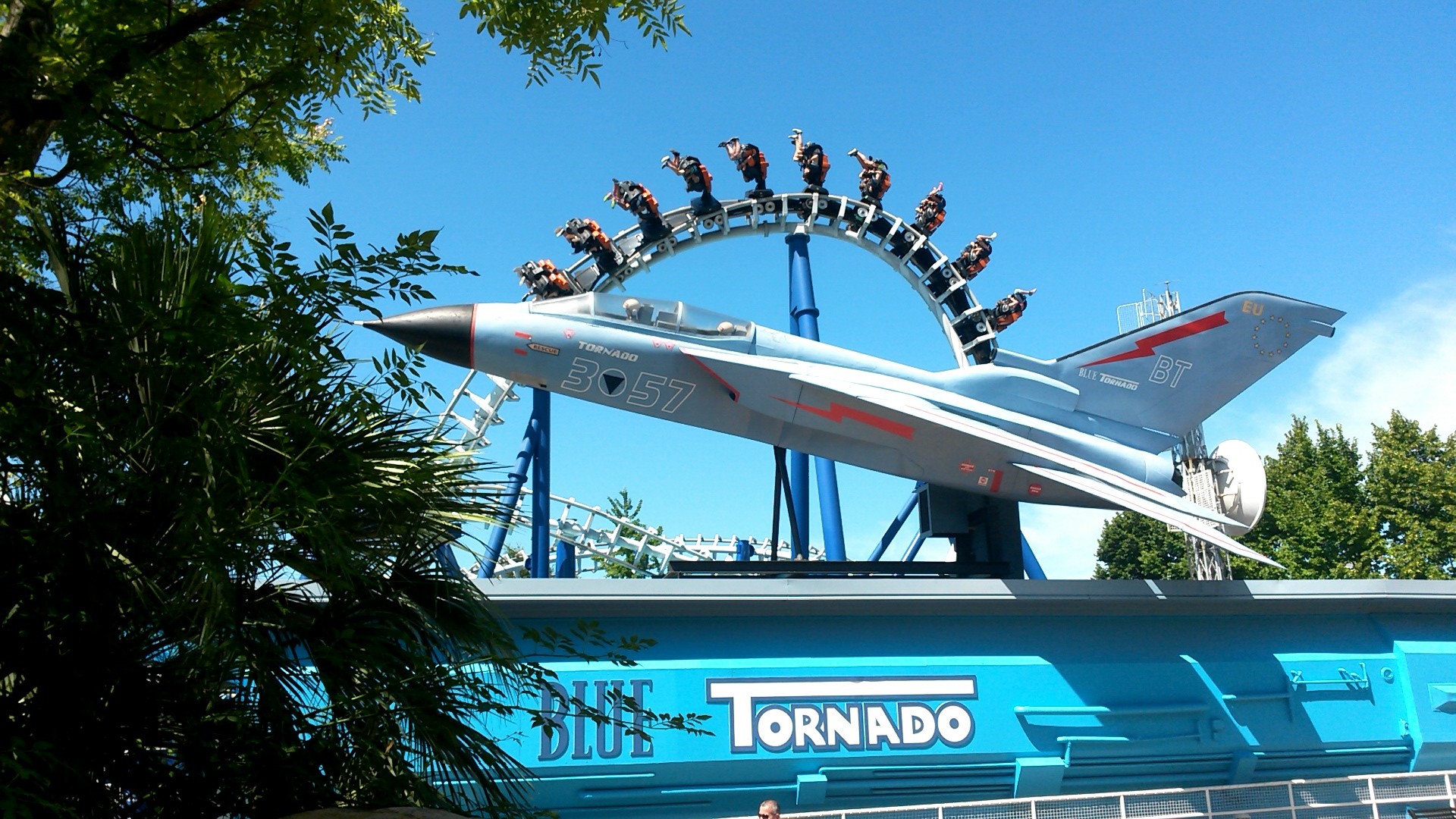 It was crazy. It was so fast and upside down all the time. However, I was not so excited about it because the seats were made in a weird way and I banged myself few times during the ride. Now I have to say that there were better roller coasters. Later, we went to the water one! It was a big tyre where we all sat. There were signs: "Be careful. You can get wet on this attraction. " It lured us even more but we were forced to let our backpacks outside. They have special places for them. The thing was that the place was unguarded and unlocked. Nevertheless, we did not want to have it wet so we let it there but we felt worried about it. At least I was worried a lot.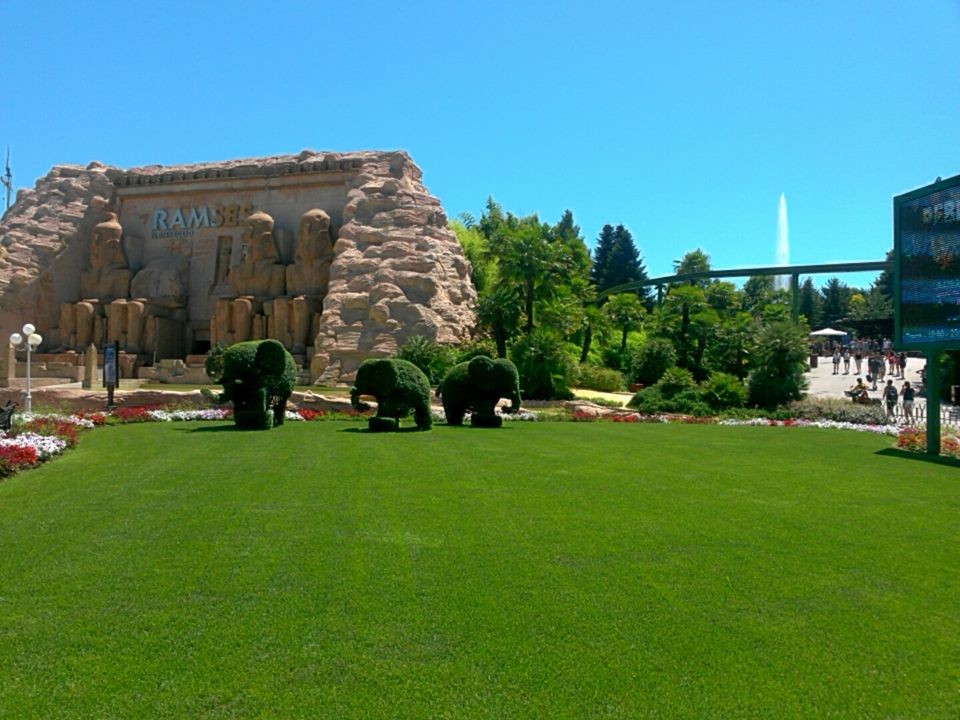 The waiting time was supposed to be around 30 minutes but it was always at least 10 minutes more than they were saying. When we finally got there it was entertaining for me. The ride was not short and we were floating on the river. We got wet a little bit but we wanted to get colder. In the middle of it there was a big volcano. Everything was made in a same style and it was not just roller coaster placed in the middle of nowhere. All constructions were in similar style.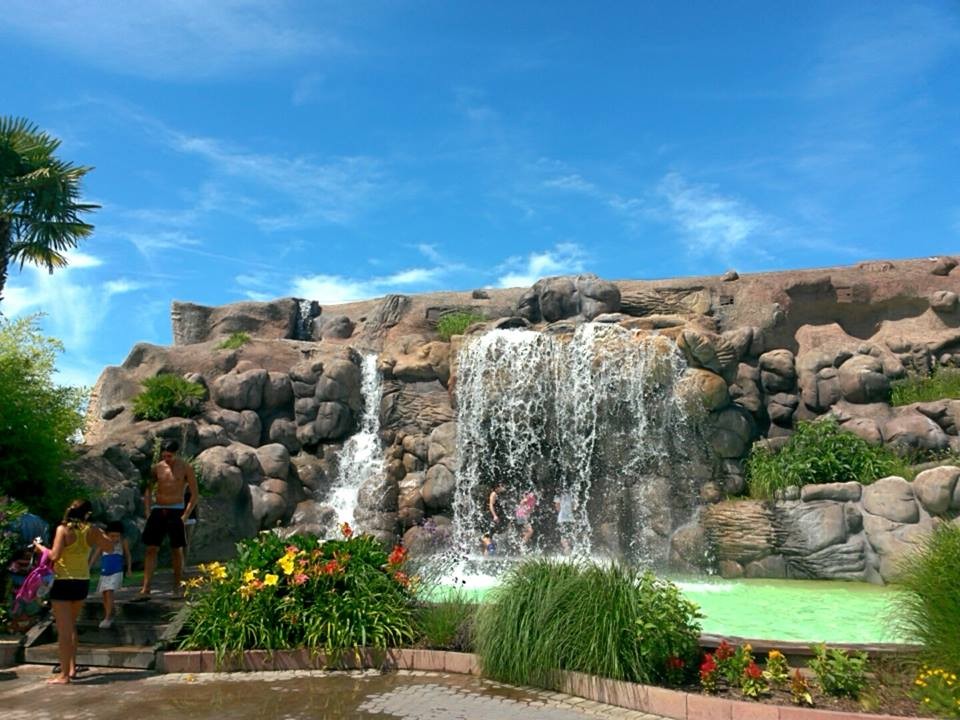 Next attraction was again with water. I loved this one! We were sitting in seats in a row and the track was all in the water. Firstly, we were going up and after we were speedily going down. The most amazing part was going down when water around us started to splash everywhere. After every ride they offered pictures of us from the ride to buy. Although it was 8 euro each and if we had bought four of them it would have been 32 euro. So we did not buy any of them but we always checked them.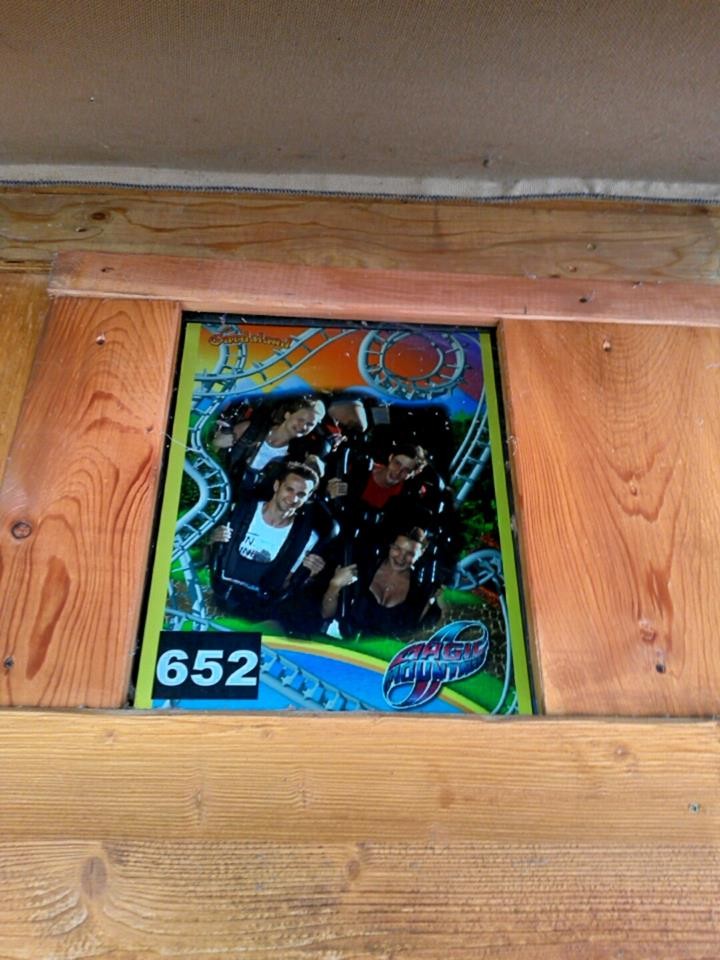 We supposed that the food would be expensive there so we had made few toast before we went there. It was a good idea because we could eat during waiting the line. I was just worried that the food was not appropriate before being upside down. Fortunately, I felt all right whole time. Next thing was called Mammut. It was a normal track– finally without being upside down. We enjoyed it a lot but the waiting line was quite long.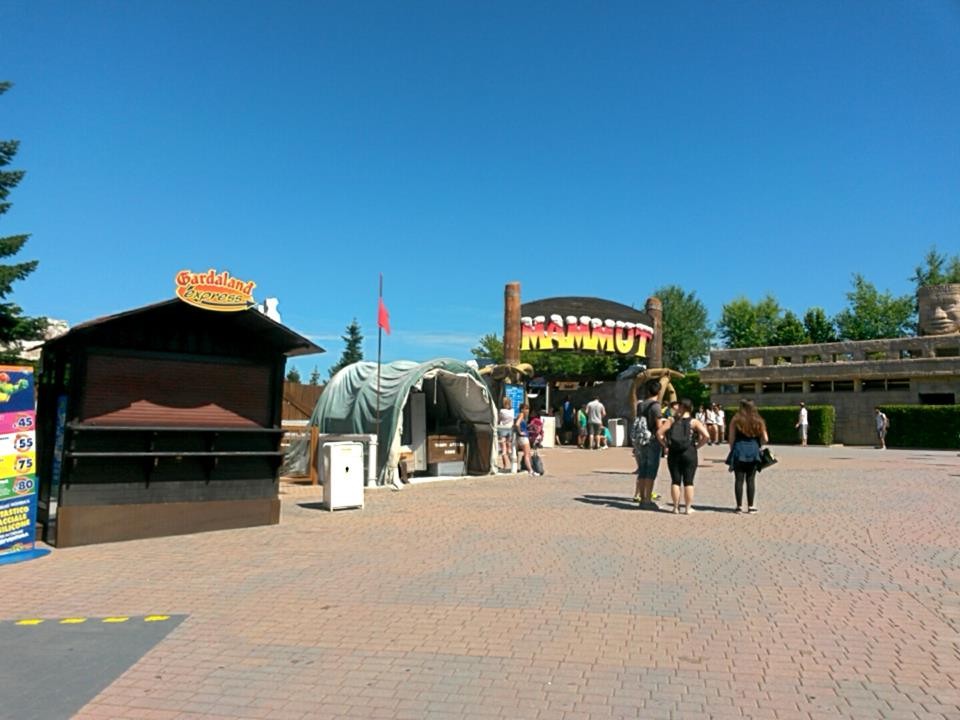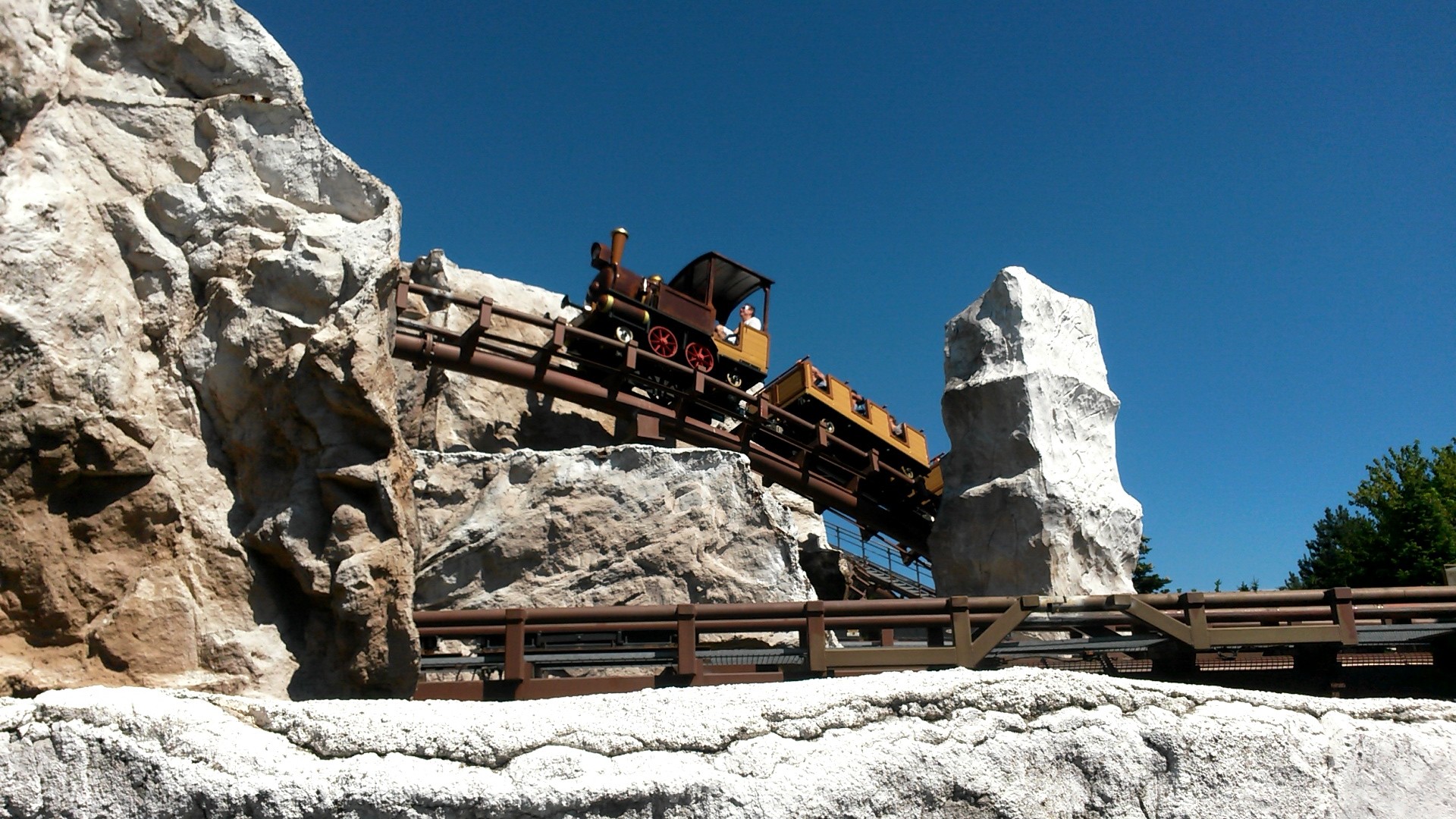 Next stop was Raptor – one of the must go attraction. It looked crazy again. It took us some time to decide to try it. However, Matej was not scared at all despite the fact he told me he did not like these roller coasters much. There was only 10 minutes line which was convenient, although, when I heard people screaming I did not feel comfortable. The roller coaster looked as a bird from dinosaurus times. I was sitting next to Matej and I had to repeat at least three time I was scared before we started going. Marek convinced Lucy to be in a first row. When we were going up and I saw that we were so high I was amazed. When we reached the highest point the fast ride started! It was awesome! It was the best attraction of that day for me. It was similar to the first one but I felt like I was flying. It was all high up but at the same time they left us upside down for two seconds (we stopped for a bit) and then we started to go faster again. When we got down there were few splashes of water. This experience was amazing. The seats were perfectly made and it did not hurt at all even though we went up and down all over again. We wanted to go again but we postponed it to the end. Now I know that it was a big mistake because we never went back.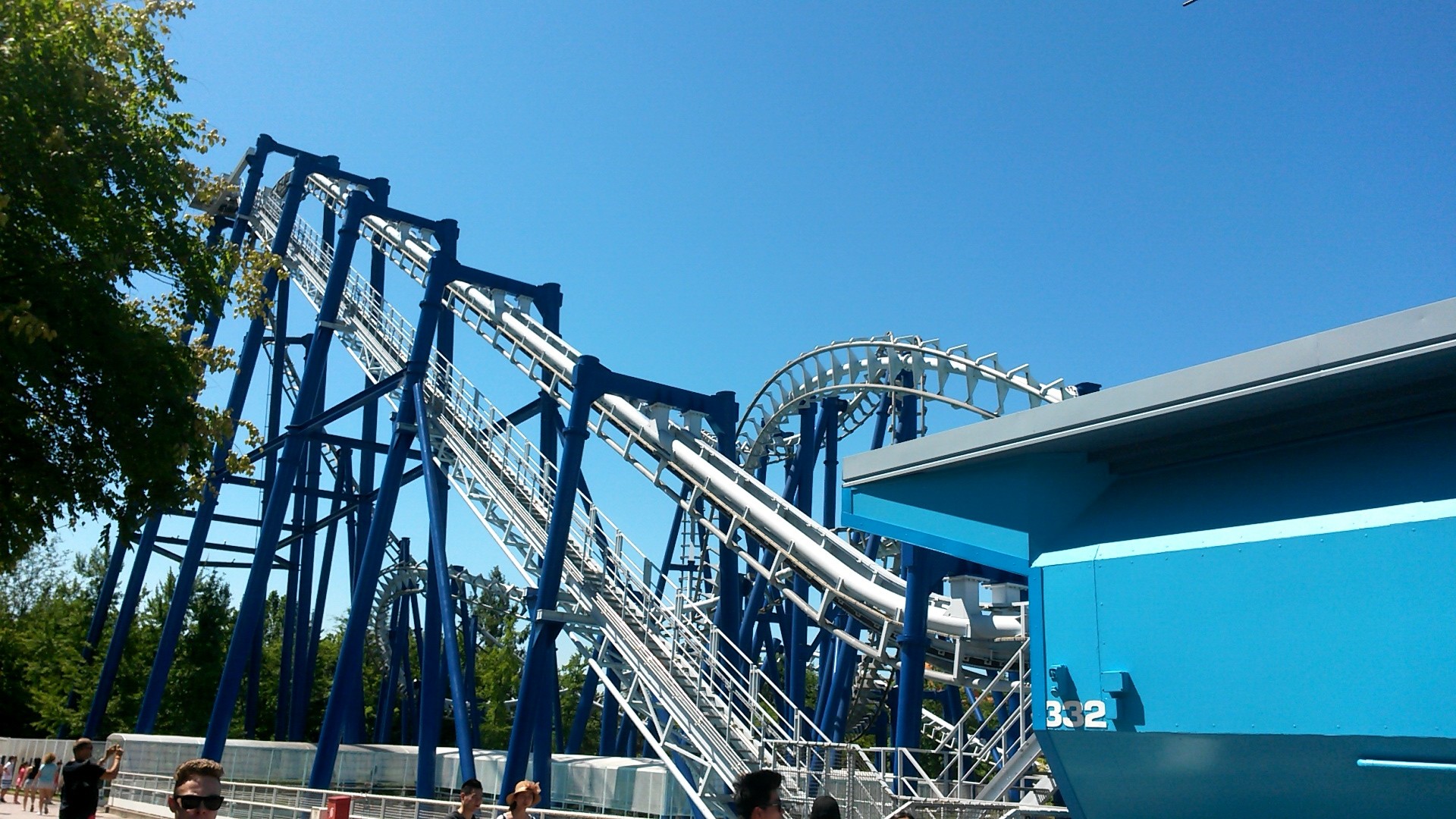 Then, it was a breaking point. We did not know where to go. They had one roller coaster called Oblivion which was quite beyond the borders. It was roller coaster similar to another ones except for the fact that in the beginning there was a moment when they let people stop in the worst moment when you can see that you are high up and there is nothing under you and then, they let you go down speedily but the track was vertical down.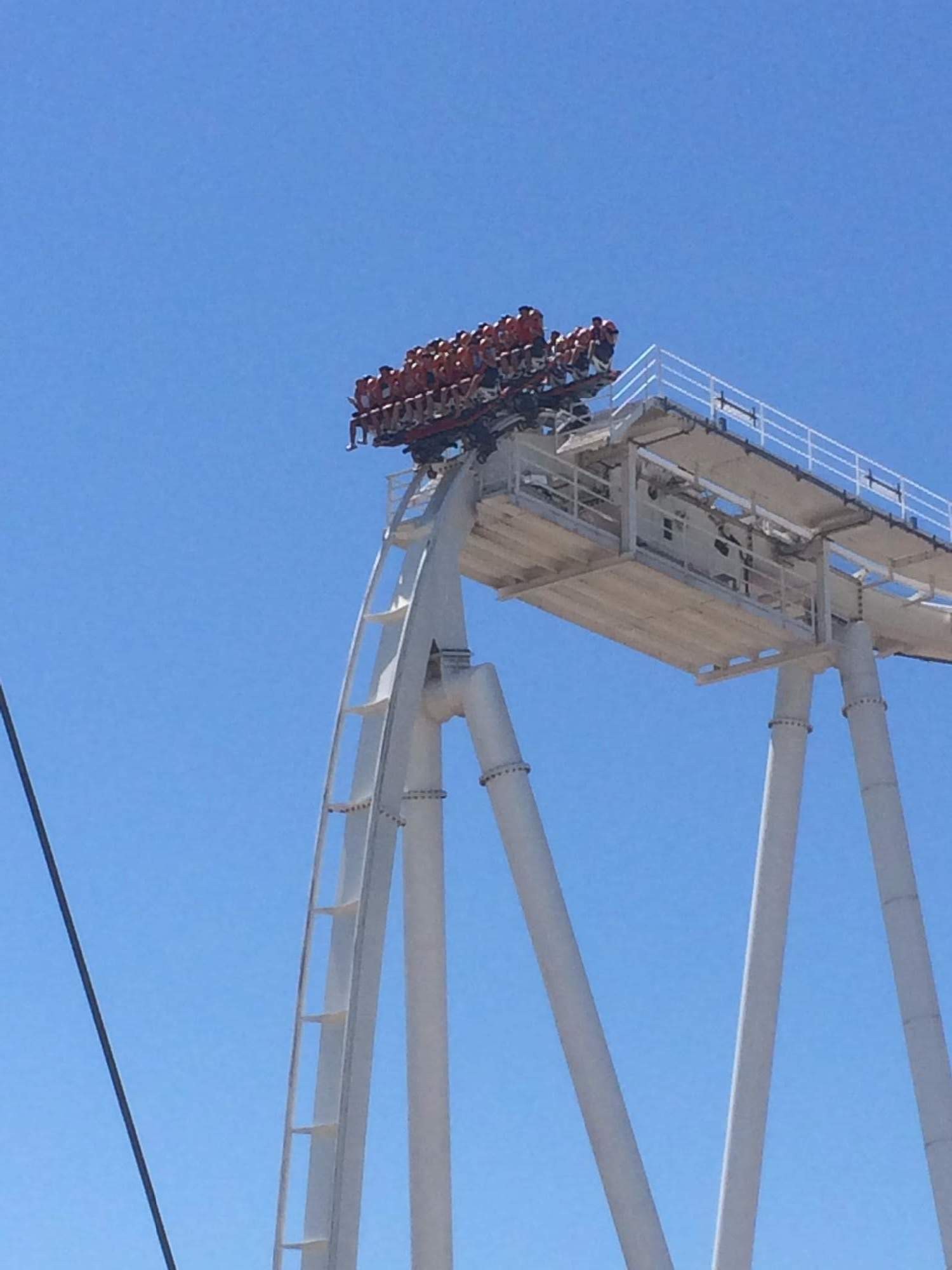 It was more than crazy and I could not decide if I should try it or no. When Lucy said she did not want to go there I decided to skip it too. Boys were brave and they went there. In the meantime we tried to find wifi to contact our next host providing us the apartment and we went to the 4D cinema. I considered it as a place for children but it was entertaining. I never went to 4D cinema.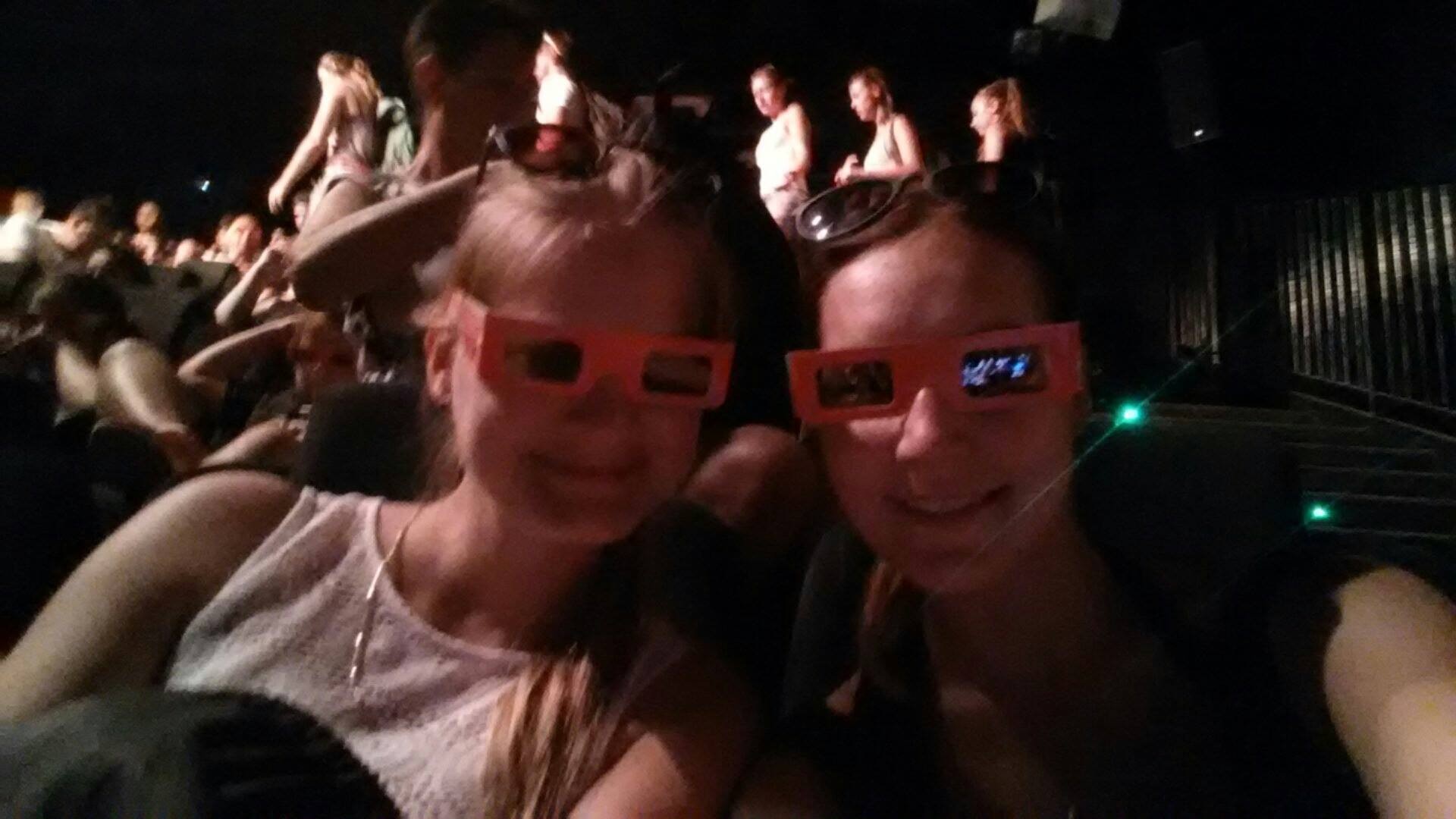 In Disneyland, we went to the similar one but in comparison to normal cinema the only difference was that the seat was moving. In this cinema, they had even wind and rain. It was great. We were watching Ice Age and during the movie light was turning on and off, we got wet a little bit, we experienced rain and we even saw bubbles. It all lasted around 15 minutes.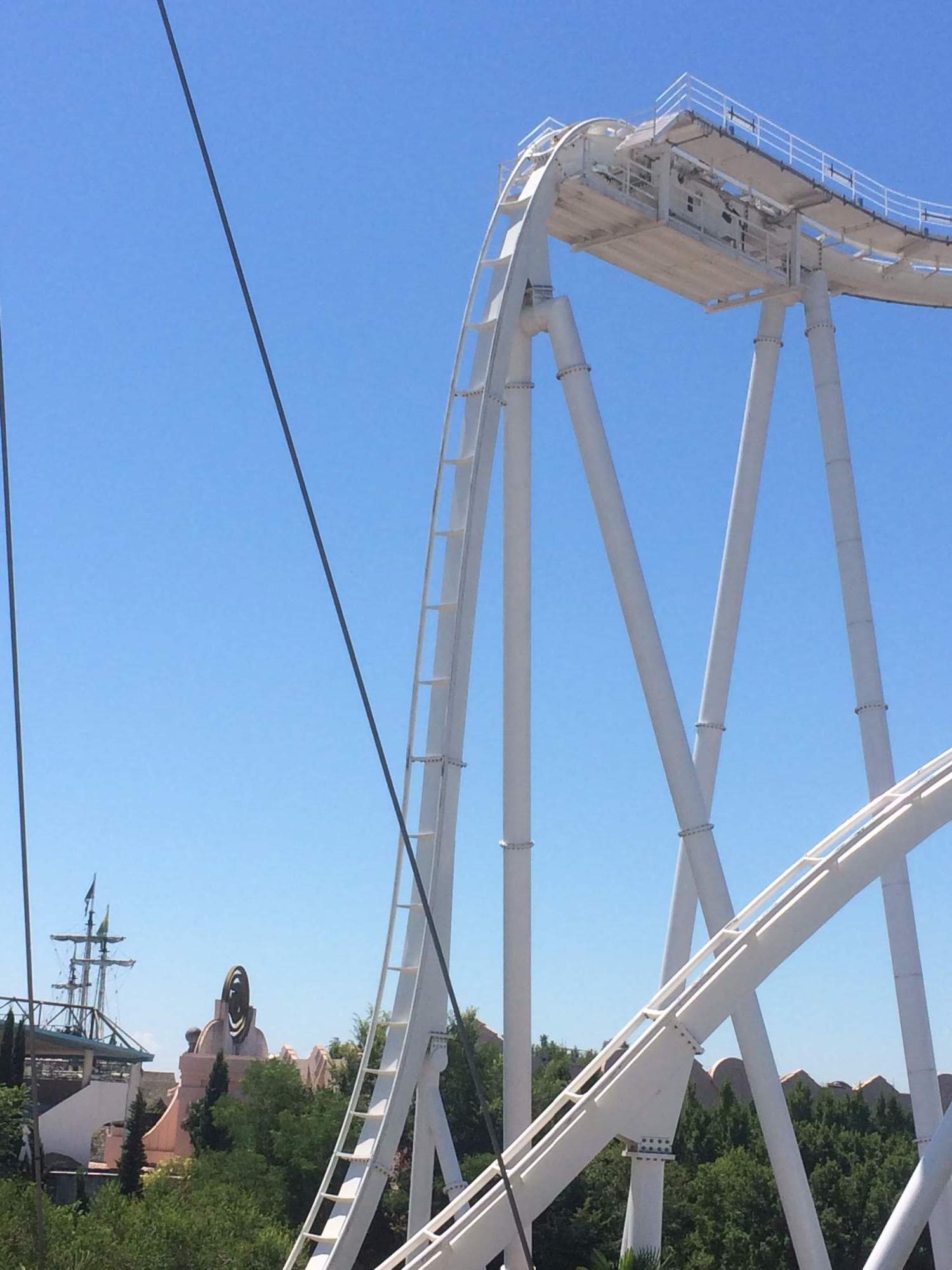 When we met boys again they told us they tried not only Oblivion but free fall as well. I was quite happy we missed it because their description was insane. They said that they were high up and when they let them fall they were not even able to breathe, shout or smile. But once I have to try it again.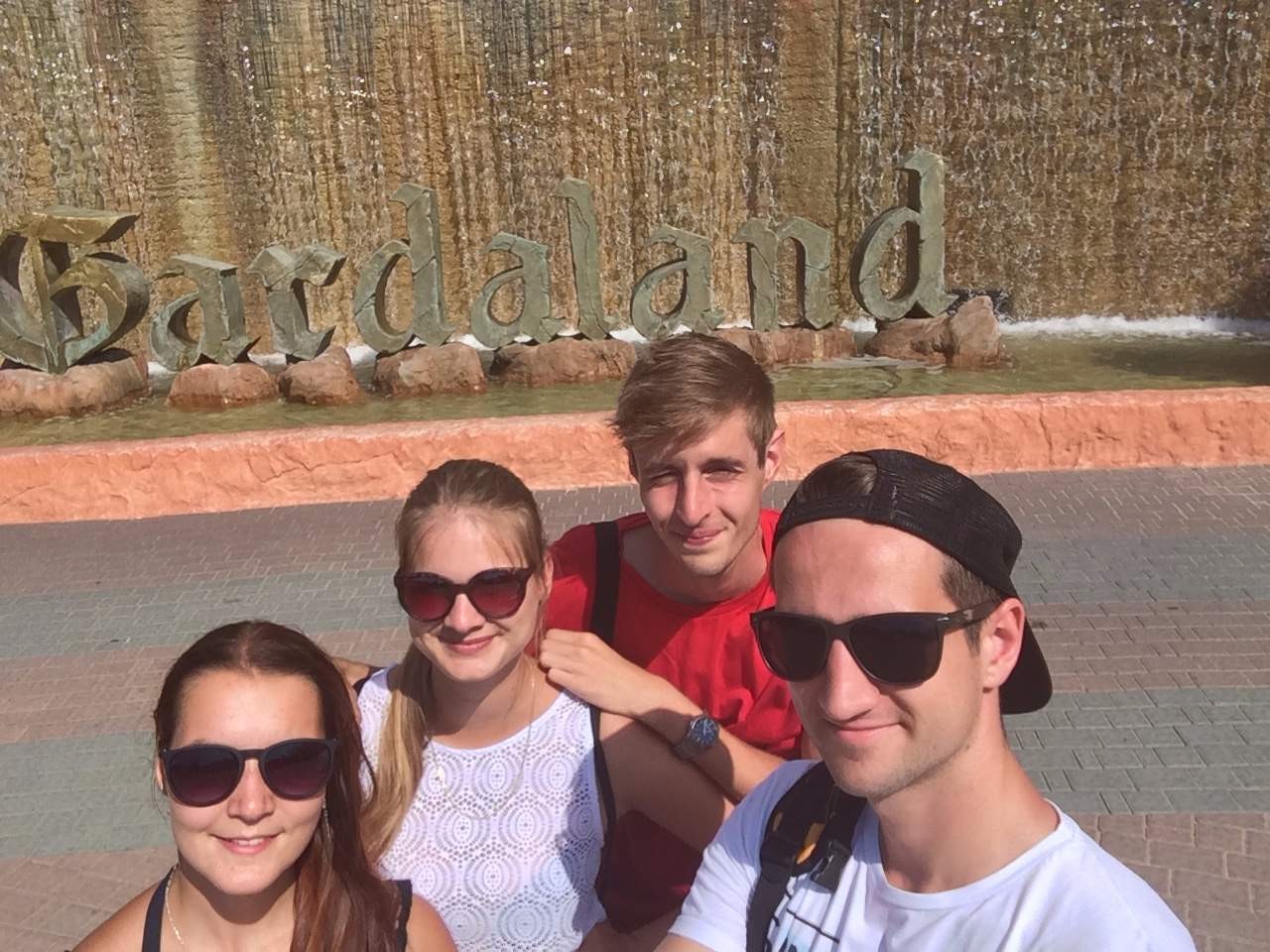 We felt quite tired so we decided to take a break. We had a bowl of fruit with Lucy that was overpriced. I paid 3, 7 euro for a small bowl with strawberries, mango and pineapple. At least mango is always delicious.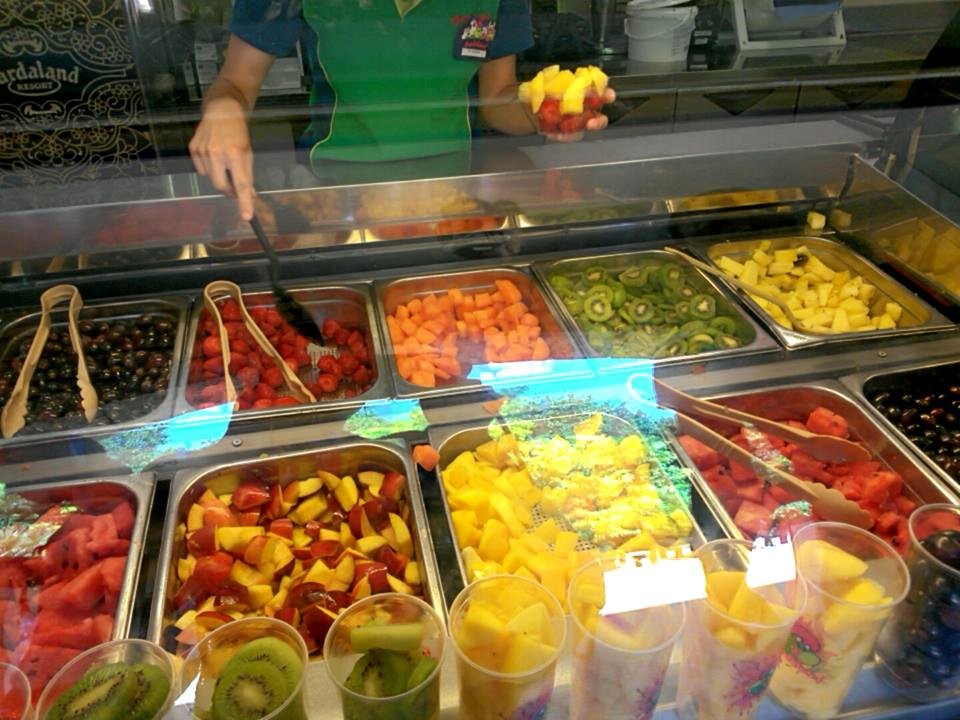 The boys had ice lolly. We experienced the most adrenalin places but there were still two more. We decided to skip one because it was quite slow and in the position upside down half of the time and we did not want to feel sick. On the other hand there was another green roller coaster. It looked again crazy so we went there and it was amazing. I would recommend it!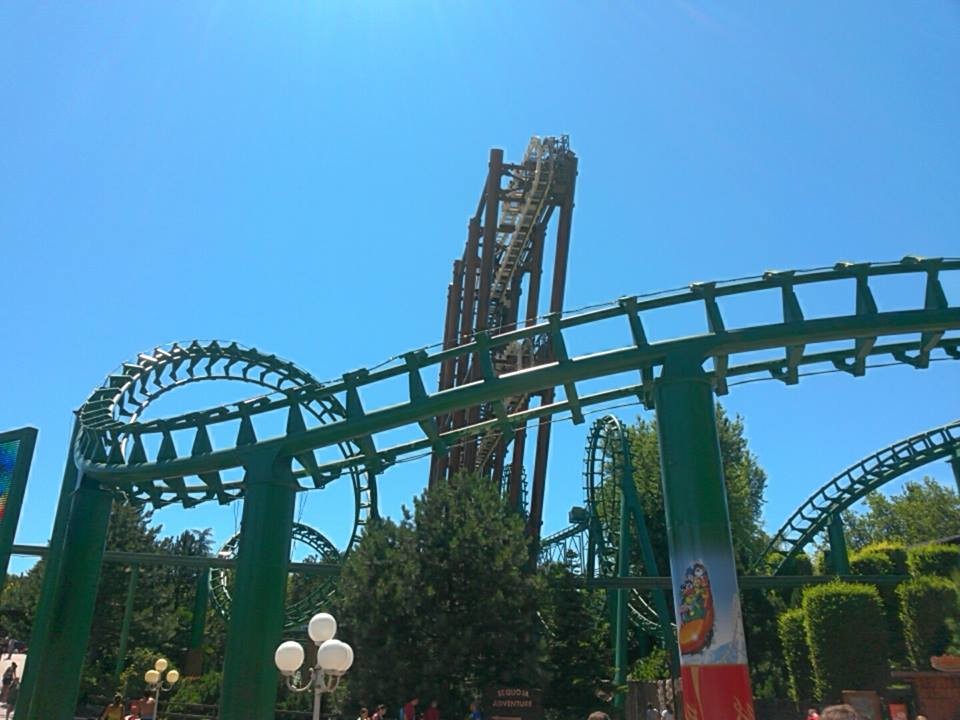 We wanted to try the one track which was turning the seat around whole time but the waiting time was 50 minutes.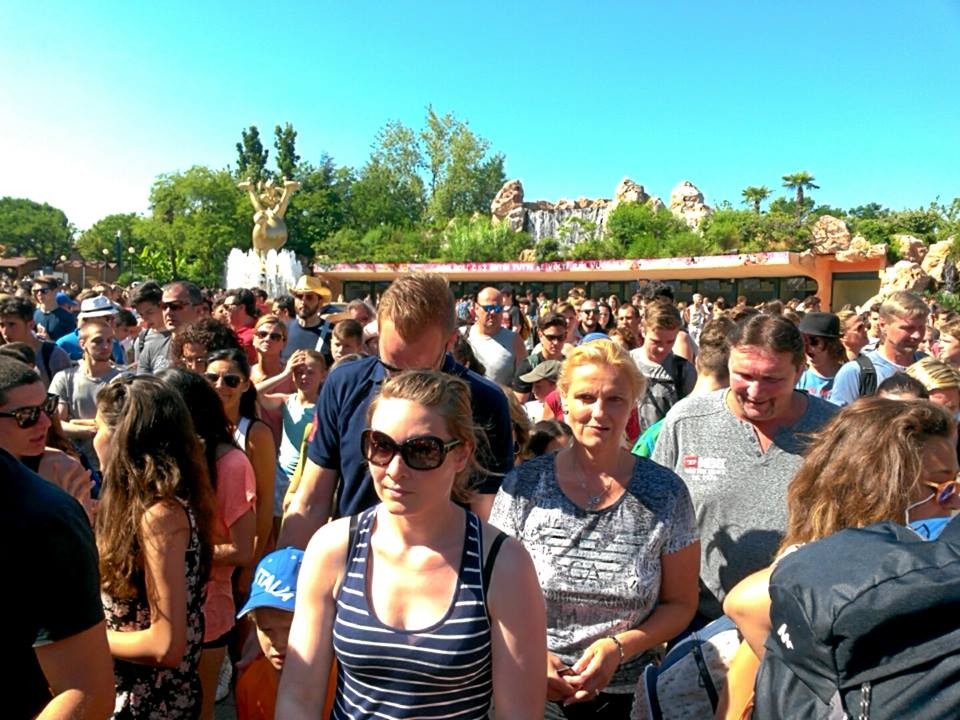 I have to say that I did not mind hot weather 30 degrees much because it did not matter when we were on the attraction. The only time when we were suffering was staying in the line. However, most of the places were covered with textile roof. They had a lot of fountains and places with water. I was also surprised that there were a lot of toilettes almost empty. It was convenient. Normally, the situation with bathrooms is much worse during festivals or theme parks.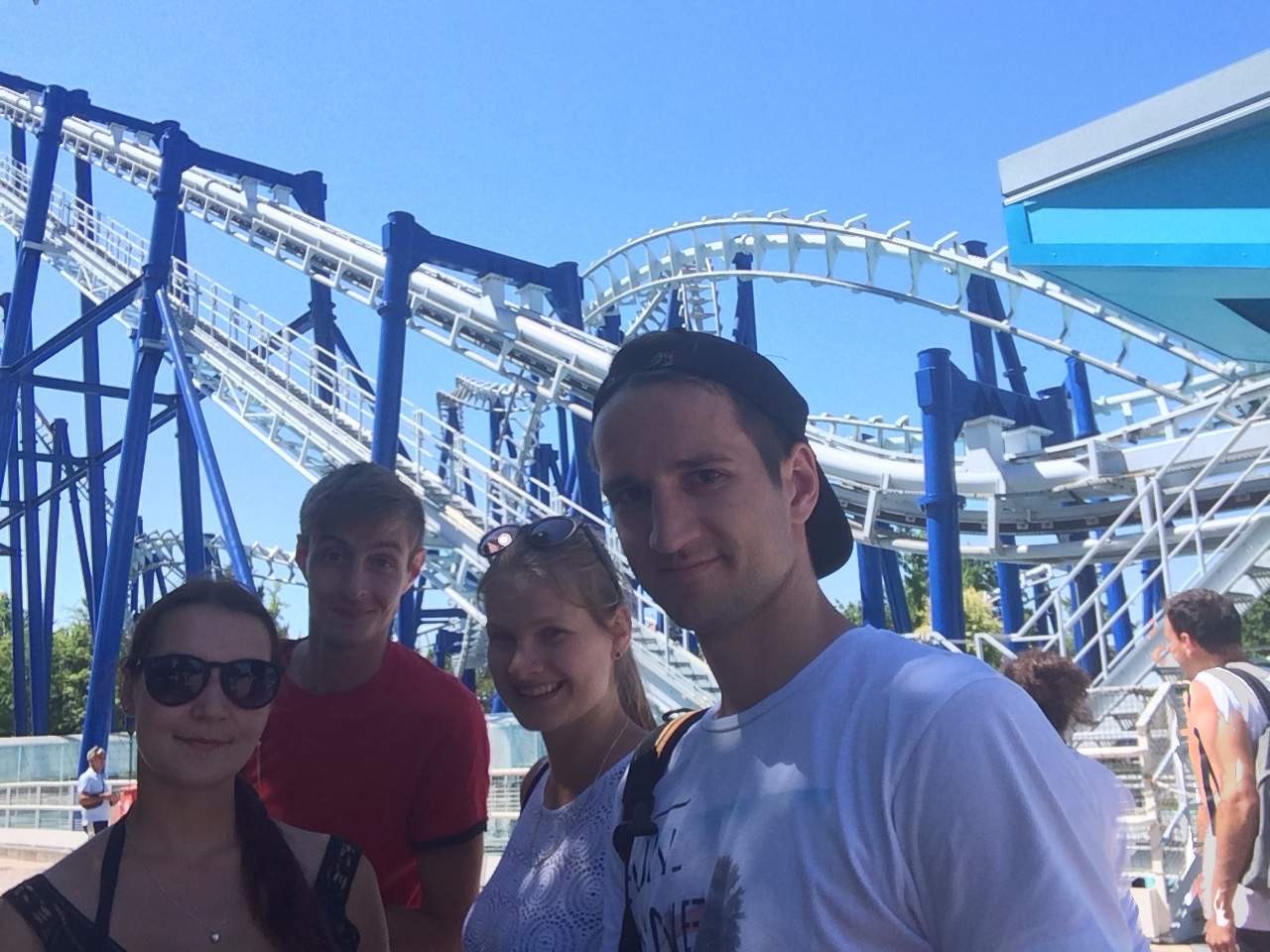 To cool down we went to the third water attraction. It was all on the river and the seats were in a log. When we saw wet people coming from the attraction we understood that it was real water place. The track was in the water and in addition, people were splashing the water on each other. There was a possibility to take a kind of gun to make another people in the log wet as well. Therefore, we did not take our backpacks again. The line was quite long but the experience was wonderful! We all got totally wet! Basically, we were sliding two big slides and in the meantime we were floating on the river. It was quite steep and when we got down they were again big splashes around us. I totally loved it.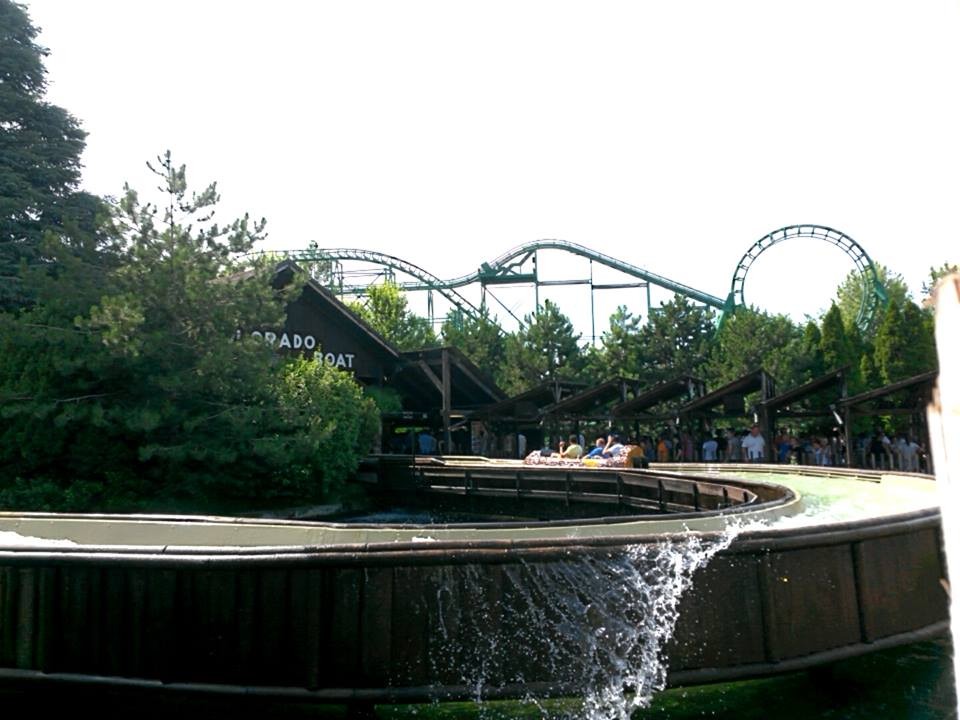 It was already 4 pm and everybody looked tired. We were on our way to Raptor again. There was still the place we did not go - big moving tower where you could have a view of the whole park. On our way we noticed a big tent similar to circus and the performance was supposed to start at 4 pm. It was exactly 3. 58 pm so we went inside. I felt little bit cold because we were all wet from the water slide. I did not expect anything special but the performance was great. Firstly they turned the light off and the screen on and then one man came. He had a table with sand in front of him. We could see his hands on the screen and he started to move the sand to draw a picture we could see on the screen. In the beginning he was drawing normal pictures but later all the pictures looked stunning. For instance, he started to draw the Eiffel Tower, Venezia or Coloseum. It was all in the dark so we got more tired.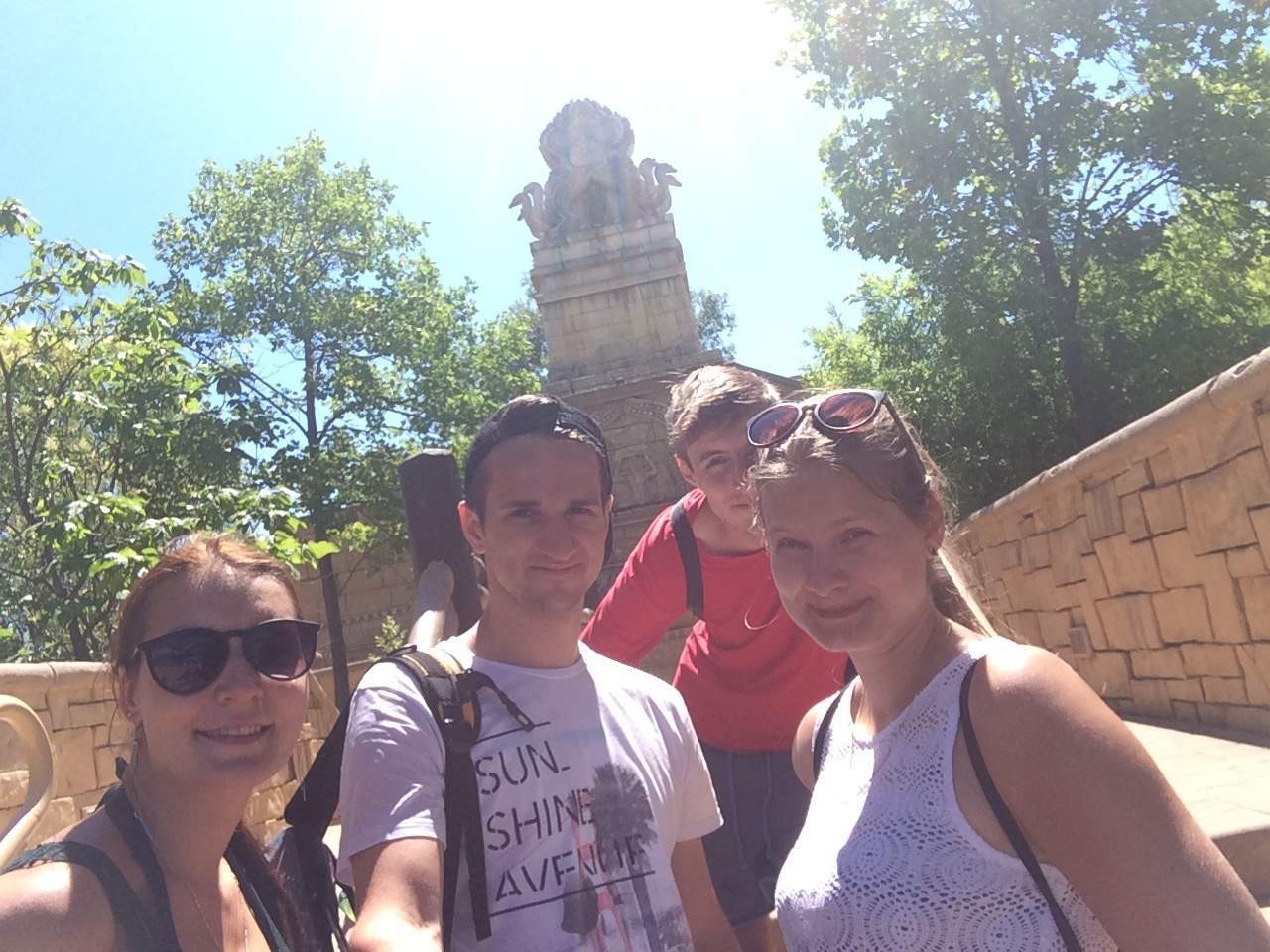 When we left the place, unfortunately, everybody wanted to go home. Of course I could stay there until the closing time because I wanted to try as many attractions as we could and I wanted to stay there as long as it was possible but 6. 5 hours in the park were enough(for my friends).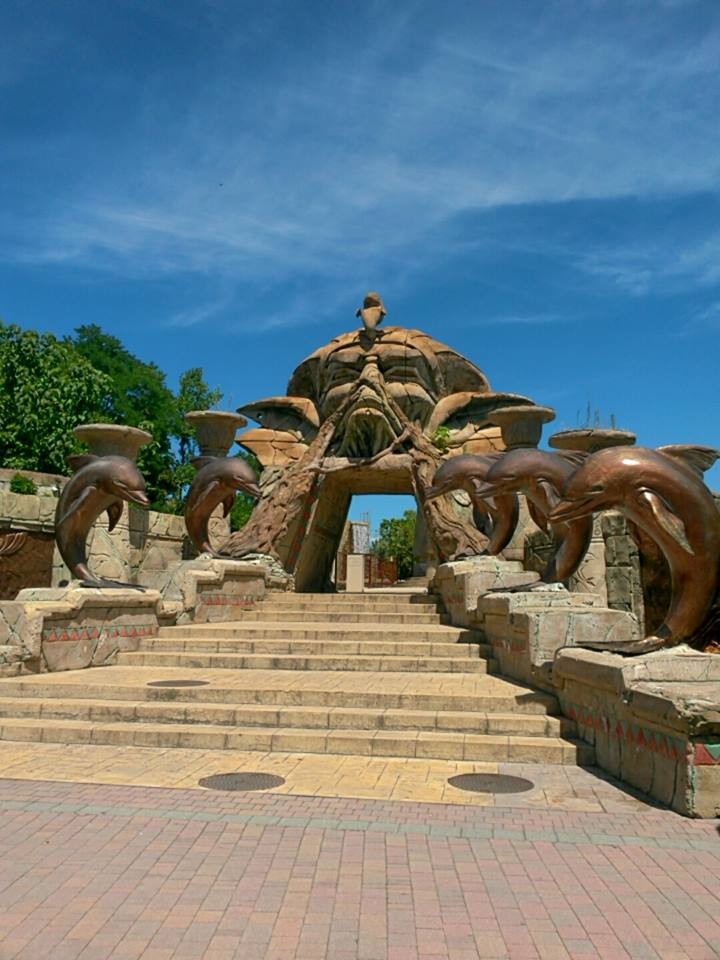 After the park we were going to the north of the lake especially to Arco. On our way there we wanted to swim again so we stopped with our car on the half way near the water. The air was still warm even though it was already evening. After whole day we were excited about the water and we quickly changed the clothes. When I saw boys still outside I knew something went wrong. I went closer to the water. It was not as warm as the day before. Okay, maybe it was too late for swimming. Maybe it was only my feeling. I tried to go inside the lake again. It was impossible! I was freezing even though I was only standing on the edge of the water. When I looked at the boys they had same problem. The water was too cold. Actually I would say it had only 18 degree. It was crazy. We wanted to enjoy the water so bad but we could not. I was shocked. I had no idea it could be such a big difference if you move from the south of the lake to the north. I regretted moving from the south. Nevertheless, I was still hoping for warmer water anywhere else. Unfortunately, nothing changed.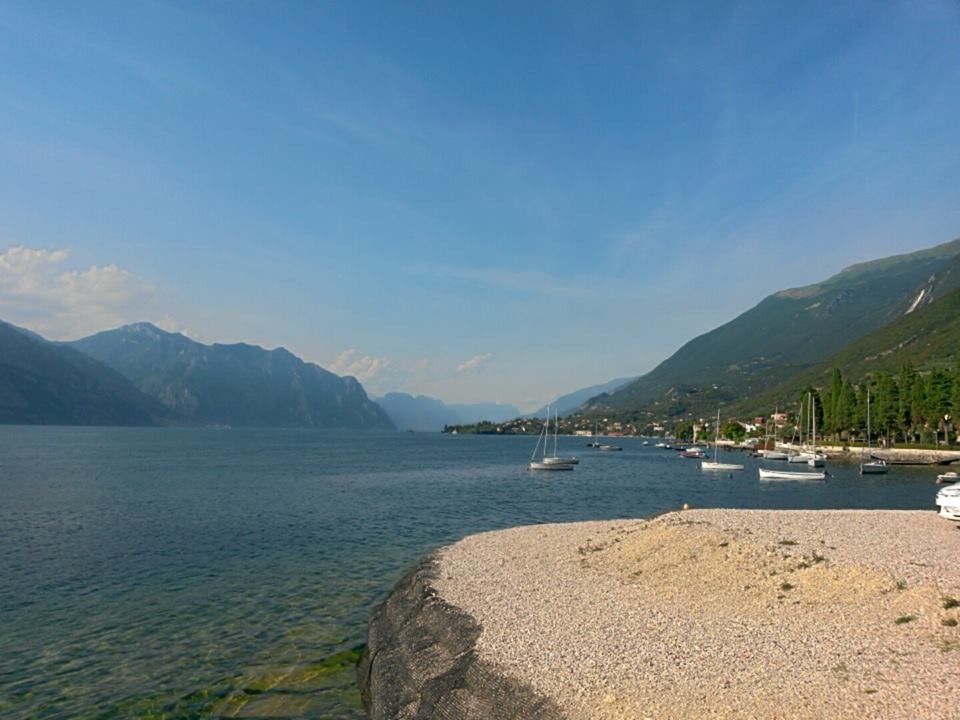 We went to our accommodation in Arco and we had such a nice host. He was kind and he was helpful in every situation. Our apartment was in the fifth floor, which was awful because we had a lot of bags and fridge and inline skates. We had no choice and I went twice up and down to take everything. This evening we decided to cook the dinner. Before the trip I was worried about the money we were supposed to spend in Italy because last summer when we visited Rome we went to the restaurant almost every day and sometimes we even went to the restaurant twice per day. It was crazy. I mean it was amazing but when I checked my account I went crazy. The thing was that in Rome, we started to like one restaurant first night and we could not resist going there for the rest of the staying. They had the best pizza I had ever had. Not only that they offered huge selection of pizza they also had amazing deserts and starter. Firstly, we went there for a normal dinner. Next day we all bought present for our parents – an olive oil. The day after, we decided to try Italian alcohol Limoncello. Last night it was special occasion so we had dessert and starter. I don't say it was a mistake because I loved the place and I enjoyed it a lot but I was terribly surprised when I saw how much money we spent in that restaurant only for 4 days. Therefore, we wanted to avoid this problem and we already did a big shopping in the Czech Republic. We decided to cook few times.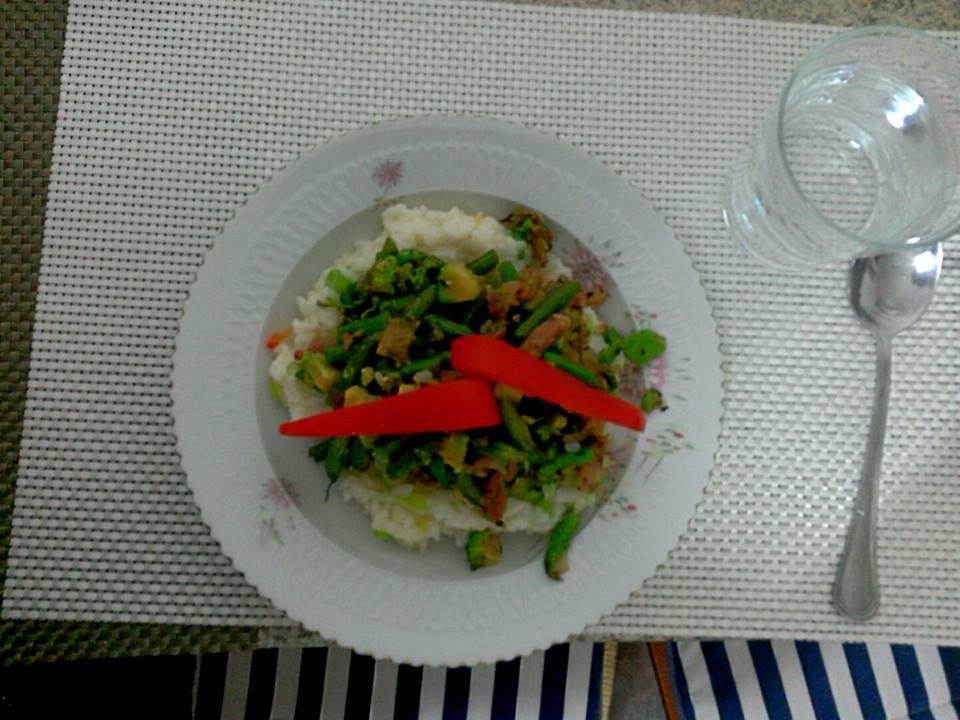 Matej and Lucy suggested cooking risotto. I was against this idea because I tried only typical Czech rizotto and it was not tasty at all. Although they promised me trying their Italian rizotto and I wanted to try it. During shopping I did not like the fact we bought a lot of legume and courgette for it. The preparation was not hard. We had to buy a special kind of rice - arborio. Firstly, we were supposed to fry onion, meat and vegetable a little bit. Later on, we had to add rice to roast it a little bit. Then, we added water to boil the rice. After 14 minutes we added butter, a lot of cheese (parmesan) and spring onion. By this procedure we ensured that there was cheese sauce and it was not only plain rice with vegetable. To finish the meal we had to add spice, salt and pepper. I did not believe it but it was delicious. I enjoyed the meal even though it was healthy. Except for this I was happy to learn how to cook something new and we saved money as well.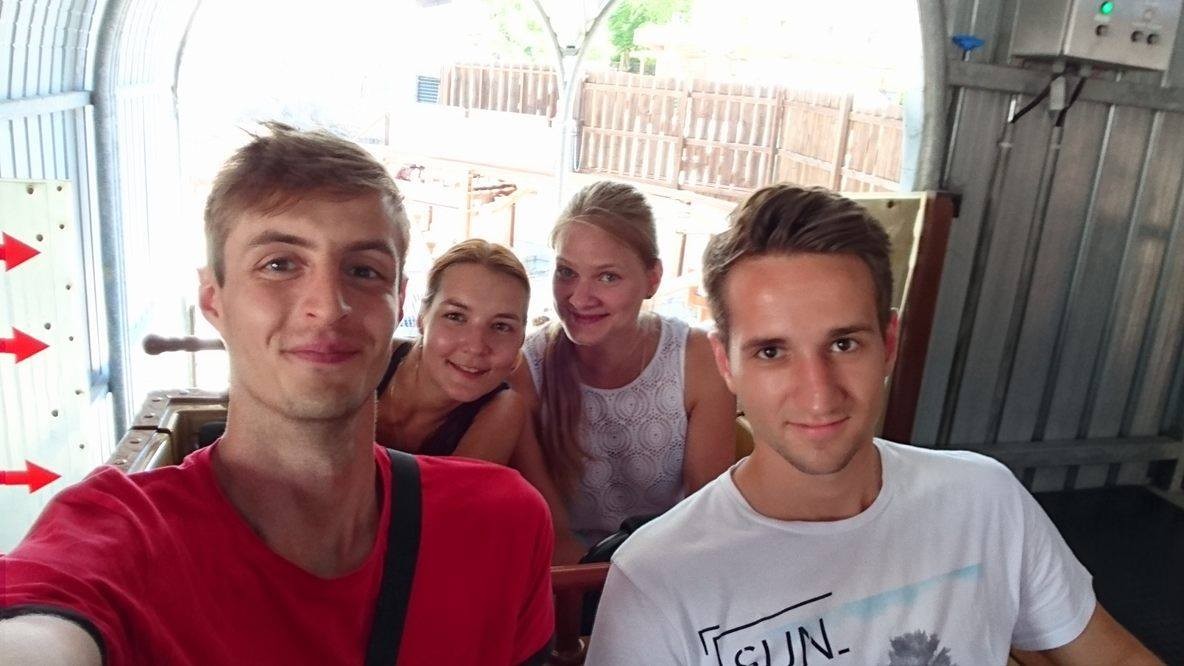 Arco is a small beautiful city. A lot of people would be happy there because in surroundings you can find a lot of cycle ways for inline skates, bike or running. All the paths are situated in the middle of mountains and flowers near the water which makes it even nicer. It is close to the lake, although, the only problem is that the water is quite cold. Nevertheless, there is possibility to try a lot of water sports as windsurfing, paddle board, etc. There are a lot of places for hiking. The city centre is quite small but all the prices are significantly lower than in the south. Lucy told us about the best ice-cream and we had to try it first night there. I was quite critic because I thought there was no better ice-cream than in Sirmione or in Rome. I can´t decide which ice-cream was the best one but ice-cream in Arco was crazily tasty. I loved it! In addition, it was cheaper than in Sirmione which meant that for the same price you could have bigger ice-cream, which means more flavours as well. It can seem unbelievable but they had one flavour only for 1 euro! The portion although was not small! It was enough for normal people. For ice-cream lovers they had two flavours for 2 euro and bigger sizes. However, it was still cheaper and better than the one in Sirmione. The only disadvantage was that they had smaller bar so they could not have huge selection of flavours. Nevertheless, I fell in love with biker´s snack flavour second day (peanut flavour) and I did not want to eat anything else. It was so called salt ice-cream and the taste was similar to peanut. It was perfect. Our last day there I had a big one.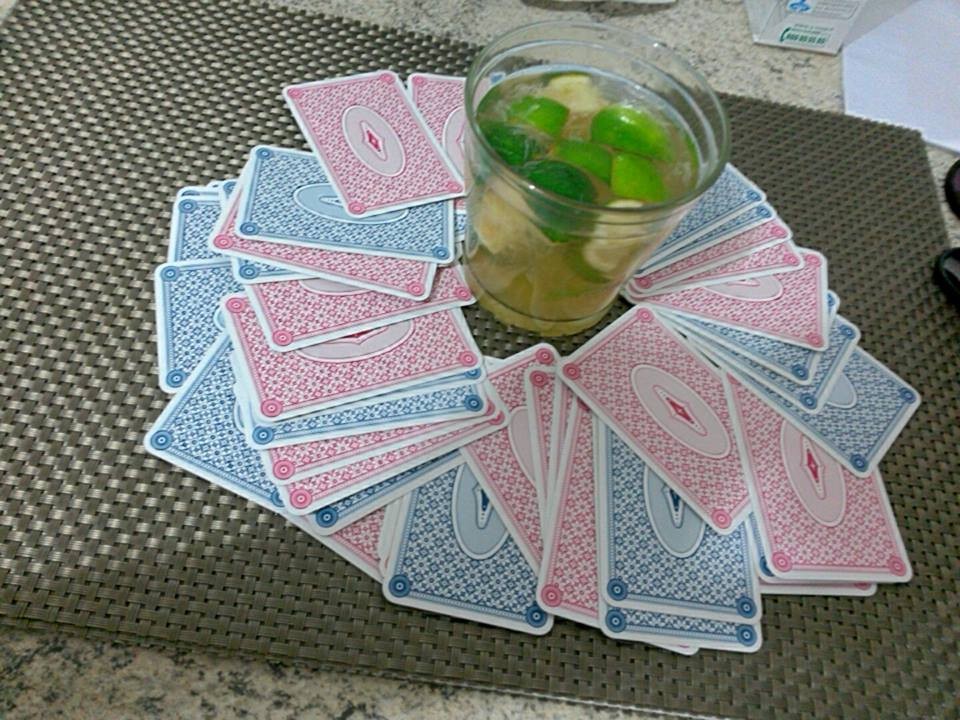 This day was really long because we had another adventure during the night. Firstly, we started to play drinking games with cards and around midnight when we were looking from our window to the castle we immediately decided to visit. I noticed the castle right after our arrival. I liked that it was in the middle of the hills and it was visible from everywhere. Our former plan was climbing to the castle in the morning. Although it seemed to us better to climb there during the night and sleep in the morning instead. I agreed only because they promised me that I was allowed to sleep longer in the morning if I went. When we were walking there I did not like it much. The atmosphere was scary. It was already dark and there was nobody on the hill. Therefore it was terrifying with every small sound. When we finally managed to get to the top I was happy that the gate to the castle was closed. Marek had different opinion. He wanted to get inside by hook. He did his best to convince us to go further but fortunately we all wanted to go home except for him. Marek sadly agreed as well and we started to walk home. He did not forget to mention many times we should have gone inside but it was already too late. When we got home I fell asleep in a minute and I enjoyed long sleeping in the morning.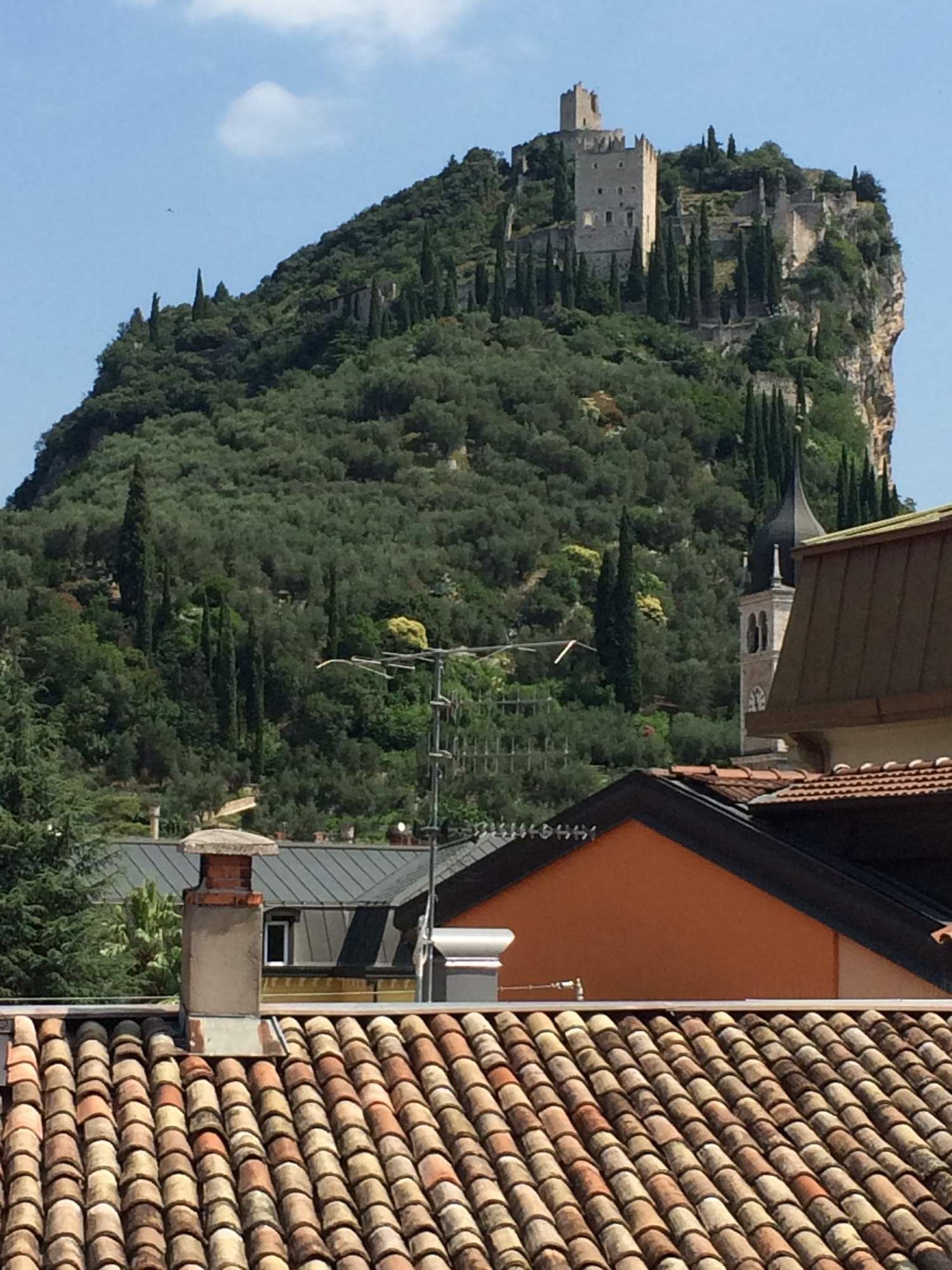 ---
Photo gallery
---
---
Content available in other languages
Share your Erasmus Experience in Verona!
If you know Verona as native, traveler or as exchange student... share your opinion on Verona! Rate different characteristics and share your experience.
Add experience →