Interview to Iuliana, an Erasmus student in Weimar
Iuliana is taking the most of her time as an exchange student in Weimar (Germany), where she joined the Media and Design program at Bauhaus University. Let's see how she feels about being there…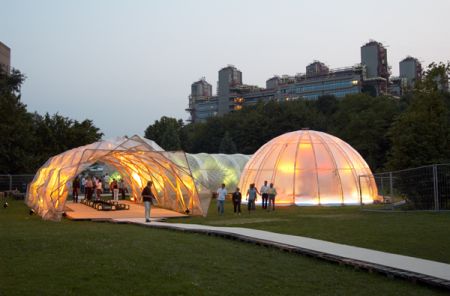 Weimar is well known for its cultural richness and bohemian atmosphere.
This is an arquitecture students exhibition.
1. Why did you decide to study abroad as an Exchange student?
I always thought it could be a good opportunity and a good experience. I just waited for the right moment. I like foreign languages, and three years ago I started to learn German. It seemed a complicated language, so I decided it would be more efficient to learn it in Germany. I also wanted to taste this Erasmus feeling everyone talks about.
2. Did you choose Weimar in Germany, or was this the city you were assigned?
My faculty is quite new in my university and we didn't have many options. I knew I wanted to go to Germany and this was the only place we had in there and the only one I chose. I didn't know anything about Weimar at the beginning but I got impressed about it's cultural richness. It's a small city but it was a source of inspiration for many known names in music and literature like Johann Wolfgang von Goethe, Friedrich Schiller, Johann Sebastian Bach and Franz Liszt. The name of Bauhaus also made me decide. It's quite well seen in architecture and design, but I wasn't sure what could it offer in the communication field that I am studying. My friends actually made a lot fun of me at the beginning. They used to say: "You won't go too far, the Bauhaus shop is just 10 minutes walk! "
3. How much money do you receive through your Erasmus scholarship?
I receive the general Erasmus scholarship, some 310 euros a month - during 8 months. And another help from the Ministry of Education in Spain because I had the general scholarship last year, some 300 euros more per month during 8 months. But the first months you need your own money, because you "get paid" in November or December. And depending of what you study you spend a lot of money on material.
4. Did you find complicated all the paperwork needed to apply for a place?
It was quite easy because the International Office in Germany sent me all the information. Everything was in English and was clear enough. We just had to fill out the paper forms and send them. In both universities the staff was friendly and very helpful.
5. The courses you attend to, are taught in German or English? Was it hard to get used to the language at the beginning?
All the courses are taught in German. Even though I thought I had a level in German and I could easily understand, I was wrong. It was hard at the beginning. I had to concentrate to understand what were the teachers saying. We could ask them if we had any problem understanding. But as I was told that there the teachers request a particular respect I didn't want to bother them and disturb my colleagues. Once at the beginning I tried so much to concentrate to understand what they were saying that I got asleep in one class. It was embarrassing. The teachers are very comprehensive and they explain in English as well when you ask them. I discovered it later. In one course we were 7 and most of us were foreigners, so the teacher decided to teach us in English.
6. What about the German education system, is it what you were expecting? Could you tell us which are the main differences that you have found?
I think that the Bauhaus University in Weimar has it's own education system. We have the list of courses that we can choose for the next semester 3-4 weeks before we start. Once you have the list you start sending emails to the teachers to let them know you are interested in their course. The teachers let you know if you have to present something or just to come the first day at class. Sometimes you are even called to an interview, like when you are looking for a job. Then you go to class on the first day, and if you like it you can join the list signing with the matriculation number. You can take more classes than normal and decide which are the ones that you like.
I study Advertising and Public Relations in Spain, but in Weimar I study Media and Design, so they let me take the subjects I'm interested 'cause the courses are not similar. I even take more courses 'cause I don't have to pay for credits as I do in Spain. When you study things related to design, photography, movie making it usually costs you a lot in Spain. Here I pay nothing. In Spain we have the obligatory courses, here we are free to choose what we want to learn. This way we are supposed to be more interested. One other important thing is that once you skip classes more than 3 times you're out.
I like very much 2 things that all Germany has: the semester split and the large vacation we have in winter.
7. In regards with accommodation, did your university help you? Which are the housing possibilities for students in Weimar? Any special tip for those considering going there?
I'm staying in a residence, it was the easiest way and I didn't have to bother for many things at the beginning. I got help from the University in Weimar all the time. There are 7 or 8 residences in Weimar with students from all over the world. You may pay from 100 euros to 250 euros depending on the situation of the residence and commodities. The bad thing about the residence is that you don't get to speak in German, it's all English and Spanish. But Weimar is such a small city that you get to know all the German students sooner or later. The University can help finding a flat as well. For one semester or one year I think the residence is perfect but If I would stay longer I would definitely rent a flat.
8. How is the Erasmus atmosphere in Weimar?
Weimar is a bohemian city. It is all full of students from all over the world and all of them related to areas of creativity: architecture, design, media, music and fine arts. These are the stronger fields of study here. When we have a party everyone finds it out and the place of the party fills up in a minute. At the end of the semester you finish knowing everyone. Because of other faculties and schools we often have free music concerts and exhibitions. The atmosphere is absolutely magic!
9. What do you think about Erasmusu as a network for international students?
I think it's a great idea! Too bad I didn't find it last year when I had so many questions. I really think it can help those who are planning to join an exchange programme. I'm trying to participate as much as I can with information I believe is useful for those planning to go to Weimar.
10. Which places would you recommend to visit near Weimar?
Weimar is all about culture. So Goethe Haus and his Sommerhaus, Schiller House, Liszt House are must-see places. The Wittumspalais and the Duchess Anna Amalia Library are 2 places that still conserve the proof of the Weimar's Duchess's richness. There are 3 palaces: Belvedere Palace, Tiefurt Palace and Etterburg Palace which are exquisite places residences of the dukes in different periods of time. The Town Castle - this building was the seat of the government and the residence of the dukes and the gran dukes, definitely a must-see. There are also many gardens and parks in the city and around it, you only need a bike to reach them. They are absolutely stunning!
For those who are interested in the architecture, in Weimar are many interesting pieces from the dukes period until nowadays including the Bauhaus movement. There is also an infamous nazi concentration camp - Buchenwald, that after was controlled by soviets, is an evidence of the brutality and cruelty the prisoners were subjected to. Even though Weimar is a small city, these places are not even half of what it has to offer.
You also have many bars and pubs where students or local artists make exhibitions. You never get bored in Weimar.
Then near Weimar I recommend you to visit Erfurt and Jena, and then farther Leipzig and Dessau.
11. So far, would you consider the possibility of living abroad for a longer period of time?
I love studying new cultures and new languages, but so far Spain is the place I like the most. I would probably study a master abroad or do my internship. But I know quite well that Spain is my final staying target. Even though I'm not Spanish I love this country as my own. I'm telling you as a foreigner that you have the best climate, the best food and you are open minded. I always talk about Spanish food as "the best food in the world" and then people say "wait a minute... but you're not Spanish! ".
Thanks for your time and knowledge! No question that Weimar looks like an ideal city to enjoy an Erasmus stay and you still have a few months left there so don't stop making plans (trips, activities, parties…). Good luck with that 'expedition' you were expecting to join in Finland.
---
---
Content available in other languages
Want to have your own Erasmus blog?
If you are experiencing living abroad, you're an avid traveller or want to promote the city where you live... create your own blog and share your adventures!
I want to create my Erasmus blog! →