Erasmus in Rome
Facilities

4 / 10 points

Quality of the college

6 / 10 points

Is it easy to pass?

2 / 10 points

Activities

6 / 10 points

Tuition fees

6 / 10 points

Faculty

6 / 10 points
---
Memories of my Erasmus experience in Rome
It all started in November, 2013, that was when I decided to go on my Erasmus somewhere in Italy. In reality, I couldn't decide between going to Belgium or Bologna. I knew some students that had been to Belgium but they hadn't spoken very favourably about it, the people there, that they were too serious, or the university, they found it really difficult to pass their subject, even the native students struggled. So I chose to go to Bologna.
However, on the same day that the deadline for applications, I spoke to my boyfriend and he told me that he'd decided to come with me on Erasmus. We had only been together for a year at that point, but he wanted to have the Erasmus experience with me. The problem was that Bologna wasn't included in his choices of destination. So we both chose Rome. We weren't too sure that we'd get lucky and we'd both be assigned the same destination in the end, so we were surprised when the final list came out in January and we were both on the list to go to Rome.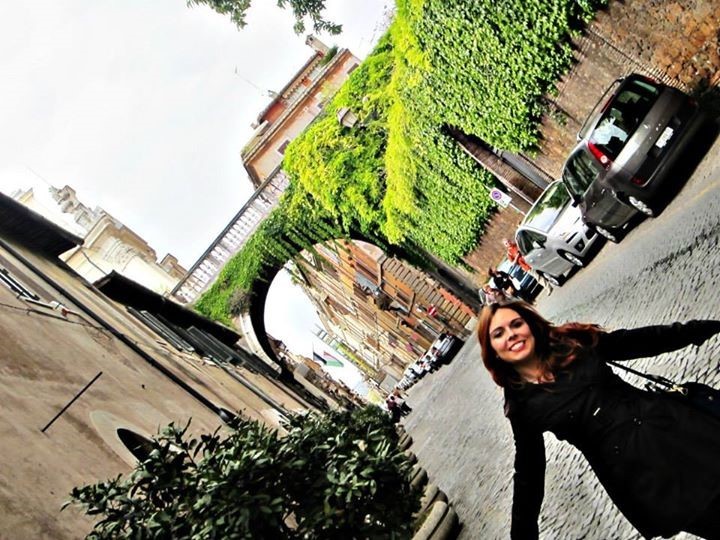 I cried with happiness, because although I had thought about going to Bologna, I much preferred Rome, even though I didn't know it well yet. It's a city full of culture and beauty and we were going to be able to see every corner of it being there for the year. I didn't know then that I was wrong about being able to get to know every corner. You can definitely lose yourself in every corner of this eternal city, but a year is not long enough to see the museums, to canvas it from north to south and east to west... There's not enough time: you'd need at least three years alone in this city to be able to get to know it completely.
The adventure began in August of that year, when we went to Siena for an Italian course so we would be prepared when we got to Rome. I went full of enthusiasm and the day before I'd got my driver's licence, so I was in a really good frame of mind when I got there. However, it all when south when my purse was stolen in Madrid and I lost all the money I was carrying, as well as all the documents and cards I needed to sort out my time abroad. With Juanjo's, my boyfriend's, help, I managed to control the damage and go to Siena; but a bit of my happiness had gone.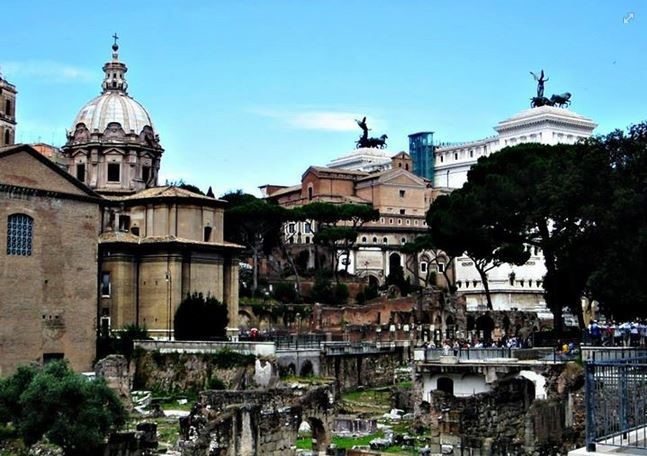 However, I knew that any experience can't be all positive, there are always some disappointments, lack of enthusiasm and difficult moments when you wish you'd stayed in your home country, but times like that are what you learn and gain experience from. From that moment onwards, I became a lot more alert and I was cautious of my surroundings, because I couldn't find my way around Granada yet, never mind Italy.
Siena was a tiny city, but it was full of culture and tradition, like the Palio and we were actually there on the day it was on. It has a very strong tradition in wine, and we, being wine lovers, could ask for more... We had some excellent Italian teachers and it was an intense month.
We went back to Granada and got everything ready to go on this unique, once-in-a-lifetime experience. You can go on living things like it, but none of them will be like the first one.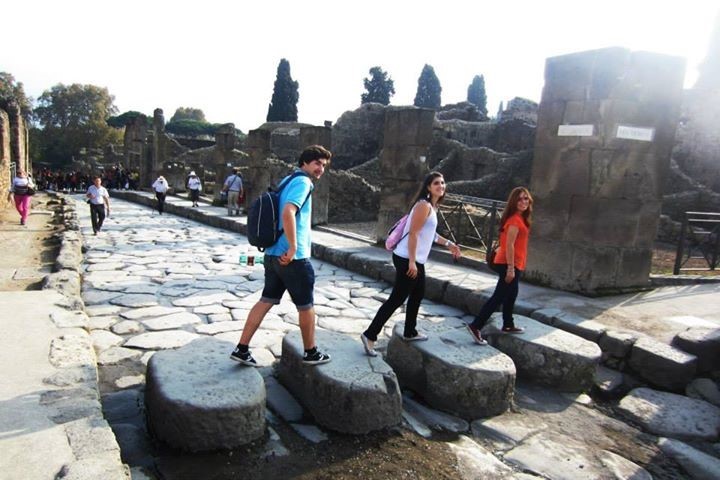 We arrived in Rome on the 10th of September. First impressions, I suppose, as for any other tourist, it's overwhelming. It's a very chaotic city, full of people, with cars coming and going with no regard for the traffic lights, there are a lot of tourists and a lot of street vendors selling bits and pieces to tourists. When we got there, we got on the metro to go to Piramide, as the flat that we had spend months searching for was facing the Trastevere, the Testaccio neighbourhood. We spent a while looking for the flat, and finally we found one. It was quite a big place and was perfect for us: the only problem was that it only had one bathroom and that the owner of the flat lived there, too. He was a member of the ESN (Erasmus Student Network), the organisation that puts on activities for Erasmus. It was nice in theory but it was a bit more complicated when you had to spend a few moments, at least, during the week with him. We weren't sure whether we were going to change flats or not, but it was in a really good area, we had a really big room and the owner went off to England within a month; so we stayed.
Until we started our courses at the university, we spent our time exploring the main places in Rome, "i gelati famosi", the pizza and enjoying the good weather.
When we started the semester, I realised that when they criticised Italian bureaucracy Astérix and Obélix, The Twelve Tasks, which I saw when I was young, they didn't make it up: I have never been more stressed in my life than when I was trying to sort out my papers or to communicate with the professors. But after two months there, you chill out and you get used to it. The first months were up and down, I had an awful class timetable and it didn't even give me time to get to the classrooms because they were all in different buildings and it took 20 minutes to get from one to the next.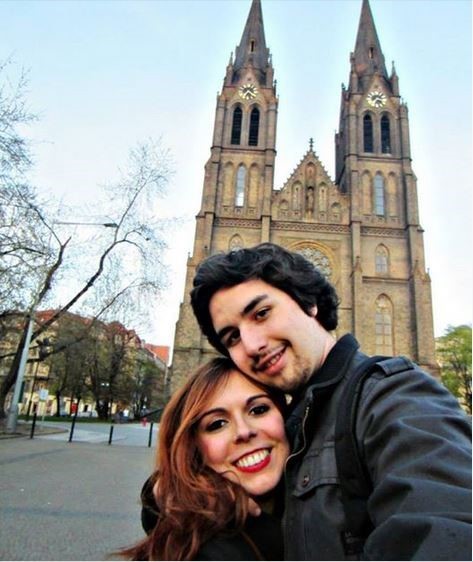 Nevertheless, I loved the university. The professors didn't give typical lectures for note taking classes, like the ones we're so used to getting in Granada. The majority of the professors were Italians that had been to Spain or who had Spanish relatives. The subjects were very interactive, they really value participation in the classes, it was really easy to learn because they always linked new ideas with the things you already know. And something that might seem almost impossible in the beginning, the oral exams, actually end up being a huge advantage: for the oral exams the professor asks you about the fundamental concepts of the subject, they let you express yourself and you've done the oral test without even realising you were doing it.
The most important thing: there were three dates for every official exam, so you could choose the date that was best for you, or even go to all three if the one before didn't go as well as you'd hoped. Concerning the idea that your grades in Italy correspond directly to your Erasmus grades, I can confirm that that is not the case at all, at least it's not at La Sapienza: I've never studied so many manuals in my life. But the effort was always rewarded. I think that the literature professors in Italy were the best I've ever had and this experience has really helped me in the way that it's changed the way that I study and I got to see a different way of focusing on the topics, which will be useful for me in the future, when I'm a teacher. In addition, I got to learn a lot of Italian and get to a B2 language PLIDA (Progetto Lingua Italiana Dante Alighieri). So I'm really happy that I got to have this experience.
Another famous myth is that Spanish people only hang out with other Spanish people and it's true that I got tired of having to only go out drinking or on nights out with Spanish people. I don't even do it in Spain because I don't enjoy going out like that, I wanted my Erasmus to have a different focus. I didn't have much money as the Erasmus grant doesn't cover much, also Rome is a capital city and a very expensive one, especially concerning the price of rent there. So I decided to set out to have my experience like this: I wouldn't just hang out with Spanish people, since I'd left Spain to come to Italy and I wanted to learn Italian; so I made some Italian friends, a Swiss friend, a girl who was German but who's family was Italian and two Spanish friends who have to be my best Erasmus friends.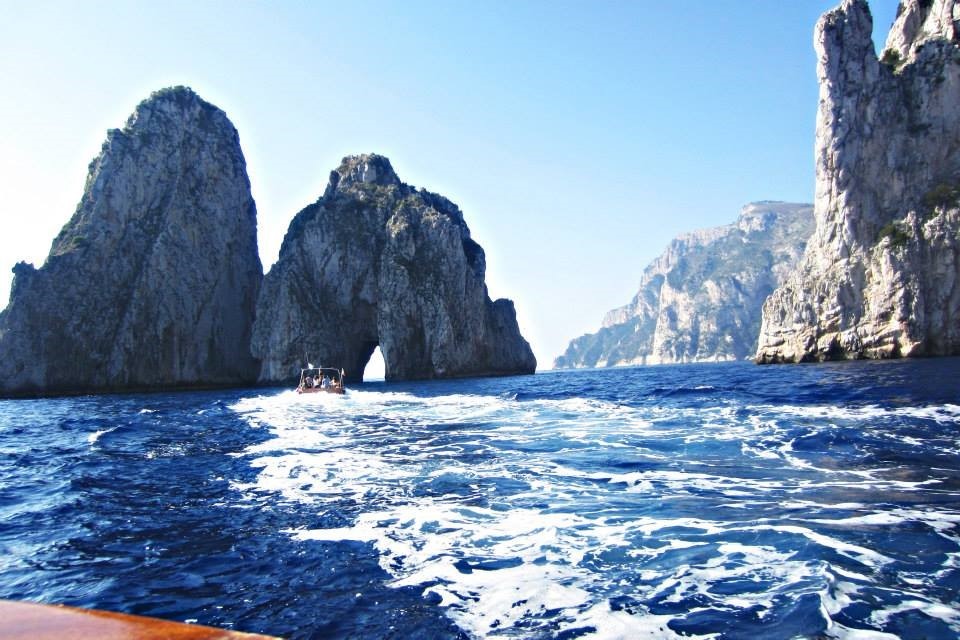 I wanted to travel more than anything. When else would I be able to travel if not on my Erasmus year? But I'd do it during the second semester and when there was good weather. First of all, I wanted to get to know Rome like the back of my hand, that's why I'd chosen to go to a city like Rome. I visited the main monuments, la Fontana di Trevi, la Piazza Spagna, la Piazza Il Popolo, el Trastevere, la Bocca della Verità, the Pantheon; but there were some days when I wanted to explore the parts of the city that had been taken over by tourism and that weren't any less magical without its influence. I discovered a lot of beautiful streets this way, they had so much history, but a history that the majority of tourists don't know anything about. In Rome, while you still come across dirty, smelly alley ways that are full of stray cats and uncollected rubbish, at the end of the road you'll find yourself face to face with a Bernini statue, with an old classical era façade or with some kind of monument. Because Rome itself is an open air museum, but everyone walks around as if it's totally normal, totally used to it being this way. One of the places that impressed me most, and that was only 5 minutes from my house, was Il Giardino degli Aranci, where I saw some of the most beautiful dusks in the city and one or two weddings. And I had all this to enjoy with my love, Juanjo, because one of the things that brings us together most is our shared passion for travelling and trying new things.
We tried to make the most of being in Rome to get to know the rest of Italy, as well. Some of the places that stand out among all of the things I loved are the island of Capri, lake Como, lake Trasimeno, Trieste, Siena, Bologna, Perugia for the chocolate festival, and I managed to escape to places nearby, like Switzerland, I went to Lucerne and Zurich. Since we had an Erasmus friend there, Jasmine, we decided to go and visit her and enjoy the beautiful Swiss countryside. After that, we went to Prague, since I'd always been told that being there was like being in a fairy tale and I really wanted to go. It was magnificent, they were right about what they said.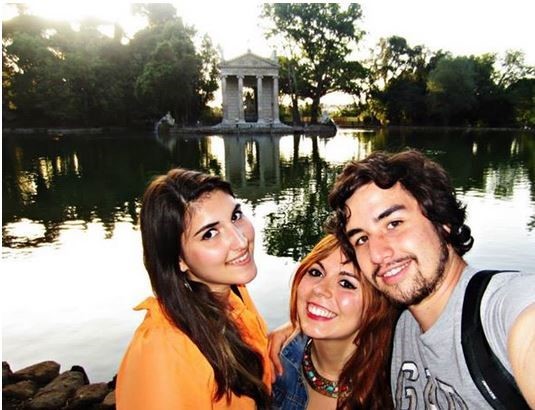 Some of my fondest memories of Rome are of the Roman aperitivo, which consists of you ordering a cocktail and having access to an all you can eat buffet- I always used to go to Momart with my friends and I loved ordering the BBC and enjoying the pizza from the wood oven. Not having a plan and just walking around Rome will always lead you somewhere, like the day we happened to get to a place that rented out vespas and we decided to rent a red vespa to go around Rome on: we went to the River Tiber together, we got to got to Trastevere, where we stopped to have a pistachio ice cream on the vespa and it felt like we were out of the film A Roman Holiday. That's a day I won't ever forget. Another fond memory is of saving for a holiday every month; thinking, in the beginning, that I'd never be able to hold a conversation in Italian and, by the end, with practice, being able to chat with Italians for hours about any old thing, because if you don't know something, they help you and if not, you'll help them. Also the having an ice cream, be it winter, summer or spring; the going around the streets in soaking wet trousers, sloshing around trying to find somewhere to get out of the downpour that happened in the city everyday from two until three pm.
Rome is a chaotic city, living there for a year is a magical experience: it's a city of contradictions, so sometimes you hate it and you'll go through some awful times there because of thefts, because of the bureaucracy or the way people behave there. But whenever I think of Rome, I can't help but smile, because of all the times it's made me laugh, stressed me out, made me act like a child, let me enjoy the sun in Villa Borghese, because I learned to take notes in Italian, to get to class, even when metro isn't running, half an hour early and to go days without sleep because of the parties Italians would throw in my flat.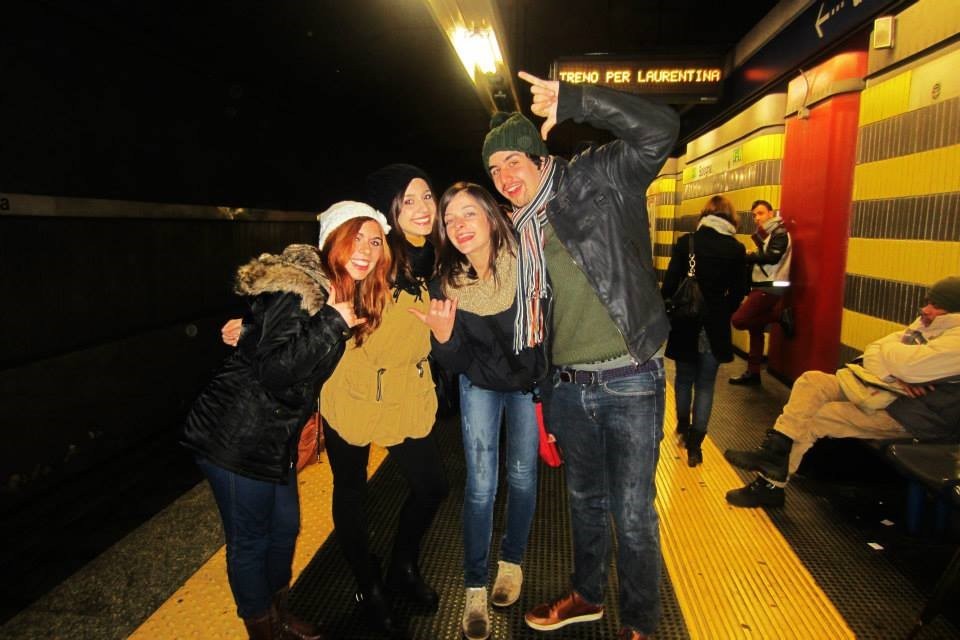 It's an experience that teaches you to value the little things, like the company of very special people when you find yourself in a city like this on your own - for me they were my boyfriend and my best friends. You realise that you really miss salmorejo, stews in winter and, especially, good bread, Spanish omelette and Serrano ham. You learn how to save your money to get to do what you want and the value of that money, and you'll develop a lot of cunning being around Italians, because, sometimes, they know too much...
For all this and for everything I experienced living there, I hope to go back to the eternal city, to the city which is an embodiment of life itself, to the city that made me see everything from a different perspective and made me care about the things that actually matter and, above all, made me enjoy what's around me...
Goodbye forever Rome...
Lorena Martín García
Hispanic Studies
The University of Granada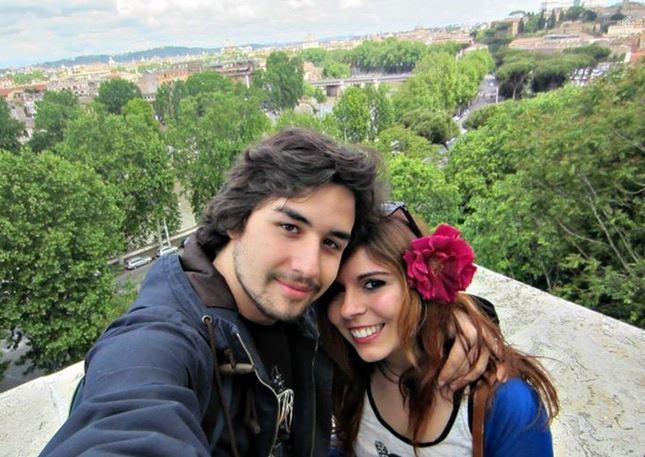 ---
Photo gallery
---
---
Content available in other languages
Share your Erasmus Experience in University of Roma 'La Sapienza'!
If you know University of Roma 'La Sapienza' as native, traveler or as exchange student... share your opinion on University of Roma 'La Sapienza'! Rate different characteristics and share your experience.
Add experience →