Surprises everywhere - that is Madeira! Part two
Surprises everywhere - that is Madeira! Part two
Two days ago, I posted an article about a few things that surprised me when I was living in Madeira. This time, I am bringing you more things from the list of Madeiran surprises. I hope it will be an interesting reading and you will find it surprising as well, if you are not from Madeira, obviously.
Dogs above your head
When you walk streets of Madeira, I bet you see some dogs. Well, you can see dogs almost everywhere, but here, I mean in Madeira, you can get pretty shocked when seeing theme. It happens so often that you just walk and suddenly a dog appears on someone's balcony or terrace and starts to bark. So in my case, I usually got shocked because at first I could not see them and did not expect them being above my head. Sometimes they run so quickly to the terrace and started to bark so loudly! Believe that some of the balconies and terraced seemed to be a dangerous place when the dogs where there.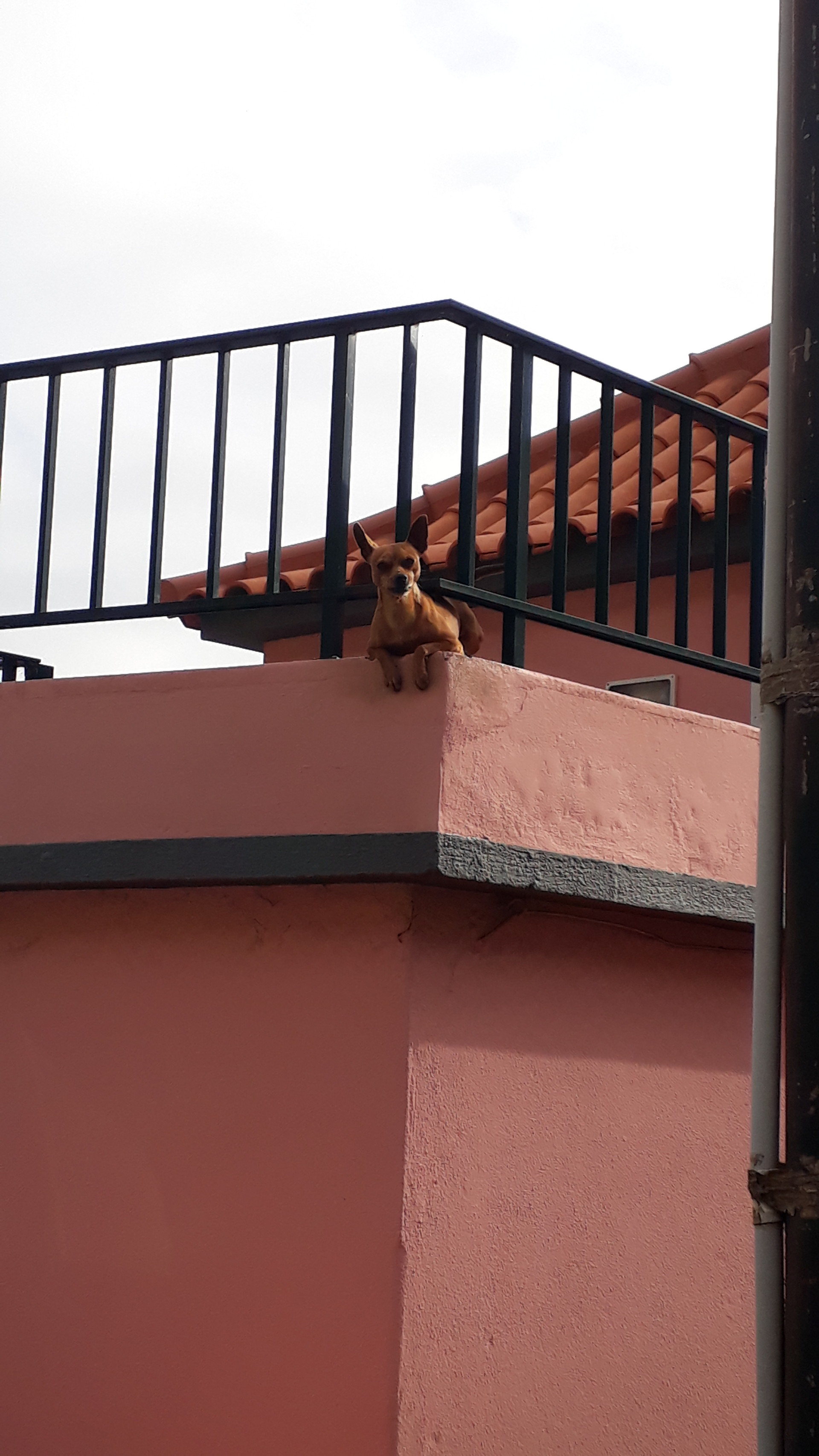 Pictures: Dog everywhere! Will it jump on my head?
Portuguese is not Spanish
Oh, honestly, I also used to think that the Spanish and Portuguese languages are  like two brothers. But when I came to Madeira, I realised immediately on the first day that it was not like that. When I read something in Portuguese, I could get a main idea of the text but when somebody started to talk to me, I was completely lost!
I was really motivated in learning Portuguese, so it went quite quickly to learn it somehow. I still do many mistakes and do not know all words and grammar, but I guess that whatever your mother tongue is, you do not know these things fully either. I mean – I am a teacher who teaches my mother tongue apart from other subjects, but there are still some things I rather check to be sure whether I am right about something or not. But let us get back to Portuguese. So I believe that the fact I knew some Spanish helped a lot when learning Portuguese when talking about learning some vocabulary and grammar rules. But it did not help at all when considering that I needed to talk to people and listen to them. That includes pronunciation and comprehension.
Oh, how many times I have heard: "So you speak Portuguese because you know some Spanish." I have to admit that I speak some Portuguese because I have spent hours practicing online, working on the Erasmus online language course , talked to the Portuguese people and was learning new vocabulary.
Spanish does not equal Portuguese. And despite of the fact the Portuguese usually understand some Spanish, the Spaniards have usually more difficulties with understanding Portuguese.
Can you hear Spanish often?
Well, as I have been told, many people left Madeira for Venezuela in the past. Venezuela is another beautiful country with an astonishing nature. It used to be very rich and that was most likely the reason for leaving Madeira. However, unfortunately, the situation in Venezuela has changed and many of its inhabitants flee. There are plenty of them in Madeira, because they still might have some relatives in Madeira.
I am not going to write about this topic to deeply because it is a very serious topic and all of my fingers are crossed for Venezuela getting better soon. I just wanted to mention that you can hear Spanish in many places in Madeira, especially in Funchal.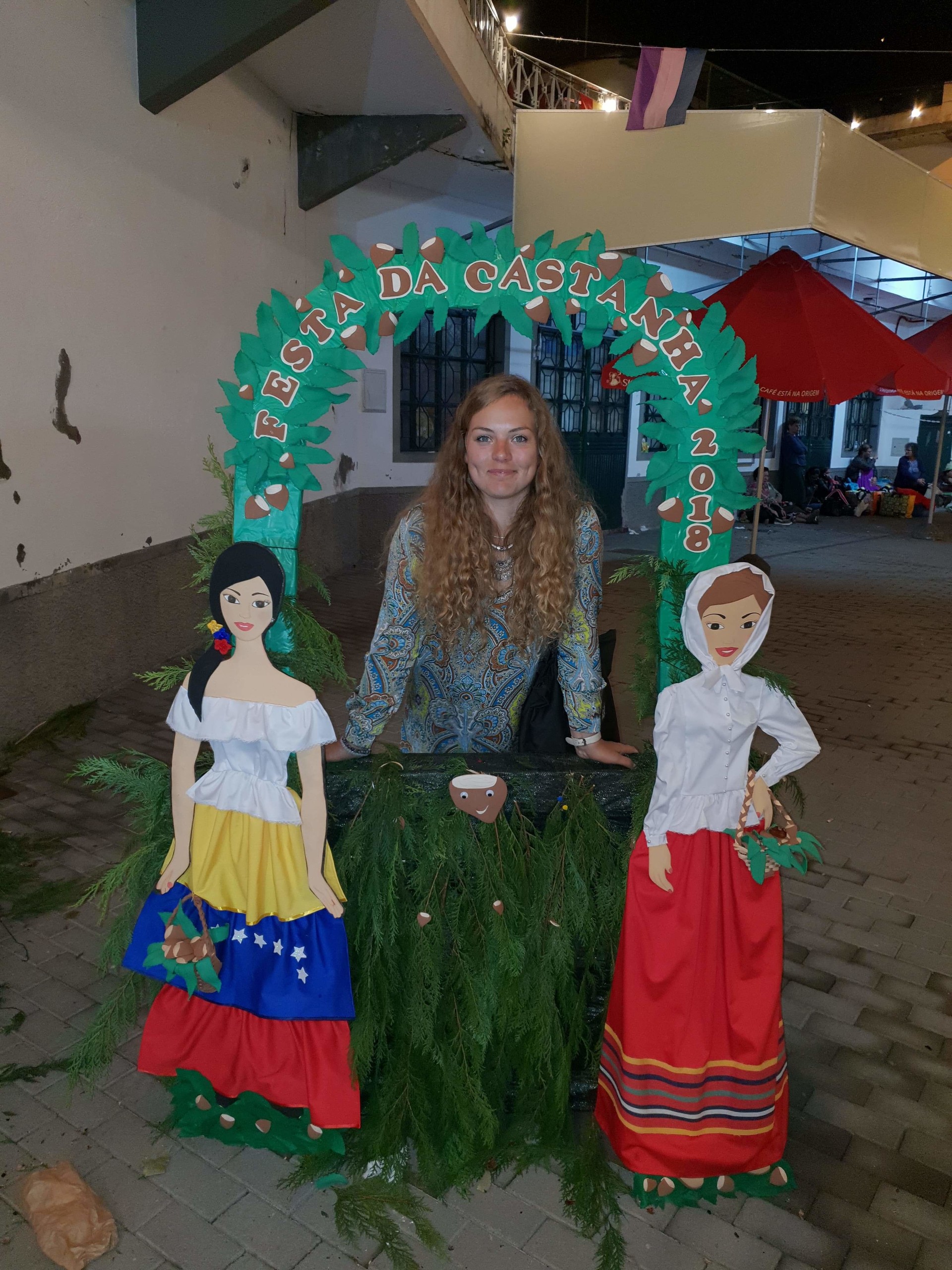 Picture: Is this not lovely? An event where decoration with a dresses from Madeira and Venezuela are together.
Festa (a party) every month
If you have been reading  my articles since the beginning of the competition, you might remember articles about Scuba Diving with sharks as well as a jeep tour. These activities were part of the Nature Festival. That was not the only festival which happens in Madeira during the year. I mentioned in the section about Portuguese people that it seems they like partying and celebrations.
Imagine, they organise a special event probably every month. But I am not talking about some tiny events. I mean some huge ones which are held even a week or two! So in October there is this huge Nature Festival, in November Halloween, in December there are many parties in streets of Funchal and other towns and villages , because of Noite de Mercado (the Night of a Market). And of course, there are the morning "parties" in front of churches after a really early morning mass. Then, a new year comes so it is a huge event! In January, I suggest you visiting a church on Three Kings' Day. In February, there is Dia dos Namorados (St. Valentine's Day). I, personally, celebrate the first of May, which is the day of "love" in my country, but I really got into the mood in February in Funchal. What about March? Oh, do not miss the Carnival. You will hear a song: "This is my Carnival" many times, because it will be your carnival, indeed. The carnival is a super huge and important event, I guess. Many tourist come, because it is worth seeing. Well, I could simply continue and continue... But another lovely event is also the Flower Festival.
What my point is, is that any time you go to Madeira you can experience something new, huge and beautiful. You will definitely have fun.
It is always well organised thanks to Discover Madeira and all people from Madeira or outside who support the event by participating actively or as spectators.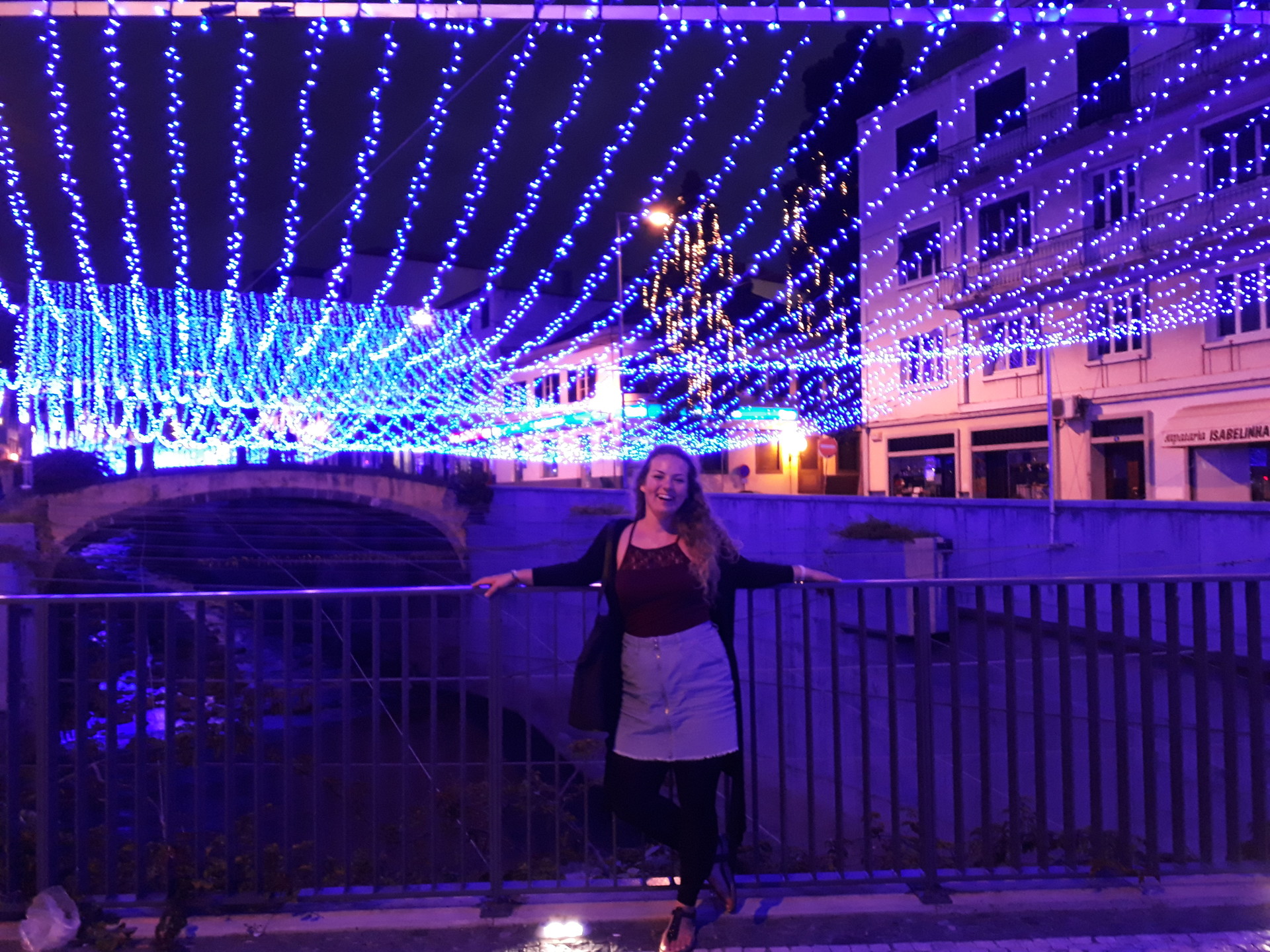 Picture: As there is always something to be celebrated, you will enjoy Funchal lit up more than once in a year. And it is so beautiful!
What is that that is going on at the university in September?
Well, I do not want to confuse you, especially if you are not from Madeira. Those who are Madeirenses, I do not want to offend you with the subtitle. I am going to write about an event that happens every year at the beginning of a new academic year at universities. I do not know whether this tradition happens everywhere in Portugal, but I know surely that it happens in Madeira.
There is the event which is called Praxe. What is that about? So every year there are new students in every faculty. They are called "caloiros". So these students from the First Year groups spend approximately two weeks obeying others from the upper years (usually from Year Two). The younger students have to do different kinds of activities during their break time, their lunch break and after school as well. Some of the activities are really funny. To give you an example, I really enjoyed watching a group which made two lines, facing each other and keeping some water in their mouth. The "leader" from Year Two was talking to them and tried saying something funny so they burst the amount of water they had in their mouth and it was burst on the person who was in front of the laughing one.
However, there were also many activities, which I did not understand at all. I mean, when I was looking at it, I just thought that this was a "legal kind of bullying" which the First Year person agreed on with the older one. I mean, what is the point of doing tens of push-ups on a stony floor? I understand going to the university in pyjama, it is something that you do not experience normally and it is kind of fun. But walking the whole day everywhere with pants on a head? Seriously, does the whole school need to see what underwear young students at UMA wear? Does the First Year really need to put something that others uses for their intimate zone (and when they fart it just goes into their underwear) on their head? By the way, did you know that the average speed of a fart getting outside to the world is approximately 3 meters per second? I learnt this in Madeira...
When I got to Madeira and started my studies at the university, I just saw other students doing many activities. I did not know what it was that they were doing. I thought it was fun at the beginning but after watching some activities that were not really nice towards the younger students, I got shocked, frankly. Though, what I like is that it is not compulsory. So, if there is a new student he or she does not have to participate. As I realised (when talking to the students who were "leaders" and who were the new ones as well), many of them simply enjoys this "tradition" even though there are always some activities which they would like to skip. And when they finish the whole process, they seem to be satisfied.
Then, they can wear special clothes and give orders the younger ones in a year after.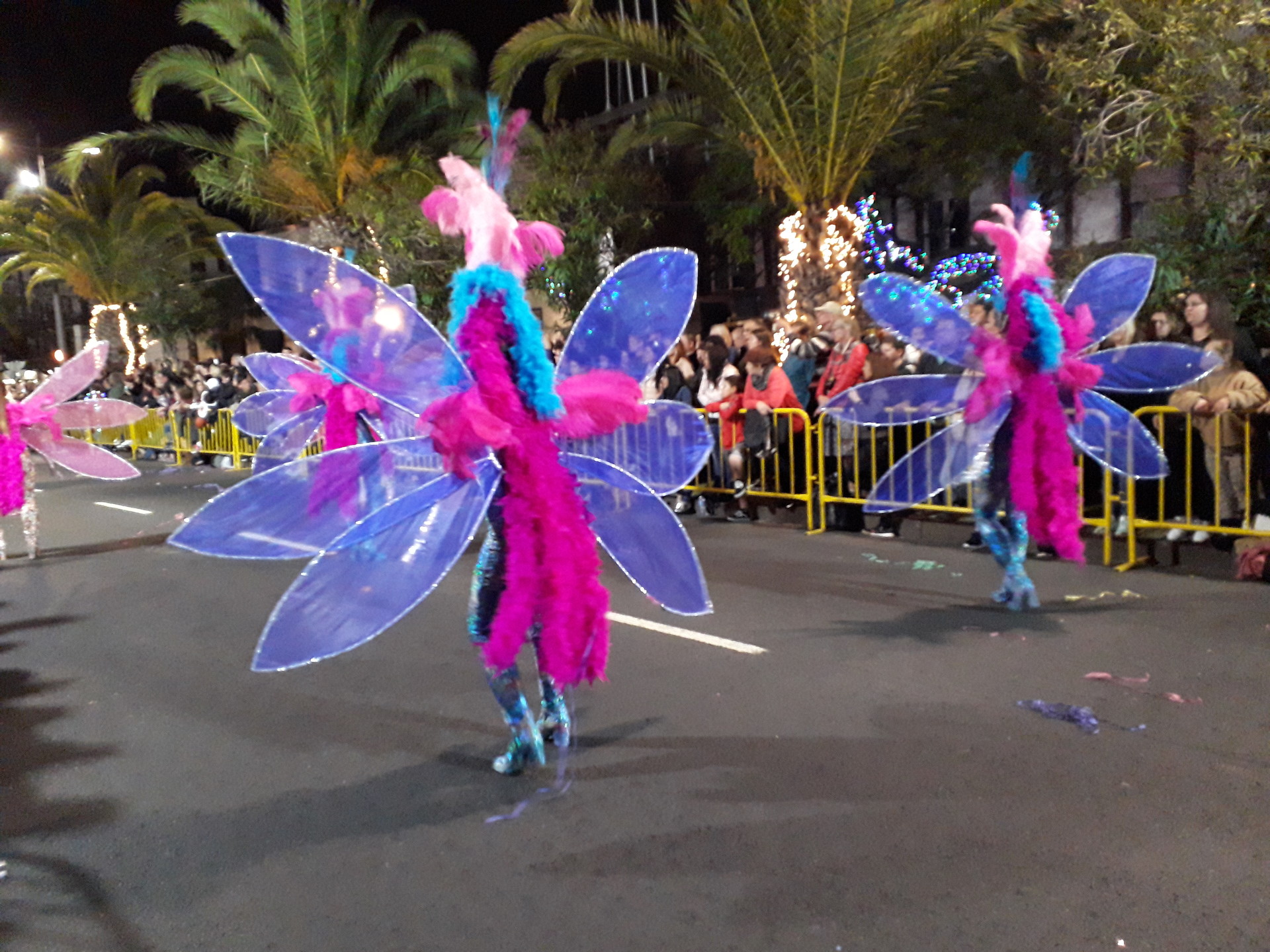 Picture: This is not the piece of clothes they would wear in a Year two. This is: "This is my Carnival..."
No more?
I have already mentioned many of things that surprised me in Madeira, but I definitely did not mentioned all. If you find these articals anyhow interesting, I might be expecting another one about the list of surprises. I am also going to talk about how I find Madeirenses and about some most important activities.
So, I am looking forward to sharing more!
---
Photo gallery
---
Want to have your own Erasmus blog?
If you are experiencing living abroad, you're an avid traveller or want to promote the city where you live... create your own blog and share your adventures!
I want to create my Erasmus blog! →