What places you have to visit in Azores (part 1)
Places that you can't miss out on visiting in Azores
Hello everyone! Today I am bringing you the third post about Azores, divided into two parts because if I don't do that, it will be too long. Also, I'll remind you that I have already written two entries about the San Miguel Island. Specifically, one about the waterfalls on the island which you can read here and another about the thermal waters which are on the island, which you can read by clicking here. However, today I want to talk to you about alol the fantastic places that I visited in Azores during February this year. As you will see, despite all of them being related to nature, each one has a certain characteristic which makes it different to the rest and so in short, Azores is a complex of multifaceted islands. Let's go!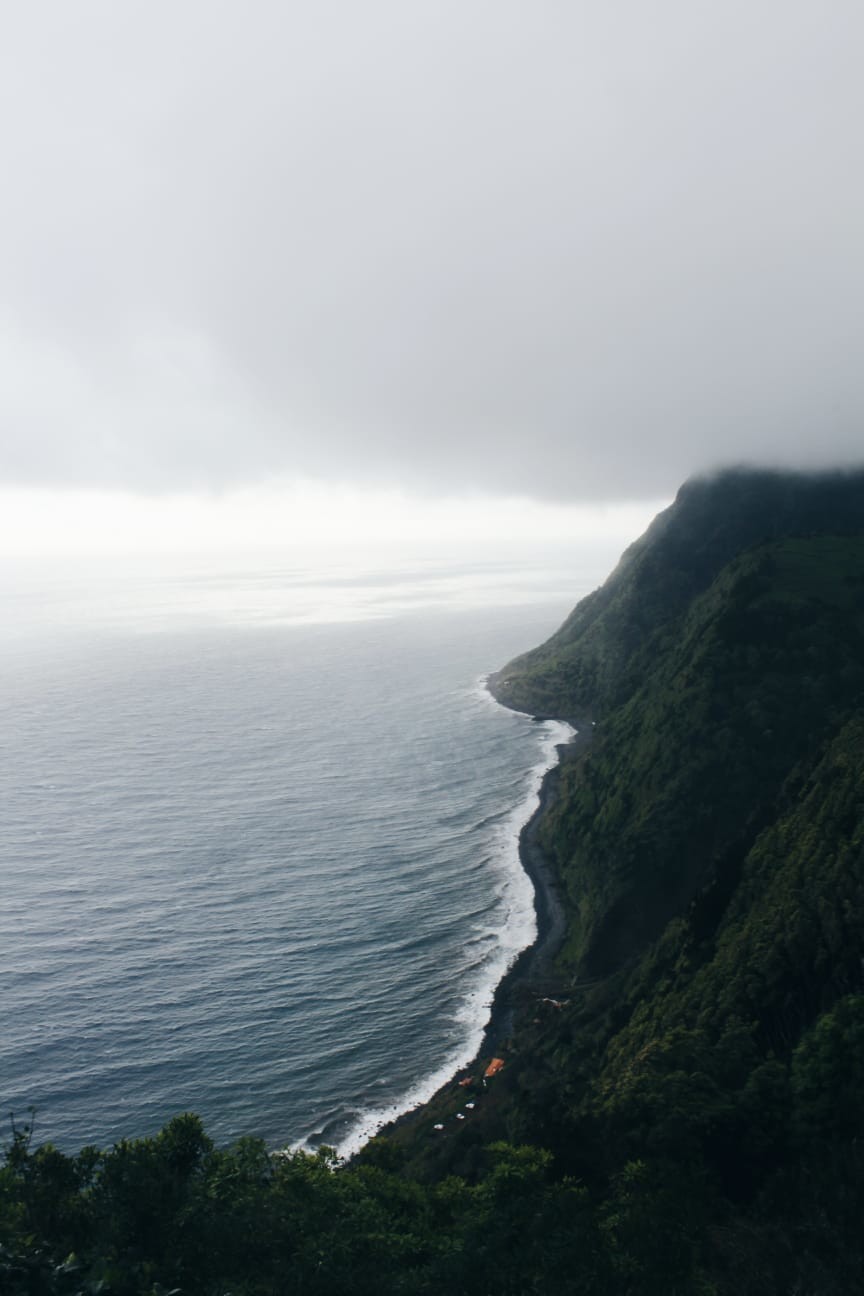 Lagoa das Sete Cidades
These two lakes are in reality just one that is split by a bridge, but from a touristic standpoint, they are better off saying that there are two. It is a very interesting geographic accident since you can find the crater of an inactive volcano. This is most definitely the most famous and touristic place in the whole island. Wherever you look up information about Azores, a photo will always come up of these two "lakes", on a clear and brilliant day, where there is not a single cloud in sight. Our reality was quite different. We had high expectations for this place, but the 8 days that we stayed on San Miguel, every single one, the weather was cloudy on this part of the island and we weren't able to see the lake completely. It was such a disappointment. However, the day that we decided to visit it, we tried to completely make the most of it. Later, I will explain why.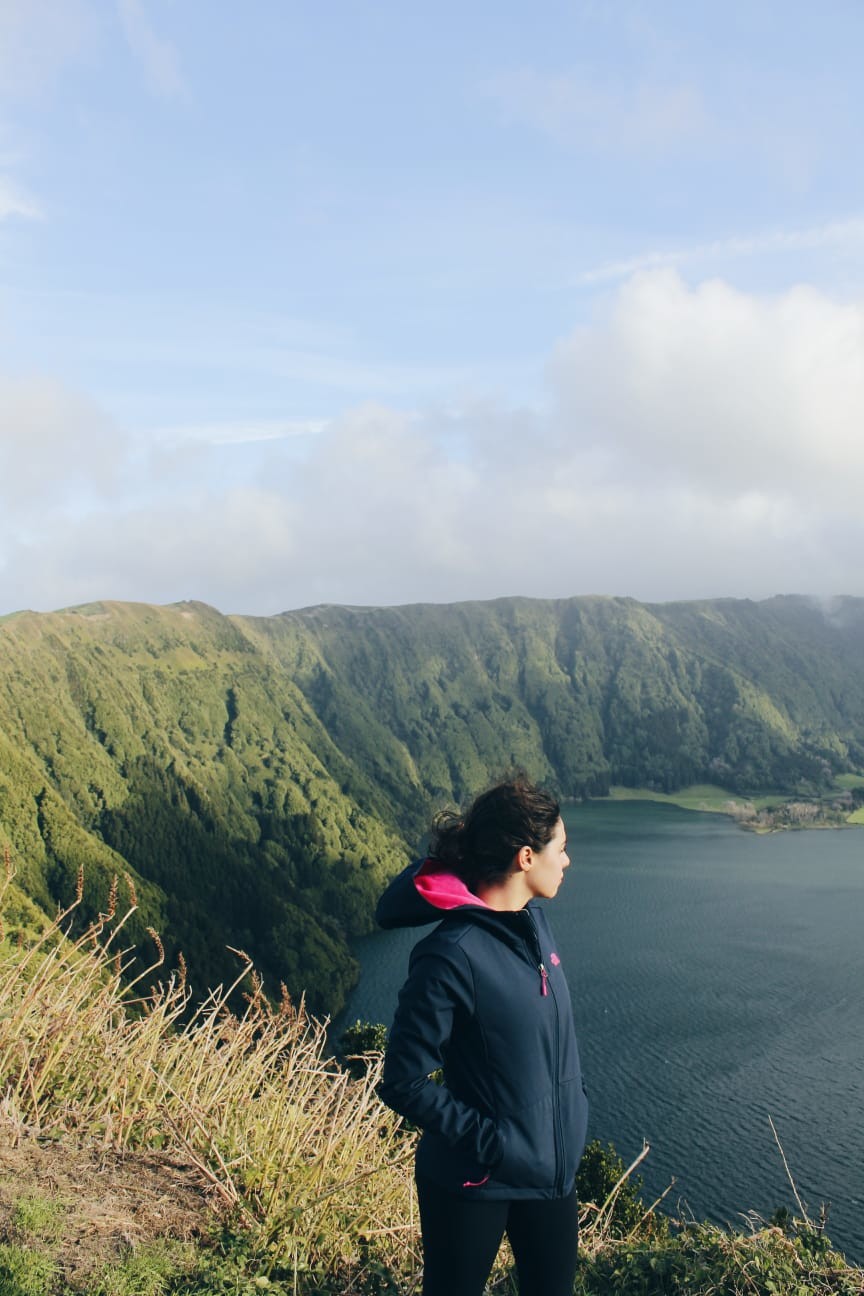 The most famous place, where you can find a route surrounded by wooden posts and a valley is called Boca do Inferno viewpoint. Right here, there is an abandoned hotels which you can see the two lakes from. Unfortunately, it is quite high in respect to the sea level and as it was February, the weather wasn't ideal so the highest part of the lake was always covered by fog. We went to the highest part and the only thing that we could see below was the fog. So, we had gone by car along the whole route on the motorway, to get higher and not be able to see anything.
Fortunately, we were lucky enough to come across a girl (who ended up being from Pontevedra, where we had lived for our whole lives, it's a small world!) and her Italian boyfriend told us that on the other part of the lake there were good views and it was sunny. They recommended us to go there because they said it was very pretty and they were right. We got in the car, went the whole way back and went to the other part. We parked on a road full of earth and stones and started walking. We walked for an hour and a bit just to get there, and we could see this part of the lake from there. I don't know how great the other part would be, the more well-known bit, but I liked this side a lot. I will leave the photos for you here.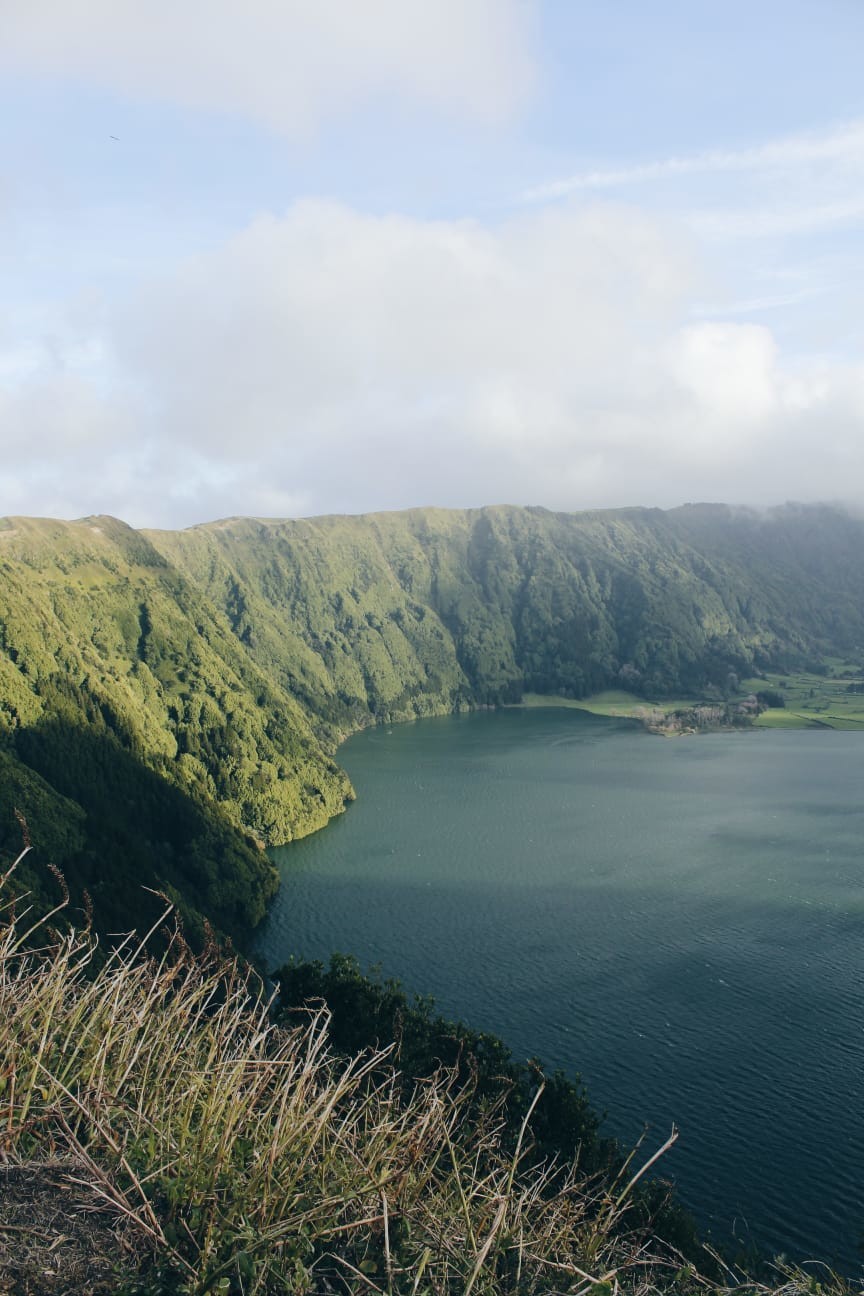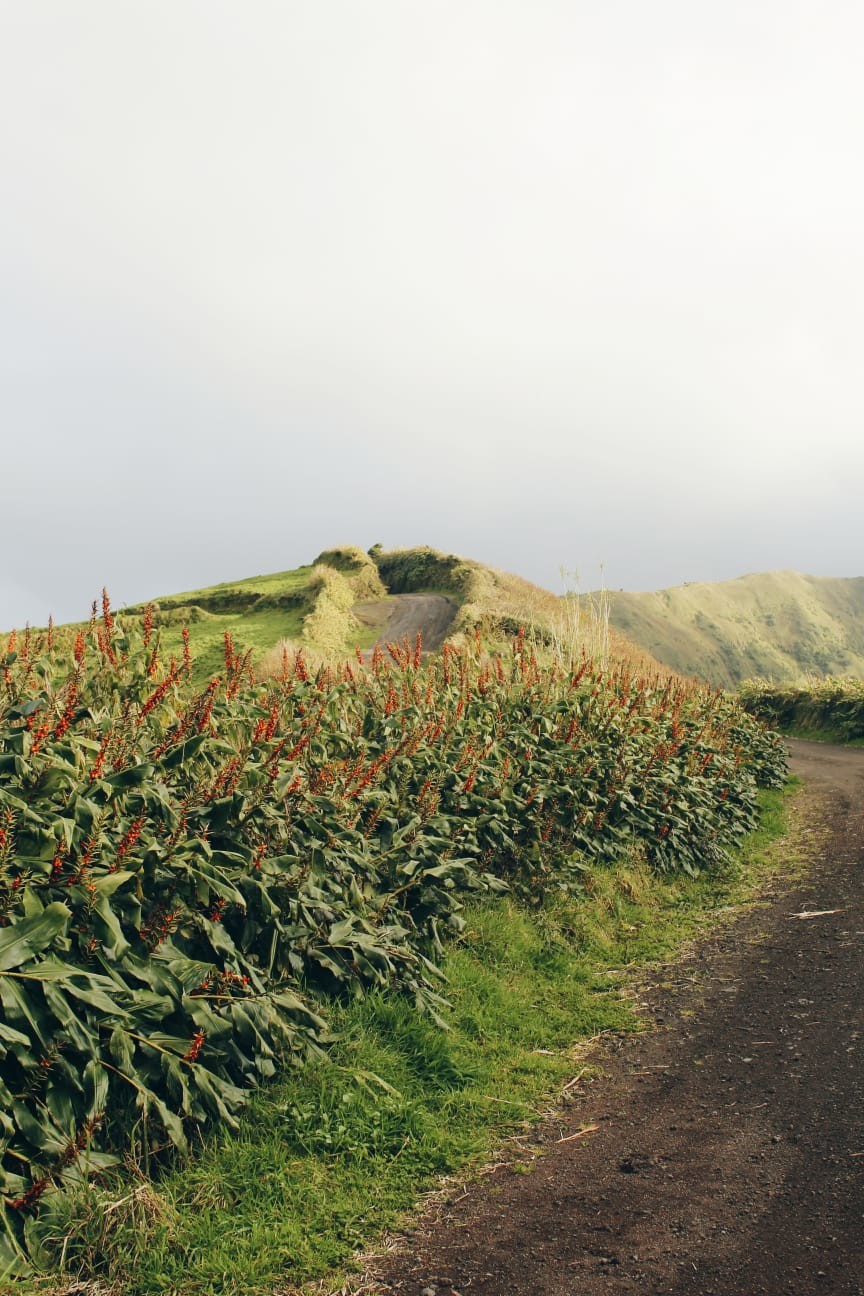 Also, from here you could also see the sea, since this place was very close to the coast. It was beautiful to be able to see the lake on one side and the sea on the other. In conclusion, even though we couldn't see what was in theory the best part of the Sete Cidades, we liked this other place a lot. The nature is really green and it stands out with its intensely orange-coloured flowers and the blue of the lakes.
Other famous viewpoints in the Sete Cidades are the Cerrado das Freiras viewpoint and the Lagoa de Santiago viewpoint. We were able to see the last one, since it is located on the road which leads to the Boca do Inferno viewpoint, so we stopped there on the way. It is strange, but nothing compared with what we could see from the bit where the sun shone. If you have time, you could go past here. If not, you won't miss out on anything groundbreaking.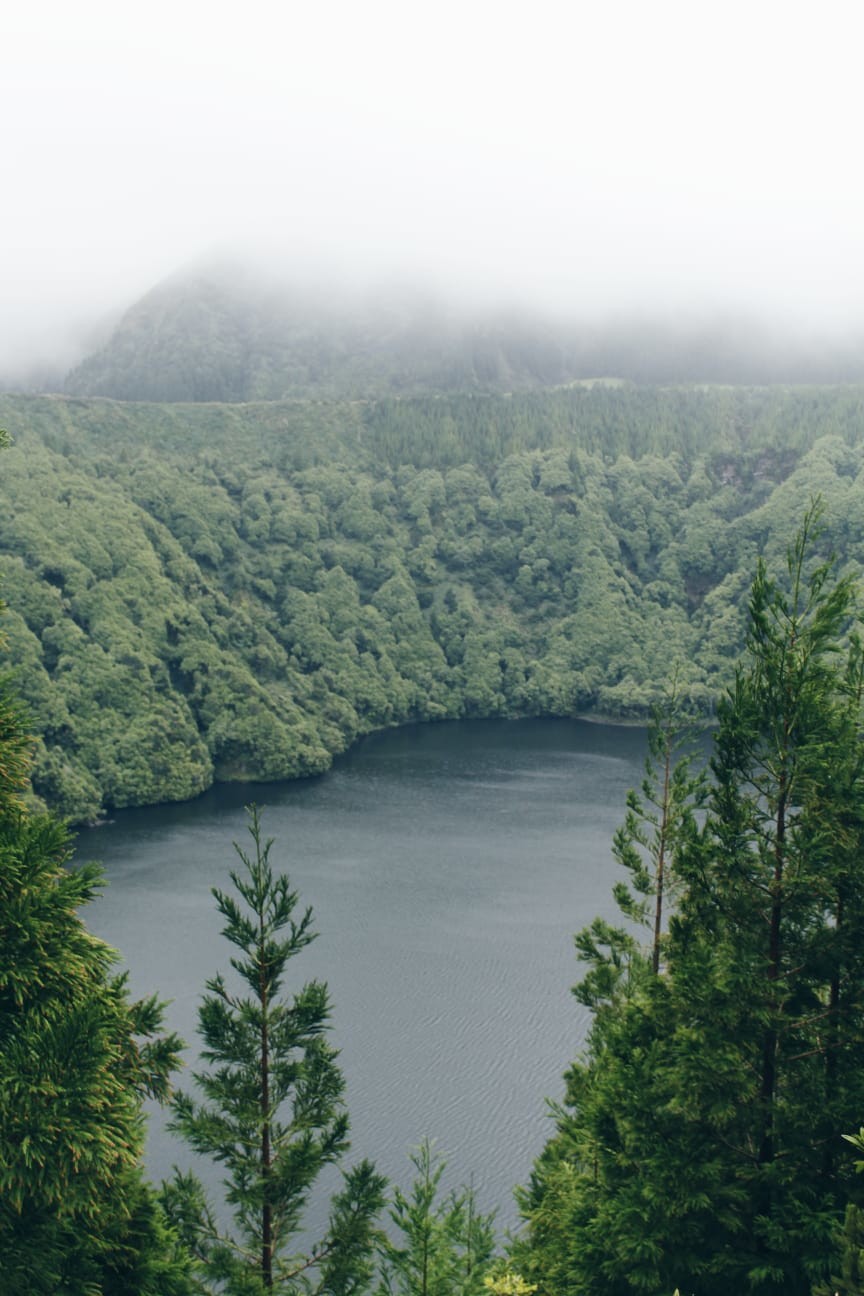 After, we made our way back and we went to that kind of bridge which split the lake into two. We also took this photo on a kind of walkway which went over the water. Right when we were on top of the bridge, suddenly a really strong wind came out of nowhere and almost blew us into the water. The bridge is very narrow so we didn't have much space. These sudden atmospheric changes are very typical of these islands.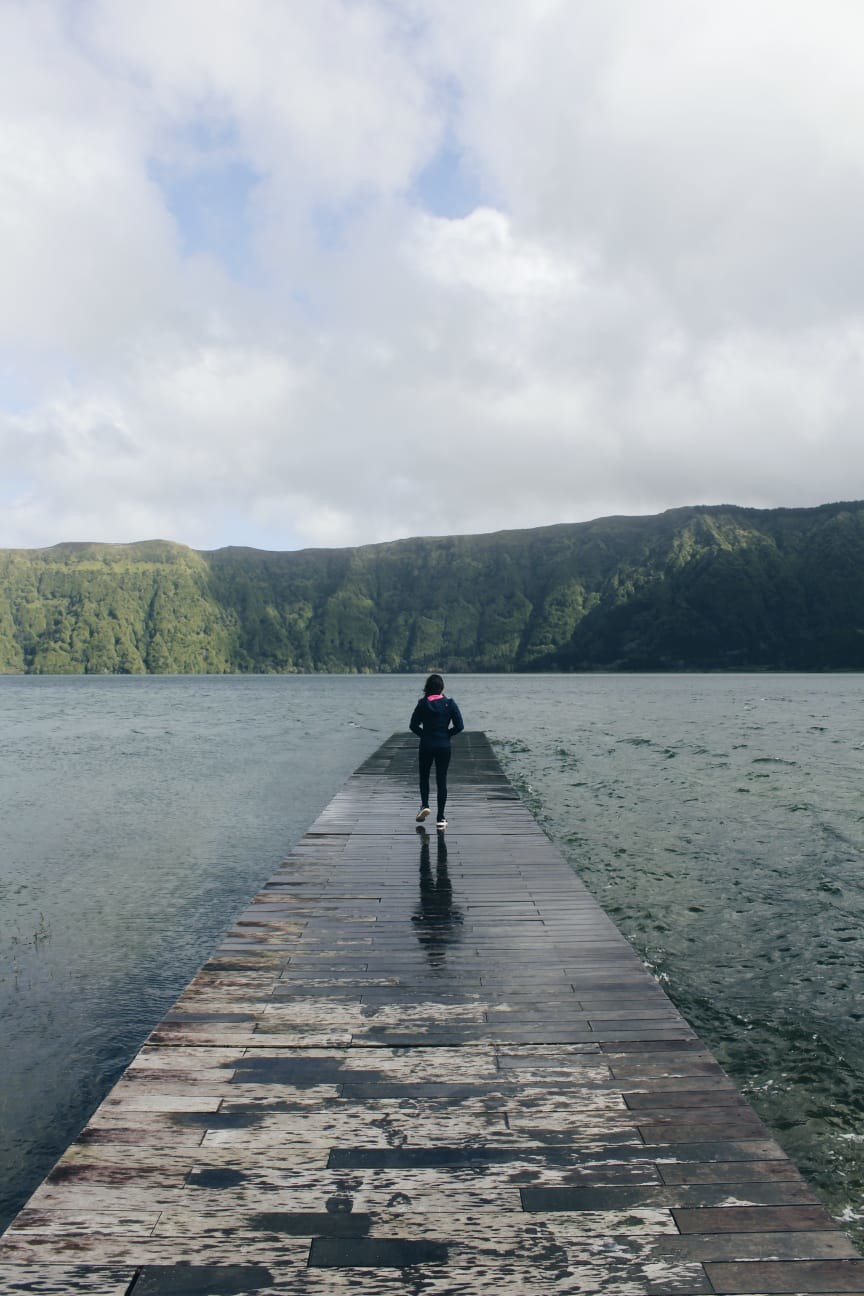 After, we felt tired so we decided to have a coffee in a restaurant that was nearby. To be honest, despite being the most frequented place on the island, being February it didn't feel like we were crowded in by people at all. We could basically walk alone for a big part of the route.
As a conclusion, despite us not being able to see anything from the Boca do Inferno viewpoint, we could from the other part of the caldera, and this was worthwhile. Thus, you can't miss out on visiting this place.
Furnas
It is another very well-known area in the island. Here, there are so many things to do, from going to the Terra Nostra park or Poca da Dona Beija to relax in their thermal waters, eat their famous stew or admire the fumaroles.
We liked the fumaroles the most We parked the car in the centre, we were fortunate enough to find a free car-park. As soon as we got out of the car, we smelt that characteristic smell of rotten eggs, also known as sulfur. In this area, there are small geysers and you can really see how the water boils. There are signs everywhere with the precautions you should take being nearby to these waters which have such high temperatures, at boiling point. What surprised me about this place is that it was very near to the little houses in this area. In fact, the San Miguel locals walked through here like it was nothing. For the tourists who visit San Miguel, the fumaroles are very impressive, something that you see once in a lifetime. However, for these locals, the fumaroles are something that form part of their day to day life since forever and are probably not anything too special.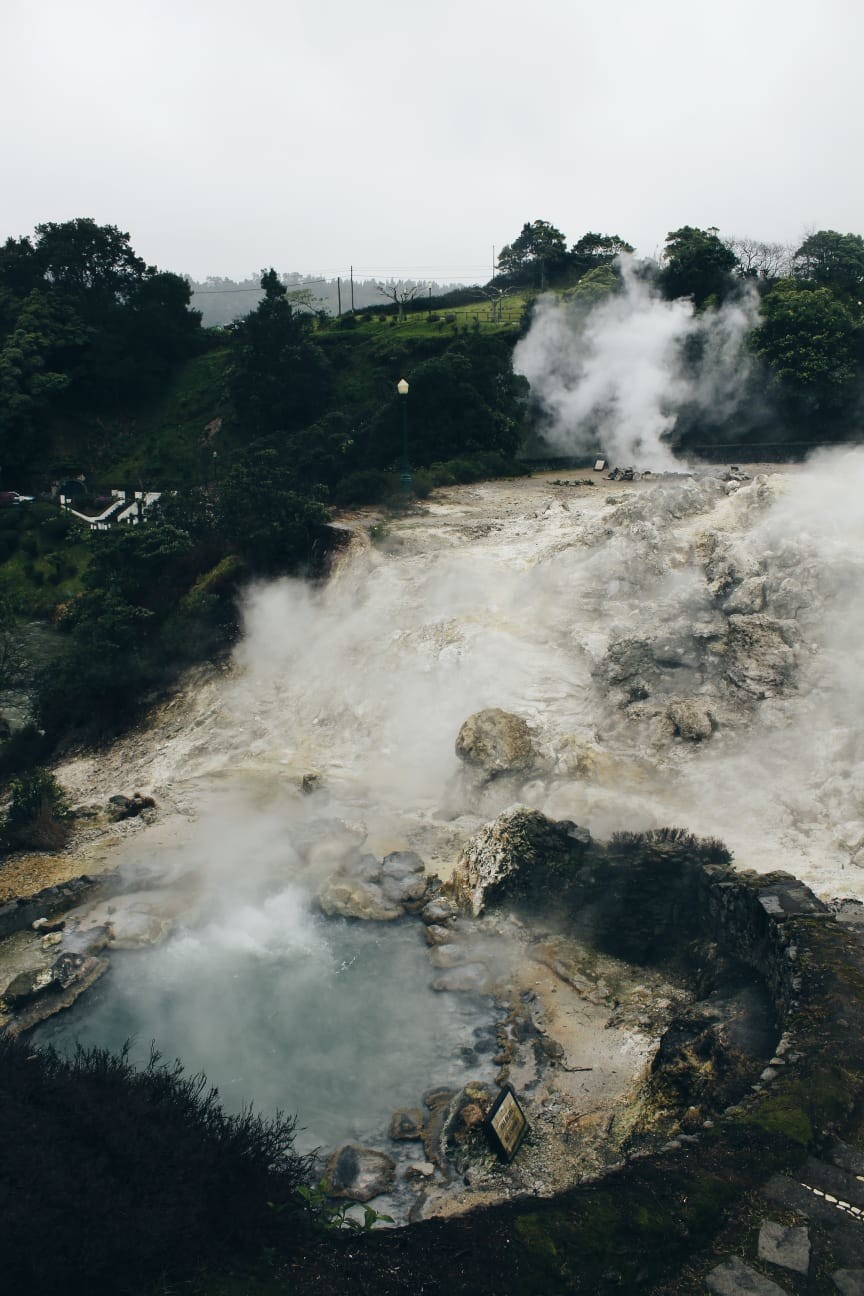 What is interesting about this place, that I mentioned previously, is that its stew is cooked underground due to the high temperatures that exist. You put the pot inside a caldera (which functions as a volcanic oven) underground and you cook it from 5 or 6am, for about 6 hours and very slowly. The hole where it is gets covered up with ground again and after, they take it off and take the dish straight out. In terms of the stew itself and the ingredients, it is similar to the one from Galicia and not the version from Madrid, as it doesn't contain chickpeas. They serve this stew in all of the restaurants in the area. We went to one that was in the area and on all of the tables it was the star dish, nobody missed out on having it.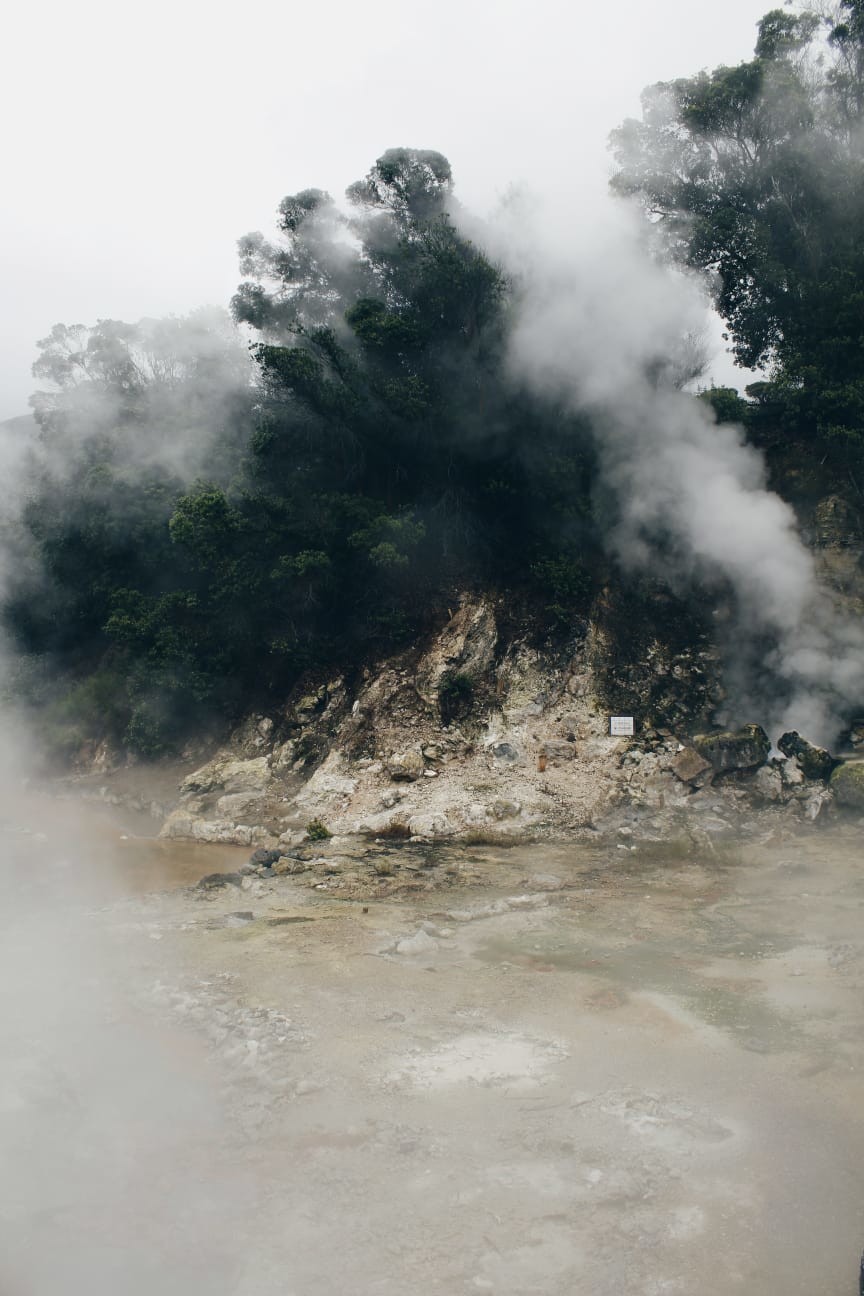 We spent a decent amount of time there, until we went to a very pretty garden, with different arabesques, plants and all kinds of flowers, from where we could see the mountainsides full of cows. I honestly loved Furnas. It's a must visit.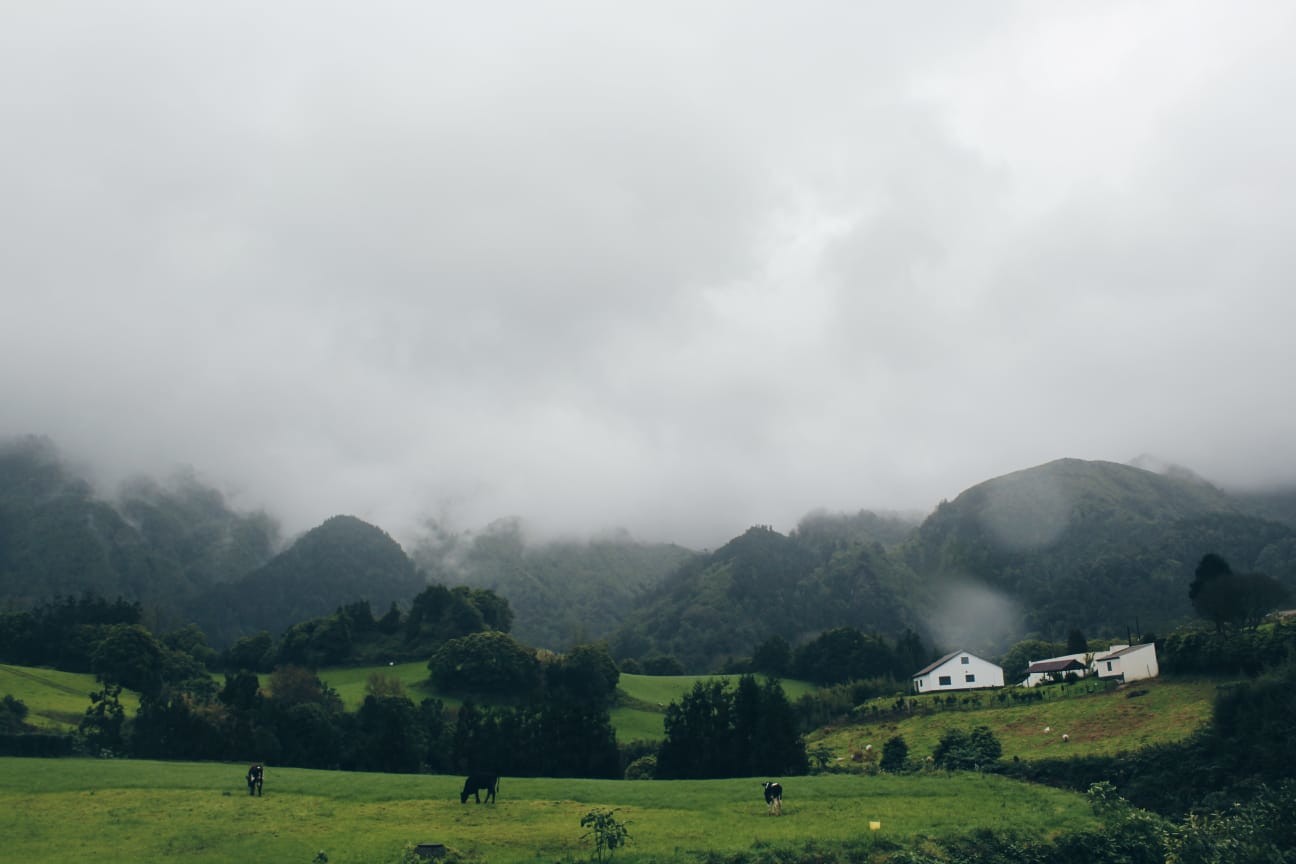 Lagoa de Furnas
Very close-by, there is another famous lake. It is called Lagoa de Furnas and the strange thing is that it has a cathedral, it is small and simple, but it is really eye-catching in the middle of this panoramic scene of nature. There is also an area with small geysers and fumaroles. We wanted to do some hiking routes but once again the weather wasn't on our side, so we decided it wasn't worth going on a walk to only be able to see fog and not have a complete view of the lake. Most definitely, even though travelling in low season has its advantages, being February, aka rainy season, you can end up missing out on seeing very pretty places like these ones. You can't have everything.
Ribeira Grande
It is a small town with little typical Portuguese houses. We ate there, in a random restaurant. To be honest, I don't have any special recommendations for restaurants. The food is more or less the same, in terms of price and quantity, at all of them. Homemade food or typical Portuguese. Rice, potatoes, meat, fish and vegetables. Quite basically and very good, in general. I think that wherever you go, opt for this if you like this kind of food and don't look for anything sophisticated. The prices were quite good. Not as cheap as in the peninsula, but nothing ridiculous.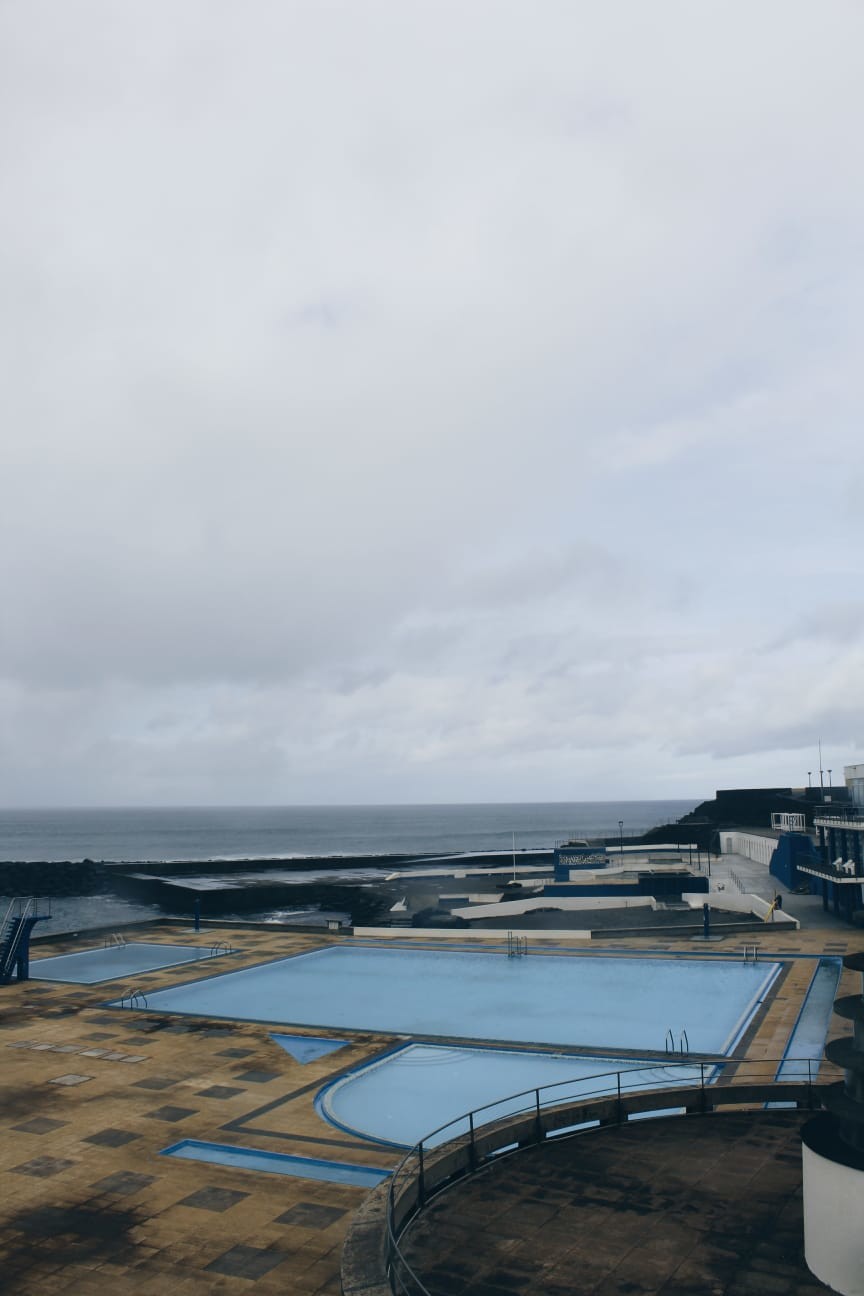 In Ribeira Grande there are some quite pretty beaches, where you can go surfing, as well as some beaches which I am sure would be full of people in the summer. Here is a photo of these waves. Right when it had started to rain so we went running to the restaurant.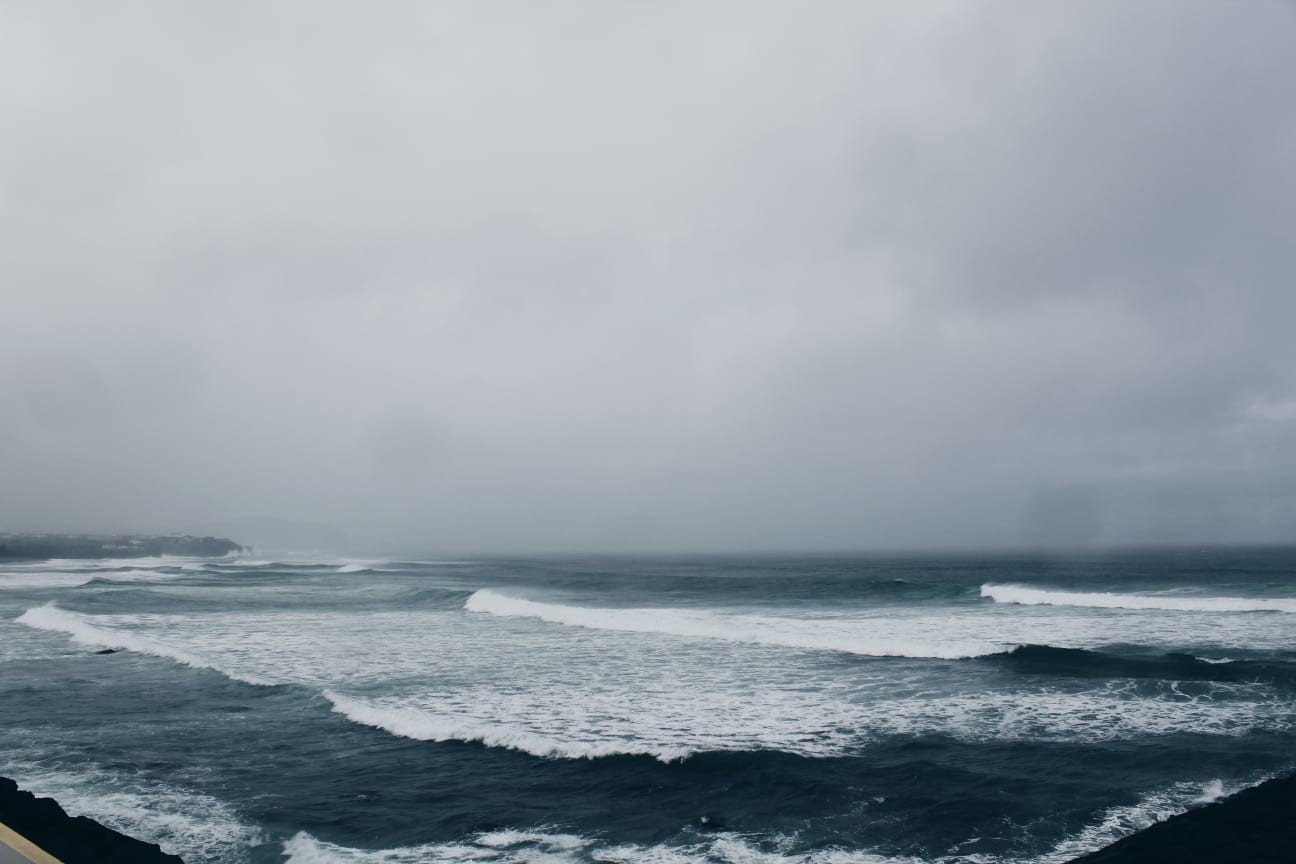 Vigia da Baleia
If you don't know, the Azores islands are quite famous since, being in the middle of the Mediterranean, you can find the largest marine mammal in the world in its waters: the whale. In summer, lots of people do boat tours to be able to see them and the dolphins. When we went, they told us that it wasn't the best season to see them, so we decided to not go on a boat trip. However, we went towards this viewpoint since it offers incredible views of the island. Right here, there was a small house with a window in the shape of a small square, from which you could only see the sea. It is from here where you should be able to spot some whales, or at least their tails, but as we had expected, we didn't see get to see them.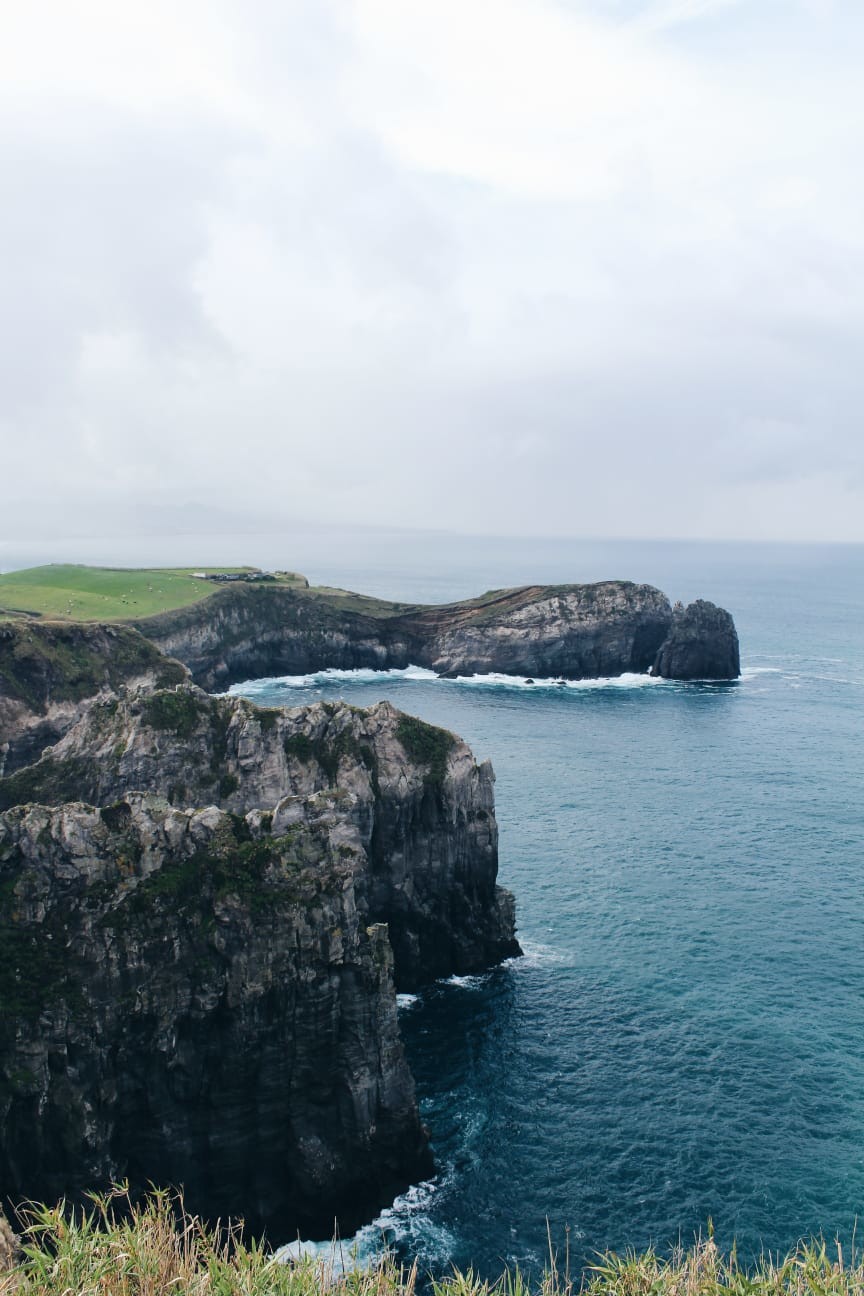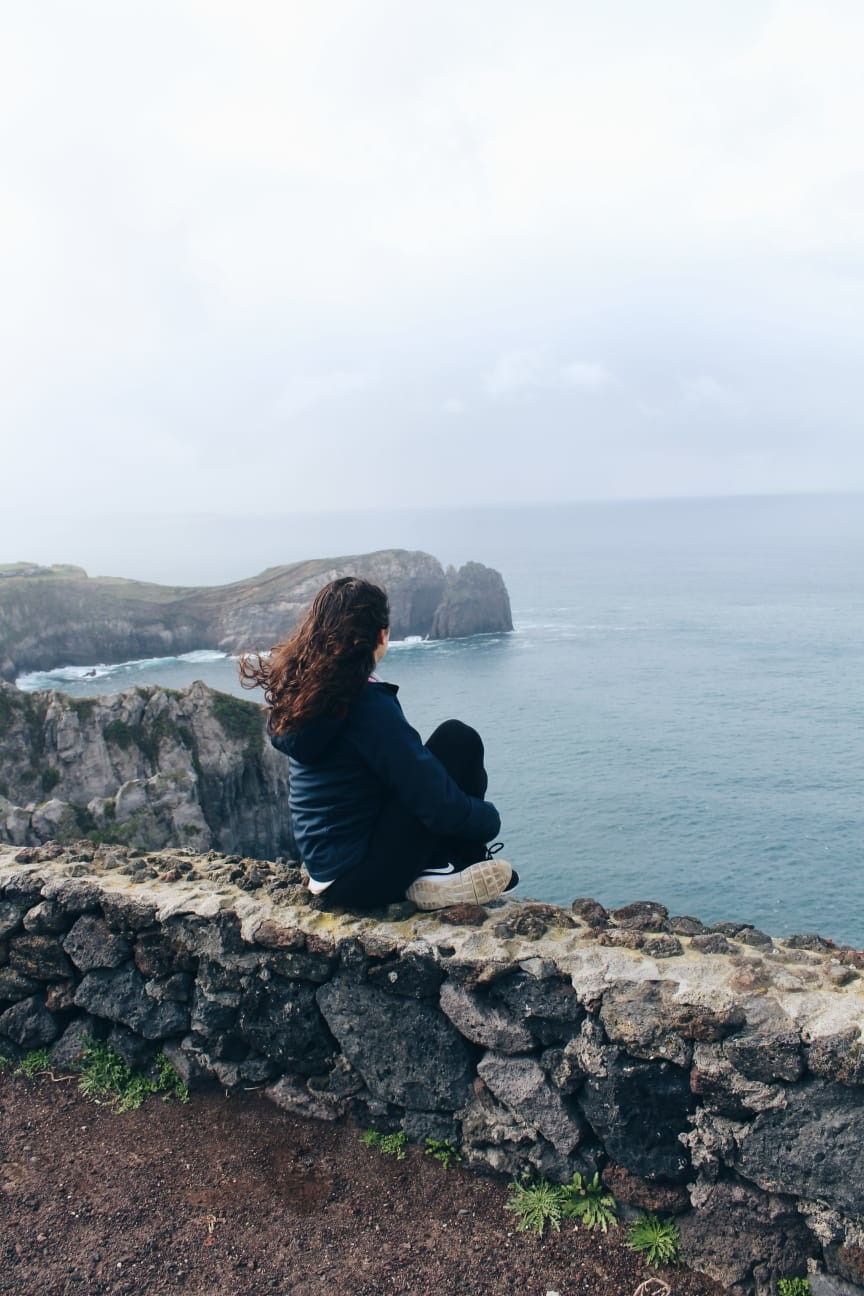 In this area, the cliffs are incredible. I'll leave you a photo so that you can judge them for yourselves. Also, right here we were able to see a complete rainbow, from start to finish. How beautiful!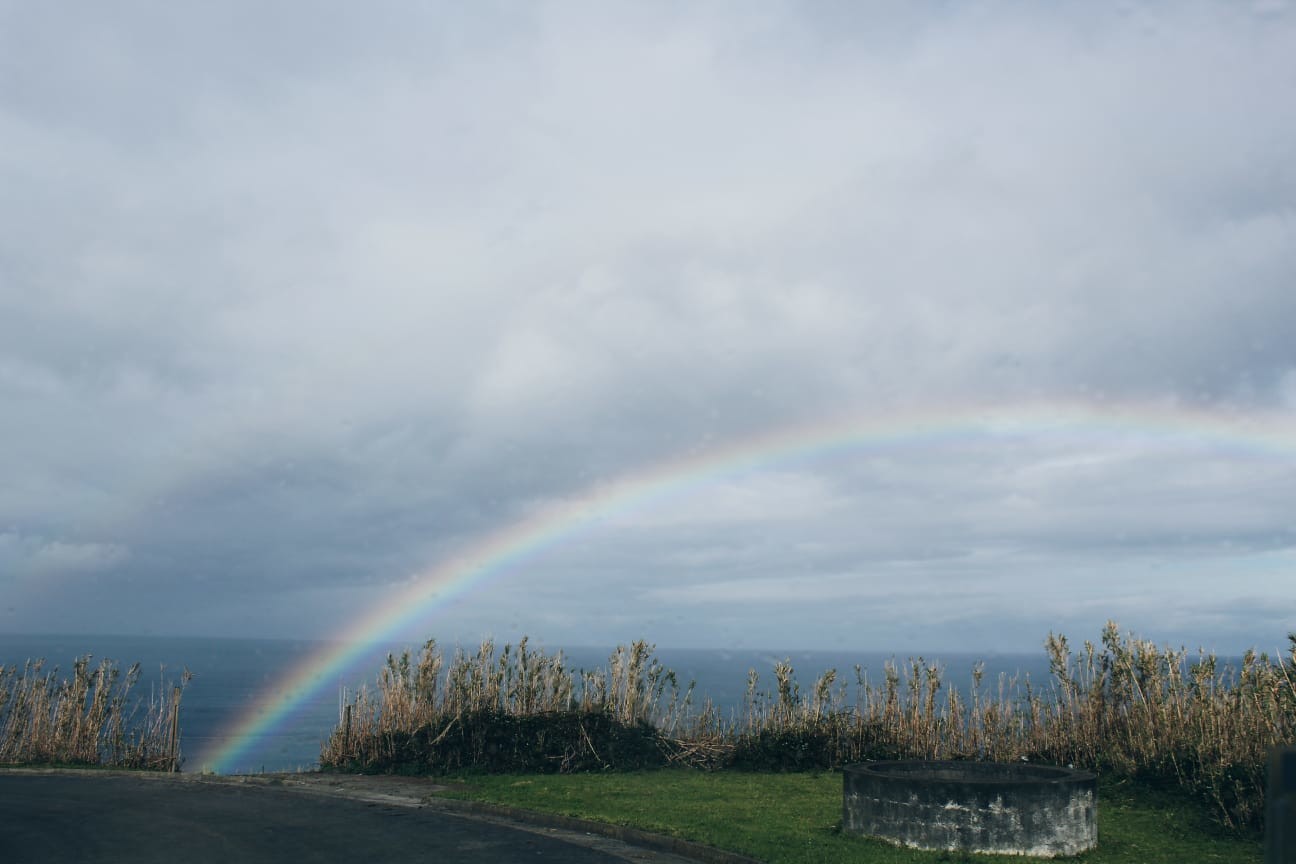 Faro Arnel and Miradouro Ponta do Sossego
This place is located in the North-East of the island. In fact, this region of San Miguel is called the North East. I liked it a lot. We visited it on the last day in the morning before going home, and it was worthwhile. To get to Faro Arnel, we had to walk downhill for 10 minutes. After, the incline was a killer since the slope was very steep. The lighthouse itself is very pretty since the cover that goes over the light is red and this colour makes it stand out against the green and blue colours of the flora and the sea. When we went, we saw that there were people inside and we thought that we could go in, but we think that these people must have had special permission or something since you weren't allowed to go in unless it was authorized.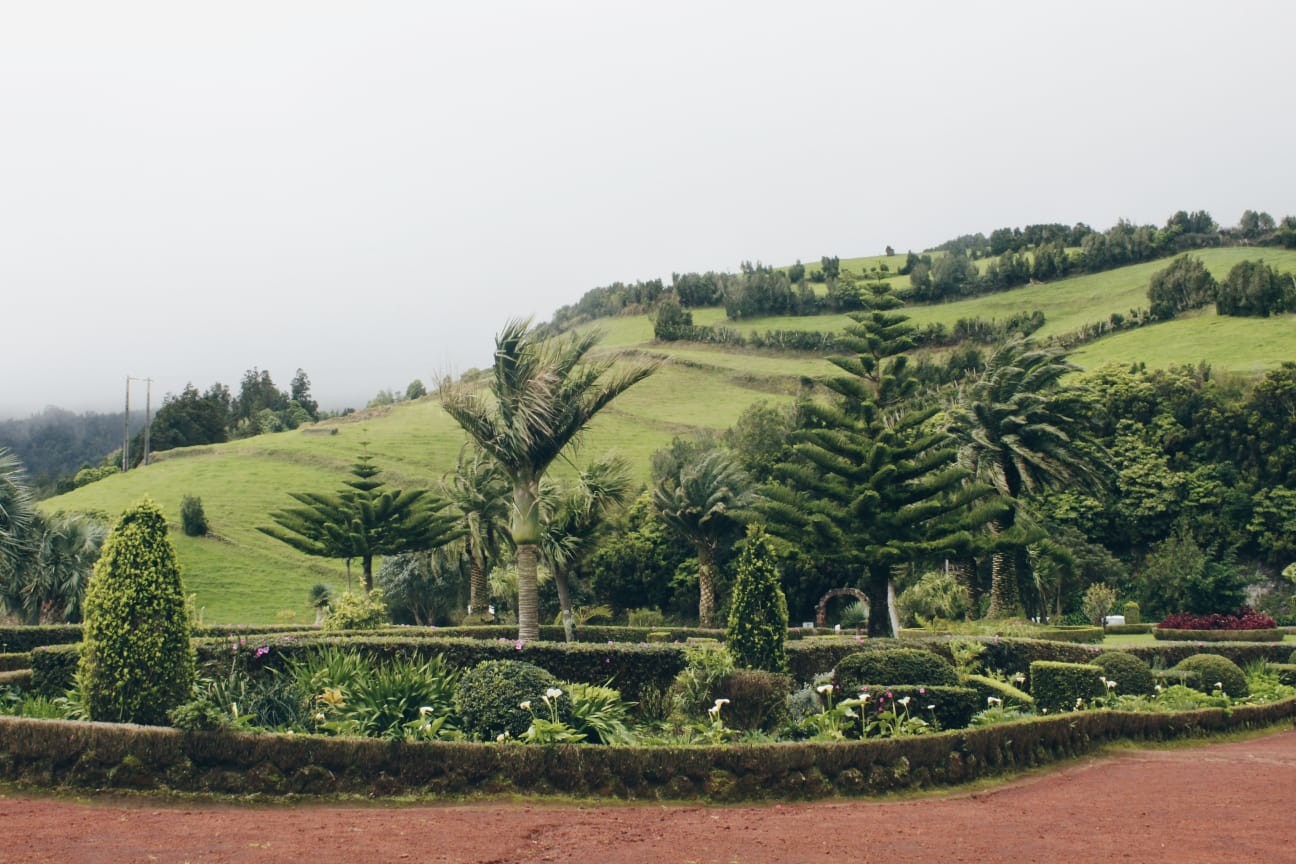 After that, we went to Ponta do Sossego where we came across a very pretty garden, with a barbecue area and stone tables and chairs to eat at. I am sure that it would have to be full of people going there in the summer to have a picnic, or grilled meat, fish or veg. The views from there were great since you could also see cliffs and even a small waterfall, if you looked hard enough.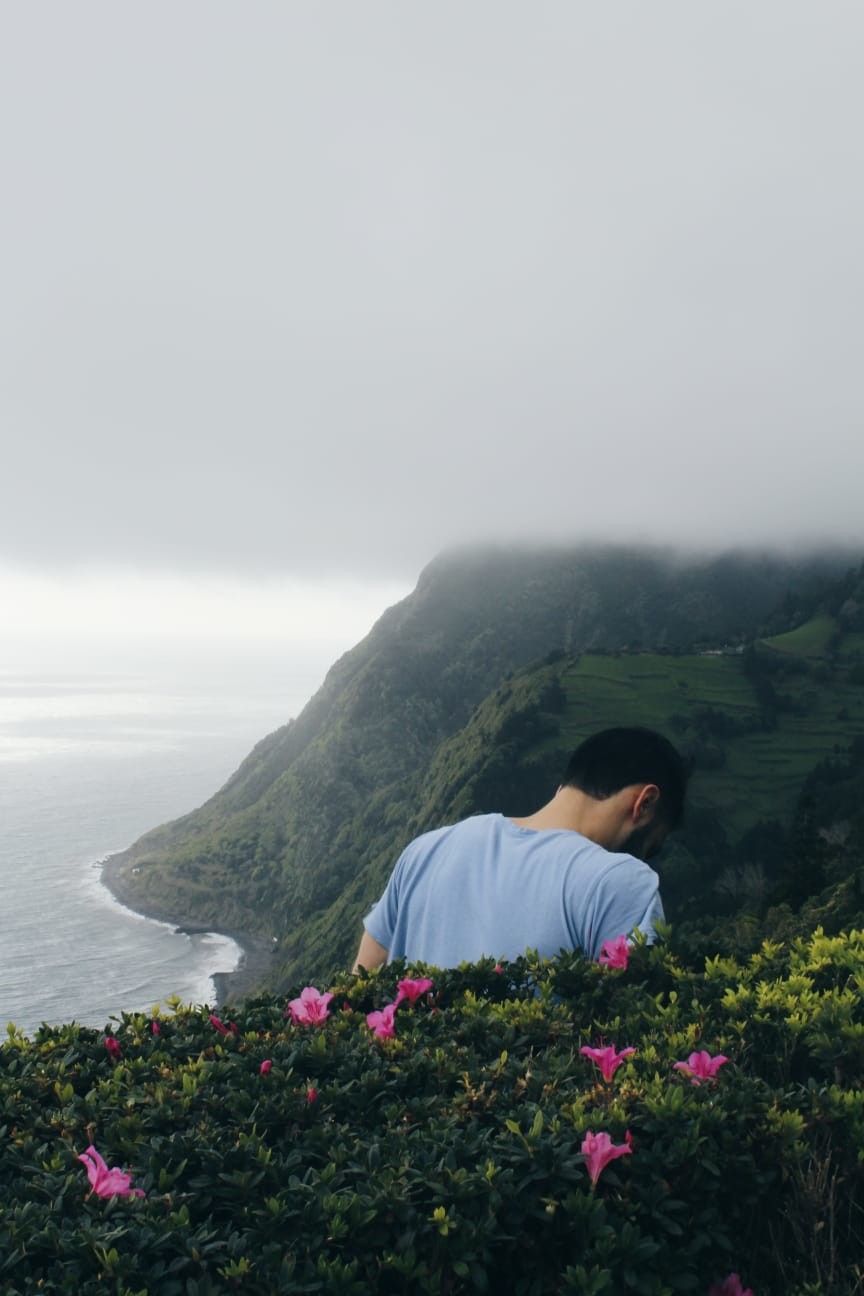 And that's it for today. I hope that you have liked hearing about these places. I try to include some places which aren't as well known in addition to the typical ones. In the next blog post, part 2, I will continue telling you about other places that you have to visit in San Miguel. I hope that you have enjoyed it, and I will see you for the next post. Thanks for reading.
---
Photo gallery
---
---
Content available in other languages
Want to have your own Erasmus blog?
If you are experiencing living abroad, you're an avid traveller or want to promote the city where you live... create your own blog and share your adventures!
I want to create my Erasmus blog! →