Azores: which thermal baths should you visit in San Miguel
Azores: which thermal baths to visit in San Miguel
Hello everyone! Today I am going to talk to you about a trip I made in February 2019. I visited the Azores Islands for 8 days and it was an incredible experience. For those who don't know, the Azores Islands are an archipelago which exists in the middle of the Atlantic Ocean and belongs to Portugal. Being in the middle of the ocean, it receives as many visitors from Europe as it does from the United States. In addition to that, as it belongs to Portugal, it is a quite cheap destination, which makes it a very attractive destination.
We decided to visit the Azores Islands because in February, we fancied visiting a place which isn't very cold and where we are able to have a dip. We knew that the sea would be cold, but we also knew that there is a high level of volcanic activity in Azores and that therefore, we would be able to find thermal baths. So in this entry, I would specifically like to talk about the four thermal waters that Angel and I visited. Specifically, we just visited the island of San Miguel, which is the most interesting and the most popular one, so that all the baths that we visited you will be able to find on this island. Here we go!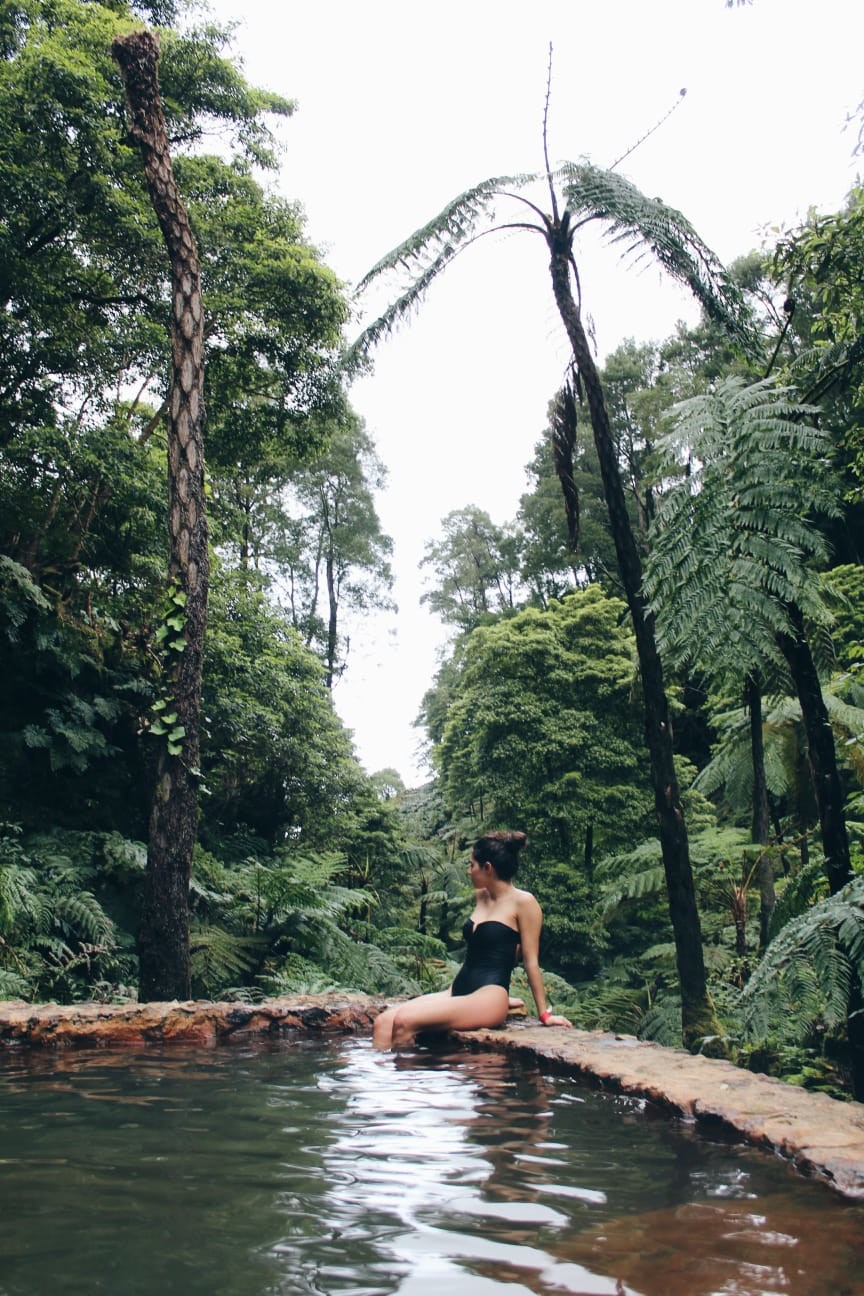 Caldeira Velha
In the order that we visited them, the first one that we went to was Caldeira Velha. Out of the four that we visited, it was the best one in my opinion. You could say that we started off strong. We went to the entrance by car that we rented and we got there before they had opened the doors. I think that it opened at 9 am so we waited right at the door, with a family that was already there, ready with their swimming costumes and towels. We could buy our entry tickets at 9 on the dot, which cost us around 9 euros I believe. From when you buy the entrance ticket, you have a maximum of two hours to enjoy this space in the middle of nature. If you want to stay for more time, you need to extend your entry, and as is logical, return to pay.
As we entered and left the hustle of the road behind, we submerged ourselves completely in a forest full of trees with different shades of green. We went to some changing rooms in the open air to put on swimming trunks and bikini. Once we had got changed, we could see the different places there were to go for a dip. There were several pools, all with different temperatures. We tried any one of them and the truth is that the water was super warm, but at the first moment it was very welcome because as it was February, the temperature outside of the water was quite cold. We stayed there for a decent amount of time in the one that I will show you next, enjoying the warm water and the environment, completely surrounded by trees, plants and giant ferns. There was barely anybody there because it was super early, so we were able to relax and enjoy this place.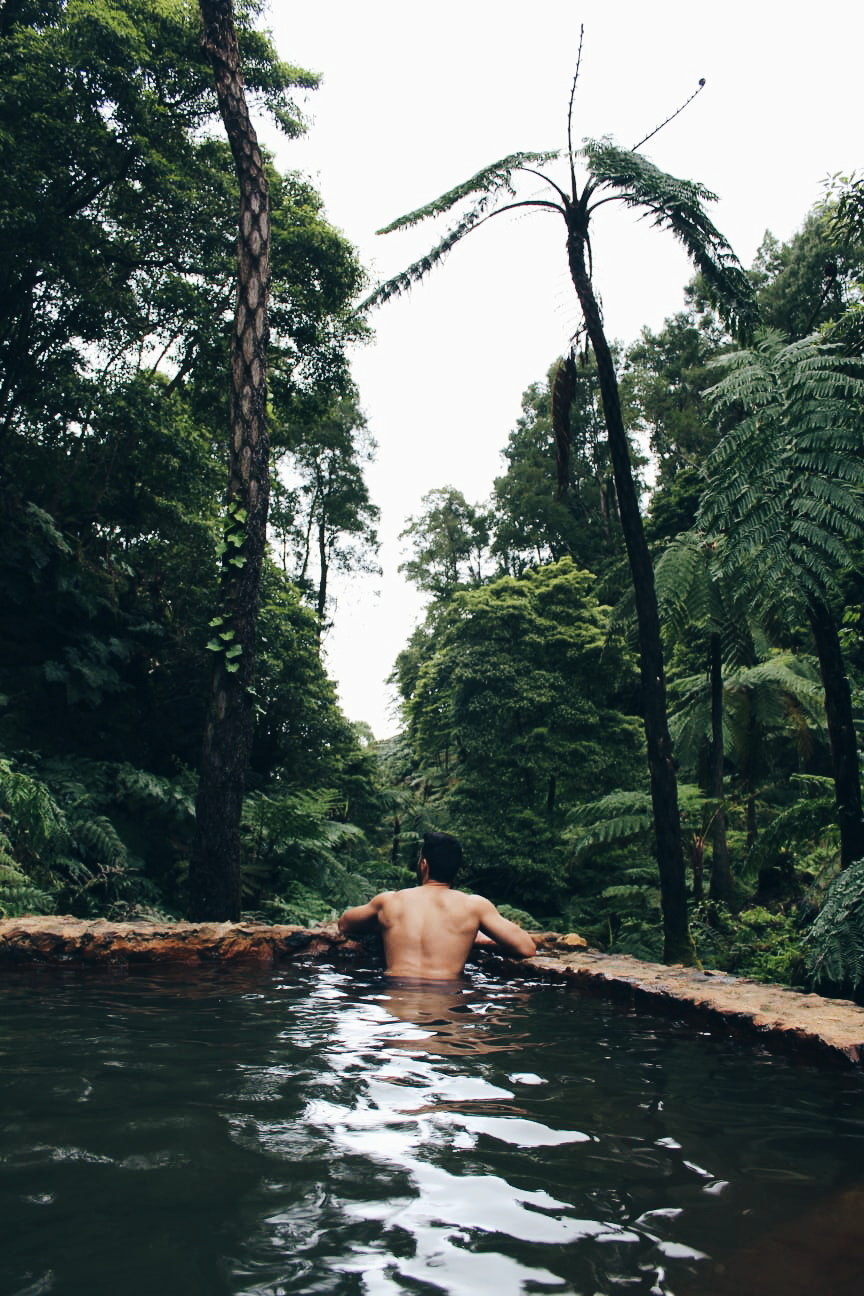 After, we tried different pools but the water wasn't as warm as in the other one, but we still enjoyed them all the same. Specifically, the water of one of the thermal pools that had a small waterfall was cold, I don't know why. On the other hand, there were also other areas where you could see how the water came out boiling from inside the earth, with signs around it warning you that it was 100 degrees Celsius and how it is dangerous to get too close. We were exploring the area, with our towels in our hands and our flip flops on, until we decided to go back to the first pool because it was the one that we liked the most.
A piece of advice that I would give you is that you shouldn't wear light coloured bikinis or swimming costumes because the walls give off iron, which is orange coloured, so if you rub against it, your clothes will get stained. In fact, I had parts of my body which were completely orange from leaning against the walls. This is why I wore my black swimsuit.
When our two hours came to an end, we changed our clothes and went, since we needed to continue on with our route. I have to say that two hours in these thermal waters is enough, since there came a time where I basically felt like a poached egg from how hot it was and I needed to get out of the water because of how warm it was, in addition to the fact that my skin started to get wrinkly all over.
In short, you have to visit the Caldeira Velha hot springs no matter what. I can't imagine what it would be like in the summer, because with more heat, the springs lose their charm if the outside heat is high. Saying that, I think it is worthwhile visiting them because the natural environment is simply incredible. You are in the middle of the forest, enjoying the sounds of nature. Here I will leave you this photo that we took here, that I love.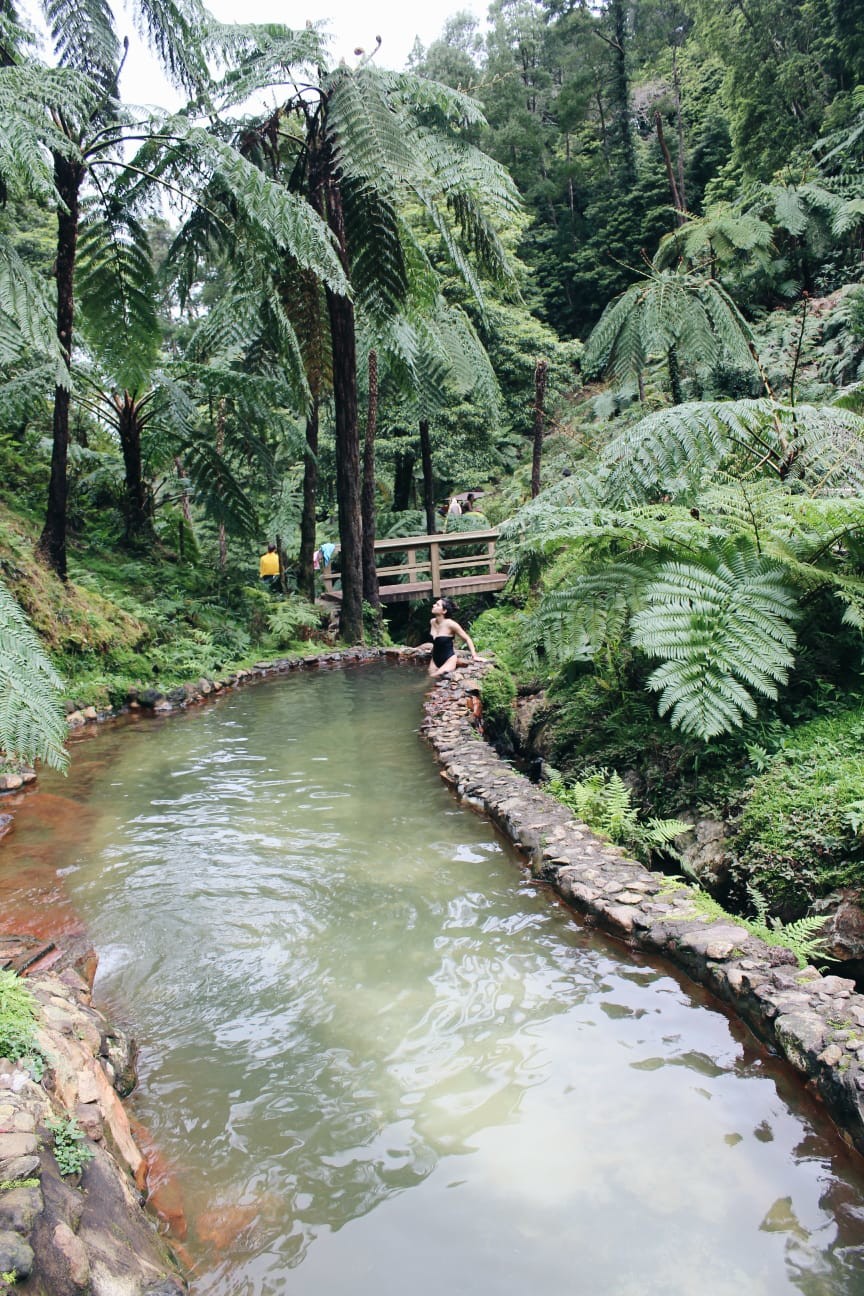 Let's move on to the next ones!
Poça da Dona Beija
As is to be expected, we also got up early to visit these hot pools, which were also outside. These thermal baths were my second favourite ones. They were super nice, but the area where they are located wasn't as wild as the one for Caldeira Velha, because you have wooden walkways, the changing rooms are inside and I think there was a hotel nearby as well as a gift shop - and they were quite busy. There were quite a lot of people already there when we arrived: there were lots of families and also lots of teenagers who had come on a school trip. Saying that, I loved it and I would definitely go again.
Poca da Dona Beija is located in Furnas, which is the most touristy area on the island of San Miguel. I believe that the entry cost 10 euros, but the difference with Caldeira is that you can spend an unlimited amount of time there. We went there for the day, but I think that having gone there in the night, when the day had finished in order to relax, would have also been a good option.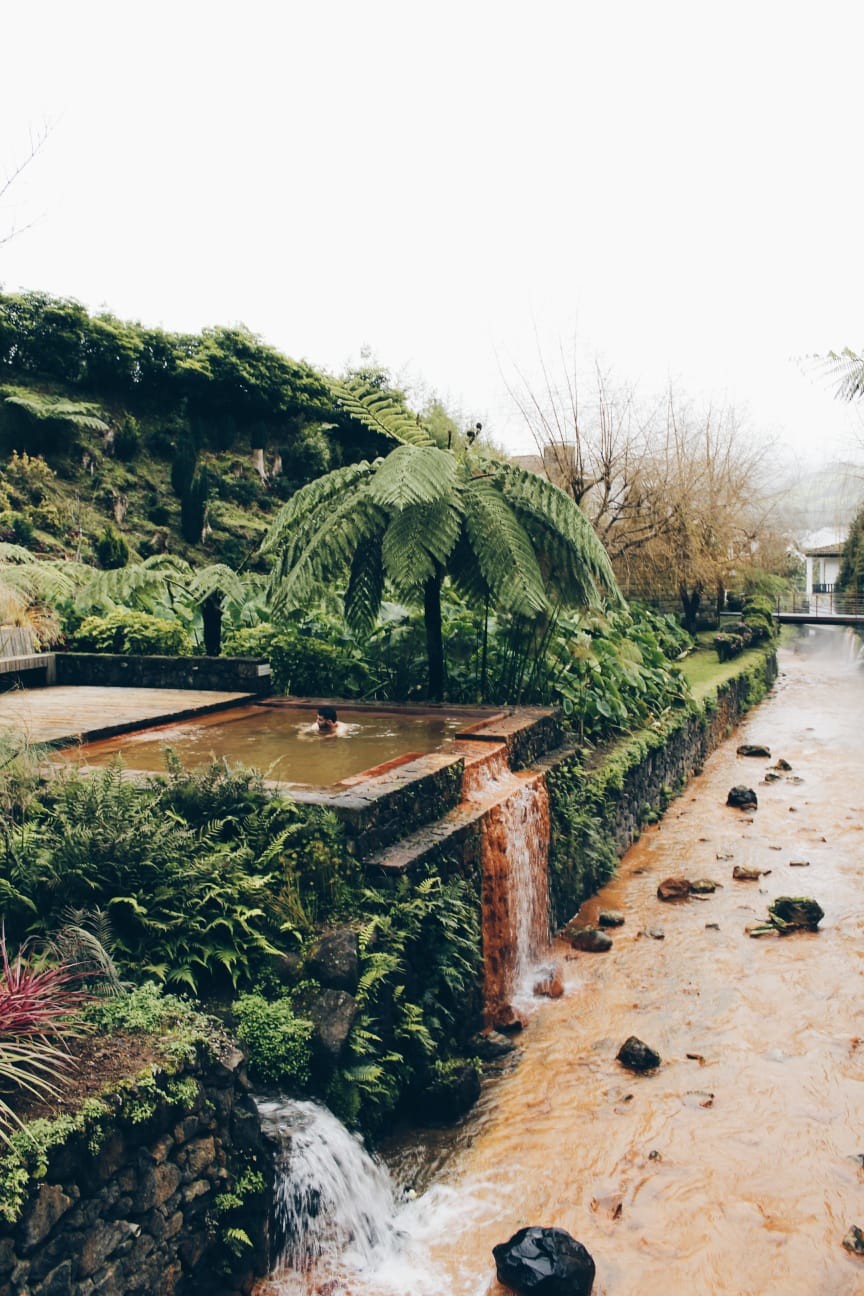 Poca da Dona Beija has different areas for having a dip, all of them more or less the same temperature. We were there for around 2 hours, I think that we had read that it wasn't recommended to spend more time than that there for health reasons. We took our rucksacks and towel and we got a bit too warm, we got out of the pools and had some air and something to eat. It is a super lovely place, everything is really well looked after, clean and also you are surrounded by nature. In fact, very near to us you could see the locals collecting fruit and vegetables from their land. Obviously it is a lot more formal than Caldeira Velha, but as I told you before, it is worthwhile. There are areas with streams to massage your back, a river which runs along the whole complex and different pools with different depths. In the following photo, you can see what I told you about before. The iron levels in the water are so high that if you notice, the wall which the water falls through has lost its natural colour, and is replaced by an orange colour, which is the colour of these underground waters. In addition, something common in all of the hot springs that we visited, is the smell of "rotten eggs" which is given out constantly, but in the end you do get used to it. The water is not tasteless so you can notice the taste of iron, like metal.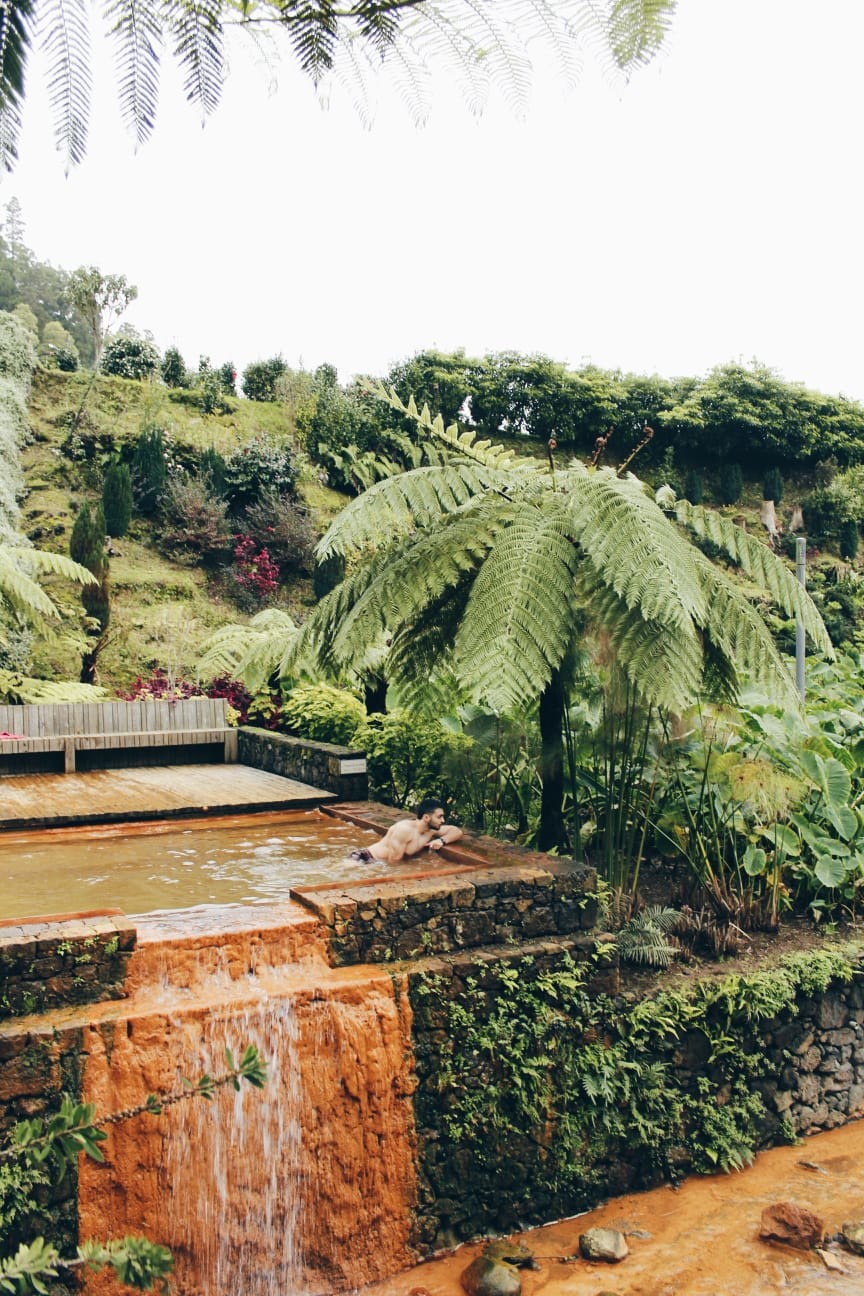 As the morning progressed, more and more people came, groups of students, so when it had started to fill up, we decided to leave. I imagine that in high season it would be packed so I was super happy to have been able to enjoy these thermal baths with fewer people there. As always, travelling in low season has its advantages.
Ponta Ferraria
Ponta Ferraria is situated in the extreme West of the island. Honestly, this point is what impressed me most about Azores. Why? Ponta Ferraria is situated in the sea but by chance, at this point of the water there are waters which come to the surface directly from inside the Earth and flow into the sea. The funny thing is that when the tide is low, the water is boiling because there is not much contact between the groundwater and the cold water from the ocean. When the tide starts to rise, this is the moment to go in because it is warm and you are able to enjoy a nice temperature. And finally, when the tide rises completely, you are not able to go in nor enjoy the thermal waters, because the majority of the water comes from the sea and is cold.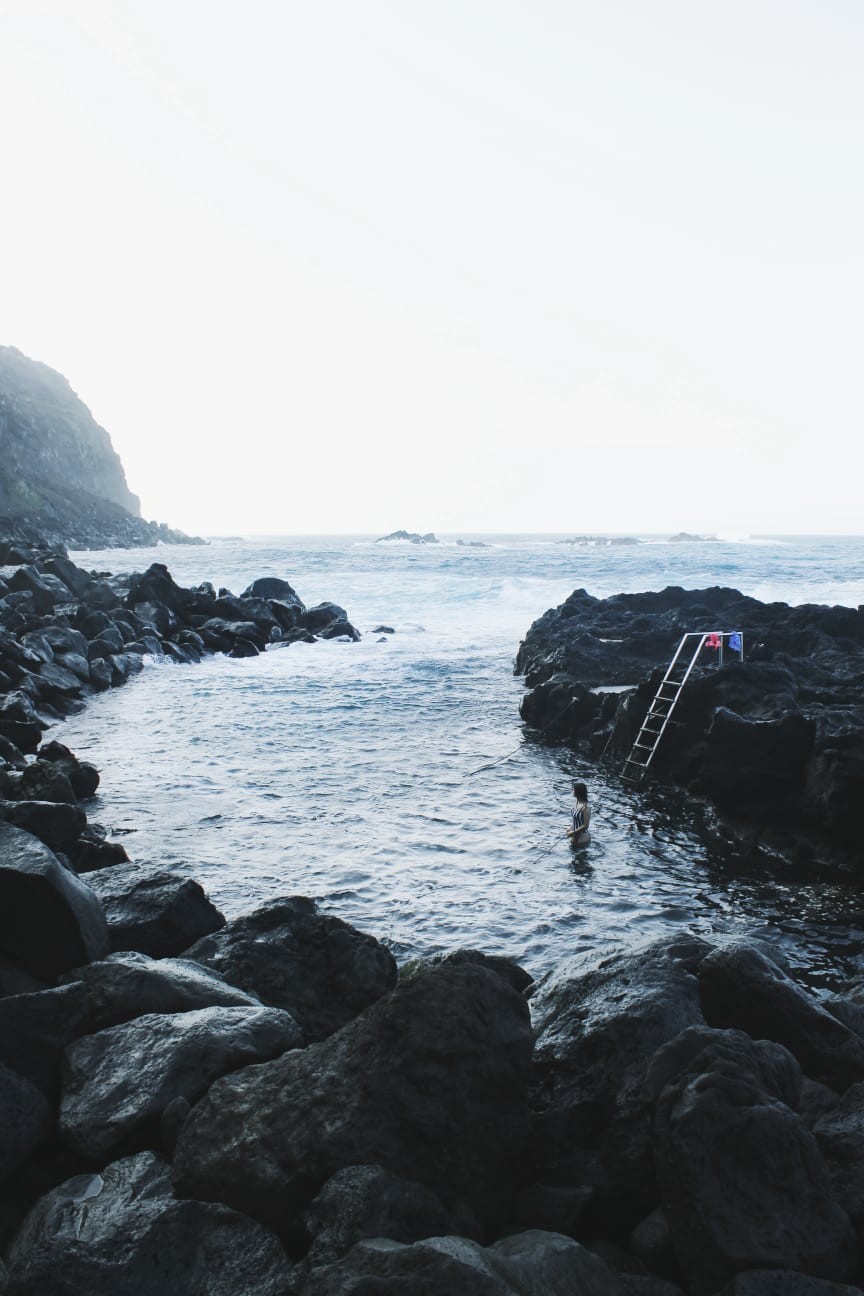 Thus, we had to check the tide level for these days on the internet, paying particular attention to the low and high tide and modify our route as appropriate. Finally, we went one day in the morning, we didn't have to get up too early but we were lucky enough to be alone. It is true that going in the water is a bit dangerous, since this day it was a bit windy, but I didn't think twice before going in. There were quite a lot of waves but there was a rope that stretched from one end to another which I was able to grab onto (people think of everything!). We were in the water for around 10 to 15 minutes, which was sometimes warm and sometimes tepid, it depended a lot on the waves. The truth is that I never thought that I could have bathed in the Atlantic Ocean in waters that are so hot, that come from the centre of the Earth. It was really cool. When I finally got out of the water, dying of cold wrapped in a towel due to the wind that was blowing, some tourists from Boston came who also went for a dip. Like me, they were also amazed by the temperature. It was an unforgettable experience for me.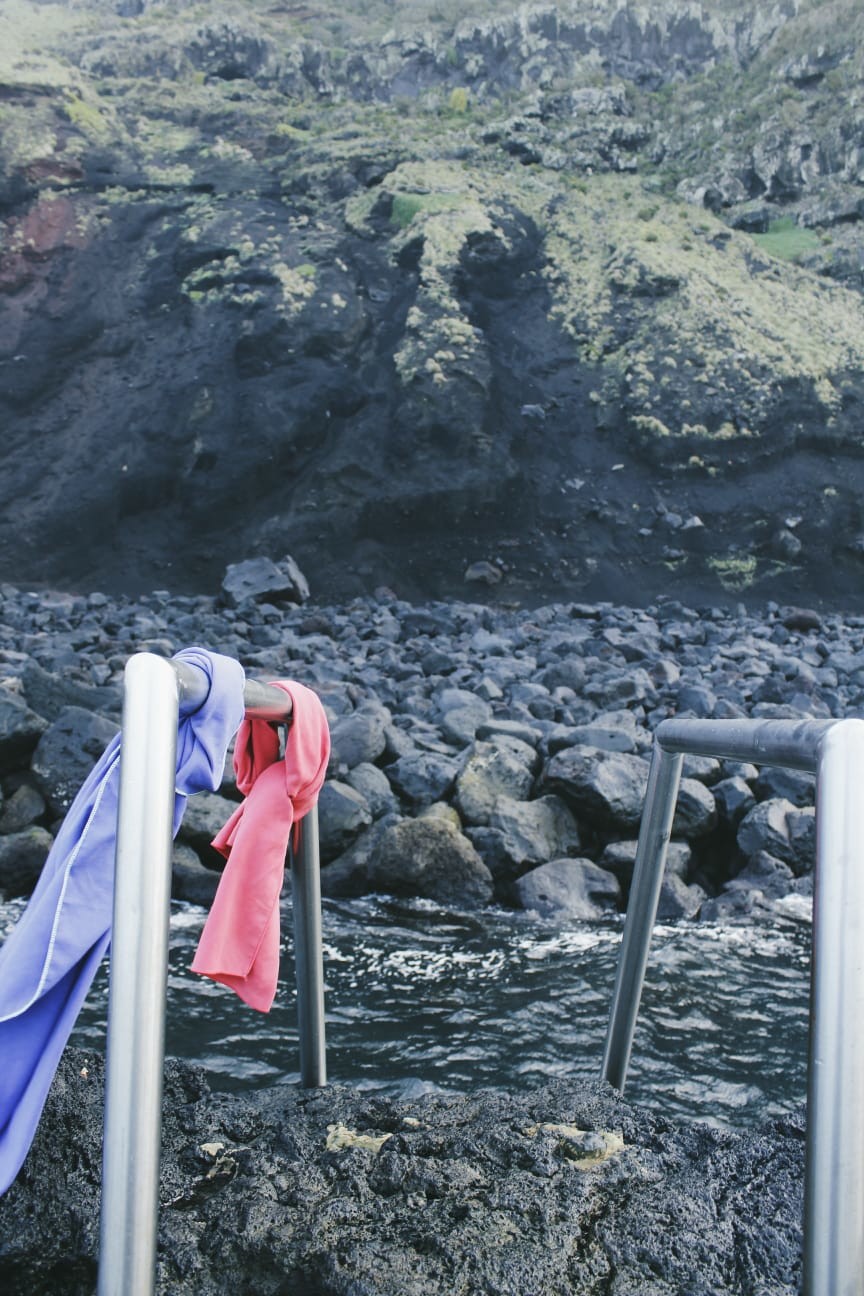 Saying that, if you visit Ponta Ferraria and for whatever reason you aren't able to enjoy the hot water or sea, I have to say that all of the nature that surrounds it is incredible. It is like being on a different planet. There are lava fields which have solidified, carbon black stones everywhere and the force of the sea is always present, as you can see in the following photo. It really reminded me a lot of my trip to Iceland. There are lots of areas which are similar, very wild.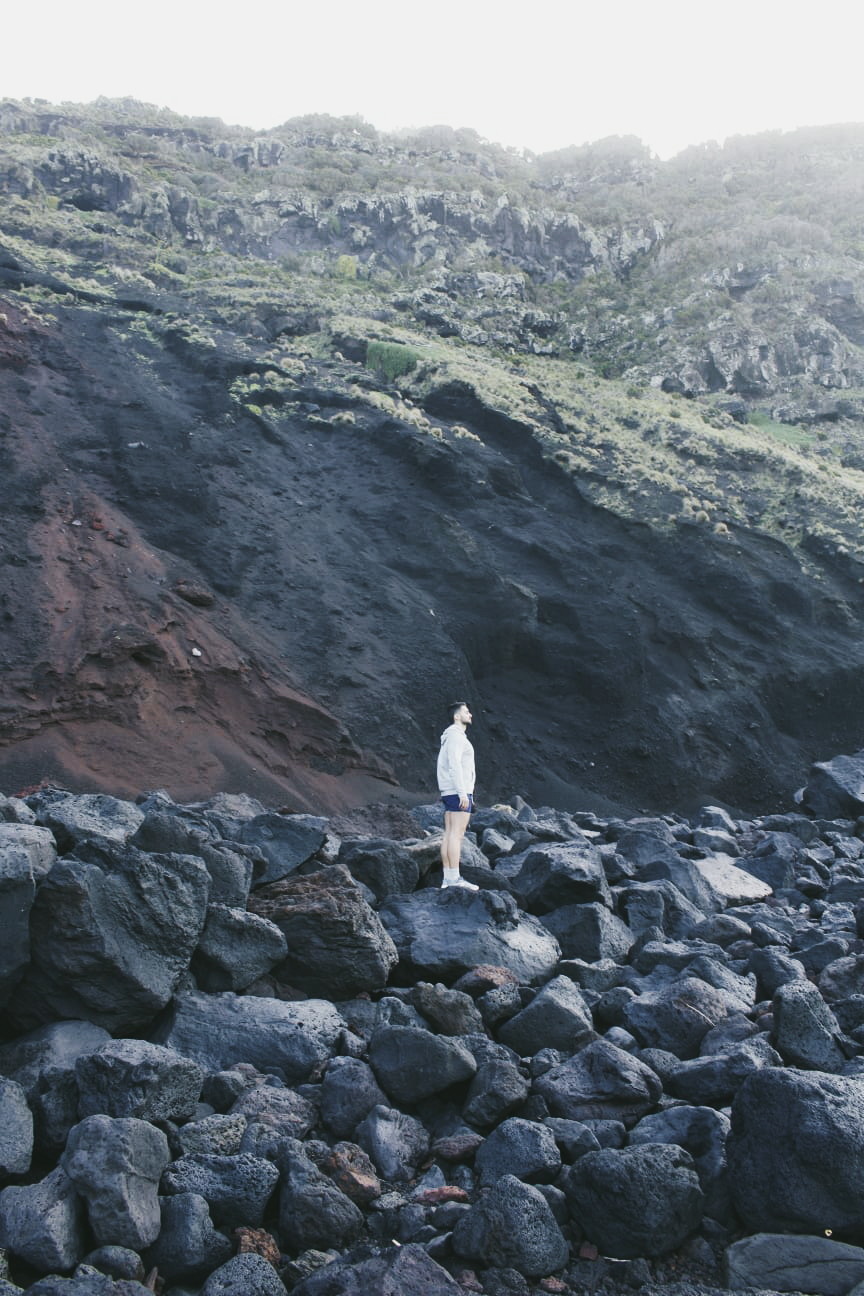 Then we left and went back to where we had parked the car, around a 10 minutes walk away; we realised that in front there was a hotel, with some hot water pools outside. After, we learnt that a lot of people go there to bathe, paying. Well, a boy that we know told us that he went there at night and snick inside the hotel. Paying or not paying is your choice. Saying that, I recommend that you walk for 10 minutes and enjoy the natural seawater, which is better, and as well as that, free. In short, this was one of the things that I liked the most on the trip. I recommend that you definitely go and visit it. Now let's move on to the final one!
Parque Terra Nostra
Terra Nostra is a complex located in Furnas. The entrance costs 10 euros and I am already going to tell you that in the case that you have to cut something from your route, I would skip this one. I liked it, but in terms of the other thermal baths, it had nothing more to offer. In Terra Nostra there is an enormous pool of hot water rich in iron, hence the orange colour of the water. Here you have to be careful about your swimwear. Wear the oldest ones that you have.
The pool has various streams of water, in the pool complex, and the water is really warm. It is quite nice being there, but the surroundings aren't as natural. In front of the pool, there is the hotel for this city centre, which is probably very expensive. A lot of people are in their dressing gowns, as they have come straight from their bedrooms.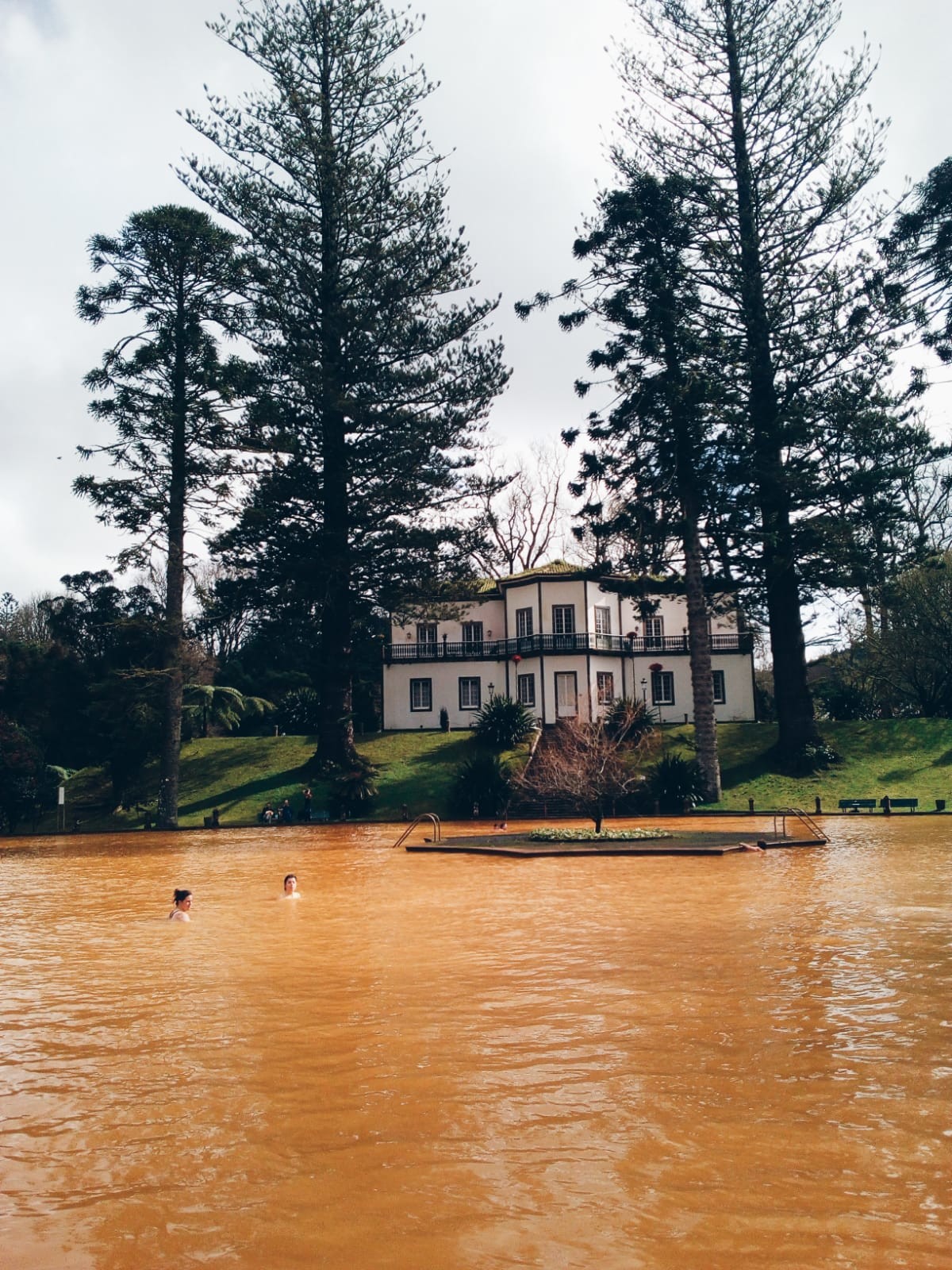 The best thing about Terra Nostra is that there are two small pools nearby to the botanical garden, where you are surrounded by vegetations, which makes it even more special and wild. Saying that, nothing can beat Caldeira Velha or Poca da Dona Beija. We went because it was a large trip and we fancied trying out all of the options available, but no, I wouldn't go there again.
We stayed here for around two hours. As always, since the weather was a bit chilly in February, be able to get into these waters was very relaxing and it was very appreciated. In short, I liked Terra Nostra, but not enough to visit it again.
And that is everything I wanted to tell you! I hope that this information has been useful and that you have enjoyed reading my post, and have enjoyed the photos too. I did this trip a while ago now so maybe the prices for entry have changed a bit, or maybe they go up in the high season. And that's all for today: thank you very much for reading and I will see you soon with more content about the Azores islands.
---
Photo gallery
---
---
Content available in other languages
Want to have your own Erasmus blog?
If you are experiencing living abroad, you're an avid traveller or want to promote the city where you live... create your own blog and share your adventures!
I want to create my Erasmus blog! →