Travelling, getting drunk and making friends for life in Turku, Finland!
Architecture and landscape

10 / 10 points

Entertainment

10 / 10 points

Culture and customs

10 / 10 points

Transport

10 / 10 points

Gastronomy

10 / 10 points

Prices

4 / 10 points

Party

10 / 10 points

Weather

8 / 10 points
---
Why did you choose to go to Turku, Finland?
At the orientation of the possible Erasmus countries, I soon found out I did not want to go to a main stream country such as Spain or England. Nevertheless, I did want to stay in Europe, and the Nordic countries started to attract me more and more. I had never heard of someone going to Finland, so that's also what it made more interesting for me. Comparing all the possible cities where I could go, Turku rised above; truly all experiences in this city were positive. And when I spoke to someone who had been in Turku the year before, I was convinced.
How much is the grant for Turku? How much money did you get?
In Finland, you're entitled to an Erasmus grant, and because it's a very expensive country, you get the highest amount: this is 270 euros. Then there is also the compensation of your transportation and the grant of living out of your parent's house, altogether this was about 600 euros a month for me.
How is student life in Turku?
In a single word: AMAZING. There is a huge amount of foreign students in Turku. There is a student organization, ESN Turku, that offers an extensive amount of activities for the students, from little trips to other cities to parties and organized trips to Rusland and Lapland.
Would you recommend Turku to other students?
YES! I would truly recommend the city to anyone. The months I have spent here have been the best of my life, I have such nice memories of the city and of all the people I have met, and I still miss it every day. Everyone also got along with each other, we were really one big Erasmus family.
How expensive is the food in Turku?
Expensive, very expensive. Even the Lidl has prices which are even higher than the prices in the Albert Heijn. You also don't really go out to dinner because you simply don't have the budget to do that. That being said, with the use of your student card, you were able to eat at different diners throughout the city center for just €2, 60. This food was also super nice and you would get limitless salad and bread with it.
Was it hard to find a room in Turku?
No! If you are on time, it is definitely not hard. I lived in the Student Village, this is definitely recommendable. It is sort of a village with only exchange students from over the whole world. You live on a floor with 12 people, with whom you share the kitchen; the rest of the facilities are yours. It was a super good time! At night a lot of kitchens were transformed for the kitchen parties.
Is it expensive to live in Turku?
I paid about 370 euros a month. For what you would get, I thought this was not overly expensive. The room was about 18m2 and you would have you own little bathroom. And the village was just 10 minutes from the city center.
And how is the language? Did you do a language course?
The language is truly incomprehensible and incomparable to any other language. Words can be as long as half a sentence, have a lot of points and stripes and sometimes they have 5 vowels in a row. So yeah, Google translate was my best friend during grocery shopping. Also, I did not do a language course.
How is the nightlife in Turku?
The best I have ever experienced. I love to be surrounded by familiar people, and Turku is the right place for that. We had a Whatsapp group with a big group of nice people, and through texting we would decide where we went that night. So, you would always be surrounded by friendly people when going out. And if you did not feel like seeing them, you also knew where not to go. Alcohol is expensive, though. In Finland they start the predrink around 8 o'clock and they go to the club around 11. All clubs close around 4, to prevent noise pollution. So you were perfectly able to go to school next day. Besides that, it was the safest place I have ever been, you were able to cycle home alone without any problems, and after all, you were home in 10 minutes. Being exchange students, we would go out at least 4 times a week.
What about cultural visits?
Finland is more than the beautiful nature, and you can see that truly everywhere. If you want culture in Turku, you can visit the church and the castle, but for real culture you should go to the capital Helsinki.
What is it that makes Finland so special?
Finland is a country that is forgotten by a lot of people, which is a pity! The nature is the most beautiful I have ever seen. If you tend to run cold, this might not really be the perfect destination for you, though, because it already snows end October. But this is part of Finland, and it gives a unique feeling to it.
What is the best memory you have of your Erasmus?
Actually these are just the nights you spend with your friends, I was truly so happy those nights! The trips I made were also very special, because normally I would not have visited this part of Europe. During my Erasmus, I went to the Aland islands, St. Petersburg - Rusland, Tallinn - Estland, and Lapland. Every single one of them was a unique travel experience, for in the books.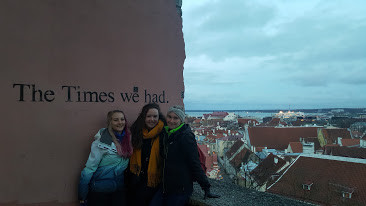 Do you have any tips or tricks for students who would like to visit Turku in the future?
Everyone is open to new friendships, so be friendly to everyone and before you know, you will be part of the family. The people have really made it a great experience for me, I never would have wanted to go to a metropolis such as London. I think all the people who went to Turku were aware of that when making their choice, so you end up with people who have the same mindset as you. An experience abroad is very exciting, but it flies like an arrow and before you know, you will miss it every day. You will keep the friends you have made over the whole world, though, and because of them you will have some nice holiday addresses. We maintain regular contact, to keep the experience alive.
---
Photo gallery
---
---
Content available in other languages
Share your Erasmus Experience in Turku!
If you know Turku as native, traveler or as exchange student... share your opinion on Turku! Rate different characteristics and share your experience.
Add experience →