Aliens in Turku
Architecture and landscape

10 / 10 points

Entertainment

8 / 10 points

Culture and customs

10 / 10 points

Transport

6 / 10 points

Gastronomy

8 / 10 points

Prices

4 / 10 points

Party

10 / 10 points

Weather

10 / 10 points
---
No by Aliens I dont mean literal aliens!, I mean us - Humans!
This summer, I had an opportunity to attend a summer camp in a city in Finland called Turku in Astrobiology organised by the European Astrobiology Campus, about The Deep History of the Universe, the Earth and the Biosphere. This was the fifth and the last one that I was attending this summer (trying to keep the best for the last).
It was 12 degrees when we started on August 20th, pretty cold for a normal summer, is what everyone would think, but below you see a picture of a normal Finnish boy just feeding his sheep, and enjoying a regular day of his finnish summer. Every passing day I asked myself, HOW? and WHAT GENES?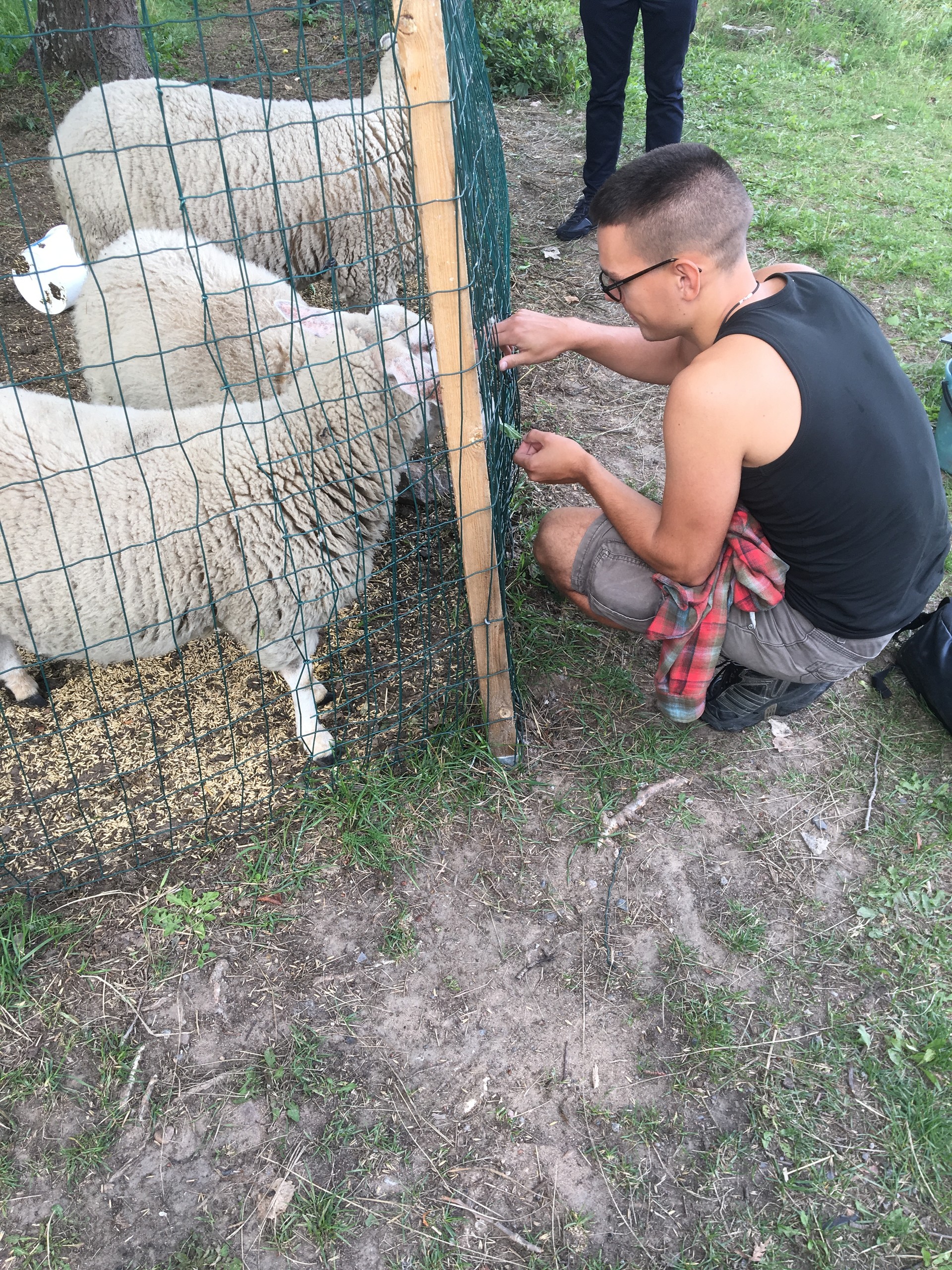 Coming from the tropics, 12 degrees is winter for us, and many of us hate the cold, and love the warmth, but me, I love the cold!, I love the cold breeze, the rain, the everything. This summer ended on perfect note for me. At first, I thought this summer camp would be like all others, where we study, all day and do whatever we like, after 5 or 6pm. But this one, was different, here we actually had everyday after class planned for us with some exciting and fun filled activity.
On the first day, before we started classes on a sunday, we had to make name cards for ourselves. Any and every mature adult would simply write his or her name on it and pin it on themselves, but I decided to be different (well ofcourse I didnt want to be boringg! ) and made that (see below).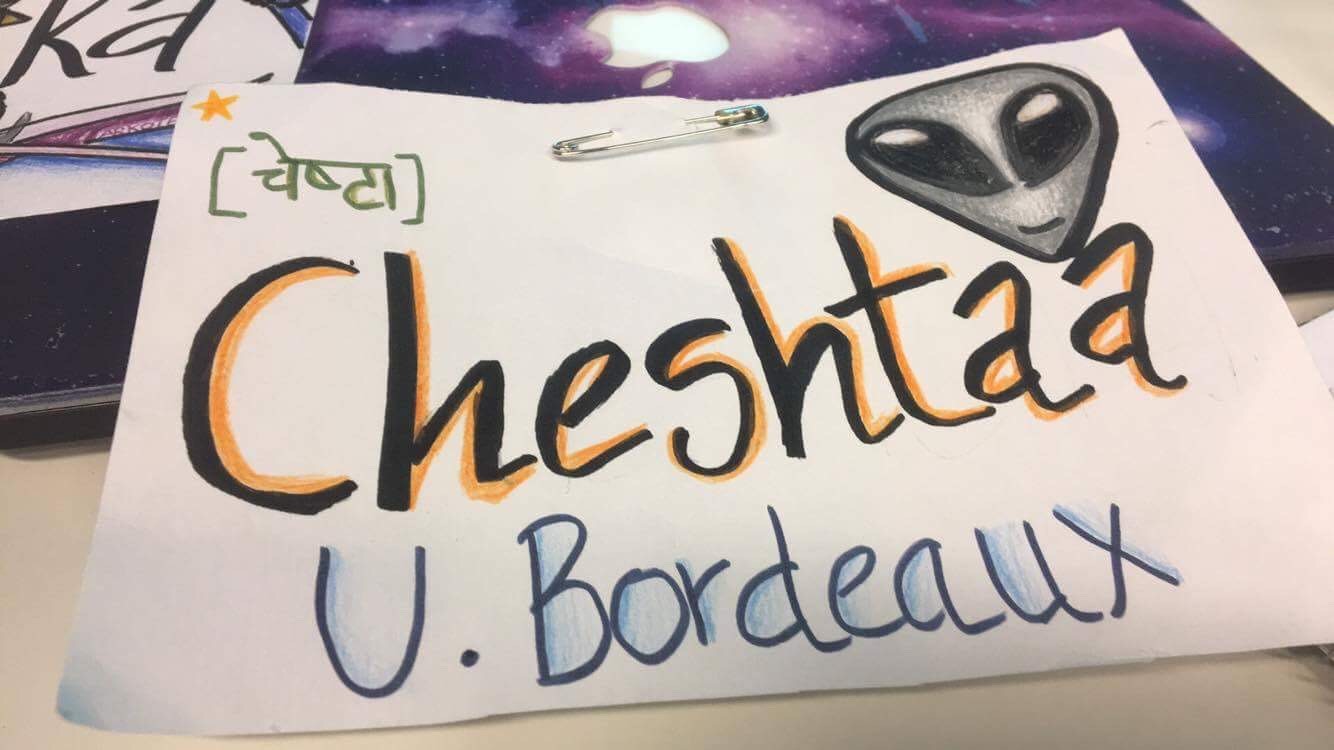 Obviously my name tag was the best, which made others come to me, and make me make one for them too! Haha!, I literally made five more after I made mine, including the coordinators! It wasn't long after, that all those "mature adults" started aping my "different style". *secret laughter inside*
At the end of the day we were taken to the Tuorla Observatory and made to watch a space movie! WHAT FUN! Imagine a lying like that on the most comfortable couch, staring up onto the circular moving roof, and watching a space movie, in broad daylight (PHENOMENAL! ).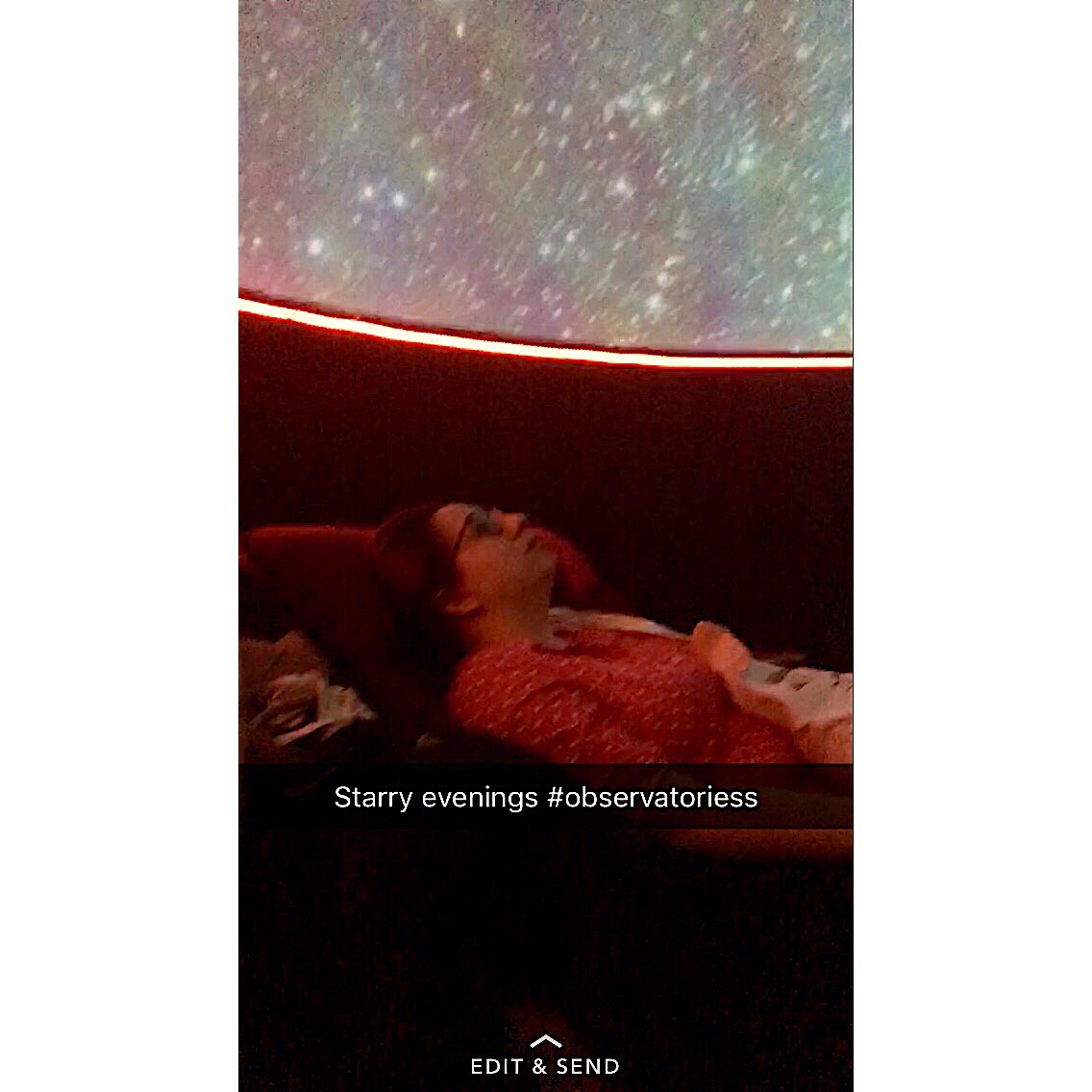 If that wasnt enough to make us happy on the first day, we finally reached the part for which we literally straved the whole day -FOOD! Yes, we had the welcome party after the introductory lesson, at the observatory, with food drinks and games (to get to know each other informally), which lasted forever, and once we finished, we all fell on our beds, and called it a day after all the travelling.
On our second day, post the interesting stories about how life originated on Earth, we had the rowing session! Right?! ~ No one could believe it! How could something be so cool? We got divided in teams of three, with six players each, and had to race to an island! Only when you think things cant get any better, think again, cause once we got there we had a post dinner crepe and jam barbecue party. I have got to say all that food that we got during the summer camp days, some way or the other had to get burned off!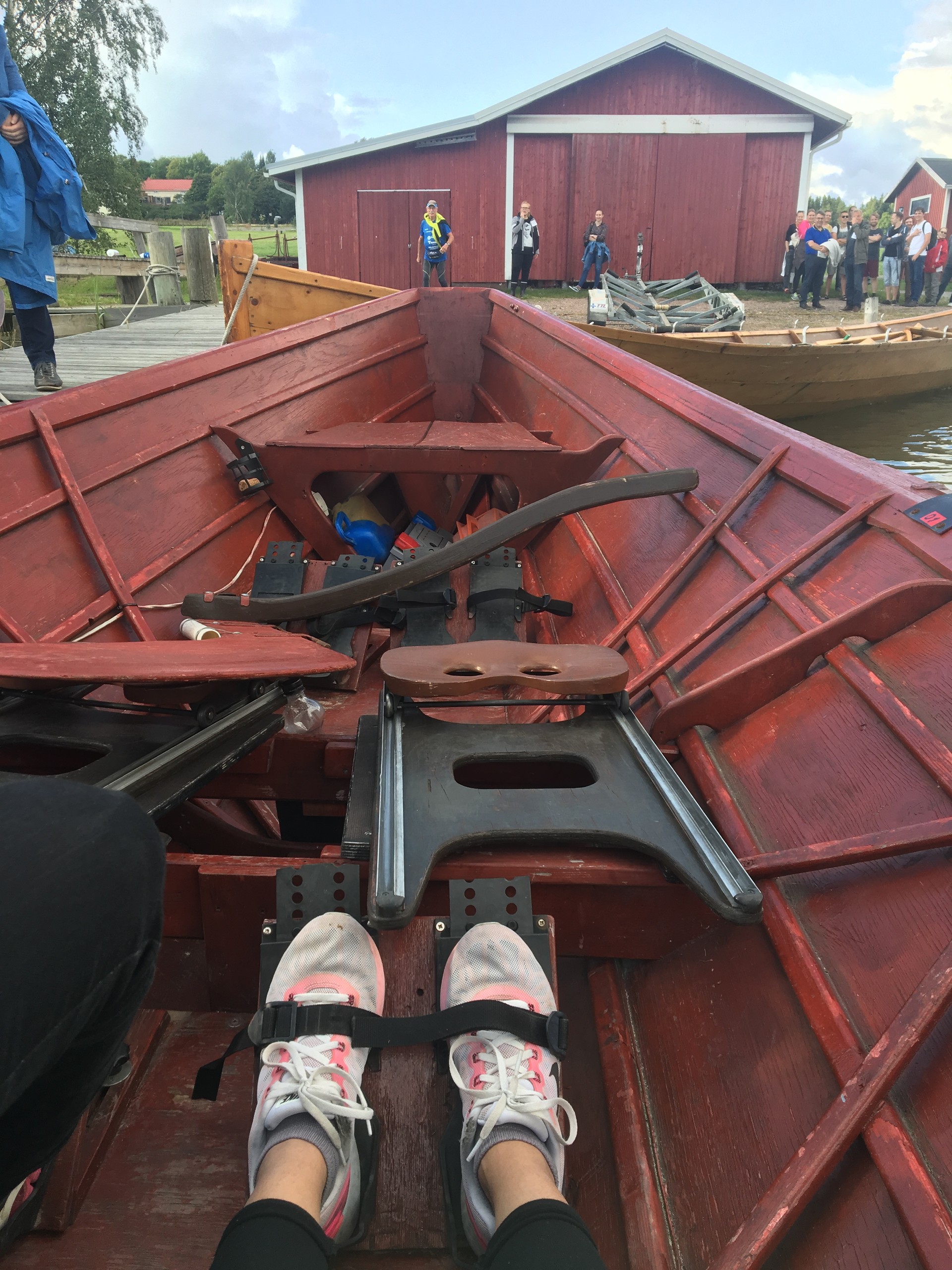 During the post dinner and crepe and jam barbecue session, we all happened to see some ruinis of a castle that used to be there, that time - What a Lovely view it was!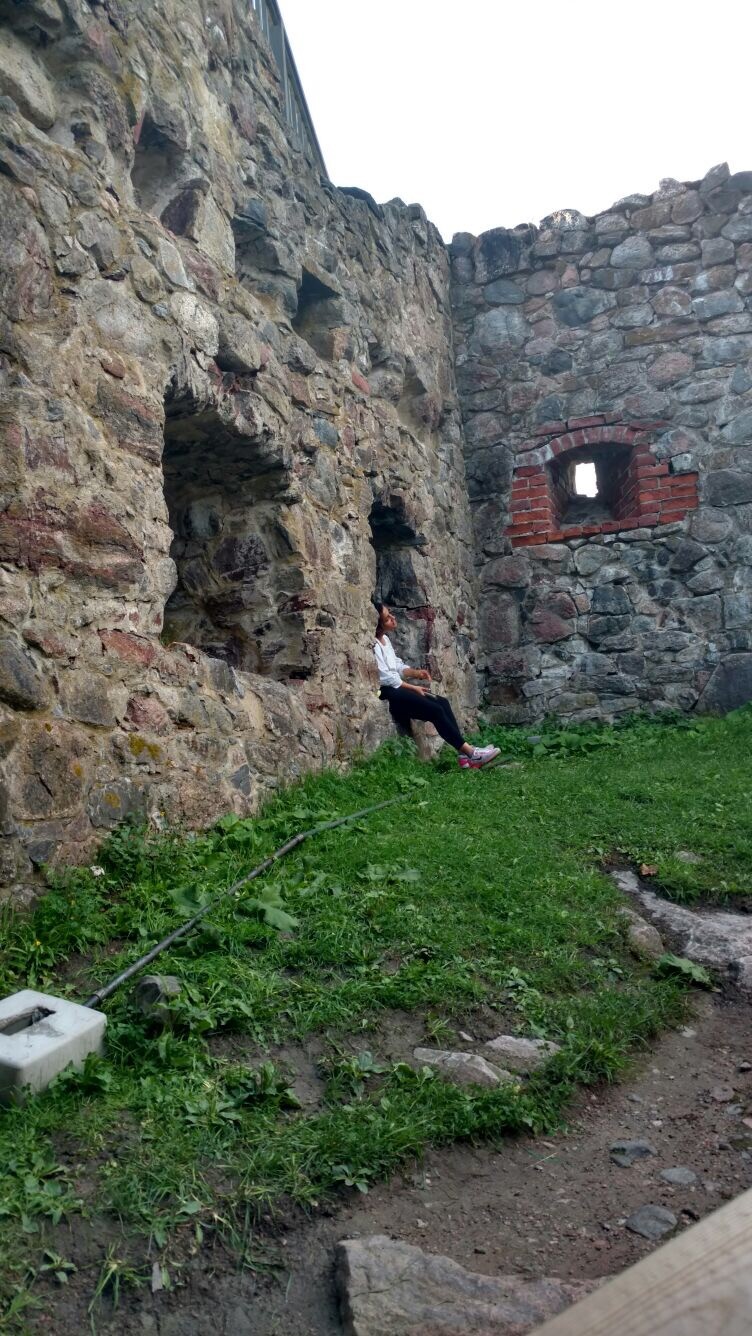 On our third night after the classes again, they had a planned sauna evening on one of the islands close to Turku. This place was somewhere in the middle of a forest, where there was an already set bonfire with post dinner hot dogs, being made by our very own coordinator's daughter, who was enjoying her summer catering to us.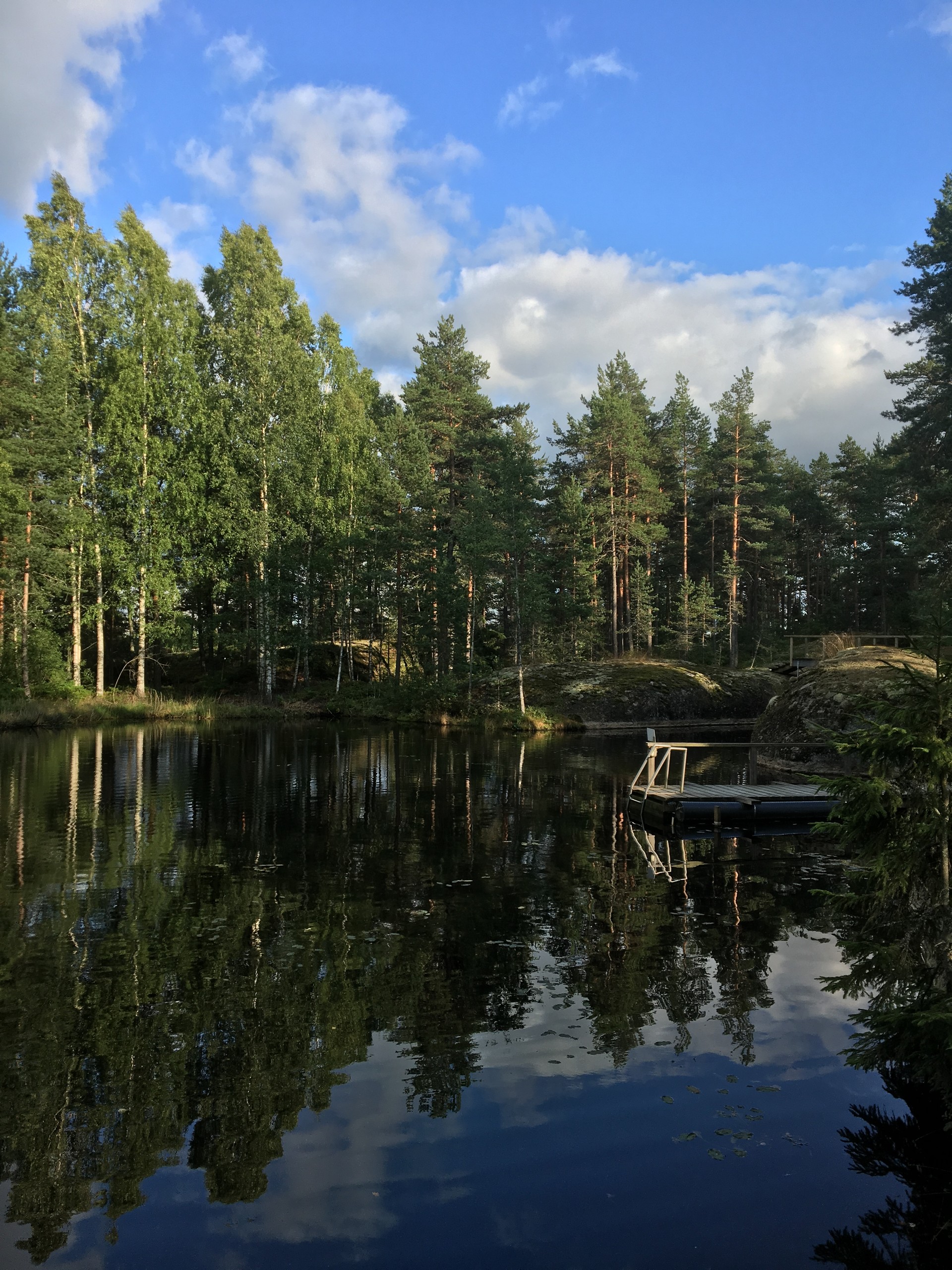 Yes, that was the freezing lake we jumped into!
So, apparently it is a Nordic tradition, to go into a sauna, typically 100 degrees celsius (enough to boil the 75% of water in your body), and run out and jump into the closest lake which is freezing cold (well at least for a girl from the tropics! ). the temperature of the lake was 10 degrees or even less, i couldnt say much, cause of the frozen fingers and toes. I actually decided to jump into the ice lake, at least for experience sake, and literally couldnt feel my body above my waist. I then decided that I am not Jon Snow, and I can be frozen, if I continue doing this, and went into the jacuzzi that was made outdoor for us. (Can you imagine any summer better than thiss? ).
Wait for it...
On day four, we had a sauna again, but a wet one( the day before was smoke sauna), and an open play area, where our finnish friends decided to teach us a game very typical of the country (completely forgot what its called, but very similar to an Indian outdoor game called Lagori! ).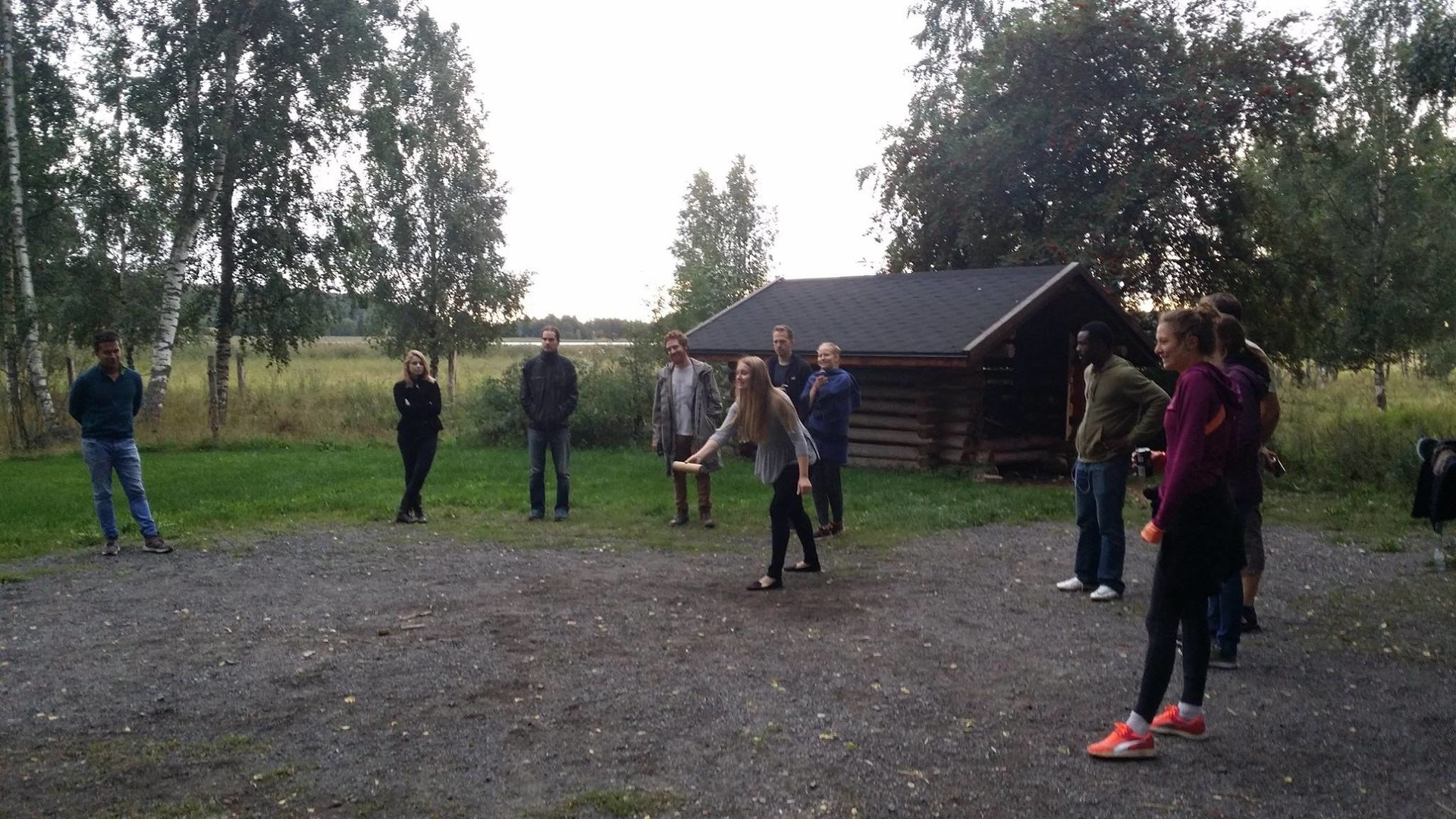 It was so much fun, that we almost forgot to eat the post dinner barbecue snacks that our very own and favorite Kertu (coordinator's daughter) made for us!
After the eating and the playing and the simultaneous sauna-ing, we all sat near a bonfire and spoke about so many different things. We were actually supposed to discuss about the origin of life, and the theories of the origin of life, but that was only under adult supervision (haha, wink wink! ).
Oh before I forget to mention, we also had some of our professors join us during most of these sessions, but since we barely spoke about origin of life, or astrobiology, they usually left earlier than others.
We literally slept at 1 in the morning everyday, and got up at 8 everyday for breakfast and class (so ideal! ). On the fifth day, when we realised that the end was near, we were take on a cruise to one of the islands close to turku, for dinner. The fancy wine and the orchestra on the boat made us feel like important people (-ish, important-ish).
Post dinner, we had a dance on the deck moment, where drunk passengers, danced their lives out on an island (basically a rock-but pretty cool), and other non orientals like us, learned some new moves. I even had one random Finnish guy ask me to dance with him (It was one of those, "Dancing in pardes with a stranger" moments coming true for me).
Post dinner and dance, we obviously had to head back, and the starry night on the top, made it even more better, with everyone, just enojoying the view, and staring into the vastness of the ocean.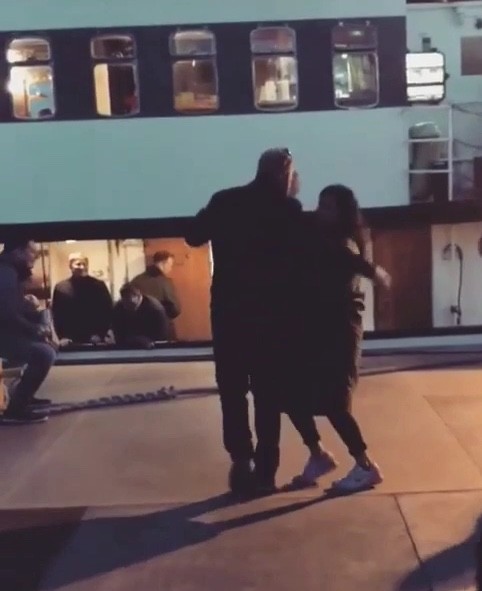 Thats me there with the stranger from Pardes.
On the last day when literally everybody was crying from the inside, we had to do a 14km trek instead of classes in the morning and activities in the evening. This was called the time trek, and was done in groups, where one had to win again (by the way we dont get anything for winning except for satisfaction! ).
My group won (Yay! - thats us by the way).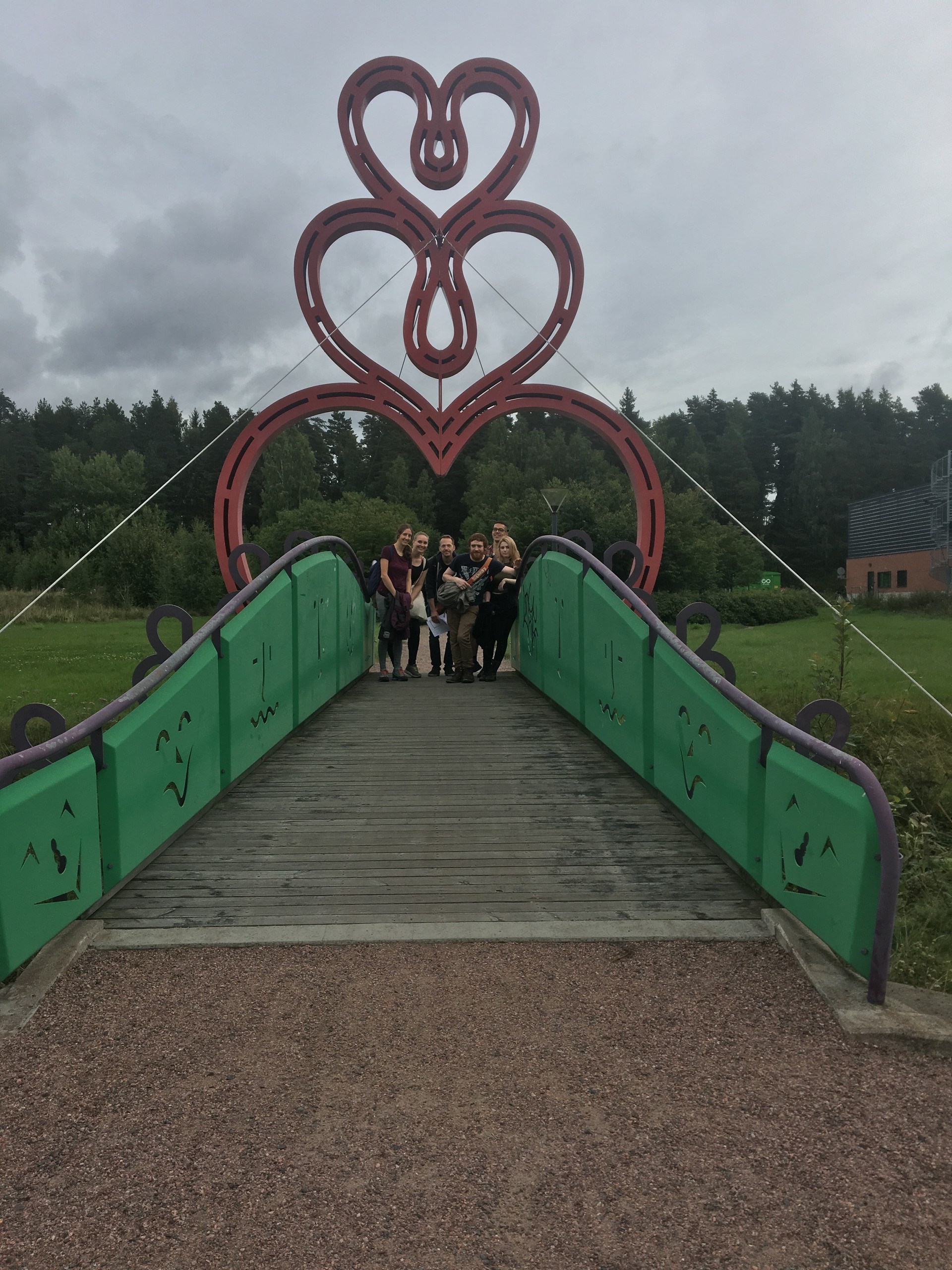 Oh me? - Im taking the picture!
After the crazy walk, until the centre of the town, where we decided to buy a drink or two (like 12 bottles of wine and beer), for the coming last night, where we decided to drink our sorrows, and bid farewell on a nice note. Everybody got ready for the last sauna and the dinner at the sauna (sounds weird, but it was the best location so far! ).
Post dinner and the "lets start getting drunk already, cos YOLO" time, we had the certificates session, where we made our coordinators cry, by giving sentimental speeches (esp Kertu, she was literally like a part of our group! ) There thats her right in the front on the right side, with the brown coat, and thats me sitting down in the front and looking to the other side and wondering the temperature that night!? (jokes! ).
But look at ussss... so happyyyy, and drunk... haha!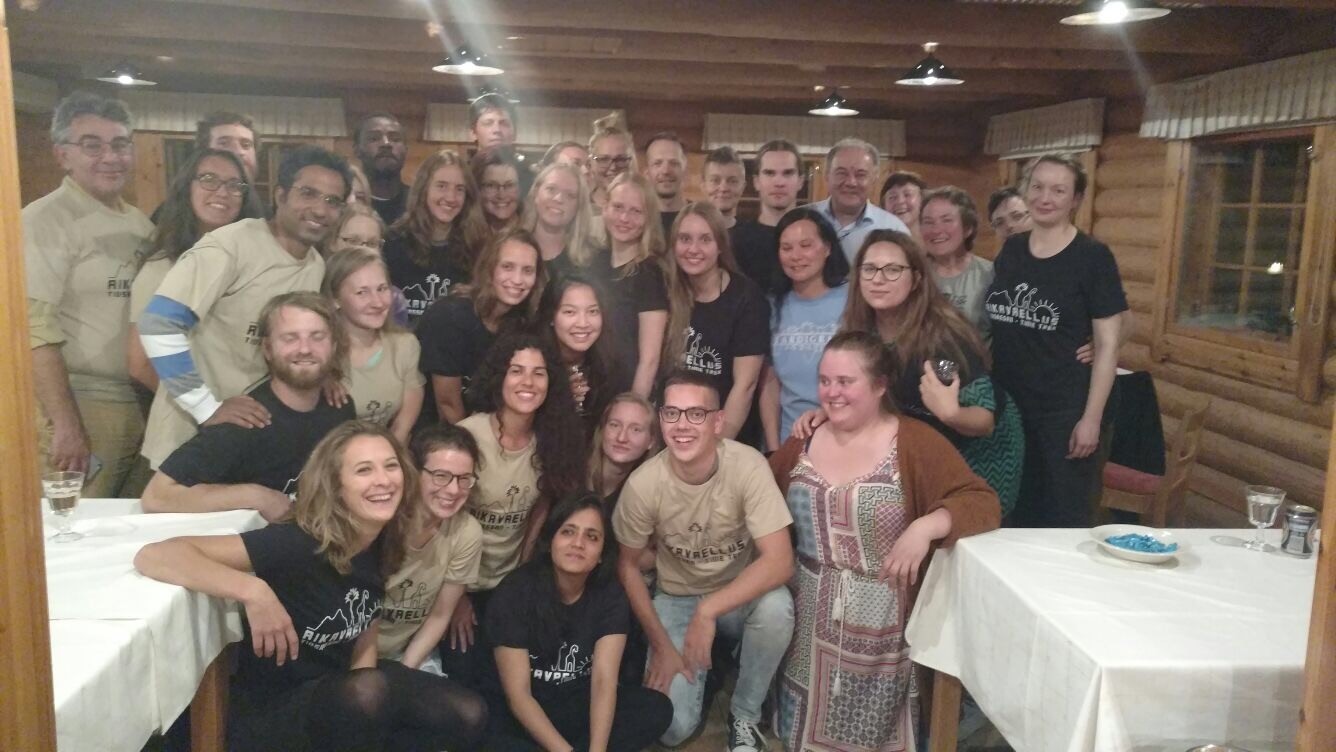 If you thought this was the end, you probably didnt read the part where I mentioned, we bought 12 bottles of alcohol, from the city centre!?... for the after party of course!
Kertu and us, went back to the hostel, and decided to meet at one persons apartment, to finish this camp, with an all-nighter filled with some fun games and alcohol.
We started out with getting really drunk first, which went on to playing a game called Twister... ahaha... That was Tough! (you should definitely try it).
Finally the time came, when everyone had to leave, and bid farewell, to each other, the moment for which everyone cried internally on the second last day, was here finally. I wasn't sad that it was over, instead I was happy that it happened!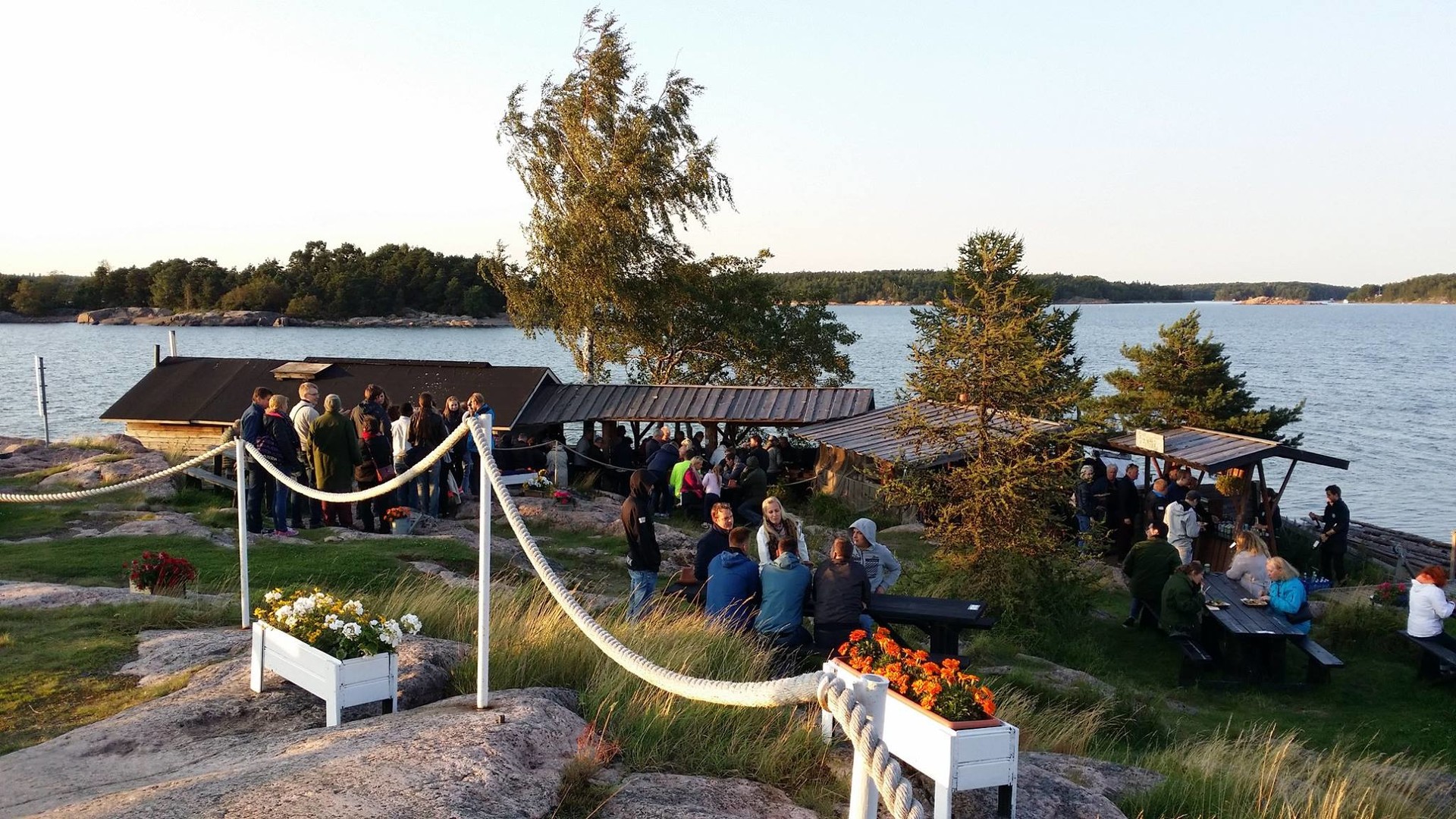 A last picture of the one rock island!
Hope you all get to see what a wonderful place this is!
---
Photo gallery
---
---
Content available in other languages
Share your Erasmus Experience in Turku!
If you know Turku as native, traveler or as exchange student... share your opinion on Turku! Rate different characteristics and share your experience.
Add experience →