Adventure in the Aqualand of Tunisia Hamamet
Tunisia is a country in the Maghreb region of North Africa, it is bordered by the Mediterranean Sea to the north and east and in the south it is covered by a large area of the Sahara desert. There are many amazing cities to visit in this wonderful country, my friends and i decided one day to go for the big challenges and adventures offered by the Aqualand Parc called Carthage Land in Hamamet, a city located not very far from the capital Tunis.
The distance by car is not very far, almost twenty minutes are sufficient to arrive to this amazing city, by public transportation it costs almost 3 euros in common taxis or 3 euros if poeple choose to go there by bus.
We chose to use the bus and go for this big adventure with many amazing expectations, full of energy, happiness and awesome feelings to live amazing sensations that were reflected inside the bus by singing, clapping, dancing, joking, the atmosphere was really full of excitement and joy.
We arrived in good time to the Aqualand Parc Carthage Land in Hamamet and we paid each one 10 euros to enter the parc that is exactly 30 dinars in local currency. we went to discover the first challenge to do that was not suitable for poeple suffering from dizziness from higher points, it was a game of climbing and crossing multiple boards that were only tied by ropes in the air. The construction was huge and poeple were only tied with one rope in the security system, any false step would generate a disaster, this game is essentially for the fans of strong adrenaline sensations.
Both excitement and fear mixed together for me in this game, i did not really suffer from dizzness but the fact of being in very high point was extremely difficult to the mind to integrate. I finished this game with courage and with many clappings from my friends that  were very amused to see me perform such a risky but amazing activity.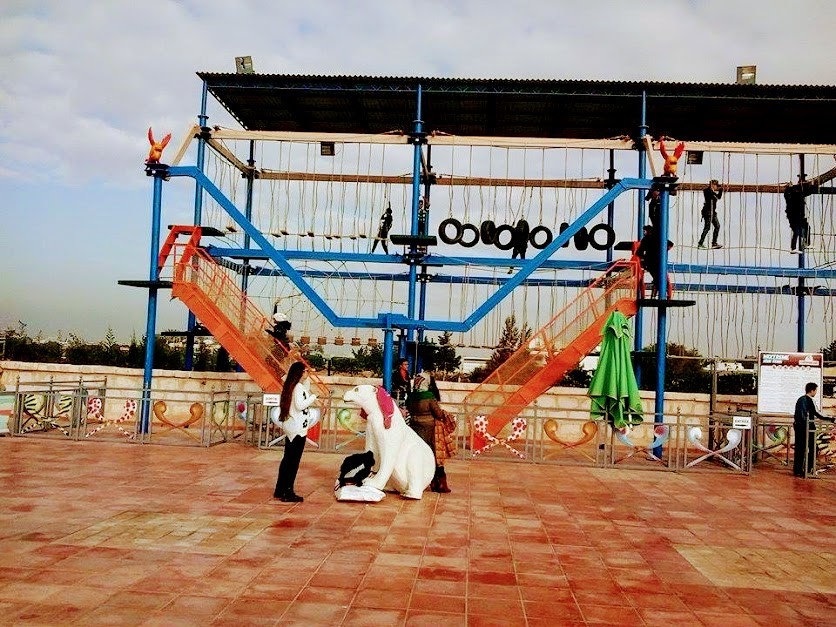 The second game was a trip by a boat inside a jungle that was recreating exactly the same conditions as a safari trip or being in a totally deserted savana with strong water currents, effectively we could not pilote the boat and it was splashing water on us while being in total  out of control situation.
The adventure was amazing as we could see many representations of wild animals such as lions, cheetahs, elephants, monkeys then we entered in very fast speed inside a cave that was all dark with only dragons around to make us feel a bit in fear.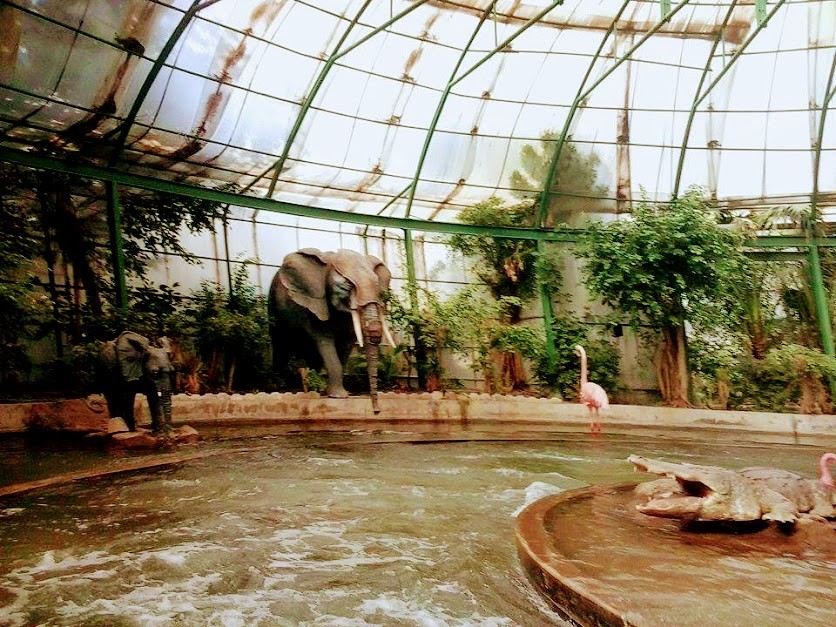 After these strong sensations we decided to have lunch in the restaurent of the parc that offered many great menues that we had the amazing pleasure to taste while joking, loughing and having a light heart while beying in great harmony with each other.
We decided then to try the attractions of the swimming pool, big toboggans, long in distance that we could throw ourselves in, a giant bucket centered the pool and emerged poeple once filled with water, other plays were offered like trying the big pirate boat that was like a roller coster that went down in extremely fast speed while splashing poeple with water.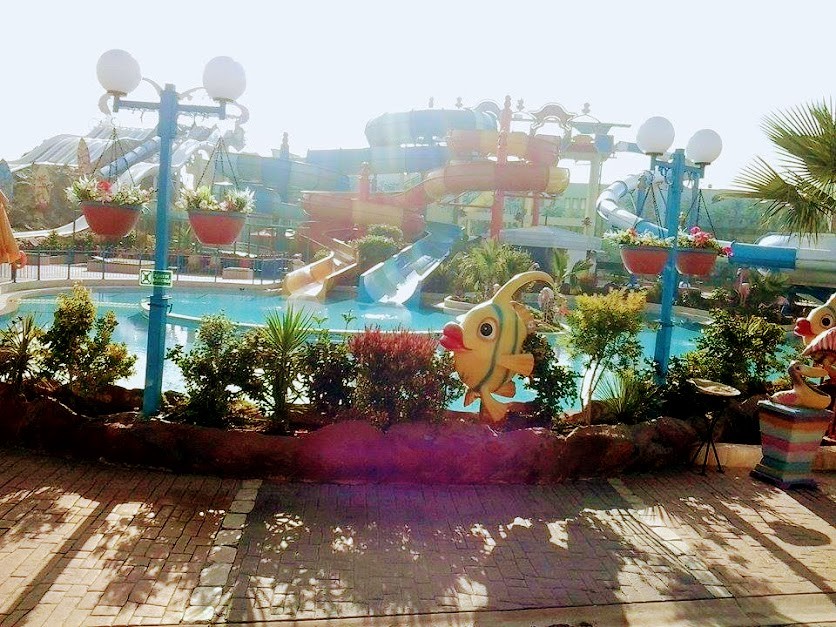 We tried also a very strong game that was turning around in the fastest speed and causing much dizziness and yelling from poeple while music was on and adrenaline was causing hilarous feelings to the body these amazing sensations make us feel more free, more delighted and very happy also as they distress us from the regular days of work or studies.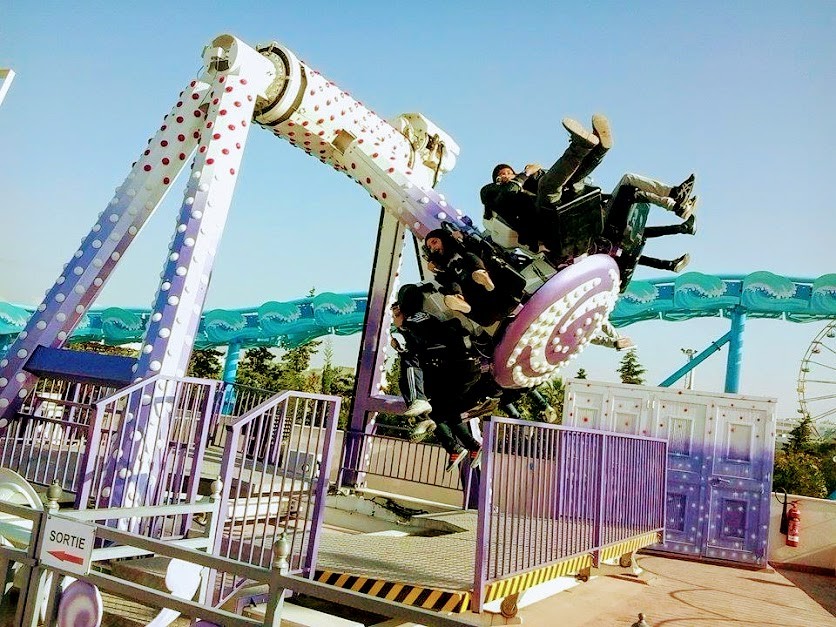 Other shows with cars were also proposed to the public were even older poeple wanted to participate, a disco club was also there with the most modern music on and poeple dancing, joking having fun and much memorable moments with animation dancers, collective games and many entertainment games.
We also tried the games of throwing darts to the target, or throwing a basket ball to the target basket in order to win the prize within three attempts, we tried the crazy roller coster with much great sensations overflowing to our bodies, this roller coster was a bit special as it represented the famous legend of the american movies the big monkey King king and it was setteled in the top of the roof of all the amusement parc.
It was really an amazing experience and we had much fun in all the challenges, the leisure activites that were offered to us, such an experience allows to increase the good energy, a wonderful atmosphere of joy, excitement and happiness even make us more close to our friends and family members with whom we share the most incredible adventures.
---
This content has been entered in the Erasmus Travellers Competition and have earned 508 points.
4490 chars (449 points)
3 views (9 points)
4 photos (50 points)
This competition was made possible by: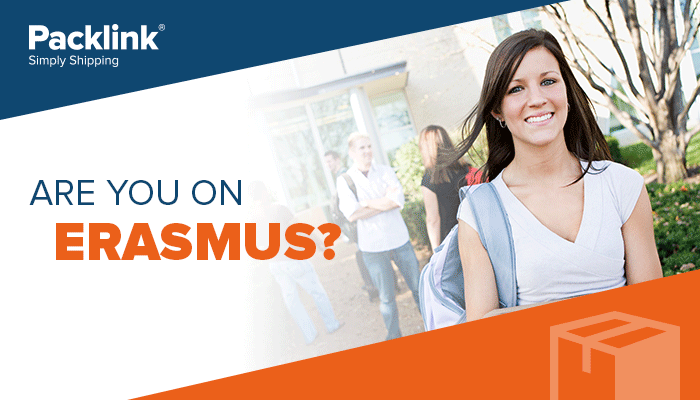 ---
Photo gallery
---
Want to have your own Erasmus blog?
If you are experiencing living abroad, you're an avid traveller or want to promote the city where you live... create your own blog and share your adventures!
I want to create my Erasmus blog! →