Kayaking at Railay Beach
Kayaking on our final day at Krabi
For our last day here, Ja and I went to Railay Beach to go kayaking. That was loads of fun, though I gained yet another shade of tan. Neither of us have ever been before, so there we were trying to figure out how to paddle and all that.
You can just take a ferry to Railay beach from Ao Nang beach (at Krabi town), and it's around 250B round trip. You've got to keep your ticket so you can get back though.
Oh, for people into food, there's a decent set-up on Railay beach, quite a few restaurants and stalls. I mean, it's nothing major or even maybe particularly tasty, but it's far more options and choices than I saw on any of the other beaches we passed by while island hopping. There were actual sit-down restaurants!
Once at Railay, there were loads of options for kayaking, either renting from the locals (there were at least three different options from them) or from the hotel nearby. Obviously, we went with the locals. Pricing was 200B for the first hour, and then an extra 100B every hour. 
It was fortunate I had Ja with me; she asked the guys we were renting the kayaking boats from if they could teach us just a little, and they did and then she translated for me. We paddled around in the shallow area for a bit, just trying to get the hang of things, and then we were off! 
On the bright side, we didn't lose anything or capsize. On the downside, it is incredibly difficult to take pictures when you're trying desperately to prevent your camera and goods from getting wet while keeping track of your oars and avoiding crashing into anything. I only have so many hands. 
I mean, obviously we didn't let that stop us, but I'd like to point out the difficulty involved in getting the shots below.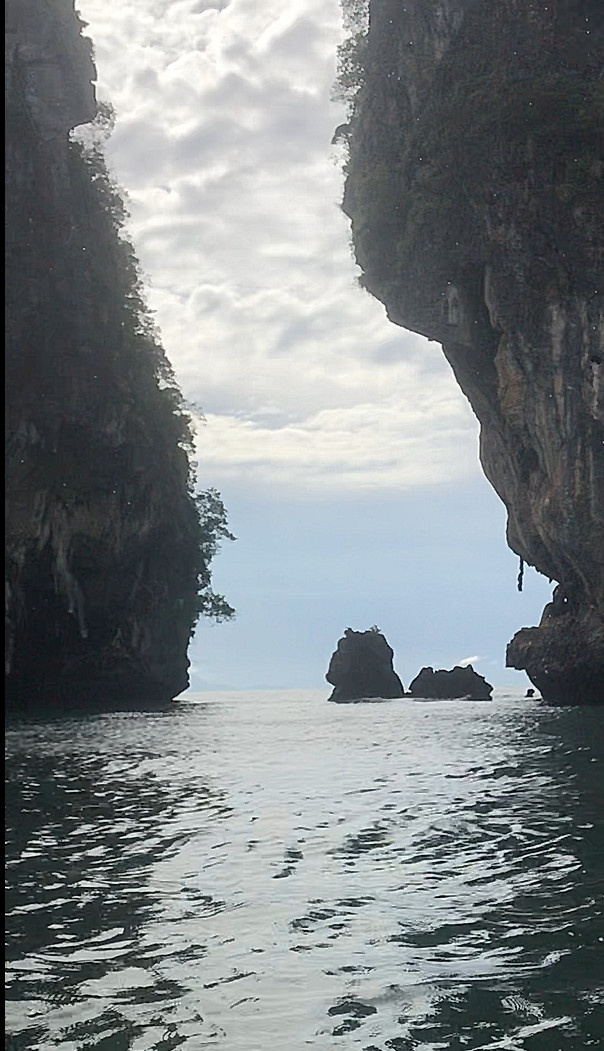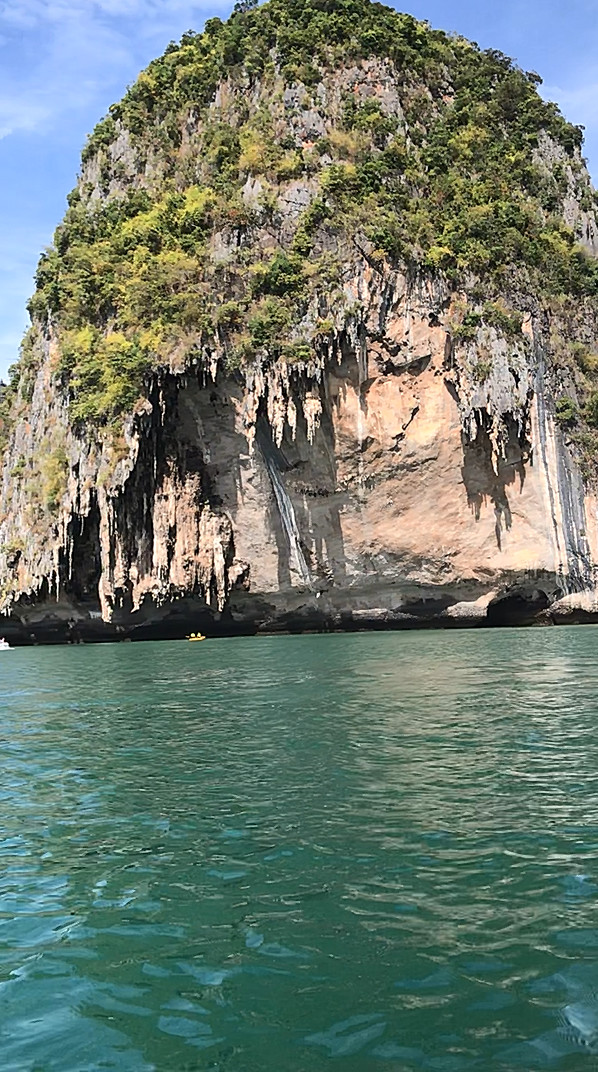 The water was absolutely gorgeous, so vivid and clear and just stretching out as far as we could see, all around us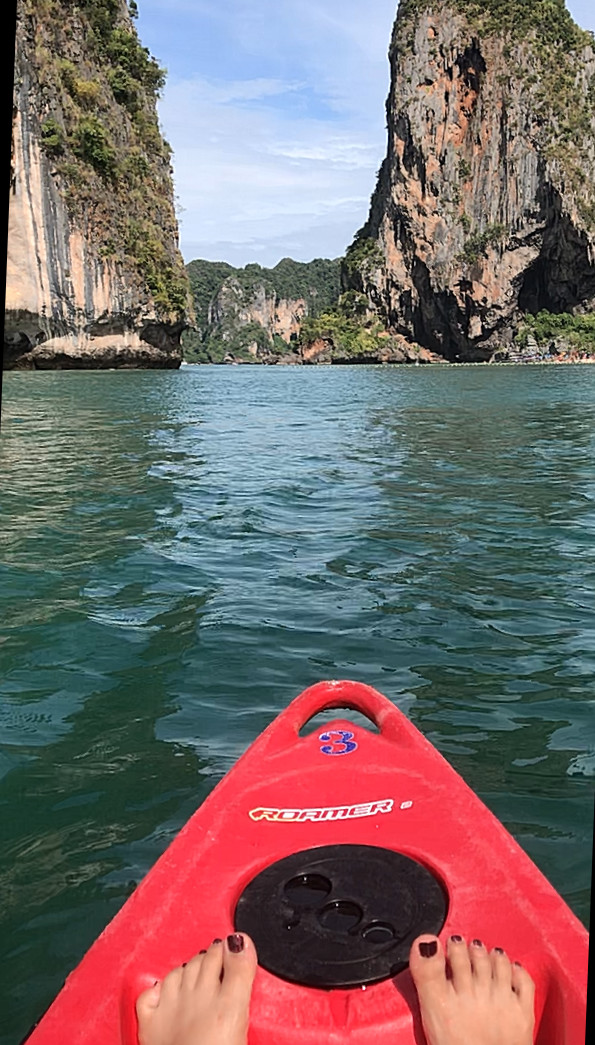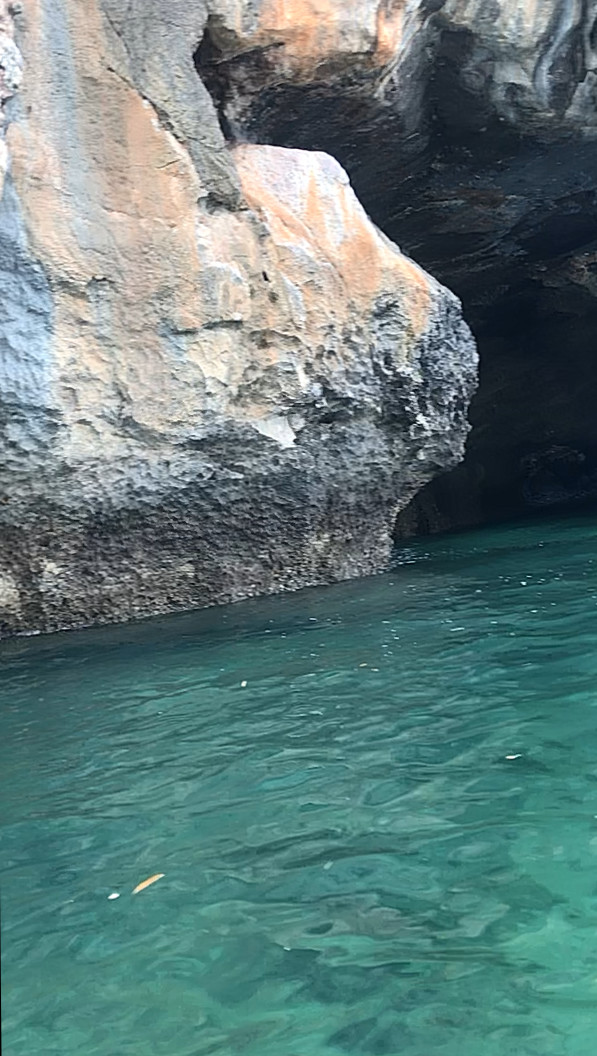 We ended up going through that little hole/cave thing. It's bigger on the inside than it looks, but not by much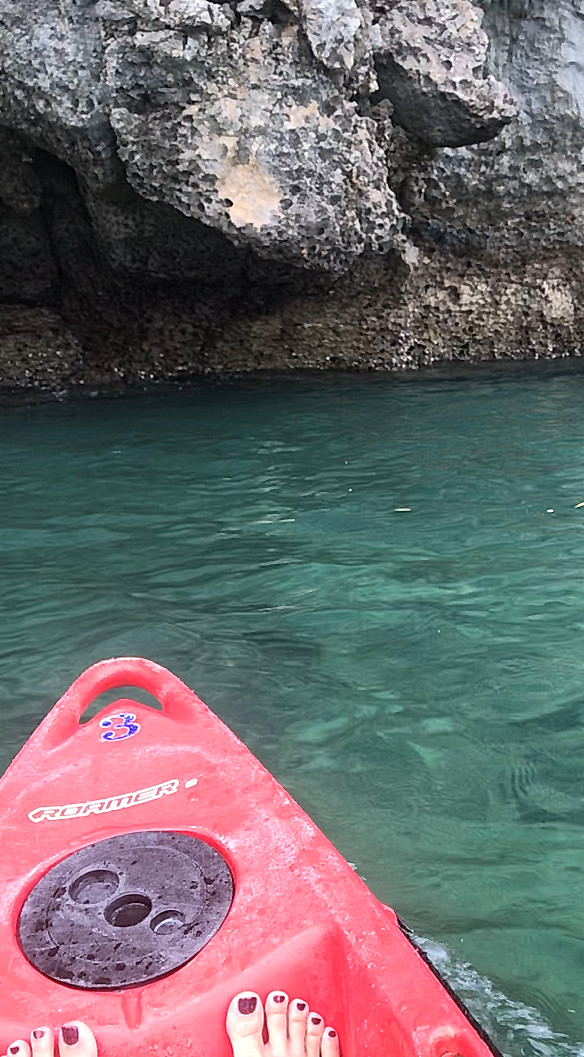 One of the many times we nearly crashed
Also, I really can not overstate the importance of bringing a wet-bag with you for your things. For this entire trip to Krabi, really. It came in incredibly useful both when doing the island hopping and today. 
Some other things you might need when doing a trip to Krabi are:
Mosquito repellent: there are loads of mosquitoes, if you're out after dark - which you likely will be - this is very important to enjoy yourself and not get your blood sucked out by the local wildlife

Cash: most places don't take credit cards
A swimsuit: for obvious reasons
Wet bag: I said it before, I'll say it again, a waterproof bag is invaluable when you're hitting up the beach and the activities thereupon
A waterproof case for your phone: they sell these all over, and it's handy for easy access to your phone while still protecting it, and you can dump your keys and such in there too, for when you don't want/need to bring a whole bag
A decent data plan: you can get one using a prepaid SIM card. AIS gives you 20 hours for 100B if you call *777*725, for example, and the ability to connect to internet is priceless and not always available otherwise
Sandals or flip-flops: easy slip-on, slip-off shoes that you don't mind getting wet and that don't require socks are so necessary. We don't wear shoes in houses or rooms, so you're going to be leaving all of that at the door anyway
An umbrella: it rained pretty much every day I was there, even when it was sunny! This might depend on the time of the year when you go, but umbrellas are also very useful against the sun and heat, and Thais often use them for that as well
Sunscreen: this seems pretty obvious, and yet I saw so many people all red and sunburned
Idling away the rest of the day + Dealing with 'Thai time'
After we got back, we checked out and went around on the motorbike, just trying to waste the remaining five hours or so until it was time to catch the van back to Krabi proper and our flight to Bangkok.
We went to the Nopparat Thara beach and national park, and then sat in Burger King for a good hour or two, then went to the market to catch an early dinner and brought it back to where we stayed.
Full Moon House (the place where we'd been staying) had an outdoor table we could eat at even after check out and that was where the guy was going to pick the bike back up and our van would come anyway, so we did have to go back there. 
I got a cheese egg burger and french fries for just 80B at the market near the mosque, which was great.
There was a little scare where the motorbike people were almost 45 minutes late to pick the bike up, which was worrying since we had to catch the van at 6. It was a good thing we budgeted a full hour between the bike pick-up and the van, that's for sure.
That's another thing about renting the motorbike: you need to get them to pick it back up and give you your passport or ID card back. People here operate on what we call 'Thai time', and that goes extra sometimes for laid-back places and tourist areas like Krabi. That means they can be significantly late, even if you already arranged the night before for when you want them to show up. 
We also had an interesting conversation with the owners of the resort while we waited, where they told us a bit about their life (they'd known each other for a week and a half, then did long-distance, then were together for another 2 months and then decided to get married) and the customers they'd had.
Then we got the van to Krabi, got the plane to Bangkok, and then went our separate ways. I was too late to get the bus back to Salaya, so I had to get a taxi instead. I absolutely collapsed into bed. 
---
Photo gallery
---
Want to have your own Erasmus blog?
If you are experiencing living abroad, you're an avid traveller or want to promote the city where you live... create your own blog and share your adventures!
I want to create my Erasmus blog! →