Island Hopping at Krabi
As the title suggests, Ja (a friend from uni) and I went island hopping today, which just means we hired a longtail boat to do a private tour of these four islands, except it was only three actually, because for one of them the driver (skipper? captain? what's the name for a driver of a boat?) just took us by it so that we could see it was in the shape of a chicken, we didn't land.
The water at really low tide early in the morning. You do want to get there around 8-9 am, so you can have the full day rented.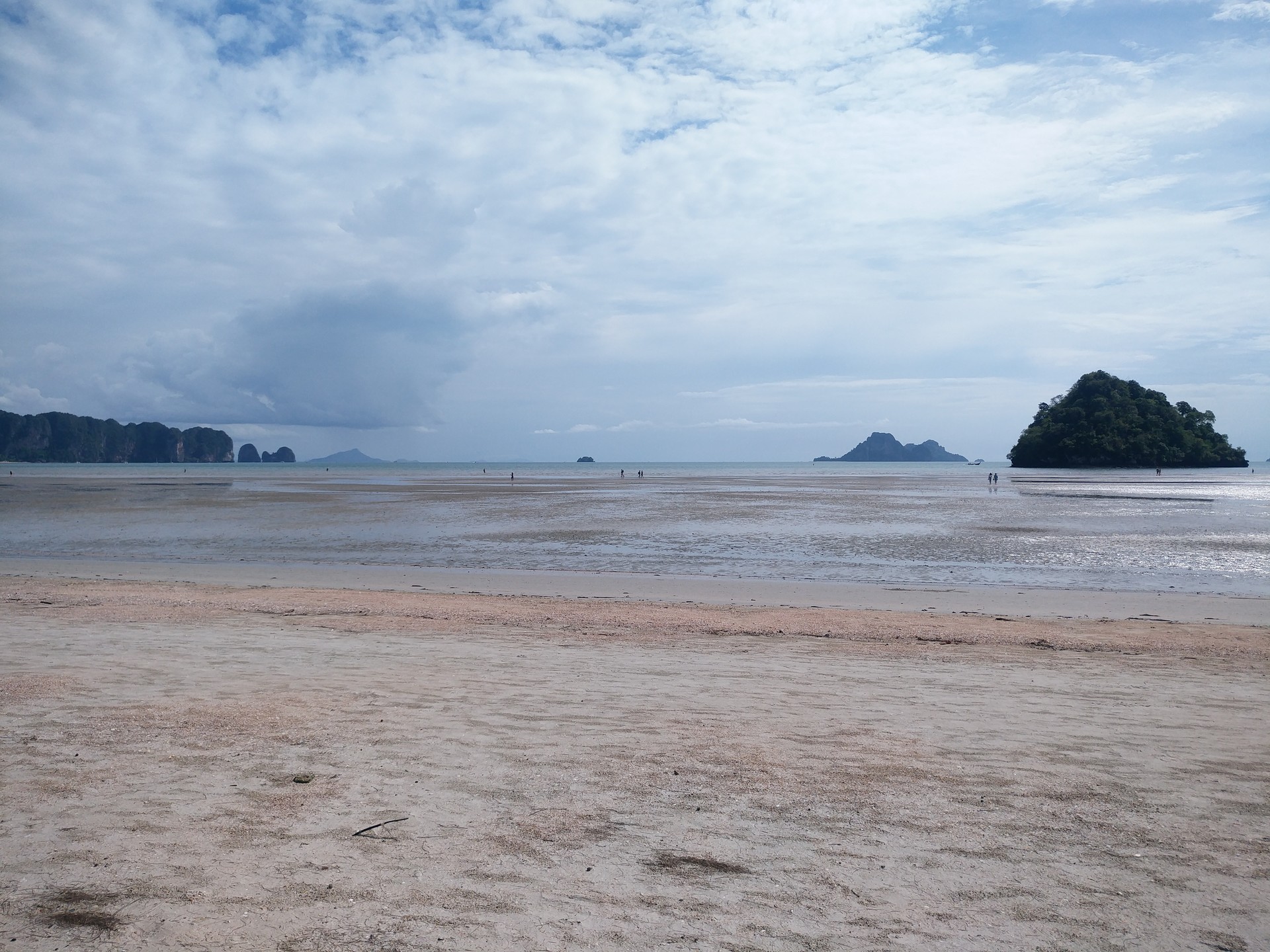 The Morning
So there was a miscommunication and we actually were supposed to go to Railay Beach also, since Ja and I wanted to go kayaking there and at the tour desk they said we could choose either Railay Beach or Phra Nang Beach.
When Ja asked the guy though, he said he could take us to both, so we were like 'cool' and off we went. We got the full-day tour, which was supposed to go to 4 pm.
However, after we'd done Phra Nang and the other islands, it was around 1 pm and we went 'ok, time for Railay beach!' and he said no, he couldn't take us, we'd already done our four islands.
Obviously, we were like, what? But no, and not only couldn't/wouldn't he take us to Railay, but he also wouldn't take us back to any of the other beaches or anything. Since we'd already been, we were supposedly now done and so we had to go back, even though it was three hours early. 
That sucked, and now we're planning to go to Railay on our own tomorrow, except it's screwing with our schedule and we'll have to get up really early and rush, and we're going to end up getting wet again. I did not bring clothes and stuff for two such trips.
Us, heading back.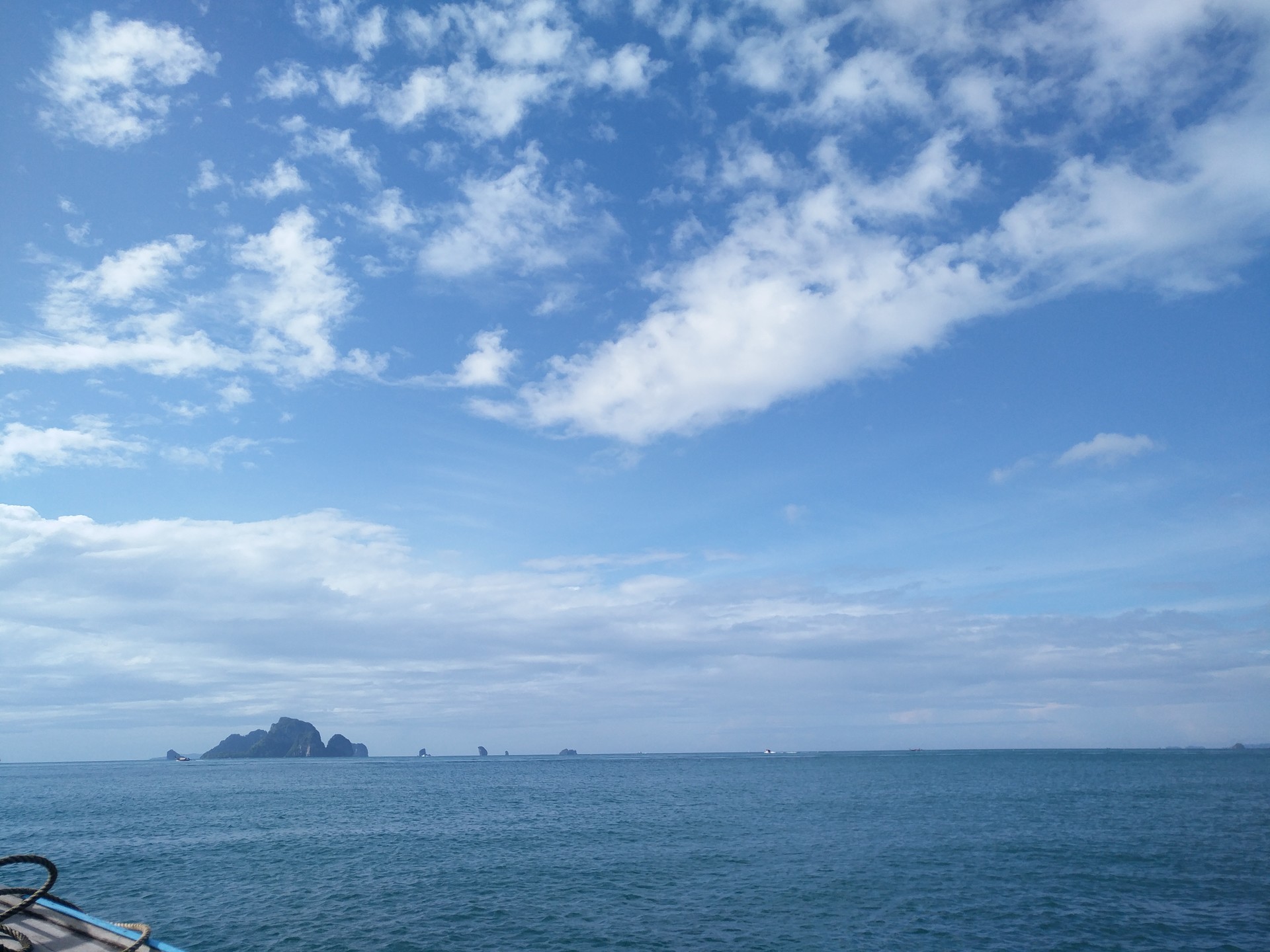 What else? The islands were nice, very pretty, great beaches, except there wasn't anything to do on them (except Phra Nang, which had a little cave area where you could climb the rocks), so we basically just walked around.
If we'd known we had more time and weren't going to Railay, we would've hung out here longer. They had some good food being sold off of boats tied in on the beach, and people were doing rock-climbing nearby, which was fun to watch. 
Here's a picture of the cave at Phra Nang, it was pretty cool to climb all over it, but the rocks were sharp at some points.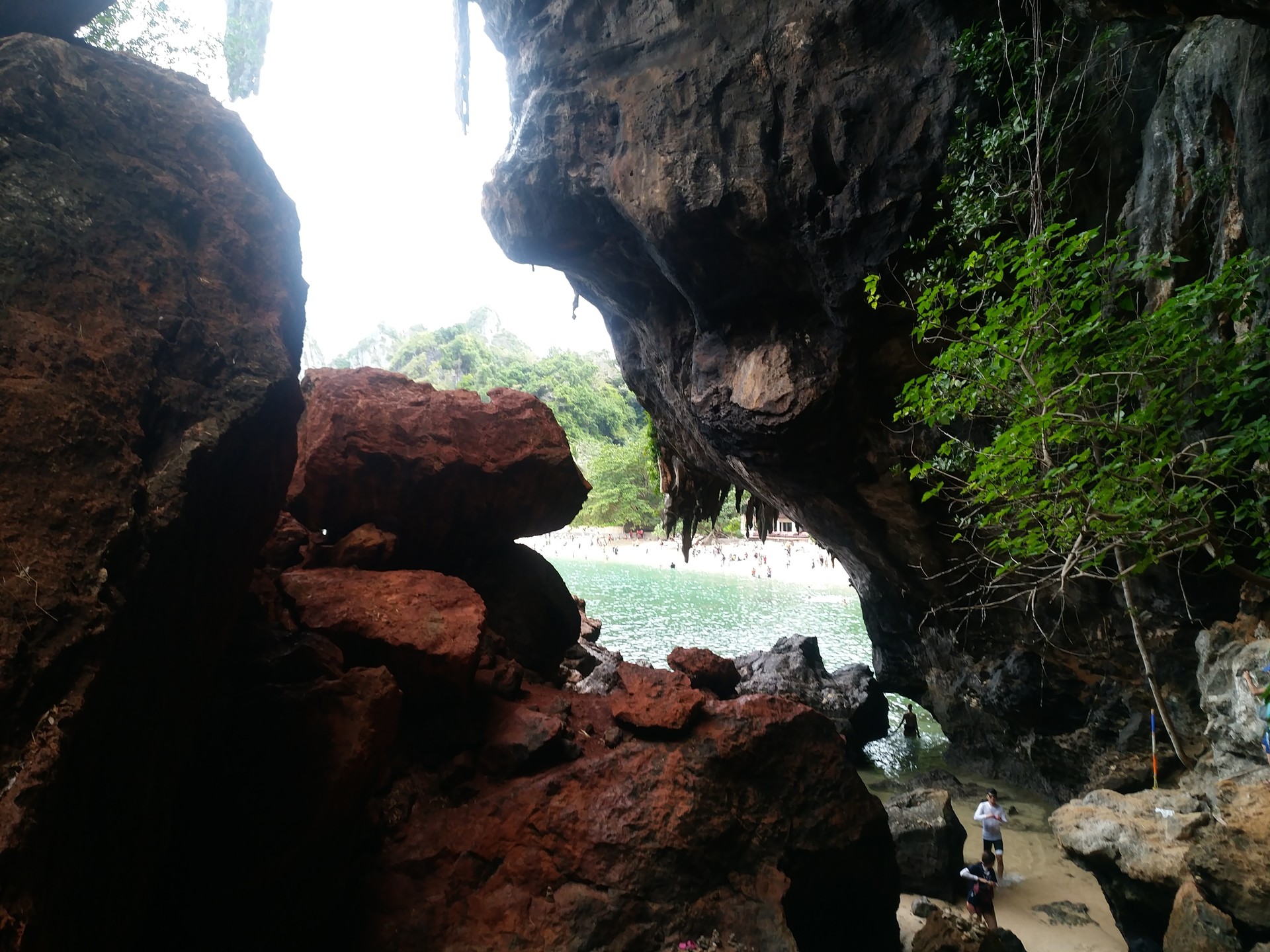 We did go snorkeling, which was an interesting experience, and a complete first for me. It was nice enough, but I can't see very well without my glasses, and I actually got sick.
It was probably a combination of the heat and sun being amplified by the water, and the relatively low oxygen levels and difficulty of breathing only through my mouth and the snorkeling tube. 
I didn't say anything about it and held it in until we got to the next (very close) island, which had a bathroom. I threw up in there, but I'm glad I managed to wait, and I felt a bit better afterward.
The Afternoon
Once we came back, it started raining. We hung around in Burger King and ate a snack, then came back and tried to eat at Jungle Kitchen, discovered it was closed, and ate at a nearby place. Then home to shower and take a nap.
After I woke up we went to a small market where the food was actually reasonably priced! A huge shocker, we were very happy. Food prices in Krabi are insane, pretty much double those in Bangkok. 70B is the normal here for fries, and 50B for a simple omelet, without rice! I can buy that for 20B in Salaya.
Afterward, Ja wanted to get a beer so we tried to hunt down a bar. She did get one, but the mosquitoes were bothering her so after she finished it we left. The bar's wi-fi password name was a bit funny, but it was actually the name of a drink they had too, though I don't know if that makes it better or worse.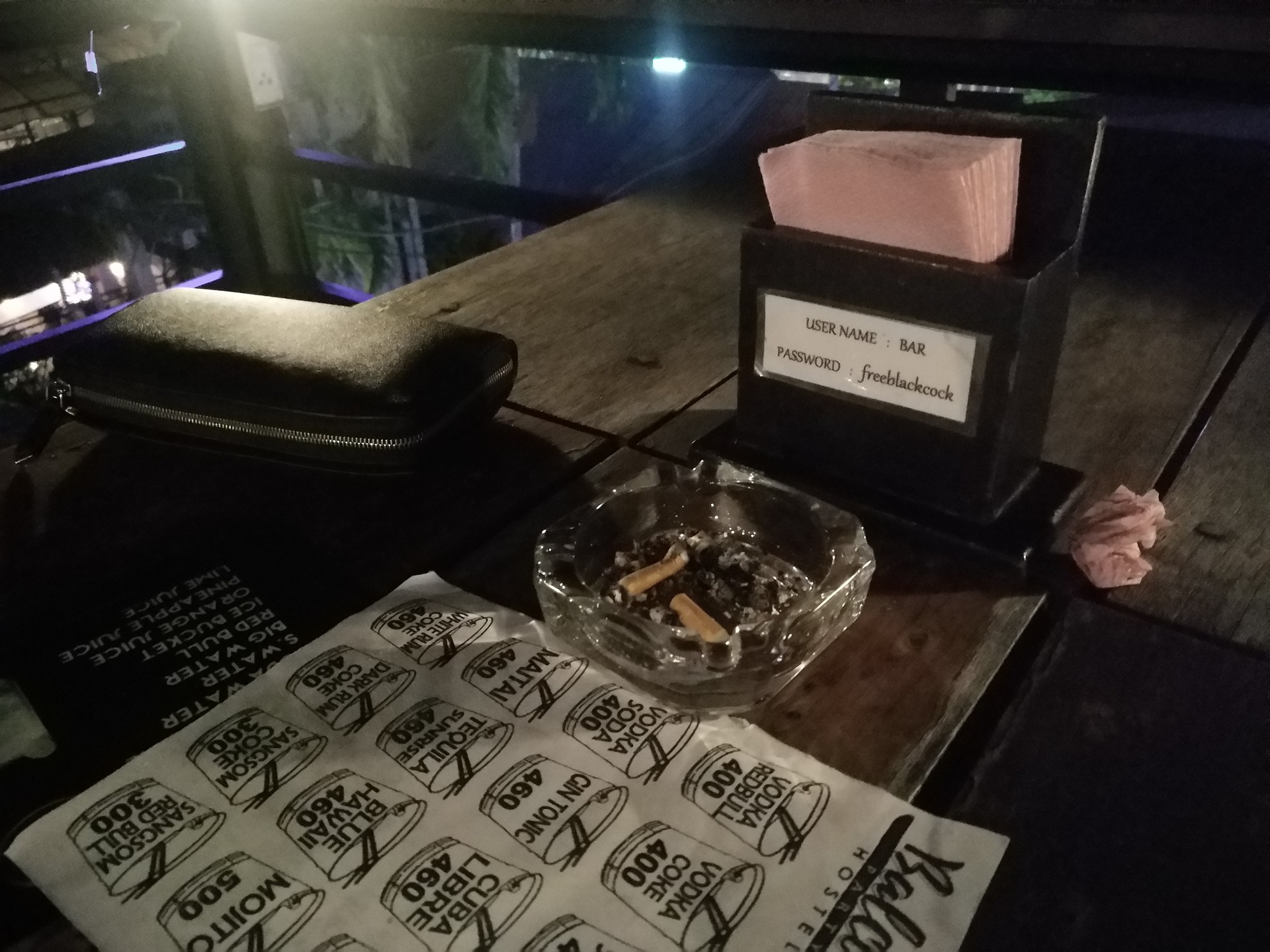 She still wanted to go around though, and it was just 9:30 pm, so we ended up going to Krabi Town, about 25 minutes away by motorbike.
There was nothing there though, except for a very small food market, and so we came right back. I don't mind though, the ride was nice and it was good to see the city and know what it's like. Krabi Town wasn't hugely touristy and actually reminded me of Rayong; it was pretty much like that.
Oh, also, I got really really really tan just from those 30 minutes of snorkeling. There are clear and defined tan lines from my shorts. Like, you can see the cut-off point as a obvious line and then all the rest of my leg is a way darker color. As Ja says, it looks like I'm wearing dark stockings. Same thing with my straps and such. And I was wearing sunscreen! The Thai sun is definitely something to watch out for, especially if you're going to be in the water.
This pic sort of shows it, though mainly just how bright it was.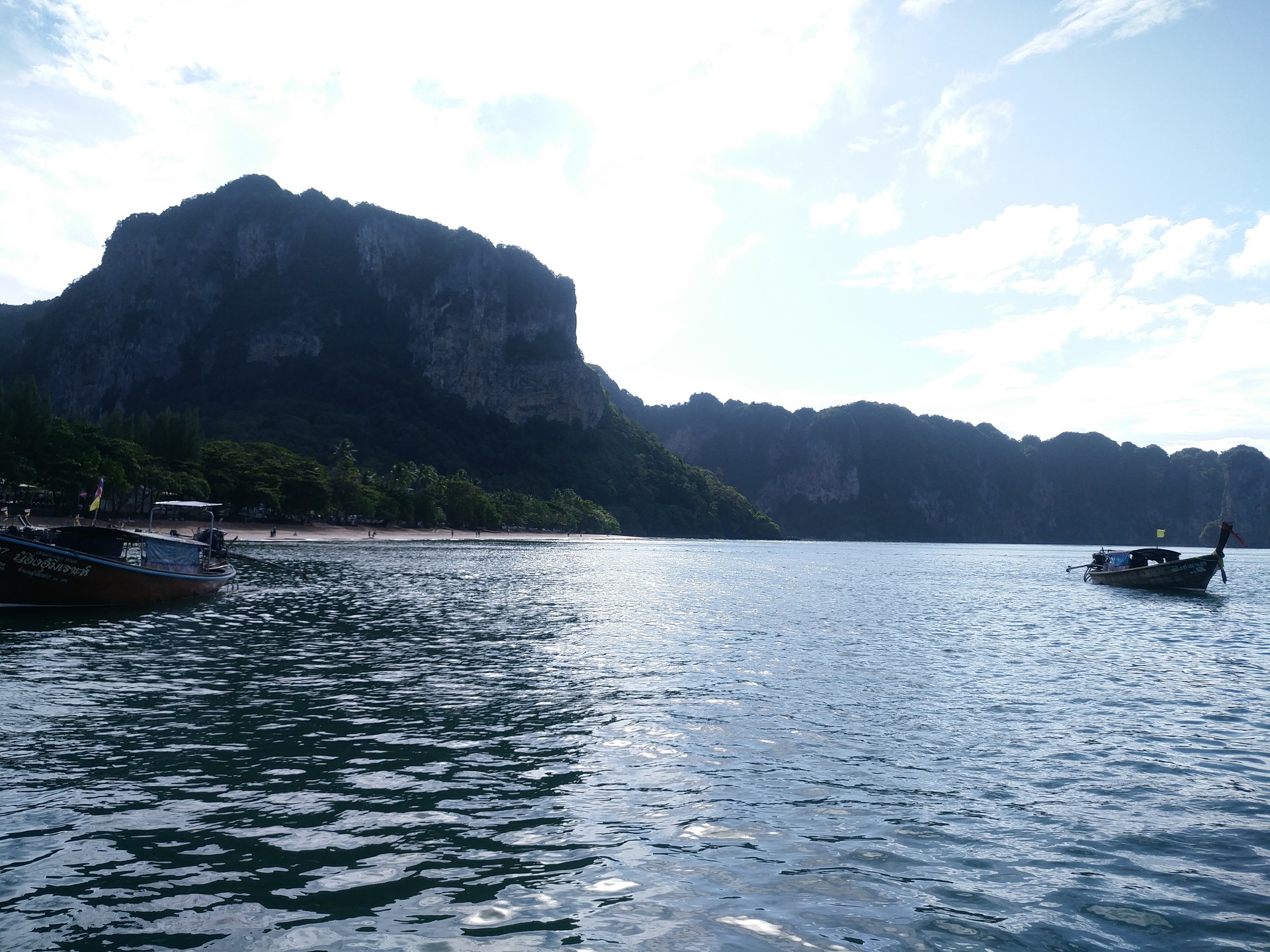 ---
Photo gallery
---
Want to have your own Erasmus blog?
If you are experiencing living abroad, you're an avid traveller or want to promote the city where you live... create your own blog and share your adventures!
I want to create my Erasmus blog! →