Hiking the Dragon Crest Mountain trail
1. What is Dragon Crest Mountain
As the name suggests, it's a mountain. In Thai, it's also called Khao Ngon Nak, but what's special about it is the hiking trail, which is about 3.7 km one way, has super fantastic viewpoints, and is also free and relatively accessible. It's said you can see all of Krabi from the top.
Hiking the trail can take anywhere from 1 to 2.5 hours one way, depending on your fitness level and how often you stop for photos. It is pretty steep at some points and we did get a good workout, but it's not actually dangerous ever. Also, the view from the top is worth it.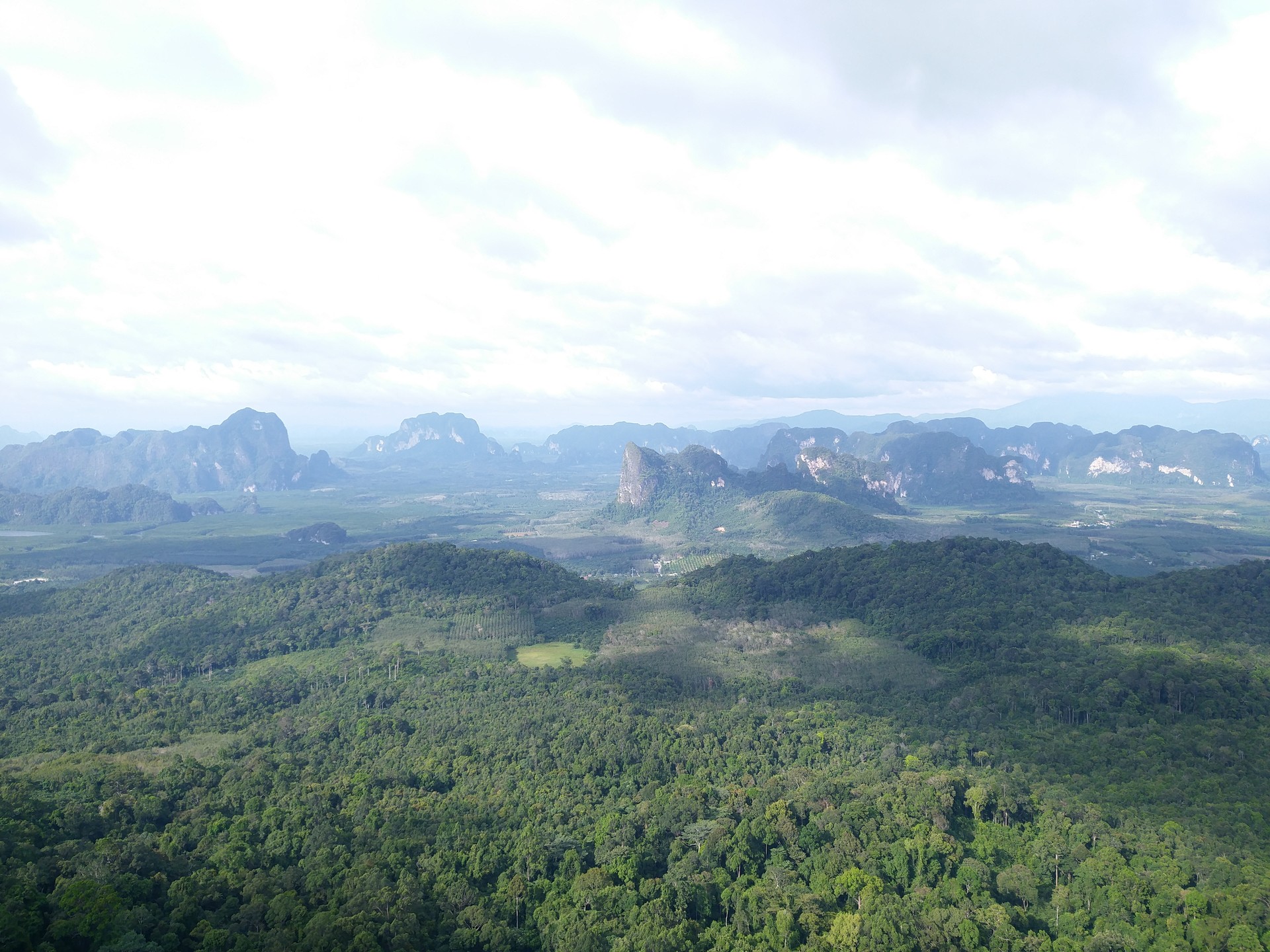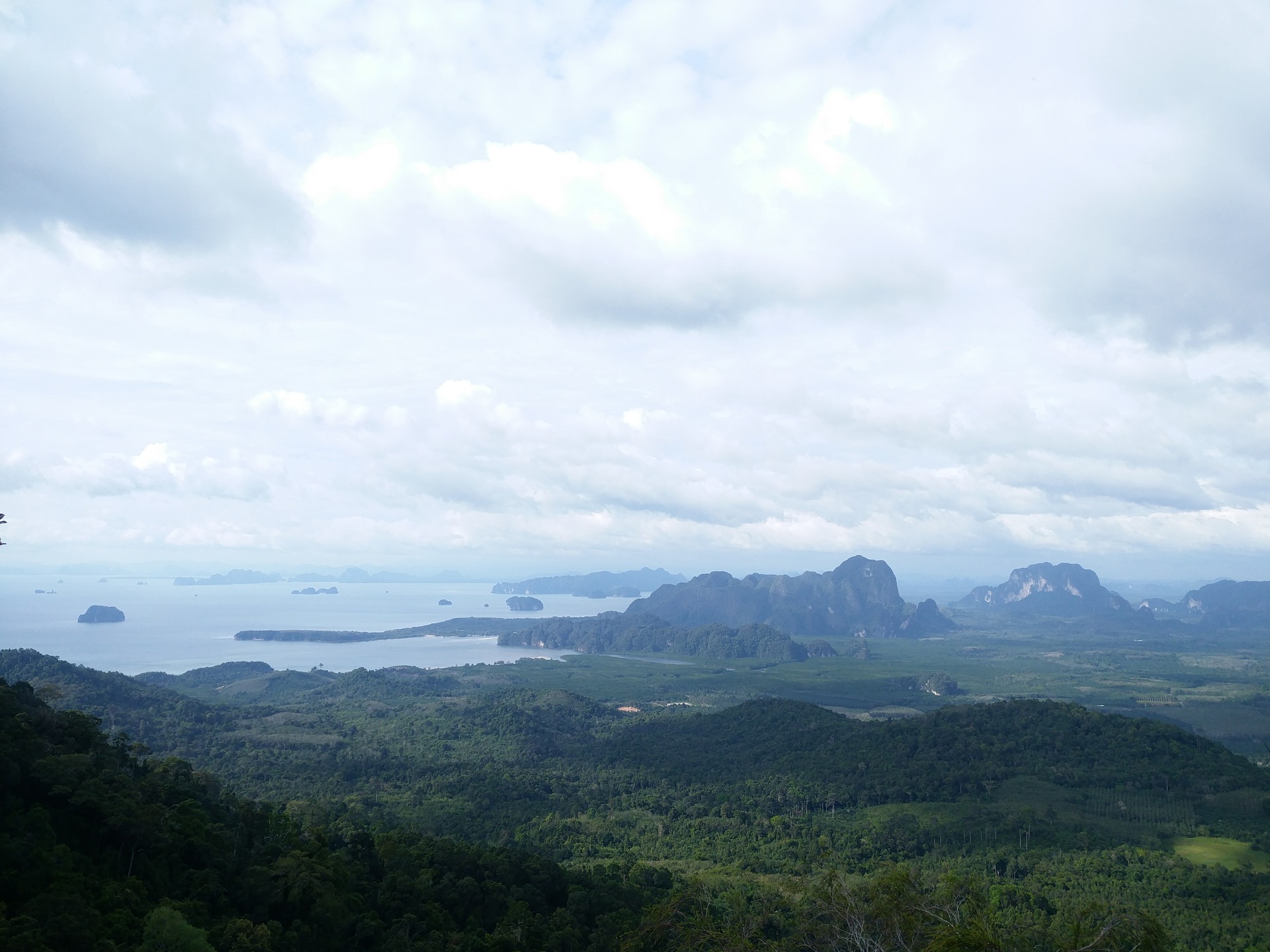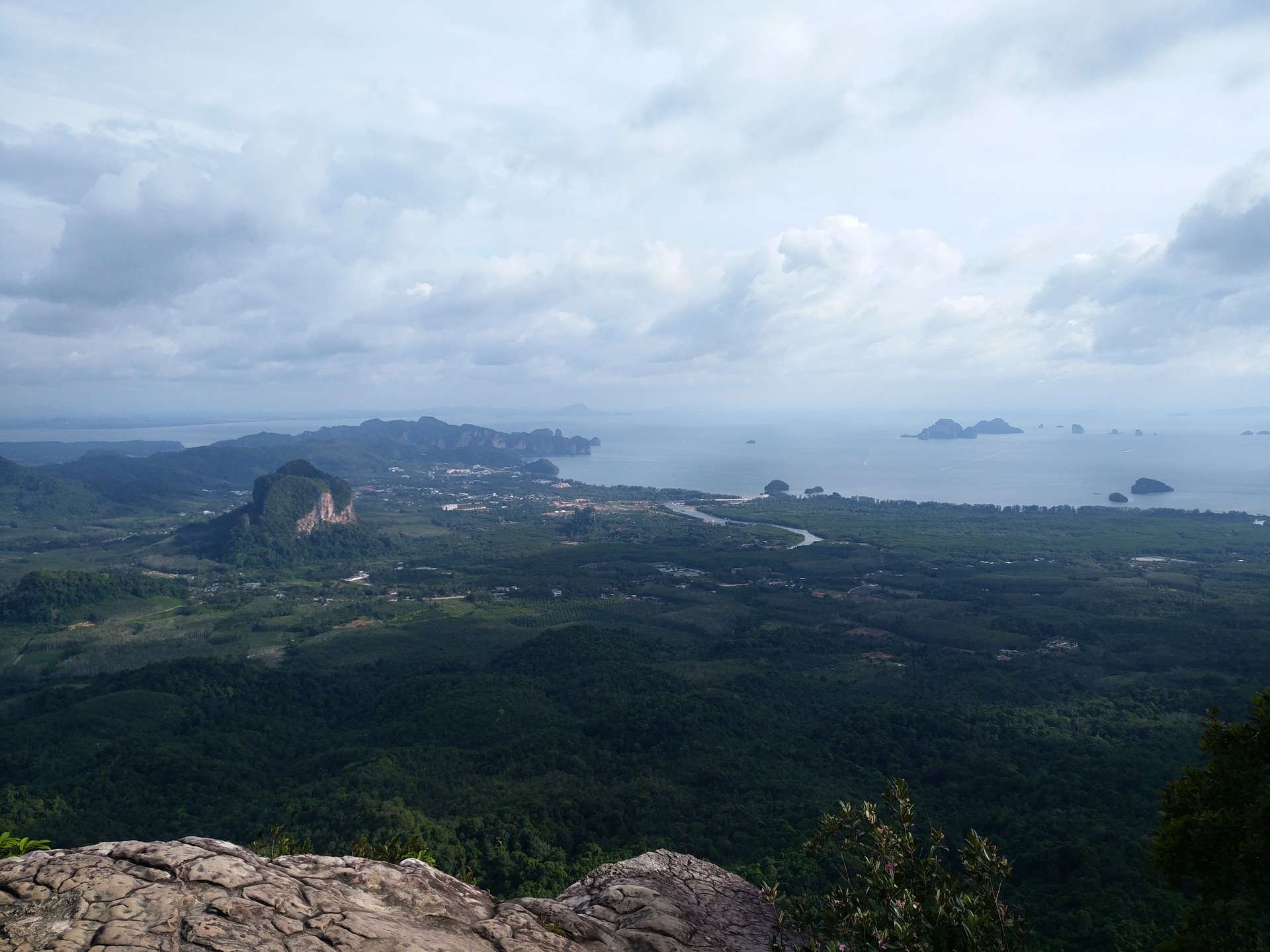 2. Where to start
The Dragon Crest trail is one of the (relatively rare) hiking trails in the south of Thailand. The best way to get here is typically by airplane, though if you really want to go through the suffering, there are buses that come here.
Seriously though, it's not that expensive to fly here if you're already in Thailand. Our tickets from Bangkok cost around ฿600 (€18) or so. We flew in to the Krabi airport, which is the smallest airport I have ever seen.
From there, you can catch a bus for around ฿200-250 (€6-7.5) for the hour long ride to Krabi city. Inside the bus itself there is an area to put your luggage, but you still have to carry it up the steps of the bus and I still wouldn't recommend bringing loads.
Krabi City is by the beach and is very much a tourist town, with loads of hostels and restaurants and roadside stalls and so forth. We checked in to a small bungalow room at Full Moon House and Resort in the early afternoon, and asked the lady at the desk (the wife of the owner) to call the motorcycle people who we could rent motorbikes from.
Most accommodations can do that for you in Krabi, as it's a pretty small town and everyone knows everyone and that's a request that comes up a lot.
So, they did, and we rented a motorbike for around ฿250 per day (€7.5), though I should point out that they will want to see a driver's license or some sort of ID.
It's also a good idea to look over the bike first, just to be sure you know what you're getting and there isn't any major damage. Normally it's fine, but if you do get into a minor accident or something, you want to know what's your fault and what was already there.
3. Getting to Dragon Crest mountain
So, after a brief nap, off we went to Dragon Crest via motorbike. If you don't want to rent a motorbike, taxis will also take you for a relatively reasonable price. All the reviews of the place said there are no food or convenience stores nearby, so we made sure to stock up on those and water before heading out.
We were pretty rushed though, and almost didn't go today because it was raining and by the time it stopped it was quite late and the place does close down around 5 pm; this is not a trail you want to be hiking in the dark. But we decided we'd risk it and just walk really really fast.
The drive was super nice. Most of it was along the beach so you got a nice breeze, and there weren't many people around, pretty much no traffic. I did the navigating via Google Maps on the back, while Ja drove.
Important point: when consulting Google Maps (or otherwise), you should head to the Mu Ko Phi Phi National Park checkpoint, not what Maps says is Khao Nong Nak. Mu Ko Phi Phi National Park checkpoint is where the hiking trail starts, and you need to sign in there.
4. The hike
Like I said, we were hell rushed on the way up, because we were worried about time and the light going, so we didn't stop for as many pictures and rest breaks as I'd like, but there are two viewpoints and then the peak too, and they were super pretty.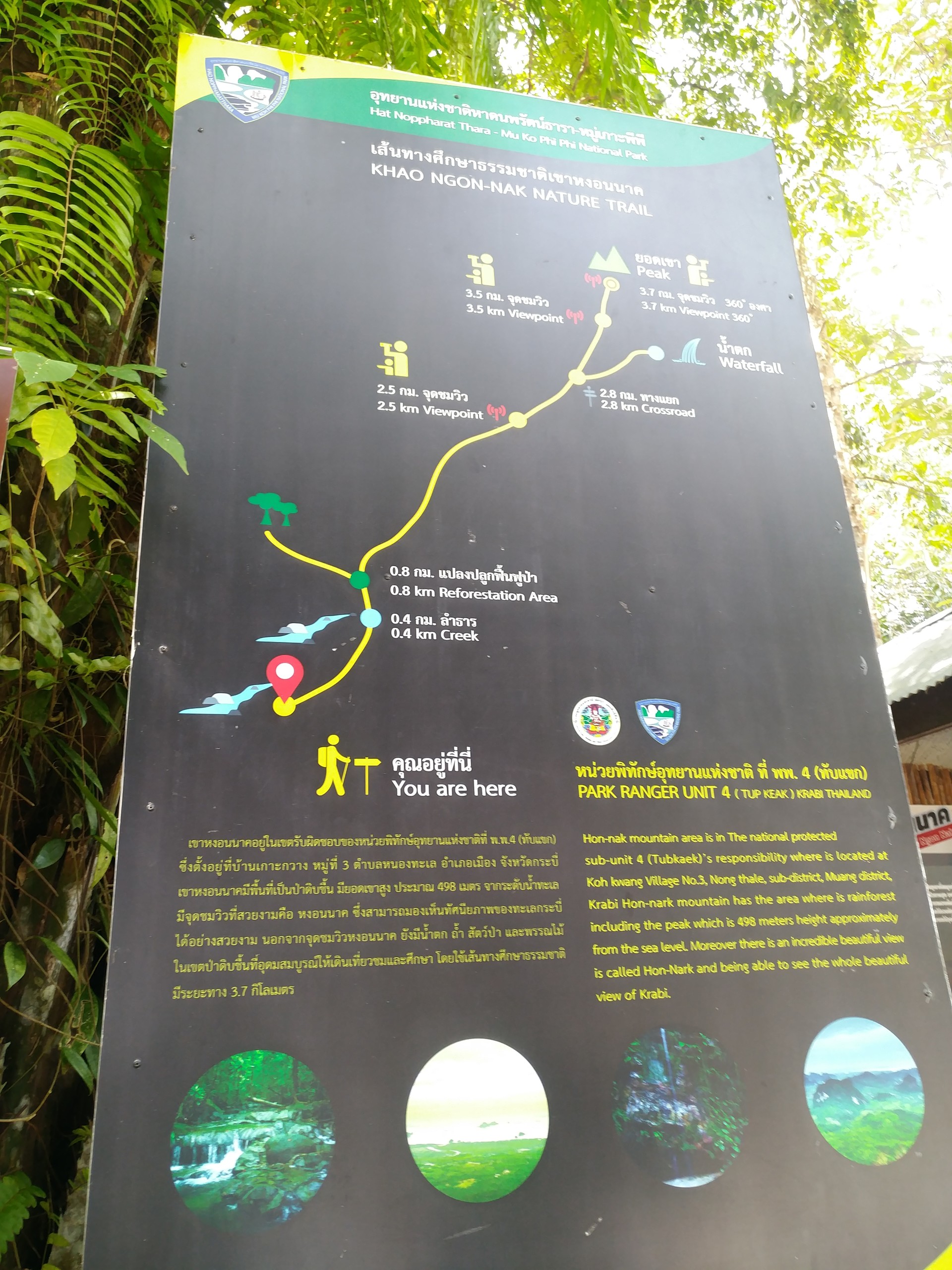 The trail was well marked, and there's also a board showing the trail in its entirety when you start. I suggest taking a picture so you can check it if need be, to reassure yourself you're coming up onto a nice viewpoint soon-ish.
There is technically the option to branch off a bit (it's still on a trail but not on the way to the peak) to see what they optimistically call a waterfall, but that's really not worth it.
Having done 'hikes' in Taiwan and Japan, where there are nice paved roads or steps leading all the way up, I should point out that this is like, a hike in the jungle and mountain. There is a path, but it's dirt and rocks and the occasionally lizard slithering across.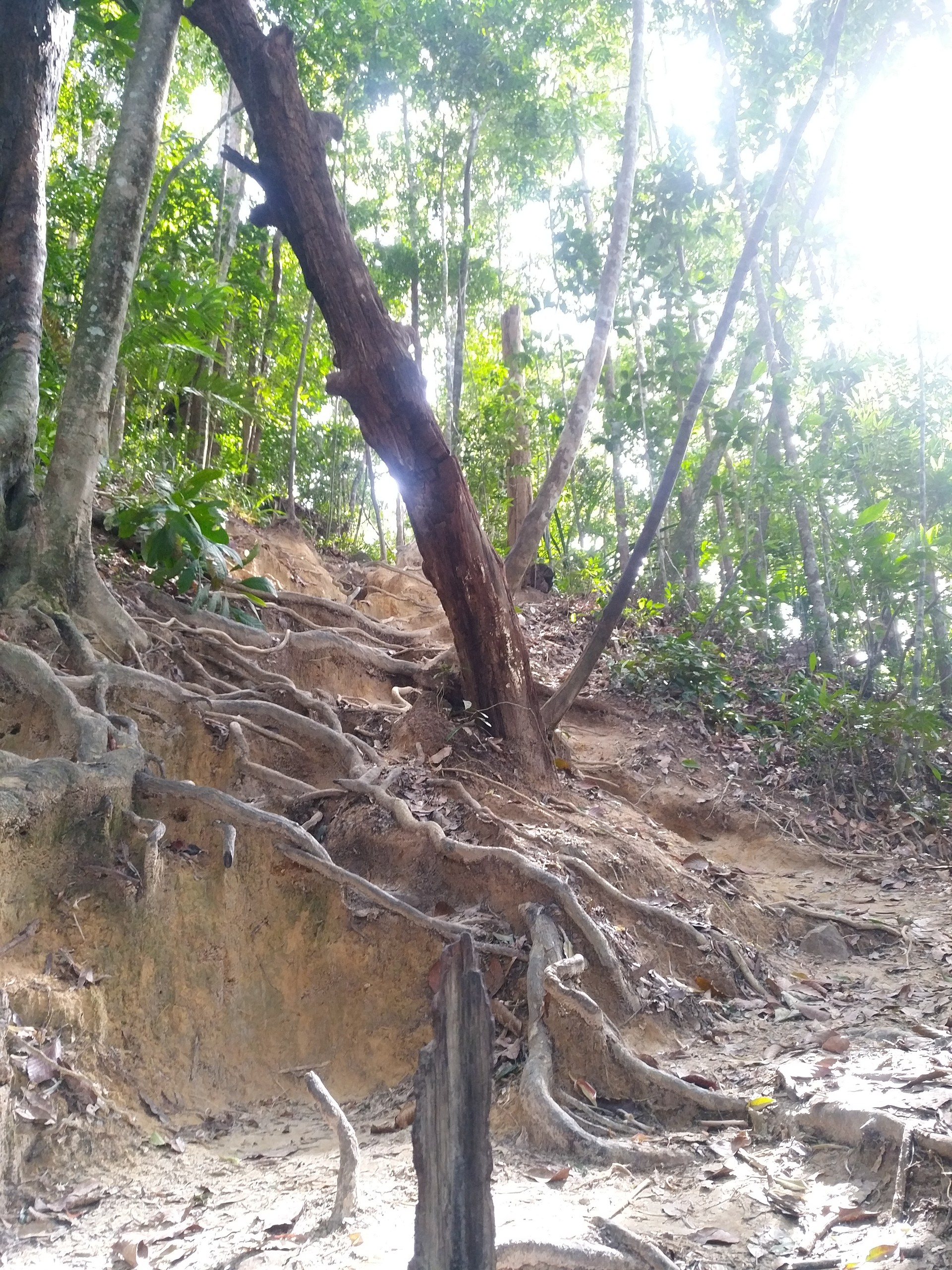 No lizards, but you get the picture; that's the path
If you are in a rush, like we were, it's still a good idea to budget at least half-hour or so for picture taking at the peak. You can walk around and get relatively different views for your shots, and also, it's just nice to relax there with some food and feel the wind and sense of accomplishment. Why go all through the effort if you're not going to enjoy it? So, we did idle around on the top for a little, and then we hurried back down.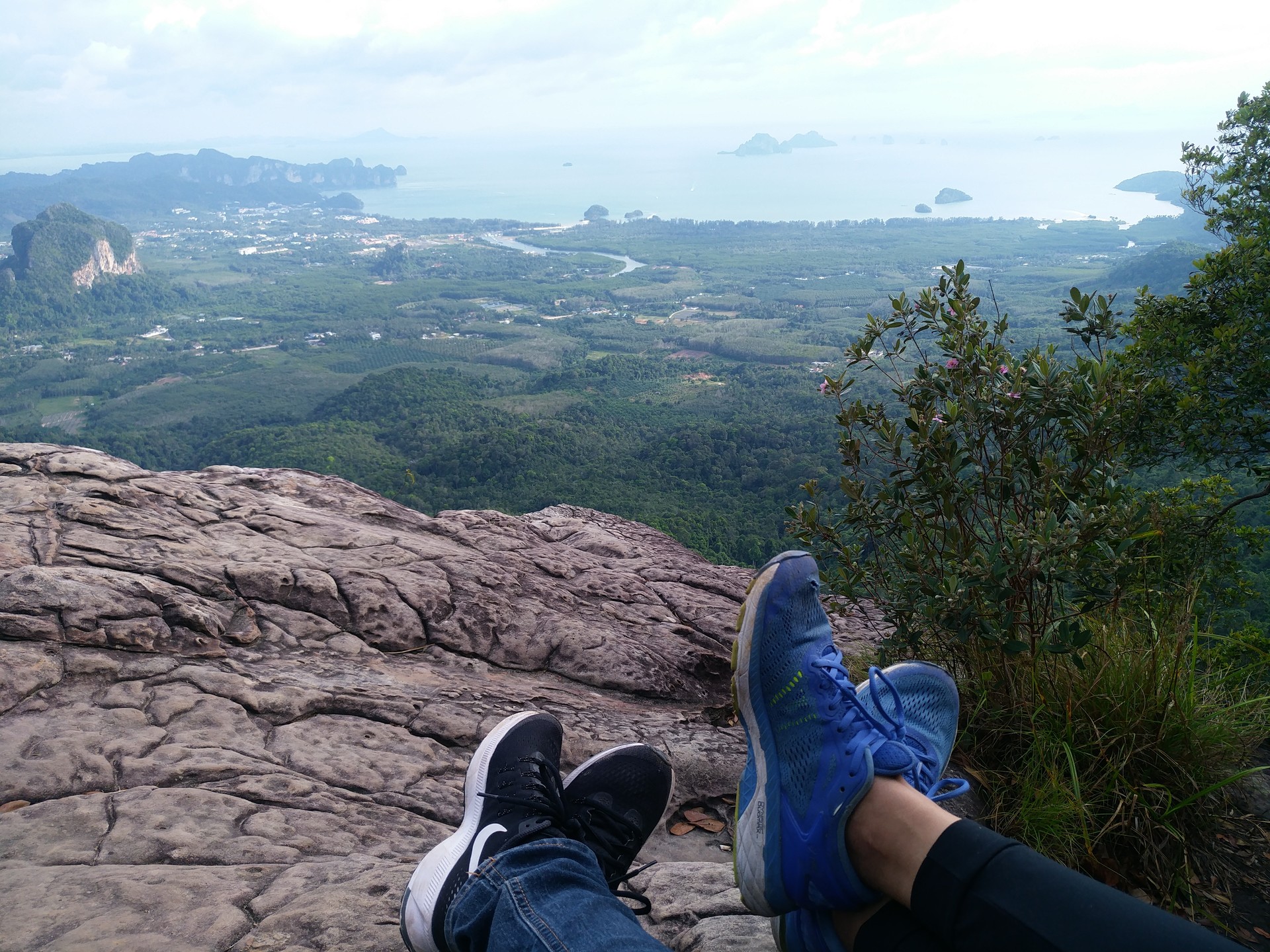 Idling at the top, enjoying the view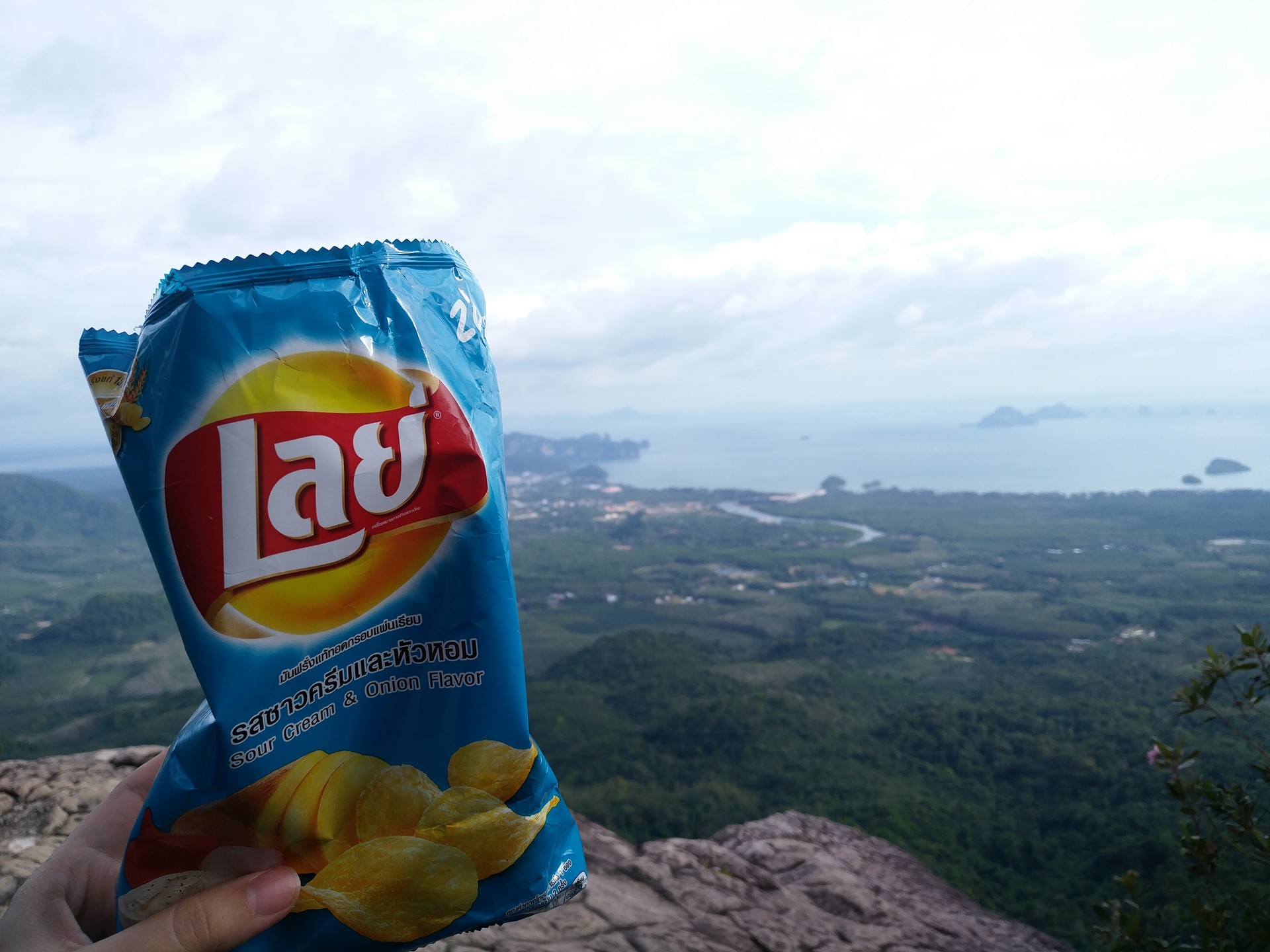 Eating our snacks so we didn't have to carry them down (and also because they were tasty and we were hungry)
5. Getting back to Krabi
Not only did we make it in time to get back before the sun set and we lost the light, but on our way back we actually got to pull over and watch the sunset over the beach. We played some music and hung around till it got dark, and it was a fantastic ending to the day.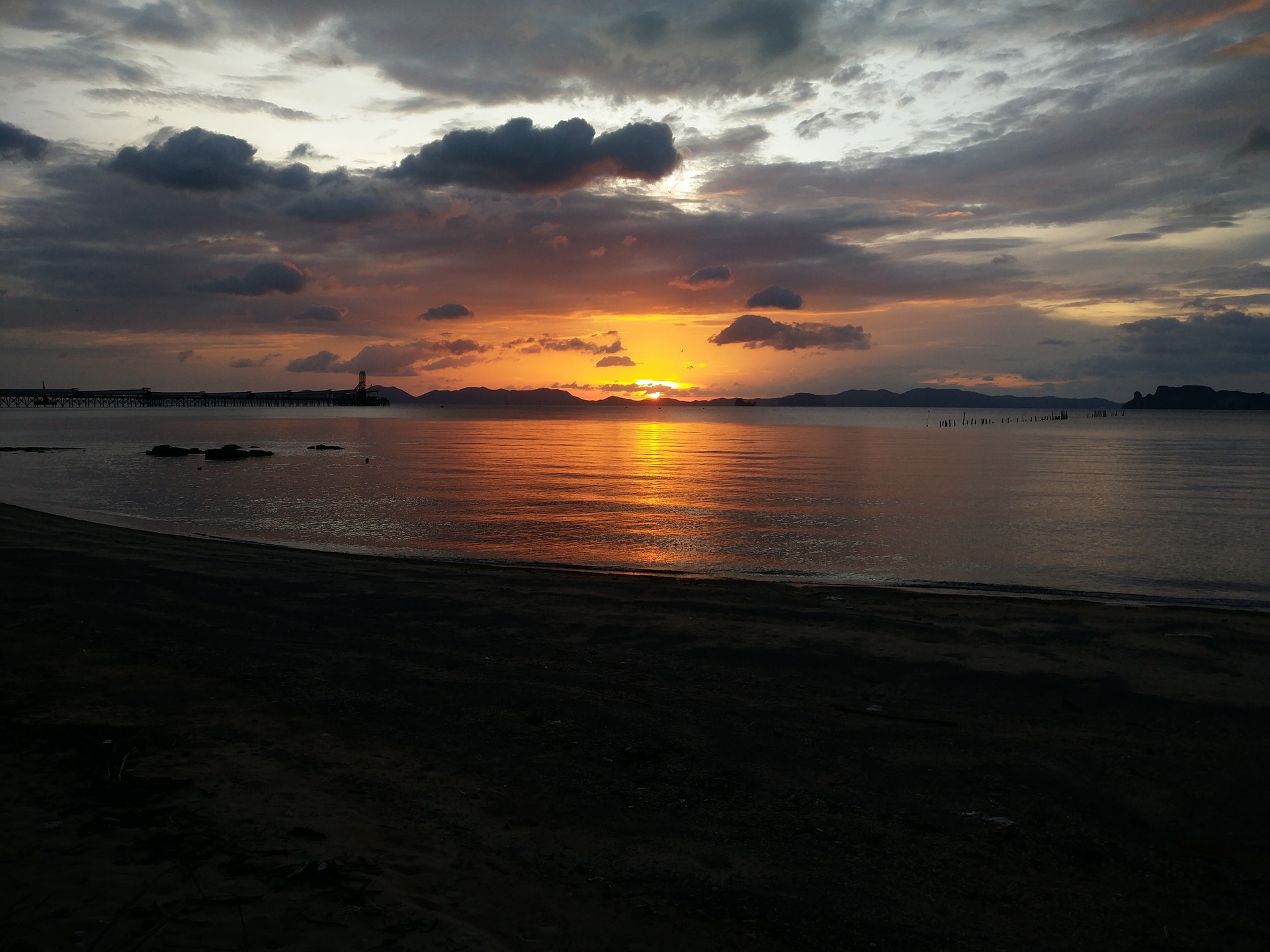 Sunset on the way back
---
Photo gallery
---
---
Content available in other languages
Want to have your own Erasmus blog?
If you are experiencing living abroad, you're an avid traveller or want to promote the city where you live... create your own blog and share your adventures!
I want to create my Erasmus blog! →