Strasbourg: the best city in the Alsace region
Hello everyone! Today we are going to change country: it is France's turn. Specifically, the city of Strasbourg, which you'll find in the North-East, just at the border with Germany. It forms part of the Alsace region, where there are other small villages with these kinds of picturesque houses.
When I was on Erasmus in Aix-en-Provence, I tried to visit this city various times, but it never came to fruition; either due to lack of time or having to spend this time studying (yes, Erasmus students also study). I went back to Spain with the disappointment of not having visited Strasbourg, but I knew that sooner or later I was going to go there.
So this is why at the end of January 2018, I took a plane from Porto to Strasbourg, with Ryanair. We spent four days there, which is more than enough time to explore the city at our own pace; enjoying every corner, cafe, and building. So, below I will tell you which are, in my opinion, the must-see places in this Alsatian city:
1. Petite France.
Firstly, I have to speak about Petite France. It is a district which is full of Alsatian houses, where the fishermen used to fish (forgive the repetition). We were lucky enough to be able to stay here, right in the centre of the city. Here, I'll leave you a picture of our Airbnb, which is the smallest house in the photo. It is full of cafes, souvenir shops, and also restaurants; where the typical dish is sauerkraut, which we didn't bring ourselves to try, as honestly, it didn't look very appetizing. Another traditional dish from this region which is more appetizing is the Tarte Flambee, which looks quite a lot like a pizza, because it is a dough with different ingredients on top.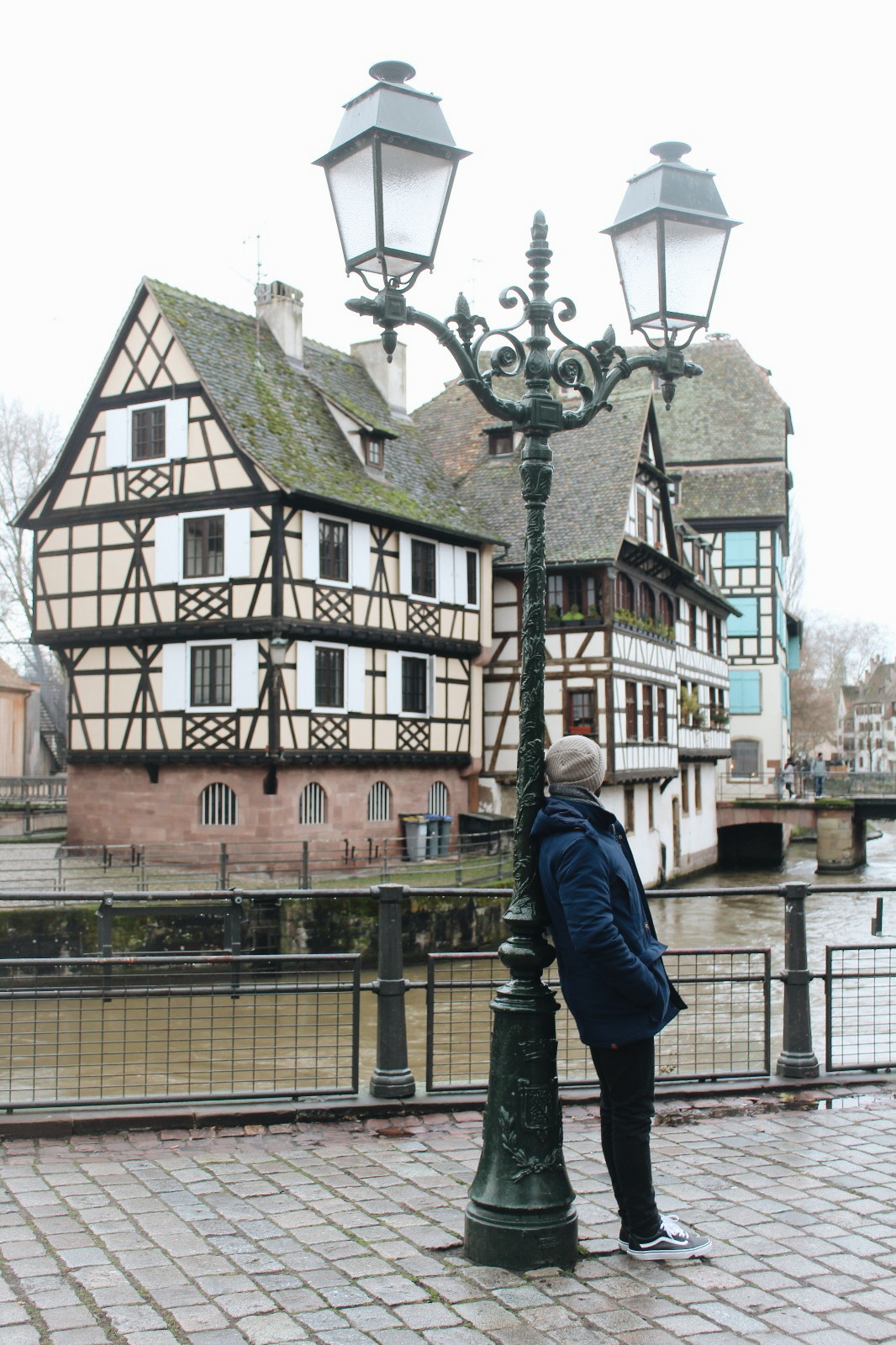 In Petite France, there are lots of corners which you can lose yourself and immerse yourself in, in this magical Alsatian atmosphere. One of the best-known spots is the Maison des Tanneurs, which is a restaurant decorated with pots with red flowers, which contrast with its white and brown walls. In addition, this restaurant is next to the river, which is perfect for a romantic evening out.
The four days that we were there, we were looking for a strange house, from which you can have this weird perspective. Finally, we found it on our last day, and to our surprise, it was located just in front of where we were staying. We had it in front of our noses for three days and we hadn't even noticed. To sum up, in the end we found it by chance.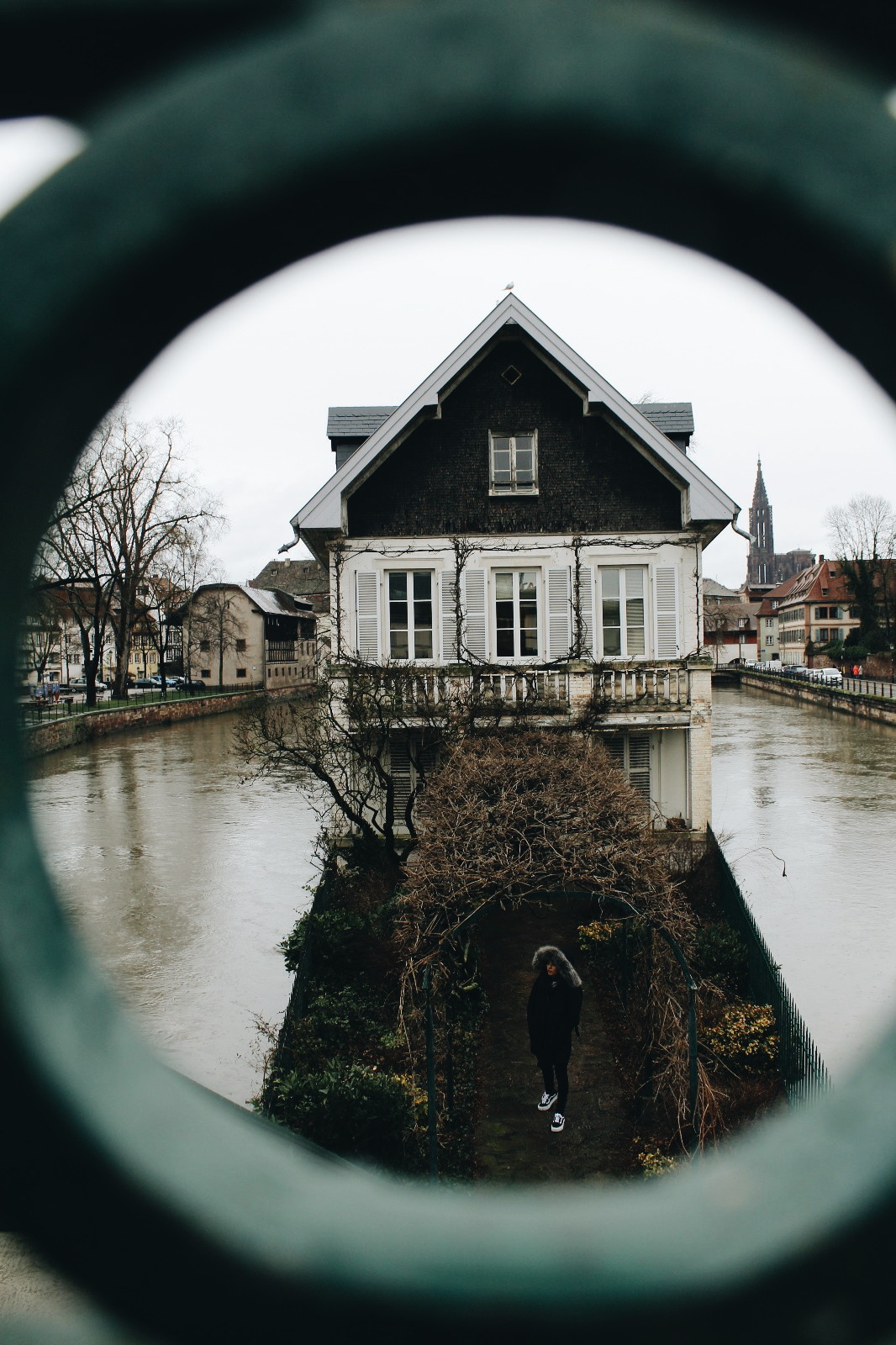 2. Ponts Couverts.
We found it by going towards the Ponts Couverts. It is an ancient fort that you can go through. It goes over the river and it is a quite a pleasant area of the city. When we went, it didn't snow, but I have seen pictures of the bridges with snow and they were incredible.
3. The cathedral.
This cathedral isn't like the others, it has certain special characteristics. The first time that I saw it, I was on the street opposite and honestly, the cathedral seems as if it will fall on top of you. The street is too narrow compared to the cathedral, which is too tall and large. Therefore, it creates quite an original perspective, take a look. In addition to that, the cathedral is quite interesting because it only has one tower. Basically, when the cathedral was being built, the Gothic style went out of fashion, so they left it half-finished; which is why it now has this strange shape. In this street, you can also buy souvenirs or have a coffee. Honestly, the cafes in the centre are all carefully maintained and decorated. They are very pretty. I don't remember the price of a coffee, so it couldn't have been too expensive.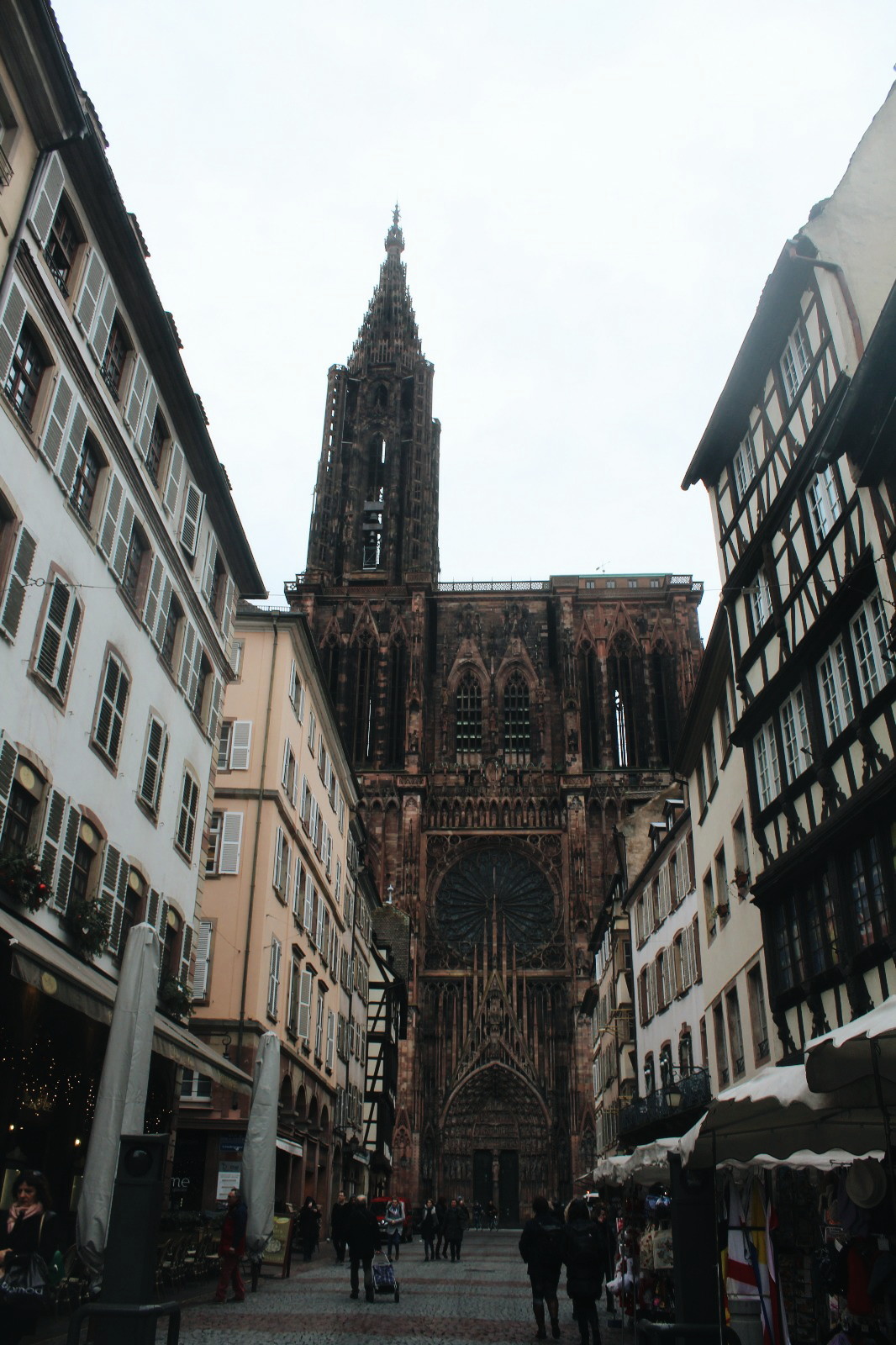 We went inside the cathedral, it didn't cost much, like 1 euro 50 with a student card. We climbed up a lot of stairs but it was worth it, because from there the views of the whole city are incredible. I always like to see a city from above, and find the sites that I have visited with something different than Google Maps. I particularly remember that on top of the cathedral it was quite cold and windy, but at least we were wrapped up warm: scarf, hat, thermal clothes, gloves and a big coat.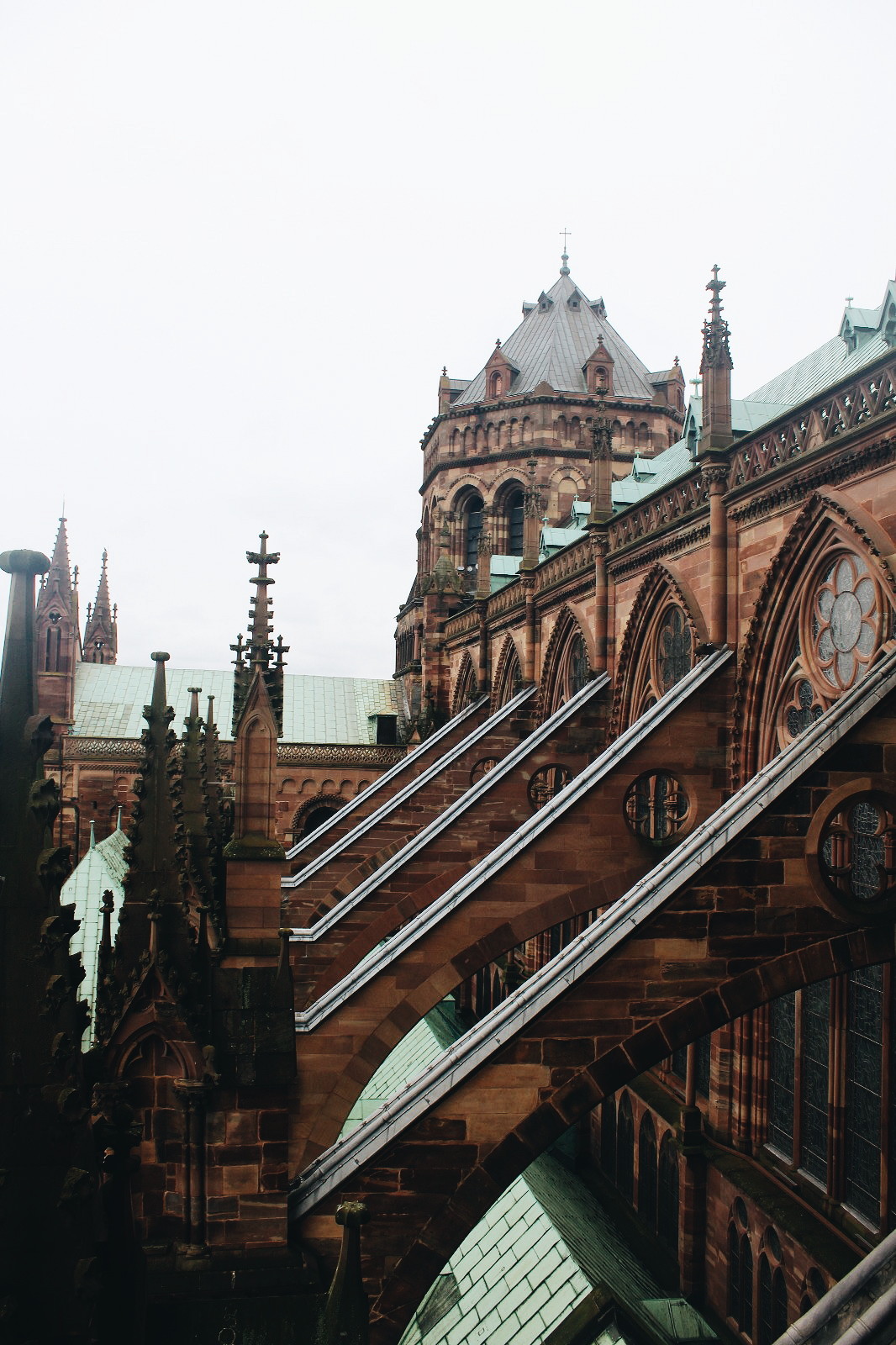 4. Its streets.
After looking at the cathedral, you should go for a stroll through the city centre. Each street is unique. When Angel and I were there, it was quite busy in all of them, although it wasn't unpleasant. You can take it easy and look at the small shops, read restaurant menus, and if you are up for it, learn some French words. I went into a book shop and bought a small book, as a souvenir.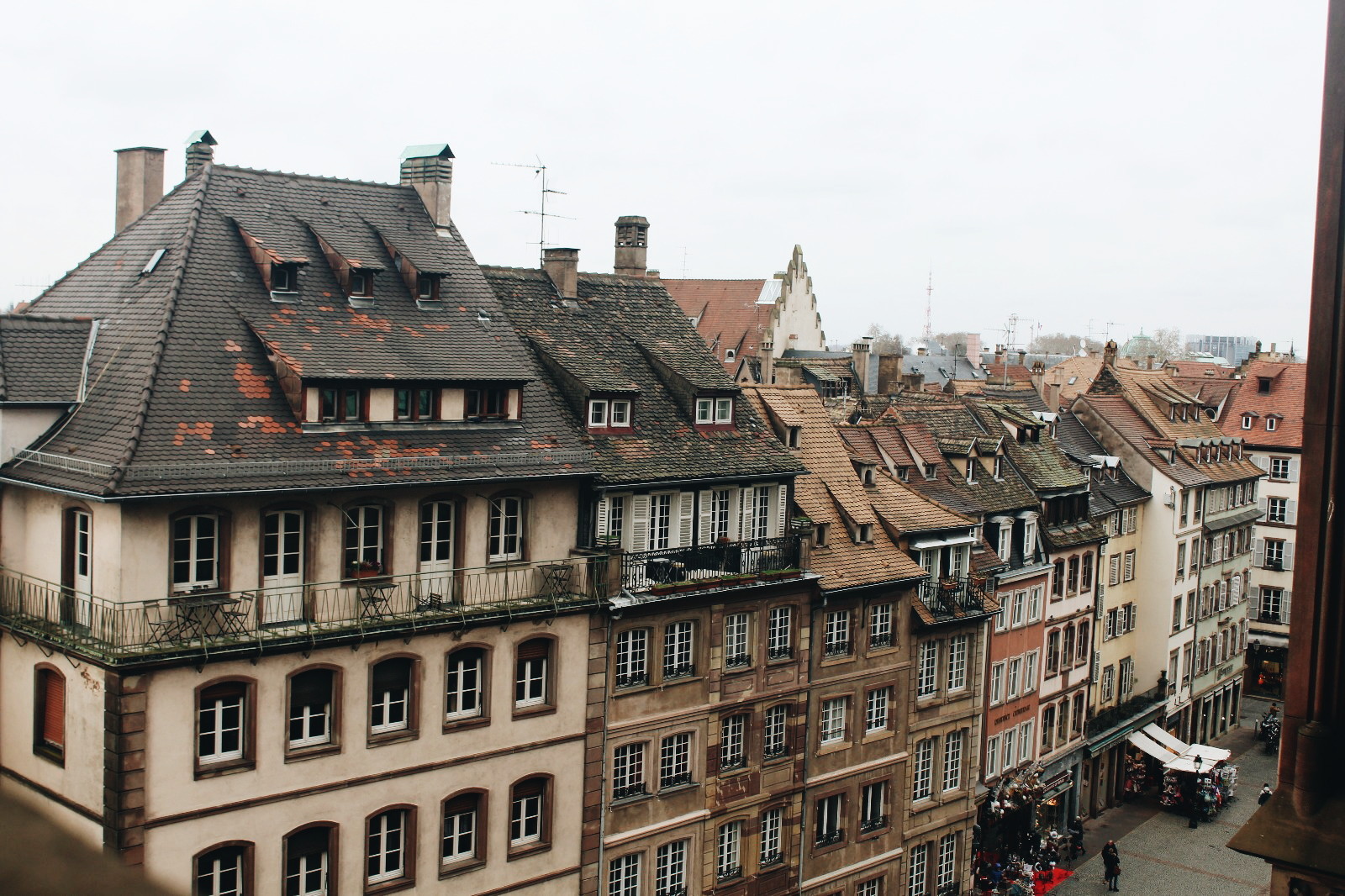 5. Kammerzell house.
From walking and walking you will come across Kammerzell house (and yes, the names seem more German than French, but honestly you will not hear even a bit of German). It is one of the most famous houses in Strasbourg. It has lots of windows and is situated in a corner so it stands out a lot amongst the others.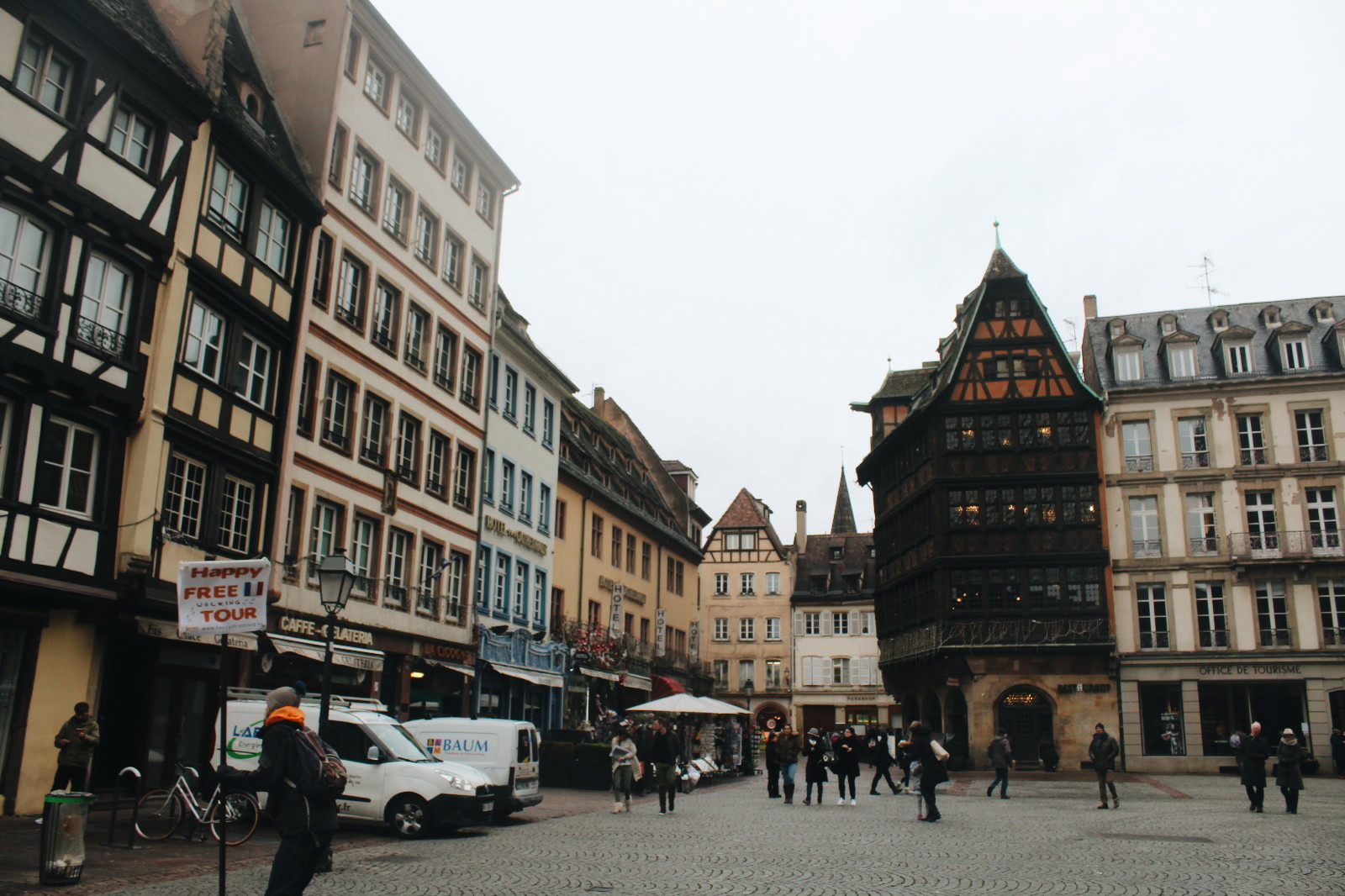 6. Rohan Palace.
To the side of the cathedral, there is Rohan Palace, which has lots of museums inside it.
7. Kleber Square.
Another really interesting square which was full of life is Kleber square. Formerly, it was conquered by the Nazi's in 1941, as you can see in the next photo, it was full of Swastika flags.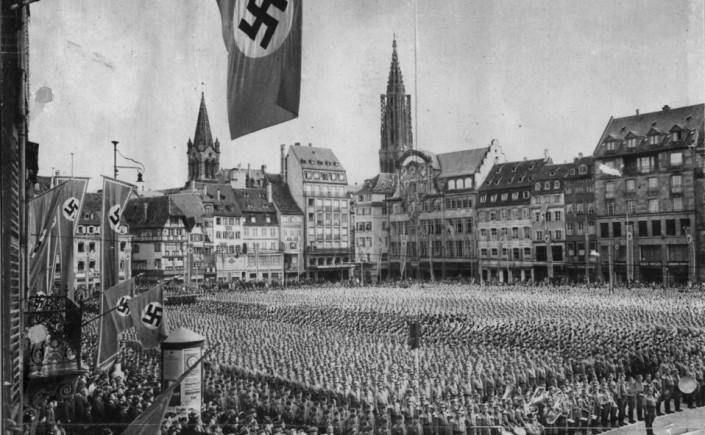 It is a place which is full of history and culture. Fortunately, now there are no traces of evil left here, just of love and joy.
8. Orangerie Park.
I also have to mention Orangerie Park. It is fairly close to the European Parliament, which you can also see there. It is a very big park so we spent a good amount of time there, we saw lots of animals such as kangaroos, flamingos and owls.
9. Gutenberg Square.
Oh, yes! I forgot. The street which gives way to the cathedral is also connected to Gutenberg Square. The square is quite big and the tram goes across it. There is a statue of Mr Guentburg, holding a kind of papyrus (which will have something to do with printing, I would say). Gutenberg lived in Strasbourg for several years, and he undoubtedly left his mark on the city.
10. Saint-Paul Church.
I have to mention this church, which we saw on our way to the centre, when we were returning from seeing the European Parliament.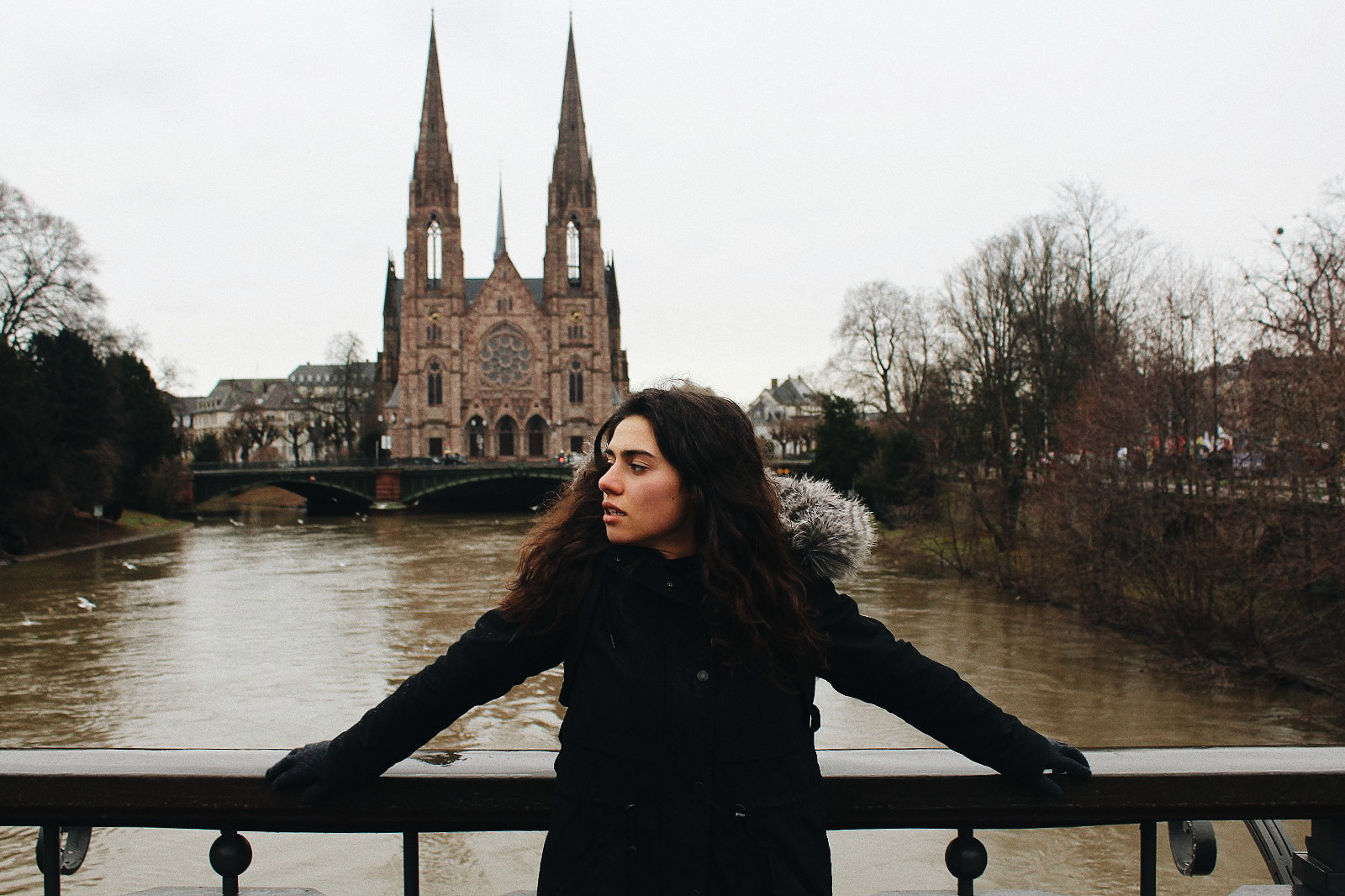 11. To eat and drink.
As for cafe recommendations, I can tell you the ones that we visited. There was a really cute one in the city centre, called, PURETC, where as well as coffees and smoothies they also had a food menu. We sat at the bar which overlooked the street and you could see the locals going buy, running errands. It will seem stupid, but it is in those moments where you really capture the essence of a city.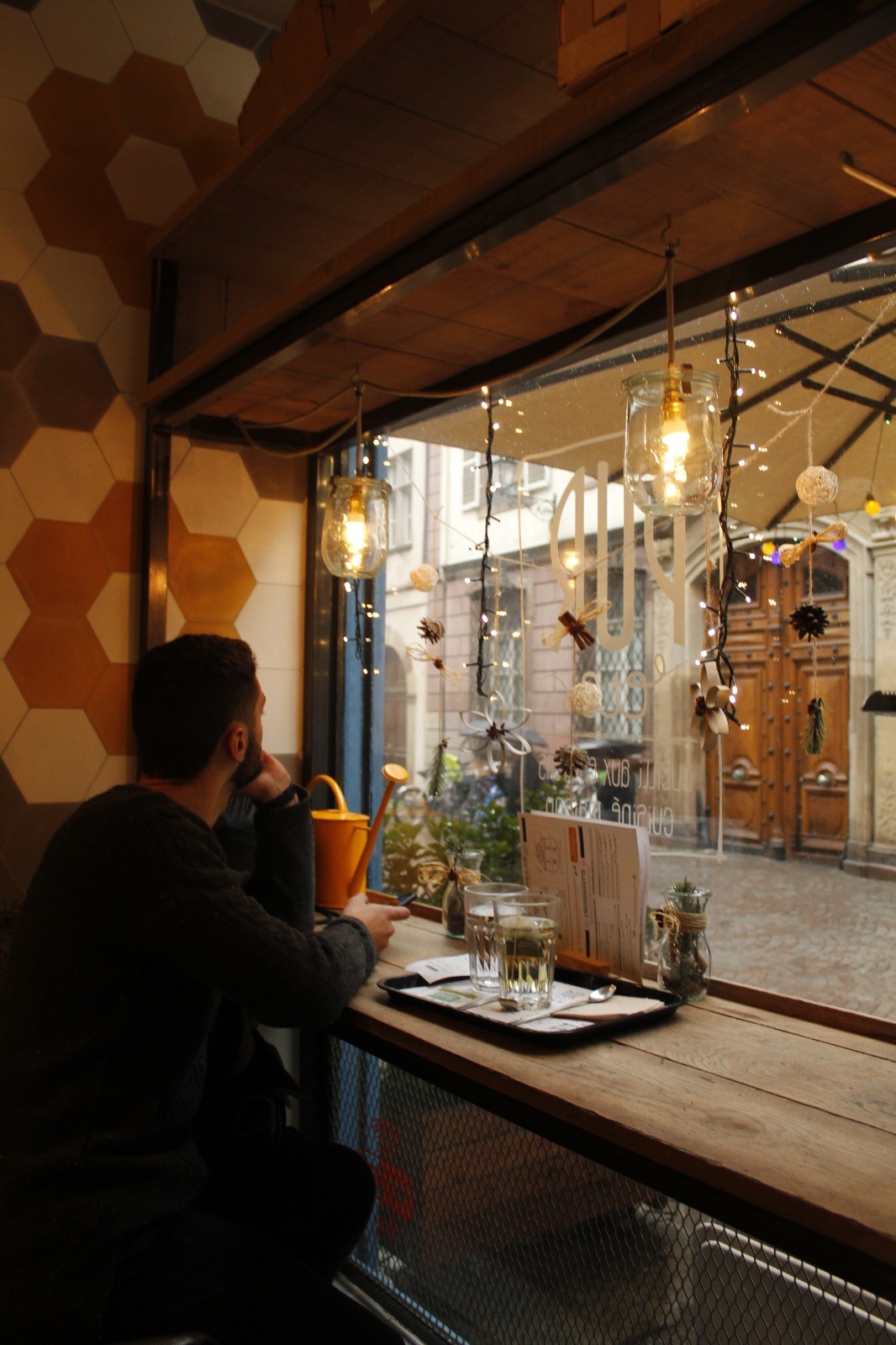 The other day we went a bit away from the city centre and went by the river, which I haven't mentioned but it is called III. We went to Cafe Bretelles, which is small but quite cute, and it also has the typical French croissants. For breakfast, I remember that we went to the supermarket and bought yoghurt and a multitude of toppings, to save a bit of money and thus eat in at our Airbnb. And for food, the last day we went to a chain Planet Sushi. We had already been to it in Marseille and we wanted to go back there because we loved it; although it isn't a traditional or very independent restaurant, if you want to get out in a hurry, as you ask for a wok and a sushi dish and you eat very well.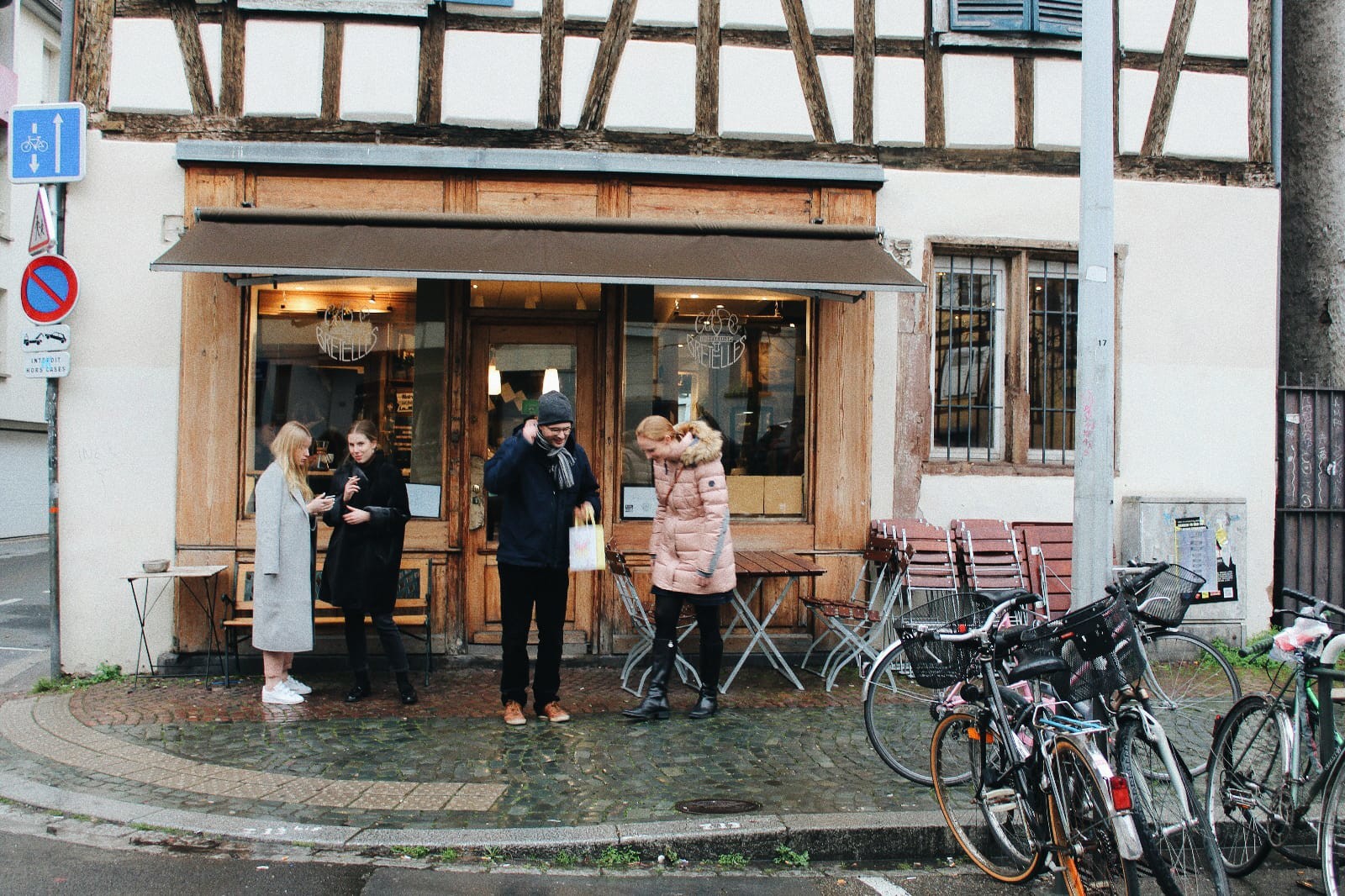 And this is all that I have to say about Strasbourg. In the future, I will make a post about Colmar, but it will not be as long, as the city is smaller but a worthwhile visit. The truth is they say the best time to go Strasbourg is for the Christmas Markets, so there is still time for you to buy a flight to see it this year. The streets are full of stalls and everything is perfectly lit up. I honestly intend on returning to see this Alsatian city at this time of year, as this time I went too late. I went on this little trip with very very high expectations, because the photos that I had seen were incredible, and honestly, my expectations were completely met. It is a magical city which is worthwhile visiting, lose yourself in its streets and practice your rusty French a little. I hope that you have enjoyed reading this, the photos that I've shown you and you already know, I'll see you in the next post. We'll be reading each other soon.
---
Photo gallery
---
---
Content available in other languages
Want to have your own Erasmus blog?
If you are experiencing living abroad, you're an avid traveller or want to promote the city where you live... create your own blog and share your adventures!
I want to create my Erasmus blog! →