Strasblog Part Ten: A Busy, Busy Week!
Hello! How are we all?
I've got a lot to get through in this blog because last week in Strasbourg was by far my busiest! The two key events that the week was based around were the opening of the Christmas Market, and the American tradition of Thanksgiving!
Before I get onto these events, I would like to begin by saying that on Monday I scored my highest result in the Chronology Test so far... a grand total of eleven out of twenty-two! Slowly, but surely, I'm getting there! It's a shame that there are only two seminars left in the term really...
Anyway, Thanksgiving! On Tuesday I headed out of town to the enormous supermarket to aid in the purchasing of all the food for the feast on Thursday. The actual shopping wasn't too bad; sure we may have struggled on some French at first (for example we forgot 'Dinde' was 'Turkey'... kind of key one there) but we managed to get pretty much everything that we possibly could. The trip back to Strasbourg however, was a nightmare. I had very sensibly suggested the night before that a big group should go shopping to make carrying the food back an easy task. Unfortunately I was ignored... and I went shopping with just one other person. We couldn't carry everything (unsurprisingly) and we decided to take the tram. My self-respect was diminishing by the minute, and was finally crushed into smithereens when the conductor kicked us off a packed tram in the city-center. When we finally arrived at the house where we would be having dinner a third person arrived, which to my satisfaction proved that extra hands were needed in the first place!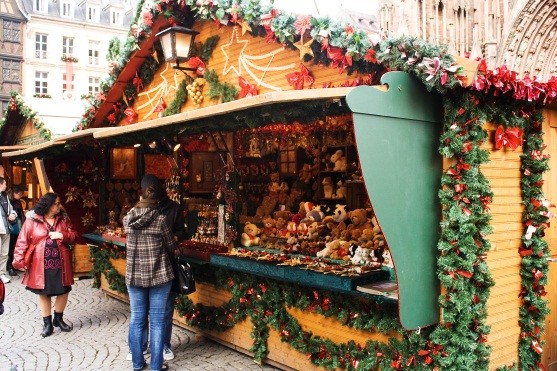 Despite all this, Thanksgiving was awesome. I ate tonnes, discovered new culinary goods such as pumpkin pie, and respected the American tradition of watching NFL once we had finished stuffing our faces! I can't help but smile when I think that I have lived in an Anglophone nation for all my life, but was only invited to my first Thanksgiving after three months in France!
Last weekend the world-famous Christmas market opened to the public. On Friday we watched the 'turning on ceremony' for the Christmas lights in the city center, which I will always remember for the presenter's severe cough and the heavy French accent on English Christmas songs. Saturday was the first official day that the stalls were open and as such Strasbourg was the most crowded I have ever seen it, with hundreds of people packed like sardines up and down the beautifully decorated wooden stalls. I'm glad I live here, because there is so much to do at the market that one or two days is simply not enough!
Saturday night was also the night of the much anticipated tram crawl (which was essentially a pub crawl, but on trams…simple really). As I consumed three big beers before even leaving the first pub, it's fair to say my night was a rather... drunken affair. Waking up on Sunday was a toughie to say the least!
To summarize the rest of the week, on Tuesday we played football again but this time on the pitch with the recording camera (which was cool because I could watch myself back and feel like a proper footballer). The Thursday lectures passed by without too much trouble and on Friday I managed to survive the French for Foreigners lesson without being picked on! Top stuff!
That's all for now, so until next week... à plus tard les amis !
---
Photo gallery

---
---
Content available in other languages
Want to have your own Erasmus blog?
If you are experiencing living abroad, you're an avid traveller or want to promote the city where you live... create your own blog and share your adventures!
I want to create my Erasmus blog! →